• UK Medical Expert Calls for Age Of Consent for Sex to Be Reduced To 15, Govt Says, No
--------------
'My Daughters Are under Home Arrest for 12 Years' - Former Wife of Saudi King
Nov 19, 2013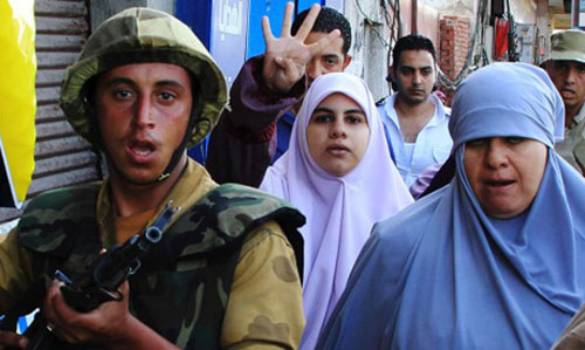 Security forces arrests pro-Mursi female protesters during clashes in Alexandria in November (photo: Reuters)
----------
For more than 10 years, Princess Anud has been deprived of the right to see her daughters. Since 2001, their father, the King of Saudi Arabia, has been in fact keeping them under home arrest. In an interview that she gave exclusively to the Voice of Russia, Princess Anud accused the world's media of a "conspiracy of silence" against her situation that can hardly be called a normal one for the 21st century.
The former wife of the incumbent King of Saudi Arabia Abdullah bin Abdulaziz Al Saud, Anud Al Faiz, comes from a noble Jordanian family. After divorcing the King, she still preserves the title of Princess of Saudi Arabia. But in 2003, when she was already divorced, Ms. Al Faiz was made to leave Saudi Arabia. At present, she lives in London.
Her Highness says that after the divorce, her life turned into a nightmare. Her daughters' destiny is worrying her so much that she cannot think about anything else. Several times during her interview, Her Highness couldn't help crying.
Your daughters are under home arrest for 12 years already. The world's media sources do not give any comments concerning this situation. The Voice of Russia does not ask you any concrete question, letting you to say whatever you want.
True, my daughters are under home arrest for already 12 years. This is the will of their father, the King of Saudi Arabia, and his brothers. Within all this time, all that still gives me the strength to live is hope that once my daughters will be free and happy again. At present, they cannot even marry. For as long as 12 years, I have been waiting for their father to express an even slightest human feeling towards them, but this doesn't happen. I have sent letters to the UN and to various international human rights organizations but have not got any answer yet.
Do you have any information about the conditions your daughters are living in?
Within the last several years, their health considerably worsened. Two of them are in a very poor condition, they often get ill. They are living in a large castle in the city of Jeddah, but in full isolation from the rest of the world, like in a prison. They don't even have anyone to serve them. You know that in Saudi Arabia, a woman just cannot make a single step if she is alone.
(In Saudi Arabia, a woman cannot even walk out of the house if she is not accompanied by a man.)
They are left totally alone, without any help. There are even no air conditioners in the castle. I cannot assess it any other way than as a psychological war against my daughters. I am sorry that I cannot tell you any more details, because every time I speak about the way my daughters are being treat, I begin to cry.
Do you have any opportunity to communicate with your daughters in any way?
Yes, I can speak with them over the phone – their father still allows me to do this to show the world how democratic he is. He prefers to depict the situation as if he has nothing against my coming to Saudi Arabia and living with my daughters, but, allegedly, I do not want this myself – although, in reality, this is vice versa. It is King Abdulla and his brothers who do not want me to communicate with my daughters. They have led a psychological war against me and threatened me with all kinds of threats until I left Saudi Arabia. It has turned out that they have prohibited to all embassies in the world to prolong my passport. The King's family has even managed to prohibit Jordan (Ms. al-Faiz is a citizen of Jordan) to prolong my Jordanian passport so that I cannot go back to my country.
Do you believe that the world's media sources are distorting or hiding the truth about the four princesses who are under home arrest?
Not as much distorting the truth as just ignoring this story. When my former husband started this "war" against my daughters, I came to London and hired British and American lawyers to help me. But agents of the Saudi King have bribed them, and the lawyers in fact broke my case and didn't let it enter the international level. I tried to find other lawyers – but found myself in total isolation. Nobody wanted to defend the interests of my daughters.
The world community and, first of all, the UN, says that within the last several years, the situation with women's rights in Saudi Arabia considerably improved. How can you comment on that in connection with your situation?
Unfortunately, the power of money sometimes makes the world community make wrong conclusions. In Saudi Arabia, women still occupy the lowest places in the society. Last year, Saudi Arabia signed a treaty with the UN on protection of women's rights. However, in reality, the Saudi authorities are totally ignoring this treaty.
Would you like to say something to listeners of the Voice of Russia or to the world?
Let me address the entire world. My four daughters are under home arrest, and I cannot call this any other way than a humanitarian catastrophe. In fact, my daughters are slowly dying. I realize that this is a very strong accusation against my ex-husband and his brothers, but I am saying this with full responsibility. My daughters' health is already totally ruined. (starts to cry) This situation cannot be ignored any more. Within all these 12 years, my life has been nothing but never-ending suffering. Imagine what you would have felt if your children were in trouble, you were crying for help but nobody heard you.
http://voiceofrussia.com/2013_11_19/My-daughters-are-under-home-arrest-for-already-12-years-former-wife-of-King-of-Saudi-Arabia-1064/
--------------
UK Medical Expert Calls for Age Of Consent for Sex to Be Reduced To 15, Govt Says No
Nov 19, 2013
LONDON: One of Britain's top medical experts has called for the age of consent for sex to be lowered to 15 in UK - a proposal that Downing Street promptly rejected.
John Ashton, president of the Faculty of Public Health has called for the age of consent for sex to be reduced to 15 after recent official figures showed that up to a third of teenagers have sex before the present age of consent of 16.
But the spokesman for Prime Minister David Cameron said, "We reject the call to lower the age of consent. The current age is in place to protect children and there are no plans to change it".
Deputy Prime Minister Nick Clegg said he was not in favor of lowering the age of consent from 16 to 15.
He said, "The age of consent has been in British law for generations in order to protect children. Health experts are right in saying there's a problem - we have far too high levels of teenage pregnancy. Do I simply think that a blanket reduction in the age of consent is the answer to this difficult dilemma? No."
Ashton said, "Because we are so confused about this and we have kept the age of consent at 16, the 15-year-olds don't have clear routes to getting some support. My own view is there is an argument for reducing it to 15 but you cannot do it without the public supporting the idea. I would not personally argue for 14 but I think we should seriously be looking at 15 so that we can draw a line in the sand and really, as a society, actively discourage sexual involvement under 15."
He said that countries that have a more open attitude towards teenage sexuality and in fact some of the countries that have lower ages of consent see young people get involved in sex later and they also have much lower teenage pregnancy rates.
Ashton said, "It's time the adults started talking about the situation to take these enormous pressures off children and young people from becoming sexually active too early. Countries with a lower age of consent, young people got involved in sex at a later age and teenage pregnancy rates were lower. The problem we have in this country is we still have this fantasy about young people and we live in a world of wish-fulfillment."
"At the moment youngsters are getting the most incredible messages from pornography, from social media. What we are seeing is more physical abuse and mental abuse in relationships. Pornography was causing young people to have strange expectations of their relationships and this needed to be corrected by open discussion in a sensible environment," he added.
http://timesofindia.indiatimes.com/world/uk/UK-medical-expert-calls-for-age-of-consent-for-sex-to-be-reduced-to-15-govt-says-no/articleshow/25964697.cms
-----------
Queen, Abd al-Mateen appoints Muslim convert as High Sheriff
World Bulletin / News Desk
Nov 19, 2013
Eton College graduate and 8th Earl of Yarborough, Charles John Pelham, otherwise known as Abd al-Mateen, is set to become the first Muslim High Sheriff of Lincolnshire.
Charles John Pelham, 50, inherited a £68?million estate from his father, the 7th Earl of Yarborough, in 1991. He is also a master of the Brocklesby Hunt, and President of Brocklesby Park Cricket Club.
He took on the name Abd al-Mateen after he converted to Islam.
http://www.worldbulletin.net/?aType=haber&ArticleID=123203
-----------
Teachers in Abu Dhabi school defend accused in rape case
PARVATHI MENON
November 19, 2013
At a hearing in the Appeals Court in Abu Dhabi, four teachers from the elite Al Rabeeh school testified in favour of E.K. Gangadharan, the worker from Kerala who was sentenced to death for allegedly raping a seven-year old Emirati school girl.
The allegation against Mr. Gangadharan (56), a cleaner who has been employed by the school for the last 32 years, was made by the girl's parents who said that he raped their daughter in the school kitchen during the morning break.
Two British and two Emirati teachers gave evidence in court. An Arab language teacher said she used to teach the child every day and sensed nothing unusual in her behavior on April 14, the day the rape is alleged to have occurred.
She said the glassed kitchen is a much-used and centrally located area, in which nothing can be done in hiding. She also said she and the other teachers heard about the rape allegation only over the news.
The teacher is reported to have said: "The secretary's office is there and it is never empty. There are always employees and parents around."
The testimonies of three other teachers, which included the girl's class supervisor, supported the Arab language teacher's evidence. They said they do not believe the allegations against Mr. Gangadharan.
One of the teachers said she had known the cleaner and had been working with him every morning for the last nine years. If she had felt that there was something suspicious, she said, she would have taken her own daughter, who has been studying in the school for six years, out of school.
All four teachers said that there was nothing in the child's behavior that day that suggested that she had been raped.
CASE FOR ACQUITTAL STRENGTHENS
This hearing strengthens Mr. Gangadharan's chances of getting an acquittal. However, even if this court acquits Mr. Gangadharan, he will have to go through two more levels of appeal, the first in the Federal Court of Appeal, and the second in the Court of Cassation (Supreme Court).
The hearing will continue on December 9 when the Judge will interview the schoolgirl.
Monday's court hearings are a shot in the arm for the international campaign that has been mounted for the release of Mr. Gangadharan, led by Human Rights Watch, U.K.
"The evidence in the Appeals Court was compelling," Jackie Kearns of Human Rights Watch U.K., told The Hindu.
"It is clear from witness statements that Mr. Gangadharan is innocent. He must be set free after the next hearing," Ms. Kearns said.
An online petition addressed to the President of the United Arab Emirates, His Highness Sheikh Khalifa bin Zayed Al Nahyan and other senior government figures, for Mr. Gangadharan's release, has already got 5,500 signatures, according to Human Rights Watch.
Speaking to The Hindu from Abu Dabhi, Mr. Gangadharan's brother E.K. Haridasan said, "The hearings have given us some measure of comfort and relief. The testimonies of the four teachers show that there are people who are willing to speak up for my brother. All I have to say is that we want to bring my brother home safely."
http://www.thehindu.com/news/international/world/teachers-in-abu-dhabi-school-defend-accused-in-rape-case/article5365399.ece
-----------
India's first all-women bank inaugurated
Nov 19, 2013
MUMBAI: Prime Minister Manmohan Singh here on Tuesday inaugurated the country's first all-women bank, Bharatiya Mahila Bank ( Indian Women's Bank).
With the inauguration of the bank at the Air India building in Nariman Point, seven branches became operational across the country.
The other six branches were inaugurated through video-conferencing by the prime minister and UPA (United Progressive Alliance) chairperson Sonia Gandhi who was also present at the event.
The bank will have a network of 25 branches by March 2014, finance minister P Chidambaram said.
It will primarily serve women but deposits will also be taken from men.
Usha Ananthasubramanian, who was executive director of Punjab National bank, is the chairperson of the bank.
http://timesofindia.indiatimes.com/business/india-business/Indias-first-all-women-bank-inaugurated/articleshow/26046842.cms
-----------
Waheeda Rehman to be honoured with centenary award
Nov 19, 2013
NEW DELHI: Yesteryears actress Waheeda Rehman will be honoured with the first Centenary Award for Indian Film Personality of the Year at the International Film Festival of India (IFFI) in Goa on November 20.
The government has instituted the award to commemorate 100 years of Indian cinema.
The 77-year-old actress, known for her memorable performance in films like 'Guide' and 'Sahib Bibi Aur Ghulam', will be given the honour in recognition of her unparalleled contribution to Indian cinema on the opening day of the 10-day festival.
Waheeda was selected unanimously by a five-member jury. The award carries a citation, a certificate, a medal (silver peacock), a shawl and a cash prize of Rs 10 lakh.
Waheeda was awarded the Padma Shri in 1972 and the Padma Bhushan in 2011.
Information and broadcasting minister Manish Tewari announced the decision on Sunday saying the award has been instituted to mark 100 years of Indian cinema. "Congratulations to Waheeda Rehman ji for being conferred the inaugural Centenary Award for the Indian Film Personality of the Year-2013," he tweeted.
http://timesofindia.indiatimes.com/india/Waheeda-to-be-honoured-with-centenary-award/articleshow/25965494.cms
-----------
All jobs suitable for women in Saudi Arabia to be feminized
Nov 19, 2013
TABUK – The Ministry of Labour plans to feminize all jobs suitable for women in the coming three years, ministry's assistant undersecretary for development Dr. Fahd Al-Tekhaifi said in an interview to Okaz/Saudi Gazette.
As part of the third stage of the feminization scheme, the ministry is identifying the sectors suitable for women to work by creating proper conditions for them in the private sector, he said.
"This will be strictly in line with the regulations and conditions that ensure the job security and privacy," he said, emphasizing that this was the focal point while allowing them to work in women's wear shops as well as in factories, hyper markets and fun cities.
Al-Tekhaifi said that a woman with disabilities, who is capable of work, will be counted as four workers provided her salary is not less than SR3,000. He said the ministry is adopting several strategic plans and programs for dealing with low salaries besides implementing penalties on the firms violating the feminization of shops for women's items.
He, however, clarified that jewelry shops do not come at present within the sphere of women's accessory shops. But if the owner of the gold or silver shop wishes to employ women, then he should hire Saudi women. The shop's environment should be suitable for women workers. They should provide their services to families or women only. Men who are not accompanied by their families should not enter such a shop.
Al-Tekhaifi said the penalties and measures against shops violating the feminization scheme vary. Violating shops will be subject to the red zone penalties and cessation of all services of the ministry. Also, the commercial register will be frozen or canceled. The penalties will be implemented gradually.
In an earlier statement Al-Tekhaifi said that jobs in more than 7,000 lingerie shops have been completely feminized.
He said the ministry is adamant in its stance that women should work in sections that are independent and completely secluded from men's workplaces. He added that the ministry is considering a number of initiatives regarding women's work, including working from home.
The undersecretary described working from home to be the most suitable for women and said it will be implemented in the next few months.
http://www.saudigazette.com.sa/index.cfm?method=home.regcon&contentid=20131118187013
-----------
Arafat's widow says radioactive soup killed her husband
Nov 19, 2013
Suha Arafat, the widow of the founder and first president of the Palestinian National Authority Yasser Arafat, suspects that her husband was poisoned with radioactive soup by a man from his entourage.
In an interview with an Egyptian TV channel, she said it was she who had initiated a radioactivity test of Arafat's remains. The test revealed the presence of a high content of polonium-2010 in Arafat's tissue samples. Experts confirmed that Arafat had not died a natural death.
"The poison was in the soup. Abu Ammar [Yasser Arafat's kunya] ate the first spoon and then sprang up to his feet suddenly as if given an electric shock and dashed into the bathroom," the widow told Egypt's DreamTV. It happened on October 12, 2004, a month before Arafat's death in a Paris hospital, she said, adding that there was only one man who might have done it, a man who had been very close to Abu Ammar.
Unlike current Palestinian leaders, Suha Arafat refrained from blaming her husband's death on Israel which has repeatedly denied its involvement.
Earlier, Palestinian President Mahmoud Abbas called for an international inquiry into the circumstances of Arafat's suspected poisoning.
Evidence does not prove Arafat poisoning - Russian report
A Russian report quoted by Palestinian investigators on Friday said there was insufficient evidence to support the theory that Yasser Arafat died in 2004 of polonium poisoning.
The findings were far weaker than those of a Swiss laboratory announced with fanfare on Wednesday by Arafat's widow and Qatar-based al-Jazeera television.
Samples were extracted from Arafat's corpse last November by Swiss, French and Russian experts after an al-Jazeera documentary revealed unusually high amounts of the deadly Polonium isotope on his clothes.
"The outcome of the comprehensive report on the levels of Polonium-210 and the development of his illness does not give sufficient evidence to support the conclusion that Polonium-210 caused acute radiation syndrome leading to death," said Dr. Abdullah Bashir, quoting the conclusions of the Russian report.
Dr. Bashir did however say that both the Swiss and Russian reports found "large amounts" of the radioactive isotope in his remains.
The Russian findings were significantly more cautious than Swiss conclusions which said that its tests "moderately support the proposition that death was the consequence of poisoning with Polonium-210", though the evidence was not conclusive.
Arafat, a guerrilla leader who became the Palestinians' first president, affectionately known by the nom de guerre Abu Ammar, contracted a sudden and mysterious illness while surrounded by Israeli tanks in his compound in Ramallah.
Palestinians have long blamed Israel for his death, a charge it denies, but a local investigation committee has made little tangible progress in explaining the case.
Tawfiq Tirawi, intelligence chief at the time of Arafat's death and now head of the Palestinian committee, began Friday's press conference at the compound where Arafat first fell ill with a prayer for what he called "the martyr's soul".
"Abu Ammar did not die of age, or sickness or from a natural death," Tirawi said.
"Our efforts are ongoing...to find out who stands behind the death of Yasser Arafat and who has the technical and scientific means for this. We consider Israel the first, fundamental and only suspect in Yasser Arafat's assassination."
He brushed off as "rumors" speculation by some Palestinians that members of Arafat's entourage killed him, saying his committee deals only in facts and evidence.
Arafat's widow, not mentioning Israel at all, explicitly accuses members of his "close circle".
Israel and the Palestinians resumed peace talks in July to try to resolve their long conflict and live side-by-side in two sovereign states.
Israel 'prime suspect' in Arafat 'assassination' - Palestinian probe
Palestinian investigators said on Friday that Israel is the "only suspect" in the death of president Yasser Arafat, after a new report suggested he died from polonium poisoning.
"We say that Israel is the prime and only suspect in the case of Yasser Arafat's assassination, and we will continue to carry out a thorough investigation to find out and confirm all the details and all elements of the case," Palestinian committee head Tawfiq Tirawi told a news conference in the West Bank city of Ramallah.
Experts confirm Arafat's death was not from natural causes – Palestinian commission's head
The findings of Swiss and Russian experts who tested the remains of Yasser Arafat confirm and his death was not from natural causes, Tawfiq Tirawi, head of the Palestinian commission investigating Arafat's death, said on Friday.
"The reports, presented by Swiss and Russian experts, prove Palestinian investigators' conclusions. First: Abu Ammar [Arafat's alias] did not die from old age. Second: Abu Ammar did not die from illness. Third: Abu Ammar did not die from natural causes," Tirawi told reporters in Ramallah.
http://voiceofrussia.com/news/2013_11_19/Arafat-s-widow-says-radioactive-soup-killed-her-husband-1746/
--------------
22 women, girls on trial for Egypt clashes: Prosecutor
AFP | Nov 19, 2013
CAIRO: Fifteen women and seven girls who back Egypt's ousted president Morsi will stand trial for participating in clashes in Alexandria, the general prosecutor's office said on Monday.
The girls, all under the age of 18, will be prosecuted in a juvenile court, a statement said.
The trial of all the accused will start on Wednesday, the prosecutor's office said, adding that the 22 were accused of fighting with anti-Morsi crowds on October 31 in the Mediterranean city.
They fought with knives and threw rocks at their opponents during the clashes and disturbed public order, the statement charged.
Five people who evaded arrest in the same case are also being tried in absentia, the statement added.
Egypt's new military-installed authorities launched a massive crackdown on supporters of the Islamist Morsi, following his July 3 overthrow by the military after mass protests against his one-year rule.
More than 1,000 people have been killed in clashes since his ouster, and more than 2,000 have been detained.
Morsi himself went on trial on November 4 on charges related to the deaths of opposition protesters during his presidency.
http://timesofindia.indiatimes.com/world/middle-east/22-women-girls-on-trial-for-Egypt-clashes-Prosecutor/articleshow/25999188.cms
--------------
Prague school's Hijab ban request unfortunate
Prague Daily Monitor
Nov 19, 2013
Prague,(CTK) - It is unfortunate that a Prague secondary nursing school rejected the request of its two students, Muslim girls, who asked for a permission to wear a headscarf in their classes, Tomas Brolik writes in weekly Respekt out yeterday.
The two girls then left the school on their own to study elsewhere. There was no drama, no extreme emotions, yet the case led to the first "hijab affair" in the Czech Republic, Brolik says.
He notes that the school head Ivanka Kohoutova politely rejected the request, arguing that the school rules permit a covered head neither for students nor for teachers.
But school rules are no wall of concrete and changing them would not be a display of cowardly concession to fundamental Islam, but merely standard responsiveness, Brolik writes.
He says using the school rules as an argument seems misplaced because the two girls did not ask for anything extreme. Some Muslim women simply consider it unbecoming not to wear a headscarf. Similarly, European women would feel unbecoming without a skirt, Brolik adds.
He argues that hijab is neither against European legislation as the veil does not cover the face, nor against the etiquette as it is not indecent for Czech women to have their heads covered.
Hijab has a religious significance, but unlike French schools, the Czech schools are not strictly secular. It is no problem if one wears a cross visibly around one's neck, which is rather common, Brolik says.
"We certainly do not want teachers to teach in hats and pupils to sit in the classroom in caps," he quotes Kohoutova as saying.
This is true. But does the headmistress really believe that the teachers would start wearing broad-brimmed hats and pupils knitted caps only because of two girls with a veil? Brolik asks.
Of course not. The two girls simply asked for respect to their life style, Brolik writes.
He says the girls do not want to talk to media anymore, referring to hateful Internet discussions that appeared under articles about their case.
The lawyers dealing with their case started talking of a complaint over discrimination against the girls. This development is bad, Brolik says.
A covered head is not a problem in the Czech Republic but a novelty that will be appearing more and more often. One can hardly imagine a better envoy of the change than two nice young women who want to study a Czech school. An envoy who would explain that the wish to wear a headscarf mostly is no effort at turning the country into Saudi Arabia, but the need to find a compromise and one's place in life in the Czech Republic, Brolik writes.
But instead of calm explanation there is the accusation of trampling on religious rights and discrimination and perhaps even a court trial, Brolik says.
Czechs who have only few Muslim neighbours, if any, apparently instinctively fear the Islam and the Muslims. This is no wonder when the contact with the Islamic world is reduced to news reports about angry mobs burning a flag of a Western country, Brolik writes.
The trivial conflict between a request by two female students and the school rules could have resulted in a calm debate on mutual understanding. However, we have a miniature clash between Europe and Islam, a hijab affair, and its next round is likely to start soon, Brolik concludes.
Copyright 2013 by the Czech News Agency (CTK). All rights reserved.
http://praguemonitor.com/2013/11/19/repekt-prague-schools-hijab-ban-request-unfortunate
--------------
Girls Still Sent To Kashmir for Forced Weddings
Nov 19, 2013
Integrated Regional Information Networks
MUZAFFARABAD, 18 November 2013 (IRIN) - From a distance, Jalila Ahmed* and Nabila Ahmed* look like ordinary village girls in their late teens, shopping at the local bazaar in a suburb of Mirpur, in Pakistan-administered Kashmir.
But move in a little closer, and the differences are more obvious: they struggle to communicate with the vendors, sometimes giggling between themselves as they try to find a name for a particular vegetable or herb. When they speak to each other, they do so in English, with an accent closer to Bradford than Bahawalpur. But they are careful, because they have been told not to talk to each other.
The two teenagers, distant cousins, say they were both forced into marriages a year ago, after being brought to Mirpur from the UK to "attend a family wedding." It was only after they arrived in the city that they discovered the marriages they were attending were their own, both to distant relatives.
Hundreds of cases of forced marriage are thought to take place annually, involving British nationals married against their will in Kashmir, particularly in and around the industrial town of Mirpur. Since the late 19th century, Kashmir has had a large diaspora - estimated to be around one million - with many communities concentrating in British cities like Bradford, Glasgow and London. To preserve their culture and traditions, some families favour sending their children - particularly daughters - back to Kashmir.
Campaigners say such marriages are cruel, leading to "murders and chaos", either as couples fail to get along or when young women resist. Shafilea Ahmed, 17 years old at the time of her murder nine years ago in the UK, was the victim of one such crime, which made headlines when her parents were brought to trial.
"We hear of around 300 cases of such marriages annually, though many more may actually take place," Khalida Salimi, executive director of the Islamabad-based NGO Struggle for Change (SACH), told IRIN. She said most "but not all" cases involved girls. Thousands of those forced to marry remain in Kashmir, she said.
"This is a cultural practice. Families want to marry their children to the offspring of relatives as they believe they will prove to be good partners for them," said Salimi.
She said that economic factors were also involved, either to keep wealth within families or because once a Pakistani man marries a UK national he can go to Britain to get a well-paid job. "This is the most common reason for such marriages," she said.
"Ceaseless nightmares"
"I was a victim 25 years ago," said Uzma Bibi, who lives with her adult son in Lahore, but travels frequently to the UK. "It was a terrible experience. I was only 15 years old. I was told we were going on a family holiday to Kashmir, and instead was married there to a cousin far older to me."
Uzma's husband died a year ago. "While he was not a bad man, the years in 'captivity' have scarred me for life," she said. She regularly see a psychiatrist to help cope with what she says are her "ceaseless nightmares." She also knows at least a dozen women who face similar situations today.
Other women have made dramatic escapes, using the internet to seek help from the British High Commission or hiding spoons in their underwear to set off airport metal detectors, giving them an opportunity to speak to authorities.
Staff at the UK's Forced Marriage Unit (FMU) say they dealt with 1,485 cases of possible forced marriage in 2012, with 47.1 percent of these involving Pakistan. FMU officials have been quoted as saying most of these were from Mirpur.
Illegal
Laws in Pakistan bar forced marriage, said Salimi, while the practice is also regarded as a form of slavery by organizations dealing with such abuses.
Anti-slavery Australia defines "forced marriage" as one "where a marriage is entered into without the full and free consent of one or both parties, as a result of physical or psychological pressure or abuse."
As awareness grows, attempts to dissuade parents from forcing children into marriage have grown, with a delegation led by senior Islamic cleric Hafiz Nazir Ahmed visiting the UK last year to speak out against such practices.
"Marriages of this kind are totally against Islam," said Maulana Shafiq Salim, a cleric in Mirpur. "But we all know they continue to take place, and it is saddening to see these young girls, some mere children, deluded by their own parents." He said he himself refused to formalize such marriages, but said "other clerics did."
"Changing attitudes is not easy," Aziz Butt, a banker in Mirpur, told IRIN. "My brother, based in Manchester, wants me to find a match for his 16-year-old daughter here, in Kashmir, even though I keep telling him it is no longer the custom to marry off girls so young, that she should be studying and should have a say in her own marriage." He said his brother wanted to "prevent my niece from moving away into an alien culture by marrying her to someone here."
Some legal support is available in Pakistan, but campaigners say only a minority get support.
"Only a small percentage of the many cases of forced marriage that take place are reported to us," said Asma Ali Shan, a law officer at the government-run Benazir Bhutto Shaheed Women's Development Centre, Mirpur.
"We offer legal support, shelter and counselling if required, but what we need is raised awareness to prevent such marriages in the first place."
*not their real names
http://www.irinnews.org/report/99149/girls-still-sent-to-kashmir-for-forced-weddings
--------------
Saudi Working Women Eye English Proficiency
Nov 19, 2013,
The surge in the number of women entering the labour market in recent years is credited with the increasing number of people seeking to learn English, say practitioners and experts in the field.
There have been major changes in the structure of the labour market over the past five years owing to the influx of female applicants for job posts in various sectors. Saudi female employees now account for about 40 percent of learners at English teaching institutes, according to experts.
With many localization schemes in place in the public and private sectors, more women are now joining the job market and this, experts say, makes it necessary for many of them to be able to communicate in English.
According to data provided by the vocational training department, the phenomenon also highlights the popularity of English language teaching institutes. There are more than 600 such institutes at present.
Official support from state and government agencies such as the Human Resources Development Fund, which subsidizes English courses for the underprivileged, has also contributed to such an increase.
Khalid Ad Drai'an, corporate director at the Gulf Training Company, which owns 80 centres and institutes countrywide, said there is continuous development of curricula and teaching methodologies at the teaching centres in the Kingdom, which makes learning English at home a more attractive option than going abroad.
Khalid said: "Our institutes are much cheaper than those available abroad and we also have qualified staff. This is a welcome development for women because only a few can study English outside Saudi Arabia."
"The centres employ teachers who are native English speakers, most of whom come from the US, the UK, Ireland, Australia, South Africa or Canada. They teach specific courses in the English medium." According to statistics from the General Organization for Social Insurance (GOSI), there are more than 160,000 Saudi women working in the private sector, up from 70,000 less than three years ago.
http://www.arabnews.com/news/479811
--------------
Call for Girl Protagonists in Films
Nov 19, 2013,
Pakistani filmmaker Fouzia Minallah on Monday questioned the "branding" of Malala Yousufzai by the West, and pointed that it deprived her of her childhood. At an 'Open Forum' organised at ICCFI, she said what the West is making out of Malala cannot be ignored though Taliban's oppression is to be condemned.
"When I heard of the attack on Malala, I cried and thought a lot about it, which resulted in my film on her. But I'm not sure if I would make such a film again," she said.
The open forum with the topic 'Gendered content: girls made invisible' had four participants -- Siddiq Barmak from Afghanistan, Virginia Limburger from Brazil, Vibeke Noergaard Muasya from Denmark and Rowena Martinez from Philippines apart from the moderator Jeroo Mulla.
Ms. Martinez, a specialist in children's films, underlined the importance of training the filmmakers, and showed the example of erstwhile Soviet Union. " Women would be shown in capable, independent, and important roles. Gorky Studio was set up exclusively for children's films, and funding to it had legal mandate, "she said.
Scandinavian countries leave a lot to be desired with regard to women's visibility in films, conceded Ms. Muasya, herself a filmmaker. Film institute's in Denmark have not produced films with female leads in ages, and it is a serious question to be pondered over not only by the institutes, but also filmmakers, she felt.
Mr. Bermak said cinema in Afghanistan suffered from centralised economy and open market. There is no government funding for films, and no big production houses exist, which makes funding very difficult, he noted. Hence, the filmmakers should depend on foreign NGOs or self initiative, particularly to produce films with gendered content.
Ms. Limburger, a film producer, had some good news when she said the director, writer and scriptwriter for her film 'Taina- an Amazon legend' were all women.
http://www.thehindu.com/news/cities/Hyderabad/call-for-girl-protagonists-in-films/article5365079.ece
--------------
Teenagers Who's Parents See Military Combat At Higher Suicide Risk – Study
Nov 19, 2013,
Teenagers with family members in the military are more likely to contemplate suicide if their relatives are sent into combat overseas on multiple deployments, according to a new study published on Monday.
The study, carried out by researchers at the University of California and published in the Journal of Adolescent Health, found a link between multiple deployments of parents or siblings and a series of mental health problems, including thoughts of suicide, in teens.
It adds to a growing body of evidence that more than a decade of conflict in Afghanistan and Iraq has taken its toll not only on returning troops but also their families.
Previous studies have used data on children and adolescents already getting treatment, or from those within military camps, making any comparison with other children difficult.
However, the researchers were able to draw on health data collected in schools for the first time in 2011 in California, a state with a large military population. They added questions of their own to seventh, ninth and 11th graders about military background and the history of deployment in families in order to get a state-wide picture.
They found that deployment was the "strongest predictor" of adolescent mental health issues and that those who experienced more family deployments were more likely to report symptoms of depression and thoughts of suicide.
Julie Cederbaum, assistant professor at the school of social work at the University of Southern California, said: "It is not just military kids – it is military kids who have experienced deployment. This experience of repeated deployment seems to be the trigger. We know thats been more common during recent wars. We know there are stressors when a parent leaves, there can be loss of communication, then there's a time lapse of nine months to a year. By no means all the parents who return from war have problems. But it's an adjustment."
Up to 28.5% of young people in the US have reported feeling sad or hopeless almost every day for two weeks during the last 12 months, and more than 15% report seriously contemplating suicide, according to the Centers for Disease Control and Prevention.
The report's findings, published on Monday, suggest that although military-connected teens had similar mental health problems as others, when deployment was taken into account, the results were significantly different. Those with a parent or sibling deployed were 40% more likely to report feeling sad or hopeless for more than two weeks in the past 12 months. For those with a parent or sibling who had been deployed twice overseas, the percentage jumped to 56%.
The study also found higher rates of suicidal "ideation" among those teens with military connections and more than one deployment. Ninth and 11th graders with a parent or sibling involved in two deployments were 34% more likely to have suicidal thoughts than their peers without military connections. In previous studies, 15% of teens overall have been found to have had suicidal thoughts.
They also found that girls were more likely than boys to report poorer well-being, a finding that echoed previous studies and was thought to reflect differences in roles and responsibilities at home.
The study's authors said there was a need to increase mental health screening among all adolescents, particularly among those in military-connected families experiencing deployments.
http://www.theguardian.com/world/2013/nov/18/teenagers-parents-military-combat-suicide-risk
--------------
URL: https://newageislam.com/islam-women-feminism/my-daughters-under-home-arrest/d/34488