New Age Islam News Bureau
27 Feb 2019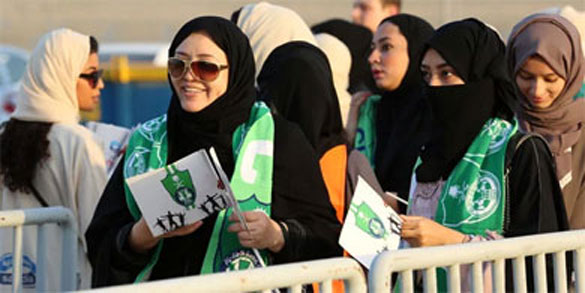 Saudi football fans attend a friendly football match between Saudi Arabia and Argentina at King Fahd stadium in the Saudi capital Riyadh on November 14, 2012. (AFP)
-----
• Riyadh Readies to Host Gulf's First Women's Football Tournament
• A Hijab For Muslim Runners? In France, That's A Scandal.
• Afghan Women Say No to Symbolic Role In Peace Talks
• Marriage in Malaysia Lures Rohingya Women
• Judge To Consider Return For Woman Who Joined Daesh
• Rage And Puzzlement over Muslim Woman in Hijab Chosen for Swedish Municipality's Welcome Sign
• Retailer Decathlon Cancels Plans To Sell Sport 'Hijab' In France
• Calls for Irish Delegation To Be Sent To Saudi Arabia To Inspect Abuses Against Women
• Marriage Of Girls In One Iranian Province Escalates 900 In Just One Year
Compiled by New Age Islam News Bureau
URL: https://www.newageislam.com/islam-women-feminism/muslim-women-gaining-more-darul/d/117870
--------
'Muslim Women Gaining More from Darul Qaza, Come With 95 Per Cent Complaints'
Feb 27, 2019
LUCKNOW: Members of the All India Muslim Personal Law Board's (AIMPLB) Darul Qazas said on Tuesday that it is a misconception that women's issues do not get adequate representation at the arbitration centres and claimed that, in fact, 95% of the issues and complaints brought to them come from women.
Presenting the Darul Qaza report at the conference at Aishbagh Eidgah, organiser of AIMPLB's Darul Qaza committee, Qazi Tabrez Alam Qasmi said, "Most cases relating to family issues, come to the Nagpara centre in Mumbai where around 300 cases a year are heard. On an average, each of the 68 Darul Qazas in the country gets 60-70 cases in a year and it takes about four to five months for a case to be resolved."
"The 19 Darul Qazas in Uttar Pradesh get over 50 family cases per year relating to women wanting separation from husbands, property rights, 'mehr' and dowry issues, custody of child, maintenance after divorce and even initiation of divorce," he said.
"Against popular beliefs, while women can approach Darul Qaza on 10 issues, men have only three points. Around 95% of the applications that we get, and are solved, come from women. This has also taken the load off the already-burdened judicial system," Qasmi added.
AIMPLB member and the Aishbagh Eidgah imam, Maulana Khalid Rasheed Farangi Mahali said, "The conference of Qazis has been organised to strengthen their understanding of family issues and to dispel all misinformation about the centres. It is under our constitutional rights to dispose family issues. It is an appeal to people to use Darul Qaza." The conference will continue till February 28.
https://timesofindia.indiatimes.com/city/lucknow/muslim-women-gaining-more-from-darul-qaza-come-with-95-per-cent-complaints/articleshow/68177477.cms
--------
Riyadh Readies to Host Gulf's First Women's Football Tournament
RAWAN RADWAN
February 26, 2019
RIYADH: Saudi Arabia is getting ready to host the Gulf's first women's football tournament, which kicks off this Friday.
The Green Hall at Al-Khobar Sports City will be the venue for the Gulf Women's Football Tournament, which is being held under the patronage of Prince Saud bin Naif.
Saudi clubs participating include Al-Shuala Al-Sharqiyah, Al-Yamamah, Lourdes, United Eagles, Royals, Jeddah Eagles and Kings' Union.
"The teams have been practicing four days a week, with every session lasting around three hours. Some of the team played friendly games in Riyadh and the Eastern Province to be in good shape," said Sana Al-Ateeq, general manager of one of the organizing companies.
"We are looking forward to a special family day because the tournament is for families and not just for the players."
Al-Yamamah player Luma Al Enezi said her team was ready to play and compete for the cup.
"We are keen on representing the Kingdom in the best possible way, especially since officials have provided all factors to ensure the success of the tournament," she said. "We have been practicing very hard to be able to play our best games and win."
Last January Saudi female football fans were allowed to attend football matches for the first time in the Kingdom, in line with reform plans to encourage women to participate in sports.
Teams from the UAE, Oman, Kuwait and Bahrain are also taking part in the tournament. It runs until March 6.
http://www.arabnews.com/node/1458556/sport
--------
A Hijab For Muslim Runners? In France, That's A Scandal.
By James McAuley
Feb 26, 2019
PARIS — Yet again, France has descended into histrionics over the prospect of what Muslim women might choose to wear.
This time, the item in question is a hijab for runners, a product that appeared on the website of the sporting goods company Decathlon and was designed to allow observant Muslim women a chance to exercise in public while adhering to traditional codes of modesty.
Much like the "burkini" swimsuit in 2016, the runner's hijab has set off a bitter national debate. What began as the usual Twitter tempest has now seemingly become a matter of state, with top officials taking a break from any number of political crises to address the allegedly offensive garment.
"It's a vision of the woman that I do not share. As a woman, that's how I live," Health Minister Agnès Buzyn said Tuesday morning on French radio. "All that leads to differentiation bothers me. I would have preferred a French brand not to promote the veil."
While the far-right National Rally (formerly the National Front) called the runner's hijab a "new intrusion of Islamic communitarianism in public space," there were notable attacks from nominally left-wing French feminists, as well.
Left-wing senator and former women's rights minister Laurence Rossignol shared a statement from France's International League for Women's Rights, which decried the new hijab as an item "whose sole purpose is to prolong sexual apartheid."
Aurore Bergé, a spokeswoman for Republic on the Move, the party of President Emmanuel Macron, criticized the hijab and Decathlon, a rare use of a public platform to single out a business.
"My choice as a woman and a citizen will be to no longer trust a brand that breaks with our values," Bergé wrote on Twitter. "Those who tolerate women in the public space only when they are hiding are not lovers of freedom."
Initially, Decathlon fired back, responding directly to Bergé's comment. "From our end, we focus on democratizing the practice of sport," a spokesman wrote. "The fact is that some women practice running with a hijab, which is often unsuitable. Our goal is simple: to offer them an adapted sport product, without judgment."
But Decathlon ultimately succumbed to pressure and announced that the runner's hijab will not be sold in France.
"Faced with the violent polemic aroused and threats uttered that went beyond our desire to meet the needs of our customers, our priority is to find a peaceful situation," the company announced late Tuesday in a statement. "In this context, we are suspending our plans to market this product in France to ensure the safety of our teammates."
For Laura Youkana, a spokeswoman for the Muslim feminist organization Lallab, the furor showcases "enormous contradictions." The irony, she noted, is the product — much like the burkini — was evidence of a larger number of Muslim women seeking to participate in public life, not withdraw from it.
"Those who attack the hijab speak in the name of women's rights, but this is something that actually enables a woman to practice sports, and sports is something that emancipates women," she said in an interview.
"It's very symbolic," Youkana said of the hijab. "It makes sports more accessible to all women."
This is a perception shared in much of the United States, where as recently as Sunday, a Nike commercial titled "Dream Crazier" and narrated by tennis star Serena Williams aired during the Academy Awards. The ad featured several female athletes breaking barriers and being called "crazy" for daring to do so. One of those featured was fencer Ibtihaj Muhammad, the first U.S. athlete to compete in the Olympics with a hijab.
Fencer Ibtihaj Muhammad was the first American to compete in the Olympics wearing a hijab, which she did in 2016. (Jae C. Hong/AP)
"A woman competing in a hijab? Changing her sport, landing a double-cork 1080 or winning 23 grand slams? Having a baby and then coming back for more? Crazy, crazy, crazy and crazy," went Williams's narration.
In France, where Williams was attacked for wearing a black catsuit to the 2018 French Open, the feeling is apparently not mutual.
What Muslim women choose to wear is a controversial topic in France, an officially secular society that prohibits religious signs and symbols in public life — except, of course, for the nativity scenes and Christmas trees that decorate town halls during the holiday season. Government agencies, likewise, shut down on virtually every Catholic holiday.
In 2004, France banned the hijab in public schools, and in 2010, it became the first European nation to ban the burqa, which covers a woman's face. Veiled women face regular scrutiny in public life.
In 2018, Maryam Pougetoux, a student union leader, appeared in a hijab during an interview on national television that had nothing to do with Islam. The interview launched a similar polemic that landed her on the cover of the satirical publication Charlie Hebdo, which depicted her as a monkey.
https://www.washingtonpost.com/world/2019/02/26/hijab-muslim-runners-france-thats-scandal/
--------
Afghan Women Say No to Symbolic Role In Peace Talks
27 Feb 2019
KABUL (Pajhwok): Demanding awareness among women about elections and efforts for improving their livelihood and protection of their rights, some Afghan women have asked the government to ensure the gender has a greater say in the peace process.
The Taliban and US representatives all set to enter a fifth round of peace negotiations in Qatar today amid the Afghan government's efforts for peace and holding a consultative Loya Jirga(grand council) in near future.
The Loya Jirga is said to be convened in mid-March in Kabul, in which over 2,000 people, including 30 percent women, would participate.
The Taliban and a number of Afghan politicians, including some women, recently held a meeting about the Afghan peace process in Moscow.
Shinkai Karokhel, a former Afghanistan envoy to Canada and a candidate in the Wolesi Jirgaelections, told Pajhwok Afghan News that the number of women who participated the peace talks was very limited or their presence was symbolic. "Such meetings are mostly led by men while women are given very little chance to talk or share their views."
She said peace talks would be fruitful if the Afghan women were given the opportunity to talk and play their role in decision making.
Most of the Afghan women supported peace in their country but they were somehow worried because the Taliban did not talk much about their rights in meetings with US special representative Zalmay Khalilzad, Karokhel said.
"Few days back, a Taliban spokesman Zabihullah Mujahid told a media outlet that they would define what women activities could do after peace is established in the country. But it is a matter of concern, they should make it clear what type of women's jobs they oppose and should not speak generally," she added.
Sher Mohammad Abbas Stanikzai, a Taliban representative in Moscow meeting, had said the Taliban would respect all rights of women which Islam has granted them.
He had said Islam had granted women with all fundamental rights such as doing business, holding a possession, right to inheritance , education, work, choosing a life partner, security, health and life.
Karima Salik, women's affairs director for Bamyan province, said: "We want rights what Islam has given us, we are Muslim, Islam does not stop women from getting education or work, so women should have their presence in all parts and this issue should be clearly talked in peace negotiations."
"We are tired of the war, we want peace and stability because women are mostly affected in the war, we want both sides to let us talk in peace negotiations and hear our demands and give us role in decision making," she said.
Salik said women were given only a symbolic role in peace talks done so far and they were offered a limited time to express their views.
She stressed that the number of women in the upcoming consultative Loya Jirga should not be limited.
Zarqa Yaftali, head of Women and Children Rights Research Organization, said that Afghanistan would never have a stable peace unless women were given a wider role in peace talks.
She urged high participation of women in the upcoming consultative peace jirga and an end their symbolic role in peace negotiations.
Raihana Ahmadi, a police officer in Kabul, said the Afghan women were tired of the war and they wanted peace in the country – a peace which could protect women's achievements and freedom.
"Peace with the Taliban is a serious risk, we fear the Taliban would again stop women from work and education," she said.
On the Taliban statements about women's rights, she said, "We want them to be clearer, talk in details and make clear commitments."
She said women should be given similar expression opportunity as men in peace negotiations and they should be given time to provide their own views about peace.
Ahmadi said the number of women in peace negotiations was limited compared to the number of men and women had no role in the decision making sphere.
Elections
Some women say they should be provided awareness about elections to increase their presence in the democratic process.
Shinkai Karokhel talking about women's role in October 2018 Wolesi Jirga elections, said, "Despite insecurity and cultural problems and lack of their awareness about voting, the females voted in great numbers and played their role in the elections."
She said public awareness programs for women for the next presidential elections should be increased. She said unfamiliarity of women with the voting process was a major problem in the Wolesi Jirga polls.
Karima Salik said women played an important role in past elections as they did not rig the polls and voted for trusted figures.
"In October elections, I saw women in Bamyan polling stations voting for their interested candidate despite their families opposition not to go outside," she said.
She also said women's lack of awareness about voting process was a main problem, asking the government to provide awareness to women ahead of the next presidential election.
Zarqa Yaftali said a high number of women participated in the last Wolesi Jirga polls and many women run as candidates.
But she said women still faced problems such as bad traditions, insecurity and low awareness.
Raihana Ahmadi, about women's role in elections, also said a high number of women voted in the Wolesi Jirga polls despite many problems.
Current situation of women
Afghan women say efforts have been made for improvement of women's livelihood during the past 18 years, but these efforts are not enough and more work is required.
Karima Salik said the living standard of Afghan women was getting better with each passing day as they had now access to education and work and had the ability to participate in politics, cultural and economic activities.
However, she said the Afghan women, particularly in remote areas, needed further services.
Karokhel also said women's life significantly changed compared to what it had been 17 years ago.
"We have women as ministers, ambassadors, deputies, district chiefs and in other high ranked positions, which is a pride and we want to have more attention to improvement of their livelihood," she said.
Zarqa Yaftali said despite some developments in women's lives, they were still struggling with insecurity, bad economy, lack of education and lack of health services.
Raihana Ahmadi also said women's lives had positively changed compared to their situation 18 years ago.
"We now can work, get education, do business and travel abroad, I work as a police officer which shows women's lives have improved," she said.
However, she said the work women did was still not enough and they needed further opportunities.
https://reliefweb.int/report/afghanistan/afghan-women-say-no-symbolic-role-peace-talks
--------
Marriage in Malaysia Lures Rohingya Women
February 27, 2019
Tahmina Begum and her family had a relatively prosperous life at their home in Maungdaw town in Rakhine State of Myanmar before a military crackdown on their ethnic Rohingya Muslim minority.
"We had a fish farm and income was good enough for a happy family life, but everything is gone now," Begum, 20, a refugee in Kutupalong camp in Cox's Bazar of Bangladesh, told ucanews.com.
She fled with her parents and two brothers at the end of December 2017 and joined Rohingya refugees in Bangladesh, now numbering more than a million, who escaped various bouts of persecution in Myanmar.
The family settled in the camp where they survive with aid from humanitarian groups and the Bangladesh government.
As the eldest sibling, Begum wanted to do something to lessen the economic and psychological burdens on her poor family.
"Here, I had an affair with a man who fled to Malaysia by boat about four months ago," she said. "I have been in touch with him and he wants me go there so that we can marry. He gave me 20,000 taka (US$238) for my travel expenses."
Initially, her parents disliked the proposal, but they eventually agreed for financial reasons.
"If I marry a man in the camp, my family has to pay a dowry (cash and valuables to a groom's family) as per the custom," she said. "Marrying in Malaysia does not need a dowry. Moreover, I can help my family if I can get a job there."
Begum joined a group of 30 people, including 20 women, and paid money to so-called brokers to set off in early February on a risky boat journey to Malaysia through the Bay of Bengal.
But they were not in luck. Bangladeshi border guards nabbed their boat and sent those on board back to the camps.
Begum's experience is increasingly common in the Rohingya refugee camps of Bangladesh. According to Bangladesh border guards, most of the more than 100 Rohingya arrested along the coast in the past month were women aged 17-25.
Poverty of camp life
Lt. Col. Asdud Zaman Chowdhury, a border guard battalion commander, told ucanews.com that there had been a sudden rise in the number of women seeking to reach Malaysia by the dangerous sea route.
For this reason, the number of border patrols had been increased. "We have arrested some traffickers as well," Chowdhury said.
Muhammad Abul Kalam, a Rohingya community leader from Balukhali refugee camp, said a syndicate was actively luring Rohingya women to go to Malaysia from various camps in Bangladesh.
"I have come to know that a group of brokers have been working secretly in the camps to convince women to go to Malaysia to marry Rohingya men already there," Kalam told ucanews.com. "They can leave the poverty of camp life and even help their families."
Trafficking of Rohingya women is a lucrative business, according to James Gomes, a regional director of the Catholic charity Caritas.
"There is a nexus of Bengali brokers and Rohingya in camps involved in luring Rohingya women into illegal activities," he said. "It is true Rohingya have a miserable life in the camps and they will try to grab any better option they are offered even if it is illegal or unethical."
Gomes added that while law enforcement surveillance could help prevent abuses, aid groups needed to carry out awareness campaigns among refugees.
Rohingya Muslims have lived in Myanmar for centuries but successive governments have denied them citizenship and basic human rights. Many in Myanmar's Buddhist majority consider them to be recent illegal immigrants from Bangladesh.
Due to persecution by hard-line Buddhists and the military, Rohingya have been crossing into Bangladesh since 1970s.
Rohingya received little attention internationally before 2012 sectarian violence in Rakhine and a 2015 so-called "boat people crisis."
The 2015 crisis saw thousands of Rohingya and Bangladeshis on board traffickers' boats abandoned and left adrift in the Andaman Sea. It came not long after discovery of mass graves of trafficking victims near the Thai-Malay border and a crackdown on human trafficking by Malaysia and Thailand.
Two deadly military crackdowns in 2016 and 2017, in response to Rohingya militant attacks on security forces, sparked an exodus of more than 750,000 Rohingya into Bangladesh who joined more than 300,000 Rohingya already in the country.
https://www.ucanews.com/news/marriage-in-malaysia-lures-rohingya-women/84563
--------
Judge To Consider Return For Woman Who Joined Daesh
February 27, 2019
WASHINGTON: A federal judge in Washington has agreed to move quickly on a lawsuit filed by a former Alabama woman who joined the Daesh and wants to return to the United States.
The family of 24-year-old Hoda Muthana filed suit last week against the Trump administration after the government said she wasn't a citizen and wouldn't be allowed to enter the US with her 18-month-old son.
Her family sought expedited action on her suit because Muthana is now in a refugee camp in Syria.
Judge Reggie Walton granted that Tuesday and scheduled a hearing for Monday.
The US determined Muthana wasn't a citizen because her father was a Yemeni diplomat when she was born in New Jersey. But her lawyers say he was no longer a diplomat at the time.
http://www.arabnews.com/node/1458706/world
--------
Rage And Puzzlement over Muslim Woman in Hijab Chosen for Swedish Municipality's Welcome Sign
26 Feb, 2019
A Swedish municipality is facing backlash after selecting a local Muslim woman wearing a headscarf to be the 'poster girl' for its roadside 'welcome' sign. Her past ties to a controversial local imam were also discovered.
The image of Suzan Hindi, a local Muslim woman in her early 40s wearing a blue headscarf, now welcomes motorists entering Gavle, a coastal municipality in Sweden about 100km north of Stockholm. The photo is occasionally shown on a digital board along with the message: "Welcome to Gavle!"
The municipality said it was a gesture celebrating the diversity of its community, which counts over 100,000 people of various origins and cultures. But some saw it as a signal of support for suppressing women's freedoms.
"One should think what this is signaling. Some indeed use this garment, the hijab, voluntarily. But not everyone. This a garment that for millions of women around the world represents a lack of freedom," said Sweden Democrats MP Roger Hedlund, a member of the municipality council, as quoted by the news website Nyheter Idag.
The Sweden Democrats party has an anti-immigration platform and currently holds 62 seats in the 349-seat Swedish parliament. Samhallsnytt, an online publication reportedly close to the party, was quick to dig Hindi's past ties to a controversial local imam, who was accused of preaching radical ideas and collecting money for terrorists in Iraq and Syria.
Indeed, in 2009 the woman, who called herself Nizam Hindi at the time, was featured in a story by the left-leaning tabloid Arbetarbladet about the opening of a mosque in Gavle. She explained how having their own prayer house was good for the Swedish municipality's Muslim community, how aid from Saudi Arabia and Qatar helped to buy and furnish the building, and how listening to the imam is important during the prayer.
The Al-rashideen mosque and its imam, Abu Raad, were involved in a scandal a few years ago, after the leading local newspaper Gefle Dagblad accused him of spreading radical Salafist ideas and collecting money for terrorist groups in Syria and Iraq.
The editor-in-chef received death threats over the criticism. The man who issued the threats was sentenced to two months in jail.
It was not immediately clear whether Hindi is still associated with the mosque.
Gavle itself was the scene of a national scandal in Sweden two years ago, when six people were tried for the abduction and murder of 23-year-old Afghan man Ramin Sherzaj over an extramarital affair. Five received life sentences for the crime, while one got a 14-year jail term.
The woman involved in the affair, who was a relative of the defendants, left her husband for a brief relationship with Sherzaj. It apparently ended badly, since the man then sent photos of him kissing the woman to her husband's family members. This led to them banding together to carry out the honor killing.
https://www.rt.com/news/452345-swedish-municipality-welcome-headscarf/
--------
Retailer Decathlon Cancels Plans To Sell Sport 'Hijab' In France
February 26, 2019
PARIS: Retailer Decathlon Tuesday canceled plans to sell a sports version of the hijab Muslim headscarf in France, following an outcry.
"We are effectively taking the decision to not sell this product in France for now," Decathlon official Xavier Rivoire told the RTL broadcaster, despite defending to AFP earlier the company's goal to "make sport accessible to all women in the world."
The controversy is the latest in France over face- and body-covering garments worn by Muslim women which many in the secular country perceive as instruments of women's subjugation.
Others argue that they allow Muslim women to be an active part of broader society.
France in 2004 banished the hijab, which covers the hair but leaves the face open, from the classroom and government offices, but it is a common sight in the streets..
In 2016, the country with Europe's largest Muslim population was deeply divided over the appearance on beaches of the body-concealing "burkini" swimsuit.
French retailer Decathlon already sells the runner's hijab in its stores in Morocco, and had planned to introduce the garment to France in the coming weeks.
"The craze for the product (in Morocco) made us ask whether to make it available" in other countries too, said Rivoire, adding the garment "leaves the face free and visible."
Angelique Thibault, who created the garment for Decathlon's Kalenji running brand, said she was "motivated by the desire that every woman should be able to run in every neighborhood, every city, every country... regardless of her culture."
Reports that Decathlon would introduce the sports hijab to France, however, raised public ire.
Such a product is "not forbidden by law," Health Minister Agnes Buzyn responded on RTL, but "it is a vision of women that I do not share. I would have preferred that a French brand not promote the veil."
Aurore Berge, spokeswoman for President Emmanuel Macron's Republic on the Move (LREM) party added that "sport emancipates, it does not suppress," lambasting "those who tolerate women in a public space only when they hide themselves."
Several political leaders called for a boycott over the issue.
Meanwhile, US sportswear group Nike offers a hijab for women in black, grey, or white for 30 euros ($34).
http://www.arabnews.com/node/1458656/world
--------
Calls for Irish Delegation To Be Sent To Saudi Arabia To Inspect Abuses Against Women
Feb 27, 2019
The Irish Government must speak out robustly against the abuse of women's rights and treatment of female prisoners in Saudi Arabia as part of its bid to secure a seat on the UN's Security Council, a press conference in Dublin has heard.
Abdulaziz Almoayyad, a Saudi anti-regime activist who lives in Ireland, expressed extreme concern on Tuesday at the treatment of seven female activists who were detained and imprisoned last year after campaigning against the ban on women driving and the country's male guardianship system.
Speaking at a press conference highlighting the treatment of women in his home country, Mr Almoayyad accused the international community of turning "a blind eye" to the abuses of the Saudi regime in favour of protecting trade deals.
Mr Almoayyad said Ireland should request that an all-party delegation visit Saudi Arabia and gain access to the jails where the women are being held in "barbaric" conditions.
"We are aware that a similar delegation from the UK, the parliamentary detention review panel, had requested permission to visit, and had approached the Saudi government for permission to do so, but have to date received no reply," he said.
Under Saudi Arabia's guardianship system, women must have permission from a male guardian - their father, husband, brother or son - to enrol in higher education, seek employment, travel or marry. Rising numbers of Saudi girls and women are fleeing the kingdom because of the guardianship rules, including Rahaf al-Qunun who made world headlines in January after she fled her family and flew to Thailand. Ms al-Qunun was ultimately resettled in Canada.
People Before Profit TD Richard Boyd Barrett said the treatment of women in Saudi Arabia was "totally at odds with human decency" and described the kingdom's actions against activists as "totally repugnant".
"The Irish Government cannot stand idly by while women's rights are being curtailed in everyday life and activists jailed and tortured for speaking up," he said.
Following the German decision in November 2018 to stop arms exports to Saudi Arabia, Mr Boyd Barrett urged the Government to speak out publicly against the regime's abuses and push for sanctions. He urged the State to engage with the resolution passed by the European Parliament earlier this month condemning the treatment of women in Saudi Arabia.
The resolution has called for the Saudi government to end all forms of harassment against the female activists who were imprisoned in 2018. It expressed dismay at the existence of the male guardianship system and deep concern at the prevalence of gender-based violence which remains "largely underreported and undocumented".
Mr Boyd Barrett advised that the Government highlight the abuse of women's rights in Saudi Arabia as part of its campaign to secure a seat on the UN Security Council.
"It's a sort of test for what it is the Government is trying to achieve by getting in the UN Security Council . . . is it going to go quiet in order to get votes or actually speak out robustly for human rights on the international scene?"
https://www.irishtimes.com/news/politics/calls-for-irish-delegation-to-be-sent-to-saudi-arabia-to-inspect-abuses-against-women-1.3807496
--------
Marriage Of Girls In One Iranian Province Escalates 900 In Just One Year
Feb 26, 2019
A women's affairs adviser in Iran announced that the rate of marriage of girls between the ages of 10-14 is 914 in Golestan Province.
Naemeh Sadaat Bani Kamali, a women's affairs adviser to the Golestan Province Education Department, announced at a news conference that the number of girls between the ages of 10 to 14 who were married in 2017 was 914 in this province alone.
She also revealed that six marriage of girls under the age of 10 have been reported in the province, which is without a doubt more than the actual number.
Citing the statistics for children left out of school in 2017, Bani Kamali said that in Golestan Province, 12,826 children have dropped out of school, out of which 6,294 were girls.
She added that the economic problem is the most important factor contributing to school dropouts. These statistics are higher in secondary schools and more specifically among girls. According to the government official, half of the children dropping out of school are girls. (The state-run ISNA news agency – February 23, 2019)
Earlier, in an interview with the state-run IRNA news agency on February 6, 2019, Zahra Hemmati announced that a total of 98 under-15 marriages took place in Ilam, 94 of which were girl children and four were boys under 15 years of age. (The state-run IRNA news agency – February 5, 2019)
Parvaneh Salahshouri, head of the women's faction in the mullahs' parliament, spoke about this issue in a meeting in Tehran on child marriages. She said, "We continue to see the marriage of girls between 9 and 14 years of age… Some 6 percent of those who get married are girls between 10 and 14." (The state-run IRNA news agency – January 6, 2019)
The Iranian regime's experts have estimated that 180,000 of under-18 child marriages take place in Iran, every year.
https://women.ncr-iran.org/2019/02/26/marriage-of-girls-iranian-escalates-900/
--------
URL: https://www.newageislam.com/islam-women-feminism/muslim-women-gaining-more-darul/d/117870
New Age Islam, Islam Online, Islamic Website, African Muslim News, Arab World News, South Asia News, Indian Muslim News, World Muslim News, Women in Islam, Islamic Feminism, Arab Women, Women In Arab, Islamophobia in America, Muslim Women in West, Islam Women and Feminism