New Age Islam News Bureau
28 Nov 2017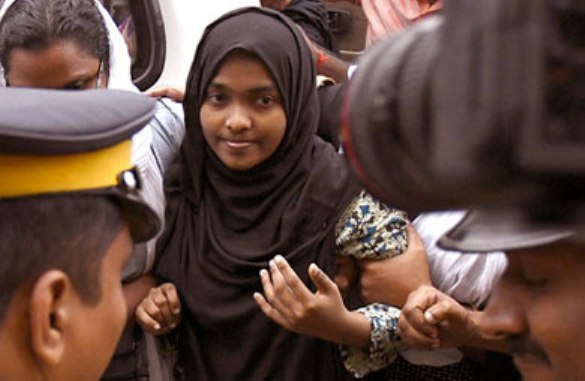 25-year old Hadiya
-----
• 'Are You Being Forced?' UK Muslim Schoolgirls Wearing the Hijab to Be Quizzed
• Saudi Entertainment Authority Sets Regulations for Female Performers in Family Shows
• Saudi Female Entrepreneurs Increase By 35% in 10 Years: Report
• 17-Year-Old Danish Girl Jailed For Planning Bomb Attacks on Schools
• 22-Year-Old Montreal Woman Escapes Daesh with Infant Daughters Three Years After Travelling To Syria
• 3% of Restaurants and Cafes Owned By Saudi Women
• Shoura to Discuss Recommendation for Women to Hold Leadership Positions In Saudi Missions Abroad
• Dubai Women Establishment Hosts Knowledge-Sharing Session
• Oscars Bid For Story of 'Pakistan's Toughest Woman'
• Iran: Expansion of Protests by Girl Students
Compiled by New Age Islam News Bureau
URL: https://www.newageislam.com/islam-women-feminism/love-jihad-case-wife-her/d/113381
--------
'Love-Jihad' Case: Wife Has Her Own Identity, Husband Can't Be Guardian, SC Tells Hadiya
Nov 27, 2017
NEW DELHI: A wife is not a chattel and the husband cannot be her guardian, the Supreme Court said on Monday after interacting with a Kerala woman, alleged victim of love jihad.
A bench of Chief Justice Dipak Misra and Justices A M Khanwilkar and D Y Chandrachud interacted with 25-year old Hadiya for nearly half-an-hour and posed questions on her life, ambition, studies and hobbies.
Hadiya told the apex court that she wanted 'freedom' to live with her husband, profess her faith in Islam and that she very well understood what she was doing.
When the bench asked Hadiya to name any relative or near acquaintance to be named as her local guardian in college at Salem in Tamil Nadu, she said her husband could be her guardian and she does not want anyone else in that role.
"A husband cannot be a guardian of his wife. Wife is not a chattel. She has her own identity in life and society. Even I am not guardian of my wife. Please make her understand," Justice Chandrachud said.
The bench posed questions to Hadiya in English while she answered in Malyalam, which was translated by senior advocate V Giri, who appeared for Kerala government.
When the bench asked Hadiya about her dreams for the future, she replied that she needs freedom and want to live with her husband.
The bench then asked whether she was comfortable in professing her faith and studying simultaneously and told her that being a good citizen, she can profess her faith and be a good doctor.
Hadiya replied she wanted freedom to profess her faith and she fully understood what she is doing.
The bench asked her whether she wanted to continue her studies and pursue internship in house surgeonship at the expense of the state government.
The woman said she wanted to pursue her studies but not at the state's expense as her husband will take care of her.
She further requested the court that she be allowed to visit her friend before being taken to Salem, to which the court agreed and directed the state government to provide her security.
The court asked Kerala police ensure that she travelled at the earliest to Salem in Tamil Nadu to pursue homeopathy studies at the Sivaraj Medical College.
https://timesofindia.indiatimes.com/india/love-jihad-case-wife-has-her-own-identity-husband-cant-be-guardian-sc-tells-hadiya/articleshow/61824210.cms
--------
'Are you being forced?' UK Muslim schoolgirls wearing the hijab to be quizzed
28 November 2017
Muslim women's dress has again become a talking point in the UK, this time the focus is on girls wearing hijab to primary schools. Girls under the age of 11 who wear a hijab to school will be asked by inspectors whether they are doing it of their own free will or they are being forced by their parents.
Amanda Spielman, the chief inspector of schools and head of Office of Standards in Education known as Ofsted who made the announcement said schools could be in breach of Britain's equality laws if they only required girls to wear religious garments. But more importantly Spielman claimed that making primary school children wear a hijab could be seen as 'sexualizing' them at a young age.
A matter of choice?
"While respecting parents' choice to bring up their children according to their cultural norms, creating an environment where primary school children are expected to wear the hijab could be interpreted as sexualization of young girls," said Spielman. "In seeking to address these concerns inspectors will talk to girls who wear such garments to ascertain why they do so in the school," she added.
Britain's school system is split into two with children between the ages of 5 to 11 going to a primary school, and 11-16 going to a secondary school. Going to school up to the age of 16 is compulsory for all children. Uniforms are also compulsory in all schools.
As Britain became a multi-cultural society in the 1980s, schools began to allow concessions for dress demanded by various religious dictates, like allowing girls to cover their legs by wearing trousers instead of skirts, letting Jewish and Sikh boys wear head coverings dictated by their religions and so on. Some schools in areas with large Muslim populations also began to allow girls to wear a hijab as part of the uniform.
Uniform policy
The decision to quiz girls about their hijabs came in the wake of a survey carried out by The Sunday Times newspaper which found that 18% of the 800 primary schools in England list hijab as part of their uniform policy, albeit as an optional item.
Some Muslim rights campaigners have gone a step further than Spielman and asked for hijabs to be banned in primary schools arguing that they are usually only worn by young women after they puberty and are not obligatory on primary school girls. "In an Islamic context, the hijab is commonly understood as being for females after they reach the age of puberty. There are very few Muslims who would say a child should be covered," said Amina Lone, a Muslim women's rights campaigner and former Labour parliamentary candidate.
Harun Khan, secretary-general of the Muslim Council of Britain, hit out at the decision arguing calling it discriminatory. "It sends a clear message to all British women who adopt a hijab that they are second-class citizens, that while they are free to wear the headscarf, the establishment would prefer that they did not," said Khan.
He also pointed out that many British Muslim women who chose to wear a hijab have done extremely well in education and are breaking glass ceilings in all fields. "It is disappointing that this is becoming policy without even engaging with a diverse set of mainstream Muslim voices," added Khan.
Interestingly, a bishop of the Church of England has come out in support of allowing primary school girls to wear hijabs if they wanted to. "It may just be a case of young girls simply wanting to look like their mothers," said Toby Howarth, Bishop of Bradford, a town which has a large Muslim population. "This is a matter of religious identity, not sexualization, and the British policy should be not to make a big deal of it, but simply say that you have to wear the right colour that goes with the school uniform," added Howarth.
https://english.alarabiya.net/en/features/2017/11/28/-Are-you-being-forced-UK-Muslim-schoolgirls-wearing-the-hijab-to-be-quizzed.html
--------
Saudi entertainment authority sets regulations for female performers in family shows
27 November 2017
RIYADH: The General Entertainment Authority (GEA) introduced a ban on holding magic shows in the Kingdom, and stipulated that organizers of entertainment activities should provide insurance policies for acrobatic and dangerous shows.
Al-Watan newspaper on November 26 said that the GEA noted that women would not be allowed to take part in live shows, even if the shows are meant for families, without written approval from the authority. However, the GEA will allow women to take part in live shows which are held only for women.
The GEA stressed that any violations of the restrictions, conditions or commitments would give the authority the right to take necessary measures and refer offenders to the relevant legal entities.
http://www.arabnews.com/node/1200366/saudi-arabia
--------
Saudi female entrepreneurs increase by 35% in 10 years: Report
28 November 2017
JEDDAH: Saudi women account for 39 percent of the total number of entrepreneurs in the Kingdom, up 35 percent over the past 10 years, according to a report published by Al-Eqtisadiah on Sunday.
According to official statistics presented for World Entrepreneurship Day, the number of Saudi women entrepreneurs grew significantly from 2007 to 2017, from 4 percent to 39 percent, thanks to government and private support.
On Nov. 25, Prince Mohammad Bin Salman College of Business and Entrepreneurship (MBSC) hosted International Entrepreneurship Day activities by providing seminars and educational lectures to empower women globally.
The events were organized by the Council of Saudi Chambers, the National Commission for Entrepreneurship, the Small and Medium Enterprises General Authority, and in cooperation with private companies.
Dr. Nabil Kushak, the dean of MBSC, said that supporting and encouraging the creativity of women entrepreneurs contributes to the development of the economic cycle and provides an attractive and sustainable business environment.
"The role of women in the business and financial environment is an integral part of what we aspire to through our vision, which is an important direction in our responsibility toward the country.
"We aspire to strengthen our role not only as a higher private education college but also as a platform for ideas and commercial opportunities available to society."
Sarah Al-Ayed, the ambassador of the regional Women Entrepreneurs' Day in the Middle East and North Africa, presented an overview of regional and international initiatives and programs for World Entrepreneurship Day.
She pointed out that "the benefits given to entrepreneurs, especially women, are great. Women have proved their presence in the market. They are as trustworthy."
She explained that "whoever says that Saudi youths do not work should reconsider and understand the size of projects being run by young men and women."
More than 200 men and women students and entrepreneurs attended the event.
It included workshops and discussion sessions on the seven basic traits of the entrepreneurial personality, including motivation, innovation, risk, leadership, vision, flexibility and decision-making.
http://www.arabnews.com/node/1200291/saudi-arabia
--------
17-year-old Danish girl jailed for planning bomb attacks on schools
November 27, 2017
A 17-year-old Danish girl who offered to fight for Islamic State was sentenced on Monday to eight years in prison by the Danish high court for planning bomb attacks on two schools, one of them Jewish.
The high court on Friday found the girl - who was 15 years old at the time - guilty of the offences, upholding an earlier district court ruling.
The district court had initially sentenced her to six years in jail.
The prosecutor had called for her to sentenced to preventive detention indefinitely.
The girl was arrested at her home in January last year and charged with planning the attacks after acquiring chemicals for making bombs.
http://nation.com.pk/27-Nov-2017/17-year-old-danish-girl-jailed-for-planning-bomb-attacks-on-schools
--------
22-year-old Montreal woman escapes Daesh with infant daughters three years after travelling to Syria
By MICHELLE SHEPHARD
Nov. 27, 2017
A 22-year-old Canadian woman from Montreal is in the custody of Kurdish forces in Syria, along with her two-year-old daughter and newborn baby girl, after having fled a Daesh-controlled region of Syria.
She is being held by members of the Syrian Democratic Forces, a predominantly Kurdish and Arab force allied with Western governments fighting Daesh in the areas the group once held as part of its self-declared Islamic State.
Officials with Global Affairs Canada are in contact with senior members of the coalition group.
The woman, a Canadian citizen who surrendered to coalition forces last month, left Montreal for Syria with another teenage girl in November 2014, without telling her family or closest friends. It is believed the two took a common route for the thousands of Westerners who joined Daesh, also known as ISIS and ISIL, flying first to Istanbul, Turkey, and then travelling south into Syria.
The woman's mother, who has tried for three years to get her daughter home, said her daughter called crying soon after arriving, saying the situation was not what she expected and that she was being closely monitored. "Everything is under surveillance. Everything is dangerous here," the woman's mother said about the panicked call. "We are watched. It's not safe. I'm so sorry, mama. I'm so sorry."
Her mother, whom the Star agreed not to identify, has been in sporadic contact with her daughter throughout the three years she has been gone and speaks regularly with both the RCMP and Canada's spy service, CSIS.
Toronto lawyer Nader Hasan has also been in contact with the security services on the mother's behalf.
"We have been working with Canadian authorities for months to find a way to get her out of Daesh territory and into Canadian custody," Hasan said in an interview with the Star. "She was able to escape from Daesh territory — despite being eight and a half months pregnant — with the help of coalition allies. We understand she's in Kurdish custody as she awaits transfer to Canadian authorities."
"The RCMP has not indicated one way or another whether she'll be charged with a criminal offence. That said … we believe she is a victim and can be seen no other way," Hasan said.
The Quebec teenager left for Syria soon after she turned 19. Months later she was married to a German citizen, a convert to Islam. By February 2015, she was pregnant.
In December 2015, the Star's Allan Woods reached out to the woman on Facebook but got a reply from the husband, who went by the name Abu Saleheddin. "Im the husband, what do you want?" he wrote.
They were in Iraq at the time, where Canada was part of the coalition fighting Daesh. "The situation with fighter jets is still the same, few days ago they bombed a building with womans and children," the husband wrote.
The exact route of the Canadian woman's travel is unclear. She is believed to be in custody in the town of Al Hasakah, where she gave birth on Nov. 15. Canadian foreign affairs officials are working on getting travel documents for the women and her infant daughters.
"We are aware of the case and in contact with the family and offering consular assistance," MP Omar Alghabra, parliamentary secretary responsible for Canadians held abroad, told the Star.
Women have been involved in terrorism throughout history, but Daesh has ushered in a new era of female participation. The group's propaganda focused on the need for women to help create a new world order, promising an ideal life, blending passages of the Qur'an with images of kittens and winking emojis.
Only a small group of armed women in Raqqa, known as the Al-Khansaa Brigade, were considered Daesh enforcers — imposing the group's strict code.
Canada's 2016 Public Safety report noted: "It is often unclear which roles women who travel to Syria perform. The most commonly held assumption is that women travel abroad to marry terrorists, but the reasons for travel and eventual roles vary. Some may occupy secondary roles within terrorist groups, while in other cases they appear to be training and taking part in combat. Some women have also facilitated the travel of others."
Hicham Tiflati, a Montreal researcher who has spent years studying questions of identity among Muslims youths and radicalism, said with the exception of Al-Khansaa, the role of women was largely "restricted to staying at home, raising children, and supporting their husbands."
"To my knowledge, she was a stay-at-home mother that was looking after her daughter and did not have an active role in the organization," said Tiflati, who knows the young woman's mother.
In a high-profile October 2014 case, three Toronto girls aged between 15 and 18 were intercepted by Turkish authorities at the behest of Canada and sent back home after leaving for Syria. The girls' parents had alerted police after discovering their plan. The girls could have been charged with leaving to join a terrorist group, but instead agreed to speak with authorities and provide what intelligence they could about the recruitment of Western members. Community leaders and those within the security services who have advocated for measures beyond criminal sanctions hailed the case as a positive example of co-operation.
Little is known about Canadian cases of "returnees," although reportedly more than 60 have returned in recent years from conflicts in Somalia, Pakistan, Afghanistan, Libya, Syria, Iraq and elsewhere. Terrorism analysts and security sources say only a few are known to have returned from Daesh-held territory.
Governments worldwide have been grappling with how to handle those returning from Daesh's defeat in Syria and Iraq.
The Liberal government highlighted this issue soon after taking power, but despite pledges to create a community outreach and counter-radicalization office, little has been done. Two years after announcing funding for the initiative, Public Safety Minister Ralph Goodale has yet to name a coordinator.
The foreign fighter issue was back in the news recently after Rory Stewart, the U.K.'s minister of international development, said the British government may be forced to kill its citizens who had joined the group.
"I'm afraid we have to be serious about the fact these people are a serious danger to us, and unfortunately the only way of dealing with them will be, in almost every case, to kill them," he told BBC Radio.
Officials from the U.S. and France have also been quoted as saying those who went to Syria should die in Syria.
In response, Goodale told the CBC, "Canada does not engage in death squads."
Earlier this month at the Halifax International Security Forum, Defence Minister Harjit Sajjan stated: "We will make sure that we put every type of resource into place so Canadians are well protected."
https://www.thestar.com/news/world/2017/11/27/22-year-old-montreal-woman-escapes-daesh-with-infant-daughters-three-years-after-travelling-to-syria.html
--------
3% of restaurants and cafes owned by Saudi women
27 November 2017
RIYADH: Women accounted for 3 percent of the total number of commercial restaurant and cafes in Saudi Arabia, according to statistics from the Ministry of Commerce and Investment
The number of women's commercial records in the sector was 144 in 1438AH, out of 4,263 commercial records.
Commercial records of restaurants and cafes rose by 18.5 percent over the same period in 1437AH, with a total of 3,595, according to a report published on Monday by Al Eqtisadiah newspaper.
Saudi men ranked first in the owners of restaurants and coffee shops, followed by Saudi women, and finally foreigners, who accounted for only 0.49 percent of the total sector, with a total of 21.
The Kingdom's food sector is growing more rapidly than any other region saudi resin the world, with more young Saudi men looking to open a restaurant or start a "Food Truck."
The Ministry of Commerce and Investment has announced that women's commercial registers have been concentrated in four sectors: Services, diversified trade and information technology; real estate and land; operating, maintenance and cleaning of enterprises; and tourism, restaurants and exhibitions.
The ministry has taken measures to empower women and increase the share of their practice of the business, as it has developed its electronic transactions to reduce procedures and facilitate business operations through electronic services.
http://www.arabnews.com/node/1200326/saudi-arabia
--------
Shoura to discuss recommendation for women to hold leadership positions in Saudi missions abroad
Rodolfo C. Estimo Jr.
27 November 2017
RIYADH: The Shoura Council on Tuesday will discuss a recommendation to enable Saudi women to hold leadership positions in the Kingdom's diplomatic missions abroad.
The Saudi consultative assembly will also discuss support for Saudi women in holding positions in international organizations.
Noora Al-Shaaban, a Shoura Council member, said: "We first thank the members who put forward this recommendation," adding that it is in line with the Kingdom's 2030 Vision which supports women.
The Shoura Council's Foreign Affairs Committee in a report recommended the necessity of appointing Saudi women to leading positions in the Kingdom's diplomatic missions abroad.
Al-Shaaban said: "There are a number of young women who have graduated and demonstrated their achievements globally."
She added that the introduction of such a recommendation is an affirmation that Saudi women are able to take over leadership positions as ministers, ambassadors and Saudi representatives in international forums.
"As members of the Shoura Council, we go on foreign visits. Thankfully, we proved ourselves, as we are able to represent Saudi Arabia to the fullest extent."
Al-Shaaban, who started her career as a teacher and rose to become a supervisor and director, added that everyone attests to the fact that Saudi women are no less competent than their counterparts in other countries.
She said that this is the age in the era of King Salman and Crown Prince Mohammed bin Salman which gives Saudi women golden opportunities to show their social and leadership skills.
She added that "the Kingdom is now global, and this means that there is a balance between men and women," adding that the two complement each other.
She added that men and women affirm that the society has become receptive and ready for the political presence of women and in this context, "we will support our colleagues in the Shoura Council."
She added that "women proved their existence years ago and have assumed a number of leadership positions, such as Noura Al-Fayez." Al-Fayez was the first Saudi woman to hold a Cabinet-level office in Saudi Arabia.
In September, Fatimah Baeshen was also appointed as the first spokesperson for the Saudi Embassy in Washington, DC. Baeshen was a director at the Washington-based think tank Arabia Foundation.
She joined the Arabia Foundation after having worked with the Saudi Ministry of Labor and Social Development and the Saudi Ministry of Economy and Planning in Riyadh between 2014 and 2017.
Lawyer Ahlam Al-Shahrani said that there are many Saudi women who have proven their capabilities in many fields.
One of them is Khlood Aldukheil in business and finance. She holds the position of managing director of the Aldukheil Financial Group, a company engaged in investment and banking.
She has expertise in various areas, including business formation and restructuring, debt advisory and debt restructuring, risk management and regulatory compliance.
She's currently the president of the National Committee for Statistics under the Saudi Council of Chambers, chairperson of the audit committee for Saudi Orix Financing Company, among other positions.
"We hope that the recommendation will be activated and approved. We are in a pivotal historical transition period for the status of women in Saudi Arabia," Al-Shaaban said.
She added: "It is in a pioneering global initiative that brings together the sons and daughters of the homeland. The country does not walk crooked. It will also lead society's ideas, prosperity and development."
http://www.arabnews.com/node/1200346/saudi-arabia
--------
Dubai Women Establishment hosts knowledge-sharing session
November 27, 2017
The session was organised for students of the Higher Colleges of Technology (HCT) - Fujairah
Dubai Women Establishment (DWE) recently hosted the 11th knowledge-sharing session of its Qudwa initiative, which was led by Mona Al Marri, Director-General of the Government of Dubai Media Office. The Qudwa initiative was launched by Sheikha Manal bint Mohammed bin Rashid Al Maktoum, President of the UAE Gender Balance Council, President of Dubai Women Establishment (DWE) and wife of Sheikh Mansour bin Zayed Al Nahyan, Deputy Prime Minister and UAE Minister of Presidential Affairs in support of Emirati Women's Day, to empower Emirati women to further contribute to the development of the UAE.
The session was organised for students of the Higher Colleges of Technology (HCT) - Fujairah.
The event was also attended by Safia Al Raqbani, Acting Director of HCT Fujairah, Dr. Saif Al Qaidi, Dean of Academic Operations at HCT Fujairah, Hamad Al Mutairi, Lecturer in UAE and Arabic Studies at HCT Fujairah, Lamia Abdulaziz Khan, Communications Director at Dubai Women Establishment, and over 100 media studies students.
The 10 Pillars of Character
During the session, Mona Al Marri discussed ten guiding pillars that help to shape well-rounded individuals in our society, starting with the first, which is upholding high moral standards.
Al Marri moved on to the second pillar, highlighting the importance and influence of a person's environment and the people around them, including family, friends and colleagues.
Commenting on the third pillar - a person's homeland - said: "Patriotism is our commitment to the laws and systems of the UAE, and to being its best ambassadors inside the country and out."
Highlighting the example set by the UAE's leadership in patriotism and humility, Mona Al Marri discussed her first experience of working with the media, whilst supporting the Dubai Shopping Festival as part of her role at the Department of Economic Development.
Dedication
Emphasising the importance of the fourth and fifth pillars, diligence and dedication, in pursuing a successful career, Mona Al Marri urged the students to remain focused on their goals, and to support and encourage their peers and colleagues.
Mona Al Marri said: "Our leadership are the role models we follow in promoting happiness and respect for others amongst the UAE community, which represents over 200 nationalities. Our nation's vision is to spread tolerance - the sixth pillar in shaping character."
Al Marri also discussed the importance of demonstrating strong loyalty to the country and its leadership - the seventh pillar - and highlighted the unique opportunities available to Emirati girls and women, which are not found anywhere else around the world.
Mona Al Marri identified the eighth, ninth, and tenth pillars as setting clear and specific goals, striving to achieve a good work-life balance, and working hard to gain people's respect.
Discussing the important role of young people in society, especially in the media sector, Al Marri said: "Our country's leadership has placed the youth at the heart of our development journey and is committed to providing young people with the required support to develop their sense of responsibility and help them reach the highest positions."
Mona Al Marri concluded the session by exploring four inspirational takeaways with the students:
- Live up to the trust that has been placed in you by the country's leadership
- Remain up-to-date with all developments in the country, particularly as the UAE is developing at a very fast pace.
- Understand and contribute to the UAE Vision 2021 and national agenda.
- Set clear goals and specific timelines, and commit to achieving them.
https://www.khaleejtimes.com/nation/dubai/dubai-women-establishment-hosts-knowledge-sharing-session
--------
Oscars bid for story of 'Pakistan's toughest woman'
28 November 2017
As 200 armed men surrounded their house on a hot August night in 2005, Nazo Dharejo and her sisters grabbed their Kalashnikov and puny stock of ammunition and climbed to the roof.
The gunfight which followed earned her the moniker "Pakistan's toughest woman", and became the subject of a film which has been entered in next year's Academy Awards, vying for glory alongside heavy-hitters such as Angelina Jolie's "First They Killed My Father" and Joachim Trier's "Thelma".
A world away from Hollywood's red carpet, at the ancestral home Dharejo fought for in Pakistan's rural Sindh province, she described the night which could lead to Oscar glory.
"I will kill them or die here but never retreat," Dharejo, now in her late 40s, recalled saying as assailants attacked her home.
Her husband begged her to stand down but she refused, facing down her own relatives -- who were armed and had long sought to take her family's property after her father died leaving no male heir, she said.
Her grandfather had several wives, and the male heirs in other branches of his family were laying claim to her inheritance.
But her family had defied rural Pakistani cultural norms of the time to educate their daughters and teach them they were as good as boys, and the sisters were willing to give their lives to prove it.
From their position on the roof their tiny army -- the three sisters, Dharejo's husband, and some loyal friends and neighbors -- held off the onslaught, with household staff making daring runs for more ammunition until daylight broke.
A five-year legal battle over the land eventually saw her foes pay half a million rupees ($4,800) in compensation and offer a public apology -- an act of utmost disgrace in rural Pakistan.
The Waderi
Born in a conservative feudal family, Dharejo was entitled to learn the Koran at home -- and that was all.
She persuaded her father to allow her and her sisters to study English, which paved the way for her to gain her Bachelor of Arts in economics at Sindh University, where she could study at home and appear in public only for the exams.
But the modern justice system has made few inroads into rural Sindh, where little has changed for centuries in a society dominated by feudalism, and the bloody years-long fight over her family's land threatened many times to derail her progress.
"It kept intensifying. Five, six murders took place and in 1992 my brother was also murdered," she explained.
When her father died that same year, the women who visited to pay condolences taunted her mother and sisters that their family line had ended.
But Dharejo's determination -- particularly her defiant stand over her family's property years later -- slowly turned the tide.
Soon neighbours began to speak of her as "Waderi", a new feminine version of the male honorific "Wadera" meaning something akin to a feudal "Lady".
"She has become such a huge tree spreading soothing shade to the people around her," commented Zulfiqar Dharejo as his wife, draped in a traditional printed Sindhi shawl, rocked gently on a nearby swing bed in their sparse drawing room, hung with more guns.
Heat, hospitals and gunfire
In 2013 Dharejo's story came to the attention of a British-born Pakistani filmmaker, Sarmad Masud.
Fascinated, he got in touch. The result is My Pure Land, the 98-minute Urdu-language film version of Dharejo's story starring Suhaee Abro, which became the UK's official entry in the Oscar's foreign language category.
It faces tough competition: a record 92 countries have entered this year. Other contenders include Jolie's film on the Cambodian genocide.
Nominations will be announced in January, with the ceremony held in March.
Masud told AFP: "I was immediately inspired by (Dharejo's) courage and heroism."
But he conceded making the movie, filmed in some 30 days around Lahore, had been tough.
Temperatures touched 40 degrees during filming; both he and his wife, the production designer on the film, were briefly hospitalized; and the set was attacked.
Much to his frustration, they also never met their heroine in person, though they spoke often.
Despite its labelling by some critics as a "feminist Western", My Pure Land has only a few action scenes in it, Masud said.
Ultimately it is a drama about a father's loving relationship with his daughters, he explained.
"It was important to shine a light on characters and a part of the world which is very rarely accurately represented on screen," he added.
Dharejo said she was "very happy" with the final film, adding that the triumphant story belongs to Sindh and Pakistan".
She said: "That is an honor for me."
https://english.alarabiya.net/en/life-style/entertainment/2017/11/28/Oscars-bid-for-story-of-Pakistan-s-toughest-woman-.html
--------
Iran: Expansion of protests by girl students
27 November 2017
Young men and women held protest gatherings on 25 and 26 of November 2017, in various Iranian universities.
Girl students of Tehran University's Chamran Dormitory gathered two consecutive nights outside the dormitory's entrance after the deadline set for women's entry to the facilities. The gathering held on the International Day for the Elimination of Violence against Women was intended to protest the restrictive regulations set to limit girl students' freedoms.
Upon their subsequent entry, the girls refused to sign forms that sought their pledge not to violate the deadline for returning to the dorm.
Students of Medical Sciences University of Bojnourd, northeastern Iran, protested the incompetence of university officials on November 26, 2017 by refusing to eat the university's low-quality food and lining up their trays on the ground.
Students of Bozorgmehr University of Qa'en, also in eastern Iran, lined up their trays on the floor during a protest gathering on November 25, 2017 to protest the expensive and low-quality food provided by the university's restaurant.
http://women.ncr-iran.org/iran-women-news/4535-iran-expansion-of-protests-by-girl-students
--------
URL: https://www.newageislam.com/islam-women-feminism/love-jihad-case-wife-her/d/113381
New Age Islam, Islam Online, Islamic Website, African Muslim News, Arab World News, South Asia News, Indian Muslim News, World Muslim News, Women in Islam, Islamic Feminism, Arab Women, Women In Arab, Islamophobia in America, Muslim Women in West, Islam Women and Feminism