New Age Islam News Bureau
12 March 2020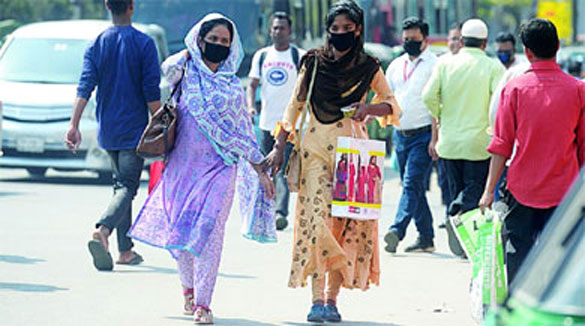 Women wearing facemasks amid fears of the spread of COVID-19 novel coronavirus, walk through a street in Dhaka. – AFP
------
• Women in Bangladesh Promote Hygiene In Refugee Camps Amid Coronavirus Fears
• Pakistan Passes Child Abuse Law after Girl's Rape and Murder
• Pakistani Women's Rights Activist Sees Victory
• Trial of Detained Saudi Women's Activist Postponed In Riyadh
• Man Attacks Woman In Iran For Being A 'Bad Hijab'
• Canada Mulling Deportation of Female Afghan Doctor Who Conducted Virginity Tests
• Saudi Arabia to host Aramco International Women's Golf Championship in March
• Saudi Women's Rights Activists Pull Back Curtain on Crown Prince
• Haya March To Counter Aurat March In Pakistan: Women March For Rights All Over The World
• British HC Welcomes Women Creativity in Pakistan
Compiled By New Age Islam News Bureau
URL: https://www.newageislam.com/islam-women-feminism/look-veil--says-israel/d/121286
--------
'Look Beyond the Veil', Says Israel's First Hijab-Wearing Lawmaker
Mustafa Abu Ganeyeh
MARCH 6, 2020
NAZARETH, Israel (Reuters) - A female Muslim lawmaker from Israel's Arab minority is set to become the first in parliament to wear a hijab, or head scarf, after Arab parties won their largest ever showing in this week's election.
Iman Yassin Khatib, 55, won a place on the Joint List coalition's slate of 15 seats in the 120-member Knesset.
The party draws most of its votes from Israel's 21% Arab minority - who are Palestinian by heritage but Israeli by citizenship.
The mother of four served as the manager of a community center in the Galilee village of Yafat an-Nasreh on the outskirts of Nazareth, the city where Jesus grew up, before entering national politics.
"There is no way (the hijab) won't capture people's attention. But what's more important is what is inside: the ability and potential to advance our community," said Khatib as she accepted congratulations and posed for selfies on a street in Nazareth.
Khatib said she felt her hijab had sometimes stirred anti-Islam sentiment in Israel, whose nine million population is mostly Jewish.
"Every challenge I faced in my life was made harder because I wear a hijab," she said. But she urged people to "look beyond the veil".
Israel's Arab minority is mostly descended from the Palestinians who lived under Ottoman and then British colonial rule before staying in Israel after the country's 1948 creation.
It is predominantly Muslim, but also includes members of the Christian and Druze faiths.
Many Arabs complain of discrimination in areas such as health, education and housing, and their leaders accused Prime Minister Benjamin Netanyahu of incitement against them during recent elections.
Netanyahu's Likud party counters that its 15 billion shekel ($4.34 billion) investment plan for the Arab sector is the largest ever by an Israeli government.
Arab voter turnout surged to 64.7% in Monday's election, its highest in 20 years. That gave the Joint List coalition two more seats in parliament than in last September's ballot.
It is the third-largest party in the Knesset after Netanyahu's Likud and the centrist Blue and White Party. But its influence will likely be limited since no Arab party has ever joined an Israeli government.
Analysts cited anger toward Netanyahu and his U.S. ally President Donald Trump as one reason for the surge in Arab voters in this election, the third in a year.
Khatib is one of four women lawmakers among the Joint List's Knesset members. She belongs to its Islamist faction, Ra'am, which campaigns for more services and rights for Arabs in Israel, and supports the creation of a Palestinian state.
"There is a growing awareness amongst Arab women that we can be active participants in our future," said Khatib.
"My message to young women: there is a possibility. There is a way. Don't limit your hopes and dreams."
https://www.reuters.com/article/us-womens-day-israel-arabs/look-beyond-the-veil-says-israels-first-hijab-wearing-lawmaker-idUSKBN20T1S1
--------

Women in Bangladesh Promote Hygiene In Refugee Camps Amid Coronavirus Fears
11 March 2020
Women in Bangladesh are promoting hygiene in the world's largest refugee settlement to prevent coronavirus from spreading there, aid workers said on Wednesday, after the nation reported its first case of the disease.
A confirmed case of Covid-19 on the Greek island of Lesbos has sparked fears about the impact of an outbreak in refugee camps from Mexico to France where people live in dire conditions with poor hygiene and little medical care.
So far there are no reported cases of the virus in Bangladesh's densely-populated Cox's Bazar camps but medics are setting up isolation units in hospitals and teaching children about cleanliness through a network of mostly women volunteers.
"(Women will) help carry out systematic preventative health and health promotion messaging in their communities," said Louise Donovan, spokeswoman of the UN's refugee agency.
Around 700,000 Rohingya refugees who arrived in Bangladesh in 2017 in a mass exodus from neighboring Myanmar live in huts built out of plastic and bamboo in an area half the size of Manhattan.
They face overstretched and poorly-resourced health services which is "why we have been advocating for refugees to be included in national preparedness and response plans," said Donovan.
Bangladesh confirmed its first three cases of coronavirus on Sunday and postponed a major public event marking the centenary of the country's founder.
Rohingya women, many of whom suffered sexual violence in Myanmar and who now run most of the camps' households are uniquely positioned to spread awareness about the disease, said Razia Sultana, a Rohingya lawyer.
"More than 70% of the people in the camps are women and children. These children will pick up habits from their mothers, so its important to get as many women trained as possible," said Sultana.
Data released by Chinese authorities on coronavirus deaths suggest fewer women are dying than men with some scientists citing hormonal differences.
Shamima Bibi, a refugee who runs several schools said that she has started telling students to "stay as clean as possible" in order to not get infected.
"Not just in class but in other places in the camps as well, we are telling everyone to wash their hands and cover their face while sneezing and do whatever we can to stay safe," she told the Thomson Reuters Foundation.
Bibi said people in the camps are not "excessively worried" about the virus but have been cautious ever since Bangladesh confirmed the presence of the disease in Dhaka, about 400 kilometers away.
The U.N. has trained hundreds of health staff to detect the infection in an attempt to provide early warnings should the virus spread to the camp, said Donovan.
If the virus takes hold, refugees can also be referred to a hospital outside the camps in Cox's Bazar, said Mahbub Alam Talukder, the government's Refugee Relief and Repatriation Commissioner. "We have prepared well and everything is under control," he
said.
Fire ravages thousands of homes in Bangladesh shanty town
Separately on Wednesday, a fire destroyed thousands of homes in a slum in Bangladesh's capital city of Dhaka .
Residents, many of them now homeless, could be seen joining firefighters to extinguish the fire, which broke out at a slum in Dhaka's Mirpur district on Wednesday morning.
Local media claims about two thousand houses are burnt and around 10 thousand people are made homeless.
According to local fire services, no deaths have been reported, but at least four people, including a firefighter, were injured.
The blaze has mostly been extinguished, but smoke continues to rise.
"All of us are all living under the open sky, suffering so much," said Maruf Haider, whose home was destroyed in the fire.
Last year, a massive fire destroyed over 1,000 dwellings in Dhaka's Chalantika slum, leaving thousands homeless.
https://www.presstv.com/Detail/2020/03/11/620630/Bangladesh-women-coronavirus
--------
Pakistan Passes Child Abuse Law after Girl's Rape and Murder
Thomson Reuters Foundation
March 12, 2020
ISLAMABAD: Pakistan's parliament passed a new law against child abuse on Wednesday, two years after the rape and murder of a 7-year-old girl that shocked the country.
Pakistan's first national child abuse law will introduce a penalty of life imprisonment for child abuse, said Pakistan's Human Rights Minister Shireen Mazari.
It follows the death of Zainab Ansari, whose body was found in a garbage dumpster in Kasur district near the eastern city of Lahore in 2018, sparking large protests and accusations of negligence by authorities.
There had been reports of a number of missing children in the district since 2015, when authorities uncovered what they said was a paedophile ring linked to a prominent local family.
Mazari tweeted that the bill's passage had been "a long struggle" as she thanked colleagues for helping it clear numerous hurdles.
"Finally, we have emerged today successful, getting the Zainab Alert Bill sailed through the National Assembly with a majority of votes," she told the Thomson Reuters Foundation by phone.
An amended version of the bill cleared Pakistan's legislative assembly late on Wednesday after being passed by the upper house earlier this year. It is expected to receive the formal assent of the president in the coming days.
Zainab's case triggered debate in Pakistan over whether to teach children how to guard against sex abuse, a taboo subject in the Muslim majority nation.
Nearly 10 cases of child abuse a day are reported in Pakistan, according to Sahil, an organisation that works on child protection, with girls disproportionately affected.
The law requires police to register a case within two hours of a child's parents reporting them missing.
It includes measures to speed up the process, including the establishment of a dedicated helpline and a new agency to issue alerts for a missing child.
https://www.freemalaysiatoday.com/category/world/2020/03/12/pakistan-passes-child-abuse-law-after-girls-rape-and-murder/
--------
Pakistani Women's Rights Activist Sees Victory
March 06, 2020
Daud Khattak
"Mera Jism, Meri Marzi," Urdu for "My Body My Choice," has become a rallying cry for feminists, women, and rights activists in Pakistan ahead of planned protests marking International Women's Day on March 8. But the activism has rattled the Muslim nation's conservatives, with two leading Islamist parties threatening counter protests.
Journalist Marvi Sirmed, a leading Pakistani rights campaigner, says extremists, fanatics, and mobsters cannot stop their peaceful protests. Now a fellow at Washington's National Endowment for Democracy think tank, Sirmed's recent altercation with a leading screenwriter on nighttime TV attracted a lot of attention to the March 8 protest. For Sirmed, the controversy presents another opportunity to highlight the plight of women in her country.
Radio Mashaal: Could you explain what the slogan "My Body, My Choice" means? And why such a slogan?
Marvi Sirmed: "My body, my choice," means that no society can wage their wars at the expense of a woman's body. We ask the men not to use our bodies for their ghairat or honor. We ask them to stop killing us in the name of honor and give us the right to say no because we have the right to say no to anything that we don't feel comfortable with.
We must have the right to say that we can't tolerate sexual harassment and to say no to decisions regarding our marriages by other [family members]. Our religion gives us the right to choose our life partner, so why not society?
Further, we have the right not to be judged on the basis of our physical appearance. "My body, my choice" means not to tell our girls that being fair will get them married and if they are dark-skinned, they will never get married.
Radio Mashaal: Some groups and people have threatened to stop the march by force.
Sirmed: We continued holding this annual event even during the times of military dictators. We are not afraid of guns or the use of force. We are not afraid of extremists or fanatics. We continued the march when the region was wracked by terrorism. How can a few mobsters scare us now? Yes, we will always stay peaceful.
Radio Mashaal: Why does so much controversy surround this year's march?
Sirmed: One main reason for the controversy is our bold slogans. And this is because we are living in a patriarchal society that does not accept such slogans. In fact, by chanting such slogans, we want to challenge the patriarchal thinking of society. We have turned those slogans as the foundation of our campaign to challenge the traditional [subservient] status of women. And it is natural that whenever you challenge a set tradition, there is a reaction.
Radio Mashaal: Why are you calling your protests Aurat Azadi March, or Women's Freedom March?
Sirmed: Like rest of the world, we are holding this march on March 8 to raise a voice for women's rights. With this march, we use the opportunity to highlight the problems faced by women [in Pakistan]. Unfortunately, over the past two years, some people have raised controversies about this march. We are not scared of controversies because we believe they generate a debate in society about social issues. And we believe this kind of debate will lead us toward a solution.
Radio Mashaal: If the slogans are the main reason, as you mention, then why don't you change them?
Sirmed: We believe it is because of our bold slogans that the Women's Freedom March has become the center of attention. This has enabled us to prove our presence. Otherwise, we had been passively observing March 8 over the past 25 years and there was no debate and no media coverage. Now that we pinched the patriarchal thinking with these slogans, we feel we are being listened to and discussed. And this provides us a chance to bring change.
Radio Mashaal: The Women's Freedom March is led by urban and affluent women. What about many women living in rural areas and those from uneducated and impoverished backgrounds?
Sirmed: This is not the campaign of urban and upper class women. Social behavior is the same everywhere. For example, honor killing, acid attacks on women, and domestic violence. Women from every walk of life are joining the march. Many women are educated, and many others are less educated or uneducated.
Radio Mashaal: In objection to your protest, some religious groups have announced parallel marches on the same day to speak up for women's rights. Why don't you join them to put an end to the controversy?
Sirmed: I don't think those groups are interested in upholding the values that we stand for. We want gender equality. Do you think they will agree? And they are the ones who raised objections against our slogans. We have held this march for the past 25 years. Why haven't they joined us before?
Radio Mashaal: Are you happy with the behavior of the mainstream political parties toward your campaign?
Sirmed: The religious parties in the Senate, the Jamiat Ulam-e Islam in particular, have raised objections. I was disappointed with the Pakistan Muslim League-Nawaz's (PML-N) Senator Mushahid Ullah Khan's recent speech in the Senate. There are many others who are against this march and it is very disappointing for us.
Still, many in the mainstream political parties are our allies. For example, Shireen Mazari of the ruling Tehrik-e-Insaf party has always been very supportive. Likewise, Maryam Nawaz Sharif and Maryam Auragzeb of the opposition PML-N have voiced support for us. We hope that we can slowly win our support in all the political parties.
Radio Mashaal: What future do you see for gender equality in Pakistan?
Sirmed: I can say we will have a society where justice is valued, and everybody will be equal. This is the teaching of all religions, especially the religion of Islam.
https://gandhara.rferl.org/a/pakistani-women-s-rights-activist-sees-victory/30472538.html
--------
Trial of Detained Saudi Women's Activist Postponed In Riyadh
March 11, 2020
The latest hearing in the trial of outspoken Saudi women's rights activist Loujain al-Hathloul has been postponed until next week, her sister said on Twitter.
Nearly two years into her detention, Hathloul was due in a Riyadh court today for what Amnesty International has called a "sham trial." Hathloul's sister Lina al-Hathloul said no reason was given for the delay in court proceedings until March 18.
Hathloul and at least 12 other women were imprisoned in May 2018 over their activism, including campaigning for women's driving rights and pushing to end male guardianship in the country.
"The very existence of this sham trial pulls the veil off of the authorities' so-called push for reforms in the kingdom. How can they initiate change in the country when the very women who fought for these reforms are still being punished for it?" Lynn Maalouf, the Middle East research director for Amnesty International, said in a statement published Monday.
A prominent women's rights activist, Hathloul has been arrested several times before. In 2014, she spent more than 70 days in prison after she livestreamed herself attempting to drive into Saudi Arabia from the United Arab Emirates.
Then in May 2018, Hathloul was detained as part of a sweeping crackdown on right-to-drive activists. A month later, Saudi Arabia lifted the world's only ban on women driving.
"What is unfortunate is that we are seeing some positive progress in Saudi Arabia for the same issues that we believe that they are detained for," Suad Abu-Dayyeh, a Middle East and North Africa consultant at Equality Now, told Al-Monitor.
"We really call on the Saudi government to unconditionally release these women from prison," Abu-Dayyeh said.
According to her family, Hathloul has at various times been held in solidarity confinement and tortured with waterboarding, electric shocks and sexual harassment. In a 2019 New York Times op-ed, her sister Alia al-Hathloul wrote that during a family visit, Loujain "was shaking uncontrollably, unable to hold her grip, to walk or sit normally."
In the Times op-ed, Hathloul's siblings allege that Saud al-Qahtani, a former close adviser to Crown Prince Mohammed bin Salman, personally supervised her torture and threatened to rape and kill Hathloul. The Saudi government denies all accusations of torture.
Amnesty International and other rights groups have called on Saudi Arabia to drop the charges against Hathloul and investigate her treatment in detention.
https://www.al-monitor.com/pulse/originals/2020/03/trial-saudi-activist-hathloul-loujain-postponed-riyadh.html
--------
Man Attacks Woman In Iran For Being A 'Bad Hijab'
11 March 2020
A video showing a man attacking a woman in Iran has gone viral and sparked outrage on social media.
The woman was attacked for being a "bad hijab," according to some social media users.
"Bad hijab" is a term used by Iranian authorities to refer to women who are not properly veiled in their view. These are often women who leave part of their hair uncovered.
"Bad hijab" women in Iran are often harassed and targeted by Iran's morality police known as "Gasht-e Ershad," Basij members, and even at times regular people who support and share the values of the Islamic Republic.
In the video, a bearded man follows and attacks a woman he came across on the sidewalk after stepping out of a vehicle.
The woman then fights off the man.
Read more: In Iran, some take off their hijabs as hard-liners push back
"In broad daylight in Iran, a woman walking in the street is physically harassed by a pro-regime vigilante due to her hijab," Iranian journalist and activist Masih Alinejad tweeted.
"Next time they tell you compulsory hijab is a small issue, show them this video … many Iranian women face this," Alinejad added.
Some Iranian users online claimed to have identified the attacker and shared personal details of his, including his name, city of residence, home address and the registration plate of the vehicle he stepped out of at the start of the video.
https://english.alarabiya.net/en/News/middle-east/2020/03/12/Video-Man-attacks-woman-in-Iran-for-being-a-bad-hijab-.html
--------
Canada Mulling Deportation of Female Afghan Doctor Who Conducted Virginity Tests
12 Mar 2020
Thee Canadian Immigration authorities are mulling deportation of a female doctor who conducted virginity tests on women in Afghanistan.
According to local media reports, the authorities are arguing that the actions of the doctor a crime against humanity.
The doctor, Saida Ahmadi reportedly conducted the virginity tests on women in a hospital in the North of Afghanistan. She made a refugee claim after arriving in Canada in 2017.
During her interviews with the Canadian Immigration officials, Ahmadi has admitted that she conducted virginity tests as part of her duties, they were not routine.
Meanwhile, the Immigration and Refugee Board has ruled that although the tests were "part of the systematic oppression of women in Afghanistan," they were not a crime against humanity, according to Global News.
The IRB's Immigration Appeal Division ruled that Ahmadi did not make a significant contribution to "the systems in Afghanistan which oppress women."
However, the Federal Court of Canada overturned the IRB Appeal Division decision in February, sending the matter back to the refugee board for re-examination.
The Federal Court found the IRB made the decision through a process that "breached the principals of natural justice and procedural fairness."
https://www.khaama.com/canada-mulling-deportation-of-female-afghan-doctor-who-conducted-virginity-tests-04504/
--------
Saudi Arabia to host Aramco International Women's Golf Championship in March
March 11, 2020
RIYADH: More than 100 professional players from around the world will take part in the Saudi Aramco International Women's Golf Championship from March 19 to 22, state news agency SPA reported on Tuesday.
The event aims to encourage a generation of female Arab players to become models for golfers in the region.
https://www.arabnews.com/node/1639926/sport
--------
Saudi Women's Rights Activists Pull Back Curtain on Crown Prince
By Medea Benjamin and Ariel Gold
March 11, 2020
Crown Prince Mohammad bin Salman (MBS), Saudi Arabia's 34-year-old de facto ruler is on a tear. He has arrested members of his own royal family and initiated an oil price war with Russia that has sent the price of oil — and the world's stock markets — plummeting.
Behind the headlines, another critical event is taking place in Saudi Arabia. On Wednesday, women's rights activist Loujain al-Hathloul, who was arrested almost two years ago for advocating the right to drive, was due back in court. The diabolical MBS wants the world to believe he is the Arab world's liberal reformer and took credit for eventually granting women the right to drive, but he is also the one who had al-Hathloul and nine other women thrown in prison, charging them as foreign agents and spies. The imprisonment of these peaceful activists exposes the brutal nature of MBS's regime and the duplicity of the Western democracies that continue to support him.
Loujain al-Hathloul gained notoriety in 2013 for campaigning against the driving ban when she posted videos of herself driving as an act of civil disobedience. She was first arrested in December 2014 when she attempted to drive from the United Arab Emirates to Saudi Arabia and spent 73 days in prison at that time. Al-Hathloul has also been an outspoken advocate for an end to the male guardianship system that treats women as no more than children throughout their entire lives.
On May 15, 2018, a group of armed men from the state security agency raided al-Hathloul's family's house and arrested her. For the first three months of her detention, she was held incommunicado with no access to her family or a lawyer. According to the communication she was later able to have with her family, during those three months, she was beaten, waterboarded, given electric shocks, sexually harassed, and threatened with rape and murder.
Al-Hathloul languished in a Saudi prison for almost a year before the public prosecutor's office finally announced that it had concluded its investigation and alleged that Loujain was involved in activities that "aim to undermine the Kingdom's security, stability, and national unity." She was accused of contacting "enemy groups" — a reference to cooperation with the United Nations and human rights groups such as Amnesty International.
Al-Hathloul's initial hearing was in March 2019, but she was not allowed access to a lawyer or to hear the charges prior to the hearing. Her family members were permitted to attend, but the court was closed to both diplomats and journalists.
Freedom in Exchange for Denying Torture
According to her family, in August 2019, al-Hathloul was offered her freedom in exchange for denying, on video, that she was subjected to torture. She refused. For her incredible bravery and determination to fight for women's rights, eight members of U.S. Congress have nominated al-Hathloul for the Nobel Peace Prize.
The case of al-Hathloul and the other women's rights activists on trial in Saudi Arabia is a tremendous embarrassment for MBS, who has been putting an enormous effort into convincing his Western allies that he is a reformer and that Saudi Arabia is becoming more liberal. But behind the facade of new musical concerts and theme parks, the crown prince has overseen a vast crackdown on all forms of opposition and dissent. In November 2018, the CIA concluded that MBS was the one who ordered the gruesome assassination of Washington Post journalist Jamal Khashoggi. MBS is also responsible for dragging Saudi Arabia into an internal conflict in Yemen, where constant Saudi bombings have decimated what was already a poor country.
The fact that MBS lifted the driving ban and simultaneously put in prison those who had campaigned and suffered for such reforms makes clear his actual motive: to silence dissent and prevent these women from being heard. Loujain's sister Lina al-Hathloul says that the regime arrested these women's rights activists "so that they make the [Saudi] people understand that change only comes top down. And the people should not even try to make the changes." This sentiment was echoed by Suzanne Nossel, the head of PEN America. "These gutsy women have challenged one of the world's most notoriously misogynist governments, inspiring the world with their demand to drive, to govern their own lives, and to liberate all Saudi women from a form of medieval bondage that has no place in the 21st century," she said.
"The very existence of this sham trial pulls the veil off of the authorities' so-called push for reforms in the Kingdom," said Lynn Maalouf, Amnesty International's Middle East research director. "How can they initiate change in the country when the very women who fought for these reforms are still being punished for it?"
The bogus trial against Loujan al-Hathloul should compel governments around the world to put more pressure on the Saudis and demand al Houthloul's immediate and unconditional release. Her imprisonment — as well as MBS's arrest of royal family members and Saudi's brutal war in Yemen — should be particularly embarrassing to the world community in light of the G20 meeting scheduled to take place in Saudi Arabia in November. How can the world's leaders pretend that it is acceptable to meet in a country that imprisons and tortures peaceful women activists and bombs civilians in Yemen? It isn't.
https://consortiumnews.com/2020/03/11/saudi-womens-rights-activists-pull-back-curtain-on-crown-prince/
--------
Haya March To Counter Aurat March In Pakistan: Women March For Rights All Over The World
March 9, 2020
ISLAMABAD: Thousands took to the streets across the globe to mark the International Women's Day on Sunday despite the coronavirus outbreak forcing the cancellation of a slew of events in Asia, as violence marred some European gatherings.
In China — the epicentre of the epidemic that has killed more than 3,500 people and infected over 100,000 worldwide — state broadcaster CCTV highlighted the work of female medical workers on the frontlines in the fight against the virus.
Despite growing fears over the worsening epidemic, marches went ahead in Thailand, Indonesia and the Philippines while women also rallied in Pakistan demanding "freedom".
A women's marathon planned in India was postponed over virus concerns as Prime Minister Narendra Modi said prominent women would run his social media accounts for the day.
France saw a clutch of virus deaths take its virus toll to 16 Saturday but Paris hosted several rallies — one of which saw violence which organisers blamed on the police. A rally in Kyrgyzstan also turned violent as the police detained dozens of protesters — mainly women — after masked men attacked them and tore up their placards in the capital Bishkek. A police spokesman said they were detained for their own safety and because police had not been warned about the rally.
In South Korea, where more than 7,000 virus infections make it the hardest hit country outside China, several events were cancelled.
"Although we can´t be physically together, our minds for realising gender equality are stronger than ever," the country´s gender equality minister Lee Jung-Ok said in a video message.
Many feminist groups held online campaigns instead of street marches, using hashtags such as #FemaleStrike, #PowerUp and #38InternationalWomensDay to raise awareness of gender inequality.
In Bangkok, protesters called for improved labour protections amid the epidemic that has infected dozens in Thailand, and greater rights under a military-aligned government.
Organisers blamed virus fears for the fact that the turnout was lower than last year.
Hundreds of women and men rallied in Manila, burning a giant effigy of President Rodrigo Duterte — who they accuse of misogyny — to mark the day.
"Violence and poverty among women are getting worse," Joms Salvador of women´s group Gabriela told AFP.
"While we have 37 laws related to women´s rights, on the ground what is happening is a widespread violence in the forms of domestic abuse, sexual harassment and rape," he said.
A big crowd turned out in Melbourne to watch the women´s Twenty20 World Cup final between India and Australia. US singer Katy Perry, wearing an outfit emblazoned with the female symbol, performed her hit single "Roar" ahead of the game.
Rallies were smaller than usual in virus-hit Europe.
"Who´s doing the washing up?" they chanted. "We are making a revolution".
But rights groups and politicians denounced what they said was police violence at a women´s march in Paris the night before, after scuffles broke out and police arrested nine people.
Paris mayor Paris Anne Hidalgo, currently seeking re-election, said she was shocked at the "unacceptable and incomprehensible" violence and expressed her solidarity with the demonstrators.
Some women tweeted pictures of marchers left battered and bruised, prompting Europe Ecology-The Greens party secretary Julien Bayou to blast what he termed "absolutely unjustifiable police violence".
Elsewhere, women also turned out in force in Iraq and Lebanon, while Mexico, which has long battled deep-rooted gender violence, was to stage rallies, notably in the northern border city of Ciudad Juarez.
Back in Europe, Italian President Sergio Mattarella recorded a video message with much of the country in coronavirus lockdown, regretting the need to avoid large-scale gatherings.
Instead, he elected to "express a grateful thought to the women -- and there are many -- who are working in hospitals... in the red (quarantine) zones to fight the spread of the virus that worries us today."
Up to 500 women took part in a sunrise swim at Portobello beach in Edinburgh for International Women's Day, braving the cold waters to celebrate.
In Australia supporters wore purple to mark International Women's Day during the Women's T20 World Cup final match between Australia and India at the MCG in Melbourne.
Members of the women's movement FEMEN have staged a protest on the Place de la Concorde in Paris, calling for an end to patriarchy.
Demonstrators from Extinction Rebellion protested in London today, arguing that the 'climate is a women's issue'. Thirty one women formed a topless chain on Waterloo Bridge in London, with the words 'Climate Rape' written on their bodies.
In Afghanistan, a handful of people took to the streets to mark Women´s Day.
University graduate Tahmina Ghoori said while urban Afghan women have seen some progress since the end of Taliban rule in 2001, they still face many challenges due to "gender inequality and the misogynistic views in our society".
She was especially worried about the possibility of the insurgents returning to power on the back of a US-Taliban deal signed last month.
"We have left a dark era behind, my concern is that if they make a comeback, we will go through the same situation, and women´s rights will be trampled again," she told AFP.
Protesters Sunday marched in Pakistani cities to mark the International Women´s Day.
In Islamabad, about 1,000 women and men gathered to call for greater reproductive and other rights.
The Islamabad Capital Territory (ICT) police averted a possible clash between the participants of Aurat March and Haya March.
The participants of both the marches gathered in front of the National Press Club to express their sentiments. The police divided the participants of both the marches through ropes, barbed wires and tent sheets.
Women from the Jamaat-e-Islami, (JI), JUI-F, Lal Masjid and female students of different seminaries staged the Haya March.
The situation became tense when a boy wearing an 'Abbaya' and wielding a baton in his hands appeared among the participants of Aurat March.
Meanwhile, the participants of Haya March chanted slogans and some of them hurled stones and batons at the participants of the Aurat March; however the police dispersed them averting a possible violence.
"The women in Pakistan are considered property by their male counterparts," said Tahira Maryum, 55. "There is nothing vulgar in asking for your rights," she added.
At the Islamist counter-protest, dozens of women in burqas held their own placards including one saying "Anti-Feminist", while shouting "Our bodies, Allah´s choice".
Ismat Khan, a 33-year-old woman, said women´s rights activists were "naive" and being exploited by non-government groups and "the Jewish lobby".
"We are free and to live our lives are according to Sharia," she told AFP.
Condemning stone pelting at the participants of Aurat March in Islamabad, the Pakistan People's Party (PPP) Sunday demanded an investigation and arrest of those responsible and the facilitators.
In a statement, PPP Secretary General Nayyar Hussain Bokhari said those involved in the incident should be tried as per the law of the land.
Spokesman for the PPP Chairman Senator Mustafa Nawaz Khokhar condemned the incident saying it was a coward act to scare women with sticks, stones and through bad language.
He demanded legal action against all those who were responsible for this incident.
In Lahore, a crowd of several hundred women and men took to the streets chanting slogans such as: "Give me what´s mine" and "We want freedom", while more than 1,000 people gathered in a park in Karachi, chanting slogans and beating drums.
The nationwide event also saw a group of women gather in the southern city of Sukkur near the Indus River.
The local social media was filled with comments both for and against the march with, "HappyWomensDay2020" and "MeraHijabMeriMarzi" (MyHijabMyChoice) both in the top Twitter trends.
Prime Minister Imran Khan Sunday said the observance of International Women's Day was reiteration of the government's commitment to undertake every possible effort to ensure equal rights and opportunities to the women.
"In this effort, we are guided by the teachings of our religion, the Seerat of Holy Prophet (PBUH) and the core values that distinguish our society," he said in a message.
He further said it was indeed encouraging to see that the Pakistani women were proving their mettle in every walk of life and achieving excellence in their respective fields at the national and international level.
"I firmly believe that inclusive and sustainable socio-economic development can only be ensured by providing equal opportunities and a conducive environment to our women.
https://www.thenews.com.pk/print/626184-haya-march-to-counter-aurat-march-in-pakistan-women-march-for-rights-all-over-the-world
--------
British HC Welcomes Women Creativity in Pakistan
Muhammad Saleh Zaafir
March 12, 2020
ISLAMABAD: British High Commissioner for Pakistan Dr Christian Turner CMG is impressed by the stories of resilience, hard work and creativity of women in Pakistan as he celebrated and paid tribute to the women parliamentarians of Pakistan as part of a series of events held to mark International Women's Day.
According to the British High Commission the High Commission arranged a forum bringing together eight women parliamentarians - from a range of parties and regions - to discuss and share their stories as political leaders. The discussion focused around three thematic areas: Gender Inclusivity, Women Leadership and Enabling Environment; and was attended by Senator Ayesha Raza Farooq, Senator Sitara Ayaz, Members of National Assembly (MNAs) Mehnaz Aziz, Andleeb Abbas, Maleeka Bokhari and Shunila Ruth.
The British High Commissioner Dr Christian Turner CMG said: "There is no prosperous future in Pakistan without giving women a voice and choice. I have met many brilliant Pakistani women and I'm impressed by their stories of resilience, hard work and creativity. As the British High Commissioner, I plan to use my time here to promote the UK's commitment to advance gender equality. I will work to ensure that more women in Pakistan are heard and have voice in decision-making; I will work to get more girls into schools – and support financial inclusion of women, because an equal world is an enabled world."
https://www.thenews.com.pk/print/627889-british-hc-welcomes-women-creativity-in-pakistan
--------
URL: https://www.newageislam.com/islam-women-feminism/look-veil--says-israel/d/121286
New Age Islam, Islam Online, Islamic Website, African Muslim News, Arab World News, South Asia News, Indian Muslim News, World Muslim News, Women in Islam, Islamic Feminism, Arab Women, Women In Arab, Islamophobia in America, Muslim Women in West, Islam Women and Feminism