New Age Islam News Bureau
15 Jun 2020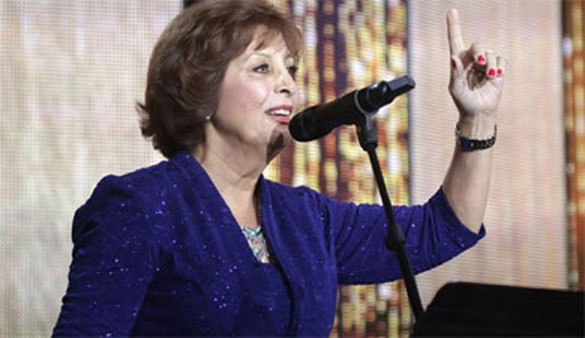 Marjan rarely performed commercial concerts in exile, preferring to appear at rallies of NCRI and other dissident groups (Twitter)
-----
• Death of Exiled Iranian Actress and Singer Marjan Creates Controversy
• Egyptian House Approves Article Granting Women 25% Of Parliamentary Seats
• Saudi Arabian Football Federation Trains Over 350 Women in Refereeing
• TiE Women Competition for Entrepreneurs in KSA and MENA
• Pakistan: Women's Rights Activist TehminaDurrani Tests Positive
• Fears Rise Over Safety of Detained Saudi Princess, Family Confidant Says
• Saudi Arabia's US Envoy Princess Reema Nominated for Olympic Committee Membership
• Another Female Chess Grand Master Forsakes Iranian Nationality to Join Swiss Team
• Egyptian Prosecution Detains Two Women Over TikTokRelated Debauchery, Indecency
Compiled by New Age Islam News Bureau
URL: https://www.newageislam.com/islam-women-feminism/like-i-m-cage-domestic/d/122127
--------
'Like I'm In A Cage': Domestic Workers Trapped and Abused in Lockdown London
14 June 2020
Crouched in the corner of a claustrophobic room, intermittently stifling her tears with a towel, Lyn whispers over a video call.
"I feel like I'm in a cage," the Filipino domestic worker tells Middle East Eye.
Lyn is a live-in carer for an elderly man who for the past three months has forbidden her from leaving the flat, even to take the lift down to the reception.
She is one of many domestic workers working for Gulf Arab families currently residing in locked-down London, where coronavirus fears and preventative measures have exacerbated already draconian and often abusive situations.
Already excluded from many labour protections and subjected to overwork, delayed or withheld wages, and in some cases mental and physical abuse, lockdown has sharpened these conditions, and further exposed this already vulnerable workforce.
Kalayaan, a London-based campaign group for migrant domestic workers, told MEE it has received reports from a number of workers who have been dismissed from jobs and with no entitlement to support, left destitute, or been forced to work increased hours or face losing their income or accommodation.
That's a threat that Lyn feels particularly.
"I have to listen to him because I might lose my job. It's very hard for me to find a new job, especially in this pandemic situation. At least here, they give me food," she tells Middle East Eye.
To distract herself, Lyn watches buses pass by, and, as lockdown eases for others, listens to the inviting sounds of revellers in a nearby park. Working in private households, Lyn has been forced to the peripheries of public life. Now, bound to her room, she has practically disappeared into obscurity.
Despite the intimate nature of her job and near-constant hours, Lyn's work is badly remunerated. She works 20 hours a day in six-day weeks, earning just £450 ($565) a week.
Restricted to the four rooms of the flat, Lyn hasn't just lost her liberty but her salary. She hasn't been paid since lockdown began on 23 March.
When she asked for her wages, her employer pretended not to hear her. "Maybe he thinks I don't need it because I can't go out," she says.
Her employer is not openly abusive, but he has a short fuse. Her confinement and his bursts of anger recall past traumas: "If somebody talks to me like that, it reminds me of my employers in Riyadh... they would tell me, you don't have any money, you don't have a brain. It's emotional and psychological stress... it breaks your confidence."
Like many migrant domestic workers in the UK, Lyn is a survivor of abuse. She was brought to the UK by a wealthy Saudi family from Riyadh.
Compelled to seek work abroad to support her children, Lyn was contracted to work for the family via an agency in the Philippines. The contract stipulated she would work eight hours a day, six days a week. When she arrived in Riyadh, however, she had her documents confiscated and was forced to work 20 hours a day with no day off.
Exploitative system
Lyn's story is a common one. The International Trade Union Confederation estimates 2.4 million domestic workers are facing conditions of slavery.
It's a big business: agencies fly in 40,000 domestic workers a month into Saudi Arabia alone. Back in the Philippines, domestic workers' wages account for nearly 15 percent of the country's GDP.
These women are brought in under the exploitative kafala (sponsorship) system which legally binds migrant workers to their employers. Should they escape, they face imprisonment or heavy fines.
The abuse ranges from economic - overwork, withdrawal of wages - to physical - beatings, sexual violence, starvation, bodily mutilation.
The founder of an informal support network for domestic workers in the Middle East, Karl Anderson, has heard from women who've been forced to eat dog food while cleaning mansions, another who'd been severely burnt, and one who had been trapped in the house for four years and denied wages.
Lyn's employers brought her to the UK on a tied visa, one that binds foreign domestic workers to a single named employer.
Introduced in 2012 to reduce an influx of migrant workers and lure wealthy families from the Gulf states, the tied visa practice prohibited workers from changing their employer. If they did, they would become undocumented.
According to Kalayaan, reported cases of abuse multiplied as a result.
A freedom of information request made by Kalayaan in 2017 found the three countries with the highest number of applications for overseas domestic workers visas were from UAE (5,135), Saudi Arabia (4,945), and Qatar (4,395).
The visa tie, which has been described as an extension of the kafala system, was amended by the 2015 Modern Slavery Act, which reinstated the right to change employer, but only within the six-month window of their visa.
Beyond that period, unless the women manage to convince the National Referral Mechanism (NRM) they have been trafficked, they have to choose between their current exploitative situation, a precarious new employment or face becoming undocumented.
"Through both immigration regimes, the law creates vulnerability to exploitation. And employers routinely and systematically take advantage of this situation by violating workers' rights and other human rights," Virginia Mantouvalou, a law professor at University College London (UCL), told MEE.
"Leaving these workers undocumented and destitute at a time of crisis has obvious human rights implications. It is essential for the government to automatically extend the domestic worker visa for six months and increase their financial support."
Seeking help
Lyn managed to escape her previous employer after she sought help from a parent when picking up one of the family's children from school. The woman reported her to the police who told her to apply for the NRM and put her in touch with a migrant domestic worker support group, Voice of Domestic Workers, who helped her escape.
Lyn was free from her employer, but faced an uncertain future.
She had qualified for the first positive reasonable ground decision, but not for the second "conclusive" ground, leaving her undocumented and subsisting off NRM payments of just £35 a week.
Marissa Begonia, founder of Voice of Domestic Workers (VDW), receives a minimum of five to 10 calls for help a month. She coordinates rescues of domestic workers, using her own home as a safe house.
"Communication is the biggest problem," she tells MEE. The women often don't have UK SIM cards, they manage to contact the group via patchy Wifi.
"Usually we meet them in parks to give them the SIM cards, or even plant them in the bin, then we wait outside their house to collect them."
Lockdown has ground this operation to a halt. Marissa was contacted by a woman who was being beaten daily by her employer, but says "we couldn't rescue them in person, so we tried to arrange for a taxi and a hotel to quarantine them, but we lost communication with them".
The isolation and income loss brought by lockdown is compounded by hostile environment policies that have left many migrant domestic workers destitute with no recourse to public funds.
To try to mitigate their suffering, VDW set up a hardship fund for workers during the pandemic.
Covid-19 has forced a re-evaluation of what constitutes essential work, it has unveiled the invisible, often unpaid work of care performed by migrant women that keeps the lights on.
Despite this public reckoning, domestic workers still lack visibility. They are not recognised as "key workers" and are excluded from government support schemes during the pandemic.
With the pandemic, undocumented domestic workers are facing a "double tragedy" as they cannot access healthcare, Marissa says.
"Many of them have fallen ill with Covid... I was trying to encourage one of our members who was suffering from asthma to go to A and E [emergency room], I couldn't convince her, she was too scared she'd be deported," she says.
Lack of recognition from the UK government about the centrality of domestic work to the smooth running of the economy has not only eroded basic protections for these workers, but their own feelings of self-worth.
Though employers and governmental policies – both in the UK and Gulf states – have helped foster a feeling of expendability among domestic workers, VDW has sought to teach them that they are not dispensable.
Through her tears, Lyn speaks with pride about how the group has helped her rebuild her confidence through counselling, English and IT classes, now conducted via Zoom through lockdown.
"I know now I'm not stupid, and I'm not crazy... I'm getting back my dignity," she says.
"When I go back to the Philippines I want to share what I have learnt, that we are not just workers, we are human beings."
https://www.middleeasteye.net/news/uk-coronavirus-saudi-uae-qatar-domestic-workers-kafala
--------
Death of Exiled Iranian Actress and Singer Marjan Creates Controversy
14 June 2020
The death of exiled Iranian actress and singer Marjan has sparked controversy in her home country, with conservative pressure forcing some famous Iranians to retract their condolences.
Shahla Safi Zamir, better known by her stage name Marjan, died aged 71 in a Los Angeles hospital on 6 June, the Boston Globe reported, citing a statement by the outlawed opposition group, the National Council of Resistance of Iran (NCRI).
After starting in Iranian cinema, Marjan became a pop singer famous for her disco hit Kavire Del (Desert of the Heart), before the Islamic Revolution of 1979 stopped her career, AFP said.
Arrested in 1982 for her association with political dissidents, Marjan spent two years in prison, including almost nine months in solitary confinement. She was held with other women and later highlighted the plight of female prisoners and artists in Iran, the Washington Post said in her obituary.
Marjan fled Iran in 2001 for Dubai and was later granted asylum with her husband in the United States, where they settled in Los Angeles.
She rarely presented commercial concerts, preferring to appear at rallies of the NCRI and other dissident groups in the United States and Albania, home to a large community of Iranian exiles, according to the Post.
Several celebrities in Iran paid homage to her, including film director TahminehMilani, who offered condolences "to the daughter and family of Marjan".
Popular ex-footballer Ali Karimi published a Marjan song on his Instagram page.
These messages were aggressively attacked by conservatives including the Raja News website, which published an article accusing celebrities of encouraging people "to admire hypocrites", or monafeghin in Persian.
Monafeghin is a term used in Iran to refer to the People's Mujahedeen of Iran, an exiled opposition group it considers a "terrorist" cult led by Maryam Rajavi.
Rajavi, who is also head of the NCRI, paid her respects to Marjan and her "songs of freedom".
She also claimed that the actress had joined the People's Mujahedin after "long and painful years of incarceration" in Iran.
Following the attacks by conservatives, several of the targeted personalities accused the People's Mujahedin of appropriating their condolences for propaganda purposes.
The condolences were not "proof of any political alignment with Rajavi's positions", Milani said on Instagram.
The director, who is also a feminist activist, said she was unaware Marjan was sympathetic to the People's Mujahedin.
"I have never been member to any party," actor AshkanKhatibi wrote on Instagram, accusing the People's Mujahedin of exploiting the condolences of artists. "Shame on you," he wrote.
On Sunday, the conservative newspaper Kayhan wrote that it regretted "censorship" prevented Iranian media from reporting on these messages of "condemnation" of the People's Mujahedin.
https://www.middleeasteye.net/news/iran-death-exiled-singer-marjan-creates-controversy
--------
Egyptian House Approves Article Granting Women 25% Of Parliamentary Seats
Jun. 14, 2020
CAIRO – 14 June 2020: The Egyptian Parliament has approved an amendment to an article in the constitution setting the number of MPs at 568 and giving women a quota of 25 percent of seats.
Five percent of the members at the most shall be appointed directly by the president rather than be elected.
The approval comes after the Parliament has rejected a number of amendments, including changing the number of MPs.
The approved amendment comes as part of other amendments approved via public referendum in 2019, including adding 10 new articles and amending 14 others, while an article was added to repeal the titles of two chapters of the constitution.
The approved articles expand each of the two presidential terms allowed for any president to six years instead of four, while a separate transitional article gives an exceptional right to incumbent President Abdel Fatah al-Sisi, who was re-elected in 2018, to run for a third 6-year term after he finishes his second term in 2024 instead of 2022.
The Parliament's legislative committee last week gave a preliminary approval on a draft law on the formation of the country's reinstated Senate.
The approval came after the draft law has been widely hailed by the committee's members, who affirmed that it complies with the constitutional articles in light of the latest amendments.
MP Saeed Al-Aboudi has described this day as "historical" due to Sunday's vote on the draft law. MP Sami Ramadan says the formation of the upper house of the Parliament will contribute to achieving the public interest.
The Senate shall be concerned with studying and proposing what it sees as a tool to consolidate democracy, support national unity, social peace, the basic values of society, supreme values, rights, freedoms and public duties, and deepen and expand the democratic system, according to the Constitution.
The latest amendments of the draft law on the Senate and the House have fulfilled all constitutional conditions and legal standards, said Parliament Member Abdel Hady Al-Qassabi, the head of the coalition.
According to the amendments, the Senate will consist of 300 members, one third of them will be elected through electoral lists, the second third will be elected individually, and the last third will be directly chosen by the country's president.
The reinstatement of the Senate was one of the newly-suggested amendments to the Constitution last year and was approved by 44 percent of eligible Egyptian voters in a public referendum in April. A new chapter that regulates the Egyptian Senate was added to the amended Constitution.
https://www.egypttoday.com/Article/2/88593/Egyptian-House-approves-article-granting-women-25-of-parliamentary-seats
--------
Saudi Arabian Football Federation Trains Over 350 Women In Refereeing
June 14, 2020
RIYADH — Over 350 Saudi women have participated in the women's education program for refereeing football matches, remotely on grass playgrounds and indoor stadiums, organized by the Women's Football Development Administration in cooperation with the Main Referees Committee of the Saudi Arabian Football Federation (SAFF).
The education program is being carried out with the participation of a selection of the best male and female refereeing lecturers, including the Deputy Chairman of the Referees Committee Yusuf Mirza, Referees Training Officer Abdulmohsin Al-Zuwayid, International Lecturer and Futsal Football Referees Officer in SAFF Abdul Rahman Al-Ahmari, Palestinian International Woman Referee HibaSaadia, and Lebanese International Woman Referee ReemShami.
These programs come within the development and strategic plans being implemented by the Women's Football Development Administration headed by a member of the Board of Directors of the Saudi Arabian Football Federation (SAFF), Adwaa Al-Arifi.
The administration aims to educate and develop women wishing to enroll in the field of refereeing for women and provide them with the latest amount of knowledge in the refereeing.
The lecturers in the programs focused on many important aspects, including the specifications of the referee, definition of the laws, materials measured in the law, the duties of referees, and violations and misconduct.
The female participants then took a theoretical test to determine the extent of their understanding of the lectures.
The Women's Football Development Administration, headed by Al-Arifi is exerting great efforts to advance Saudi women's sports and bring it to the forefront of the world countries by training and developing women, making sure they gain all the skills and techniques and cover all aspects related to football, whether at the technical, refereeing or organizational level.
https://saudigazette.com.sa/article/594244/SAUDI-ARABIA/SAFF-trains-over-350-women-in-refereeing
--------
TiE Women competition for entrepreneurs in KSA and MENA
June 13, 2020
RIYADH — The Dubai chapter of The Indus Entrepreneurs (TiE) announced its official participation in TiE Women, a global initiative dedicated to empowering women entrepreneurs across the globe.
Through the TiE Women initiative, TiE Dubai aims to provide budding women entrepreneurs in KSA and the MENA region with a platform to collaborate and showcase their business potential.
Under the TiE Women initiative, a series of chapter-level start-up support programs for Women Entrepreneurs will be conducted, culminating into a regional Women 2020 pitch competition. Female entrepreneurs with businesses that have an interesting business idea and match entry criteria will be eligible for the title and participate in the Grand Finale.
The vision and goal of TiE Women is to 'Embrace, Engage, Empower' women entrepreneurs across the globe – irrespective of the size, origin, interests, standing and background of the enterprise. The TiE Women initiative is built on the Pillars of TiE Global: Learning, Mentoring, Access to Funding, Scalability, Safe Space and Community.
ZiadMatar, president of the Dubai Chapter of TiE, commented, "We are delighted to be part of the TiE Women 2020 Pitch competition, an insightful platform that unites our global network and supports startups led by female entrepreneurs. According to research reports, just one in seven investments in the Arab World go into female founded businesses, we all recognize the challenges women face when accessing funding and financial support.
By bringing together a global network of entrepreneurs, investors, mentors, and a prize money pool of $100,000, we will provide a unique launch pad for the winners. We look forward to seeing healthy competition and rewarding exceptional women leaders."
The 2020 Pitch Competition offers early and late stage women entrepreneurs across the globe an opportunity to pitch their business idea to their local TiE chapter and avail access to mentors who will guide and train them for a few months.
Finalists from each chapter will be invited to attend the Women 2020 finals in Dubai, UAE and will have an opportunity to be part of the Grand Finale Pitch with a chance to win $100,000 worth prize money and other valuable prizes, as well as investor support.
The Global Entrepreneurship Monitor (GEM) Women Entrepreneurship Report 2018/2019 states that the largest gender gap in established business ownership is found in the MENA at over 40 percent.
Yet despite the gender gap, the GEM Women Entrepreneurship Report states that the highest rates of women's entrepreneurial intentions were reported in the MENA at 36.6 percent, highlighting a trend of younger women founding companies in countries like UAE and Saudi Arabia amongst others.
Moreover, the MENA region shows the largest increases in women's necessity motives for entrepreneurship at 35 percent.
"There is so much untapped potential in the Arab World and by empowering women to go into business and rewarding aspiring female leaders, we will ensure global economic gains and a competitive knowledge economy in line with UAE's 2021 Vision," added Matar.
The TiE Women initiative is open to registered businesses founded or led by women across the MENA region. Participants can submit their nomination online on https://bit.ly/2Xj62AI . To be accepted, participating startups can apply for the early stage or late stage category and need to be established for seven years or less.
Nominations will open from June 1 to Aug. 1, 2020, and 20 businesses will be shortlisted to participate in live online pitch. Winners will be selected by a panel of independent jury members comprising of successful entrepreneurs, investors, corporate honchos, and exceptional women leaders.
Three shortlisted businesses will also be nominated in September for an accelerator program to be run locally for three months, where each business entity will receive personalized coaching and mentorship from renowned and experienced mentors. The finalist will participate in the final global event in December 2020 with a chance to win valuable prizes and support from mentors and investors.
The TiE Women initiative challenges women entrepreneurs and startups to set their mark in the business ecosystem. Businesses, public and private entities, and other organizations are welcome to be part of this initiative in the MENA region and support the participants in their journey.
Built upon best practices from local chapters' women-centric initiatives, TiE Women will specifically result in capacity building, increased networking, knowledge-sharing, and visibility, providing a 'safe space' for women entrepreneurs to learn without inhibitions and judgment. — SG
https://saudigazette.com.sa/article/594206/BUSINESS/TiE-Women-competition-for-entrepreneurs-in-KSA-and-MENA
--------
Pakistan: Women's Rights Activist TehminaDurrani Tests Positive
June 14, 2020
Zubair Qureshi
Islamabad: TehminaDurrani, the wife of Pakistan Muslim League-Nawaz (PML-N) President and Opposition Leader in the National Assembly Shahbaz Sharif's and a vocal champion of women's rights, also tested positive days after her husband was infected with coronavirus.
In a tweet on Sunday, she announced she was also infected and came to know about her report a day earlier on Saturday.
Durrani, author of the best-seller "My Feudal Lord" shared the news saying her husband's exposure to the frequent hearings in recent days at the anti-graft agency National Accountability Bureau (NAB) office and at the courts of law ultimately resulted in his getting infected with virus and later she was also diagnosed with the same.
"Punjab's 'lifelong' Khadim e Aaala's (intentional) exposure 2 huge crowds at NAB & court, obviously infected him with Covid 19. Yesterday I too tested positive. I wept, NOT 4 us, but 4 the majority of r people who can neither afford the test nor the protocol! I pray ONLY4 them!" writes Tehmina on her twitter account.
Durrani is not only a writer and women rights activist but she is also an artist, philanthropist and a champion of children's rights.
Pakistan's iconic figure in philanthropy and charity, the late Abdul SattarEdhi used to call her his daughter. Her three-year tenure of service alongside Edhi transformed her life, resulting in her authoring a book on Edhi, "A Mirror to the Blind" (1996).
Sheikh Rashid shifted to hospital
Meanwhile, Federal Minister for Railways Sheikh Rashid Ahmad, who was diagnosed with coronavirus recently, was rushed to the Military Hospital of Rawalpindi as his condition deteriorated while he was in quarantine.
According to a spokesperson of the minister, he was feeling quite unwell since Saturday evening. However, he was doing well at the hospital.
Prime Minister Imran Khan, President ArifAlvi and Chief of the Army Staff Gen QamarJavedBajwa telephoned Sheikh Rashid to inquire after his health and prayed for his early recovery. Sheikh Rashid who was infected with virus a week ago was taking rest in home quarantine.
Out of space, Islamabad hospital refusing patients
Pakistan Institute of Medical Sciences (PIMS), the only hospital dedicated to Covid-19 patients, has run out of space and is no more admitting patients of coronavirus in a serious condition.
The hospital has exhausted its existing facility of 75 beds and 26 ventilators.
There is an acute need of more isolation wards at the hospital as it is currently crowded with positive Covid-19 patients, said a senior doctor performing duties at the hospital's isolation ward.
According to Joint Executive Director of PIMS Dr MinhajusSiraj, the hospital has reached its full capacity to deal with the Covid-19 cases. There are 75 beds reserved for the coronavirus patients at the three isolation wards, one at the Medical 2 and two at the private ward, he added.
Currently, 87 virus-affected patients are being treated in the hospital.
139,230 cases, 2,632 deaths
Pakistan on Sunday reported 139,230 confirmed cases of coronavirus, registering a record number of 6,975 new cases of virus in last 24 hours. Similarly the number of deaths due to Covid-19 also jumped to 2,632 from 2,551 (81 deaths in one day).
https://gulfnews.com/world/asia/pakistan/pakistan-shahbaz-sharifs-wife-and-womens-rights-activist-tehmina-durrani-too-tests-positive-1.72040370
--------
Fears rise over safety of detained Saudi princess, family confidant says
June 14, 2020
LONDON — Relatives of a Saudi princess, a women's rights advocate, who says she is imprisoned in the Gulf kingdom are concerned for her health after contact was cut with her two months ago, a source close to the family has said.
Princess Basmah Bint Saud bin Abdulaziz Al Saud, 56, a businesswoman and a granddaughter of the country's founding king, Abdul Aziz Ibn Saud, was taken from her home in Jeddah, Saudi Arabia, in March last year and imprisoned along with her daughter, Souhoud Al-Sharif, 28, the family confidant told NBC News.
"[If] she's dead or alive we have no idea, we literally have no single clue," the person said, on the condition of anonymity because of fears for personal safety.
NBC News could not independently confirm the circumstances of Basmah's disappearance or her detention. Saudi Arabian authorities did not respond to a request for comment.
In the past, Basmah has spoken about her commitment to promoting women's entrepreneurship and leadership in the Arab world. But now, the confidant believes, Basmah being an outspoken woman in a prominent position, along with asking for her inheritance, may be among the reasons she is imprisoned.
In recent years, the kingdom has worked to improve its image abroad and attract foreign investment, a campaign that was hurt badly by the gruesome murder of dissident Saudi journalist Jamal Khashoggi, for which a United Nations investigation found senior Saudi figures could be liable.
Over the past year, Basmah has had limited but regular contact with relatives through visits and phone calls but it was not revealed publicly what happened to her until April, the confidant said.
In April, more than a year after the princess' detention, a verified account owned by her issued a series of tweets — which were deleted before being later reposted — imploring King Salman and powerful Crown Prince Mohammed bin Salman to release her from Al-Hayer prison outside Riyadh.
The tweets, published by members of her team to draw attention to what had happened, said she was being held without charge and that her health was deteriorating.
In the days before those tweets, the princess had been too unwell to speak to her family on the phone, the confidant said, and all contact had been limited to her daughter, who is still also detained with her mother, it is claimed.
"She was in a very bad condition ... she couldn't get out of bed," the confidant said, adding that she was struggling to eat.
But then in mid-April, after the first tweets, contact with the daughter also ended, the source said. With no contact, the source said those close to the princess were increasingly concerned she could be seriously ill in jail.
Since being imprisoned last year, she has been denied regular access to a doctor but has been hospitalized on several occasions, according to the confidant.
The specifics of Basmah's illness remain unclear. The person close to the family said the princess had part of her colon removed in a past operation.
The circumstances around her detention are also murky.
The princess had been due to travel abroad for medical treatment around the time of her arrest and was accused of trying to forge a passport, the source said, adding the charges were later dropped, but she still remains in prison.
Because Saudi authorities did not respond to a request for comment, NBC News has not been able to verify the status of any potential charges.
For months, Basmah was repeatedly told that she would be let out "next week," the source added, but each week passed with no release.
It is not the first time that members of Saudi Arabia's extensive royal family have been detained since the crown prince's rise to power. In November 2017, hundreds of Saudi royals, billionaires and senior government officials were detained at Riyadh's Ritz-Carlton hotel, where they were told they had to sign away large chunks of their assets to be released.
It has even been alleged by U.S. officials that the crown prince once put his own mother under house arrest.
"In today's Saudi Arabia, no one is safe from the state repression apparatus, even royal family members who fall out of line," said Adam Coogle, a deputy director with the Middle East and North Africa division at advocacy group Human Rights Watch.
"The Saudi leadership has spent a lot of money and effort to market itself internationally as reformist, but this is quickly undermined by the continued arrests of dissidents and flagrant violations of due process of law."
https://www.nbcnews.com/news/world/fears-rise-over-safety-detained-saudi-princess-family-confidant-says-n1217721
--------
Saudi Arabia's US envoy Princess Reema nominated for Olympic committee membership
June 14, 2020
Samir Salama
Abu Dhabi: Princess Reema bint Bandar Al Saud, Saudi Arabia's Ambassador to the United States and the first female to hold the post, has been nominated for the country's representation at the International Olympic Committee (IOC).
Five candidates — three women and two men — have been nominated for membership by the IOC Executive Board and their nominations will be approved on July 17, during an IOC virtual session.
"By proposing three female candidates, the IOC demonstrates again its commitment to promoting gender equality within its leadership by implementing the governance-related recommendation of the Gender Equality Review Project, which set the target of having 30 per cent of decision-making positions for women by 2020," a statement by the IOC Executive Board said.
Princess Reema has also served as president of the Mass Participation Federation, which is the kingdom's principal body responsible for increasing sports participation by raising opportunities for all members of the society.
https://gulfnews.com/world/gulf/saudi/saudi-arabias-us-envoy-princess-reema-nominated-for-olympic-committee-membership-1.72036683
--------
Another Female Chess Grand Master Forsakes Iranian Nationality To Join Swiss Team
June 13, 2020
Grand Chess Master and member of Iran's national chess team Ghazal Hakimi has forsaken her Iranian nationality and will compete under the Swiss flag in international chess tournaments.
The twenty-six-year-old chess champion who is currently a student in Zurich, Switzerland, achieved the rank of Grand Master (WGM) in 2016. Her sister RaanaHakimifard also was granted the FIDE Master (WFM) title in 2015.
In a tweet in February Nigel Short, the Vice President of the International Chess Federation (FIDE), had said that Hakimifard had applied to switch to the Swiss Chess Federation. "She most certainly will not be the last," he maintained.
The website of FIDE now shows her profile as a member of the Swiss team.
Several female Iranian chess players have switched nationality to play for other countries over the past few years. Expulsion for not complying with the compulsory Islamic dress code (hijab), or not wishing to do so is often a reason for Iranian female athletes switching to other nationalities.
In 2017 the nineteen-year-old Dorsa Derakhshani who had been expelled from the national team for attending an international competition without wearing hijab joined the U.S. team.
On January 2, the Iranian Chess Federation expelled another veteran chess grand master, MitraHejazipour, for boldly removing her scarf during the World Rapid & Blitz Chess Championship in Moscow.
More recently, in February 2020, international chess arbiter and the former Secretary-General of the Iranian Chess Federation ShohrehBayat decided not to go back to Iran after photos showing her not wearing the compulsory headscarf during Shanghai Women's World Championship 2020 games were published.
Punishment for not wearing the compulsory headscarf can even be extended to the families of players. Earlier this month, Bayat's father said he had been pressured by the Sports Ministry to resign from all his sports activities because his daughter "had not respected the so-called Islamic dress code".
https://en.radiofarda.com/a/another-female-chess-grand-master-forsakes-iranian-nationality-to-join-swiss-team/30668758.html
--------
Egyptian Prosecution Detains Two Women Over TikTok Related Debauchery, Indecency
12 Jun 2020
Egypt's general-prosecution on Thursday ordered the detention of a TikTok figure, Sherifa, who is commonly known on social media as "Sherry Hanem," as well as her daughter Nora, who is commonly known as "Zomoroda," on charges including indecency, debauchery, violating familial values and principles and soliciting for prostitution through social media accounts.
According to the prosecution's statement, one of the two defendants is also accused of prostitution.
The prosecution stated that users of social media reported the pair's videos to the authorities for sexual profanity and innuendo.
The defendants were arrested and one of them admitted that they had used social media and published videos with profanities and sexual innuendo to increase viewership, while the other admitted she used to work in prostitution through social media, the statement added.
Hanem is the third famous figure from TikTok to be arrested in the past two months over charges related to moral crimes.
She has two accounts on the popular social network, with over 400 videos and a combined 164,000 followers.
She gained fame in videos in which she appears without makeup and with messy hair, speaking and laughing in an eccentric way and making fun of her weight, in close-up mobile phone shots. From time-to-time, her daughter also appeared.
Hanem and her daughter also have a YouTube channel with 56,500 subscribers. The YouTube channel began in May 2019 and has over 416 videos, some of which are imported from TikTok, including some with +18 explicit content.
Also on Thursday, the prosecutor-general referred detained TikTok figures HaneenHossam and MawadaEladhm, who are well-known for their videos on the platform, to criminal trial for violating family values and principles in Egyptian society and establishing and running online accounts to commit this crime.
http://english.ahram.org.eg/NewsContent/1/64/372014/Egypt/Politics-/Egyptian-prosecution-detains-two-women-over-TikTok.aspx
--------
URL: https://www.newageislam.com/islam-women-feminism/like-i-m-cage-domestic/d/122127
New Age Islam, Islam Online, Islamic Website, African Muslim News, Arab World News, South Asia News, Indian Muslim News, World Muslim News, Women in Islam, Islamic Feminism, Arab Women, Women In Arab, Islamophobia in America, Muslim Women in West, Islam Women and Feminism