New Age Islam News Bureau
20 Feb 2019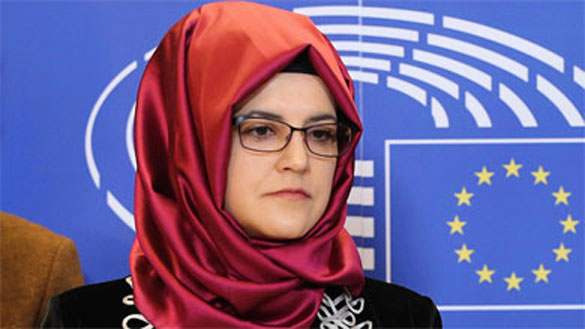 Khashoggi fiancee Hatice Cengiz, Photograph: Dursun Aydemir
-----
• Israeli Soldiers Abduct Three Women While Leaving Al-Aqsa Mosque
• Shamima Begum: IS Teenager to Lose UK Citizenship
• American Woman Who Joined ISIS Begs To Come Back Home
• Cabinet Gives Nod to Ordinance on Triple Talaq
• In Milwaukee, Muslim Girls' Basketball Team Courts a Broader Understanding
• French Women in Syria Say Ready to Return Home
• Rashida Tlaib Joins Extremist Imam on CAIR Speaking Circuit
• New Award for Fastest Female Emirati Runners
• International Conference on Jailed Syrian Women to Be Held In Istanbul
Compiled by New Age Islam News Bureau
URL: https://www.newageislam.com/islam-women-feminism/i-want-promote-his-values/d/117803
--------
'I Want To Promote His Values': Khashoggi Fiancee
19.02.2019
By Serife Cetin
BRUSSELS
The fiancee of a journalist killed last fall at the Saudi Consulate in Istanbul paid a visit to the European Parliament Tuesday, championing the values of her late betrothed.
"I'm here not only as the fiancee of Jamal [Khashoggi] but also for the values he fought for, values he wanted for the people in his own country, the people of the Arab world," Hatice Cengiz said during her visit to Brussels.
She added that she hopes her visit will help push for further sanctions on Saudi Arabia, which admits Khashoggi was killed at the consulate but denies any official involvement. International powers have been skeptical of the Saudi claims.
At a press conference with Cengiz, Pier Antonio Panzeri, an Italian MEP, said he is determined to clarify the facts of the killing, adding: "The European Parliament is not satisfied with the progress made up to now."
He added that regardless of Europe's trade ties with Riyadh, "We will not let Saudi Arabia get away with Khashoggi's murder."
On Oct. 2, Khashoggi was killed shortly after entering the Saudi Consulate in Istanbul. Riyadh initially denied any role in the killing but has since sought to blame his death on a botched rendition operation by rogue agents.
https://www.aa.com.tr/en/europe/i-want-to-promote-his-values-khashoggi-fiancee/1397285
--------
Israeli Soldiers Abduct Three Women While Leaving Al-Aqsa Mosque
February 19, 2019
Israeli soldiers abducted, on Tuesday afternoon, three Palestinian women while leaving the Al-Aqsa Mosque, through the Gate of the Tribes, in occupied East Jerusalem.
Media sources said the soldiers abducted Samah Mahameed, Islam Manasra and a woman from Da'our family.
They added that the soldiers took the three abducted women to a nearby police base.
Dr. Hanan Ashrawi, a member of the Executive Committee of the Palestine Liberation Organization (PLO) warned that the escalating Israeli violations against the holy sites, including the closure of the Al-Aqsa Mosque gates a day earlier, in addition to the frequent invasions into Al-Aqsa, and the latest assaults and abductions of many worshipers, including women, would only lead to further tension.
Dr. Ashrawi added that the Israeli escalations against the Palestinians, and the holy sites in occupied Jerusalem, are the direct outcome of America's complicity, "especially the illegal and immoral recognition of Jerusalem as the unified capital of Israel, and the opening of the U.S. Embassy to the city.
"All of this is dragging the area into serious escalation," she stated, "Israel and the ongoing U.S. support to its violations are dragging the region into a religious war."
Dr. Ashrawi also denounced the illegal takeover of a Palestinian home, owned by members of Abu Assab family, who were forcibly removed from their property, in addition to being repeatedly assaulted.
"Israel is ongoing with its illegal polices of ethnic cleansing and displacement of the indigenous Palestinian people from their occupied city," she stated, "It is also isolating them and destroying their homes, to replace them with illegal colonialist settlers."
http://imemc.org/article/israeli-soldiers-abduct-three-women-while-leaving-al-aqsa-mosque/
--------
Shamima Begum: IS Teenager to Lose UK Citizenship
February 20, 2019
Shamima Begum, who joined the Islamic State group in Syria aged 15, is to lose her UK citizenship.
Whitehall sources said it was possible to strip the 19-year-old of British nationality as she was eligible for citizenship of another country.
Her family's lawyer, Tasnime Akunjee, said they were "disappointed" with the decision and were considering "all legal avenues" to challenge it.
Ms Begum, who left east London in 2015, had said she wanted to return home.
She was found in a Syrian refugee camp last week after reportedly leaving Baghuz - IS's last stronghold - and gave birth to a son at the weekend.
In an interview with the BBC on Monday, Ms Begum said she never sought to be an IS "poster girl" and now simply wished to raise her child quietly in the UK.
ITV News obtained the letter sent to Ms Begum's mother, asking her to inform her daughter of the decision.
Bangladesh link
Under the 1981 British Nationality Act, a person can be deprived of their citizenship if the home secretary is satisfied it would be "conducive to the public good" and they would not become stateless as a result.
Ms Begum said she travelled to Syria with her sister's UK passport but it was taken from her when she crossed the border.
She is believed to be of Bangladeshi heritage but when asked by the BBC, she said did not have a Bangladesh passport and had never been to the country.
On the question of Ms Begum's son, a child born to a British parent before they are deprived of their citizenship would still be considered British.
While it would theoretically be possible for the UK to then remove citizenship from the child, officials would need to balance their rights against any potential threat they posed.
A Home Office spokesman said: "In recent days the home secretary has clearly stated that his priority is the safety and security of Britain and the people who live here."
He said the department did not comment on individual cases but decisions to remove citizenship were "based on all available evidence and not taken lightly".
Lord Carlile, a former independent reviewer of terrorism legislation, said that if Ms Begum's mother was a Bangladeshi national - as is believed to be the case - under Bangladesh law Ms Begum would be too.
Dal Babu, a former Metropolitan Police chief superintendent and friend of Ms Begum's family, said they were "very surprised" by what seemed to be a "kneejerk reaction" by the Home Office.
Stressing that Ms Begum had never been to Bangladesh, Mr Babu said: "It seems to be a bizarre decision and I'm not entirely sure how that will stand up legally."
Conservative MP George Freeman said the move was a "mistake" that would set a "dangerous precedent".
Liberal Democrats MP Ed Davey said Ms Begum should be allowed to return to the UK.
He said: "Membership of a terrorist group is a serious crime, as is encouraging or supporting terrorism, but Shamima Begum should face justice for those crimes in the UK."
Islamic State has lost most of the territory it once controlled, but between 1,000 and 1,500 militants are believed to be left in a 50 sq km (20 sq mile) near Syria's border with Iraq.
Mr Javid told MPs earlier this week that more than 100 dual nationals had already lost their UK citizenship after travelling in support of terrorist groups.
Last year, two British men, accused of being members of an IS cell dubbed "The Beatles" were stripped of their citizenship after being captured in Syria.
'Retaliation'
Ms Begum has said she does not regret travelling to Syria, however, she said she did not agree with everything the IS group had done.
She told the BBC she was "shocked" by the 2017 Manchester Arena attack - which killed 22 people and was claimed by IS - but she also compared it to military assaults on IS strongholds, saying it was "retaliation".
Robbie Potter, who was seriously injured in the attack while he waited for his children in the foyer of Manchester Arena, said he felt "angry" and sickened by Ms Begum's comments.
Ms Begum left the UK with two school friends, Kadiza Sultana and Amira Abase in February 2015. Ms Sultana is thought to have died when a house was blown up, and the fate of Ms Abase is unknown.
Ms Begum gave birth to a baby boy last weekend, having previously lost two children.
Her husband, a Dutch convert to Islam, is thought to have surrendered to a group of Syrian fighters about two weeks ago.
Ms Begum has the right to appeal the Home Office's decision.
https://www.bbc.com/news/uk-47299907
--------
American Woman Who Joined ISIS Begs To Come Back Home
By Natalie Musumeci
February 18, 2019
An American woman who fled her home in Alabama to join ISIS in Syria now admits she made "a big mistake" and wants to return to her family in the US.
"We were basically in the time of ignorance…and then became jihadi, if you like to describe it that way," 24-year-old Hoda Muthana told The Guardian in an interview, speaking from al-Hawl refugee camp in northeastern Syria.
Muthana, who was married three times in Syria to Islamic State fighters and lives at the refugee camp with her 18-month-old son, Adam, says she "deeply regrets" joining the terrorist group and claims she was "brainwashed."
"I look back now and I think I was very arrogant," Muthana told the news outlet. "Now I'm worried about my son's future. In the end, I didn't have many friends left, because the more I talked about the oppression of ISIS, the more I lost friends. I was brainwashed once and my friends are still brainwashed."
Muthana left her home in Hoover in 2014 in order to join the terror group.
The following year, she tweeted, "You have much to do while you live under our greatest enemy, enough of your sleeping! Go on drive-bys and spill all of their blood, or rent a big truck and drive all over them. Veterans, Patriot, Memorial etc Day parades…go on drive by's + spill all of their blood or rent a big truck n drive all over them. Kill them".
She also used her now-suspended Twitter account to lament that there are "Soooo many Aussies and Brits here … But where are the Americans, wake up u cowards," according to Buzzfeed.
She added that American ISIS supporters who couldn't make it to Syria should: "Terrorize the kuffar [a derogatory term for non-Muslims] at home."
According to The Guardian, Muthana fled the Syrian village of Susa six weeks ago before being captured by Kurdish forces who transferred her to al-Hawl.
Muthana is believed to be the only American among an estimated 1,500 foreign women and children inside the al-Hawl refugee camp of 39,000 people.
Also living at the camp is Shamima Begum, 19, who recently gave birth to a baby boy.
She told a British news outlet in a report published last week that she, too, wants to return to her home in London.
"I was weak," Begum, who fled the collapse of the terror group's self-styled caliphate, told The Times of London. "In the end, I just could not endure any more."
Begum said her two previous children died in the past three months — a daughter, Sarayah, who had become sick, and a son, Jerah, whose death was linked to malnutrition.
She told Sky News in an interview published Monday that "a lot of people should have sympathy for me for everything I have been through."
"I didn't know what I was getting into when I left," she said. "I was hoping that maybe for the sake of me and my child they'd let me come back … Because I can't live in this camp forever."
Muthana, who said she has not been in contact with US officials since her capture, is seeking the same outcome.
"I would tell [US officials] please forgive me for being so ignorant, and I was really young and ignorant and I was 19 when I decided to leave," Muthana told The Guardian.
"I believe that America gives second chances," she said. "I want to return and I'll never come back to the Middle East. America can take my passport and I wouldn't mind."
According to the report, Muthana's first two husbands were killed fighting for ISIS. Her second husband and the father of her son was killed in Mosul.
She described her experience with ISIS as "very mind-blowing."
"It was like a movie," Muthana said. "You read one book and think you know everything. I'm really traumatized by my experience. We starved and we literally ate grass."
https://nypost.com/2019/02/18/american-woman-who-joined-isis-admits-it-was-a-big-mistake/
--------
Cabinet Gives Nod to Ordinance on Triple Talaq
February 19, 2019
Paving the way for the triple talaq ordinance to come into force for the third time in less than one year, the Union Cabinet on Tuesday gave its nod to re-promulgate the legislation. The ordinance makes the practice of instant triple talaq by Muslim men a penal offence and attracts a jail term of three years.
"The Cabinet has given its nod to the Triple Talaq ordinance," Finance Minister Arun Jaitley said after a Union Cabinet meeting chaired by Prime Minister Narendra Modi. The ordinance will come into force after it is signed by President Ram Nath Kovind.
Since the Muslim Women (Protection of Rights on Marriage) Bill could not get Rajya Sabha approval, the fresh ordinance was issued. The bill will lapse on June 3 with the dissolution of the present Lok Sabha.
Opposition parties have claimed that the jail term for a man for divorcing his wife is legally untenable. The government has asserted that it provides justice and equality to Muslim women.
When asked on the need by the government to clear the ordinance weeks ahead of the Lok Sabha elections, Jaitley said discussions on the legislation had been "physically prevented" in Parliament.
"It (discussion) has not been prevented because numbers were against it… Indian democracy cannot be helpless. Extraordinary situations do call for such steps," he said. The government has included certain safeguards in the ordinance, such as adding a provision of bail for the accused before trial.
https://indianexpress.com/article/india/cabinet-gives-nod-to-ordinance-on-triple-talaq-5591803/
--------
In Milwaukee, Muslim Girls' Basketball Team Courts a Broader Understanding
By Mark Guarino
February 19, 2019
MILWAUKEE — With the state regional playoffs opening this week, the team from Salam School doesn't quite fit the profile of a girls' basketball powerhouse — but perhaps the Stars are redefining it.
Fresh popcorn crackles by the front door of the gym, but the concession table also sells namoura, an Arabic sweet cake. Coaches still shout strategy and advice to players on the court, but during a second-quarter break, a man sings in Arabic over the public address system, extending an invitation to evening prayer at the adjoining mosque. All 12 players on the varsity girls' team play while wearing hijabs.
At 14-4, the Stars entered this week's sectionals as underdogs, but they have shown that being Muslim and crushing it on the court is as normal as apple pie. As the only Muslim team in the league, and sometimes the first Muslims some people outside Milwaukee see when the team plays road games, the Stars are tasked with responsibilities that go beyond playing solid defense or taking care of the ball. Jeers from the bleachers and whispered slurs on the court are common.
"To be honest, I did not expect it," team captain Safiya Schaub, 17, said.
So that means they must be good enough to win but also disciplined enough to not disrespect their religion in the public eye.
"We just have to keep a level head," Schaub said. "Because of what we are wearing, we represent more than our school. We represent the Muslim community in Milwaukee, maybe in the U.S. We have that level of responsibility on our shoulders."
Salam's Safiya Schaub leaps for a rebound in a game against Carmen Northwest. (Lauren Justice/Lauren Justice for The Washington Post)
One gym, nine teams
The Muslim community in Milwaukee is relatively small — about 8,000 people, according to Salam Principal Wanis Shalaby — but the school itself is one of the largest Muslim schools in the U.S., with total enrollment of 835 students from kindergarten to 12th grade. When the high school opened 12 years ago, the two main ethnic backgrounds among its students were Arabic and Indo-Pacific. Today, the majority of students are from India or Pakistan, with growing populations from Somalia, Myanmar, Indonesia, Turkey and Serbia.
That diversity is evident when you walk through the school's halls: About eight languages are spoken by students. Shalaby said the school is in the midst of a $2 million campaign to build a new gym about a half-mile away on an 11-acre piece of land where it plans to break ground this year for a new high school.
Salam School's athletic department has no locker room, shower facilities or pool. The school's basement gym accommodates nine teams, from fifth grade to high school.
That means scheduling practices and games requires the supremely flexible skills of Athletic Director Dave Petrick, who notes that when he started at Salam in 2002, athletics were in an even more primitive state. Back then, the gym had a concrete floor, basketball nets were not installed, and there weren't any definable teams. Worst of all: no equipment.
Hired as the school's first physical education teacher, Petrick, 55, had to build the department from scratch. Years earlier, he worked in sports management, but after he started a family, he sidelined that career and became a corporate recruiter. Then came the dot-com crash and the 9/11 attacks, events that made him realize he missed the classroom. The job at Salam offered him a chance to refresh his life.
"I jumped at it," he said. "I could care less if the students were green or brown. Kids are kids."
He was also one of the first non-Muslim teachers at the school, which was an adjustment not only for him, but for his students. At a time when FBI profiling of Muslim communities was prevalent, he remembered a third-grader stopping him in the hallway and jokingly telling him that "everyone thinks you're a spy."
The athletic programs Petrick started at the grade school and high school levels were popular among students, but he quickly realized he needed to grow support among parents who didn't grow up in a "Friday Night Lights" culture of youth sports. Instead, parents were dropping off and picking up their kids on game nights and not staying to watch the games.
When Petrick proposed a girls' basketball team for the high school, according to Shalaby, parents were concerned about the revealing attire worn by visiting teams and the potential dangers their children might face as the only Muslim school in the Wisconsin Interscholastic Athletic Association.
Wajdi Ismail, whose daughter Jenin plays forward, admitted he was fearful when his daughter announced she wanted to play, not just because of the taunting he thought she might receive from other schools but because he worried the fashion of basketball — shorts, loose hair, tight tops — was not Islamic. Then he learned Petrick annually petitions the WIAA to allow the team to play in hijabs and sweatpants, and every year the request is granted.
"I went with it, and thank God I went with it. It changed my life," Ismail said. "I'm happy she found what she wants."
With parents now in attendance, home games "boost our confidence," said Schaub, who helped steer a committee to convince the school to allow the girls to play at home. "It's nice to have people watch us and cheer us on."
Schaub said female athletes automatically earned more respect among their peers, especially from the boys.
"Before, the girls' basketball team was made fun of," she said. "But when we finally had the home games, we got to show that we can play."
Shalaby said the school's elders have come to understand how athleticism is a way for the students to express their identity, which goes beyond their religion.
"These kids are Americans. This country is their country," Shalaby said. "We are enabling them to accentuate their American identity."
"When we finally had the home games, we got to show that we can play," Schaub said. (Lauren Justice/For The Washington Post)
Representing faith
Similar to any Christian school, a Muslim school doesn't compartmentalize disciplines from theology. Students are graded on whether they adhere to Islamic tenets, and prayer is integrated into the daily schedule. Shalaby said he is aware of the many distortions of Islam that non-Muslims see in the media. The school's role is not to correct those distortions through lecturing, but instead he said athletics present the perfect opportunity for "people to see us in action."
"In sports, if you are on the floor playing and your adrenaline is pumping, you can mask only so many things," he said. "The real you comes through."
Esraa Salim, a 15-year-old sophomore who plays guard for the Stars, said character on the court means not taking the bait when an opponent ridicules her for her hijab.
"I can't say anything because I don't want to represent something I don't really believe in. I don't believe Islam is hateful. We don't exclude people; we treat them kindly," she said. "So I play defense straight up on her. That's how we get over it."
Salim said being the underdog in sports also has an upside.
"It's motivating," she said. "When you hear those comments, you think, 'Let's beat them on the court and show them we know how to play, and we're not those names that they're calling us.' "
Nadira Ali, whose parents are from Somalia, plays three sports, and when the Stars play in nearby Kenosha, she feels all eyes on her from the stands.
"They look at us and don't think 'basketball players,' they don't think 'teenagers'; they think 'Muslims,'" she said. "And the first thing they think of is the stereotype on the news. So we have to be on top of our stuff. It's more of a responsibility [than a burden]. We represent our faith. I'm all for that."
Attitudes such as Ali's reflect a growing visibility of Muslim women playing sports on their terms. Fourteen Muslim women received medals during the 2016 Rio Olympics; among them was fencer Ibtihaj Muhammad, who became the first Muslim American woman to wear a hijab while competing. Florian Pohl, an associate professor of religion at Emory University in Atlanta who specializes in Islamic history, said this emerging group of Muslim female athletes is dispelling the preconception that they must choose between religious obligations and competition.
"I would hope that it would unsettle this idea that there needs to be some adapting of being Muslim to also be American and we can get to an understanding that being Muslim is part of shaping what it means to be American," he said.
On a recent Monday night, more than 100 people filled the tiny Salam gym to watch the Stars play a physical game against Carmen Schools of Science and Technology, ending in a 13-point victory for Salam.
Afterward, as the Stars filed into a classroom to change clothes, the Carmen team lined up to wave middle fingers in their direction. Then a fan lunged at Jenin Ismail and punched her. Security was called, and the Carmen girls were quickly escorted from the building.
After the shock of the attack wore off, it became another smear that the girls shrugged off.
"You feel you are stronger than everyone else by not responding," senior forward Lojain Gamar said.
But later, when they are alone, the Stars do have one response after they win.
"We turn up the music and start dancing," Gamar said. "We sing songs."
Nadira Ali smiles at a teammate before a pregame talk from their coach. (Lauren Justice/Lauren Justice for The Washington Post)
'A peer to them'
Before Kassidi Macak became the head coach, she was working the desk at a local rental car company. "I was so bored," she said. Even though she grew up five minutes from Salam School, she didn't know any Muslims. Becoming the coach at Salam "gave me a new path in life," she said.
When she took over, the program "was more like a club," said Macak, who played on the 2012 Wisconsin Collegiate Conference women's basketball championship team at the University of Wisconsin Waukesha. She implemented daily practices, which because of the over-scheduled gym sometimes started as late as 9 p.m. She explained to girls and their parents the importance of commitment to the team. The court, she explained to her players, was where they could release all of their emotions, especially aggression.
Gamar credited the team's winning season directly to "Coach Kass."
"She brought a lot of new ideas," she said. "At first everyone was frustrated, but then we realized she's teaching to better you."
Macak, 26, was frank with her players that she knew nothing about their religion. So she asked their permission to ask "dumb questions." Those conversations led to respect on both sides. She began to see the girls for their strength, on and off the court. Petrick said Macak has built the team through her natural ability to be direct but also honest.
"She has really found a niche in how to communicate with this particular group," he said. "Quite frankly, she's a peer to them."
Schaub said she was "extremely nervous" when she started playing as a sophomore, primarily because she knew that her height — she is the second-tallest player on the team — demanded more from her. Now she runs drills in practice, her voice echoing off the gym walls.
At the start of the season, Macak brought the girls into a classroom and told them to define a vision for the team. Before practice ended, they had one: "Playing to our potential each day through unity and commitment to achieve greatness."
Then she asked them to create five core values that they would commit to throughout the season. Playing hard and supporting one another on the court made the list. But the fifth value — "It's more than the score" — is one that comes directly from knowing they are seen by the outside world as more than athletes.
"It's not just a basketball game for you guys; this is real life," Macak told them. "You're doing something super important. I don't think you realize you're changing the opinions of people who have never seen a Muslim person before. That's a big deal."
Mark Guarino
Mark Guarino was the Midwest bureau chief for The Christian Science Monitor. He is now a freelancer and a frequent contributor to The Washington Post.
https://www.washingtonpost.com/sports/highschools/in-milwaukee-muslim-girls-basketball-team-courts-a-broader-understanding/2019/02/19/67a9f168-338f-11e9-af5b-b51b7ff322e9_story.html?utm_term=.33af1cfac30a
--------
French Women in Syria Say Ready to Return Home
2019-02-19
By Emmanuel Duparcq
AL-HOL, Syria — Detained after fleeing Daesh group's crumbling Syrian holdout, two women from France say they are ready to go home — if they are judged fairly.
Behind the fence of a camp in Kurdish-held territory, the detainees wore long black face veils that only showed their eyes, and were accompanied by three children.
They were supervised closely by Kurdish fighters.
Around 500 foreign women have been trucked into the Al-Hol camp in recent months, after being picked up by US-backed forces near villages they have taken one by one from the militants.
From the outset, the French women warned AFP they would not give any personal details in order to protect their families back home.
But the most talkative, a 29-year-old from the region of Lyon in France, had a message to get out.
"We're not animals. We're human beings... We have a heart, we have a soul," she said, her blue eyes staring straight ahead.
Kurdish-led forces have now hemmed the last Daesh fighters into less than half a kilometer square (0.2 square miles) of territory in the village of Baghouz, and say their only choice is surrender.
France is hesitating to bring back women thought to have belonged to Daesh and their children.
Their repatriation is a sensitive topic in a country that has suffered a series of deadly Daesh-claimed attacks since 2015.
And French authorities are even more suspicious of men and women who stayed with Daesh until the bitter end.
The second woman, who is in her thirties, said she, her husband, and three children fled the last Daesh holdout earlier this month.
"We didn't agree" with the Daesh fighters, she said, with a slight southern French accent.
"But we couldn't say anything."
Her companion insisted "the Daesh fighters scared us. They'd say: 'Well slit your throats, we'll rape you'".
After weeks of bombardment and food shortages as the Syrian Defense Forces moved in, she said she slipped $50 (44 euros) to a smuggler so she and her two young boys could escape.
Now both women say they are ready to go home. But the 29-year-old has conditions: to be able to practice Islam as she sees fit, and to remain close to the children she has left. She recounts how she lost two children — aged just two and six — a few years ago in bombardment.
But she claims she is not bent on revenge. "I've had my children killed. It's not tomorrow that I'm going to go and kill someone," she said. The two women claim they led peaceful lives under Daesh and that their husbands held civilian jobs, but it was not immediately possible to verify their accounts. — AFP
http://www.saudigazette.com.sa/article/559521/World/Mena/French-women-in-Syria-say-ready-to-return-home
--------
Rashida Tlaib Joins Extremist Imam on CAIR Speaking Circuit
February 19, 2019
Rep. Rashida Tlaib, D-Mich., a self-proclaimed liberal progressive, will speak alongside an extremist imam at an event hosted by the Michigan chapter of the terror-tied Council on American Islamic Relations (CAIR) next month. The Hamas-connected outfit is infamously known for being labeled an unindicted co-conspirator in the largest terrorism financing case in U.S. history.
On March 17, Rep. Tlaib will join Omar Suleiman, a Muslim Brotherhood-linked imam who has a long history of anti-LGBT, anti-woman, and anti-Semitic remarks, at the fundraising event in Detroit. Tickets will cost $50 per person, or $500 to reserve a table. Imam Suleiman has referred to homosexuality as a "disease" and a "repugnant shameless sin" that he believes is justifiable to punish by death. Additionally, the radical imam has endorsed mandatory hijabs for all women, even when they are around family members. In a 2012 sermon, he warned that women who do not wear a full hijab risk an incestous relationship with their family members. In that address, he added that women who commit adultery run the risk of being honor-killed by their family members, without condemning the practice of honor killing. On the foreign policy front, Suleiman regularly cheers on Hamas-led violent Islamist uprisings against Israel in calling for the elimination of the Jewish state.
Dawud Walid, the longtime CAIR-Michigan director who is presiding over the event, also has a long history of extremist rhetoric. At a 2012 sermon at a mosque in Michigan, he described Jews as enemies of Islam who have "incurred the wrath of Allah." Moreover, Walid has endorsed blasphemy laws that call for violent repercussions for engaging in criticism of Islam or Muhammad. Dr. Zuhdi Jasser, the president of the American Islamic Forum for Democracy, has described Walid as one of the "leading radicalizers of American Muslims."
It's odd that Tlaib has decided to share a stage with the sexist, gay-bashing, anti-Semitic imam and an extremist CAIR director, as she has routinely identified herself as a progressive feminist and an advocate for LGBT rights.
It does appear that Tlaib agrees with the two hate-preachers when it comes to the Jewish state of Israel. Its mere existence as a sovereign state has become an obsession for the newly elected "Palestinian-American" congresswoman. On day one of her congressional tenure, Tlaib's office wiped Israel off of her office map, replacing it with a post-it note that said "Palestine" on it.
Tlaib has become a regular on the CAIR circuit. In February, she headlined a CAIR-Chicago fundraiser. In January, she spoke at a CAIR event in which she was introduced by an avowed supporter of the U.S.-designated terrorist organization Hamas.
Rep. Tlaib is not the only elected congressional representative speaking at a CAIR event next month. On March 23, her Democratic colleague, anti-Semitic Rep. Ilhan Omar, D-Minn., will speak at a CAIR fundraiser in Los Angeles.
https://www.conservativereview.com/news/rashida-tlaib-joins-extremist-imam-cair-speaking-circuit/
--------
New Award for Fastest Female Emirati Runners
February 19, 2019
Sharjah: The sixth edition of the annual Sharjah Ladies Run — one of the UAE's largest female-only fitness challenges organised by Sharjah Ladies Club (SLC) — has announced a new award category for this year's run, exclusively for Emirati participants. The three fastest Emirati finishers in the races will receive awards, specially instituted to encourage and promote local women runners. The three top Emirati finishers will receive cash prizes for both the 5-km and 10-km run categories amounting to Dh24,000. Khawla Al Serkal, director-general, Sharjah Ladies Club, said: "While the Sharjah Ladies Run is aimed at women of all nationalities, age groups and backgrounds, we decided to create this new award category to motivate Emirati ladies who want to make this cardio exercise part of their daily lives, or even consider taking it up professionally. In last year's edition of the run 66 per cent of the contestants were Emiratis, and the sixth runner-up was an Emirati woman, which really impressed us. In the UAE, we noticed an increased number of female athletes in a variety of sports especially in running, which reflects the club's success in encouraging Emirati women and increasing their awareness in the need of adopting a healthy lifestyle."
https://gulfnews.com/uae/new-award-for-fastest-female-emirati-runners-1.62162050
--------
International conference on jailed Syrian women to be held in Istanbul
19.02.2019
An international conference will be held in Istanbul on Feb. 20 to raise awareness about the suffering of women and young girls imprisoned by the Bashar Assad regime in Syria.
The conference which will host participants from 45 countries, including Syria, Britain, South Africa, Ecuador, Qatar, Ukraine, Bosnia and Herzegovina, and Brazil will be held by The Conscious Movement, an international initiative founded in March 2018 after an all-women convoy went to the Turkish-Syrian border to raise awareness of imprisoned Syrian women on International Women's Day.
Baroness Pola Uddin, a member of Britain's House of Lords, Zwelivelile Mandlesizwe Dalibhunga Mandela, chief of the Mvezo Clan Traditional Council in South Africa and grandson of Nelson Mandela, and Ecuadorian parliamentarian Ana Belen Marin Aguirre are among the participants of this year's conference.
Yavuz Dede, spokesman for the Movement, told Anadolu Agency that the conference aims to draw international attention to the suffering of women imprisoned amid the Syrian civil war and subjected to torture and rape.
Dede said that the Conscience Movement is an international initiative largely devoted freeing women and children arrested since 2011 when the Syrian civil war broke out.
"The Movement is supported by more than 2,000 NGOs and thousands of people from 110 countries," Dede said.
"More than 13,500 Syrian women have been detained since the war started in March 2011 and more than 7,000 women remain in these prisons, often subjected to torture, rape, or sexual violence," the Movement's organizers said in a statement.
On March 6, 2018, the International Conscience Convoy started on a three-day journey with 55 buses from Istanbul that ended in southeastern Turkey's Hatay province, near neighboring Syria. The rally that was held to mark International Women's Day was attended by over 10,000 women from over 50 countries, including Syria, Ukraine, Chile, Palestine, Iraq, Britain, East Turkestan, Brazil, Malaysia, Pakistan, Kuwait, and Qatar.
At least 400,000 people, including women and children, have been taken to Syrian regime prisons since the beginning of the war, according to the convoy organizers.
Syria has been locked in a vicious civil war since early 2011, when the Assad regime cracked down on pro-democracy protests with unexpected ferocity.
Hundreds of thousands of civilians have been killed or displaced in the conflict, mainly by regime airstrikes targeting opposition-held areas.
https://www.dailysabah.com/istanbul/2019/02/19/international-conference-on-jailed-syrian-women-to-be-held-in-istanbul
--------
URL: https://www.newageislam.com/islam-women-feminism/i-want-promote-his-values/d/117803
New Age Islam, Islam Online, Islamic Website, African Muslim News, Arab World News, South Asia News, Indian Muslim News, World Muslim News, Women in Islam, Islamic Feminism, Arab Women, Women In Arab, Islamophobia in America, Muslim Women in West, Islam Women and Feminism