New Age Islam News Bureau
7 Sept 2018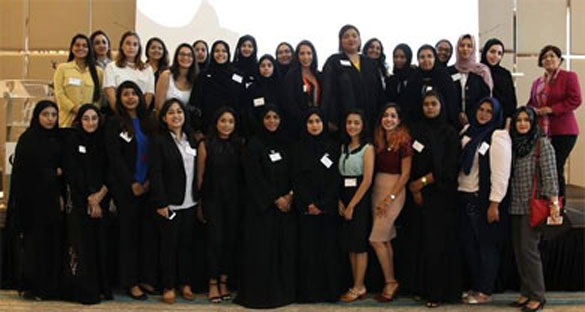 Supplied
-------
The programme welcomed its class of 2019 consisting of 35 participants - 18-25 years of age - selected from across the seven emirates.
-----
• Shedding Light on Absence of Women Cadres in Egyptian Parties
• Activist: Prison Conditions of Dervish Women Violate Iran Prison Laws
• Moroccan judge holds first hearing in case of captive girl
• Conference on Empowerment of Afghan Women Secures €2 Million Education Pledge, Calls for Enhanced Application of International Norms
• Turkey Needs More and Better Shelters for Women: Charity
• Syrian Refugee Women Still Struggle To Access Employment — Report
Compiled by New Age Islam News Bureau
URL: https://www.newageislam.com/islam-women-feminism/daughters-emirates-meet-unleash-potential/d/116313
--------
'Daughters of the Emirates' Meet To Unleash Potential and Do Good
Saman Haziq/Dubai
September 6, 2018
The programme welcomed its class of 2019 consisting of 35 participants - 18-25 years of age - selected from across the seven emirates.
Unlocking the potential of the UAE's young women leaders, a four-day girls summit was launched at Dubai Festival City on Thursday. Launched by Promise of a Generation (POAG) - a platform for discussion and action to make community impact - the 'e7 Daughters of the Emirates' programme was held under the theme 'Women in the Path of Zayed' and saw a number of influential speakers as panelists.
"Women play an important role as community leaders and drivers of sustainable development. Their contributions and leadership are central to economic development and the 'e7 Daughters of the Emirates' programme aims to convene annually to develop the future generation of women leaders in the UAE," said Adela Acevedo Sarna, chairperson, e7 Daughters of the Emirates.
The programme welcomed its class of 2019 consisting of 35 participants - 18-25 years of age - selected from across the seven emirates. The young women, mostly Emiratis, will stay together until Saturday and will be trained in leadership skills. This will support them in ideation, development and implementation of social responsibility projects to benefit the community.
During their four-day programme they will get to know each other, bond as a team, brain storm and formulate their ideas based on POAG pillars - culture and heritage; educational and career; enhancing opportunity for less fortunate; environment and health and women leadership and family.
Titled the 'UAE Vision Dialogue' panel discussion hosted several influential speakers including Caroline Faraj, vice-president, CNN Arabic Services; Afrah Atiq, Emirati award-winning poet, and Reema Shetty, culinary entrepreneur and CEO of The Foodsters and philanthropist and Board Member of the BRCR Shetty Foundation.
"Our message is that you don't have to have a degree, a pay check, a job or any backing to do something good. You can just get together and bring out your strengths and positives. We know youth wants to do a lot of good, and express their love for the country and what we do is just get them together as a team and enable them to make it happen. The next three days they will learn to discover their strengths. They will also be going out for field work such as going out and speaking about their ideas to people and testing out their ideas," Sarna added.
Emirati poetess Afra enthralled the audience with her strong poem Sheraa, which in Arabic means 'Sail of a boat' which urged women to find their calling, their voice and follow it. "Such platforms are extremely important for young women to have access to experience, training and to have people who can guide them. It is all about creating positivity in the community."
In May 2018, 35 girls graduated from the e7 programme after completing the development of community projects that explored child safety, digital health, local tourism, worker welfare and cyber bullying among others.
Suad Al Hammadi, an Emirati participant from the class of 2018, said: "Our project, Unspoken Smiles, aims to raise awareness in the community on the need to protect children from any form of abuse. We are grateful to e7 for giving us a platform to test and expand our social project that will contribute to safeguarding future generations."
https://www.khaleejtimes.com/nation/dubai/daughters-of-the-emirates-meet-to-unleash-potential-and-do-good
--------
Shedding Light on Absence of Women Cadres in Egyptian Parties
Sep. 5, 2018
CAIRO – 5 September 2018: Head of the parliamentary committee of the Conservative Party Hala Abu Saad demanded Wednesday Egypt's government to establish partisan alliances to train women to develop the political field in Egypt.
Saad pointed out that until now there is no support for women from different political parties to participate in the municipal election.
According to studies prepared by the Egyptian Women's Rights Association, the percentage of Egyptian women's participation in political life does not exceed 5 percent, while their participation in the Parliament does not exceed 2 percent.
"For women to be able to chair political parties and lead political forums, there is a need for society's cultural perspective on the role of women in the public sphere to change. Recently women have proved to be more than qualified to work in different positions," Saad added.
In the same context, professor of political science Tarek Fahmi also highlighted the notable absence of women at the ministerial level as well as the absence of women cadres in political parties.
Fahmy pointed out that the recent period has not seen any political party adopt a women's cause, asserting that parties will not survive if they do not train women to lead.
On March 8, 2018, Minister of Foreign Affairs Sameh Shoukry stated during a meeting with the female diplomats at the ministry's headquarters that the ministry has been keen in the last four years to increase the number of women in the diplomatic corps. Shoukry added that women's empowerment in the policy-making process necessitates stimulating the leading role of women and preventing any gender-based discrimination concerning leadership roles.
On August 31, the president of the National Council for Women Maya Morsy pointed out that women keep breaking down barriers in leadership positions, and "soon women will take up the position of a governor." She praised the presence of five female deputy governors in the governors' reshuffle.
"Such a remarkable rise in the percentage of women filling the positions of a deputy governor," said Morsy in press statements on Thursday, adding "we are looking forward for more next time."
In 2017, Egypt appointed the first-ever female governor, Nadia Ahmed Abdou, to the governorate of Beheira in a reshuffle. For the second time in Egypt, Manal Awad Mikhail was appointed as governor; she was sworn in on August 1 before Egypt's President Abdel Fatah al-Sisi as the new governor of Damietta.
http://www.egypttoday.com/Article/2/57157/Shedding-light-on-absence-of-women-cadres-in-Egyptian-parties
--------
Activist: Prison Conditions of Dervish Women Violate Iran Prison Laws
September 06, 2018
An exiled Iranian Dervish rights activist says Iran's ongoing seven-month jailing of seven Dervish women in tough conditions near Tehran is in violation of national prison regulations.
"The situation of the women in Qarchak prison is appalling," said Alireza Roshan, a Turkey-based member of Iran's Gonabadi Dervish religious minority, in an interview for Thursday's VOA Persian NewsHour program. Roshan, a writer and poet, is an editor of Majzooban Noor, a news outlet covering Iran's Dervish community.
"The Dervish women are weak physically after having been beaten before and after their transfer to the prison," Roshan said. "But prison officials are not allowing them to receive needed medical treatment."
Violation of regulations
The women were among several hundred Dervishes arrested by Iranian security forces in February for involvement in anti-government protests in Tehran.
In an article written by Roshan and published by the Norway-based Iran Human Rights (IHR) group Thursday, he said the treatment of the jailed women violates Iran's Prisons Organization Regulations, published online in May 2015, in four main aspects.
Roshan said one aspect is what he called the Qarchak prison's persistent denial of the Dervish women's access to medical treatment and medically necessary special food. Such denials also have been reported by Britain-based rights group Amnesty International, which published a May report, saying: "doctors at the prison … are routinely dismissing the women's complaints of pain and discomfort as 'fake' while refusing to prescribe them medication on a timely basis or carry out thorough diagnostic tests."
Iran's prison regulations say that in "urgent cases," a prisoner shall be dispatched to a hospital upon the order of a physician or prison doctor and with the permission of the head of the prison or his successor. They also call for prisoners who need a special diet for medical reasons to be granted such food for the period prescribed by a doctor.
Inappropriate detention
Roshan said Iran's other alleged violations of prison regulations include inappropriately jailing the highly educated Dervish women in wards with inmates accused of murder, theft and drug offenses; housing the Dervish women in an unsanitary prison converted from an industrial chicken farm; and handcuffing them while they are in transit outside of prison even though handcuffs only are required for inmates who pose a risk of physically harming themselves or others.
Roshan said Iran also is violating a 2006 temporary detention ordinance that says defendants who have yet to be convicted of crimes can use personal belongings such as mobile phones and computers. He said some of the jailed Dervish women have been barred from making phone calls despite having yet to be charged with any crimes.
There has been no official comment on the prison treatment of the Dervish women in Iranian state media.
Dervishes involved in the February protests had been demanding the release of arrested members of their community and the removal of security checkpoints around the house of their 90-year-old leader, Noor Ali Tabandeh. Members of the Sufi Muslim religious sect long have complained of harassment by Iran's Shiite Islamist rulers, who view them as heretics.
https://www.voanews.com/a/activist-prison-conditions-of-dervish-women-violates-iran-prison-laws/4561508.html
--------
Moroccan judge holds first hearing in case of captive girl
September 06, 2018
BENI MELLAL: Family members of a dozen young men suspected in the gang-rape, forcible tattooing and torture of a 17-year-old Moroccan girl allegedly held captive for two months have made a raucous noise outside the courtroom where an investigative judge held his first hearing in the case.
The girl, identified only as Khadija and dressed in black, with black gloves covering hand tattoos, sat quietly before being summoned on Thursday into the first hearing in the case, behind closed doors.
Twelve suspects were detained after Khadija was freed in mid-August. The case sparked a public outcry in a nation where violence against women is widespread but largely ignored.
About 20 family members of the suspects, some holding pictures of King Mohammed VI, harassed Khadija's lawyer. The sister of one suspect collapsed outside the courthouse.
http://www.arabnews.com/node/1367891/middle-east
--------
Conference on Empowerment of Afghan Women Secures €2 Million Education Pledge, Calls for Enhanced Application of International Norms
7 SEPTEMBER 2018
The Ministry of Foreign Affairs of Kazakhstan, the European Union, as well as the Foundation of the First President of Kazakhstan and the Eurasian Media Forum jointly organised the conference. Prominent human and gender rights activists, high-level delegates from Afghanistan, Armenia, Azerbaijan, China, the European Union (EU), India, Kyrgyzstan, Russia, Tajikistan, Turkmenistan, the UN, the United States and Uzbekistan were in attendance
Among the female activists, politicians and government representatives were 2011 Nobel Peace Prize winner Tawakkol Karman, Deputy Prime Minister of Uzbekistan Tanzila Narbaeva, Vice Prime Minister of Kyrgyzstan Altynay Omurbekova, Minister for Women of Afghanistan Delbar Nazari and Special Representative of the UN Secretary General for Central Asia and head of the Regional Centre for Preventive Diplomacy in Central Asia Natalia Gherman.
"Kazakhstan is committed to the speedy establishment of peace in Afghanistan and applauds the steps taken by the Afghan government to improve the status of women, promote gender equality and achieve peace," read Kazakh President Nursultan Nazarbayev's congratulatory letter delivered at the conference by State Secretary Gulshara Abdykalikova.
While Kazakhstan is assured the Afghan people and their leadership will manage to achieve lasting stability in the country, the Kazakh capital can offer a platform to discuss solutions and ideas and unite efforts.
"Since its independence, Kazakhstan has been consistently working to achieve the highest world standards in gender policy issues and to strengthen the role of women in the socio-political life of the country. Kazakhstan has ratified all the fundamental international documents in the field of gender equality, with their guidelines being incorporated into our strategic and policy documents," the letter noted.
Abdykalikova suggested while it is necessary to strengthen economic ties between Afghanistan and Central Asia, women could also be supported through a comprehensive entrepreneurship programme and by involving international businesses in female-oriented economic projects in the country."The security threats and other issues Afghanistan is facing require sustained support from the countries of the region and the international community, with the leading role of the United Nations. And it is our priority to promote the interests of the fraternal Afghan people," Kazakh Foreign Minister Kairat Abdrakhmanov said in his opening remarks at the event.
Part of the global movement for gender equality, the conference agenda highlighted the importance of women empowerment in creating sustainable and resilient societies, demonstrating that the issue spills far beyond the social problems affecting economic development, security and stability in any given country.
"Women empowerment is not only a matter of human rights and social justice. It's about development, human growth and fulfilling the country's potential. The European Union will continue to be the strongest supporter of women," said EU High Representative for Foreign Affairs and Security Policy Federica Mogherini in her video message to conference participants.
As access to a modern education system must be universal and provided equally without any gender discrimination, Mogherini announced a new €2 million (US$2.3 million) programme that will train and educate Afghan women in Central Asia. This programme, to be executed jointly by the EU, Kazakhstan, Uzbekistan and Afghanistan will contribute to "empowering them economically and making them more independent," noted a tweet from the EU delegation to Kazakhstan.
"The new action will benefit not only Afghanistan's revival as a prosperous country, but will have a positive impact on the well-being of the entire region of Central Asia," said EU Charge d'Affaires in Kazakhstan Zoltan Szalai in his remarks.
The new programme will come as a follow up to the $50-million education programme financed by Kazakhstan that seeks to train 1,000 Afghans in its universities. The differences of the new one, though, will be in that it will focus exclusively on Afghan women and that it will be multilateral.
Supporting Afghanistan's development, thus enhancing regional peace and stability, is part of Kazakhstan's agenda as a non-permanent member of the UNSC.
Kazakhstan is actively working on both bilateral and international levels to support Afghan reconstruction, said Abdrakhmanov.
Since launching the $50 million programme for training and educating Afghan youth, 1,000 students have studied in Kazakh universities, with more than half graduating and returning to help their home country develop. The Kazakh government announced it is ready to cooperate in transit and logistics for commercial cargo, energy, mining and road and railway construction, the foreign minister added.
As a UN Security Council member, Kazakhstan announced that the Afghan security problem represents a common challenge for the region, therefore making it part of its two-year agenda at the council. To date, Kazakhstan has organised the field trip of the UN Security Council to Afghanistan and held a ministerial-level debate on "Building Regional Partnership in Afghanistan and Central Asia as a Model to Link Security and Development."
"In the matter of empowering women and strengthening stability in Afghanistan, Kazakhstan attaches great importance to the work of all stakeholders with UN agencies and hopes the participants will support the projects of the Astana forum," said Abdrakhmanov.
The conference participants adopted the Astana Declaration on Empowering Women in Afghanistan which, among other issues, stresses "the importance of full and meaningful engagement of women in the national reconciliation process, as well as in the social and economic life of Afghanistan, and also enhanced application of existing international norms, standards, commitments and recommendations (Convention on the Elimination of all Forms of Discrimination Against Women (CEDAW) and Sustainable Development Goals (SDGs) in Central Asia and Afghanistan."
https://astanatimes.com/2018/09/conference-on-empowerment-of-afghan-women-secures-e2-million-education-pledge-calls-for-enhanced-application-of-international-norms/
--------
Turkey needs more and better shelters for women: Charity
September 06 2018
The state of women's shelters in Turkey once again has come under the spotlight after the death of a four-year-old girl in one of the safe houses.
Back in 2016, the girl, who was living with her mother in a shelter in the Hopa district of the Black Sea province of Artvin, was found unconscious in the facility by another resident. She was transferred to a hospital where she was brought back to life after cardiac massage. However, she had been on respirator since then. The four-year-old girl died on Sept. 3.
An investigation had been launched in the wake of the incident and a woman, who stayed at the shelter at that time, has been tried over the death of the girl.
The death of the little girl has once again raised questions as to whether women's shelters in Turkey are safe enough to serve women who need protection and care.
There are a total of 132 such shelters across the country. Only the eastern province of Bitlis does not have a shelter for women.
Most of those facilities are run by the Family, Labor and Social Services Ministry while others are operated by municipalities, the Immigration Authority (Göç İdaresi) and the Purple Roof (Mor Çatı), an NGO.
According to data from 2016, 102 shelters under the Family Ministry accommodated 29,612 women and 17,956 children. Thirty-three facilities operated by municipalities sheltered 2,088 women and 1,433 children. And 66 women and 23 children were hosted at the shelter run by the NGO.
More shelters needed
Are there enough shelters in Turkey? "No," says Aslı Elif Sakallı, from the Purple Roof Women's Shelter Foundation.
"Even Sweden, a country with a population of 10 million, has 161 shelters. More money is needed to increase the number of shelters in Turkey," she explained.
"However, opening new shelters would not be enough. It is also important to closely watch how those shelters are operated and whether the employees at those facilities are protected. When there is not enough money, the existing shelters fail to provide quality services," Sakallı added.
According to Sakallı, only one or two social workers are employed at shelters that host 25 to 30 women.
"The point here is that the women, who live in shelters, should feel comfortable in those facilities. Some shelters are really good. There are laws that protect women and if those laws are used effectively, women's lives could be saved. The efforts that aim at empowering women help them build a new life after a violent past. What empowers women is not feeling sorry for them but helping them make decisions about their lives," she said.
Sakallı also noted that some employees at the shelters who are not conscious about gender equality could make statements such as: "But clearly you deserved this."
"There is no excuse for violence [against women]," she added.
According to data provided by the Kadın Cinayetlerini Durduracağız Platformu (We Will Stop Femicides Platform), a women's rights organization monitoring the number of women killed at the hands of abusive men, 41 women were killed in August in Turkey.
http://www.hurriyetdailynews.com/turkey-needs-more-and-better-shelters-for-women-charity-136538
--------
Syrian Refugee Women Still Struggle To Access Employment — Report
Sep 06,2018
AMMAN — In Jordan's refugee camps, where the number of work opportunities remains largely disproportional to the number of working age residents, the competition for job opportunities is fierce, with women often relegated to the background.
Zaatari refugee camp, which hosts nearly 79,000 Syrian refugees, 42 per cent of whom are of working age, is no exception to the rule, according to UNHCR August 2018 figures.
While the humanitarian organisations operating around the camp provide some 5,000 cash-for-work positions, these short-term jobs remain insufficient to allow various groups of women to access the labour market.
Work competition detrimental to women
A skilled seamstress from Daraa in Syria, Fatima said her age has been the greatest hindrance to her job search.
The 59-year-old noted: "Maybe employers won't let me work because I'm older; they worry I might get sick while I'm at work. I'm tired of sitting alone at my house. I need to work. It's sad to see my talents fade as the years go by."
Like many other skilled women, Fatima has been struggling to find work, even since the Jordanian government's recent commitment to "consider expanding the sectors and occupations open to Syrian refugees… with a particular focus on women's participation", as pledged during the second Brussels conference on "Supporting the Future of Syria and the Region" in April 2018.
In February 2017, the government announced that Syrian refugees living in camps were entitled to obtain work permits and be employed in urban areas, with over 108,000 permits delivered by the Ministry of Labour as of August 2018, according to official figures.
However, women have remained largely excluded from employment opportunities, both inside and outside the camps, an Oxfam report titled "Tailor Made" showed.
"I feel like I'm a captive because of my age. If women of all ages were given opportunities to work, it would help us to heal and grow after all the destruction and loss we suffered," Fatima pointed out, stressing "working with others would keep us occupied."
Launched in April 2017, Oxfam's Lel-Haya project aimed to tackle this issue, providing vocational and soft skills training to Syrian refugee women who seek to enhance their employability and increase their self reliance.
Since then, Lel-Haya ("For Life" in Arabic) has provided 280 women with professional seamstress training, where they learned how to produce fashionable tote bags from old UNHCR tents.
Deeply rooted challenges
However, such programmes do not reduce women's many barriers to employment, as many of these trainees' experiences demonstrate.
After the training, a job fair organised by the International Labour Organization and UNHCR at the Zaatari Office for Employment gave these women the opportunity to work at a garment factory based in Irbid, some 70km away from the camp.
Despite great financial incentives, very few women signed up for the job, which Oxfam found to be due to a number of societal, technical and familial challenges, including childcare and family responsibilities.
"Women who decided not to enrol at the factory complained that because they had older children, they were ineligible for the childcare allowance that women with younger children would receive [JD25 per month for each child under the age of four]," the Oxfam report showed, noting that "the women who did take on the work had only young children, or no children".
For 29-year-old Amina, who has two children under four years old, the solution was to leave them with an informal child-carer, whom she paid with the childcare allowance provided by the factory. Meanwhile, Sawsan, 20, left her kids with her in-laws.
"These women are able to access full-time jobs outside the camp by benefitting from their existing informal networks," the report indicated, pointing out that other Syrian women who cited childcare as an obstacle to working made no mention of these networks, "suggesting that they are unable to access them".
Public perception of women's work also had a negative effect on women's access to the local labour market.
Due to the far location of the factory, workdays were considerably lengthened by transportation times, with over two hours of travel to and from the workplace, which added up to the standard eight-hour day.
Mariam, 26, said: "The bus route keeps getting longer and more tiring. My parents are starting to get upset about this and I think they might start to take issue with the lateness."
"Social norms dictate that women's work is often considered unnecessary; in Mariam's case it is not vital to meet her family's needs. Because their work is considered non-essential, working outside the camp is only acceptable for women under certain conditions," the Oxfam report pointed out, noting that late returns are "only seen as acceptable for male family members, since they are expected to work".
Rumours and word of mouth have also hindered women's enrolment in the factory. "We all talk to each other. We hear that the conditions at [the factory] are not very good. They treat the workers there very badly, [there is] constant criticism and orders," stated Sara, a Zaatari resident.
"Women who accepted a job at the garment factory generally reported positive experiences of working there, and expressed interest in staying long term," the Oxfam report indicated, stressing however that "these women do not represent the majority of women in the camp. While they have found their own solutions to common challenges to taking on formal work in Jordan, the gender-based barriers that prevent the majority of Syrian refugee women from entering the workforce remain".
The international NGO called for greater consideration to sustainable approaches in livelihood policy for refugees in camps by improving the mobility of Syrian refugee women, ensuring provision of affordable and safe transportation while incentivising provision of childcare facilities, in addition to integrating social dynamics around women's economic participation in humanitarian organisations' programming.
http://www.jordantimes.com/news/local/syrian-refugee-women-still-struggle-access-employment-%E2%80%94-report
--------
URL: https://www.newageislam.com/islam-women-feminism/daughters-emirates-meet-unleash-potential/d/116313
New Age Islam, Islam Online, Islamic Website, African Muslim News, Arab World News, South Asia News, Indian Muslim News, World Muslim News, Women in Islam, Islamic Feminism, Arab Women, Women In Arab, Islamophobia in America, Muslim Women in West, Islam Women and Feminism