New Age Islam News Bureau
15 Jan 2020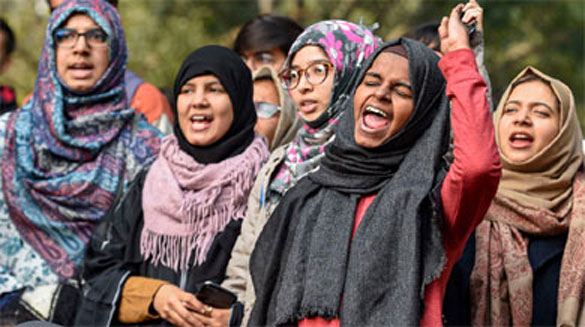 Women shout slogans during their demonstration Azad Women for Azadi against Citizenship (Amendment) Act and NRC, at Jantar Mantar in New Delhi on Tuesday.
-----
• Muslim Woman Translating Ram Charit Manas Written By Tulsidas into Urdu
• Air Force Commissions First Female Muslim Chaplain in US Military History
• Afghanistan- Banners Promoting Women Dress Code Spark Backlash
• 2020 Dawns In Egypt With Viral Video Of Mob Harassing Women
• Saudi Arabia Appoints Princess Haifa As Its Permanent Representative To UNESCO
• Denver Arena Reviewing Screening Process after Muslim Woman Told To Remove Hijab
• KP Assembly Amends Law against Women's Harassment At Work
• Grassroots Project Aims To Produce Saudi Arabia's First Female Dakar Driver
• Over 20,000 Saudi Women Working In Tourism Sector
Compiled By New Age Islam News Bureau
URL: https://www.newageislam.com/islam-women-feminism/azad-se-azadi-women-different/d/120798
--------
'Azad Se Azadi': Women from Different Faiths Wear Hijab, Stage Anti-CAA Sit-In at Jantar Mantar
January 14, 2020
New Delhi: Women following different faiths wore Hijab and took part in a sit-in at Jantar Mantar on Tuesday against what they claimed was "singling out of Muslim women" by police during recent protests against the citizenship law in the national capital. The demonstration, titled 'Azad women for Azadi', saw the women coming together to express solidarity with the protesters.
Iqra Raza, a Delhi University student, who organised the protest, said, "My cousin was singled out by police during a citizens' march last week. A policeman punched her in the chest. We are protesting against the targeting of Muslim women by the forces. It constitutes a hate crime."
Her cousin, Zikra Mojibi, said she was singled out during a protest by JNU students, and she got panic attack after the police personnel manhandled her and punched her in the chest.
The protesters were holding banners with messages like 'We want rights, not riots', 'Crying culture claims new democracy' while slogans against 'Islamophobia' and 'Inquilab Zindabad' rent the air.
Ifat Khan, a student of Jawaharlal Nehru University, said, "Women are not only participating in the protests but also leading them. We are no longer scared." Khan said the same government which brought Triple Talaq and said it was for the empowerment of Muslim women is using police to target them.
"Muslim and Kashmiri Muslim students were even targeted in JNU when goons entered Sabarmati Hostel on January 5. I would urge you to not make it a fight between Muslims and government but a fight between the citizens and government," she said.
Khan said the mess workers of Sabarmati Hostel saved her since she hid there along with other students when masked persons went on a rampage on the campus.
Ishita Mandal, a student from Delhi University, wore hijab to express her solidarity and condemn what "they go through on a daily basis".
https://www.news18.com/news/india/azad-se-azadi-women-from-different-faiths-wear-hijab-stage-sit-in-at-jantar-mantar-2458367.html
--------
Muslim Woman Translating Ram Charit Manas Written By Tulsidas into Urdu
January 14, 202
Varanasi: A Muslim woman in Varanasi is working overtime to translate the Ram Charit Manas written by Tulsidas into Urdu.
The woman, Nazneen, has already translated five of the seven 'kands' (chapters) of the epic. She has translated 'Baal Kand', 'Ayodhya Kand', 'Aranya Kand', 'Kishkindha Kand' and 'Sunder Kand'. The 'Yuddha Kand' and 'Uttar Kand' remain to be translated, she said.
"I have already translated Hanuman Chalisa, Durga Chalisa and Sai Chalisa in Urdu. I am doing these translations because I want Muslims to know more about Hindu mythology and culture. I feel my community should know about Lord Ram. This will bring Hindus and Muslims closer," said Nazneen.
A member of the Muslim Mahila Foundation, Nazneen works for the empowerment of Muslim women.
She finds inspiration from Emperor Akbar who had set up a department for translation of scriptures form one language to another.
Nazneen, daughter of a weaver from Lallapur in Varanasi, says her work will also send a message to those politicians who are warring over issues such as the new cityizenship law.
"I want people to learn about sacrifice and co-existence from Ram, Sita and Laxman and stop fighting over such issues," she said.
https://gulfnews.com/world/offbeat/muslim-woman-translating-ram-charit-manas-in-urdu-1.1579003236659
--------
Air Force Commissions First Female Muslim Chaplain in US Military History
David Roza
January 14, 2020
The Air Force made history last month by commissioning 2nd Lt. Saleha Jabeen as the first female Muslim chaplain candidate in the military. Though the commission marks a new chapter in American military history, it is only the latest in a long spiritual journey for Jabeen that started 14 years ago, when she first came to the U.S. as an international student from India.
At the time, Jabeen thought she would earn a Masters of Business Administration and make her mark in the corporate world, Jabeen wrote in a blog post for the Muslim American Leadership Alliance. But after experiencing bigotry and prejudice in the U.S., Jabeen realized she wanted to study Islam to better understand her identity as a Muslim.
"I wanted to learn about my religion so I can own it when I practice it," wrote Jabeen, who studied inter-religious dialogue at the Catholic Theological Union in Chicago before enrolling at Trinity Christian College for a graduate level education. However, Trinity presented another challenge for Jabeen: how to afford the tuition.
"This left me with two options: self sufficiency or going back to India," she wrote. "Going back like this to me would mean emotional, spiritual, and intellectual suicide."
To achieve self-sufficiency, Jabeen followed her older brother into the Army. The military also offered a route citizenship in the U.S., which she had come to know as home. But for Jabeen, self-sufficiency was more than just paying the bills: it was also about embodying cultural change.
"I'm a Muslim woman and I want to live like one," Jabeen wrote. "This for me meant thriving for self-sufficiency. From my graduate school learning experience, I took away two gems, one of them was – if Islam is to be fully realized, Muslim women ought to be economically independent.
"Being a Muslim woman is not a weakness like the culture would like for us to believe," she continued. "The only way to change that culture is by being the change itself."
Oddly enough, Jabeen's path to Air Force chaplaincy started in the Army reserves with the 801st Combat Support Hospital, where her fellow soldiers welcomed the chance to learn from her about Islam.
"Thank you for the study sessions about Islam and for taking deep interest in learning about the cultural sensitivities to be better equipped for your service commitments," Jabeen said to the soldiers, some of whom were at the commissioning ceremony in Chicago on Dec. 18. "I would not be standing here without your support."
Now that she's in the Air Force, Jabeen still has to complete her training and be assigned a duty station before she actually becomes a practicing chaplain. Until then, her boss seems to already be very proud of her.
"This is a big day not just for Muslims, but for persons of all faiths," said Maj. Gen. Steven Schaick, Air Force chief of chaplains, at the commissioning ceremony. "I could not be more proud of our Air Force for being willing to commission and embrace the first female Imam in the Department of Defense."
A female Muslim chaplain in the military may be a brand new thing for the DoD, but there aren't many female chaplains in the military in general. According to Air Force Magazine, out of the 2,808 active duty chaplains in the armed forces, only 161 are women.
But with Jabeen leading the way, that number may soon change.
"To all the girls and young women witnessing this moment ... and to everybody who feels inspired at this feat, I want you to know that God has a plan for you and is always with you," the chaplain-to-be said. "Go be the best version of yourself … don't let anyone or anything stop you."
https://taskandpurpose.com/first-female-muslim-chaplain-air-force
--------
Afghanistan- Banners Promoting Women Dress Code Spark Backlash
1/14/2020
KABUL: Recently, a cleric in western Herat had banners installed across the city promoting strict Muslim hijab for women. And since the unveiling, Mawlawi Mujib Rahman Ansari has received a flurry of backlash from the public.
Ansari, head of Herat's Gozargah mosque and a prominent cleric in Herat city, has always been critical of women's dress code and has been seen threatening to take matters into his own hands if authorities failed to address an increasing disregard to compulsory hijab.
No reaction has so far been reported from the government of Afghanistan, which prides itself on promoting modern values and women's achievements.
But, some across the country have criticized the cleric on social media for his move toward extremism and misogyny in these politically tense times. Women have called on the government and law enforcement agencies to prevent from the plague of fundamentalism and misogyny across Herat city.
A female student in Herat lashed out at cleric Rahmani's self-styled promotion of Hijab and said that 'such behavior emanating from a religious scholar is sinister in an Afghanistan which is a misogynist and patriarchic society'.
Some scholars heaped scorns on the controversial banners, arguing such vulgar and hideous homilies will not do anybody any good, rather they will tarnish belief in religion and scholars and promote violence.
This is not the first time Rahmani has called for strict hijab. In a Friday sermon, he had said women should stay at home and refrain from outing except for emergency situations. In his other sermons, he said most women will end up in hell.
https://menafn.com/1099552016/Afghanistan-Banners-promoting-women-dress-code-spark-backlash
--------
2020 Dawns In Egypt With Viral Video Of Mob Harassing Women
Menna A. Farouk
January 9, 2020
Videos depicting an Egyptian mob sexually harassing women in the first hours of the new year have drawn widespread public anger, but the attackers have managed to escape.
The videos, which went viral on social media last week, show two women being harassed by a group of young men in the city of Mansoura, north of Cairo. Egypt has long struggled with harassment of women on the streets and many similar incidents took place during the January 25 Revolution.
The Egyptian authorities opened an investigation into the incident and arrested seven suspects. However, all were released the next day after the two women, both 20, said that they are not the men who harassed them. No new arrests have been made.
The videos showed dozens of young men verbally and physically harassing one of the women as she screamed. Then a second group of men rushed in to protect her and helped her escape in a car as the attackers climbed on top of it.
The Dakahlia governorate prosecutor took statements from the assaulted woman and her friend. According to detectives, the young woman explained that the two had been walking when a group of young men behind them started taking photos and one of them tried to touch her leg. When she swore at him, his friends circled around her.
She said, "We tried to take shelter in a mobile shop that was in front of us, and we actually entered it, but the owner of the store asked us to leave because of the youths gathering in front of the shop and saying bad words and whistling."
She added that she did not report the incident to the police because she was traumatized and mentally exhausted when she returned home.
Women's rights activists have condemned the incident and called upon the authorities to hold those responsible accountable. Hadia Abdel Fattah, a human rights activist who runs an initiative called "We will not Keep Silent on Sexual Harassment," told Al-Monitor that the incident is a result of "an extremist social culture" and "how bullies are glorified in TV series and movies."
She went on, "This is in addition to the frequent fatwas of Salafist sheiks that allow the beating of wives, the marriage of minors, female circumcision, requiring the niqab … all of these in the name of religion."
Despite Egypt passing tougher laws against sexual harassment with a series of amendments beginning in 2014, harassment during holidays and special occasions are common despite an increased police presence including policewomen specifically deployed to the streets to protect women. The National Council for Women has set up centers to take complaints of sexual harassment. However, many women are afraid to speak out.
Randa Fakhr El Deen, chair of the NGOs Union Against Harmful Practices on Women and Children, said that despite increasing awareness of violence against women and the issuance of a number of laws to deter it, the crimes are still increasing.
"This is a warning, and we must study the phenomenon from all economic, cultural, moral, religious, criminal and psychological aspects," she told Al-Monitor.
She said that the figures are alarming. In Egypt, 46% of women experience violence from a partner, 27% of girls marry before reaching the age of 18 — the legal age of marriage in Egypt — and 87% of girls are subjected to female genital mutilation.
Fakhr El Deen called for increasing penalties against gender-based violence and harassment and enforcing the law. She also urged action by civil society organizations in cooperation with state institutions concerned with defending women's rights on reforming laws to ensure equality between women and men.
"We also need to present a positive image of women in the media, cinema and radio and television series," she added. "Without all these efforts at once, such incidents will continue in Egypt."
Menna A. Farouk, a journalist and an editor at The Egyptian Gazette, writes about social, political and cultural issues, including press freedom, immigration and religious reforms among other topics. On Twitter: @MennaFarouk91
https://www.al-monitor.com/pulse/originals/2020/01/mob-sexual-assault-incident-draws-public-anger-in-egypt.html
--------
Saudi Arabia Appoints Princess Haifa As Its Permanent Representative To UNESCO
15 January 2020
Saudi Arabia has appointed Princess Haifa bint Abdul Aziz al-Muqrin as the Kingdom's Permanent Representative to the United Nations Educational, Scientific and Cultural Organization (UNESCO).
Her appointment was confirmed on Tuesday by Saudi Arabia's office at the United Nations via its official Twitter account.
Princess Haifa's has held several roles with the Kingdom's Ministry of Economy and Planning. She has been Saudi Arabia's assistant undersecretary for Sustainable Development Affairs, a position she held since December 2017. She was also the acting assistant Undersecretary for G20 affairs and was the head of the Sustainable Development Goals Sector between 2016 And 2017.
She earlier worked as a lecturer at the King Saud University from 2008 to 2009, according to the Saudi Gazette.
https://english.alarabiya.net/en/News/gulf/2020/01/15/Saudi-Arabia-appoints-Princess-Haifa-as-its-UNESCO-Permanent-Representative.html
--------
Denver Arena Reviewing Screening Process after Muslim Woman Told To Remove Hijab
January 15, 2020
Denver's Pepsi Center is reportedly reviewing its screening process after a Muslim woman was allegedly told to remove her hijab when entering the arena.
The Colorado chapter of the Council on American-Islamic Relations (CAIR) said Gazella Bensreiti was told to "take that thing off," referring to her hijab, when she entered the arena to watch her daughter perform the national anthem.
When she asked to be allowed to remove it in private in front of a woman, Bensreiti was refused the option and "subjected to public humiliation in front of staff, students and other parents," CAIR said in a statement.
Bensreiti said on Facebook the incident took place on Nov. 5.
Bensreiti said she told the woman who asked her to take off her hijab that she would not be taking it off due to religious reasons. Bensreiti said that five white men ahead of her had baseball caps on that they were not asked to remove.
She said the woman who initially told her she had to take the cap off "went into an office and came out and waved to me to go ahead through, without making eye contact or even acknowledging me as a human being, but ushered me like an animal."
"I have never experienced this type of trauma in my entire life. I know my rights as an American citizen. Not only did she traumatize me and my daughter, she infringed upon my civil rights. I have never felt so embarrassed and broken before," Bensreiti wrote.
Kroenke Sports and Entertainment, which owns the Pepsi Center, issued a statement saying the matter is under review and the company is taking steps to modify its screening process "and provide additional education for our staff," according to KDVR, a local Fox affiliate.
"Pepsi Center prides itself on creating a safe and inclusive environment for all patrons regardless of race, gender, religion, national origin, disability and sexual orientation. Unfortunately, there was a misunderstanding on November 5 when a security agent didn't recognize that Ms. Bensreiti was wearing a hijab. A supervisor quickly intervened, and Ms. Bensreiti entered," the arena owners said in the reported statement.
Owners added that they have reached out to Bensreiti and "look forward to engaging in honest discourse that leads to greater awareness and an opportunity to further celebrate the diversity that makes Denver such a special place."
CAIR is holding a press conference on the incident Wednesday morning at the Colorado Muslim Society in Denver. The group said it is calling on Pepsi Center officials to investigate the incident and change its policy regarding religious attire of event attendees.
https://thehill.com/homenews/state-watch/470221-denver-event-arena-reviewing-screening-process-after-muslim-woman-told
--------
KP Assembly Amends Law against Women's Harassment At Work
Zulfiqar Ali
January 15, 2020
PESHAWAR: The Khyber Pakhtunkhwa Assembly on Tuesday passed an amendment to an anti-women harassment law and introduced separate oaths for Muslim and non-Muslim ombudsperson.
The government bill earlier had a single oath for the ombudsperson.
Two separate oaths for the Muslim and non-Muslim ombudsperson were included in the bill after Jamiat Ulema-i-Islam-Fazl MPA Naeema Kishwar tabled an amendment to Schedule-II of the law.
"The main purpose of the amendment was that no person of a particular non-Muslim community could assume the post in the garb of a Muslim," clarified mover of the amendment when treasury, minorities and an MPA of Pakistan Peoples Party initially opposed it.
The treasury and opposition benches supported the amendment.
Speaker Mushtaq Ahmad Ghani chaired the proceedings.
Minister for social welfare and women development Dr Hisham Inamullah moved a resolution in the house for the passage of the Khyber Pakhtunkhwa Protection against Harassment of Women at Workplace (Amendment) Bill, 2020.
Naeema Kishwar through her amendment says the ombudsperson shall take oath as: "that I am a Muslim and believe in the unity and oneness of the Almighty Allah, the Books of Allah, the Holy Quran being the last of them, the Prophethood of Mohammad (PBUH) as the last of the prophets and there can be no prophet after him, the Day of Judgment, and all the requirements and teachings of the Holy Quran and Sunnah."
The content of the amendment triggered a debate in the house.
Pakistan Peoples Party MPA Nighat Yasmin Orakzai opposed the amendment.
Opposing the contents of the amendment, she said members of minorities could also become ombudsperson like judges of the superior courts.
She said the amendment would stop minorities from becoming ombudsperson.
Minister for law and parliamentary affairs Sultan Mohammad Khan also opposed the amendment and said the Constitution did not allow discrimination on the basis of race, religion, sex and place of birth.
Speaker Mushtaq Ghani proposed two separate oaths for Muslim and non-Muslim ombudsperson that was supported by the law minister.
Ranjeet Singh of the JUI-F proposed a separate oath for minorities.
Minister Hasham Inam suggested that oath begin with the name of the Almighty Allah.
Minority MPAs from the treasury and opposition benches snubbed the JUI-F lawmaker for using 'inappropriate' words against non-Muslims.
They resented the remarks of Naeema Kishwar about minorities and demanded of her to withdraw them.
The speaker expunged the remarks.
Naeema Kishwar clarified that she had a lot of respect for minorities and she specifically highlighted Ahmadis. Earlier, three amendments proposed by MPA Nighat Orakzai were included in the law.
According to the amended law, a person, who is or has been working with a well reputed civil society organisations or a social welfare organisation having at least Bachelor's or equivalent degree in law from a recognised university with at least 15 years post qualification experience could become ombudsperson besides a person who is, has been or is qualified to be a judge of the high court or a retired civil servant of known integrity having law background with at least 15 years of service.
The house passed the Khyber Pakhtunkhwa Vagrancy Restraint Bill, 2020.
The bill meant for the care, rehabilitation and reintegration of vagrants in the province declared that if the special magistrate finds that a person is vagrant and person shall be send to Darul Kafala for the detention for a period no exceeding three years. All offences registered under the law will be cognisable and bailable.
https://www.dawn.com/news/1528347/kp-assembly-amends-law-against-womens-harassment-at-work
--------
Grassroots Project Aims To Produce Saudi Arabia's First Female Dakar Driver
January 13, 2020
RIYADH: Dakar Rally organizers A.S.O. initiated a development project that aims to have female Saudi drivers take part in the 2021 edition of the challenging race.
A.S.O. worked with Saudi circuit racer Aseel Al-Hamad, who is also a board member of the Saudi Automobile and Motorcycle Federation (SAMF) and a representative of the FIA Women in Motorsports Commission.
Al-Hamad proposed a grassroot approach to put young Saudi talents in the driving seat and prepare them for next year's edition of the desert adventure.
Reem Al-Aboud, a young racing driver and one of the program members, drove the first stage of Dakar Saudi Arabia 2020 from Jeddah to Al-Wajh. The 20-year-old is a club racer, whose passion for motorsport started with karting.
She also won the second place at Saudi Time Attack and was the first Saudi female to test the Formula-E car in Diriyah ABB Formula E in 2018.
Expressing her excitement to be part of the project, Al-Aboud said: "I never imagined how thrilling it would be. The experience is totally different from track racing. I now know that I would want to be a rally driver besides my passion for track racing. It will require a lot of training and dedication to gain proper experience, and I am up for it."
Another female driver in the running to be the first female Saudi competitor at Dakar Rally is Dania Akeel. The 31-year-old biker got the first female Speed Bike Competition License issued by SAMF and competed in UAE National Sportsbike Super Series as well as the Bahrain BMR600 Championship.
Among the other names to feature in the program was 31-year-old dirt biker Mashael Al-Obaidan who recently obtained a sport driving license and will be competing in local rally championships while she looks forward to the headline race next year.
Following Al-Aboud's drive from Jeddah to Al-Wajh in Stage 1, Al-Hamad drove the fifth stage from AlUla to Hail and the sixth stage from Hail to Riyadh, while Akeel was behind the wheel in Stage 7 from Riyadh to Wadi Al-Dawasir. Al-Obaidan, meanwhile, drove in Stage 8, which started from and ended in Wadi Al Dawasir.
"This is just the start. We are doing this to discover our local female talents, work with A.S.O. to train them with Patissier and prepare them to compete at Dakar Saudi Arabia 2021," Al-Hamad said.
Dakar Saudi Arabia 2020 takes place over 12 stages contested in 13 days and sees 342 pilots from 62 countries drive nearly 8,000km of uncharted Saudi desert.
https://www.arabnews.com/node/1612336/sport
--------
Over 20,000 Saudi Women Working In Tourism Sector
January 14, 2020
RIYADH — The number of Saudi women who work in the Kingdom's tourism sector reached 20,732 during the year 2018, according to a survey carried out by the General Authority for Statistics (GaStat).
It was revealed in the survey, titled "Survey of Tourism Establishments for 2018," that there are 552,556 people employed in the Saudi tourism sector, of which Saudis made up 22.3 percent. There had been an increase of 3.1 percent in the number of people working in the tourism firms in 2018 compared to the previous year.
The findings of the survey showed that the number of tourism establishments in the Kingdom amounted to 72,389 during 2018, and this was an increase of 1.1 percent while comparing to the year 2017.
The number of micro-tourism firms that employ less than six workers and the number of small tourist establishments that employ between six and 49 employees account for a total of 71,448 firms, and these two categories constitute 98.7 percent of the total firms.
The total number of medium scale firms with 50-249 employees and large firms with more than 250 employees reached 941 during the year 2018, it was found in the survey.
There had been an increase of 4.1 percent in the amount of money disbursed in terms of salary, wages, allowances and incentives for the employees in the tourism sector during 2018 as against the previous year.
The operational revenue also registered an increase of 4.6 percent during the period. The operational revenue in terms of provision of food and drinks reached SR43.44 million, which made up 34.99 percent of the total revenues, while the revenues for air transport of passengers stood at SR34.14 million, representing 27.5 percent and revenues for the stay of visitors amounted to SR21.74 million, the survey showed.
http://saudigazette.com.sa/article/586918/SAUDI-ARABIA/Over-20000-Saudi-women-working-in-tourism-sector
--------
URL: https://www.newageislam.com/islam-women-feminism/azad-se-azadi-women-different/d/120798
New Age Islam, Islam Online, Islamic Website, African Muslim News, Arab World News, South Asia News, Indian Muslim News, World Muslim News, Women in Islam, Islamic Feminism, Arab Women, Women In Arab, Islamophobia in America, Muslim Women in West, Islam Women and Feminism