New Age Islam News Bureau
28 Aug 2019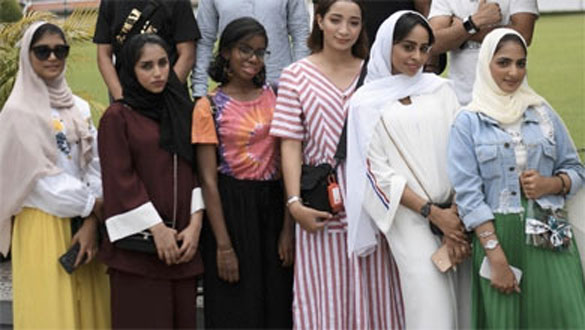 Six female university students, the first from the UAE, flew to Thailand for an exchange programme where they introduced the country, including its heritage, culture and people, to the teachers and students of some small, scenic Thai islands.
-----
• More Than 100 Bangladeshi Migrant Women 'Abused and Harassed' Return Home From Saudi Arabia
• Six Young Emirati Women Experience Island Living Without Families
• New Legislation on Violence Against Women In Works In Turkey's Parliament
• Belgium: Court rules against headscarf ban
• 17 Emirati Women Talk To Us about the Biggest Misconceptions They Face
• This Beauty Salon Is a Safe Space for the East Bay's Muslim Women
• Arab Women Campaign Fetes Awardees
• Our Women on the Ground: How Arab Journalists Smash Stereotypes While Reporting From the Front Lines
• New Award to Recognise Emirati Female Poets
Compiled by New Age Islam News Bureau
URL: https://www.newageislam.com/islam-women-feminism/avoid-veils-now-sri-lankan/d/119588
--------
'Avoid Veils for Now': Sri Lankan Clerics Ask Women As Community Continues To Live In Fear
27th August 2019
COLOMBO: Islamic clerics in Sri Lanka asked Muslim women on Tuesday to continue to avoid wearing face veils until the government clarifies whether they are once again allowed now that emergency rule has ended four months after a string of suicide bomb attacks.
Clerics are wary of the Muslim community being targeted again for violence, as it was in the aftermath of April's Easter Sunday attacks that killed more than 260 people, said Fazil Farook, spokesman for All Ceylon Jammiyyathul Ulama, Sri Lanka's largest group of Islamic clerics. Two local radical Muslim groups have been blamed for the attacks.
Farook urged Muslim women not to rush into wearing their veils again.
"They have managed in the past and we are asking them to do it the same way," Farook said, adding that some women have refused to be seen in public without covering their faces because they had been accustomed to it.
After the Easter attacks on three churches and three tourist hotels, Sri Lanka's government brought the country under emergency rule, giving sweeping search, arrest and detention powers to the military and police. President Maithripala Sirisena also used the emergency law to issue a decree banning covering faces in all manners, including face veils.
Emergency rule had been extended each month until last week, when Sirisena allowed the law to lapse. He issued a separate order allowing the military to maintain peace.
In the wake of the Easter attacks, gangs mostly from the majority Sinhalese community attacked mosques and Muslim-owned shops, killing at least one person. Muslims also were subjected to hate speech in public and on social media.
Farook said clerics were asking the Muslim community to remain calm.
"(Think of) what happened in the past and don't allow racial elements to take things to another level," he said.
http://www.newindianexpress.com/world/2019/aug/27/avoid-veils-for-now-sri-lankan-clerics-ask-women-as-community-continues-to-live-in-fear-2025136.html
--------
More Than 100 Bangladeshi Migrant Women 'Abused and Harassed' Return Home From Saudi Arabia
Maya Oppenheim
August 28, 2019
Over 100 Bangladeshi female migrants who were living in a shelter in Saudi Arabia have returned home after their employers subjected them to alleged abuse.
The workers alleged they were forced to endure various forms of abuse, including physical, psychological and even sexual harassment, by their employers in Saudi Arabia.
Many of them also alleged that there were forced to work without pay.
Brac, an international development organisation based in Bangladesh, said some 45 workers returned on evening flights on Monday and 65 more female migrants reached Hazrat Shahjalal International Airport at night.
"These migrants had been staying in the safe house run by Bangladesh embassy in Riyadh for a long time," Shariful Hasan, Brac's migration program head, told Dhaka Tribune.
According to the organisation, this year saw 900 female migrants return home from Saudi Arabia. The number last year was said to be more than 1300.
Rothna Begum, senior women's rights researcher at Human Rights Watch, said such cases were commonplace.
"This is quite normal," she told The Independent. "Bangladesh started to aggressively seek out opportunities for Bangladeshi women workers on the Gulf. They started doing this at the same as other Asian countries blocked or limited women going to Gulf countries because of them suffering abuses while abroad. They saw they could replace other workers."
The campaigner added: "We have documented abuse and exploitation of migrant domestic workers of various nationalities - including Bangladeshi - across the gulf region. In 90 to 95 per cent of cases, the migrant domestic worker will have their passport confiscated by employers or recruitment agents.
"They face excessively long shifts of 15 to 21 hours with no days off at all. They might be locked inside the house or compound. They may be deprived of food or given spoiled food – the leftover bits of food on a plate. They are subject to psychological abuse in the form of verbal abuse such as shouting and insults. There is also physical abuse such as the pulling of ears, being burnt with hot water, and then there is sexual abuse which ranges from verbal to being touched, attempted rape and actual rape.
Ms Begum, who specialises in the Middle East and North Africa and has done extensive research on Saudi Arabia in particular, said she had heard accounts from women who were sleeping on the floor of a storage room or living room.
"I have documented many cases across the Gulf where men have come into the woman's room and have either tried to rape them or actually raped them," she added. "Women have talked about being sold to another employer and not being paid salaries or having their wages delayed. The range of abuses can amount to forced labour or sometimes even slavery where the employer refuses to pay them and says things like 'I bought you'."
Over 12 million migrant workers fill manual, clerical, and service jobs in Saudi Arabia – comprising more than 80 per cent of the private sector workforce.
Human Rights Watch warn the kafala (visa sponsorship) system ties migrant workers' residency permits to "sponsoring" employers, whose written consent is needed for workers to change employers or leave the country under normal circumstances. They say employers confiscate passports, withhold wages, and force migrants to work against their will.
Saudi Arabia imposes an exit visa requirement which forces migrant workers to get permission from their employer to leave the country, according to their 2019 World Report.
Workers who leave their employer without obtaining their consent can be charged with "absconding" and face jail and deportation.
"Domestic workers, predominantly women, faced a range of abuses including overwork, forced confinement, non-payment of wages, food deprivation, and psychological, physical, and sexual abuse without the authorities holding their employers to account," says the report.
Saudi women and migrant domestic workers who report abuse, including rape, sometimes face counter-accusations, leaving them open to criminal prosecution, according to a Human Rights Watch report from 2016.
Women may be charged with moral crimes, like khilwa (which means mixing with unrelated members of the opposite sex) or with fleeing from their homes.
Campaigners argue Saudi Arabia profoundly discriminates against women – with women's marital rights being effectively non-existent and marital rape not explicitly defined as a crime.
Saudi Arabia imposes a very strict interpretation of Islam known as Wahhabism.
https://www.independent.co.uk/news/world/asia/saudi-arabia-bangladesh-women-migrants-abuse-sexual-harrasment-brac-a9080701.html
--------
Six Young Emirati Women Experience Island Living Without Families
Saman Haziq
August 28, 2019
According to Nada, meeting people from other cultures opened her mind and bolstered her confidence.
The upcoming generation of Emirati women have been breaking barriers, challenging stereotypes and dreaming big - serving as role models for the country's young girls.
Six female university students, the first from the UAE, flew to Thailand for an exchange programme where they introduced the country, including its heritage, culture and people, to the teachers and students of some small, scenic Thai islands.
It was an epic week-long trip for Emirati media students Latifa Adel, Fatma Ahli, Amna Al Ali, Nada Hussain, Shaza Mohammed and Maryam Aljasmi, from the Zayed University and the Ajman University.
Besides presenting the UAE's values and traditions and learning about Thai culture, they tried squid fishing and picked coconuts using handmade tools ­- activities that are usually done by men. They also visited rubber plantations and organic farms, interacted with local Thai communities, and learnt jungle survival tactics.
According to Nada, meeting people from other cultures opened her mind and bolstered her confidence.
"Times are changing. My parents were initially apprehensive about sending me for this experience as women going out in an unknown land is not too common in our society. However, when I explained how this trip can help me grow, they allowed me to make a decision," Nada said.
Amna agreed that such trips make Emirati women stronger.
"I am glad our society is opening up and giving us a chance to explore the world, rather than restricting us to our homes. All this was possible because the UAE's founding father, the late Sheikh Zayed bin Sultan Al Nahyan, opened the doors to education for women," she said.
Another media student from Zayed University, Latifa, said it was a character-building opportunity.
"I think women should firmly believe in themselves and their capabilities, no matter what they're told. It's very important to always push yourself to do better," Latifa said.
Shaza and Fatma, who also travelled for the first time without their families, said their parents were encouraging and understanding about letting them explore on their own.
"We are grateful to our country for believing in us women, giving us such opportunities to go out and learn."
The trip was organised by the Royal Thai Consulate-General in Dubai and the Tourism Authority of Thailand.
The young women were among the few GCC citizens who were given a chance to experience the sustainable activities and practices of low-carbon islands Koh Mak and Koh Chang.
UAE WOMEN ON TOP OF THE GAME
Government
>50% of seats in the next Federal National Council (FNC) chapter will be occupied by women
>FNC speaker Dr Amal Abdullah Al Qubaisi is the region's first female leader of a national assembly
>9 female ministers currently serve in the UAE Cabinet
>Women account for 22.2% of FNC members in the current 14th legislative chapter
Workforce
>66% of the UAE's labour force are women
>Women take up 75% of jobs in the health and education sectors
>They also excel in the sectors of space, justice and artificial intelligence
Business
>22,000 businesses are owned by 12,000 Emirati women in 2015
>Dh45 billion is the estimated worth of their investments
>21% of businesswomen in the GCC are Emiratis
Education
>77% of Emirati women enroll in higher education
>70% of university graduates in the UAE are women
Culture
>They serve as role models in artistic, cultural and intellectual pursuits
Global recognition
>The UAE leads Arab countries in terms of gender balance, according to an annual index issued by the United Nations Development Programme
>It has been ranked high in gender equality globally - especially in terms of literacy and participation in secondary and higher education - according to a 2016 report from the World Economic Forum
How the country supports its women
>The President, His Highness Sheikh Khalifa bin Zayed Al Nahyan, ordered that women representation be doubled in the FNC from the current 22.5 per cent to 50 per cent
>Women's organisations - such as the General Women's Union and the Gender Balance Council - have drafted strategies to encourage the participation of women and empower them in all areas of life
>In 2015, the UAE launched the National
Strategy for Empowerment of Emirati
Women that provides a framework for all government entities and firms to set plans and provide decent living standards and work for women
>The Gender Balance Council launched the Gender Balance Guide: Actions for UAE Organisations as a resource to develop clear procedures and adopt concrete action plans to entrench gender balance practices in the workplace
https://www.khaleejtimes.com/uae/dubai/Six-young-Emirati-women-experience-island-living-without-families-
--------
New Legislation on Violence Against Women In Works In Turkey's Parliament
28.08.2019
The Justice Ministry is looking at the possibilities of new legislation on violence against women and the dissemination of videos showing acts of violence against women.
The decision comes after Emine Bulut, a resident of central Turkey's Kırıkkale, was attacked with a knife by her ex-husband. The attack took place in a restaurant. It was videotaped and later posted on social media.
The incident caused outrage and revived the debate on women's safety at the hands of their estranged spouses.
The video shows Bulut covered in blood, holding her wound. She later died in a hospital, four days before the video went viral. Her 10-year-old daughter, who was also at the scene, has been put under the care of social services.
Bulut's ex-husband and the two men who accompanied him out of the restaurant have been arrested.
The hashtag #EmineBulut has been trending on Twitter, as thousands of people condemned the killing of the 38-year-old woman. Many called on the authorities to ensure the harshest possible punishment for the murder suspect.
Meanwhile, to curb violence against women and murder, the ruling Justice and Development Party (AK Party) is working on a legislative proposal for Parliament.
According to the proposal, the legal principle of good conduct time would not be applied for criminals charged for the murder of a woman.
It also proposes that such criminals spend a part of their prison time in solitary confinement. The new regulations will also punish people who record and spread online acts of violence or murder.
In the last 17 years, the AK Party government has launched numerous initiatives to enhance women's roles and status in society. The ratio of women in management in Turkey increased to 15.6% in 2018 from just 8.9% in 2002. At the same time, women's participation in the labor force rose from 27.9% to 34.1%. In 2005, the number of employed women stood at 5.11 million. As of November 2018, that number has reached 8.96 million. The labor force participation rate of women also increased to 34.1% in 2018, from 23.3% in 2005.
Other initiatives created by Turkey include supporting young girls who want to be engineers, providing stipends to grandmothers take care of their grandchildren, various vocational training, seminars on financial literacy and benefits for working moms. The rate of women's representation in the Turkish Parliament rose to 17.4% after the 2018 elections, up from 4.4% in 2002.
https://www.dailysabah.com/legislation/2019/08/28/new-legislation-on-violence-against-women-in-works-in-turkeys-parliament
--------
Belgium: Court rules against headscarf ban
Serife Cetin
27.08.2019
BRUSSELS
A court in Belgium ruled in favor of a schoolgirl and against the headscarf ban in the Flemish Region of the country.
The school which the student had filed a case against is affiliated to a public body named GO! Education of Flemish Community. The body had decided to ban headscarf in all public schools affiliated to it in the Flemish Region of Belgium in 2013.
The Court of First Instance in the eastern Leuven city ruled that the student can go to school by wearing a headscarf.
Speaking to reporters on Tuesday, lawyer of the student said: "For my client, wearing a headscarf is a requirement to fulfill her religious duties. The judge decided that headscarf ban violates religious freedoms."
Last year, parents of 11 students had also filed a case against the ban in the northeastern Maasmechelen municipality and won the case.
https://www.aa.com.tr/en/europe/belgium-court-rules-against-headscarf-ban/1566685
--------
17 Emirati Women Talk To Us about the Biggest Misconceptions They Face
Aug 27, 2019
Today is the fifth annual Emirati Women's Day. The yearly commemoration was launched in 2015 by Sheikha Fatima bint Mubarak, chairwoman of the General Women's Union, to recognise the crucial role of women in the country's development and future.
As Sheikh Mohamed bin Zayed, the Crown Prince of Abu Dhabi and Deputy Supreme Commander of the Armed Forces, pointed out last year: "Women in the UAE have surpassed the stage of being contributors to the nation's development to achievers who elevate the rank of the nation."
Indeed, an Emirati woman, Dr Amal Al Qubaisi, is speaker of the house at the Federal National Council. An Emirati woman, Reem Al Hashimi, is the managing director of Expo 2020, arguably the biggest event to ever come to the UAE. An Emirati woman, Bodour Al Qasimi, is the vice president of the International Publishers Association – she is the first Arab woman to hold a leadership position with the organisation.
We could continue to rattle off the success stories, but the truth is that many people still make assumptions about Emirati women. Even some people who have lived in the UAE for many years can be heard making generalisations that, as the 17 women we spoke to this week prove, are often wrong.
Here is what they want to say to those who would believe such stereotypes.
Sahar Parham, junior pastry chef, Burj Al Arab
"While there may be misconceptions about the kinds of professions Emirati women seek out, today we are literature festival directors, global market strategists, weavers, ministers, ambassadors, ice skaters, MMA fighters, opera singers, baristas, fashion designers, race car drivers and pilots, all balancing lives in a family-oriented culture. I believe I am lucky to be in the age group of Emiratis who, as change and decision-­makers in a fast-paced world, are ­pushing the boundaries to break stereotypes."
Fatima Al Ali, women's ice hockey player and international referee
"Things are changing quickly in the UAE, and the local mentality is changing, too. We are conservative in things that are related to our culture and religion, but we're still like everyone else. People think we are locked in and not free, but we have the freedom to do what we want: study, work, travel, etc.
"Some people think we are not well-educated and not open-minded, but our country gave us the privilege to study for free and finish our higher education. Universities ­motivate us to get high grades in school so we can get scholarships to study abroad.
"People believe women here are too spoiled to do anything, but we depend on ourselves and do many things alone. We don't have people do everything for us."
Omaira Farooq Al Olama, managing director, ALF Administration
"One of my biggest pet peeves about [the perception of] Emirati women is that we don't like to mingle with expats. I always heard the sentence that 'oh, it's easier to speak to and mingle with Emirati men than it is with women'. This really upsets me as Emirati women are so friendly, outgoing and very happy to meet new people. It's just they might be more reserved at first. But I wish people took the time to get to know us and break the shell before automatically calling us unfriendly or unapproachable."
Mona Altamimi, vice president of marketing and corporate communications, Deyaar
"There has long been a misconception that Emirati women are underrepresented in leadership roles. However, there are plenty of women leading companies, even ministries, in the UAE, which has been the case for several years now. Emirati women have formed the backbone of our society for generations, and continue to work tirelessly to achieve the vision of the UAE's leadership. I am proud to belong to a nation that embraces gender equality and gives women every opportunity to thrive, whatever path they may choose."
Najla Al-Midfa, chief executive, Sharjah Entrepreneurship Centre
"Stereotypes about Emirati women are still common. It is often assumed that we are an oppressed minority, with fewer rights, opportunities, and access to education and jobs than our male counterparts. Notably, successful women are considered the exception, not the rule. Thanks to the UAE government's prominent efforts to highlight the key roles women play in our society, this mentality is shifting. Ironically, however, with these efforts has arisen another misconception: that Emirati women's empowerment is a recent phenomenon. The fact is, our women have been empowered since the nation's founding. As Sheikh Zayed, the Founding Father, said: 'The woman represents half of our society; any country which pursues development should not leave her in poverty or illiteracy.'
"Gender stereotypes are also common when it comes to women's career choices. Many assume that Emirati women are only interested in fields such as fashion or media. While these may be just as vital to a thriving economy, they are not the only industries in which women excel. In aviation, space science, entrepreneurship and more, Emirati women are blazing new paths to success. For example, out of the 72 start-ups that graduated between 2016-2018 from the Sharjah Entrepreneurship Centre, 53 per cent were female-led, including Emiratis.
"I feel grateful to be living in alignment with my authentic self, and to be working in a field that is so dear to my heart. It truly is an exciting time to be an Emirati woman. With each passing year, we continue to see more women in strong and empowered roles – in the media, in business, in politics and in society. And, with each passing year, outdated assumptions are being challenged and gender stereotypes are being crushed. We still have a while to go before women's voices are fully equally represented, but we are definitely well on our way."
Maitha Al Eisaei, communications lead at Strata Manufacturing
"A misconception about Emirati women is that we are looking for comfortable jobs. There are numerous examples across the UAE of how Emirati women occupy leading positions within a variety of industries. I am proud of my sisters who have led the way and created opportunities for others to follow. As an Emirati woman working at Strata – an aerostructures manufacturing company that has an Emiratisation rate of 58 per cent, of which almost 90 per cent are women – there is no better example of how this is nothing but a misconception."
Basma Abu Ghazaleh, founder and designer, Kage womenswear label
"I feel the Middle East in general can be misunderstood, especially regarding the topic of equality. However, this isn't the reality. Sheikh Mohammed bin Rashid, the Vice President and Ruler of Dubai, has been an inspiring advocate for women's rights in the region and especially in the workforce. I think now, more than ever before, Emirati women are showing their leadership and entrepreneurial spirit by contributing greatly to the development of the nation and community through various fields of work.
"Owning my label was something I always dreamt of, and I was able to launch Kage in 2009. We as a region are very patriotic and love to support each other, so it was important for me to ensure my brand contributed to the local economy and that's why I chose to have my collections manufactured here in Dubai. My hope is to see more and more young Emirati women branching out and forming the new generation of inspiring entrepreneurs."
Shaima Al Hammadi, student, UAE University
"People might think women are oppressed and wronged here, but they only hear that instead of seeing reality. The reality is that women are ministers in the UAE, women are always given special rights in the UAE, women are respected in the UAE, women's voices are heard in the UAE and always encouraged to make a move. Women are an important part of the UAE and everyone agrees with that.
"With that encouragement, Emirati women are brave, and always passionate about improving themselves, ­improving the country and improving the world. Of course there will be some people who have negative opinions, but there won't ever be a clean, perfect society in the world. People must know how much women are treasured and encouraged in the UAE and that the Emirati woman is an enthusiastic, hardworking woman."
Ahlam Bolooki, director, Emirates Airline Festival of Literature
"The biggest misconception about the Emirati woman is that she plays a secondary role to that of the male in society, when actually male leaders of Emirati tribes have often historically been guided by the powerful female figures in their lives. A visit to the Women's Museum in Dubai will reveal many examples of this. With the spirit of her foremothers and the ­encouragement of the UAE leaders, the Emirati woman today is leading in the government and private sectors, paving the way forward for women all over the world."
Amira Sajwani, senior vice president of operations, Damac Properties
"As a young Emirati woman with aspirations, I find the most common misconception to be about a lack of ambition. Dubai's society today is incredibly encouraging of the roles women are capable of playing in the community and in the various different industries. Today, Emirati women are diversifying their roles in ­society, whether through creative measures such as opening successful F&B businesses that started from nothing but home kitchens, to taking on leadership roles in the government. Emirati women have ambition, and that is not always recognised."
Athra Alsubousi, co-founder, Little Malibu Cafe
"People think we're born with so much luck and privilege or resource. This is true, but on the other hand, we are also born with a lot of challenges; we're born with traditions and a different type of mindset. I believe people should know that Emirati women also face challenges, but they overcome them. I'm so proud of my friends, I'm so proud of ­Emirati women; we overcome challenges. I believe our country is supporting us, but we have to take the first step and we're doing that."
Sheikha Mariam bint Khalifa bin Saif Al Nahyan, founder, MKS jewellery
"There are traditional women, and that leads people to think that they aren't also modern – which couldn't be further from the truth. There are a plethora of other misconceptions about education, life goals, place in society, personal interests, taste in clothes, travel and so on. What I love about the Emirati woman, which includes me, is that her strong roots and heritage is something she finds great pride in. She is not scared to carry these things forward, and she is extremely proud of her culture and its traditions.
"She doesn't need to waste time redefining at every moment, her foundations are solid, which holds her up well in her contemporary life. She is well read, educated, adventurous and active, she's ultra-creative on multiple platforms, a strong participant (if not even a leader) in society and she does everything with so much love, because she stands tall as an Emirati woman."
Nouf Al Hamly, assistant director, research public outreach and research assistant programme, NYU Abu Dhabi
"If I were asked this question when I was younger, I may have had a different response. However, with all the experience I've had living abroad, travelling and working in both public and private sectors among a diverse range of individuals with different cultural backgrounds and beliefs, I find myself cautious with my perceptions to what would be presumed 'stereotypical' about Emirati women. I think that is entirely subjective and relative to where people get their sources of information. I grew up in a supportive ­environment that nurtured growth, cultivated good character and instilled values that allow us to be the best versions of ourselves … regardless of gender or nationality."
Amna Al Haddad, champion weightlifter and motivational speaker
"There is a lot of diversity within the UAE community and there is a misconception that all Emirati women are one and the same, and that couldn't be further from the truth. Emirati women are talented and play an active role in many fields in the country and its growth – be it in the arts scene, business, social development or government."
Maya Al Hawary, chairwoman of the board of governors and the director of planning at Dubai Carmel School
"The first misconception is that we are not hardworking enough. It is also generally assumed that we don't put in the effort, that we do not have passion or drive. As I move on in my career, I can tell you from experience that it's the complete opposite. The ­second misconception is that an Emirati woman does not have enough weight in the community. This is completely untrue, and we have come such a long way in fewer than 50 years as a society under the guidance of Sheikh Zayed, the Founding Father, and other leaders who have pushed women forward and given us several opportunities. It is not bad at all to work alongside a man to build a secure family or solid environment. I would reiterate that we, as Emirati women, are full of intention, dedication and purpose.
"The third misconception is that an Emirati woman is self-centred. In reality, we are very loyal to where we belong and where we started. I speak about myself and look back at how my husband supported me and how my parents supported me. I dedicate all the success I have achieved so far to my country, my family and children. They remind me every day that they are proud of me. I am also reminded each day at work that my colleagues are proud of me.
"An Emirati woman is not selfish – an Emirati woman is loyal and when asked, she comes to the rescue. At the end of the day, the sooner you ­realise that popularity and success will always go away, the better it is for you."
Wiaam Ghanem Bani Hashem, GCC human and organisational consultant and founder, Persona Human Resources and Quality Consulting
"Some of the misconceptions about Emirati women are that they are bound by old ways and that they have no rights to express themselves. The abaya and shayla [traditional cloak and headscarf] are considered limitations by onlookers, whereas Emirati women are proud of their UAE traditional and elegant looking attire. Reality has shown that Emirati women are forward thinkers, hardworking employees and committed family members."
Fatma Almarzooqi, electrical supervisor in the shipping industry
"From my experience, one of the most common misconceptions about Emirati women is that women are dependent on male figures in their life, such as fathers or husbands, and can't handle things ­independently. A couple of years ago, managers gave women non-critical jobs, creating the perception that women can't lead or handle tasks due to the image that was conveyed; women react upon emotions (with no ­decision-making skills).
"But nowadays, and ­following Sheikh Mohammed bin Rashid's rich tribute to Emirati women, describing them as partners in development, generation makers, mothers of martyrs and the pride of the nation, we lead side by side with men in the community and handle the most ­leading positions in the country, such as the head of the Federal ­National Council."
https://www.thenational.ae/arts-culture/17-emirati-women-talk-to-us-about-the-biggest-misconceptions-they-face-1.903389
--------
This Beauty Salon Is a Safe Space for the East Bay's Muslim Women
By Veronica Irwin
Aug. 27, 2019
In the backroom of an Alameda beauty salon on Encinal Avenue, a Yemeni woman sits with foils coated in dye folded around her long, black hair.
Another young woman in a long-sleeved, ankle-length, gray dress sits next to her, giggling and making small talk with the hairstylist as if they've known each other for a long time. A portrait of the Egyptian queen Nefertiti, gazing proudly upwards, hangs on the wall.
This is Nefertiti Beauty, and it isn't an ordinary salon. It's a women-only space catering to customers from Arab diaspora communities, many of whom wear the hijab, consider themselves modest, and are not comfortable in the standard, co-ed, open-to-the-public salon.
Mufadhella Al Badeh opened the salon in 2018 and now runs it with help from her 20-year-old daughter Katebah. Offering a broad range of salon hair services, bridal make-up, kathab (black Yemeni henna), traditional Yemeni clothing, perfumes and bakhoor (Yemeni incense), Badeh provides immigrant women from Berkeley, Oakland and other East Bay locales the goods and services they need from home, all in one store.
It's "a place where you can come and get your hair taken care of by people who look like you and know your hairstyle because Middle Eastern hair has a unique texture to it," said Badeh.
Badeh, who wears the hijab herself, arrived in the East Bay from Yemen more than 16 years ago. Her husband lived here for a short time but has since returned to Yemen. Now Badeh lives in Oakland with her four children: Khawla, 23, who graduated from UC Davis, Katebah, who graduated in the spring from UC Berkeley, Marwat, 19, a rising junior at Cal, and Mohammed, 18, who recently graduated from high school.
Katebah, who translated for this interview, now lives at home, helping her mother run the business and translating for clients who don't speak Yemeni Arabic. She also works at an anti-fraud machine-learning startup in San Francisco.
The hair salon has "really taught all of us random skills, like how to make business cards, how to make a website, and how to make everything from scratch," Katebah said.
There is no clear count of the number of Yemenis who live in the East Bay, but it is one of the larger communities in the United States, numbering in the thousands. Yemenis started immigrating to Oakland in the 1970s and were the third-largest group of newcomers to Oakland public schools in 2018, according to the Oakland Unified School District.
While other Middle Eastern immigrants, like those from Palestine or Lebanon, came to the Bay Area to go to school, many Yemenis came on lottery visas. Consequently, they are not as economically established as others, said Katebah.
"With a lot of other groups, they came with educational visas. Meanwhile, a lot of Yemenis came with lottery visas or papers or just some way, so they start off in blue-collar jobs," Katebah explained. "It's very much, 'just make it here.' "
Many Yemenis have established themselves as small business owners. They run small markets throughout Berkeley and Oakland, as well as janitorial and taxi services. Many Yemenis are learning Spanish as well, maximizing their language skills to work with other immigrant communities, said Katebah.
"A lot of it is with the intent of being your own boss and having your own schedule," she said, adding that their situation gives them unique business opportunities "because we have direct access to the community." In most cases, though, the men run these businesses, and women work within women-dominated spaces, by babysitting, running daycares, or being teacher's assistants.
Badeh's salon stands out as an independent, female and immigrant-owned business. But she has always pushed some boundaries. She's the type of woman to mention in passing that she faked her age as an elementary school student so she could volunteer with UNICEF — a position she needed to be five years older to hold — while working part-time and finishing her schooling in a short six years. She proudly recounts how she attended ESL classes and taught herself to drive when she first came to the Bay Area, despite disapproval from her husband and the community. According to her daughter, she's serious about the women-only rule in the salon, too.
"We've had men say 'Oh, I want to come with my wife,' because they're strict or whatever, and my mom is like 'Absolutely not. She comes in and gets taken care of and he waits outside,'" said Katebah.
Badeh started the salon when she recognized there was a need for beauty services friendly to immigrant women. Many women, according to Muslim custom, must wear clothing that covers their arms, legs and hair. They cannot be in public spaces with men unrelated to them. (In fact, none of the female customers wanted their photos taken. Badeh did not want her face photographed.)
It can be difficult to find a beauty salon that ensures the privacy required by Muslim customs, according to a 21-year-old Berkeley native and recent Cal graduate who asked not to be named for privacy reasons. Few salons advertise that they can help hijab-wearing women by cutting or dyeing their hair in a private backroom or at after-hours appointments, she said. Women find the accommodating salons mostly by word of mouth said the 21-year-old, who said that she had only been to a salon once in her life.
Alexandra Sussman, the owner of Elixir Salon and Spa on Hopkins Street, said their salon caters to hijabi women a few times a year, through after-hours appointments. "Unless it's after hours and the door is locked, we can't control if a man walks in," she said.
Inspired by Queen Nefertiti, who was known for keeping her famed beauty by using natural oils and treatments, Badeh only offers natural products that will not damage her client's hair or skin. She said that profitability is much less important to her than the quality of goods and services. She asks her friends overseas to find the best producers, and she imports oils and perfumes directly from where they are pressed in the Gulf or North Africa.
"A woman's hair is something really, really important to her, and the hair can be a symbol of beauty," she said. "Taking care of that, and helping restore it, especially if they're facing baldness or thinning of the hair, can really help a woman's self-esteem."
Getting a business established in the U.S. can be difficult as language and a lack of education can cause serious barriers for many new immigrants. Sometimes immigrants can be exploited, too. They can be so worried about working that they accept extremely low wages and become economically stagnant, said Badeh. When she first came to the East Bay, her husband made only $1,800 a month working for a Yemeni man in the store beneath their home, paying $800 back to the same man each month for rent. "Sometimes, it's the ethnic enclaves that exploit you," Katebah said.
However, Badeh said there are also many resources within the community that help people become established, like the American Association of Yemeni Students and Professionals, which just threw a celebration for Yemeni high school students who are going off to college. The Al Salam mosque in Oakland often connects the community to legal and translation services to navigate citizenship paperwork and public benefits, said Badeh.
"What my mom appreciates about living in this country, despite how hard it is, is that there are a lot of opportunities to get the help that you need," Katebah added. "Even when applying to school, you can apply to scholarships and grants. Back home you don't really get that. If you're on your own, you're on your own."
Sitting proudly behind her desk with her daughter, Badeh tells me she has ambitious goals for her business. Nefertiti Beauty is the first beauty salon of its kind on the West Coast (the Mark Garrison Salon in New York has a private room and stylists for modest women), and there are many more women who could use her services.
"My goal is to eventually have it in every town," Badeh said.
https://www.berkeleyside.com/2019/08/27/this-beauty-salon-is-a-safe-space-for-the-east-bays-muslim-women
--------
Arab Women Campaign Fetes Awardees
Sohaila Ahmed
August 28, 2019
The Arab Women Campaign have worked together with the Arab States Broadcasting Union, and in collaboration with 14 representatives of various Arab countries to organise the "Humanitarian Initiatives Forum" on Saturday morning in The Meydan Hotel, Dubai.
Events of the organised forum started with a press conference, in the presence of social and political figures, and with the participation of 23 directors of humanitarian initiatives from 14 different Arab countries, along with the attendance of journalists and representatives of Emirati and Arab media organisations.
The unique event was organised under the patronage of Fathy Afana Corporation for Humanitarian Works, which is chaired by the Ambassador of the Arab Family Organization, Engineer Fathy Afana, and Watani Al Emarat Foundation that is represented by its Director General, Dherar Belhoul Al Falasi.
The ceremony began with the opening of the photos exhibition, followed by details of the press conference in which the Arab Women Campaign awarded Eng. Fathy Afana with the "Humanitarian Personality of the Year 2019" award. Additionally, Watani Al Emarat Foundation was also awarded with the "Community Works Award of 2019".
The Arab Women Campaign also awarded directors of the 23 initiatives, who took part in the "Queen of Social Responsibility Programme", which is held for the second time in a row. Besides that, media organisations were also honoured for their important role of serving humanitarian works through media.
Moreover, after the press conference ended, sessions of the forum began in which 20 different humanitarian initiatives were presented to the audience. The Queen of Social Responsibility was chosen from participants, and two runner-ups.
Initiatives were reviewed before the judges who included Dr Rehab Zein Eldin, the Arab Woman Ambassador, Eng. Jabr Afana, Ambassador of the Arab Family Foundation, Emirati artist Habib Ghuloom, and in the presence of an Evaluation Committee, chaired by Dr Jamal Al Bah, Chairman of the Arab Family Foundation.
With the end of the evaluation sessions and after announcing the final results, the judges and Management of the Arab Women Committee finally revealed their final choice of the winning initiatives and the social responsibility queen from participants.
https://www.gulftoday.ae/news/2019/08/27/arab-women-campaign-fetes-awardees
--------
Our Women on the Ground: How Arab Journalists Smash Stereotypes While Reporting From the Front Lines
Aug 28, 2019
Jane Arraf's essay, Maps of Iraq, opens in Baghdad on "a lovely spring morning in 2004". Arraf, who was CNN's senior Iraq correspondent at the time, is out covering the annual Shiite pilgrimage to the Kathimiya shrine in the north of the city.
"I remember saying out loud that nothing bad could possibly happen on such a beautiful day," she writes. Soon after, Arraf hears the sirens of ambulances and sees the bodies of the dead and the wounded being whisked away from the sacred site, which has been attacked by three suicide bombers. "We walked toward the shrine, even as people ran from it."
Perhaps we shouldn't be surprised by that last line. Reporting the story, however dangerous that might be, is what journalists like Arraf do. We encounter this courage throughout Our Women on the Ground, a remarkable collection of 19 original essays written by Arab women who have reported from the Arab world, often in life-threatening situations.
There is Zaina Erhaim, who spent two years working inside the rebel-held area of Aleppo. "During those years, barrel bombs were toying recklessly with my existence," she writes in Hurma. Or Asmaa Al-Ghoul, who reported on the Israeli invasion of Gaza in 2006. "I went straight to the front lines," she writes in Between the Explosions, "where bullets whizzed by my ears, without a bulletproof vest or any other form of protection afforded to foreign news crews."
But we are surprised when we read these essays. Why is this? Could it be that the behaviour of these Arab women confounds the expectations placed on them by society? Zahra Hankir, the Lebanese-British journalist who edited Our Women on the Ground, alludes to this in her introduction.
"On one hand, an Arab woman may be victimised or pitied by outsiders who think her to be 'submissive', 'oppressed' or 'subjugated'," writes Hankir. "On the other hand, an outspoken Arab woman is sometimes deemed improper, or an anomaly, by both outsiders and the society around her. Professionally, she might be considered less of a 'threat' than her male peers, not taken seriously. And she is sometimes actively silenced or passively unheard."
Our Women on the Ground is Hankir's attempt to "disrupt such flimsy stereotypes". As she explains from New York: "I hope to evoke how layered the Arab world is through the stories of these women and their experiences."
Although this collection spans many decades – Financial Times deputy editor Roula Khalaf's wonderful essay, Dying Breed, touches upon the insurgency in Algiers in 1995 – its genesis is the Arab uprisings of 2011. The eyes of the world were on the Middle East and Hankir, who was working for Bloomberg News in Dubai at the time, quickly realised that some of the best reporting was being done by local, Arab women. "And yet," she says, "they weren't garnering as much attention as their western counterparts, who were unsurprisingly commanding the international media narrative on the rapidly deteriorating situation.
"I wanted to learn more about these women and their stories. So often, western reporters will cover the region for a year or so, go back to their home countries and then write about their experiences in memoirs or authoritative non-fiction books. I reasoned: what about these Arab women journalists? What if we read about their experiences and the steep and unique set of challenges they face to do their jobs, and about how their lives have been affected by the tumult in the region, in a similar publishing space?"
Our Women on the Ground gives that space to some of those stories forgotten or simply passed over by the international media. "The Arab women journalists in this book demonstrate why it's important to include more native accounts in mainstream media narratives as we seek to better understand the region and its many nuances," says Hankir.
In Egyptian photographer Eman Helal's essay Just Stop, for example, we read about the women who gathered at Tahrir Square to celebrate International Women's Day only a few weeks after Hosni Mubarak had stepped down as president of Egypt.
"A group of men suddenly approached us, saying we needed to go home because 'we didn't belong outside'," writes Helal. "Then some of the men started to physically attack us […] I was terrified, but managed to take a few pictures in those few seconds before breaking into a run along with the other women."
It is not only the stories themselves that matter, though. It is also the struggles faced and sacrifices made by these women to tell them. Helal's experience in Tahrir Square persuaded her to launch a photography project about sexual harassment in Egypt. "Few people in the newsroom supported my project," she writes. "In fact, many of my male colleagues mocked me for it."
For Yemeni photographer Amira Al-Sharif, picking up a camera was a radical act in itself. "Had I gotten married as a younger woman, I would have been expected to rely on my husband and to focus on raising a family, not on pursuing a career," she writes in her essay, Yemeni Women with Fighting Spirits. "I defied those societal expectations. Being unwed is the price I have paid for my professional life."
There is another side to this as well, of course, which Our Women on the Ground illustrates beautifully. In many cases, and certainly not only during the Arab uprisings, these stories gain their power precisely because they are told by women. They have access to spaces men do not, such as women's-only quarters in mosques or gynaecological clinics. "This allows them to tell fuller and more nuanced accounts of war and its devastating consequences, particularly on women," says Hankir. "Many of the contributors, realising that they might not be able to navigate male-dominated spaces without facing sexism or misogyny, turned their attention to women and telling women's stories by seizing upon that advantage."
Hannah Allam's essay The Woman Question, which opens the collection, shows us that many of the real stories of war are told away from the bullets and the bloodshed. Allam, who served as the Baghdad bureau chief for US publishers McClatchy during the Second Gulf War, remembers being labelled as "soft" for focusing on the lives of those people – invariably women – who were not involved directly in fighting. The absurdity of this is not lost on her.
"Reporting on Iraq through the eyes of its women was illuminating," she writes, "but, perhaps more important, it was more representative of the population as a whole. Years of bloodshed had left Iraq with a population that was more than half women, many of them heads of households because their men were dead or missing or exiled."
Our Women on the Ground offers a perspective of the Arab world too often not heard above the "bang-bang" of conflict. Which does not mean the accounts aren't harrowing. The events endured by women during war are often the most harrowing. Some of the essays in Our Women on the Ground are hard to read, so unsparing are the details. It is worth returning to Al-Ghoul's essay Between the Explosions, in which she describes the aftermath of an Israeli attack on Rafah in Gaza. "I went into another room, where a distraught and hysterical mother was wailing," writes Al-Ghoul. "She asked if I had come across a baby dressed in pink – the dead baby on the floor that I had just seen." The woman collapses and Al-Ghoul describes how, in that moment, she was no longer merely a journalist – she "acted like a mother".
"I wanted them to speak freely about whatever experience they felt was most important to them and whichever they felt most comfortable writing," says Hankir. "I didn't coach or coax the women to write any particular story and didn't project any particular themes on to them. Understandably, some of the women were still experiencing or coming to terms with trauma or grief given what they'd personally experienced or witnessed on the field.
"I hoped that the women would delve into how they felt about what they were witnessing or had witnessed, rather than what they were simply witnessing. I also hoped for raw and intimate accounts, with moments of light, resilience and gallows humour – and the women certainly delivered on all fronts."
Our Women on the Ground: Arab Women Reporting from the Arab World is out now, published by Harvill Secker
https://www.thenational.ae/arts-culture/books/our-women-on-the-ground-how-arab-journalists-smash-stereotypes-while-reporting-from-the-front-lines-1.903297
--------
New Award to Recognise Emirati Female Poets
August 28, 2019
Coinciding with the celebrations of Emirati Women's Day, the Ministry of Culture and Knowledge Development (MCKD) and Khalaf Al Habtoor, Founding Chairman of Al Habtoor Group, on Wednesday launched an award for Nabati poetry, which will recognise the role of Emirati women in the UAE's cultural and literary scene.
Nabati poetry has a long heritage in the Arabian peninsula and is known as 'the people's poetry' or 'Bedouin poetry,' and reflects the reality of everyday life.
Named in honour of renowned Emirati poet, the late Ousha Bint Khalifa Alsuwaidi, the award aims to celebrate poetry and literature in the Arab world and acknowledge the role of Emirati women in the field.
The Ousha Award will be held annually under the supervision of the Ministry of Culture and Knowledge Development.
Commenting on the announcement, Noura Al Kaabi, Minister for Culture and Knowledge Development, said, "With this esteemed award, we not only celebrate the legacy of the late Ousha Bint Khalifa Alsuwaidi, an Emirati symbol of talent, wisdom, and literature, but we also aim to inspire the youth to follow in her footsteps. As part of our efforts to preserve and safeguard Emirati heritage, we are invested in reviving interest in the Emirati vernacular and poetic expression, especially with younger generations."
Al Kaabi noted that the Award will serve as a valuable platform to shed light on Alsuwaidi's life and work as an exemplary Emirati woman who valued creativity and tradition. The Award will be an integral factor in discovering and supporting new poetic talent, providing an opportunity for upcoming poets to hone their skills in the literary field.
In turn, Khalaf Al Habtoor, Founding Chairman of Al Habtoor Group, stated, "The UAE's history is enriched by great and influential women who have impacted our Emirati community, culture, and society as a whole. The late Osha Bint Khalifa Alsuwaidi is such a woman, and as a literary icon of Nabati poetry whose work provided enlightenment for our nation."
The late Alsuwaidi's mastery of the Nabati verse, a form of vernacular poetry, and her prolific writing that dealt with national and pan-Arab issues, earned her the title of Fatat Al Arab, which translates to Girl of the Arabs, as an influential and inspirational symbol in Arab culture.
Alsuwaidi actively engaged in poetry contests with some of the UAE's greatest poets, including the late Founding Father, Sheikh Zayed Bin Sultan Al Nahyan, and His Highness Sheikh Mohammed Bin Rashid Al Maktoum, Vice President, Prime Minister and Ruler of Dubai.
https://www.gulftoday.ae/news/2019/08/28/new-award-to-recognise-emirati-female-poets
--------
URL: https://www.newageislam.com/islam-women-feminism/avoid-veils-now-sri-lankan/d/119588
New Age Islam, Islam Online, Islamic Website, African Muslim News, Arab World News, South Asia News, Indian Muslim News, World Muslim News, Women in Islam, Islamic Feminism, Arab Women, Women In Arab, Islamophobia in America, Muslim Women in West, Islam Women and Feminism