New Age Islam News Bureau
11 Jan 2013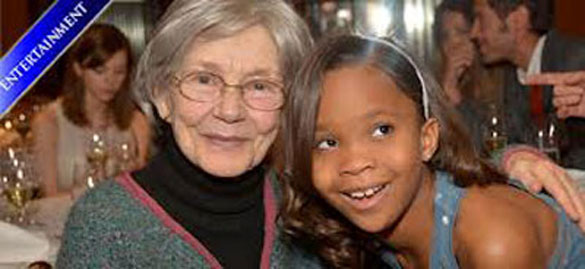 • Four Arrested Over Sexual Offences at Mental Health Institution in Maldives
• UAE Prostitutes Who Strip Off Jail Uniform Accusing Maltreatment, Jailed and Deported
• Anti-Riot Training For Dubai Policewomen
• Senior Fatah Official's Wife Delivers Aid to Palestinians
• Angelina Gets Four-And-A-Half -Year Prison Sentence for Receiving Kickback
• Norway: No Hijab for Police Officers
• Teen Wins Divorce but Many Questions Remain Unanswered
• Theories abound in Paris 'execution' of Kurd women
• Oldest and Youngest Vie For Best Actress Oscar
• Continue Movement to End Violence against Women: Prominent Activist of Bangladesh
• Bangladesh's Khulna Jail Has Little Treatment Facilities for Women Inmates
• Plano group provides resources for Muslim victims of domestic abuse
• UAE: Politics Is a Man's Game That Women Are Ready To Play
Compiled by New Age Islam News Bureau
Photo: Oldest and youngest vie for best actress Oscar
URL: https://newageislam.com/islam-women-feminism/arab-woman-role-instil-love/d/9960
------------
Arab Woman's Role Is To Instil Love of Jihad and Martyrdom in Her Children
A video shows the wife of a Hamas MP saying that an Arab woman's role is "to instil love of jihad and martyrdom in her children."
By Elad Benari
1/9/2013
Hamas is continuing to incite and encourage Arab children to carry out acts of terrorism.
A video translated and released by the Middle East Media Research Institute (MEMRI) shows the wife of a Hamas member of parliament saying that an Arab woman's role is "to instill love of jihad and martyrdom in her children."
The comments by Umm Osama, the wife of Hamas MP Khalil Al-Hayya, aired on the Hamas-affiliated Al-Aqsa TV on December 2, 2012.
"Women in Palestine play a great role in raising their children and in encouraging them to wage Jihad for the sake of Allah," she said. "This is absolutely the most glorious thing a woman can do. Women play their role and are not inferior to men. When a man goes to wage Jihad, his wife does not say 'Don't go' or try to stop him. She encourages and supports him. She is the one who prepares his equipment, bids him farewell, and welcomes [his Jihad].
"She instils in her children the love of Jihad and martyrdom for the sake of Allah," said Umm Osama. "If every mother were to prevent her son from waging Jihad for the sake of Allah, who would wage Jihad? Who would support Palestine? Palestine is dear to us, and its price is paid with our body remains and our lifeblood.
"Is not Allah's reward precious? Allah's reward is Paradise. Paradise requires from us our blood, our body remains, and our efforts for its sake.
She added, "I am constantly praying: 'Allah, make the end of our days be in martyrdom.' I pray for this even for my husband and my children. None of us want to die in our beds. We pray that Allah will grant us Paradise."
http://www.israelnationalnews.com/News/News.aspx/164011#.UO-8ruRthm5
------------
Four Arrested Over Sexual Offences at Mental Health Institution in Maldives
By Ahmed Nazeer | January 10th, 2013
Four men have allegedly been arrested in Kaafu Atoll over drug and sex offences related to their work at the Centre for People with Mental Disability on the island of Guraidhoo, sources with knowledge of the matter have claimed.
Speaking to Minivan News under condition of anonymity today, several sources from the island claimed the four suspects stood accused of giving hash oil cigarettes to women staying at the centre and then having sex with them.
One of the four suspects was said to have been charged with filming the alleged crimes, according to the sources. However the charges are not thought to relate to women suffering with mental health issues or physical disabilities.
Several sources on the island of Guraidhoo today claimed that the four men alleged to have been arrested as part of the case were all staff at the centre – one of whom was claimed to be an Imam.
The same sources confirmed to Minivan News that the alleged offences occurred last year.
The suspects are currently believed to still be detained while investigations into the matter continue.
"Their pretrial detention period was first extended to seven days, and when the seven days were over, the court extended the [suspect's] detention to another 15 days three times," a source on the island claimed today.
Minivan News understands that although the woman were staying at the Centre for People with Mental Disabilities, they were not thought at the time to suffer from any mental health issue or physical disorder.
"I have information that these girls were first kept at the orphanage in Villingili and when they were old enough to get out from the orphanage and had nowhere to go, the government sent them to the Centre,'' a source claimed.
The women alleged to be involved with the case have also been summoned to court to testify in the hearing held to decide on the length of pretrial detention for the suspects, Minivan News was told.
According to the Act number 12/2009 relating to Special Measures Applicable to Perpetrators of Child Sexual Abuse, any persons suffering with a disability will be treated in the same manner as a minor in cases related to sexual abuse.
A senior staff member at the Guraidhoo Centre for People with Mental Disability confirmed to Minivan News today that an "issue" with certain members of staff had taken place at the centre and that police were informed at the time.
"There is an issue like this. But I cannot give information because all the staff here have signed an agreement that we won't give out information related to things that goes inside the centre," the source said.
"The incident was reported to police when the girls one day got mad at the staff working here and told that they were in a relationship with some staffs and the things they have done to the girls. That's how the centre came to know about this. But we have not heard of the drugging part,'' the source added.
Minivan News was awaiting a response from the Maldives Police Service regarding the matter at time of press.
http://minivannews.com/society/four-allegedly-arrested-over-sexual-offences-at-mental-health-institution-50914
------------
UAE Prostitutes Who Strip Off Jail Uniform Accusing Maltreatment, Jailed and Deported
Haneen Dajani
Jan 10, 2013
ABU DHABI // Two prostitutes who stripped off their jail uniforms in court as an objection to their treatment were yesterday sentenced to six months in prison.
The pair was among 12 women charged with prostitution after being found outside a hotel in the capital soliciting their services and put on trial at the Criminal Court.
When the judge adjourned the case the pair ripped off their green uniforms and threw themselves to the floor, refusing to return to their cells.
They will be deported after serving their jail terms.
hdajani@thenational.ae
http://www.thenational.ae/news/uae-news/courts/uae-prostitutes-who-strip-off-jail-uniform-jailed-and-deported#ixzz2HefynJGR
------------
Anti-riot training for Dubai policewomen
Jan 11, 2013
A group of 60 women police officers in Dubai have started an anti-riot course designed to teach them how to cope with crowd control.
Dubai Police, in cooperation with the Dubai Police Academy, is providing the novice female officers with lessons in how to control riots and ensure security in states of emergency.
In an opening speech, Brigadier General Ahmed Khalfan Al Mansouri, head of the Emergency Section at Dubai Police, said it was important the officers make the most out of the specialised course, which would teach them the functions and responsibilities of organisation and security in instances of riots.
newsdesk@thenational.ae
http://www.thenational.ae/news/uae-news/anti-riot-training-for-dubai-policewomen
------------
Senior Fatah Official's Wife Delivers Aid to Palestinians
January 11, 2013
By Mohammed Zaatari
SIDON, Lebanon: Jalila Dahlan, the wife of senior Fatah official Mohammad Dahlan, visited Palestinian refugee camps in southern Lebanon Thursday. She provided financial assistance to Palestinians fleeing the violence in Syria, Palestinian sources told The Daily Star. The sources said that Dahlan visited the Ain al-Hilweh camp in Sidon with a woman from the UAE that works with a charity as well as former Fatah member Edward Kattoura. The sources said that prior to visiting the families in the camp the group met separately with Abu Iyad Shaalan from the popular committees and Brig. Mahmoud Issa, former commander of the Palestinian Armed Struggle.
http://www.dailystar.com.lb/News/Local-News/2013/Jan-11/201765-dahlans-wife-delivers-aid-to-palestinians.ashx#ixzz2HebS9YbJ
------------
Angelina Gets Four-And-A-Half -Year Prison Sentence for Receiving Kickback
Irawaty Wardany
January 10 2013
Former beauty queen-turned-politician Angelina Sondakh received only a four-and-a-half-year jail term thanks to achievements she boasted in her plea.
Angelina has been found guilty of accepted more than Rp 34, 90 billion (US$3,6 million) in kickbacks from Permai Group, a holding company belonging to convict M. Nazaruddin in exchange for projects run by the Youth and Sports Ministry (the construction of athletes' village for last year's SEA Games in Palembang, South Sumatra) and the Education and Culture Ministry (projects in 16 state universities).
Full report at:
http://www.thejakartapost.com/news/2013/01/10/angelina-gets-four-and-a-half-year-prison-sentence.html
------------
Norway: No Hijab for Police officers
January 10, 2013
The Norwegian government has rejected a proposal to allow female police officers to wear hijab (Muslim headscarf) while on duty.
"The government…decided that religious symbols would not be allowed to be used in connection with police uniforms," Culture Minister Hadia Tajik told a press conference cited by The New Age.
Full report at:
http://muslimvillage.com/2013/01/10/33970/norway-no-hijab-for-police-officers/
------------
Teen Wins Divorce but Many Questions Remain Unanswered
11 January 2013
JEDDAH: The marriage of a Jazan girl to an 84-year-old man has resulted in plenty of soul-searching and calls for legislation to prevent the marriage of young girls to elderly men by making 18 the minimum age for a girl to get married. Some officials are also making demands that the government take greater steps to fight poverty, one of the main reasons that families marry off their daughters to elderly men.
Full report at:
http://www.arabnews.com/jazan-teen-wins-divorce-husband-84-many-questions-remain-unanswered
------------
Theories abound in Paris 'execution' of Kurd women
11 January 2013
A hit by agents of Turkey's secret services or nationalist extremists? Political score-settling between Kurdish radicals or a feud over extortion money?
All three were put forward yesterday as possible motives for the Paris slaying of three Kurdish women, including Sakine Cansiz, one of the founding members of the outlawed Kurdistan Workers' Party (PKK).
Full report at:
http://www.arabnews.com/theories-abound-paris-%E2%80%98execution%E2%80%99-kurd-women
------------
Oldest and Youngest Vie For Best Actress Oscar
January 11, 2013
LOS ANGELES: This year's nominees for the best actress Oscar include the oldest ever and the youngest, nine-year-old Quvenzhane Wallis, who reportedly lied about her age to get the job.
At 85, French actress Emmanuelle Riva in "Amour" is only two years younger than the oldest ever nominee in an acting category, 87-year-old Gloria Stuart, nominated as best supporting actress for "Titanic" in 1997.
Riva is tipped for her role in Austrian Michael Haneke's "Amour," which is also nominated for best film and best foreign language film, after winning the Cannes film festival's Palme d'Or last year.
Full report at:
http://www.dailystar.com.lb/Entertainment/Movies/2013/Jan-11/201806-oldest-and-youngest-vie-for-best-actress-oscar.ashx#ixzz2HebuYgQd
------------
Continue Movement to End Violence against Women: Prominent Activist of Bangladesh
11 January, 2013
Urges The Vagina Monologues author Eve Ensler
Tony Award-winning playwright and prominent activist Eve Ensler yesterday encouraged national activists and youth leaders in Bangladesh to continue and strengthen their movement to end violence against women.
In a seminar organised by One Billion Rising (OBR) Bangladesh in the capital's Bangladesh Shilpakala Academy, Ensler termed violence against women a global problem and the most atrocious human rights violation.
Full report at:
http://www.thedailystar.net/newDesign/news-details.php?nid=264725
------------
Bangladesh's Khulna Jail Has Little Treatment Facilities for Women Inmates
11 January, 2013
Khulna district jail has no treatment facilities for the female prisoners.
Though there is a hospital for the male inmates in the jail, the fair sex are not entitled to have any treatment there.
Besides, when the 25-bed hospital is filled to its capacity, the male patients also receive treatment on the hospital floor.
Only a pharmacist remains on constant duty for treatment of the inmates at the hospital, jail sources said.
Full report at:
http://www.thedailystar.net/newDesign/news-details.php?nid=264701
------------
Plano group provides resources for Muslim victims of domestic abuse
By Conner Hammett, chammett@starlocalnews.com
January 9, 2013
While the Texas Muslim Women's Foundation is based out of Plano, its reach throughout Islamic communities in Dallas-Fort Worth -- and the state of Texas -- is vast.
For the past eight years, the foundation has provided general social services, interfaith outreach and youth programs.
But one of its most essential services deals with a serious issue that affects people of all faiths -- domestic violence.
Full report at:
http://www.friscoenterprise.com/articles/2013/01/09/plano_star-courier/news/7821.txt
------------
UAE: Politics Is a Man's Game That Women Are Ready To Play
Ayesha Almazroui
Jan 10, 2013
In Oman's municipal elections last month, about half of the 46 female candidates withdrew weeks before the election date.
The question is: why? Some said they had decided to step aside because society doesn't trust women's abilities. Khadijah Suleiman, a 36-year-old banker, told reporters that she had withdrawn because she was "not convinced that women are taken seriously in elections".
The example of Oman's Shura Council proved her point, she said, because only five women had won seats in the council since it was established in 1991. And this despite women's rights activists campaigning for gender quotas guaranteeing better representation in the Shura Council.
Full report at:
http://www.thenational.ae/thenationalconversation/comment/politics-is-a-mans-game-that-women-are-ready-to-play#ixzz2HeeLWSw5
------------
URL: https://newageislam.com/islam-women-feminism/arab-woman-role-instil-love/d/9960