New Age Islam News Bureau
26 Oct 2015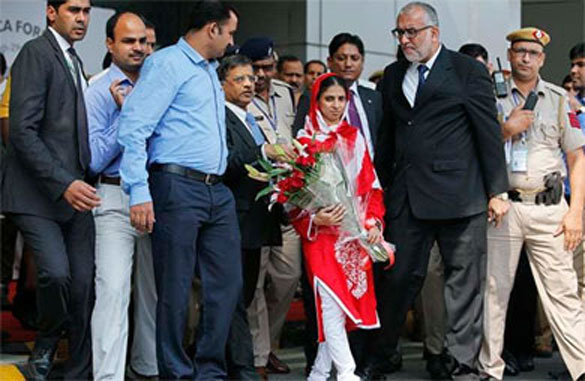 Geeta arrives in New Delhi on October 26, 2015 – AP
--------
• Halloween Burqa Costume Draws Criticism
• Geeta: Separated At 7 in Pakistan, Reunited At 23 in India
• Maryam Al-Subaie Inspires Girls As She Scores Rare Success
• Tolerance and Friendship Way Forward For India & Pakistan: Malala Yousafzai
• Women and Girls Crucial In Fight against Islamic State Ideology, Experts Say
Compiled By New Age Islam News Bureau
URL: https://newageislam.com/islam-women-feminism/afghan-malala-,-aziza-rahimzada,/d/105053
----------
'Afghan Malala', Aziza Rahimzada, Speaks Up For Kabul's Refugee Children
26 October 2015
KABUL: At the age of just 14, Afghan rights activist Aziza Rahimzada has already surmounted legal hurdles preventing 25,000 refugee children from attending school, and cajoled authorities into providing tap water to a camp housing more than 100 families.
Now she has been nominated for the International Children's Peace Prize ─ an award previously won by Malala Yousafzai ─ and, like her Pakistani counterpart, hopes to spread her message of universal education and fundamental rights for Afghanistan's youth. "These children are the products of war," Aziza says during an interview with AFP from the Kabul camp for internally displaced people where she was born after her family fled fighting in the Parwan province in 2001.
"They have suffered a lot during the war years. I give them advice and council them on the value of education," she says in Dari, wearing a black-and-white headscarf as she sits on the floor of the tiny mud brick home that houses her family of eight.
"Their families are also uneducated so sometimes we have to convince them too."
It is a thin line to walk, both for someone so young and without stirring a backlash in a conservative society unused to children, particularly girls, speaking up for themselves.
Also read: Education is right, not privilege, Malala tells UN
Forceful advocate
Aziza's confidence impressed the Mobile Mini Circus for Children (MMCC), an international humanitarian group founded by Danes Berit Muhlhausen and David Mason, who moved to Afghanistan shortly after the fall of the Afghan Taliban regime in 2001.
The group works throughout Afghanistan with a local partner and aims to bring children together through play, while identifying young leaders who can represent the needs of their communities.
In a country ravaged by decades of war, where more than 60 per cent of the population are under 25, those needs are great.
"She was very special from the beginning. She was thinking more than the others, advocating for others, asking questions. Gradually she became a representative for the other children," said Mason.
In "shuras" (consultative councils) organised by the group, Aziza quickly identified pressing issues faced by the 500 or so children in her camp, and others like it in Kabul.
Foremost among these was the lack of running water, which meant children were sent far away to fetch heavy pails of waters for the family ─ until Aziza intervened, securing a pipe that pumps water into the camp and serves 144 families.
Another key issue was education. As children of refugees born into abject poverty, those in the camps lacked the necessary documentation for admission into the capital city's schools, with Kabul authorities viewing the internally displaced people as temporary migrants who would eventually return to their home districts.
Helped by the MMCC, Aziza led the children in lobbying local officials and then parliament, with the aid of some high-profile lawmakers like women's rights activist Fawzia Koofi.
Her persistence eventually led to a breakthrough allowing some 25,000 children living in Kabul's 59 refugee camps to register in the capital, making them eligible to attend school.
"This was an achievement of astronomic scale. I saw those kids in school uniform, and I couldn't recognise them. It was such a relief to see them ─ it was such a radical transformation," said Mason, the MMCC director.
Bridging the gap
Aziza's unique talent, Mason's partner Muhlhausen argues, lies not only in her gifted rhetoric, but in her ability to forcefully advocate for her fellow children without stirring controversy.
She is among the final three nominees for the award along with Abraham Keita, 17, from Liberia and Jeanesha Bou, also 17, of Puerto Rico, with the winner announced in the Hague on November 9.
But the teenager, who says she wants to found her country's first Ombudsman's office to redress her fellow citizen's grievances, says her work is far from complete.
"What I have achieved so far is nothing," she says, emphasising that as time goes on, her country will have to stand on its own feet.
"The foreign non-governmental organisations will one day stop their aid. That's why we need to strengthen our own institutions and improve social justice for our people," she said.
http://www.dawn.com/news/1215504/afghan-malala-speaks-up-for-kabuls-refugee-children
----------
Halloween Burqa Costume Draws Criticism
25 October 2015
CAIRO – Sparking every year's criticism, Ebay auction site has come under fire for offending Muslims by offering Burqas as Halloween fancy dress costumes, with anti-Islamophobia group calling for the listing to be removed.
"Many Muslim women do not wear the Burqa, though to associate it with Halloween further stigmatizes women who wear it," said Fiyaz Mughal OBE, a director of Tell MAMA, adding that the costume "dehumanizes" women who wear the veil, Daily Star reported on Sunday, October 25.
"We ask that eBay remove these so-called costumes and understand the impact that it has on women, perceptions within wider communities and to the safety of some Muslim women."
The uproar started when an advert on Ebay offered for the sale of the Burqa costume. The advert describes the traditional outfit as being "perfect for stag parties."
Sellers Dragons Den Fancy Dress have the outfit listed as a "Halloween Fancy Dress Idea Sharia Burqa".
Offered in various colors, including Forest Green, City Blue and Royal Blue, the costume comes in a range of sizes from small to extra-large at prices between £22.55 and £29.95.
Also available on the site is a mini-skirt and veil combo described as a "Middle Eastern Arab Girl Burqa Halloween Fancy Dress Costume".
Facing criticism, an eBay spokesman said they do not intend to spark anti-Muslim sentiments.
"We do not allow any items that promote intolerance toward religion," he said.
"We always welcome feedback from our members and take this into account when reviewing items on our marketplace."
Controversial releases of this year's Halloween include, the "Clock Bomb Boy" costume, which depicts US Muslim student Ahmed Muhamed who was arrested for bringing a homemade clock to school, "Cecil the Lion killer" and Foxy Megyn Bloody Tampon Halloween costume.
Halloween is an annual Western celebration based on Celtic pagan doctrines and traditionally applied to the evening of October 31st.
Celtics were a group occupying the area known now as Ireland, the United Kingdom, and Northern France about 2,000 years ago.
Halloween has clear connections with the Eve of Samhain, a celebration marking the beginning of winter as well as the first day of the New Year among ancient pagans of the British Isles (2nd century BC).
On this occasion, it was believed that supernatural forces gathered together and that the barriers between the supernatural and human worlds were broken.
They believed that spirits from other worlds, such as the souls of the dead were able to visit earth during this time and roam about.
When Christianity came to the British Isles, the church tried to take attention away from these pagan rituals by placing a Christian holiday on the same day.
The Christian festival, the Feast of All Saints, acknowledges the saints of the Christian faith in much the same way that Samhain had paid tribute to the pagan gods.
These traditions were brought to the United States by immigrants from Ireland and Scotland.
http://www.onislam.net/english/news/americas/495539-halloween-Burqa-costume-draws-criticism.html
----------
Geeta: Separated At 7 In Pakistan, Reunited At 23 In India
October 26, 2015
Geeta, a deaf-mute Indian woman who accidentally crossed over to Pakistan more than a decade ago, today arrived in New Delhi to meet her long-lost family. She was received at the airport by her father and brother, who came all the way from Bihar. Union Minister Sushma Swaraj will meet Geeta today afternoon at Ministry of External Affairs. Geeta's father, Janardhan Mahato, told The Indian Express before leaving for MEA: "Hira loved to get photographed as a child. Then we didn't have camera. What is happening today is destiny.
Before boarding a Pakistan International Airlines flight to the Indian capital, a beaming Geeta thanked the Pakistani people for hosting and taking care of her throughout the years. Faisal Edhi of the Edhi foundation told reporters that they would continue to stay in touch with Geeta through social media and even visit her.
"She is not really separating from us," he said. The foundation's Bilquis Edhi and her grandchildren, Saba and Saad Edhi, are accompanying Geeta to New Delhi, Pakistani media reported. Geeta, now 23, was reportedly just 7 or 8 years old when she was found sitting alone on the Samjhauta Express by Pakistani Rangers 15 years ago at the Lahore railway station. She was adopted by Bilquees Edhi and lived with her in Karachi. Geeta has identified her family through a photograph sent to her by the Indian High Commission in Islamabad. The family reportedly is from Bihar. According to Faisal Edhi, Geeta had told them through sign language that her father was an elderly man and she had a stepmother and step siblings.
http://indianexpress.com/article/india/india-news-india/geeta-separated-at-7-in-pakistan-reunited-at-23-in-india/
----------
Tolerance and friendship way forward for India & Pakistan: Malala Yousafzai
25 October 2015
Against the backdrop of Shiv Sena protests against Pakistani personalities, Nobel laureate Malala Yousafzai on Sunday deplored "intolerance" in the society and said "tolerance, friendship and love" was the way for India and Pakistan to move forward.
"It's tragic what has happened and what is happening right now, that there is intolerance in the society and people not respecting each other. If you want both the countries to go forward then it's important to respect each other and work together. This is what we need right now... tolerance, friendship, love for each other and this is the way we can go forward. I am hopeful that we will see peace between the two countries. It has been my dream," she told a TV news channel.
Malala was asked how she felt when the "group", which was protesting against Pakistani's coming to India, described her as "a symbol of peace" who was welcome to the country. Despite its opposition to Pakistani personalities, Shiv Sena had recently said it wanted the child education activist to become a peace ambassador between the two countries.
"She is a true messenger of peace because she has shed her blood for promoting peace. Drama of other politicians will continue but if there are only a hundred Malalas in Pakistan, terrorism will forever be eliminated from her country," senior Sena leader Sanjay Raut had said, while calling for making the youngest Nobel laureate an ambassador of peace.
Malala also said sharing the Nobel prize with India's child rights activist Kailash Satyarthi was a honour for her.
"When I received the Nobel Peace Prize together with Kailash Satyarthi, I was honoured that I received it with him together. He had so much ambition to have good relations between Pakistan and India. So, meeting him was amazing. There was no difference. Just (because we are) two people from different countries, it should not stop you from becoming friends or living together or connecting. Even when we are from different countries that does not mean we cannot exist together," she added.
http://www.dnaindia.com/world/report-tolerance-and-friendship-way-forward-for-india-pakistan-malala-yousafzai-2138596
----------
Women And Girls Crucial In Fight Against Islamic State Ideology, Experts Say
Oct 09 2015
By Joseph D'Urso
LONDON, Oct 9 ( Thomson Reuters Foundation) - When Saliha Ben Ali's teenage son was killed after leaving Belgium to fight for Islamic State in Syria, she wanted to do what she could to stop other mothers from going through similar heartbreak.
"My message is try to find some help, please speak about this, don't be alone," she said at a discussion on Friday about the role women can play in fighting the militant group's violent ideology.
Almost 30,000 foreigners have joined Islamic State and other militant groups to fight in Iraq and Syria, according to a study published by the United States Congress last month, thousands of them from western countries.
The organisation Ben Ali founded, Society Against Violent Extremism (SAVE) Belgium, works with families to try to protect young people from extremist recruiters, and helps families whose children have already left for the Middle East.
Social media is a vital tool for extremist recruiters as it enables them to circumvent parents and more moderating religious influences to speak to vulnerable young people directly.
"My son was radicalised in three months only, and when I understood what happened, it was too late," Ben Ali said at the Women in the World summit in London.
Mothers can help by watching for signs of radicalisation, and getting help when they have concerns, she said.
While all those who fight for Islamic State are men, many women have also left western countries for Iraq and Syria and are critical to the group's survival, said Sasha Havlicek, director of the Institute for Strategic Dialogue, a London-based thinktank. "Islamic State's plan isn't just about foreign fighters, it's about building a state," she told the Thomson Reuters Foundation in an interview.
The group controls swathes of territory in eastern Syria and northern Iraq where it has declared an Islamic caliphate.
Though extremist groups have recruited women throughout history, the way in which Islamic State systematically targets them is "unprecedented" according to Havlicek, citing her research on the social media activity of women who have gone to join the militant group.
While there has been a levelling off of new male fighters, there has been an increase in women and families arriving, she said, often marrying other foreign fighters.
"Women are not a sideshow, they (Islamic State) have had a very explicit and concerted strategy to recruit women and they've done incredibly well ... they have a marketing department, and it's very high tech," said Havlicek.
Women who join Islamic State "are rejecting the model of 'Sex and the City' empowerment and saying it doesn't work for them," she said.
Societies which value girls' education are less susceptible to jihadist ideology, while Islamist militant groups seek to rein in women's rights, said Sara Khan, co-director and founder of Inspire, a British anti-extremism charity.
"Whenever we see religious extremists come to power, one of the first things we see, guaranteed, is the curtailing of women's rights ... Why is it the Taliban tried to assassinate Malala Why is it that Boko Haram closed down schools"
It is vital to confront Islamic State's claim to religious legitimacy by celebrating the history of Muslims who have embraced women's rights, and highlighting the fact that the vast majority of those actively opposing the group are Muslims, she said.
(Reporting By Joseph D'Urso; Editing by Ros Russell; Please credit the Thomson Reuters Foundation, the charitable arm of Thomson Reuters , that covers humanitarian news, women's rights, trafficking, corruption and climate change. Visit ) ((joseph.d'urso@thomsonreuters.com; +44 207 542 5528;))
https://www.zawya.com/story/Women_and_girls_crucial_in_fight_against_Islamic_State_ideology-TR20151009nL8N1291QZX2/
----------
URL: https://newageislam.com/islam-women-feminism/afghan-malala-,-aziza-rahimzada,/d/105053