New Age Islam News Bureau
19 Dec 2015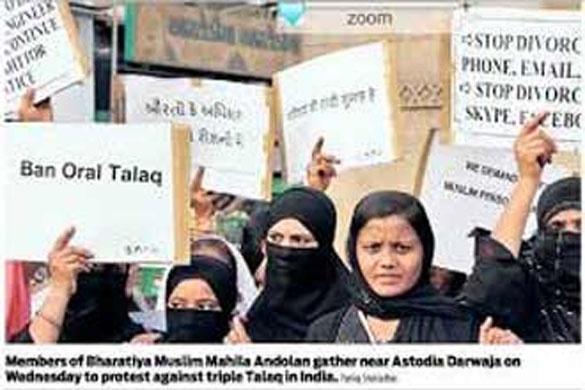 Photo: Members of BHaratiya Muslim Mahila Andolan gather near Astodis Darwaja on Wednesday to protest triple Talaq in India.
-----------
• 'Standardising education system can promote peace'
• NGO to sue DAP MP for 'insulting Muslim women'
• High rents for flats deter young men from marriage
• Muslim teacher fired after showing Malala video
• Productive families to be trained
• Pakistan needs to produce more films, says Reham Khan
• PFA drive not making headlines — why?
• Woman dies in train drinking juice from co-passenger
• Study: Passive smoking leads to infertility
• Woman gets out as thief flees with car
• After California shootings, Muslim families in US struggle with identity
• Some Muslim Women Are Taking Self-Defense Into Their Own Hands
Compiled by New Age Islam Edit Bureau
URL: https://www.newageislam.com/islam-women-feminism/new-age-islam-edit-bureau/muslim-women-s-views-muslim-personal-law/d/105665
----------
Muslim Women's Views on Muslim Personal Law
19 Dec, 2015
Noorjehan Safia Niaz
Zakia Soman
The Sachar Committee1 was established in 2005 to study the socio-economic condition of Indian Muslims. The findings of this committee showed how India's largest minority lagged behind educationally, economically and socially. The committee carried out extensive research, studying the conditions of the community in the run-up to its final report. However, the terms of reference of the Sachar Committee did not include a look at the socio-economic condition of Muslim women and their status vis-à-vis Muslim personal law. There has not been any data collection or evidence gathering by any government agency or social organisation that could be found in the public domain. The situation of Muslim women in matters of family and marriage remains an uncharted area that requires empirical probing in order to understand it and also to move towards gender-just solutions to the problems they face.
In 2013, the Bharatiya Muslim Mahila Andolan2 conducted a national study on the Muslim women's condition as well as views on reforms in Muslim personal law. This article is based upon the key findings of this study.3
The objectives of the study were to study the conditions of Muslim women pertaining to issues of family law; to ascertain their views on Muslim family law and to develop evidence in support of codification of Muslim family law.
For the study, 4,710 Muslim women from the 10 states of Bihar, Gujarat, Jharkhand, Karnataka, Maharashtra, Madhya Pradesh, Odisha, Rajasthan,Tamil Nadu and West Bengal were contacted. A detailed interview schedule was prepared and community-based women activists trained to collect data did the data collection. This was done from July to December 2013 with an average of 470 women per state.
A number of questions pertaining to age of marriage, divorce, maintenance, custody of children, polygamy, property ownership, etc, were posed to the women who gave very interesting answers. A couple of critical conclusions can be drawn from the answers given by the overwhelming majority of women: that the rights of women enshrined in the Quran have not reached women in reality, and that an overwhelming number of Muslim women demand reform in Muslim personal law as it obtains in India today.
Socio-economic Status
The socio-economic status of Muslim women that came up in the research established that Muslim women have a negligible share in formal employment. Out of the 4,710 respondents in this study, it was observed that an overwhelming 78.7% of the women were homemakers whereas only 7.9% worked in the organised sector and the remaining 13.4% worked in the unorganised sector. This emphasises the need for special measures, including budget allocations, towards inclusion of Muslim women in the workforce of the country. Governments and policy bodies must study this dimension and devise policies towards inclusion.
Low Income: The annual income of 73.1% of the families was below Rs 50,000, out of which 39.1% families earned less than Rs 35,000. Only 18.3% of the families had an annual income between Rs 50,000 and Rs 1 lakh and 8.6%, that is, 407 families had an annual income of over Rs 1 lakh indicating their overall poor economic condition. The Sachar Committee had established the high incidence of poverty amongst Muslims. Yet, nearly eight years since the Sachar Committee report, there is no sign of improvement.
Age: Of the 4,710 women surveyed, 15.5% were married below the age of 15 years, and 39.8% were married between the ages of 15–18 years. If these figures are combined, a good 55.3% were married before the age of 18 years. Only 10.6% got married over the age of 21 years which when combined with the above figures show that a large number of women are getting married and perhaps starting a family at a time when women from other communities are busy preparing for their graduation. One of the encouraging trends is that despite early marriage, 46.5% of the women surveyed had one or two children. Only 4.9% of the women had more than six children, 20.7%of the women had three children closely followed by 20.8% having four–six children while 7.1% women did not have children.
When asked about desirable age of marriage for girls, 75% of the respondents wanted it to be above 18 years for girls and 88% wanted boys to marry above the age of 21. It is important to note here that age of marriage is a key factor in the life cycle of a woman and her family.
Some conservative quarters insist on puberty as the right age for marriage. The meaning of puberty needs to bedefined not just in terms of physicalattributes but an overall mental and emotional development and maturity. Marriage is an important social relation that calls for mature handling of relatives andsocial responsibilities. Besides the ill-effects of pregnancy on adolescent girls' bodies, their ability to raise children needs to be considered too. The Quran encourages comprehensive and judicious understanding of various concepts, including puberty, and there is no bar on delving deeper into this. Theclarity demonstrated about age of marriage by such a large number of respondents should guide this debate and not the rigid insistence on a narrow definition of the word puberty.
Sect: Only 4.1%, that is, 195 women surveyed belonged to the Shia sect, while 87.6% or 4,126 women belonged to the Sunni sect. The remaining 8.3%, that is, 389 women were not aware of their sect.
Caste: Of the women surveyed, 45%, that is, 2,156 belonged to high castefollowed by 26.2%, that is, 1,235 to the Other Backward Class (OBC) and 5.2%, that is, 245 women to the Dalit and backward castes. There were 22.8% ofwomen who did not know which caste they belonged to.
Jurisprudence: Just over half, or 55.5%, that is, 2,614 women interviewed were under the Sunni Jamaat, followed by 10% or 473 women under the Barelvi. Deobandi, Wahabi and Ahle-Hadees were at 5.4%, 4.1% and 4.4% respectively. Of the total surveyed women, 20.5%, that is, 967 did not know which jurisprudence they fell under. The data reinforces the fact that Muslims in India are not a monolith and there is a clear diversity in terms of beliefs and practices. It also brings out the existence of a caste system within Muslims.
Domestic Violence: This study brings out the fact that 53.2% of the surveyed women have faced domestic violence. An overwhelming 82% women said they did not have any property in their name and 83.9% women confirmed that their current residence was not in their name. They did not own any property despite ownership of property being a Quranic right.
Dispute Resolution Mechanism: Over half or 53.2% women reported having faced domestic violence at some point in their lives. Most women said they go to the family followed by police and then to social organisations or non-governmental organisations to complain about their domestic issues. Only 1.4% women reported having gone to a qazi or Darul Qaza. An overwhelming 95.5% women had not heard about the All India Muslim Personal Law Board (AIMPLB).
Mehr: Mehr is an important Quranic right given to a Muslim woman that she can demand from her groom. It can be in the form of cash or any other form such as gold, property, etc, and it should be given to her at the time of marriage. Our findings suggest that this important affirmative measure favouring women has been diluted in practice. More than 40% women had received less than Rs 1,000 as mehr while 44% women did notreceived mehr at all. Most respondents were not aware of the empowering provisions about mehr and that it is their right to decide the amount. The majority or 85.7% women wanted mehr to be given at the time of marriage while 83.9% of respondents wanted equivalent of the annual income of the husband to be the minimum mehr amount.
Polygamy: An overwhelming majority of women surveyed, 91.7% or 4,320 women, spoke out against polygamy saying that a Muslim man should not be allowed to have another wife during the subsistence of the first marriage. On being probed further, 72.9%, thought that polygamy should not be allowed even if the first wife consented. While 2,959 women said that polygamy should not be allowed even if the first wife was ill, 2,983 women felt that polygamy should not be allowed even if the first wife could not conceive. Husbands should not be allowed to take widows as second wives was the view of 2,949 women. On being asked if men should be allowed multiple marriages to balance out the sex ratio, 83.4%, that is, 3,929 women said that the husband should not be given the permission for a second marriage irrespective of the ratio of women to men.
The views of ordinary Muslim women on polygamy are very clear; they do not want it under any circumstances.
Divorce: Of the 525 divorced women, 65.9% were divorced orally and 78% women were divorced unilaterally. The study indicates that an overwhelming 88.3%, or 4,159 women, want the legal divorce method to be the talaq-e-ahsan method spread over a period of 90 days and involving negotiation and avoiding unilateralism on the side of the husband. An overwhelming 92.1% wanted a total ban on oral/unilateral divorce, 93% women wanted arbitration process to be mandatory before divorce and 72.3% wanted the arbitration process to last between three to six months. Also, 88.5% women wanted the qazi who sends notice of oral divorce to be punished by law. On custody of children, 88.9% of respondents wanted the mother to retain the custody while 95.6% wanted ex-husbands to pay for children's maintenance even if they were in the wife's custody. The deciding factor for custody, in the view of 92.7% of the women, was consent and the well-being of the child.
Oral and unilateral divorce is one of the key issues being faced by Muslim women. We have come across a high incidence of oral divorce through various means such as uttering the word thrice, through a post card, notice from the qazi, over the phone, communication through relatives, etc. In several instances, the oral divorce takes place in the absence of the wife. This practice is in violation of the Quranic tenets of justice and is utterly unfair. It happens without any participation by the wife or without taking her views into consideration. Most times it happens in herabsence and yet is passed off as a valid divorce by different shariat courts which are male-dominated bodies. It is important to recount that a large number of women respondents called for banning this practice.
Maintenance: Half the women respondents received maintenance from the husband during the marriage but 27% reported receiving none. Almost half of the divorced women were either being supported by their own parents or were supporting themselves by working as they did not receive maintenance from the husband.
Codification of Family Law: An overwhelming 83.3% women felt that their family disputes could be resolved if a law based on Quranic principles was codified and 89% wanted the government to intervene in helping to codify Muslim personal law. Over 86% women wanted religious leaders to take responsibility for enabling Muslim women to get justice in the family and wanted these leaders to support the bringing about of a gender-just law based on the Quranic tenets of justice and fairness. An overwhelming 86% wanted the community-based legal dispute resolution mechanism to continue but at the same time wanted the functionaries to be madeaccountable to law and to principles of justice. They wanted the government to help ensure this accountability through a legal mechanism. While 88.5% women wanted a partnership between the court and the qazi, 90% women wanted qazis to be brought under legal accountability mechanisms. On legal aid, 95.4% respondents wanted Muslim women to provide legal aid to other Muslim women.
Existing Legal Framework
Let us briefly take a look at the existing legal framework for personal laws concerning Muslims in India. The Britishenacted the Shariat Application Act, 1937 which was an attempt at applying Shariat law and not customary laws to the Muslim community. This act states that the Muslim community will be governed by the Shariat and not customary laws. Although it states that Muslims will be governed by Shariat, it does not specify much on aspects such as the age of marriage, divorce, maintenance, custody of children, polygamy, etc. This is of no help to women as it does not list the various issues that they face. In practice, followers of different schools of thought continue to apply their own varied understanding and interpretation of the Shariat. There are, therefore, many conflicting views on several significant issues, especially those concerning divorce. The irony is that each view claims to be based on theirrespective interpretations of the Shariat. And the practice of unilateral oraldivorce continues. Several Muslim countries have codified their laws and tried to ensure justice to women. Severalsocio-religious communities in India, including minorities, have codified personal laws as per their religious texts. But such a move has not been taken up for the Muslims owing to the politics over leadership.
The Dissolution of Muslim Marriages Act 1939 gave a Muslim woman the right to seek dissolution of her marriage on nine specified grounds. This is the only legislation enacted by the British, which introduced a substantive codification of the divorce law. However, although the act benefits women, it is rather piecemeal. It only lays down the grounds on which women can seekdivorce. It does not lay down any procedure or a time frame within which she can get a divorce. The man can divorce his wife without assigning any reason and even in her absence. He may or may not approach the court or any authority to seek divorce. This act does not question or restrict the man's unbridled right to oral triple divorce. The act deals only with divorce and not with related matters such as maintenance, custody of children, payment of mehr, etc. For these matters, the woman has to file separate cases under other laws, sometimes in other courts. This law is a welcome measure but it needs more elaboration and matters under its purview. Our findings clearly indicate that it has not stopped Muslim women from beingdivorced unilaterally and instantly.
The latest development in recent times has been the Shah Bano controversy and the Muslim Women (Protection of Rights on Divorce) Act 1986. The Shah Bano case is one of the most significant lawsuits in the history of the Indian judicial system. The case pioneered the Muslim women's fight for justice on the right to claim alimony. There was a huge uproar at the time over the right to maintenance granted by the courts to Shah Bano. It was dubbed "interference in religious matters" by some conservative male sections. In the aftermath, the Muslim Women (Protection of Rights on Divorce) Act 1986 was passed byParliament.
According to this act, the husband is liable to pay alimony during the time of iddat or for the span of three monthsafter the divorce. In case the divorced woman has no close relatives to lookafter her or she is incapable of providing her own maintenance, the magistrate has the right to order the Waqf Board to take up the responsibility of providing support to the woman and her children. The act shifts the responsibility of maintenance from the husband to the relatives and the Waqf Board. The husband knows that if he does not provide maintenance, he could still control and harass his divorced wife to beg at different places for maintenance. The husband takes responsibility for the children till they are two years old. After that the responsibility falls on the wife to claim maintenance for them. Theefforts by a lone woman to rightfully claim maintenance after divorce got converted into a huge political storm and the concerns of the woman were relegated to the background, the Quranic injunctions on gender justice notwithstanding. Since then there has been no effort either by the various governments or by the community to revive the process of gender-just reforms in Muslim personal law.
These three laws exist in India in the name of Shariat or Muslim personal law. But as is evident from our survey, these are highly inadequate in enabling justice for women in the matters of marriage and family. There is no codified law that covers all aspects of family and marriage matters. In Muslim society there are multiple implementing agencies that dispense justice in family matters. There exist Shariat courts, qazis, muftis (religious clerics), jamaats (sect arbitration councils) that also take in cases of family dispute. These bodies are readily accessible and have closer contacts with the community unlike the secular court structures. Poor people find going to a court expensive, cumbersome and time- consuming. The community mechanisms are accessible but aredominated by men who arbitrate and settle disputes, which more often than not go against the interest of the women. These individuals and institutions have adopted patriarchal, conservative and anti-women interpretations of the religious texts. In some cases there islittlerecognition of the Constitution and the values of justice and equality.Besides, the Muslim law being followed by these bodies is not homogeneous and its provisions vary according to thedifferent sects and subsects.
Furthermore, it is an amalgamation of customary law and practices, statutory law and interpretations of the verses of the Quran. So while a Muslim woman is required to go to the court to seekdivorce, a Muslim man is not required to do so. He can pronounce divorce thrice and terminate the marriage contractinstantly and unilaterally. The presence of wife or witnesses is not required. These courts are mostly approached by men as most of these places may not be women-friendly. However, Muslim women do approach Shariat courts regularly with the help of male relatives or directly. Our findings suggest that women also approach family courts and other localised government-run legal structures but the time and money required to pursue a legal case is beyond the reach of most women. Poor economic conditions and lack of sustained resources necessary to approach legal mechanism prevents them from going to court. While gender-just reforms within the Parsi and Christian matrimonial laws have been enacted through the initiative and support of the government, there is nopolitical will to bring about reforms in Muslim personal law that would benefit Muslim women.
Muslim family law as it obtains today is piecemeal and disjointed with noeffort from the community or the government to make it comprehensive. There is no monitoring or review of male-dominated community-based bodies for dispensing justice. As a result Muslim women are left with no choice but to suffer the injustices done to them. It is hoped that with increasing awareness and mobilisation of Muslim women, their voices will be heard.
Conclusions
This study establishes that Muslim women have been denied justice and fair treatment in matters of family and marriage. The ground reality for an ordinary Muslim woman is quite grim despite the Quranic tenets of justice and fairness. She suffers from practices such as under-age marriage, oral divorce and polygamy in the absence of a codified law and knowledge of Quranic principles. She suffers injustice in family matters owing to misinterpretations emanating from patriarchal mindsets and interests. The community justice mechanisms may or may not be friendly places for a woman and she is left with very littlelegal recourse.
The ordinary Muslim woman has faith that the Quran is just and fair to all. Her clear thinking on what should be her legal rights is heartening. Her desire to have a clearly laid down legal mechanism needs to be taken up at all levels within the community and by the government. She wants a codified law based on the Quranic tenets to resolve herissues such as age of marriage, divorce, maintenance, polygamy, custody of children, property, etc.
Clearly, the existing male-oriented community justice framework has not helped Muslim women to get justice in matters of marriage and family. It isimportant to understand the meaning of the popularly held perception aboutIndian Muslims being governed by Shariat in matters of personal laws. Do we have codified Shariat laws in India that adequately address all aspects concerning marriage and family matters? The study establishes that the existing legal framework is far from adequate when it comes to upholding rights of women granted by the Quran. This is true in the Indian context where the Muslim women's quest for justice is viewed with scepticism or even hostility. The secular democratic state has failed to enable fair representation for all sections of the population,including women, by only recognising the conservative religious voice as the voice of the whole community. The conservative sections are unaware and unconcerned about the issues of Muslim women and therefore they cannot continue speaking for them.
Furthermore, Muslim women and girls face several challenges of safety,security, survival and dignity in modern times like women and girls from allother communities. They are gradually learning to cope with these challenges. The solution cannot be that of confining them to homes for their own safety and well-being. They have aspirations like other citizens and it is binding on both the government and the community to recognise and support their concerns. Muslim women cannot forever live with the threat of instant oral unilateraldivorce or polygamy or post-divorceeconomic uncertainty. These must be resolved by evolving a just and fair legal framework based on the principles of the Quran.
Notes
1 The Rajinder Sachar Committee was constituted in 2005 by the Prime Minister of India. It was tasked with collecting information on the socio-economic status of India's Muslim population and identifying areas ofintervention by the government. It collated data from the census and National Council of Applied Economic Research studies, and conducted its own surveys to highlight that Muslims in India fared worse than other socio-religious communities on issues of access to health, education, credit, general infrastructure and employment
2 The Bharatiya Muslim Mahila Andolan was formed in January 2007 in Delhi. It is a democratic organisation of Muslim women, led by Muslim women, which works for citizenship rights of all and particularly Muslim women in India. In 2015, its membership crossed 60,000 women and men across 15 states. BMMA shares the values of justice, democracy and secularism enshrined in the Constitution as well as the values of justice and peace enshrined in the Quran. It believes in women's position as equal citizens in society and strives to build Muslim womens' leadership. In different states—Gujarat, Maharashtra, Rajasthan, Madhya Pradesh, Karnataka, Tamil Nadu, Odisha, West Bengal, Bihar, Jharkhand—it works on the issues of education, jobs, security, law and health. BMMA is opposed to communalism and believes in communal harmony, mutual religious respect and coexistence. It stands in solidarity with all who believe insocial justice and equality.
3 The full study Seeking Justice within Family: A National Study on Muslim Women's Views on Reforms in Muslim Personal Law can be found at bmmaindia.blogspot.in.
http://www.epw.in/journal/2015/51/notes/muslim-womens-views-muslim-personal-law.html
----------
'Standardising education system can promote peace'
19 December 2015
ISLAMABAD: Speakers at a workshop titled 'Education: an advocacy niche for peace' urged the government to standardise the education system because, they said, it was the best way to promote peace and social cohesion.
The workshop, which was held on Friday by the South Asia Partnership (SAP) Pakistan, aimed to help develop an improved standard of education.
Participants asked for the removal of hateful material from the curriculum and said such material is damaging to the mind set and character of the youth and to the peace building process and social harmony in the country.
Education campaigner Salma Butt explained the training sessions held in different provinces and appreciated students for showing an interest in the discussions, identifying the basic problems they are facing and the solutions to those problems.
SAP National Programme Manager Shabnam Rasheed stressed the need for an enabling environment for students in educational institutions.
She said such an environment could be achieved when all the stakeholders were involved and when they take up the issues and challenges seriously.
Regional Programme Coordinator SAP Shakeel Ibrar, Syed Irfan Raza from Oxfam and several others spoke on the occasion.
They demanded the formulation of an advocacy policy drafted after consultations with ministries, various state organs, parents, teachers, civil society and others.
http://www.dawn.com/news/1227310/standardising-education-system-can-promote-peace
----------
NGO to sue DAP MP for 'insulting Muslim women'
December 19, 2015
Kota Kinabalu: Sabah-based Pakatan NGO Pro BN has vowed to file a civil suit against DAP MP Taiping Nga Kor Ming, very soon, for allegedly insulting Muslim women for the way they dress when he uploaded their images wearing full veiled black clothing (purdah) in his Facebook account on Dec 13 that went viral on social media.
Its Chairman Zulkarnain Mahdar said it was clearly an act of extreme provocation against veiled women that touched the sensitivity of freedom of religion stipulated under the Federal Constitution.
He said Nga was being sarcastic and purposely chose to insult the fully veiled dress of Muslim women when he asked whether the new uniform of Malaysia Airlines (MAS) stewardess would be like them (full-veil dress) in a poster uploaded in his Facebook account.
"I was made to understand that Nga uploaded the images so as to sneer at an Umno delegate in the recent Umno General Assembly on a proposal for MAS stewardess to wear proper clothing that are not curvy and cover the 'aurat' of the women according to Islam.
"The action of this DAP leader is very rude, unbecoming and uncivilised as he deliberately insulted the image of Muslim women dressing (in full veil) where he even included a cartoon face that symbolised fear when seeing women in a fully veiled dress in accordance to the Islamic law.
"My question is…what is Nga's motive for linking Muslim women wearing fully veiled dress in the said issue? What is he trying to imply?," he said.
Zulkarnain said this to reporters after lodging a police report against Nga to be investigated under Sedition Act at the Karamunsing police station here on Friday.
According to him, Nga also criticised the Umno delegate for proposing that MAS stewardesses wear proper clothing that covers the women's 'aurat' in accordance to Islamic law.
He said Nga's statement also caused anger and reactions from Facebook users who slammed him for going overboard to insult the image of Islam for the sake of gaining political mileage.
"Although Nga has its own views on the proposal of stewardesses wearing a headscarf it is very unfair to make a comparison with Muslim women who wear full-veiled dress.
"His action clearly would cause unnecessary religious strife and jeopardise the peace we have been enjoying in a multiracial society with various backgrounds where we respect other people like Buddhist monks and the way Christian Sisters wear their own attire based on their religious beliefs," Zulkarnain said.
He said he would send a memorandum to the DAP headquarters next Tuesday to protest the deplorable action by Nga.
Zulkarnain also questioned the leadership of Pakatan Harapan consisting of Parti Keadilan Rakyat (PKR) senior leaders such as its President Datuk Seri Dr Wan Azizah Wan Ismail, Azmin Ali and Mat Sabu from Amanah for not defending Muslim women's dignity.
He said these opposition leaders should be in the front slamming Nga but instead they remained quiet since Nga uploaded the images on Dec 13.
http://www.dailyexpress.com.my/news.cfm?NewsID=105406
----------
High rents for flats deter young men from marriage
19 December 2015
JEDDAH: A large number of young men are not being able to get married because of steep house rents, a poll conducted by the Charitable Society for Marriage and Family Guidance in Jeddah has found.
Of those who responded to the poll, 93 percent complained of the high rents, especially young men, local media has reported.
Ahmed Sultan Al-Omari, the president of society said that assistance is provided to young men and women who want to get married. They are also helped in building a good family life and made aware of the methods to cut down on costs. Other programs include awareness in choosing the right partner. he said.
Al-Omairi said the private sector should help with marriage and ease their costs. "Charitable societies for marriage and family guidance cannot alleviate these burdens alone. All sectors should chip in, especially when marriage costs become an obstacle for youths."
He pointed out that Islam urges early marriage and that society should help young couples in getting married, which keeps youngsters away from danger, sedition and corruption.
http://www.arabnews.com/saudi-arabia/news/852611
----------
Muslim teacher fired after showing Malala video
19 December 2015
A Muslim teacher is suing her former colleagues after claiming she was wrongfully fired after administrators at the school where she taught banned her from mentioning Islam.
Sireen Hashem says she follows the same curriculum as other teachers at Hunterdon Central Regional High School in New Jersey. However, Hashem came under fire for showing students a video of Nobel Peace Prize winner, Malala Yousafzai.
Hashem was one of the multiple teachers who showed the clip to students in the classroom. Upon request from another teacher, Hashem has also translated an interview with a schoolbook's Palestinian subject.
Unlike her colleagues though, Hashem was fired from school, purportedly over her lesson plans. Hashem, who describes herself as a 'Muslim American of Palestinian descent,' says she was forbidden from mentioning Islam or the Middle East during her history classes after local religious leaders and parents made complaints about her to school administrators.
Hashem filed a suit against her past employers in December 2014 according to which her suffering with the school administrators began soon after she became a full-time teacher in September 2013: parents perceived a more political nature into the video when she played it in class, however, it went unnoticed when a colleague, Lindsay Wagner played the same video for her students.
"[Principal] Suzanne Cooley received a complaint from the parent of a student about plaintiff's use of the Malala Yusufzai video during a lesson," Hashem's suit reads. Her supervisor allegedly "told plaintiff she could not teach current events in the same manner as her non-Arab, non-Palestinian and non-Muslim colleagues."
During a later meeting with the district's superintendent, Cristina Steffner, Hashem says she pointed out that her colleague had played "the same video and it was not a problem," the suit reads. "Defendant Steffner slammed her hand on the table and said, 'You are not Lindsay.' Unlike Plaintiff, Lindsay Wagner is not Arab, not Palestinian and not Muslim."
Since the incident, complaints against Hashem began to pile up, including claims that suggested Hashem was trying to instruct students with anti-Semitic views prompting another meeting with the school administrators during which they allegedly they allegedly "accused her of discriminating against Jewish students, and also questioned her about her place of birth, her family, and her personal life."
Moreover, "a local Rabbi and several parents contacted the high school administration, including defendants Cooley and Steffner, and Defendant Board of Education in an attempt to have plaintiff removed from her teaching position, solely because of her heritage and religion," Hashem claims.
According to the lawsuit by April 2015, the school district had laid the groundwork for Hashem's removal from the school.
Despite support from students and parents, Hashem's appeal to have her contract renewed failed in May 2015.
Hasem also claims she has been harassed by the FBI since then. According to the lawsuit, in July, two FBI officers appeared at her door.
Meanwhile, some students continue to defend their former teacher online.
"Hunterdon Central lost an amazing teacher over false comments a student in my class made," one student wrote on Hashem's RateMyTeacher page. "[H]er firing was a huge mistake and any school who hires her next should consider themselves lucky."
http://www.pakistantoday.com.pk/2015/12/18/foreign/muslim-teacher-fired-after-showing-malala-video/
----------
Productive families to be trained
19 December 2015
ABHA: A three-year training program has been launched for productive families in Mahayel, Asir, to help improve the quality of their products.
Mahayel Mayor Mohammed bin Saud Al-Mathami made the announcement, and said it would be implemented by Fatima Al-Zamil, the first initiator of exhibitions for productive families. It would target 150 families, or 50 households every year for three years.
Al-Mathami said that Al-Zamil would start the first part of the program by hosting an exhibition as part of the Mahayel Adfa festival. He said the purpose is to develop quality products.
He said these families have worked hard to ensure that training is provided to improve their products, and were determined to reduce their dependence on social security and become financially independent.
Al-Zamil said that she has already held an introductory meeting with more than 70 productive families in Mahayel. "I also met with government directors whose departments support productive families. They are all on board."
She said the Mahayel mayoralty has responded to her request to have a training venue for the workshops that will take place for six hours a day over 12 days; and said plans are being developed to replicate the program throughout the country.
The program will be held in cooperation with Muhammad Al-Umrah, the director general of the Saudi Commission for Tourism and National Heritage in Asir, who said that the plan is to ensure better financial returns for these families from their businesses.
http://www.arabnews.com/saudi-arabia/news/852636
----------
Pakistan needs to produce more films, says Reham Khan
19 December 2015
LAHORE: TV anchor Reham Khan says that more films should be produced in Pakistan and more cinemas should be built.
She was talking to the media at the International Film Festival at Alhamra on Friday.
Flanked by Indian actor Om Puri and film director Madhur Bhandarkar, Ms Khan said there was a dearth of film schools in Pakistan and there was a need for more facilities for filmmaking.
She said she had come to the festival as a filmmaker. It was great that two prominent film personalities from India were also attending the festival who were also given Excellence Awards by Rafi Peer Theatre Workshop.
She lauded Madhur Bhandarkar for making films on women issues, adding that a lot was to be done in Pakistan on women rights. She said she had finished shooting for her first film as a filmmaker.
Reham Khan asked how we could remain away from politics as now films were being made on politics.
Om Puri said he was already working in a Pakistani movie and would like to act more in Pakistani movies.
http://images.dawn.com/news/1174469/pakistan-needs-to-produce-more-films-says-reham-khan?preview
----------
PFA drive not making headlines — why?
KHALID HASNAIN
19 December 2015
LAHORE: Punjab Food Authority's (PFA's) drive against unhealthy food and unhygienic premises has not been making headlines for the last one month.
An insider claims that the drive has succumbed to pressure of the powerful owners of eateries.
PFA Director Ayesha Mumtaz rejects the claim, saying the authority is still vigilant to its task and as things are improving in eateries, so has the burden of raiding teams lessened.
She said raids were going on as per routine but the information could not be disseminated due to court orders under which the PFA was not allowed to post its performance on social media sites.
She said PFA's objective was not to close or seal food businesses but to improve things and ensure the provision of hygienic food to the people at food outlets.
Earlier, the PFA was focusing on restaurants, eateries etc, she told Dawn, adding the PFA teams were focusing these days on major fish storage and outlets because the increasing demand for fish in the winter. The official, however, says the drive was a gallery show.
"It was a show that was staged well to create media hype only to divert public attention from other important issues," says the official.
The official also rejected improvement claims, saying the pace of raids adopted in the initial months of the drive would never be resumed.
"Now, eateries' owners have almost ignored implementation of the required SOPs related to hygiene standards after they observed PFA teams' soft behavior during inspections," says the official.
"Teams have limited their action to imposing a fine in a majority of routine inspections these days." He said the PFA teams were not checking meat quality at restaurants.
"This drive is very important considering the issues of public health, so it should be continued to snub those playing with the health of people."
http://www.dawn.com/news/1227362/pfa-drive-not-making-headlines-why
----------
Woman dies in train drinking juice from co-passenger
December 19, 2015
A woman died after drinking poisonous juice, offered by a doping gang member, in a running train, Meghna Express, in Laksham on Thursday night, said her husband.
Reba Begum, 27, of Rajbari Sadar, was thirsty when a man sitting beside them gave her a bottle of juice in Langolport area, said the husband, Rashedul Islam, adding that Reba started complaining about stomach and chest pain soon after that.
Reba died 40 minutes after the man got off at Laksham Railway Station. A case was filed in Chandpur.
http://www.thedailystar.net/city/woman-dies-train-drinking-juice-co-passenger-189397
----------
Study: Passive smoking leads to infertility
19 December 2015
JEDDAH: Passive smoking is associated with infertility and early menopause in women, according to a recent study.
The researchers said that compared to women who never smoked and those who were exposed only to a minimum level of passive smoking, the women who were exposed in a major way were more likely to not fall pregnant and to reach menopause before the age of 50, according to a report in a local publication.
According to Andrew Hyland from Roswell Park Cancer Institute, Buffalo, New York, the administrator of the study, the results of previous studies already found a link between smoking and reproductive health problems in women. "But very few such studies linked passive smoking with infertility and early menopause," said the study.
Hyland and his research team analyzed data from 88,732 women who participated in the study carried out between 1993 and 1998 when the women were between the ages of 50 and 79.
Based on the questionnaire, 15 percent of the participants who answered the questionnaire at the beginning of the study said they suffered infertility for at least one year, and about 40 percent said they suffered premature menopause before the age of 50. In comparison with women who never smoked, researchers found that 14 percent of heavy smokers during one period of their lives were more likely to be infertile, while 26 percent said they suffered premature menopause.
Researchers found that heavy smokers suffered early menopause two years before those who never smoked. Eighteen percent of women who never smoked but were exposed to passive smoking were more likely to suffer infertility and premature menopause, the study found.
http://www.arabnews.com/science-technology/news/852666
----------
Woman gets out as thief flees with car
19 December 2015
TABUK: Leaving the car engine running and the door and AC open to withdraw money or buy something from a shop is a common sight in the streets of the Kingdom. However, such an act can be risky if a female relative or child is seated on the backseat.
A similar incident happened in Tabuk recently. A video, which was taken by a passerby and posted on social media, grabbed the attention of a large number of people. The video shows a woman getting down from a parked car immediately after a thief takes the wheel.
According to local media, the driver left the car on to get something and the woman seated on the backseat was not visible because of the vehicle's tinted windowpanes. The thief got in to drive away the car, but the woman immediately got down and raised an alarm. The man, however, fled with the car.
In the video, the thief is seen trying to run over the woman as she, but fails and drives off with the vehicle.
http://www.arabnews.com/saudi-arabia/news/852626
----------
After California shootings, Muslim families in US struggle with identity
19 December 2015
SAN FRANCISCO: Mirvette Judeh began covering her hijab with a hoodie two weeks ago while in the car with her two young children. Someone might want to hurt their mother, she explained to them, because the head scarf easily identifies her as Muslim.
"Now I have to have these conversations with my kids," said Judeh, 39, who lives in southern California. "That's what breaks my heart — to tell my kids that a choice I made to stand up for my religion could make me unsafe."
As an anti-Muslim backlash swells across the United States following the Dec. 2 massacre by a young Muslim couple inspired by Daesh in San Bernardino, California, many young Muslim families say they fear for their safety and are struggling with their American and Muslim identities.
Judeh, for instance, said she has told her children that their actions may face extra scrutiny because they are Muslim.
She teaches her 8-year-old son, for example, to never utter the words "blow up" at school, regardless of the context, and to never pretend he is playing with guns, even if his friends do. Her son has asked if people hate him and his family, Judeh said, a question she can find difficult to answer after receiving hateful comments and threats because of her hijab.
The problems have gathered pace since gunmen loyal to Daesh killed 130 people in Paris on Nov. 13.
But even before the Paris violence, anti-Muslim sentiment was on the rise, swept along by rhetoric from US presidential candidates — from Republican Ben Carson's comment in September that Muslims were unfit for the presidency to billionaire Donald Trump's recent call for a ban on Muslim immigration.
Former Florida governor Jeb Bush, a Republican whose presidential campaign has struggled in recent months, has said the United States should only allow in Syrian refugees who can prove that they are Christian — a tiny fraction of the millions driven from the war-shattered country.
Some Muslim families say they fear a rising tide of hate crimes directed against their faith, such as when a pig's head was found outside the door of a Philadelphia mosque on Dec. 7, an incident that made national headlines. Pork and pork byproducts are haram, or forbidden, in Islam.
Some discrimination goes largely unnoticed, such as when a woman threw hot coffee at a group of Muslims praying in a park in California on Dec. 6. The Council on American-Islamic Relations, which tracks such incidents, says the scale of vandalism, damage and intimidation at American mosques this year is the worst in the six years they have kept records.
Many of the country's 2.8 million Muslims say they fear such tensions could become uglier during a presidential race that is already tapping a vein of anger and bigotry.
Young Muslims said they often feel the need to prove how American they are to distance themselves from radicals.
For some, such as Sara Haddad, that means reminding people that they watch football or listen to pop music.
"I love the Dallas Cowboys," she said, referring to the popular Texas football team. "We have Thanksgiving with my parents. It's almost like you have to do this thing where you say, 'I'm so American', but at the end of the day, what is American?" said Haddad, 27, a cancer research scientist in North Carolina who has a six-month-old daughter.
She said she has not yet decided how to explain militant or anti-Muslim rhetoric to her daughter when she is older. She likens the predicament to parents wondering when to tell their children Santa Claus does not exist, hoping their innocence will stretch for as long as possible.
"9/11 destroyed my childhood innocence," she said, referring to the Sept. 11, 2001, attacks. "I don't want to believe that in five years it'll be this bad or worse."
In Baltimore, Arif Khan said he does not want his son's childhood defined by conversations about shootings or other attacks.
He said he and his wife, who wears the hijab, take precautions when leaving the house. They make sure no one is following them and carefully choose public places to pray when not home. He said he and his wife want their one-month-old son to be vigilant as he gets older. But they also hope to teach him that his Muslim and American values are complementary.
http://www.arabnews.com/world/news/852456
----------
Some Muslim Women Are Taking Self-Defense Into Their Own Hands
December 18, 2015
It's not an easy time to be Muslim in the U.S. Attacks on mosques are at a record high, according to the country's largest Muslim advocacy group. Women wearing hijabs, or headscarves, are often singled out for harassment.
That has galvanized some to take their protection into their own hands.
On a recent day, some two-dozen Muslim women — nearly all of them wearing hijabs — have crowded into a studio in Midtown Manhattan. They are sparring with instructor Nicole Daniels.
One of the women smacking Daniels' glove is Amirah Aulaqi. She and friend Mariana Aguilera, who is also Muslim, decided to create the class after the attacks in Paris and in San Bernardino, Calif. They're concerned by the antagonism they see directed against Muslims.
"We want you guys to leave this class and not feel like victims, because you're not victims," Aulaqi tells the class.
There were no men allowed in the class — and only Aguilera, one of the organizers, had a camera.
Aulaqi and Aguilera created the class for observant Muslim women. That population is particularly at risk, because their hijabs can make them stand out. There have been incidents of verbal abuse — in some cases, people have yanked at women's headscarves.
"We want you to go out and say, 'I'm a Muslim woman and nobody has the right to take my dignity or freedom within this country,' " Aulaqi says.
The class sold out in an hour. It drew women not just from New York City, but New Jersey and Connecticut as well.
The only students who were willing to be interviewed are longtime New Yorkers with careers.
"I'd never thought I'd actually see myself in a self-defense course," says Fatiha Ahmed, who was born in Queens, N.Y., to Bangladeshi parents. She is a teacher and attended the class with her three sisters and two sisters-in-law.
She signed up because she has been feeling uncomfortable wearing the hijab on the subway. People looked at her before, but she says it feels different now.
"Usually it's curiosity. But now it's a more hateful stare. And it's not a good feeling," Ahmed says.
She is particularly concerned about her sisters-in-law, who came to the U.S. from Bangladesh in the past few years.
"They are very timid," she says. "They've had experiences where people have said hateful things toward them. They ran away, they ran home, they didn't want to go to work for a few days."
Both of Ahmed's sisters-in-law declined to speak with NPR.
Her older sister, Sabji Ahmed, is a nurse and a classic New Yorker.
"When I walk around, I don't put my head down to be the victim," she says. "And if I see a couple of guys, I make sure I give them the look and say, 'Yes, I know you're standing there.' "
Sabji Ahmed says she attended the class to see if there were self-defense techniques, and not just attitude, that she could teach her three teenage daughters.
"It was more for them. They couldn't make it today for other reasons," she says.
Nadia Alemare was born and raised in New York and is a single mom to an 11-year-old boy. She says she hasn't encountered much harassment, but her son has, coming home from school.
"He was like, 'Mom, I had these kids chase me down and they kept saying I'm a terrorist, go back to your country.' And I was very scared for him," she says.
What concerns Alemare most is how the incident crystallized for her son that people can identify his ethnicity and that it makes him vulnerable.
"He was like, 'Mom, do I look Arab?' For him to even feel inferior just because of the way he looks, that in itself kind of bothered me," she says.
Alemare says she is going to tell her son what she learned in this all-female class. The organizers are planning to make it a regular event. It's not just about preparing the students to deal with physical attacks. It's also a way to make them feel supported at a time when it can be challenging to be an observant Muslim.
http://www.npr.org/2015/12/18/460307169/some-muslim-women-are-taking-self-defense-into-their-own-hands
URL: https://www.newageislam.com/islam-women-feminism/new-age-islam-edit-bureau/muslim-women-s-views-muslim-personal-law/d/105665
New Age Islam, Islam Online, Islamic Website, African Muslim News, Arab World News, South Asia News, Indian Muslim News, World Muslim News, Womens in Islam, Islamic Feminism, Arab Women, Womens In Arab, Islamphobia in America, Muslim Women in West, Islam Women and Feminism