New Age Islam News Bureau
15 Apr 2018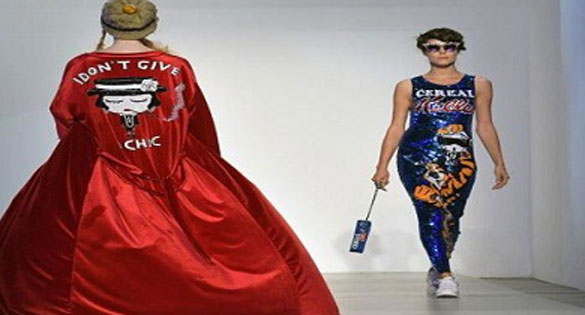 Photo: A model presents on the catwalk a creation of MUA MUA Dolls by designer Ludovica Virga during the Arab Fashion Week in the United Arab Emirate of Dubai on November 17, 2017(AFP)
-------
• Emirati Elected to ALO's Women Labour Affairs Committee
• MUA MUA Makes a Fun Statement at Arab Fashion Week in Riyadh
• Jordan Introduces Free Pre-Marriage Counselling To Lower Divorce Rates
• Kuwaiti MP's Remarks on Hijab Billboard Spark Controversy
• Ummi Abdulla - The Woman Giving Mappila Cuisine to the World
Compiled by New Age Islam Bureau
URL: https://www.newageislam.com/islam-women-feminism/greater-opportunities-entrenched-stereotypes-arab/d/114940
---------
Emirati elected to ALO's Women Labour Affairs Committee
April 15, 2018
CAIRO: An Emirati woman has been elected member of the Arab Labour Organisation's Women Labour Affairs Committee, to represent the Business Leaders' Team for the term 2018-2019.
The election of Yosra Al Yaf'i, member of the UAE Business Women's Council, comes in recognition of the significant role played by the UAE in areas of women's empowerment at all levels and in appreciation of the support given by Sheikha Fatima Bint Mubarak, Chairwoman of the General Women's Union (GWU), President of the Supreme Council for Motherhood and Childhood, and Supreme Chairwoman of the Family Development Foundation (FDF), to ensure women assume a tangible role in the development process.
Al Yafi has thanked ALO members for the trust, saying she will dedicate her full potential to strengthen the role of Arab women in the private sector.
The election was announced at the now running 45th edition of the Arab Labour Conference in Cairo.
gulftoday.ae/portal/82552824-21ac-4ee7-acdd-cb998f5567d4.aspx
--------
MUA MUA makes a fun statement at Arab Fashion Week in Riyadh
April 15, 2018
RIYADH: "It actually began as a joke," said Ludovica Virga, founder and designer of the Italian brand House of Mua Mua, explaining the origin of Mua Mua Dolls. Although the designer is extremely familiar with Saudi customers, this is her first visit to the country, to display her signature, playful collection at the last day of Arab Fashion Week in Riyadh on Saturday.
The dolls originated in Bali, with Virga deciding to give back to the island's inhabitants, who were left without work as tourism was dwindling after the 2004 tsunami. Handmade by a team of local women, the crochet dolls are iconic and fun. "The idea is to highlight their main features and imperfections, which are what makes them so special."
When Virga presented Karl Lagerfeld with a doll that resembled him in 2009, it instantly became a fashion statement. She was soon commissioned to create 700 dolls that would be sold at Lagerfeld stores.
The concept caught on and Virga created more dolls based on style icons, including Lady Gaga, Coco Chanel and Anna Wintour. The brand went on to incorporate T-shirts and accessories and is currently in the process of what Virga calls "evolving from kids to college students." Inspired by news or popular culture, House of Mua Mua creates apparel and accessories that are renowned for being "young-at-heart, witty and playful."
Not one to take fashion seriously, Virga's spring/summer 2018 collection displayed at Arab Fashion Week also dished out a social message. With the slogan "less plastic is fantastic," sequinned jackets, hoodies and bags made a statement on the runway.
"Ladies in Saudi Arabia are incredibly fashionable and receptive," she said. "Clearly they are well-traveled and sophisticated." And in the spirit of holidaying, the collection also features kaftans and beach hats, sequinned denim jackets over colorful playsuits, waist bags with T-shirts and large ruffle skirts, oversized sweaters and eye-catching accessories.
"The collection is also all about summer, holidaying for example, in St. Tropez or Monte Carlo. And about not taking life too seriously," Virga concluded, as she flashed her "I don't give a chic" T-shirt.
arabnews.com/node/1285011/fashion
--------
Jordan introduces free pre-marriage counselling to lower divorce rates
The pre-marital counselling programme includes lectures and seminars covering marriage-related rights and duties.
April 15, 2018
AMMAN - In a move to lower divorce rates, Jordan has implemented a comprehensive programme to prepare couples for a long married life by focusing on four key aspects of their future.
The pre-nuptial programme has been hailed as a positive move. There is an average of 80,000 marriage contracts sealed in Jordan annually but nearly 21,000 cases of divorce are registered each year.
"There is a decrease in the number of marriages in Jordan and this is unhealthy. The main reasons for the trend are the lack of financial means and fear of assuming the responsibility of raising a family," said Hussein Khazai, a professor of sociology at Jordan University.
"The lack of knowledge of the true meaning of marriage among young people makes the idea of getting married a problem and not a solution."
The number of marriages dropped to 77,700 in 2017 from 81,343 in 2016. Irbid governorate in northern Jordan registered the highest number with 28% and Karak governorate in the south the lowest with 1.4%, statistics from the Supreme Judge Department indicate.
An estimated 45% of Jordanians are unmarried, Khazai said.
"There are some 150,000 men over 30 and 100,000 women over 27 who are not married," he said. "Men carry a lot of burdens and are under pressure to provide necessary marriage requirements, including high dowry demanded by the girl's family."
The pre-marital counselling programme offered by the Chief Islamic Justice Department is optional. It includes lectures and seminars covering marriage-related rights and duties in line with sharia and laws governing family matters, such as health aspects of spousal relations, children's education and personal communication and managing household finances.
"The marriage certificate given by the Chief Islamic Justice Department is an excellent and positive means for preparing couples who are in the process of getting married. It increases awareness about all aspects of married life, which, in my opinion, is what we need," said Alia Saed, a single Jordanian woman.
"I have many friends who got married but soon they faced many issues. If they had the chance to go to such seminars about marriage, I believe most of the problems would have been solved."
Others say lack of knowledge about responsibilities and duties that come with being married is not the obstacle that is stopping young people from getting married.
"We are living in the knowledge age and information about marriage is accessible everywhere but I think the most important issue that couples face is financial insecurity," said Ayman Horani, who owns a car washing business.
"How can a young person get married and provide a secure life for his family when his monthly income is not sufficient to sustain himself? The man should provide a house, furniture, food, pay bills and school tuitions and this does not come cheap."
Horani said the increase in the cost of getting married was leading many Jordanian men to marry foreigners.
"Foreign women don't ask for dowry or an expensive house and a car, and today one can easily find a bride online, travel to meet her and get married," he said.
The Supreme Judge Department statistics show that, in 2017, approximately 3,413 Jordanian men married non-Jordanian Arab women and 467 married foreigners, while 3,582 Jordanian women married Arab nationals and 333 married non-Arabs.
Ashraf Omari, spokesman for the chief Islamic judge, encouraged couples planning to get married to follow the counselling programme. "It is very flexible and does not delay or complicate any planned marriage," he said.
"It is a one-day programme that covers key issues in married life and it is free for now. It is limited (to Amman) for the time being but we need to take it to locations all over the kingdom. The programme targets those who are over 18 but also, in special cases, those who are underage," Omari told local media.
The programme has been introduced to refugees at Zaatari, Jordan's first official Syrian refugee camp and home for nearly 80,000 people. Early marriages are becoming increasingly common among Syrian refugees.
thearabweekly.com/jordan-introduces-free-pre-marriage-counselling-lower-divorce-rates
--------
Kuwaiti MP's remarks on Hijab billboard spark controversy
14 April 2018
Cairo: A Kuwaiti MP has stirred nationwide controversy by criticizing a ministry advertisement aimed at encouraging women to wear the Islamic headscarf.
MP Safa Al-Hashem, the only female in the 50-seat National Assembly, tweeted a few days ago against a billboard carrying the slogan, "My Hijab … makes my life better."
The advert is part of a pro-Hijab campaign by the country's Ministry of Endowments.
Al-Hashem described the billboard as "strange," despite noting that she is not against the notion of wearing the Islamic headscarf.
In a tweet, she argued that it is unacceptable for such ads to go on display in a "civil state" like Kuwait, which has a constitution "that guarantees personal freedom."
Al-Hashem said she would rather see the country run a campaign to strengthen national unity instead, adding that she had requested the ministry to remove the roadside billboards on the topic.
Her comments landed her in hot water with religious-minded people and conservative lawmakers, who strongly lashed out at her and threatened the ministry if it agrees to take the ads down.
They responded to Al-Hashem by reminding her that Islam is the state's official religion as per the constitution. They also added that the headwear is mandatory for Muslim women according to Islamic teachings.
arabnews.com/node/1284701/middle-east
--------
Ummi Abdulla - the woman giving Mappila cuisine to the world
Ummi Abdulla is known as the 'matriarch' of Malabar Muslim food. She tells us about building a legacy that her own granddaughter is now taking forward
April 15, 2018
Some days, Ummi Abdulla can't wait to get to the kitchen in the morning. It's when she wakes up with a food dream. "I often dream of the entire process of cooking a dish, complete with each ingredient," she says. And once the recipe is tried in her kitchen in Calicut, she neatly jots it down in her diary. One such diary of Abdulla's handwritten recipes, called, Cooking In My Dreams, is being given away with the purchase of the author's latest coffee table book, A Kitchen Full Of Recipes.
Available for pre-order on Abdulla's website, Ummi's Corner, the 198-page, hardbound, glossy, illustrated tome carries photos and methodology of cooking 103 recipes of Malabar Muslim cuisine, or Mappila food from north Kerala, a south Indian state.It is Abdulla's seventh book – co-authored with her granddaughter, Nazaneen Jalaludheen – and her third in English. The rest are written in Malayalam, her mother tongue. When her first book, Malabar Muslim Cookery, was published in 1981, the food was barely known outside her community. Abdulla became a pioneer in getting the recipes out into the world, and is sometimes referred to as the matriarch of Mappila cuisine.
As a little girl in her home in Thikkodi village in Kerala, Abdulla, now 84, loved playing with her nine siblings, but always found time to peek into the kitchen presided over by her grandmother. "I loved watching her cook, and took in all the details," she says. And perhaps surprisingly, for a woman who has run a pickling unit, catered for parties, written seven books and many articles for magazines, and acted as a consultant to 5-star hotels in India and abroad, Abdulla started cooking at around the age of 40. "I always had cooks," she says. It was at the persuasion of her husband, who was a foodie, that Abdulla's journey as an expert Mappila cook began. A lawyer, writer and a general manager at a publishing house in Chennai, Abdulla's husband was a strong proponent of women's rights. "He encouraged me to go out of the house and do everything I liked," Abdulla says. Back in the 1970s, Abdulla attended a cooking school, supplied the best homemade pickles, squashes and cocktail onions to hotels, and ran a catering business, which, she admits, could not have been possible without his backing.
Her first book was written at his behest. "It was difficult for me to put the recipes in my head on to paper," she recalls. "I spent a few weeks with my grandmother, prepared all recipes, wrote down measurements in fistfuls, and later converted them to grams," she says.
Now Abdulla's granddaughter is taking her legacy forward with A Kitchen Full of Recipes, which is ready to be shipped internationally from the last week of April. An information technology consultant in Bangalore, Jalaludheen lived with her grandmother during her school and college days and shares a close bond with her. Of the innumerable stories she has heard from her, she wanted to document at least a few. "Mamamma's (grandma's) first book had a lot of good recipes, but with the new book, I wanted to bring a little bit of Ummi into those recipes," she says. Therefore – just like Abdulla did with her grandma – Jalaludheen spent months trying each of her Mamamma's recipes, doing photo shoots and getting the self-published book illustrated.
Mutta Mala, one of the dishes by Ummi Abdulla
Mutta Mala, a Mappila dessert made of egg yolk
"Every recipe has a story about her childhood," she says. For instance, in Abdulla's village, since fresh rice was collected from the granaries after being freshly husked and pounded every day, lunch was served only by 2.30pm or 3pm. Similarly, boats carrying fish came to the shore only by 2pm, and sold thereafter. So a staple lunch of fish curry and rice couldn't be served sooner. The illustrations in the book give a sense of these activities in a coastal southern Indian village.
Carefully penned recipes of Unnakkayi (a plantain sweet), Meen Pathiri, (steamed rice pancakes stuffed with fish) and Mutta Mala (a dessert made from egg yolk), give a glimpse of the sumptuous Mappila food with its Dutch, Portuguese and particularly strong Arab influences. "The Mappila biryani is made with short grain kaima rice, which is softer and enhances the flavour of meat," says Babu Abdullah, executive chef at The Gateway Hotel, Calicut, who has written a research paper on religious influences on Mappila cuisine. He says Middle Eastern biryanis, too, have a predominant flavour of meat and aren't too spicy.
In the seventh century and later, the Arabs traded spices, textiles and precious stones with Kerala. As they mingled, there was a sharing
of culture, and marriages with the locals followed.
The layers in the Malabar parotta (a layered flaky flatbread) mimic the Middle Eastern filo pastry, and the Kahwa and the Sulaimani chai, an integral part of the Mappila cuisine are Arabic drinks, says Chef Abdullah.
Alissa, a porridge made with meat or chicken, wheat, ghee and sugar, is a direct derivative of Harisa cooked in Yemen and so is Mandi, a close relative of biryani.
Abdulla chips in. "You will always find a date pickle and chutney on my dining table," she says, adding that the use of dates is an important Arab influence. Of course, she makes them herself.
Age hasn't slowed down Abdulla. Most days she can still be found in the kitchen tinkering with ingredients. "Whenever something is worrying me, I cook a delicious meal and serve it to my family, and then I'm not so troubled anymore,"
she says.
2 half ripe, firm Kerala or Nendran bananas
1 cup coconut, 4tbsp sugar, 1tbsp raisins, 1tbsp chopped cashew nuts, 1tsp ghee, ½tsp cardamom powder, oil for frying, salt to taste.
Method
Cut bananas horizontally, along with the peel, into three to four pieces. Cook in boiling water till peel separates slightly. Alternatively, steam it for a couple of minutes. Remove peel and grind banana to a smooth paste without adding water.
For the stuffing:
Add sugar to two tablespoons of warm water and stir till sugar melts. Stir the coconut in. Add the ghee, chopped cashew, raisins and cardamom powder. Stir well and remove from the stove.
For the preparation
Oil your palm lightly. Take small lemon-sized balls of the ground banana and flatten them in your palm. Put two teaspoons of the coconut mixture in it. Fold the edges and press lightly. Now roll it with both your hands, to get a cylindrical shape pointed on both ends. Repeat for the remaining banana dough.
Deep fry the banana buds to golden brown. This high-calorie snack tastes best when eaten hot.
thenational.ae/arts-culture/books/ummi-abdulla-the-woman-giving-mappila-cuisine-to-the-world-1.721498
URL: https://www.newageislam.com/islam-women-feminism/greater-opportunities-entrenched-stereotypes-arab/d/114940