By Nava Thakuria
March 27, 2017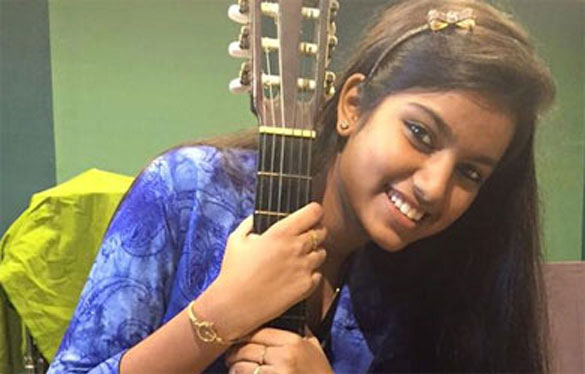 Nahid Afrin, 16-year-old first runner-up of the Indian Idol Junior 2015
--------
Since time immemorial Assam has been known for its unique social harmony, religious tolerance and pluralism. The land of great Vaishnavite saint Srimanta Sankardev, who spread the message of love, cohesion and brotherhood among all communities, castes and creeds centuries ago, is today witnessing an Islamic directive with regard to a public function where a teenaged Muslim girl was scheduled to participate.
The news broke on 14 March 2017 from the Muslim- dominated Hojai and Nagaon localities of central Assam, where some people distributed a two-page leaflet (termed gohari or appeal) arguing that the proposed cultural show at the Udali Sonai Bibi College ground at Lanka town of Hojai district should be discouraged.
Endorsed by 46 Muslim representatives of a number of state-based Islamic organisations, it asserted that no cultural function should be held at the venue as it was surrounded by mosques, madrasas, Eidgahs and graveyards, otherwise the future generation would lose its sanity and sanctity, which would result in inviting the wrath of Allah. The venue was booked for the Nahid Afrin cultural nite on 25 March, where the young Assamese singer was to enthral the audience.
The first runner-up of the Indian Idol Junior 2015, a popular Indian television reality show, Nahid thus faced the indirect diktat from the Muslim clerics for flouting Sharia, the Islamic rules and ways of living. The news was initially beamed by the Guwahati-based satellite channels and then went viral on social media. Nahid, at her home in the Biswanath Chariali locality of eastern Assam, got a shock. The Class X student, who made her Bollywood singing debut for the Sonakshi Sinha- starrer Akira recently, wept, murmuring that she couldn't live without singing. "It (my singing) is the gift of Allah. I should properly utilise it, otherwise God will mind it," said the 16-year-old Nahid, asserting that she would not bow to any diktat and continue practising the music with overwhelming support from the people of Assam in particular and India in general.
Her parents (Anower Ansari and Fatima Begum) stand strongly behind their gutsy daughter. Even though the leaflet, written in unprocessed Assamese language, had no mention about Nahid, the clerics actually meant her. And eventually intellectuals, writers, journalists, politicians, cultural personalities and even separatist armed militants of Assam unanimously raised their voices against the clerics' diktat. They also objected to the statement of those clerics that music, theatre, magic, etc, were anti-Islamic. Assam police sources suspect that Nahid might have been targeted because she performed in some anti-terror (more precisely, Islamist outfits) musical appearances.
Moreover, she participated in a few songs dedicated to Hindu mythology. However, Assam police chief Mukesh Sahay said the matter was under investigation and he assured that the democratic rights of every citizen would be protected. Meanwhile, Assam chief minister Sarbananda Sonowal, who also holds the home portfolio, came down heavily against the threat. He spoke to Nahid over the phone assuring her of all possible help. He said Nahid was the pride of Assam, and she was free to perform anywhere in the state, without any fear. He also said, "Such a ruling against practicing art and culture is unacceptable and is tantamount to infringement of one's freedom of cultural rights."The government, he added, would not tolerate any move to undermine any artiste of the state.
He even observed that a section of vicious forces was hell-bent on disturbing the age-old bonhomie of Assam and reiterated that the amity and integrity of the state would be upheld at any cost so that people belonging to the Barak and Brahmaputra valleys, hills and plains could live peacefully, depicting the ethos of unity in diversity. As the news spreads, various Union ministers along with many politicians, Mumbai film personalities and social activists supported Nahid for her devotion to music.
The National Commission for Protection of Child Rights also took the matter up and directed the administration to ensure her security and help her to perform accordingly. Even exiled Bangladeshi author Taslima Nasreen, herself a victim of religious fanatics in her own country, tweeted her appreciation for Nahid's brave statement to go against the Mullahs and demanded stringent punishment for those clerics, arguing that "they don't believe in human rights, women's rights".
The Mumbai-based Indian Muslims for Secular Democracy came out with a statement applauding Nahid's achievements (including Suhana Sayed from Karnataka), which have thrilled music lovers across religions with her outstanding talent. Twenty-two-year-old Suhana was recently targeted by members of the self-styled Mangalore Muslims for singing Hindu devotional songs in a television show. However, the convener of the IMSD, Javed Anand, reiterated their stand against "any attempt of certain Muslims who, with their blinkered brand of Islam, seek to silence the nightingales of Indian Islam".
The state police quickly took action and deployed two armed personal security guards for Nahid. Earlier, Union minister Maneka Gandhi wrote to Sonowal urging him to ensure adequate protection for Nahid so she could pursue her talent. Meanwhile, various media outlets came out with stronger articles condemning the attitude of the clerics. They criticised the religious leaders for taking up the boycott call against Nahid, citing Sharia laws. Moreover, they emphasised that the secular ethos and composite culture of Assam had nothing to do with egregious diktats on any artiste. Taking advantage of the situation, Assam's separatist militant leader Paresh Barua also joined the chorus. Self-styled head of the banned Ulfa (Independent), Barua strongly condemned the unwanted fatwa against Nahid. Speaking to a city-based media persons from an undisclosed location, he stated that there was no place for religious fanaticism in Assam. Facing the heat, the Assam State Jamiat Ulema tried to clarify that it was not a fatwa against Nahid.
The leaders of Jamiat Ulema rather blamed the media for spreading misinformation. National-level Islamic leader Umer Ilyasi commented that any fatwa could only create controversy, but insisted that the Assam clerics should have talked to Nahid, advising her not to go against Sharia laws. Taking a dig at the clerics' action, the Patriotic People's Front of Assam pointed out that they may not have targeted Nahid but they definitely opposed the cultural show at the venue. The forum claimed that by this notice, the clerics indirectly wanted to stymie any cultural (read anti-Islamic) programme in that field. The PPFA denounced this as a kind of mentality to create an absolute Islamic zone in any locality of Assam. Ghulam Rasool Dehlvi, a prominent scholar of classical Islamic studies, also pointed out that the 46 Ulema of Assam did not issue any Islamic jurisprudential decree (fatwa) on Nahid, but only appealed to her to eschew singing, which, they believe, is against the socio-religious guidelines of Islam.
The clerics also alleged that their appeal was branded in the media as a fatwa. However, Dehlvi raised a pertinent question on the logic of the clerics that the proposed function in the particular college venue (where Afrin was scheduled to perform) would mar the serenity and sanctity of the locality, as if Hojai was Holy Mecca, where the question of holiness may arise. "Therefore, we will need to directly challenge the ideological infringement on our free religious rights that our Constitution confers upon all Indians. The right to profess and practice one's religion with his/her Indian social and cultural ethos, which is the essence of Article 25 of the Indian Constitution, is basically the point to be discussed and safeguarded in the Muslim community in India," he asserted.
Source: thestatesman.com/features/taste-of-islamic-advance-1490601307.html
URL: https://www.newageislam.com/islam-women-feminism/taste-islamic-advance/d/110625