By Mona Eltahawy
17 Jun 2014
The revolutions that began when Tunisians rose up against their long-time dictator Zain El Abedine Ben Ali in 2010 were never about gender, women's rights or misogyny. But unless they become focused on those issues, they will continue to flounder and ultimately fail.
Men and women in several countries took to the streets together to say a resounding 'no' to police brutality, decades of dictatorship and to demand better lives. But after we unseated one dictator after another and protestors went home, did anything change for women who took to the streets in those countries? The same women who defied conservative families and traditions to do so?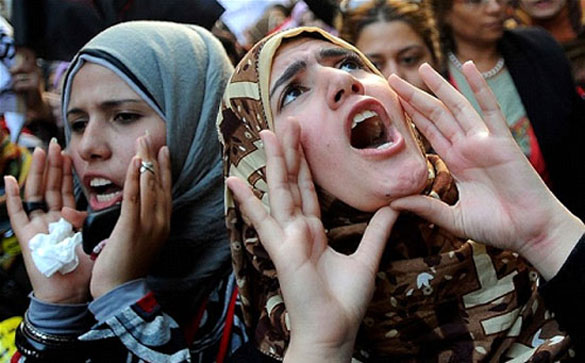 The situation for women has worsened in Egypt since the 2011 revolution, according to a poll of gender experts last year Photo: EPA/MOHAMED OMAR
--------
This is the question that producer Gemma Newby and I asked women in Egypt, Jordan, Libya and Tunisia for a new documentary, The Women of the Arab Spring, the second part of which airs on BBC World Service on Tuesday.
I was especially curious to hear what women in Jordan - the only one of the four countries that did not have a revolution - felt about the uprisings and their aftermath. Lawyer and women's rights activist, Eva Abu Halaweh, poignantly summed up what I have felt since one man after the other was ejected from various presidential palaces.
'Changing Mentalities'
"For me revolution doesn't mean just changing political regimes and political leaders, it's about changing mentalities, which we are not facing now in the Arab world. On the contrary, it's changing mentalities to the worse," Abu Halaweh said.
Misogyny is not exclusive to the Arab world but women of the region do not have the kinds of laws that in other countries can afford justice to women who survive sexual violence, for example.
As Abu Halaweh knows too well, some laws in our region further re-traumatise women. She is executive director for Mizan, a centre that, among other things, advocates for the rights of girls and women who suffer the consequences of Article 308, a law which allows a rapist to escape trial and conviction if he agrees to marry his victim.
In my country, Egypt, since Hosni Mubarak was forced to step down,we have effectively replaced one patriarch with another: first a military junta, then Mohamed Morsi of the Muslim Brotherhood and now Abdel-Fattah el-Sisi, the former head of military intelligence. The Islamists and the military represent the binary of political poles we've been forced to oscillate between for decades. But we must be clear that most Islamists and the military - authoritarian and especially patriarchal – don't care about women's rights.
Where's The Sexual Revolution?
Unless we rise up against 'the Mubarak' in our home and families, ejecting Mubarak from just the presidential palace will achieve little for the wellbeing of women. In other words, unless our political revolutions are accompanied by social and sexual revolutions that take them across the doorstep into our homes, our political revolutions will fail.
Tunisian women told me in the first part of the documentary how important their political involvement in their country's drafting of Tunisia's constitution was. Many Islamist women worked with secular women in their Constituent Assembly to draft the first ever article in an Arab constitution that says men and women are equal. Fattoum Lassoued, who belongs to the Islamist Ennadha Party, said it was vital for her to work with secular women because when women were divided, only men benefited.
Whether that clause will mean more than just words for Tunisian women or not, I envy those words and that constitution - as well as the diverse group of people that composed it.
My country, Egypt, has not done such a good job with our constitution and women could comprise as little as three percent in our upcoming parliament.
Today, Egyptian women and Libyan women, who do not yet have a new constitution and where armed militias endanger their lives, face the very real question: was the revolution worth it?
Mona Eltahawy is an Egyptian writer and activist, campaigning on Arab, Muslim and women's issues in the Middle East. The Women of the Arab Spring, presented by Ms Eltahawy, airs on BBC World Service on Tuesday June 17, at 8pm
Source: http://www.telegraph.co.uk/women/womens-life/10904048/Women-of-Arab-Spring-We-now-need-a-sexual-revolution-not-just-a-political-one.html
URL: https://newageislam.com/islam-women-feminism/women-arab-spring-we-now/d/97688