By Mohammad Abu Bakar Siddique
May 16, 2014
If Bangladesh really wants to move forward, one thing it has to do first is identify the fundamentals it is depriving women of, what they deserve as human beings, or the rights that an egalitarian society would ensure for them.
It is a responsibility that our war of liberation has endowed us with.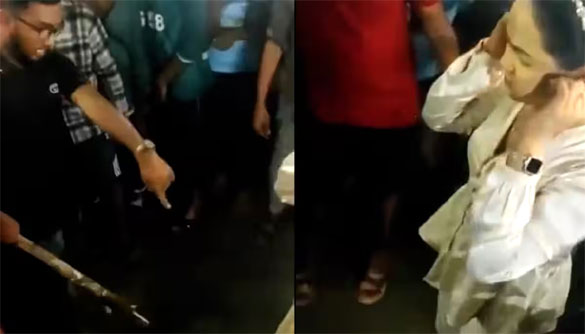 Moreover, no nation can progress by keeping half of its population lagging behind. So the overall development of Bangladesh has emerged as a matter that almost entirely depends on the empowerment of women. We know that women now have access to the part of the labour market that requires a low level of skill, but in the market of skilled labour, women are still being deprived of full access. It is necessary to remove all those hindrances that stand in the way of ensuring equal access for educated or qualified women into the market, to choose their profession according to their skills or qualifications. The state has to take the initiative.
Despite the rate of girls getting access to education being on the rise, women are not visible at the same ratio in the workplace. If the rights of women as individuals are not ensured, they can't be protected from violence, harassment, and humiliation.
We know that several laws have been enacted in the last few years to enhance the security and rights of women, in addition to the discussions and debates regarding whether the laws were adequate or not in terms of what is needed according to context. At the same time, there are criticisms about the proper implementation of existing laws that could make the scenario better than it currently is.
We all know "empowerment" is a matter of economics as well, so ensuring the empowerment and rights of women would necessitate widening opportunities for their participation in the economy, which is not entirely about enhancing education and making new laws, but also eradicating barriers, both social and cultural, on our quest for the emancipation of women. The current socioeconomic, political, and cultural situation is stacked against the empowerment of women.
Why is it that women can't move freely without fear in this country? Women are the ones who are affected the most by all disasters, terrorism, and crimes that prevail in Bangladesh. We watch as the world around us strives for a more equal society, eradicating gender discrimination and marginalisation, but a society such as ours has quite a ways to go. We haven't been able to move forward like many other societies which have already transformed their settings to show strong commitment and possibilities towards equality in terms of rights, fundamentals, etc.
We have educational institutes where girls show an increasing rate of enrolment, and economic activities where they are participating in growing numbers, but how easy is it for them to move and walk in the streets? To make use of public transport? Can they get back home without fear? How protected are they from domestic violence, street bullies, organised repression? What remedies does the state offer them? What consolation have they been given for the humiliations they experience?
We need answers to all such questions, because they are all inextricably related to the well-being of women, our society, and our emancipation as a collective.
Bangladesh is no longer a territory disconnected from the world, at least in the current globalised scenario. Bangladesh can't walk alone, it has to comply. The private sector is expanding in the country, the government must remove the existing obstacles for women to enter the market, and at the same time the opportunities in the public sectors should be increased.
We know the character of the state is a mere reflection of what people think, so the first thing towards changing the scenario would be to change old beliefs, breaking down the chain of old thoughts, and ideas that drag us behind. We have to fight together to bring an end to the exploitation of women, because a society that makes a difference through an excuse to exploit or discriminate is a disgraceful one. A free society cannot be built by keeping its women chained.
Despite the progress of the world, Bangladesh remains one of the many societies where women, irrespective of class, remain the victims of this level of exploitation. The marginalisation of women has to be dealt with and they must be given equal footing in job markets, a precondition to building a just society. That would be a society of equal rights that we envisioned through our bloodstained struggle for liberation.
Source: http://www.dhakatribune.com/op-ed/2014/may/15/still-lagging-behind#sthash.LDoEwcfs.dpuf
URL: https://www.newageislam.com/islam,-women-and-feminism/mohammad-abu-bakar-siddique/bangladesh-still-lagging-behind-the-rights-that-an-egalitarian-society-would-ensure-for-women/d/87105