By Mahwash Ajaz
06 February 2016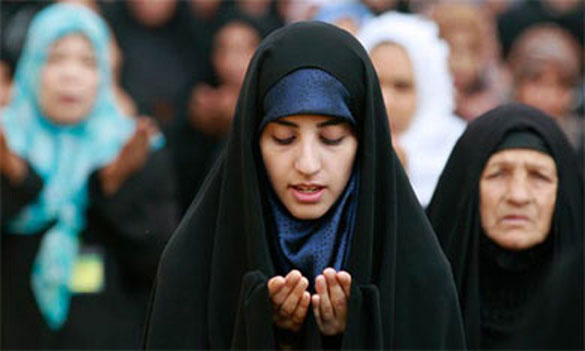 -AP File
-------
When my mother first announced that we would be going to the mosque for Taraweeh, I was scandalised, to say the least. I must have been around 12 or 13 years old. It was Ramazan and there was a flurry of activity in the house right after Iftar.
Her head covered in a black Chadar, my mother quickly scooped up some Pakoras.
"Where are we going?" I asked.
"Pack your things quickly. Do you want to take your book along?
"But where are we going?" I whined.
"To the mosque," she replied. "For Taraweeh."
I did a double take. To the mosque? For Taraweeh?
I glanced outside the window of my room where my aunts were laying out their prayer-mats for Taraweeh.
"But all the women are offering them at home. Why are we going to the mosque?" I demanded to know.
"Because prayers offered in mosques are better; it reaps more Sawab. All my friends will be there as well. Let's go."
I grumbled. What a flaky yet rebellious thing to do. But as I packed my favourite books and helped my younger brother get ready, I realised there was something to look forward to. My mother was packing her famous Aloo Pakoras, and she assured she would give them to us between breaks.
We went to a large mosque near our house. I saw many women, a lot of them my mother's friends, flock together as the calls for prayers rang. The ceiling fans spun diligently as worshippers offered the hour-long prayers.
My brother and I chased each other when we could. When he wasn't running around, I gave him some of my books to play with. Later, we settled down to eat Pakoras.
This wasn't so bad, I thought to myself. Why don't my aunts do this instead of being stuck at home? I wondered.
The surroundings were better than home as there were lesser distractions. The imam's lead too was much better for the Taraweeh as it kept one focused, I observed.
As a matter of fact, places of worship offer peace, quiet and sanctum. Literally and metaphorically. Yet, women are often kept away from these. They are denied the right to access — sometimes by clergies, sometimes by social norms.
I often wonder that if a woman can walk into the Ka'aba alone, if we can see women present in the house of God Himself, if she can sit before Him and ask for what she wants, what right does anyone have to stop her from reaching out to her beliefs?
Truth be told, it is more common for men to forbid women to do things than anything else. More common than biology, chemistry, physics or any other 'scientific' reason — that is often cited by misogynists — to justify barring women from doing anything that they deem inappropriate.
Recently, authorities in India's southern state of Kerala stood by their tradition of banning women from entering the temple of Sabarimala Ayyappa.
The authorities and temple officials state that women of menstruating age (between 10 and 50) cannot be allowed in the temple.
Social media then saw the hashtag "#HappyToBleed" after the temple head claimed that he would consider allowing women to enter if there was a machine to check if a woman was menstruating or not.
Last year in December, a Muslim women's right group was struggling to allow women entry into the Haji Ali Dargah shrine. It is appalling to note that women have been denied entry in to the shrine since 2011 because the trust feels that female proximity to the tomb of a revered saint is somehow "a grievous sin".
After a battle lasting for more than a century, Israel has approved a deal that will facilitate the creation of a separate area for mixed gender praying that will be registered in the country's Law of Holy Sites.
Why did it take them so long to do this? For a religion that is over two thousand years old, their first female rabbi was ordained in 1935.
Pope Francis — a relatively stronger proponent of wanting women to come forward and participate in Catholicism — has refused the idea of admitting women in the ranks of the clergy.
Several years ago, when a Muslim woman led prayers in Toronto, she received death threats.
Hindu women are also told they are ineligible to become priests because of menstruation, even though activists argue that such a law is not only unconstitutional but that Hindu scriptures also do not ban women from becoming priests.
It is indeed peculiar. Women are as human as are men. But according to certain custodians of faith, they are unequal and impure, just because they menstruate.
In this day and age, when the basic biological processes are not difficult for any literate human being to understand, it is odd that menstruation — a natural process — completely unrelated to the way a woman feels about God, is a reason for her to be considered filthy or to be denied entry into a place of worship.
Though it is stating the obvious, perhaps the lesson must be hammered in again and again to everyone: Women are not children of a lesser god.
Just like our male counterparts, we deserve the right to freedom, justice, worship and to lead.
We deserve to be in a space where we feel we are closer to our spiritual selves; nobody should be restricting that space for us.
Source: dawn.com/news/1237174/its-her-god-too
URL: https://www.newageislam.com/islam,-women-and-feminism/mahwash-ajaz/it-s-her-god-too--women-are-not-children-of-a-lesser-god/d/106254