By Mackenzie Mott
August 21, 2013
In a historic step toward promoting women's political and social rights, King Abdullah of Saudi Arabia appointed 30 women to the Saudi Shura Council on January 11. The Shura Council is a formal advisory body composed of 150 members that proposes laws to King Abdullah. These new council members, who currently constitute about 20 percent of the Shura Council, are university graduates, human rights activists, accomplished professionals and two princesses. Activists have spent decades fighting for women's rights in Saudi Arabia, and King Abdullah's decision to appoint these women to the Shura Council marks an important shift in this respect. The addition of women to the council offers a great advantage not only for these new female council members, but also to Saudi society in general as these women bring a unique perspective to many issues facing Saudi citizens.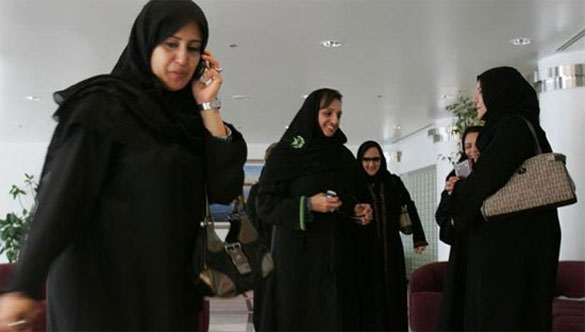 A royal decree introduced a 20 percent quota for women in Saudi Arabia's 150-member Shura Council. Credit: Al Arabiya
--------
Since coming to power in 2005, King Abdullah has made a series of substantive reforms to improve the status of women in the kingdom. In fact, King Abdullah's appointment of women to the council has received support from Saudi elites and Saudi society in general. According to a recent poll of about 2,000 men and women, 73.5 percent of women and 69.9 percent of men favored the addition of women to the council. Most of the appointed women are successful in their own domains, having advanced degrees in areas such as medicine, science and education. Many of the women are also humanitarians and participate in a variety of charity organizations. Despite the fact that no women have been named to head any committees, three were made deputy chairs: Thuraya Obeid, Ph.D., deputy chair of the Shura Council Human Rights and Petitions Committee; Lubna Al-Ansari, M.D., deputy chair of the Health and Environment Committee; and Zainab Abu Taleb, M.D., deputy chair of the Information and Cultural Committee.
The councilwomen's ambitious agendas have brought a new perspective to the Shura Council. Female members are now bringing topics that were overlooked in the past — such as health care, underage marriage, and human rights for women and children — to the attention of the council. Their agendas also reflect issues Saudi women face in their daily lives. For example, councilwoman Al-Ansari, a family physician, is planning to focus on health care. Aside from these specific topics, the main areas of focus include establishing women's right to drive, passing a uniform law for obtaining real estate loans and preventing the underemployment of women.
Women on the Shura Council have already begun voting on laws that reflect their desire to improve women's rights in Saudi Arabia. The June 18 session marked their first concrete achievement: The council approved a law permitting women to apply for real estate loans, a right previously reserved for men. This law, initiated by three female council members, permits women to apply for loans regardless of their marital status. The proposal was passed by 76 of the 150 members.
In addition to promoting women's rights on the societal level, Saudi councilwomen also strive to improve the status of women on the legal and political level. As previously mentioned, the female members have proposed several laws that would allow women to drive and improve employment conditions; for instance, on March 19, a petition signed by 3,000 Saudi citizens and campaigned by the Shura Council Human Rights and Petitions Committee demanded a discussion on the issue of women driving. Although the Shura Council has not yet debated this issue, the proposed law would increase Saudi women's freedom by allowing them to travel freely and commute to jobs independently. More recently, the councilwomen are working to improve women's employment conditions by promoting "Saudisation," which means reducing foreign labor and creating more job opportunities for all Saudis, including women. Furthermore, the councilwomen are pushing to revise some Saudi laws, including the male guardianship law, which states that all women must have a legal male guardian to participate in different aspects of public life.
Despite their great accomplishments and ambitious agendas, female Shura Council members continue to face many challenges and criticisms. There is a strong opposition from conservative clerics who call for stricter physical separation from men during the council sessions, and many Saudi citizens continue to be skeptical about the women's role in the council. The councilwomen have been labeled as un-Islamic and continue to be seen as minority figures in the Shura Council. Furthermore, many people have raised the concern that appointing women to the council will undermine the modesty of women and Saudi society. In an attempt to silence some of this opposition, King Abdullah decreed the segregation of councilwomen and men, with separate seats and entrances in the assembly hall. Making the councilwomen's jobs even more challenging, King Abdullah also stated that women "must not pass laws that violate the Shari'a, such as [laws allowing] women to wear makeup, uncover their faces or mix with men."
Although the addition of women to the Saudi Shura Council is a remarkable leap forward in Saudi women's fight for equal rights, women still have much to overcome before achieving full and equal citizenship. Women in Saudi Arabia still do not have the same rights and privileges as their male counterparts: The same women participating as equals in the council are unable to drive cars or travel without permission from their male guardians. Despite the fact that King Abdullah has granted women the right to vote in the 2015 municipal elections, there is still more to be done, both on the societal and political level. These councilwomen have been given an incredible opportunity to improve the lives of Saudi women, and they are embracing their duty to deliver this goal and to carve a brighter future for women throughout the region.
Mackenzie Mott, a junior at St. John's School, worked as a summer research intern for the Women and Human Rights in the Middle East Program at the Baker Institute. She plans to major in international relations.
Source: http://blog.chron.com/bakerblog/2013/08/in-saudi-arabia-social-and-political-progress-for-women/
URL: https://newageislam.com/islam-women-feminism/in-saudi-arabia,-social-political/d/13179