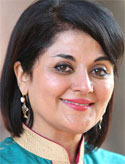 By Kishwar Desai
Sep 08, 2014
While those in India are grappling with the idea of "love jihad", in the UK the popular press is now obsessed with Jihadi brides. These are young "radicalised" British Muslim girls who have actually gone to Syria to marry men from the Islamic State of Iraq and Syria, and are obsessed with martyrdom.
This growing trend is now being researched at King's College London at the International Centre for the Study of Radicalisation. Out of 200 women who are suspected ISIS recruits, around 21 are being specifically tracked. Some of these young girls are from middle-class British Muslim families. Their parents are devastated, unable to understand why their daughters have chosen this path.
One Jihadi bride, Aqsa Mahmood, a privately educated radiography student, has even blogged about her experiences. Through "Diary of a Muharijah" she gives tips to those keen on following her footsteps. While other "brides" have said they look forward to meeting their families in "heaven", Ms Mahmood is far more pragmatic with her advice, saying all future brides should "bring make up and jewellery from the West" as otherwise they will look like clowns. This could sound like another episode of Desperate Housewives, if it were not so tragic.
It is true that these issues often politicised by the Right-wing press as anti-Muslim fodder, but at the same time, if these young women think they are going into a holy war (armed with make up!) they are also victims of a very powerful, global propaganda machine. Perhaps, the real battleground for this war is the Internet. And that's where the UK government must win over young men and women before they fall prey to unscrupulous elements, who are only using them for their own political ends.
For most of us a birthday is something to be celebrated only if those around remember about it! But life for a Royal is completely different! People not only remember the occasion but reams are written (in advance!) to commemorate the event. And so, as our beloved Prince Harry turns 30, the most notable fact about him is that he is now probably the most eligible bachelor on the planet. (George Clooney used to hold that position... but alas no more!)
Apart from the gorgeous Chelsy Davy and the equally pretty Cressida Bonas, it is being revealed that unlike his older brother, Prince Harry has had many flings and crushes, and will no doubt continue to do so till he finds his true love. Despite all his wild ways, the British press usually forgives him all trespasses, often referring to his mother's early death, and the pain of growing up in a completely dysfunctional family.
Of course, they have hounded him and his girlfriends, even allegedly once putting an electronic tracker onto Ms Devy to get some juicy stories. Both former girlfriends, Ms Devy and Ms Bonas, have wilted in the face of the concerted media presence and the lack of privacy. Perhaps, they should learn from the Duchess of Cambridge on how to withstand media glare and vicious comments in the tabloids. But then, it is their wild side that appealed to the junior Prince, and it is Prince William who prefers his partner to be quiet and reserved. And so will Harry, finally, ever settle down? Going by his record, all bets are off.
And now the really important countdown has begun! Next week, on September 18, a referendum will decide whether Scotland remains in the UK. The question being asked is straightforward: should Scotland be an independent country? (Just think of the outrage and anger on Indian TV channels when anyone has ever suggested a referendum in Kashmir. Somehow in India we feel that granting independence to a state, even if people want it, is terrible. And asking the question makes one a traitor of sorts...) But here we go! Britain is a small country and the chances are that it might get smaller still. But the fact is that in true democracy, it is the people's wish that is paramount.
Of course, it has not been an easy process and both sides are working hard to get their point across. It certainly will not look good for the British Prime Minister, David Cameron, if England is abandoned by Scotland. Many arguments against Scottish independence are being put forward by Labour Party politicians, too, including the former Prime Minister Gordon Brown. But the really sad part is that the resulting tension has led some British residents of Scotland to start feeling unwanted. Divorces and partitions are never simple, are they?
And now that Australia has set a precedent by returning two looted sculptures back to India, can we hope that the British government will also be encouraged to return some Indian loot as well? For example, there is a small pending matter of the Kohinoor. Can someone file an FIR please?
Kishwar Desai is an award-winning author
Source: http://www.asianage.com/columnists/curious-case-jihadi-brides-905
URL: http://www.newageislam.com/islam,-women-and-feminism/kishwar-desai/curious-case-of-jihadi-brides/d/98983