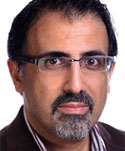 By Joe Khalil
20 April 2014
Earlier this month, I was invited to present at the research forum of the Broadcast Educators Association (BEA) in Las Vegas. This was an opportunity to meet a number of colleagues and discuss the future of media. Of course, there was the usual interest in Arab media's role in the current political, economic and social turmoil, but there was also a recurring theme regarding gender equality in Arab media.
Interestingly, International Women's Day 2014, which was just a few weeks earlier on March 8, positions equality for women as a driver of progress for all societies.
There is no shortage of discussion of the transformative political, economic and technological forces in Arab media today, but far less discussion about how women are faring in the media game. Naomi Sakr, Dina Matar, Dima Dabbous, Amal al Maliki and others offer some highly recommended academic writing on the topic.
Here, my interest is not restricted to gender equity--a universal problem facing women in media and other sectors--but in various ways in which women are escaping the normative, prescriptive media fare to provide alternative narratives. On my return flight from Las Vegas to London, I managed to create a non-scientific inventory of the status of women on Arab television.
Women in Arab media
For a start, I do not think framing the issue of gender equality in strictly quantitative terms is useful for any meaningful discussion. In news and entertainment, there are many women on the payroll. But where are they? What and how are they doing? I look around and see them as anchors and reporters, they manage teams, and "call the shots."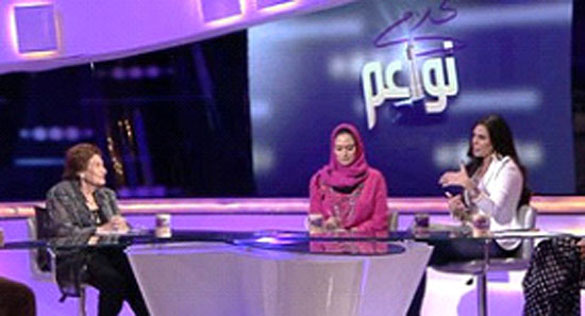 Presenters of MBC's Kalam Nawaem
----------
Yes, they are present on some visible levels across news and entertainment. They are doing "the serious stuff," and gone are the days when women were pigeonholed into being the newsreader, the weathergirl or the hosts of fashion and talk shows. Or are they?
Looking at the issue from a numbers perspective masks the structural challenges to equality. I am incredibly proud of the fact that shows like MBC's Kalam Nawaem, on the air since 2012 and al Hurra's Hunna have broken new ground in topics and treatment.
One can even consider the establishment of Heya or the Arab Women Channel in 2004 as perhaps offering a unique space for women. But for all their advantages, these platforms are still most often produced and directed by men for women with some female involvement.
In my opinion, what is still largely absent is Arab media's conscious engagement with women as active audiences rather than as target consumers.
Addressing a Dynamic Women Audience
Thinking about women as young, old, "girlie girl," "fashionistas," "brides-to-be," conservatives, or liberals allows the, to be packaged for advertisers. These often unsophisticated attempts to lump women together result in a cult of celebrity culture and their associated product use, fashion sense, "happening" spots, diet fads, advocacy themes, or practices.
Instead of engaging with women on their own terms, television programs include an advertising-sponsored mix of chatter, demonstrations, infomercials and "reality" television that speaks to the normative roles of women while excluding, for example, an increasing majority of female students and professionals.
Thinking about women as an engaged audience should lead media producers to develop programs that act as platforms for speaking about and for the equality of women, promoting their political empowerment and ensuring their full participation in the social advancement and economic prosperity of their countries.
But this cannot be done without women themselves fighting for, and seizing, opportunities to carve these spaces.
Unfortunately, the fact remains that big decisions about what audiences will consume are made primarily by men and women who often fail to see gender equality as a responsibility and a target. This has paved the way for some women to look at other platforms for addressing their peers.
Alternative Media
Since the start of the "uprisings," Arab women have started to escape the narrow and often limiting television discourse. They have reconnected with a long lineage of women who used alternative forms of media--from poetry to fiction--to offer a new vision of society. Three examples come to mind and I am sure there are many more.
The massive Facebook and Twitter campaign under the banner of Arab Women's Intifada was launched in 2012. Using a photo campaign to demonstrate solidarity around the issues of "rights and freedoms," the campaign managed to garner support from both women and men from the region.
Four female activists from Lebanon, Palestine and Egypt started the campaign and capitalized on the sense of yearning for inter-youth solidarity around the so-called Arab Spring.
Although not related, my next two examples share the same title: Noon el Nesswa. In Egypt, Noon el Nesswa is a collective of artists and activists who use graffiti as a consciousness-raising tool. Their simple stencils of iconic Egyptian women have been coupled with quotes or slogans demanding equality.
In Saudi Arabia, Noon el Nesswa is a satirical show published on YouTube. Representing the voice of everyday Saudi women, the show equally criticizes men's and women's behaviours in an insightful, poignant, yet humorous manner. Whether in Egypt or Saudi Arabia, the feminine suffix is intended to present alternatives often obscured from mainstream media.
To many of my former colleagues in the media industry, the issue of engaging women as active audiences is a complicated one. For me, the concept is simple: advocating for gender equality is not only a moral responsibility; it is also an economic necessity, as the millennial audience wants to speak, not merely be spoken to.
Joe F. Khalil, Ph.D., is an associate professor in residence at Northwestern University and visiting research fellow at the London School of Economics. He has more than fifteen years of professional television experience as director, executive producer and consultant with major Arab satellite channels. He is the author of Arab Satellite Entertainment Television: Opportunities for Public Diplomacy (2009) and co-author of Arab Television Industries (2010).
Source; http://english.alarabiya.net/en/views/news/middle-east/2014/04/20/Arab-women-in-media-why-alternatives-matter.html
URL: https://www.newageislam.com/islam,-women-and-feminism/joe-khalil/arab-women-in-media-–-are-we-engaging-or-targeting-them?/d/76648