By Javed Aziz Khan
April 08, 2014
Pakistan's female politicians are playing an important role in the affairs of their parties and parliament, and are helping the country serve as an example not just to Muslim countries but to the rest of the world.
"Female lawmakers and politicians have played an important role in political and parliamentary affairs over the last few decades," Pakistan Muslim League-Nawaz (PML-N) leader Maryam Javed Gandapur told Central Asia Online.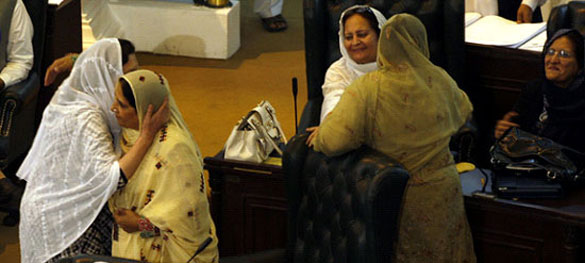 Female lawmakers in the Khyber Pakhtunkhwa Assembly in Peshawar greet each other after last May's election. Woman lawmakers are playing a key role in the province and in the rest of Pakistan. [Javed Khan]
---------
Pakistan had the Muslim world's first-ever female head of government, Benazir Bhutto, and its first-ever parliamentary speaker, Dr. Fahmida Mirza.
Even before Bhutto, Fatima Jinnah, the younger sister of the nation's founder, Mohammad Ali Jinnah, played a significant role in the history of the 1950s and 1960s.
"Female lawmakers and politicians have played an important role in political and parliamentary affairs over the last few decades," Gandapur told Central Asia Online. "Since Benazir Bhutto, a large number of women have stepped up to carry the flag of independence and of the fight for women's rights."
Female Politicians Today
Today, women actively participate in politics from Quetta and Karachi to Peshawar and Chitral. Hina Rabbani Khar served as foreign minister from 2011-2013, and a number of other female lawmakers sit in the federal and provincial cabinets.
The Awami National Party (ANP) has the most seasoned female politician active today, Begum Nasim Wali Khan. She has played a key role in politics since the 1970s, when her spouse Abdul Wali Khan was in prison.
Religious Groups Also Have Active Female Leaders.
The daughter of former Jamat-e-Islami chief Qazi Hussain Ahmad, Samia Raheel Qazi, and the family members of Maulana Fazl-ur-Rehman are involved in politics and parliament. And the youngest female lawmaker, Pakistan Tehreek-e-Insaf's 26-year-old Ayesha Gulali, comes from the Pashtun belt, an area considered conservative.
Women: An Influential Force
Women have presented many gender equality bills, Gandapur said.
And they have been very effective in their role as parliamentarians despite hurdles and limited space within their own parties, former lawmaker and senior female nationalist leader Bushra Gohar said.
"It has been recorded that women have performed better than their male colleagues," Bushra, leader of the ANP's women's wing, said, adding that women have worked diligently on and raised critical matters concerning the public interest, brought up important legislation, defended party policies and positions and maintained quorums in the assemblies where they served.
Pakistani improvement depends on both genders, some said, however.
"Not only the female lawmakers but the male members of the national and provincial assemblies and Senate of Pakistan need to play a more important role in bringing the country out of crisis," Musarrat Ahmedzeb, a parliamentarian from Swat, told Central Asia Online.
Increasing Women's Representation
Women gained political strength in the 2002 general elections when the law mandated that the National Assembly reserve 60 of its 342 seats for women.
Though many observers endorse the idea of setting aside seats, some would like to reform the system for assigning such seats.
The parties are allowed to seat a certain number of female MPs who do not have to stand in elections. Those women lack the benefits of the grass-roots interaction experienced by women who do win elections, Lahore writer, columnist and university teacher Yasmin Ali told Central Asia Online.
"My own view is that [all] women occupying reserved seats should win elections for them," Bushra said.
Unless that happens, some observers question the true extent of female political power.
"Women's participation in politics bears the hard irony of significant participation combined with negligible say in [political matters]," Sumeera Ali, a Lahore-based journalist, said. "We see shiny faces with political backgrounds but with less participation in the corridors of power."
Source: http://centralasiaonline.com/en_GB/articles/caii/features/pakistan/main/2014/04/08/feature-01
URL: https://newageislam.com/islam-women-feminism/women-play-vital-role-pakistani/d/66496