By James Estrin
May 12, 2016
Tasneem Alsultan was browsing in a Dubai bookstore a few years ago when she found "She Who Tells a Story," a collection of photo essays by members of Rawiya, a collective of Arab women. Ms. Alsultan then had a thriving wedding photography business in Saudi Arabia and the Gulf States, but she had no idea what possibilities awaited beyond that. As she paged through the volume, however, Ms. Alsultan saw clearly a new path — to tell dignified stories of Arab women.
"Rawiya planted the seed that I could do more," she said. "They were strong women from the Middle East who each had a very different artistic method of telling their stories."
Today, Ms. Alsultan is a documentary photographer working on assignment for National Geographic and Vogue Italia. And this month she became the latest member of Rawiya, which in Arabic means "she who tells a story." The work of the collective's members — Myriam Abdelaziz, Tamara Abdul Hadi, Laura Boushnak and Tanya Habjouqa — is on exhibit at Open Source Gallery in Brooklyn.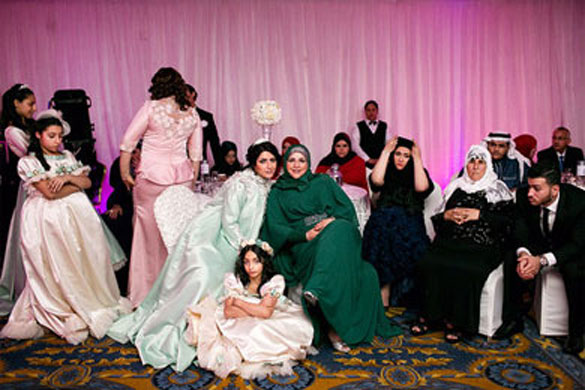 A Saudi wedding in Bahrain, with the bride's parents from Palestine. 2014.Credit Tasneem Alsultan
----------
Rawiya was founded in 2009 to support female Middle Eastern photographers and to challenge the visual representation of Arab women, who Ms. Abdelaziz said had long been portrayed by Western photographers as weak or oppressed.
"The vision that the West has about Arab women is wrong," she said. "Arab women are particularly strong and resourceful women, and they often rule the home. And since the Arab Spring they have become a major economic force in Egypt, where I often work."
Rawiya's members work on stories that photographers spending only a month or two in the Middle East might miss. Many of those "hidden stories" concern social issues facing Arab women that the collective's photographers approach with greater insight and context. As Arab women, Ms. Habjouqa said, they have advantages in telling these stories.
"From a practical perspective," Ms. Habjouqa said, "we're seen as less threatening, and it is much easier to get access to many places."
While photojournalism in the Middle East is "still a boys' club," she said that there were many female documentary photographers experimenting with new and different narrative strategies.
Ms. Habjouqa was born in Jordan and raised in part in Texas. She lives in East Jerusalem with her husband, a Palestinian lawyer with Israeli citizenship, and their two children. Her project "Occupied Pleasures" about Palestinian life in the West Bank and Gaza was featured on Lens in 2013.
Ms. Abdul Hadi was born to Iraqi parents in the United Arab Emirates, raised in Montreal and now lives in Beirut Her semi-nude photographs of Arab men are a "celebration of their sensual beauty" and an attempt to "break the stereotypes placed upon the Arab male."
Ms. Boushnak is a Kuwaiti-born Palestinian photographer whose documentary project "I Read I Write," on women, literacy and education reform in the Arab world, was also published on Lens.
Ms. Abdelaziz was born in Cairo, raised mostly in Switzerland and France, and is based in New York. Her project "Menya's Kids" documents harsh child labour conditions at an Egyptian limestone quarry.
Ms. Alsultan is a divorced mother of two daughters who lives in the eastern province of Saudi Arabia. She was mentored by Ms. Habjouqa as part of a workshop last year by the Arab Fund for Arts and Culture sponsored by the Magnum Foundation and the Prince Claus Fund. Under Ms. Habjouqa's guidance, Ms. Alsultan worked on a project about Saudi women who are divorced, widowed or single by choice.
Divorce is a difficult subject in Saudi Arabia, where women who are unmarried are often stigmatized, Ms. Alsultan said. Divorced women, like herself, she said, are often thought of "as used goods." Although they face real problems, her subjects are, for the most part, finding ways to succeed professionally and personally.
"We have obstacles but we are overcoming them," she said. "Most photographers just show Arab women as objects of pity. You can be my friend — but I don't like that pity look."
Source: lens.blogs.nytimes.com/2016/05/12/rawiya-the-hidden-stories-of-arab-women/
URL: https://newageislam.com/islam-women-feminism/the-hidden-stories-arab-women/d/107295