By Fatima Majeed
July 14, 2015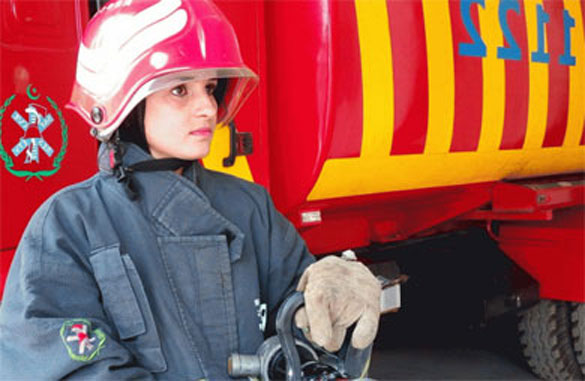 "I was told during the training that I would become the first lady fire-fighter of Asia, which made me extremely jubilant and it was like my dream had come true," narrates Perveen. PHOTO: VEHARI SUJAG
------------
Her eyes were ablaze with determination and professionalism while she was all set to perform her heroic duties. The picture, in true sense of the words, spoke a thousand words. Shazia Perveen is the first female fire fighter of Pakistan and her unique choice of profession is going to change things for the women of Pakistan for better and for good.
"The mighty girl" is inspirational and symbolic in many ways and a silver lining of hope in the grim situation. This unusual choice of occupation would help in pushing predefined cultural boundaries for women and help them enter into a new realm of conversation.
Women can only be heard and bring about the real change if they become part of the professions where the decisions are made and actual action occurs. When I was young, only two professions were considered "respectable" and appropriate for girls, i.e. teaching and becoming a doctor. Those who couldn't find these two occupations interesting enough were deemed incapable of any competence, thus easily dispatched to household responsibilities.
There were neatly organised sections of society where one gender cannot easily wander off into the section reserved for the other. The society started accommodating and understanding the fluidity of roles when we started seeing brave women like Shazia at unexpected places. Back then, a woman driving a car was quiet a feast for the eyes of every passer-by but when we kept seeing more and more women drivers, the society finally became accepting and tolerant towards them and now has come the time when we could let a woman driver pass by without gawking at her.
The real change started during the Pervez Musharraf era, when the Pakistani Army started taking women in areas other than medical. A specific number of seats were reserved for women in every department which made the influx of women into the work force easy and possible. It was the time when we started encountering women at banks, call centres, the police departments and other 'real' working places. This change worked wonders for the Pakistani women and helped them in becoming financially independent and socially aware.
With the appearance of women in the public sector, we became used to their existence and contribution beyond the Chaar Dewari (the four walls). They became a part of the social narrative. Now they could tell their own story and work towards a better future.
When I was reading the news piece about Shazia, something she said struck a chord within me. She said,
"It is believed that women are only able to start fires, whereas I have disproved this old adage and now I extinguish fires."
Women here are always viewed as the trouble makers. They are the petty and idle creature always busy in some nuisance. It is a great relief to witness Shazia single handily recreating the image of women in Pakistan from weak, dependent and constantly bickering creatures to a saviour with a cape.
Pakistani dramas should also seek some inspiration from such brave ladies and create stories about them. Pakistani women are not crying and wailing and running after men with marriage as sole purpose of their life, rather they are taking an initiative and carving their own place in society.
Another important aspect of Shazia's story is that women can perform physically taxing jobs as good as men.
"Amongst the 600 people there, I was the only woman who completed the training." she said triumphantly.
It is incredible for women to start believing in their own physical strength. They don't have to sit and wait for their saviour; they can be their own saviours. Shazia is setting an unprecedented example for women. She is working in a highly male-dominated field and proving herself to be equally physically able and is earning praises in return.
We don't train our daughters to be physically strong. We always appreciate their fragility and vulnerability and if someone is going against our static notion then we conveniently term her as a tom boy or Mahhi Munda. It is high time to make our daughters physically strong and agile. This is the message that Shazia is sending and very soon we will see many brave women following her suite.
Source: http://blogs.tribune.com.pk/story/28577/women-like-shazia-perveen-dont-wait-for-a-saviour-they-are-their-own-saviour/
URL: https://www.newageislam.com/islam,-women-and-feminism/fatima-majeed/women-like-shazia-perveendon't-wait-for-a-saviour,-they-are-their-own-saviour/d/103906