By Farooq Sulehria
September 18, 2014
Sweden went to elections on September 14 to elect the future government, which would be in power for the next four years. An informal Red Green coalition gained majority (43.7 percent) against the rival right-wing 'Alliance' (39.3 percent).
The Red Green Alliance consists of Social Democrats, Left Party, and Greens. In contrast, the right-wing 'Alliance', consisting of Moderates (Conservatives), Liberals, Centre Party, and Christian Democrats, was a formal block. It won the last two elections.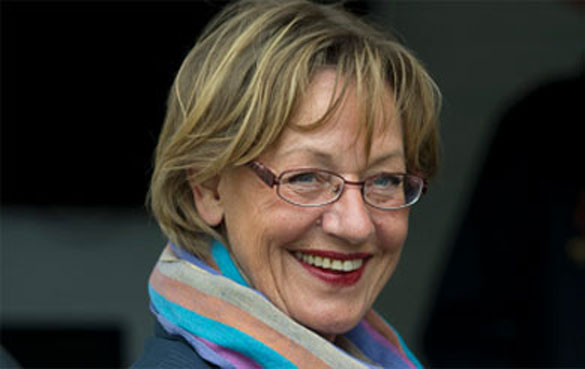 F!'s Gudrun Schyman
-------
The much-talked about Feminist Initiative (F!) received 3.2 percent votes, just short of the 4 percent threshold to enter Riksdag (parliament). A few months ago, F! was able to bag 5 percent votes for the European Parliament (consequently, one MEP).
Founded in 2005, F!'s public face has been Gudrun Schyman who was earlier chairperson of the Left Party. Described by a British paper as the 'Dancing Queen' for her participation in the Swedish version of the internationally popular TV show, Let's Dance, Gudrun Schyman is not the only popular face available to F! In the recent elections, for instance, Benny Anderson, member of former legendary Swedish band, ABBA, endorsed F! by generously donating a huge sum for F!'s election campaign.
Sweden can be proud of an enviable gender equality compared to any other country even in the west. Therefore, the emergence of F! surprises even western commentators. However, the emergence of F! was possible only because Swedish women have won many rights.
And not only do they need to defend them, a feminisation of politics is important also to fight the discrimination and injustices women still face. Considered a leftwing formation, F! has helped feminise the Swedish politics. For instance, during the recently concluded canvassing, F!'s relative rise has highlighted the position of women in the structures of various political parties.
Or, for instance, perhaps as a back-handed compliment, but to the amusement of many, the Liberals' widely propagated election slogan was: Socialism utan feminism (Socialism without feminism).
Personally, I am not a big fan of F! since it reduces every problem to gender and skips the class question. F! also generated lot of enthusiasm because, to its credit, it was viewed by certain circles as a party to block the Swedish Democrats' entry into Riksdag.
In the previous elections, the neo-fascist Swedish Democrats received 5 percent, just enough to sneak into Riksdag. Perhaps some voted F! in the hope of edging out the SD which was struggling in the pre-election opinion polls. Also, for the last few months, the left was able to mobilise huge anti-fascist manifestations.
However, bagging 12.9 percent, the SD emerged as the third largest party. The SD's huge vote has already unsettled the Swedish politics. Social Democratic leader and future prime minister, Stefan Lofven, has ditched the Left Party to form a government in alliance with right-wing parties. Islamophobic and anti-immigrant, the SD will now be able to influence an enviable Swedish immigration policy.
Only a day before the polling, my Swedish friend Marco Espval had proudly claimed in his Facebook post that his neighbourhood, Sodertalje, has received more Iraqis post-2003, than the US or Canada.
Sweden generously opened its borders for the Syrian immigrants as well after the break out of civil war. A Syrian landing in Sweden is granted permanent Swedish residence on arrival.
Most importantly, a 'left-right' coalition, in a position of invoking a fascist scare, will be more useful in dismantling the welfare system rather than reviving it. Pity, in a country where the working classes were able to win reforms unheard of elsewhere, what Marx called 'old crap' is coming back with a social-democratic blessing. Meantime, as if to compliment neo-fascists, Hizbut-Tahrir leafleted Rinkeby, a Stockholm suburb ghettoised by Muslim immigrants, asking for the boycott of the election!
Farooq Sulehria is a freelance contributor.
Source: http://www.thenews.com.pk/Todays-News-9-273487-The-Swedish-upset
URL: https://www.newageislam.com/islam,-women-and-feminism/farooq-sulehria/the-swedish-upset/d/99129