By Farooq Sulehria
18 December 2014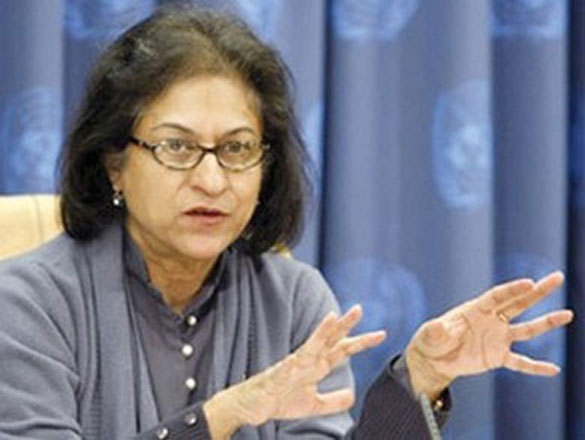 'I am optimistic about women's situation in Pakistan,' says Asma Jahangir. She was recently visiting Stockholm to receive the Rights Livelihood Award, also known as the 'Alternative Nobel', conferred on her on December1st.
Pakistani women, she thinks, have made considerable gains since the 1990s. 'The so-called honour-killings, for instance, did not matter as a social problem twenty years ago. Today, even mullahs condemn this practice', she says.
Referring to the 1980s when under the military dictatorship of Gen Zia an Islamisation process was initiated, in particularly targeting women and religious minorities, Asma points out, 'Women had disappeared from public life. Not anymore. There presence is felt in every walk of life, including parliament'.
In Pakistan, when Benazir Bhutto staked her claim to the country's highest political office, the prime ministerial slot, the clergy were furious. A formal fatwa was issued that a woman cannot head a Muslim nation.
Asma, with a grin points out: 'Women are not sitting silent in parliament. Every evening on the TV screens, they are articulating the policies of their respective parties'.
'In fact,' her lips parts in a smile, 'it is a common observation that in many cases women are achievers in families while men are not'.
Incidentally, not merely she is the first Pakistani to receive the 'Alternative Nobel', this year's Nobel has been awarded to a fellow Pakistani.
Asked if Western appreciation and help, especially when lent by the metropolitan states, proves counter-productive?
'No, not always. It depends on the context,' she replies. 'I am not aware of anybody questioning in Pakistan my credentials for receiving the Right Livelihood Award. On the contrary, I suppose it has been very positively received by the people in Pakistan'.
A fierce critic of military dictatorships in Pakistan and Islamification of the state and society in the country, Asma is revered by millions as well as bitterly slandered by powerful sections of religious and official establishment. While this year's Nobel laureate Malala Yusufzai has emerged as a global symbol of women's struggle in Pakistan, Asma's decades long struggle has iconised her in Pakistan.
In the past, she has been elected as the chairperson of Pakistan's prestigious, but increasingly threatened, Human Rights Commission of Pakistan (HRCP) as well as Supreme Court Bar Association (SCBA). The SCBA represents country's politically-restive advocate fraternity and its office-bearers are annually elected by its 80 thousand accredited members.
"What about Malala?" I ask her.
"She has been subjected to a vicious character assassination campaign and portrayed as a Western agent in Pakistan."
She goes on: 'Malala was not a problem as long as she was not seen as a threat to the country's establishment's agenda. In fact, after she was shot, she was flown to Rawalpindi from her hometown, Swat, in an army helicopter. Her father was offered a job at Pakistan's High Commission in London.'
Asma adds: 'When the West, holding her finger, brought her to the global stage, a slander campaign was initiated'. However, Asma distances herself from Malala's conservative critics in Pakistan as well as leftish detractors.
'In the circumstances, Malala had no choice but to go into exile. Likewise, there is no reason to refuse the attention she has drawn in the West,' she believes. Pakistani women to be politically correct, she implies, cannot orientate their strategies in opposition to the West.
One reason that an Alternative Nobel for Asma has not triggered any negative response in Pakistan is Asma's unblemished record as a fighter for women and human rights. As a lawyer, she has represented hundreds of women and victims of the country's 'blasphemy laws', but she never charges a fee.
This scribe personally knows many cases when she represented my trade union and party comrades in the courts and monetary matters were not even considered. Otherwise, engaging the services of such a high-profile advocate as Asma is beyond union activists.
At the time of writing, my friend Baba Jan along with 11 other activists (known as the Gilgit 12) is serving a life-term in a Pakistani jail. They were sentenced to 26-years in jail recently for organizing protests causing havoc in their native town, Gilgit, up in the Himalayas. When she arrives back, she will appear on behalf of the Gilgit 12.
While Asma can be frequently spotted on Lahore's streets agitating for a certain cause, her decades-long struggle has been often waged on the premises of various courts, especially on behalf of AGHS. Founded along with her sister Hina Jilani, AGHS is a legal aid centre for women that also run Dastak (Knock), a shelter-house for women who find it hard to live with their families.
Once a woman who had sought refuge at Dastak, after her divorce from an abusive husband, received a visit from her parents. The parents wanted to meet and reconcile. However, it was a pretext. They had brought along an assassin who shot the girl dead in Hina's office at AGHS. Hina narrowly escaped a stray bullet.
"Working in such conditions," I ask, "how come Asma can go on with her activism?"
'Unfortunately, I am not the only one,' she replies with a stern face. Therefore, she considers the Right Livelihood Award a tribute to all those human rights and political activists striving to reform society in Pakistan.
In fact, while the founder of the Right Livelihood Award, Jacob von Uexkull, wanted to mitigate the personalities ignored by the Nobel establishment, the award honours campaigners who work in dangerous situation. The purpose is to draw global attention to their situation.
The award was conferred at Riksdag (Swedish Parliament) on Asma and other recipients of this years' Right Livelihood Award, including US whistleblower Edward Snowden, on December 1.
In the case of Asma, threats are posed by many quarters, not just religious bigots including the country's powerful military. In 2012, in fact, Asma went public and claimed that ISI, the intelligence wing of the country's all powerful military, had plotted to assassinate her. Only recently, her daughter received a threat stating: 'Stop your mom else we will send her your dead body'. As a mother she was understandably worried. A few months ago, an advocate and HRCP office-bearer, Rashid Rehman, was assassinated for defending a young university teacher accused of committing blasphemy. Threats notwithstanding, Asma is determined to carry on the struggle.
Originally written for Swedish feminist journal, Feministtiskt Perspektiv: www.feministisktperspektiv.se, this report has been posted here with permission
Source: http://www.viewpointonline.net/2014/12/vp232/pakistani-women-have-made-considerable-gains-since-the-90s
URL: https://newageislam.com/islam-women-feminism/'pakistani-women-made-considerable-gains/d/100656