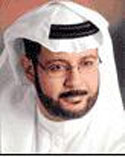 By Fahd Al-Ahmadi
09 April 2018
AFTER the Friday prayer in the mosque in our neighbourhood, an old man stood up and told the congregates: "I have five daughters of marriageable age. If you know anyone who is religious and good mannered, kindly visit me at my home. If you do not know my place, you can ask the imam of the mosque and he will guide you."
Though the man's request was unusual and daring to the point of impudence, people who gathered in the mosque praised him for his courage and openness.
Hardly a year had passed than all his five daughters were married off.
The man was not only brave but was wise as well. By so doing he did not only save his daughters from spinsterhood, but was able to secure for them the best of suitors.
In our conservative society, a girl does not have many options when it comes to choosing her future husband. Of course, she and her family can reject the first and second proposals, but if they refuse the third her chances of getting married will thin out. She will have a reputation that she has been rejecting all possible suitors.
The chances of girls getting proposals are not very high if not totally scant in Saudi society because of the segregation of sexes in public places.
The young man has no other option but to say yes to the choice of his mother or sisters but the situation of the girl is even worse. At least the young man has a better chance of looking for a wife though the search is to be conducted by his mother, sisters or other female relatives.
The girl in our society has no other option but to wait in her home for some man to come and knock on the door asking for her hand in marriage.
Unlike young men, a girl cannot go to the homes of other people looking for a husband for herself. Our conservative society deprives the girl even of the opportunity to speak openly about the characteristics of the man she want to tie the knot with.
Most of the time, the girl will be obliged to say yes to the first or second knocker on her door. Her family will not allow her to wait more than this so that she will not find herself under the umbrella of spinsterhood.
She will have to accept the first or the second suitor so as to open the door for her younger siblings to get married.
Two years ago I wrote an article in which I proposed to establish Internet search engines for marriages. I suggested that these engines be put under the supervision of the Justice Ministry or the Commission for the Promotion of Virtue and Prevention of Vice (Haia).
I said the search for a groom or bride should be widened and should be dealt with in complete confidentiality to respect the wishes of the men and women and to ensure their right to privacy.
The search engines should receive applications from men and women looking to get married and should sort them out to match the most suitable couples.
When the matchmakers in charge of these engines find a suitable girl for a young man, they would inform him that they have found him a suitable wife and ask him to propose to her family.
I want to add a new idea today to my old proposal. This is reviving the old maxim that expects men to look for grooms for their female relatives. I want to tell all fathers: "Do not shy away from looking for a husband for your daughter."
We should do what the old man had done in the mosque to get his five daughters married. Fathers should not be shy or doubting in this regard. This will be much better than seeing their daughters withering away without having a husband.
This is a Shariah-compliant practice, which the Prophet (peace be upon him) had approved. Sayyidah Khadija (may Allah be pleased with her) proposed to the Prophet (peace be upon him) through an intermediary. She sent her maid Nafisa to ask Muhammad what was preventing him from getting married? He replied that he did not have enough money to meet the costs of marriage.
Nafisa asked Muhammad if the most beautiful and the wealthiest woman in Makkah sought him, would you not respond. He asked who was she and she told him that it was Khadija.
The Prophet (peace be upon him) married Khadija, who was 15 years his senior, and lived happily with her for about 25 years.
We should, therefore, revive this Sunnah and look for husbands for their daughters. There is nothing shameful or unethical about this.
Source: saudigazette.com.sa/article/532169/Opinion/Local-Viewpoint/A-husband-for-my-daughter
URL: http://www.newageislam.com/islam,-women-and-feminism/fahd-al-ahmadi/a-husband-for-my-daughter/d/114874