New Age Islam News Bureau
13 December 2020

• Muslim Bride And Hindu Groom? It's Love, Not Jihad: Police Decides - As Consenting Adults They Had The Right To Live Together
• Muskan Jahan, 22, Held Under India's Love Jihad Laws Had Forced Miscarriage, Family Claim
• Spike In Number Of Female Addicts Lifts Veil On Afghanistan's Drug War
• Bigger Role For Arab Women Urged In Scientific Research And Innovation
• Breaking Stereotypes, Mexico's Women Bikers Steer Their Own Path
• 12 Women Leaders Who Changed The World For Better In 2020
• Promoting Gender Equality In The Arab World: Caring For The Care-Takers
• Turkey Supports Women's Empowerment In South Sudan
Compiled By New Age Islam News Bureau
URL: https://www.newageislam.com/islam-women-feminism/muslim-bride-hindu-groom-its/d/123743
-------
Muslim Bride And Hindu Groom? It's Love, Not Jihad: Police Decides - As Consenting Adults They Had The Right To Live Together
Piyush Srivastava
12.12.20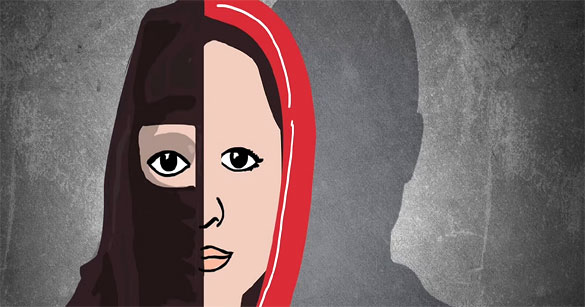 When a Muslim woman eloped with a Hindu man in Bareilly last week, the police saw no love jihad or yuddh, deciding that as consenting adults they had the right to live together.
But in several recent instances where the men were Muslim and the women Hindu, the Uttar Pradesh police arrested the men or their relatives under a new state ordinance that criminalises religious conversion for marriage and became law on November 27.
While the ordinance is not religion-specific in its phrasing, BJP leaders have made it clear that it's aimed at checking "love jihad" – an alleged conspiracy by Muslim men to marry, convert and radicalise Hindu women. Chief minister Yogi Adityanath had been among the first to allege such a conspiracy.
The father of a Muslim woman had registered a case at Prem Nagar police station, Bareilly, on December 5 alleging a young Hindu, Aman Kumar, had lured and kidnapped his daughter.
"I registered the case under the Uttar Pradesh Prohibition of Unlawful Conversion of Religion Ordinance, 2020. But the police were sceptical from the beginning," the father told reporters in Bareilly on Thursday.
"The police rescued my daughter, who was under the influence of the man with whom she had eloped, on December 6 and produced her in court, where she said she had gone with the man willingly."
The father said Aman was trying to convert his daughter to Hinduism. "But the police let her go with him. They didn't let us meet her — we wanted to convince her that her future was not safe with the man."
"It's a case of love between adults. There's no angle of religious conversion in the case; so they were allowed to go wherever they wanted," he said.
When a similar case was registered against a Muslim man on December 7 in the Kanth area of Moradabad, however, the police arrested the accused and his brother. They sent his "Hindu" wife to a remand home despite her being an adult and five months pregnant.
The 22-year-old woman said she had undergone a court marriage with Mohammad Rashid six months ago in Uttarakhand and converted to Islam at the time, and that the ordinance was incorrectly being applied retrospectively under prodding from the Bajrang Dal.
"We arrested Rashid and his elder brother Mohammad Saleem under the provisions of the new ordinance and sent the woman to a remand home when she refused to go to her parents," Kanth circle officer Balram Katheria said.
"I'm from (adjoining) Bijnore district. While working at a beauty parlour in Dehradun, Uttarakhand, I met a barber and we had a court marriage there. I changed my religion soon after the marriage," she said.
"But the Bajrang Dal somehow contacted my mother in Bijnore and persuaded her to submit a false police complaint (in Moradabad) saying I was being forced to convert after the new ordinance was issued."
On December 5, the police had arrested seven family members of a Muslim youth from the Tambor area of Sitapur district for allegedly helping him "lure and kidnap" a Hindu girl on November 23.
"A relative of the girl lodged a police complaint on November 27 under the new ordinance. Mohammad Jubrail, the main accused, is absconding. We are trying to find the girl too," Sitapur additional superintendent of police Rajiv Dixit said.
It criminalises religious conversion for the sake of marriage, and invalidates such marriages. It says inter-faith lovers must apply to their district magistrate two months in advance for permission to marry (without conversion). It prescribes 1 to 10 years' jail or a fine ranging from Rs 15,000 to Rs 25,000, or both for violations.
Days before the Bareilly police let off Aman Kumar, they had arrested Owais Ahmad on December 3 on a complaint from a Hindu man from the Devraniya area of the district accusing the youth of pressuring his daughter to elope and convert.
"A case was registered under the new ordinance on November 28 and the accused was arrested after five days," deputy inspector-general (Bareilly zone) Rajesh Kumar Pandey said.
He said Owais had been harassing the woman for the past three years and that she had confirmed this. He added that Owais had been booked under sexual offence sections, too.
According to the woman's father, she had married another man in June but Owais was threatening him to bring her back and hand her over to him.
"The girl's father met me recently and said he bore us no ill will. I don't know why he and his daughter registered the case against Owais after that."
https://www.telegraphindia.com/india/muslim-bride-and-hindu-groom-its-love-not-jihad/cid/1800265
-------------
Muskan Jahan, 22, Held Under India's Love Jihad Laws Had Forced Miscarriage, Family Claim
By: Joe Wallen
13 Dec, 2020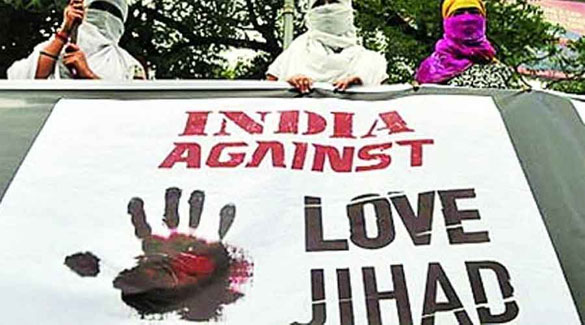 The first woman detained under India's controversial new "Love Jihad" laws has miscarried in custody, her family told The Sunday Telegraph.
Yesterday a distraught Muskan Jahan, 22, called her mother-in-law from a government shelter where she is being held in the city of Moradabad in Uttar Pradesh, saying she had bled heavily and then lost her baby.
Jahan believes her daughter-in-law - who was three months' pregnant - was given an injection to abort the baby by staff because she converted from Hinduism to Islam and married a Muslim man.
Muskan Jahan's husband Rashid, 27, is being held in an unknown prison in Uttar Pradesh for allegedly coercing Muskan into converting from Hinduism to Islam by marrying her.
Uttar Pradesh passed legislation last month designed to prevent marriages arranged to convert Hindu women into Muslims, a practice known as "Love Jihad".
But critics say the law is a poorly disguised attempt by the Hindu nationalist ruling party of Prime Minister Narendra Modi to break up interfaith unions.
A further four Bharatiya Janata Party-ruled (BJP) states are expected to pass similar laws later this month, despite the Indian government admitting in February it had not been able to find one case of so-called "Love Jihad" nationwide.
While the law doesn't specify any religion, police in Uttar Pradesh are targeting Muslims. At least 10 Muslim men have been arrested so far but no Hindus.
Muskan and Rashid met when Rashid left his impoverished family home to work as a hairdresser in the northern Indian city of Dehradun.
"Then, around five months ago, we got a sudden call from Rashid, he was very excited and he said that he had married the Hindu girl," his mother told the Sunday Telegraph.
"I scolded him that he did a wrong thing and asked him why he didn't consult with us first. But, then he said he was coming home in July and we treated Pinky like our own daughter."
Rashid got a new job in a salon in Moradabad and Pinky - who had taken the decision to convert to Islam and adopt the name Muskan before her marriage in July - soon fell pregnant, much to the delight of her mother-in-law.
"Like every mother, I also had a dream that my son should get married and then the happiness of all of us increased with the news of Muskan's pregnancy," Jahan said.
"There is no small baby in our house that we could play with on our lap and we had dreams of making the baby a good person through education."
Hindus and Muslims have lived side by side in Uttar Pradesh for hundreds of years and, while interfaith marriages are rare, they constitute 3 per cent of unions.
However, since Modi was re-elected with a landslide win in 2019, the BJP has implemented a string of policies protecting Hinduism. He has regularly been accused of Islamophobia.
The BJP has argued that Muslim men are engaging in Love Jihad. India's Muslim community constitutes just 14 per cent of the population.
On Tuesday, the police arrested Haider Ali, a Muslim from the town of Kushinagar, tortured him and threatened to "skin him alive". Ali was released the next day after it was discovered his bride was born a Muslim.
Rashid was arrested on Sunday after the family visited a lawyer in Moradabad to register their marriage in Uttar Pradesh, as the couple had married in neighbouring Uttarakhand.
The family's route home was blocked by the Bajrang Dal, a hardline Hindu nationalist group, who threatened them and called the police.
"This is what Muslims do, first they love, and then they carry out Love Jihad after a few months. We know Pinky [Muskan] is seeing love right now, but after a few days she will find it very difficult to live her life," said Gaurav Bhatnagar, the Bajrang Dal leader from Moradabad.
"Our workers are active in the street, locality, villages, cities, everywhere. Our job is to inform the police when Love Jihad cases occur and then it's the court's job to punish them."
https://www.nzherald.co.nz/world/first-woman-held-under-indias-love-jihad-laws-had-forced-miscarriage-family-claim/RZMGPQ3NBIXY5MOCZYPF5EK4BY/
------------
Spike In Number Of Female Addicts Lifts Veil On Afghanistan's Drug War
Sayed Salahuddin
December 12, 2020
Afghanistan has seen a spike in narcotic drug use in recent years. (File/AFP)
------
KABUL: At first, Alina Yaqoobi says she found it "very difficult" to cope with aggressive drug addicts when she began working at a rehabilitation center in Afghanistan's northern city of Mazar-i-Sharif three years ago.
But with time and due to a "worrying" increase in the number of female addicts across the country, she could not turn away from the problem.
"I have seen a 40 percent increase in the number of patients being treated here. There are people on the waiting list as well," Yaqoobi, a 28-year-old psychotherapist at the Social Services for Afghan Women (SSAW) rehabilitation center told Arab News.
In recent years, Afghanistan has seen a spike in narcotic drug use, specifically in the impoverished parts of the war-torn country, where foreign-funded groups and international mafia have held sway over the lucrative business to fund the decades-old war in the country.
Government data places the number of drug users at nearly 2.5 million people — out of a population of 36 million — although unofficial estimates say the problem is far worse, affecting almost 4 million.
"Out of those, 850,000 are female drug users, and 170,000 of them are addicts," Abdul Shokor Haidari, Afghanistan's deputy health minister, told Arab News.
He cited "war, migration, domestic violence, easy access to drugs, and a lack of social services and facilities" as the main factors behind women turning to drugs.
Yaqoobi says the problem is not limited to the youth alone, with minor girls and women as old as 70 being treated at the SSAW center.
Since its inception more than 11 years ago, she says, the SSAW has rehabilitated female drug users from various parts of the city, such as graveyards, deserted buildings and construction sites, while some were brought in by their families for help.
"Starting the treatment process is very tough because addicts are in a bad state. They know no one and are very violent, but we try to calm them down," Yaqoobi said.
"In the 45 days that they are here, we provide education, sporting and recreational activities, such as weaving small carpets and tailoring. We find a sense of glory and happiness when they go home, abandoning the addiction and beginning a new life," she added.
In addition to the SSAW, there are 17 other drug rehabilitation centers for women across the country, Masooma Jafary, a spokesperson for the Health Ministry, told Arab News.
And while addicts are largely treated like outcasts, especially women in Afghanistan's patriarchal society, the country continues to retain its spot as one of the world's top producers of poppy, which is turned into opiate and later refined heroin.
"I married a drug addict in Iran and came to this center two years ago after arriving home. I feel a lot better now and have also managed to persuade my husband to give up too. I owe my new life to the center's efforts," she added.
"Violence and discrimination force these people to turn again to drugs. Mistreatment of family members of former addicts, social stress and lack of economic support, as well as a shortage of jobs, force some addicts to go back to drugs," Zarqa Yaftali, a women's rights activist, told Arab News.
"Addiction destroys families and societies. We are trying to save families, helping one person struggling with drug addiction at a time," she said.
https://www.arabnews.com/node/1776306/world
----------
Bigger role for Arab women urged in scientific research and innovation
CALINE MALEK
December 12, 2020
DUBAI: When the pandemic is finally defeated, the scientists who devised vaccines in record time will no doubt be hailed as the paladins of coronavirus prevention. So too will the tech experts who through the lockdowns helped move jobs and infrastructure into the digital space. There will be no shortage of heroes, but can the same be said about heroines?
In spite of recent progress, women remain a minority in the science, technology, engineering and mathematics (STEM) professions, especially in the Middle East and North Africa (MENA). Now experts in the region are calling on schools, governments and employers to do more to fix the imbalance.
Speaking during a recent L'Oreal-UNESCO For Women in Science webinar, in partnership with the speakers' platform She Is Arab, experts from across the Gulf stressed the central role women have to play in research and innovation.
"I can see the passion in women in science," said Dr. Maha Al-Mozaini, an infectious diseases specialist and educator at King Faisal Specialist Hospital and Research Center in Saudi Arabia. "It's changing dramatically and quickly, and I believe they can bring a brighter future."
According to 2018 figures from the UNESCO Institute for Statistics, just 28.8 percent of the world's researchers are women. Female enrolment in engineering, manufacturing and construction courses stands at just 8 percent worldwide, while in natural sciences, mathematics and statistics it is 5 percent. For information and communications technology (ICT), the figure drops to a paltry 3 percent.
"These numbers are alarming," said Dr. Anna Paolini, director of the UNESCO Office in Doha and representative for the Gulf and Yemen. "They call for action to close the gender gap in science, technology and innovation and equip the future generation with adequate skills and competencies, and harness the power of emerging new technology, such as artificial intelligence, robotics, virtual reality, and augmented reality, just to name a few."
In these unprecedented times of disruption, particularly in education where 1.5 billion students have missed out on learning, Paolini says the contributions of men and women to the sciences, technology, problem-solving and decision-making cannot be underestimated.
"Research and innovation are catalysts for achieving our goals to live on a healthier, sustainable and prosperous planet," Paolini said. "However, the world urgently needs more scientists to tackle the global challenges we are facing today. And we cannot afford to let half of the world's population, which are women, go unnoticed behind their remarkable achievements."
Female teachers, doctors, nurses and researchers have all been at the forefront of the battle against COVID-19. In the case of Al-Mozaini's team in Saudi Arabia, a remarkable 99 percent of her researchers are women.
"When I advocate for women's empowerment in STEM, the challenges that we face as women are different from country to country," said Al-Mozaini, who is a winner of the L'Oreal-UNESCO for Women in Science Middle East Regional Young Talents Program.
"We have seen that, in the United States, the numbers of graduate women in science are there but they tend to decrease in the workforce. In our case, it is very promising. We only have one man on the team."
Many factors have contributed to their success, including career support from their families, Al-Mozaini said. "So, we have advantages compared to other countries in the Middle East, and especially in the GCC," she said.
"They all come from different backgrounds, from molecular biology and genetics to virology and immunology. They were working 24/7 during the lockdown, leaving their families behind. And because little was known about the virus, we all had to take precautionary measures to protect our families."
The work was arduous. Early in the pandemic, the Saudi research center had to spread its resources across many different aspects of the outbreak. "Our team, which was (focused on the) immunocompromised, was trying to establish testing, because the early signs of the virus showed that it was transmitted at very high levels," she said. "So, in order to stop the cycle of the virus spreading, you needed to do testing."
Their efforts involved establishing a mode of in-house viral testing as a back-up diagnostic test. "The test is very sensitive, reliable and fast," Al-Mozaini said. "Best of all, in developing and low-income countries that don't have the opportunity to get these expensive kits; they can use our protocol and do the testing."
Al-Mozaini is heartened to see a growing number of women in the Gulf entering the sciences. Women in the Middle East now account for almost half of the total STEM student population and they will no doubt play a prominent role in the post-pandemic world.
In the UAE, 61 percent of university students in the field are women, 71 percent in Oman and 55 percent in Bahrain. However, women are still underrepresented in the research community. Although 38 percent of Saudi graduates in the field are women, only 17 percent of them work in STEM sectors.
Al-Mozaini says the best way to support women entering careers in science is to provide them with appropriate mentorship and good role models. "We, as scientists, should give that to younger generations," she said.
"I pursued STEM because I was exposed to it early in my schooling. I had a really nice professor who was retired and teaching biology at school, and he inspired us. So that gives you good mentorship and role models and exposure to STEM."
In September, the Organization of Islamic Cooperation (OIC) discussed plans to step up the provision of STEM education for women and girls at a meeting in Jeddah. During a virtual workshop, members of the OIC's general secretariat looked at ways of improving access to learning for women and girls in member countries.
In the host country of the OIC, Saudi Arabia, women's participation in the workforce and the wider economy and having more women in leadership positions is one of the key goals of the Vision 2030 reform strategy. A growing number of Saudi women are already holding high-ranking positions even as new government policies aim to increase the employment of women in all fields.
Al-Mozaini says Saudi Arabia and the GCC countries at large are fortunate, thanks to a strong support system at various levels of education, including scholarships.
"In the workforce, we need to create the right environment for them," she said. "They are mothers, they have kids, so they need to have the best childcare system within their working institute to leave their kids and go to work.
"They need to have the best mentorship program at an early age and most important of all is providing them with a leadership opportunity, and this is why the Vision 2030 of Crown Prince Mohammed bin Salman is promoting women in leadership."
For Paolini, the key to promoting women in science is inspiring girls at school and in the home. "It really shaped all of us," Paolini said. "We all have a story that inspired how we are today and this is why this network and platform are so important.
"Everywhere in the world, we need more science and we need more women in science."
https://www.arabnews.com/node/1776456/middle-east
----------
Breaking Stereotypes, Mexico's Women Bikers Steer Their Own Path
By Leigh Thelmadatter
December 12, 2020
Over the past decade, bikers Mexicanas have been creating groups and events to get women beyond just looking at motorcycles and actually riding them.
Their goal is a daunting one: as of 2019, only 20% of Mexico's motorcyclists were women, compared to 35% in the rest of the world. As late as in the 1980s, it was not acceptable for a woman to ride her own bike. Even 20 years ago it was difficult for a women rider to join a club or a group ride. Women riders today are still considered a novelty, says Yoly Chopper, a lawyer from Guadalajara.
Today, there are still some clubs that forbid women, but now they are rare. And while women who announce to nonriding families that they want a motorcycle still face some resistance, this often passes with time. Chopper got her first bike in her 40s, and her family was worried for her safety. Ten years later, not only do they accept her passion but now "Mamá es cool." More men support women bikers, even performing security and logistics for women's events.
Women riders in Mexico include professional riders, politicians, businesswomen, career professionals, housewives and manual laborers. They are daughters, mothers and even grandmothers. Some have gained a reputation nationally. Astrid Madrigal is the queen of motocross in Mexico despite her youth. At 70+ years of age, Barbie Biker of Torreón is a legend for roadsters.
Culturally, it can be difficult for women riders because of longstanding assumptions that motorcycling is only for men, with women relegated to the back seat as the mochila (backpack) or nalgitas (rear end or buns). Of course, this problem is not limited to Mexico. Objections here are much the same as in other parts of the world — that it is too dangerous, that women cannot handle the physical demands of riding or even that the novelty of seeing a women rider might cause road accidents.
Interestingly, it is often mothers who try to block the way. Sally Mayer of Querétaro recalls that when she bought her first bike, her mother said, "Better to buy a pistol than a bike because it is faster [to get killed]." Some women said they waited until they were older, and others found ways to have a motorcycle without their mothers knowing.
At traditional biker events, which overwhelmingly cater to men, it's easy for women bikers to feel excluded. Most of the women there are hangers-on with no knowledge of riding or maintenance. The T-shirts and other paraphernalia sold at these events are not offered in either designs or sizes adequate for women.
But the growth of women's clubs and events is giving female riders their own friendlier space. One of the first was the Orquídeas Motorcycle Club in Mexico City. It began with eight women in 2005. Two of the founders, Liliana and Lucero Urbina, still coordinate the club. There are also national-level clubs with chapters in various parts of the country, such as the Amazonas and Mujeres Bikers International. There is also the Pochianchis, a local club in the small community of San Francisco del Rincón, Guanajuato, named after a trio of infamous sisters who ran bars and brothels there.
The most important all-female biker event is Chicas Biker, held each year in October. The event consists of meeting in Guadalajara, then riding to a rural location for a weekend of camping and camaraderie. In 2019, the event welcomed over 250 women from all over Mexico and even the U.S., Europe and Latin America. (The 2020 event was limited to only 80 due to Covid-19.) According to founder Anayancin Y. "Yancy" Fierros Viveros, one of the event's main successes is that nonriding women who tag along come back the following year with their own bike.
This technical and emotional support is crucial for most female novices to take the plunge. Women like Arlen García of Mexico City tell stories of liking motorcycles for a long time but not acting on it until becoming friends with a rider who offered to mentor.
Women find their way to motorcycles much the way men do. Mayer says her introduction was through watching Elvis Presley and Marlon Brando movies as a kid. Many others get hooked seeing family members or friends ride.
Even those who buy their first bike for cheap urban transportation, like Mexico City residents Irma Torres and Ariana Alfaro, find themselves seduced by both the machines and the camaraderie of other motorcyclists.
Although they take on the usual trappings of motorcycling — helmets, leather jackets, boots and insignia, it does not mean that women riders want to be just like the men. They often add feminine touches to both bikes and to themselves. False pigtails on helmets are put specifically to announce that the rider is a woman. Some name their bikes and consider them like children.
Most are likely to participate in events where families, including nonriders, are welcome to tag along in cars. Andrea Velásquez of the Orquídeas thinks that women tend to be more responsible riders because many are mothers, so they don't take the risks that men might.
Women riders still face questions about their ability to ride despite all the progress, but the support network that exists for today's chicas biker arguably sets a more confident tone for women riders, "that we do not always want to be a man's sidekick [that], rather, we can ride our own motorcycles," says Fierros. "There is no limitation. It is necessary to break paradigms related to this."
"I feel powerful [on my motorcycle] because it is no longer something just for men; it is for us as well. It is a beautiful sorority that we have among ourselves."
https://mexiconewsdaily.com/mexicolife/mexicos-women-bikers/
-----------
12 women leaders who changed the world for better in 2020
BY SARADA PERI
12 DECEMBER 2020
Over the past year, the world has been battered by multiple crises, including a global pandemic that has infected tens of millions, cost more than 1.5 million lives, and devastated almost every nation's economy. But according to a study by the Centre for Economic Policy Research (CEPR) and the World Economic Forum (WEF), countries led by women had "systematically and significantly better" outcomes related to COVID-19, which were the result of "proactive and coordinated policy responses" such as earlier lockdowns.
That got us thinking: in this year of challenge, which women have offered models of creative, thoughtful and decisive leadership? Whether guiding a nation with a steady hand or rising up against injustice, these leaders offer glimpses of how to make progress in the most difficult of circumstances.
1. Jacinda Ardern, prime minister of New Zealand
Widely lauded for leading one of the world's most successful coronavirus responses, Jacinda Ardern and her Labour party won a landslide victory in October's election. She wasted no time in selecting the most diverse cabinet in New Zealand's history. Out of 20 members, eight are women, five are Māori, three are Pasifika and three are LGBTQ+. It is a cabinet that, for the first time, fully represents all New Zealanders.
Ardern's choices are more than a box-ticking exercise. While the new cabinet has shifted the popular understanding of what leadership can look like, it is also a reminder that people from different backgrounds bring with them unique perspectives, skills and life experiences, all of which are essential in tackling our greatest challenges.
2. Angela Merkel, chancellor of Germany
In September, a fire devastated the overcrowded Moria refugee camp on the Greek island of Lesbos, leaving thousands of people homeless. Angela Merkel quickly agreed to accept approximately 2,750 people, including unaccompanied minors. The move pressured other EU countries to do their part and open their arms, too.
Merkel's decision echoed her 2015 statement that Germany would find a way to handle the massive influx of refugees who had fled their home countries. Despite domestic political backlash and a continent splintered over the refugee crisis, Merkel has approached the issue in the signature manner of a scientist-turned-stateswoman—with pragmatic empathy, a drive to experiment, and a belief in the need for collective action.
3. Damilola Odufuwa and Odunayo Eweniyi, women's rights advocates, Nigeria
Damilola Odufuwa and Odunayo Eweniyi
Image may contain: Face, Human, Person, Female, and Hair
For years, women activists across Nigeria have used online tools to organise social change, whether it was to free the Chibok girls kidnapped by the terrorist group Boko Haram or to raise awareness about gender-based violence. In July, Damilola Odufuwa and Odunayo Eweniyi formed a group with 11 other women called the Feminist Coalition with the aim of improving the rights of Nigerian women. When anger about the unchecked police brutality by the Special Anti-Robbery Squad (SARS) reached fever pitch in autumn, they launched into action with their first project— and the #EndSARS movement became a rallying cry around the world.
The Feminist Coalition regards itself not as a political organisation, but as a community-building enterprise and women's rights advocacy group. Using their sophisticated skills in technology and social media, they were able to disseminate real-time information, which raised awareness and funds for the peaceful protests. Rather than a top-down leadership model, Odufuwa, Eweniyi and their colleagues are democratising information as a way to empower the Nigerian people to make the change they seek.
4. Kamala Harris, US vice president-elect
After the most consequential presidential election in recent memory, Americans elected Joe Biden. And his running mate, Kamala Harris, will be the first woman, the first Black person, and the first Indian-American to be vice president of the US. Her long career involved breaking many barriers, from being the first woman to serve as San Francisco's district attorney to being the first Indian-American elected to the US senate. In Harris, the US not only has a brilliant, seasoned public servant as vice president, but a leader who will, at long last, broaden Americans' sense of what is possible.
5. Stacey Abrams, former Georgia state house minority leader, US
When Georgia Democrat Stacey Abrams lost her bid for governor in 2018, some commentators thought she should run for the senate—some thought she should run for president. Instead, Abrams stayed committed to her longtime project of turning her home state from red to blue.
Five years earlier, Abrams had launched The New Georgia Project, which empowered low-income Georgians to help get more people signed up for healthcare. Over time, that initiative became a voter-registration effort. In the process, Abrams built a broad coalition of people and organisations across the state, registered huge numbers of Georgians to vote, and changed people's understanding of southern politics. Her painstaking organising paid off this year when Joe Biden won Georgia, helping to seal his victory.
6. Sarah Gilbert, professor of vaccinology at University of Oxford and co-founder of Vaccitech, UK
Professor Sarah Gilbert may be as close to a real-life superhero as one gets. The veteran Oxford scientist developed a coronavirus vaccine that could help save the world from COVID-19. Early data suggests that the Oxford/AstraZeneca vaccine that her team worked on affords up to 90 per cent protection against the virus, and is cheaper and easier to store than promising vaccines announced by Pfizer and BioNTech, and Moderna. Gilbert's version could therefore benefit more people across the world.
With 25 years of experience developing vaccines for the flu, Ebola and Middle East Respiratory Syndrome (MERS), Gilbert and her lab were prepared to spring into action when coronavirus first appeared in 2019. As for the sleep-deprived months that followed, Gilbert said, "I'm trained for it. I'm the mother of triplets." And lest one questions the safety of the vaccine, all three of Gilbert's children, now young adults, participated in the clinical trial.
7. Klementyna Suchanow, author and political activist, Poland
Klementyna Suchanow at a pro-choice protest marking the 102nd anniversary of the women's voting rights in Warsaw, Poland, on 28 November 2020
When Poland's Constitutional Court imposed a near-total ban on abortions in October 2020, the country's Conservative government could not have predicted the backlash. Hundreds of thousands of people took to the streets, including in demonstrations organised by The All-Poland Women's Strike, led by activist Klementyna Suchanow.
Suchanow says that in protesting the draconian abortion laws, people are rising up against the Catholic Church's tight grip over the country's political decisions. Poles, especially women and young people, are frustrated by the Church's power to intrude into their lives and furious at the concurrent hypocrisy revealed by the child sex-abuse scandal. Whether the protesters succeed in overturning the law remains to be seen. But one thing is clear: the movement has energised a new generation of women, unbounded by the past—and they aren't going anywhere.
8. Maria Ressa, CEO of Rappler, Philippines
This summer, in the middle of the pandemic, Philippine journalist Maria Ressa stood in a courtroom and was convicted of cyber libel. Ressa and her news site, Rappler, had long been targeted by Philippine president Rodrigo Duterte for its critical coverage of his regime, including his response to COVID-19.
But it was her arrest in 2019 that shifted Ressa's thinking about her role as a journalist and persuaded her to speak openly about Duterte's abuse of power against the press and the resulting threat to democracy his behaviour poses. Citing Duterte's use of misinformation through social media to demonise the press and spread conspiracy theories, she warns that other countries face similar threats. Though Ressa still faces the prospect of prison and threats of violence, she refuses to be silenced. As she says, "Journalism is activism."
9. Bilkis Dadi, political activist, India
Bilkis Dadi takes part in a protest in Delhi, India, February 2020.
At the end of 2019, India's ruling party enacted the Citizenship Amendment Act, which introduced religion as a criterion for citizenship.
But people wouldn't let this happen without a fight—least of all an 82-year-old woman named Bilkis Dadi (birth name Bilkis Bano, dadi means grandmother), who joined thousands of others in a Muslim neighbourhood in Delhi to protest. Every day, Bilkis sat at the protest site from morning until night. Throughout the winter chill, she was undeterred.
Although Bilkis and her fellow protesters were shut down, she was widely celebrated and even included on Time magazine's list of the 100 most influential people of 2020. In the face of powerful opposition, this woman has become an equally powerful reminder of what is worth fighting for.
10. Monica Lennon, Member of Scottish Parliament (MSP), and Nicola Sturgeon, first minister of Scotland
Half of the world's population menstruates. And yet, almost no society has come to grips with the fact that sanitary products such as pads and tampons are as essential as toilet paper.
That changed in November when, thanks to Monica Lennon and Nicola Sturgeon, Scotland became the first nation in the world to make sanitary products free. Lennon has long been a champion against "period poverty" that leaves too many people unable to afford the basic products they need to menstruate with dignity.
In debating the bill, Scottish lawmakers discussed issues such as endometriosis, illuminating aspects of women's health that are so often overlooked, but essential to a woman's ability to thrive. Advocates hope that the example of Scotland will help erase the cultural stigma around menstruating and ensure that more women and girls across the world can achieve their potential.
11. Sanna Marin, prime minister of Finland
Despite its reputation for being a progressive oasis, Finland has an oppressive law on the books— the Trans Act—which requires trans individuals to undergo mental health screenings and sterilisation if they want to obtain legal gender recognition. The country's prime minister, Sanna Marin, intends to change that. She has spoken in favour of people's right to self-identify, saying, "It's not my job to identify people. It's everyone's job to identify themselves."
This is the latest feminist act by Marin, whose coalition government is led by all women. Her support for ending the Trans Act is an assertion of feminism, which seeks to dismantle outdated notions of gender norms and ensure that everybody can define who they are and live as they choose.
12. Nemonte Nenquimo, leader of the Waorani nation, Ecuador
Nemonte Nenquimo protests against oil drilling on ancient Indigenous land in Quito, Ecuador, on 15 May 2020.
Image may contain: Human, Person, Furniture, Chair, Bead, Accessories, Accessory, Rosary, Prayer Beads, and Worship
While the face of the environmental movement in the west has frequently been white and male, the most powerful voice in the fight against global climate change is a 34-year-old leader of the Waorani nation in Ecuador named Nemonte Nenquimo. Like so many Indigenous communities around the world, the Waorani have been on the frontline, defending the land they know best.
Nenquimo successfully stood up against the Ecuadorian government's plan to allow oil companies to drill in an area of the Amazon the Waorani call home and—as fires ravage the Amazon rainforest and outsiders destroy the forest—she has raised global awareness about what the climate crisis looks like to her people. As she wrote in an opinion piece published by The Guardian: "The Earth does not expect you to save her, she expects you to respect her. And we, as Indigenous peoples, expect the same."
https://www.vogue.in/culture-and-living/content/12-women-leaders-who-changed-the-world-for-better-in-2020
-----------
Promoting gender equality in the Arab world: Caring for the care-takers
Niveen Wahish
13 Dec 2020
Yasmine Abdallah, who works in a bank in Cairo, gets up every day at dawn to prepare lunch and pack food for her toddler and husband before she wakes up her baby and takes her to daycare. When she gets home around five in the evening, she finishes off the cooking and does house chores as she feeds her daughter before putting her to bed.
Abdallah is thankful she can afford decent daycare, otherwise she would not have been able to work. She is also not alone: there are many examples of working women like Abdallah around the Arab world, juggling unpaid care work alongside their paid jobs, some not only caring for children but also elderly parents while also being responsible for household chores such as cooking and cleaning.
A report released earlier this month quantifies this phenomenon. Entitled the "Progress of Women in the Arab States: the Role of the Care Economy in Promoting Gender Equality", the report, which examines Egypt, Jordan, Palestine and Tunisia, scrutinises the allocation of unpaid care and the state of the paid-care sectors and care policies and makes recommendations to redistribute care and guide investment in the care economy.
Although the value of care as a public good is widely acknowledged, the responsibility for it is largely confined to the private sphere of the household and falls primarily on women and girls, the report said.
According to the report, carried out by UN Women and the Economic Research Forum, a NGO, married women employed outside the home have by far the highest work burden in all four countries, underscoring the "double-shift" phenomenon that acts as a strong deterrent for women to look for paid work outside the home.
According to a policy brief summarising the findings of the report, the recognition, reduction, and redistribution of unpaid care work is a pressing issue for gender equality in the Arab world. The region has the highest female-to-male ratio of time spent on unpaid care work and the lowest rate of female participation in the paid economy of any world region, it said.
Women in the region spend on average between 17 and 34 hours per week on unpaid care work, whereas men spend between one to five hours, depending on the country.
The report shows that employed married women engage in almost the same number of hours of unpaid care work as their non-employed counterparts in Egypt and Jordan. In Tunisia and Palestine, they do slightly fewer hours.
In Egypt, married women spend seven times as much time on domestic work as married men. Unmarried women are not better off, as they spend six times as much time on domestic work as unmarried men, the report says.
"Egyptian women spend almost the same amount of time on unpaid care work whether or not they are employed, which reflects the double burden many face," a policy paper on the Egypt chapter of the report said.
According to the report, the gender gap in labour-force participation in Egypt remains large, with Egypt ranking 143rd out of 153 countries in 2017. Only 21 per cent of working-age women in Egypt were in the labour force in 2018, in contrast to 76 per cent of working-age men, it said. Part of this is attributed to the burden of unpaid care work.
"Gender inequality in the distribution of unpaid domestic work plays an important role in this gender gap in labour-force participation in Egypt," it said.
To help turn the situation around, the report presents several recommendations, including increasing the number of childcare institutions. From 2006 to 2017, the number of children aged under three years old grew at an annual rate of 3.6 per cent to reach over 11 million children, whereas the number of childcare facilities in the private sector only increased by 1.2 per cent per year.
Besides calling for increasing investment in care for young children, the report sees a need for investment in facilities that provide care for the elderly, ill, and disabled as well.
Women were found by the report to be not only at the core of unpaid care work, but they are also central to paid-care services. The report shows that women are almost four times more likely than men to be employed by the public sector and private sector in paid-care sectors such as health, education, social work or domestic work, compared to other sectors of the economy.
While most paid-care jobs are concentrated in the public sector, the share of the private sector has been growing. The report sees this as an opportunity for the greater involvement of women in the work force.
The report calls on the government not only to incentivise private-sector investment in care institutions, but also to encourage businesses to establish nurseries at workplaces through tax deductions or the preferential pricing of utilities.
In the meantime, the report stresses that there should be a means to facilitate access for children from poor families. "Subsidising quality childcare for the poor is an important area for public interventions to support the outreach of early childhood care and education services to different vulnerable groups," it says.
While working on introducing new policies, the report also recommends working on changing attitudes. "Involving men in unpaid care work is essential for its redistribution," the policy brief said. To do this, it calls for "intensive communication and advocacy campaigns to address the stereotypes, barriers, and attitudes towards gender roles in Egypt and to promote behavioural change."
The report was produced within the framework of the UN Women and International Labour Organisation Joint Programme "Promoting Productive Employment and Decent Work for Women in Egypt, Jordan and Palestine" funded by the Swedish International Development Cooperation Agency.
It was produced as a regional companion to UN Women's Progress of the World's Women report on "Families in a Changing World: Public Action for Women's Rights' Programme" funded by the Swiss Development Cooperation.
http://english.ahram.org.eg/NewsContent/50/1202/396456/AlAhram-Weekly/Economy/Promoting-gender-equality-in-the-Arab-world-Caring.aspx
-----------
Turkey supports women's empowerment in South Sudan
Benjamin Takpiny
13.12.2020
Turkey's state-run aid agency on Saturday donated equipment to South Sudan to support women's empowerment in the North African country.
Items donated by the Turkish Cooperation and Coordination Agency (TIKA) included 80 liters of Lulu oil, buckets, gloves, and measuring cylinders among others to be used for making soap.
"Turkish people are here, Turkish Embassy is here, TIKA is here to help you live a better life by supporting you in this development project," Turkey's Ambassador to Juba Tugrul Biltekin said at the donation drive.
He said that they are supporting the soap-making project and they will bring up another project of making sandals soon so that people could support themselves financially.
Natasha Malek, representative of Lulu Care, a women-led national NGO, said that they are training women on how to make bar and liquid soap, so they can sell their products in the market to sustain their families and generate income.
Regina Lullo, director general of gender and children welfare in the Ministry of Gender, Child and Social Welfare, said that the priorities of the government is to empower women to achieve gender equality.
"We have to mobilize women to empower them and we use civil societies and women groups to empower them economically and politically in the ministry at the national level."
https://www.aa.com.tr/en/africa/turkey-supports-women-s-empowerment-in-south-sudan/2075227
-------
URL: https://www.newageislam.com/islam-women-feminism/muslim-bride-hindu-groom-its/d/123743
New Age Islam, Islam Online, Islamic Website, African Muslim News, Arab World News, South Asia News, Indian Muslim News, World Muslim News, Women in Islam, Islamic Feminism, Arab Women, Women In Arab, Islamophobia in America, Muslim Women in West, Islam Women and Feminism