New Age Islam News Bureau
01 November 2020
• How Saudi Women Are Becoming Equal Partners In Progress
• Women Converge on Warsaw, Heightening Poland's Largest Protests in Decades
• Women In The Arab World With Digital Skills Are Prospering
• Several protesters detained at women's march in Minsk Saturday - police
Compiled by New Age Islam News Bureau
URL: https://www.newageislam.com/islam-women-feminism/how-saudi-women-becoming-equal/d/123338
------
How Saudi Women Are Becoming Equal Partners In Progress
LOJIEN BEN GASSEM
October 31, 2020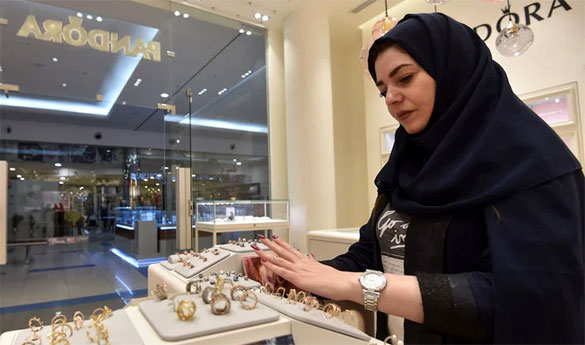 Saudi Rodina Maamoun, who employed 19 young women almost entirely replacing the men, sells jewellery at a retail store in Riyadh's Hayat mall on February 19, 2020. (AFP/File Photo)
-----
RIYADH: Women's participation in the workforce and the wider Saudi economy and having more women in leadership positions is one of the key goals of the Kingdom's Vision 2030 reform strategy. That is why the Saudi Industrial Development Fund (SIDF) has made achieving gender parity and the promotion of women to senior positions a top priority, according to its vice president of strategic planning and business development, Noor Shabib.
SIDF has already reached some important milestones, boosting the proportion of women on its staff from zero to 17 percent in less than three years, making it one of the most successful in this regard among Saudi government entities.
"Not only that — we have women employed in every single department, distributing women leaders and young talent to all departments and in various ranks and positions, ranging from vice president for strategic planning and business development, director of enterprise risk management and a director of the SIDF academy," Shabib told Arab News. "So, we have women at the highest levels, which is something we're very proud of."
Shabib hopes the SIDF's partnership with the Alnahda Philanthropic Society for Women at this year's edition of the Women 20 (W20), virtually hosted by Riyadh, has encouraged more Saudi institutions to follow suit.
Saudi Industrial Development Fund (SIDF)'s vice president of strategic planning and business development, Noor Shabib. (Supplied)
"The SIDF is an advocate sponsor of W20 and the Alnahda society, joining forces to support the advocacy of women's issues in Saudi Arabia to empower women, diversity and inclusion in the workplace," said Shabib.
Established in 1974, the SIDF was created to provide mid- and long-term loans to the private industrial sector. Today it commands capital worth SR105 billion ($28 billion). It is therefore in a strong position to promote change across a whole swathe of the economy.
One of the SIDF's flagship programs is its Nokhab training scheme, which has been running for over 40 years, providing entry-level employees with advanced qualifications in business, human resources and engineering.
"Two years ago, the SIDF set a 50:50 gender target on the program," Shabib said. "Our Nokhab program a few years ago was obviously 100 percent men because that's all you had. We mandated that 50 percent of all fresh graduates coming into this would be women."
When institutions open up to accepting more women on their staff, they become far more meritocratic, benefiting from a wider pool of talent and experience, Shabib said.
https://www.arabnews.com/node/1756696/saudi-arabia
---------
Women Converge on Warsaw, Heightening Poland's Largest Protests in Decades
By Anatol Magdziarz
Oct. 30, 2020
WARSAW — Ignoring the threat of prosecution and the dangers posed by a surge of coronavirus cases, tens of thousands of women outraged by a court decision to ban nearly all abortions in Poland converged in Warsaw on Friday, intensifying what have been the largest demonstrations in the country since the fall of communism in 1989.
With a musical medley that included Darth Vader's theme from Star Wars, in a poke at the government, and techno music blaring over loudspeakers, crowds of women flooded the streets of the capital. Many of the women had the red lightning bolt that has become the iconic image of the movement emblazoned on their clothes, as the police and military security officers flanked them as they marched.
They were joined by thousands of men and a wide array of groups who believe that the hard-won freedoms of the post-communist era are slipping away under the rule of the increasingly autocratic Law and Justice Party.
Friday's protests were the culmination of a week of large-scale demonstrations, with the police estimating that 430,000 people attended more than 400 demonstrations around the country on Wednesday.
Bartosz Bekier, head of the extreme right group Falanga, in an interview with a Polish news portal Onet, estimated that several thousand nationalists would be going to the protests, noting they were "trained in combat tactics."
The police said Friday that some "soccer hooligans" had attacked protesters by throwing flares at them, prompting officers to intervene with force. About a dozen people were arrested, they said. There were scores of other reports from local news media of clashes between nationalists and demonstrators.
Protests of this scale have not been seen in the country since the Solidarity movement in the 1980s that led to the collapse of the Communist government, according to analysts, a measure of the discontent felt by many Poles over the high court decision on Oct. 22 to virtually ban abortion.
For many of those protesting this week, the ban on abortion fits what they see as a pattern of policies chipping away at basic human rights.
She said the ruling on abortion was part of a broader erosion of the individual freedoms that she believes come with being a part of the European Union.
The court's decision halted pregnancy terminations for severe fetal abnormalities, effectively the only type of abortion currently performed in Poland. Abortions of pregnancies resulting from rape and those threatening the life of women are still formally legal.
"I feel a lot of hatred toward the church," said Zuza Rawa, who was heading for a protest in the city's center. Baptized a Catholic, she said she no longer feels part of an institution that was in dire need of reform.
The governing party has used the attacks on the church to rally its own supporters. And some nationalist extremists have seized on the moment to form a self-proclaimed "national guard."
Young men clad in black and armed with pepper spray — many with shaved heads — have become a nightly presence outside churches and cathedrals. They have confronted protesters, and a number of brawls have been reported near churches in Warsaw and elsewhere. Two female reporters from the nation's largest daily newspaper, Gazeta Wyborcza, reported they had been attacked.
Prime Minister Mateusz Morawiecki, speaking to the country Friday morning from a hastily constructed hospital on the grounds of the National Stadium on the banks of the Vistula river in Warsaw, sought to redirect attention to the pandemic and urged people to stay home.
"Let your anger focus on me, on politicians, let it touch me but not those whom it can touch in two weeks," he said. "Protesting ladies and gentlemen, you will get in touch with elderly people on the bus, at home or during a meeting. This may result in dramatic consequences."
But many viewed his pleas with skepticism, with critics suggesting the abortion ruling was timed to distract the public from the government's failure to prepare for the wave of infection now washing over the country.
The fact that the virus did little to deter the crowds underlined the depth of the divisions that have been tearing the country apart since the Law and Justice party gained control of the government in 2015 promoting a vision of a nation that needed to "rise from its knees."
At that time, migrants were the focus of the party's most vitriolic rhetoric. But as that issue has faded, the party has cast gay people as an existential threat to the nation, prompting dozens of localities to pass legislation declaring their regions free from "L.G.B.T. ideology."
The decision on abortion by Poland's top court cannot be appealed, but since the opinion has yet to be published it is not yet technically legally binding.
President Andrzej Duda, who was diagnosed with coronavirus last week and is still recovering, suggested Friday that he was open to some form of compromise.
But the effective leader of the government, Deputy Prime Minister Jaroslaw Kaczynski, who is the head of the Law and Justice party, has struck an increasingly defiant and often confrontational pose.
Mr. Kaczynski said this week that the aim of the protests was to "destroy Poland and end the history of the Polish nation," in what critics described as a call to action by his right-wing supporters.
Following Mr. Kaczynski's denunciation of politicians who support the protests as "criminals," the Justice Ministry sent a notice to prosecutors around the country ordering them to target the organizers of the "illegal gatherings" for endangering public health during the pandemic.
At the same time, the education and science minister, Przemysław Czarnek, threatened to cut funding for universities deemed to be facilitating or encouraging protesters.
After some universities canceled classes to allow students to attend rallies earlier in the week, the minister said their behavior was "scandalous."
"Young people are in a period of rebellion. We went through this too," he told the state television broadcaster, TVP. "The difference is that we were brought up in the spirit of authority. Teachers were authorities. We must return to that."
https://www.nytimes.com/2020/10/30/world/europe/poland-abortion-women-protests.html
---------
Women in the Arab world with digital skills are prospering
BAN BARKAWI
01 NOVEMBER 2020
Amman — As Covid-19 swells the ranks of unemployed women in the Arab world, surging demand for digital skills could help many of them find work in a region where only one in four women has a job.
The pandemic has taken an especially heavy toll on retail, tourism and hospitality jobs traditionally held by women, but experts say those able to retrain could tap into growth areas like digital marketing, e-commerce and online customer support.
"This is a tremendous opportunity. These are areas where you can reskill someone relatively quickly," said Jasmine di Florio, senior vice-president at Education for Employment (EFE), a job training nonprofit for young people in the Middle East and North Africa.
"We need to teach young women all kinds of digital skills but we also need to continue to teach them human skills — things like empathy, teamwork, leadership ... [that] are in even greater demand now because so much is going digital."
The fourth Industrial Revolution — a term referring to the new era of digital advances that is changing the way people live and work — is expected to double job opportunities for women in the region by 2030, according to a 2020 McKinsey study.
Many women are already finding new opportunities — sometimes by putting their new-found tech skills to work in jobs where they have an innate edge over men.
One of EFE's trainees, Walaa Shahahdeh, who has her own business repairing smartphones, said her services were in high demand among women in her conservative Jordanian community who did not want men seeing personal photos on their devices.
"Technology is constantly evolving. You have to keep up to date ... because new devices keep coming out and repairs will never stop," said Shahahdeh.
"Because of high usage during coronavirus due to remote learning and work from home, devices are breaking down more often and I'm getting more calls."
The pandemic is expected to push 700,000 Middle Eastern women out of work in 2020 — about 40% of the 1.7-million total jobs expected to be lost, according to aid organisation Oxfam.
That is despite women in the Middle East and North Africa only accounting for a quarter of the workforce — the world's lowest rate of female participation in the labour market.
In hard-hit countries like Lebanon, where an August 4 explosion compounded the effect of a financial crisis and Covid-19, the number of unemployed women in June 2020 was up 63% compared with figures from 2018 and 2019, according to UN Women.
New job prospects could provide some relief, though the additional burden of unpaid work — such as childcare and supervising remote schooling, is likely to widen the digital gap between men and women in Arab states.
That could mean retraining is even more of a challenge for women, said Manuel Langendorf, a researcher on digital transformation in the region.
"People may have access to the internet but still you will find a lot of families across the region that don't have multiple laptops or desktop computers," said Langendorf, adding that men often have priority when using family devices.
The digital gap between men and women in Arab countries had already increased from 19% to 24% between 2013 and 2019, according to the International Telecommunication Union.
Women in rural areas face "two divides at the same time" and risk missing out on a lot of the promising job prospects of the evolving digital economy, Langendorf said.
"Most of the digital economy across the region is based in urban areas ... so the talent is drawn to that but people who don't live there have [fewer] opportunities to participate and learn from that knowledge exchange," he added.
The switch to distance learning during the pandemic has made it easier for many people to access training and study programmes, however.
When lockdowns came into force in March, EFE across the region quickly shifted its training online, adding new components focused on digital and social media skills.
Menna Fathy, who lives in the Egyptian port city of Suez, said being able to access the training remotely had been an unexpected boon.
"If I had to travel to Cairo every day for a month it would have been draining. The online option was a blessing," said Fathy, who found an insurance job at a bank soon after.
Even though private-sector employers have been badly affected by the pandemic and opportunities are scarce, there is still value in helping women gain skills today, Di Florio said.
"We found a surge of youth and women who want to keep learning even if they know they're not going to get a job tomorrow," she said.
About 44% of women in the region cited limited policies on work-life balance as the main obstacle for keeping a job and said policies that let them work remotely and receive digital training were priorities, the McKinsey report found.
EFE's trainees have been learning to market their skills online and use freelance platforms to find part-time work, helping connect women seeking flexible jobs with employers.
"But we need to make sure that they're getting paid a living wage and that they have access to all potential opportunities and customers on those platforms."
https://www.businesslive.co.za/bd/world/2020-11-01-women-in-the-arab-world-with-digital-skills-are-prospering/
----------
Several Protesters Detained At Women's March In Minsk Saturday - Police
RUSSIAN NEWS AGENCY
31 OCT 2020
MINSK The Belarusian law enforcement agencies apprehended several people at the women's protest rally in Minsk on Saturday, Natalya Ganusevich, the spokesperson for the Minsk police department, told TASS.
"Several citizens have been detained during the unsanctioned rally in accordance with the administrative process," Ganusevich said.
The march of women protesting against the Belarusian authorities' policy and demanding a rerun of presidential election was held in Minsk on Saturday. The women demonstrated in downtown Minsk carrying white-red-white objects and were later joined by disabled people. Law enforcers warned the participants that the rally was illegal.
Nationwide demonstrations have engulfed Belarus following the August 9 presidential election. According to the Central Election Commission's official results, incumbent President Alexander Lukashenko won by a landslide, garnering 80.10% of the vote. His closest rival in the race, Svetlana Tikhanovskaya, came in second, with 10.12% of the ballot. However, she refused to recognize the election's outcome, and left Belarus for Lithuania. After the results of the exit polls were announced late on August 9, mass protests erupted in downtown Minsk and other Belarusian cities.
https://tass.com/world/1218691
---------
URL: https://www.newageislam.com/islam-women-feminism/how-saudi-women-becoming-equal/d/123338
New Age Islam, Islam Online, Islamic Website, African Muslim News, Arab World News, South Asia News, Indian Muslim News, World Muslim News, Women in Islam, Islamic Feminism, Arab Women, Women In Arab, Islamophobia in America, Muslim Women in West, Islam Women and Feminism