By Erum Fatima
October 7, 2013
From the initial joy to the various apprehensions; the journey to the operation room to even afterwards, I was quite prepared for everything. 'What to expect when you're expecting' had been my constant companion during my pregnancy period. If not that, Google had an answer to any of the queries that ever came to my mind.
However, I wish they had also imparted some advice regarding what to expect with your social circle, and more importantly how to deal with it. Moms to be, here's what you should be prepared to deal with in the near future.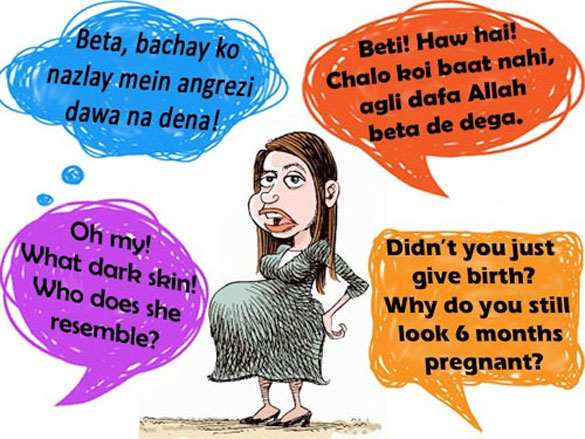 The Unwanted, Uncalled For Advice
This is one thing you will get plenty of - unwanted advice, in contrast to rest, sleep or peace for quite a long time. Interesting thing is, a lot of it will be contradictory and will leave you bewildered.
"Beta, bachay ko nazlay mein angrezi dawa na dou"
(Dear, don't give your child English medicine when she has the flu")
Another one was,
"Newborns shouldn't be given water"
To
"Bachay barray ho kar pani nahi piye ga, abhi se dou!"
(Children don't drink enough water once they have grown up; make them drink more from now!)
Uncouth comments/ The sugar-coated poisonous comments
Yes, my dear fellow moms, if you thought you are done with the toughest part after your pregnancy experience, hold on! Be prepared to hear how you still look six month pregnant, as if you were meant to come out looking like Mahnoor Baloch from the labour room. If you try to meekly protest that you just had a major surgery three days ago, you will get to hear how their sister's friend's cousin's neighbour looked absolutely perfect after her fourth C-Section.
"Beti hai? Chalo koi baat nahi, agli dafa Allah (SWT) beta de dega."
(Is it a daughter? Oh it's alright; Allah (SWT) will grant you a son next time.)
Did I ever tell you whether I wished for a son or daughter? No! Yet the comments keep on coming.
You can't do much more than mince your words and give them a tired smile.
Invasion of privacy
It's astounding how people (read: women) think that child birth is their key to a lock with which they have now access to the doors of your privacy. They feel as though they have the right to ask you each and every minute detail that you once thought you were not comfortable discussing even with your closest of friends! Even more astonishing is the fact that they can get away with it totally safe. The questions can range anywhere from breastfeeding details to your future family plans.
Analysis of Your New Born
"Oh ho! Rang saaf nahi hai, kis par gayi hai"
(Oh my! The skin isn't fair. Whom does the baby resemble?)
"Why isn't her weight increasing?"
"She has taken after her mom. It would have been better if she resembled her grandmother."
With these comments, you can't help thinking,
"Yes aunty sorry, my bad. I forgot to tell God the details when I placed her order, will make sure I do it the next time."
The analysis never ends and it's usually comparative telling you how the kids in their family were born with the longest lashes and were so chubby that they could put sumo wrestlers to shame.
The Delusions and the Myths
Baseless myths are bad but they sound worse when we have access to scientific information available just a click away. However, the problem arises when we just cannot refute them because they have been there since God knows when.
No matter what your doctor says and what is already proven, women have their own set of glasses from which to view your new born. You will be told things like, "you shouldn't have slept on your side" right after the gynaecologist suggested that it was the best position to sleep in; "your child will not be healthy enough because you don't look as obese as the girl next door did", just when your doctor told you that your weight gain is perfect and healthy; "you are having back pain because you don't eat enough" despite knowing that back pain is the most common symptom in pregnancy.
It takes a new mom some time to adjust to all this and then you learn that you don't have to take it seriously. At the end of the day, what matters most is that beautiful smile on your child's face that makes you forget all your woes and aunty totkas. That smile can rejuvenate you enough to take on the world – enjoy it!
Source: http://blogs.tribune.com.pk/story/19006/what-i-did-not-expect-when-i-was-expecting/
URL: https://newageislam.com/islam-women-feminism/i-expect-when-i-expecting/d/13893