By Dr. Luay Shabaneh
6 February 2020
A few weeks ago, my wife mentioned that our door attendant's 10-year-old daughter, Malak, is scared because her parents had decided to "cut her." As a professional who works for an organization that opposes all forms of gender based violence including female genital mutilation (FGM), Malak's story disturbed me and prompted me to speak to her parents, Jumaa and Fatma.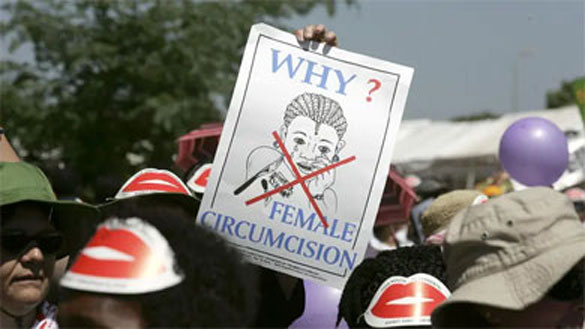 The conversation with Jumaa and Fatma did not go far. Like thousands, if not millions, of other couples across the world, they believe that the harmful practice of FGM is a religious duty necessary to secure their daughter's future and protect her.
But the discussion did push my own personal boundaries. To convince Jumaa and Fatma of FGM's harms, I tried to collect enough evidence and relatable information to sway their opinion. In my field of work, there is no arguing the fact that FGM is a harmful practice with many psychological and physical repercussions.
However, convincing a couple who did not finish their secondary education was a different case, and required me to search for information and data that could resonate with them. Jumaa refused to believe that FGM is a practice that predates Islam and Christianity. He didn't care to listen to the scientific findings. I shared with him simple facts about the origins of the practice.
FGM is an ancient practice that is as old as the Pyramids of Giza. Researchers traced the origins of FGM to the Nile valley, particularly Egypt and Sudan and more specifically the western coast of the Red Sea, in the fifth century BC.
People in many cultures believe that FGM will aid their adolescent girls in abstaining from pre-marital sex and combating any lustful desires. This is a myth, which has been repeatedly proven wrong.
FGM does not protect adolescent girls from anything. If anything, it exposes them to trauma that could last a lifetime.
This is evident in the case of Ifrah Ahmed, who bravely shared her story with the world during the Nairobi Summit on FGM late last year. Ahmed – an FGM survivor who fled her home country Somalia and sought asylum in Ireland – became an activist who aims to use her own personal survival story and struggles to put an end to FGM.
The world is full of stories of women like Ahmed, who is using her voice to speak on behalf of other women, but also of Malak, who has not been able to speak or decide for herself.
However, one fact remains true: the violent practice does not have any positive impact.
It is education, relevant information, access to knowledge, and better understanding of one's health and reproductive rights that do make the difference for girls and women. These factors empower women to make the right choices relating to their own bodies.
It is just difficult to think that 92 percent of women and girls aged 15-49 have undergone some form of FGM in Egypt. The numbers are similar or even higher elsewhere: 88 percent in Sudan, 93 percent in Djibouti and 98 percent in Somalia. These women are exposed to ugly and risky practices inherited from the ancient world.
We, as parents and community leaders, should observe that the mutilation of sensitive sexual organs is a crime. We have to educate our communities that it is also an abuse of women and girl's fundamental human rights, which we must protect.
Many of those who carry out FGM exploit less educated people for financial gain. Medical professionals should fight all forms of medicalisation of FGM in line with the ethics of their profession. And those who advocate that cutting girls is religious should remember that girls, just like all humans, were created by God. It is unnecessary and irrelevant to distort their bodies and very much unacceptable to intervene in the business of our creator. As the holy Quran states, "We have certainly created human in the best of stature."
The United Nations Population Fund is the UN organization responsible for ensuring that all people – men and women, boys and girls – enjoy their reproductive rights. Its strategic plan calls for achieving zero gender-based violence including FGM and child marriage. We are committed to building nations where there is zero tolerance to FGM.
We believe it is an individual responsibility for all inhabitants in all communities to fight FGM; silence is not an option. Ending FGM is a multi-dimensional battle that has legal, educational, social norm, medical obligations that must be fulfilled, and a multi-stakeholder team that includes governments, community leaders, religious leaders and professionals supported by UN agencies and international development practitioners.
Dr. Luay Shabaneh is the Regional Director for Arab States in UNFPA, the UN agency for sexual and reproductive health.
Original Headline: It is time to stop FGM
Source: The Al-Arabiya
URL: https://www.newageislam.com/islam-women-feminism/no-fgm-holy-quran-states/d/121004