By Diaa Hadid and Majd Al Waheidi
Feb 22, 2016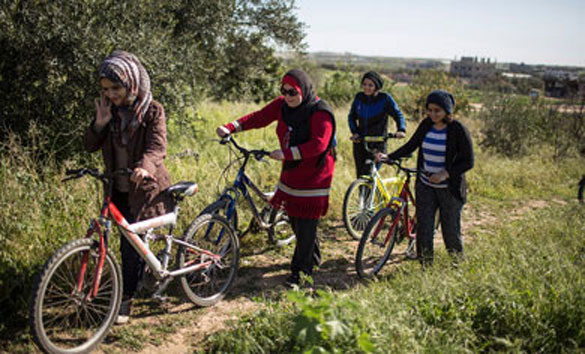 Ms. Suleiman, centre, and other women with their bikes in Gaza on Friday. Credit Wissam Nassar for The New York Times
-----------
The four women pedalling bicycles with jammed gears and wobbly chains up Salahuddin Road, Gaza's bumpy main highway, on a recent morning caused quite a stir.
The driver of a three-wheeled Tuk-Tuk slowed down and a teenager on a horse-drawn cart sped up to match the women's pace. A jeep filled with Hamas gunmen beeped and cheered as it passed, and a pack of men on motorbikes left a wake of catcalls. The sight of women on two wheels was so unusual that Alaa, 11, who was grazing sheep on the grassy median, assumed they were foreigners and shouted out his limited English vocabulary: "Hello! One, two, three!"
The women ignored the hubbub as they pedaled from Jabalia, a crammed cinder-block town in Gaza's north, to the Hamas checkpoint before the heavily restricted border crossing into Israel. They dumped their bikes in a nearby olive grove and sat down for a picnic of cheese sandwiches.
Amna Suleiman, 33, the little cycling club's leader, offered some wisdom to the other riders, a decade her junior. "Listen, girls, there's nothing left in my orchard except firewood," Ms. Suleiman said, using a Palestinian saying for being a spinster. "But you are young. I want you, when you get married, to make riding your bikes a condition of marriage."
The younger women erupted in laughter at the suggestion. "He'll give me a beating!" exclaimed Asala, 21, who spoke on the condition her last name not be used.
The women, who began riding together in December, are the first in years to pedal publicly in Gaza, where the nearly decade-long rule of the Islamist Hamas movement has been accompanied by various initiatives to restrict the modest efforts of women hoping to practice sports.
Hamas barred women from running in a Gaza marathon in 2013, leading to its cancellation, and once tried to prohibit women from riding behind men on motorbikes. Female athletes practice in closed stadiums. Gyms are either single sex or have strict hourly divisions by gender.
In 2010, a Gaza journalist, Asmaa al-Ghoul, was spit at and threatened when she and three friends who were foreigners biked about 15 miles from Gaza's southern tip to Gaza City in protest of the unwritten rule barring women past puberty from cycling.
Ahmad Muheisin, assistant undersecretary in Gaza's youth and sports ministry office, said that women riding in public represented a "violation" of Gaza values, but that he would not try to stop them unless religious leaders addressed the matter with a fatwa.
Many Palestinians frown at the idea of women bicycling in public because men might inappropriately leer at their legs moving up and down or ogle their bottoms. Female cyclists are a fairly unusual sight throughout the Arab world, though women participate in group rides in Cairo and Amman, and in Beirut, women pedal rented bikes on the Corniche, the pedestrian strip along the Mediterranean.
Atef Abu Saif, a Gaza-based writer, said that until the mid-1980s, "it used to be normal" to see women riding bikes in Gaza. "They did it for pleasure and fun, by the sea," he said.
That was before Ms. Suleiman moved to Gaza, as a teenager in the 1990s, but she had cycled as a child in Damascus, Syria.
Her riding revival began with a bet: She and two girlfriends created a competition to see who could lose the most weight in two weeks. Ms. Suleiman, who also swims and plays the keyboard, shed 11 pounds by cutting out bread, rice and pasta, and collected $75.
"It was like 'The Biggest Loser,' but the Amna version," she said.
She decided to buy a bicycle, figuring it would help her keep losing weight. And, she said, "I wanted to remind myself of my childhood, which was without problems," recalling that she would sneak off with her neighbour's bicycle for forays around their Damascus enclave.
At first she rode in Gaza only around her own neighbourhood at dawn, when few would see her. She encouraged her friend Sara Salibi, 24, whose teenage brother taught her how to ride, also at dawn. The women shared a similar defiance against Gaza's limited expectations of women, although they are otherwise quite different.
Ms. Salibi smokes, though only in private; reads Milan Kundera, the Czech author; and hums tunes from Jimmy Fallon's television show. "I like to dance, but I don't know how to dance," she said. "I want to learn how to dance."
For the daring adventure up Salahuddin Road on Friday, Ms. Salibi wore a 1970s-style blue-and-black track suit, her hair poking out from a wool hat she had halfheartedly pushed on her head. In contrast, Ms. Suleiman, who teaches the Quran to children and volunteers in an orphanage, dressed modestly in a red Islamic head scarf, long red coat, wide black pants and spotted red socks.
"Riding a bike makes you feel like you are flying," Ms. Suleiman said. Ms. Salibi echoed that sentiment, saying, "I feel free."
They were accompanied on Friday by Ms. Salibi's 21-year-old sister, Nour, and her friend Asala, whose brown head scarf matched her Converse sneakers.
The group cycled past a building whose facade including gaping holes covered with plastic, still unrepaired from the 2014 war between Gaza militants and Israel. The women wobbled past empty lots piled with rubble that indicated where a bombed building once stood.
Nearby, a fighter in the militant group Islamic Jihad who was waiting for a friend described the women as "detestable and ugly."
"The role of our women is to obey their husbands and prepare food for them inside the house, not to imitate men and ride bikes in the streets," said the man, 33, who refused to give his name but echoed the view of many Gaza men interviewed, and of multiple comments on social networks, after news of the cycling group reached the Palestinian news media.
A distinct minority approved, including Abdul Salam Hussein, 53, who was sitting near a cement factory. "So what if a woman rides a bike?" he exclaimed. "People have reached the moon already!"
Haniya Hamad, 51, a mother of nine, watched the women in Gaza from her vantage point on the back of a horse-drawn cart clopping down the road. Pointing at one of her young daughters, Ms. Hamad said, proudly: "She rides a bike, too. She takes it from her brother."
But Ms. Hamad had told her daughter she could not keep riding as she grew, lest it invite gossip and scorn. Now the girl wore a wide grin.
"When she saw them," Ms. Hamad said, "she said, 'Mama: Look, there are women who are riding bikes!' "
Anne Barnard contributed reporting from Beirut, Lebanon, and Rana F. Sweis from Amman, Jordan.
Source: nytimes.com/2016/02/23/world/middleeast/gaza-women-on-bikes-face-a-long-road-to-acceptance.html?partner=rss&emc=rss
URL: https://newageislam.com/islam-women-feminism/in-gaza,-bicycles-battleground-women/d/106436