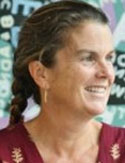 By Deborah Williams
January 23, 2017
"My grandmother told me that the man is the head and the woman is the neck," said an East European student in my class. "It makes me so mad. I don't want to be the neck."
The other students in the class, all women, and none of them from the same country (and none from the United States), nodded in agreement. They knew the sentiment, if not the specific grandmotherly aphorism. A young woman from South Asia said her parents told her it was all right to have a career, but "of course" she would stop working when she got married. Another student, from Hong Kong, said her family supported her desire to go to college but made it clear that a graduate degree would probably make it difficult to find a husband.
These students were all enrolled in my literature class on women writers at New York University Abu Dhabi. Twenty percent of the nearly 1,000 students here come from the United States, another 20 percent from the United Arab Emirates and the remaining 60 percent from everywhere else. The globalism of the student body forces us all to examine our assumptions, examples and interpretations, an examination that goes well beyond just diversifying the syllabus. In my first semester of teaching here, for example, I made a glancing reference to Oprah's Book Club, and a student raised her hand to ask what an "oprah" was.
Given the wide range of student experiences, I wasn't sure how the students would receive a course on women writers. In the United States, when I've taught similar courses, discussions often veered into the territory of "I'm not a feminist, but …" Students were sure that there should be equity between the sexes but "feminists," in their minds, were angry man-haters who did nothing but complain.
So pervasive was this dismissal that I'd chalked it up to a generational divide, and I assumed that my students in Abu Dhabi would also see feminism as old-fashioned and irrelevant. But I have come to reconsider that assumption. "I need to be a feminist so I can do general world-saving," said one student, slightly joking about the world-saving but dead serious about the feminism.
Over and over during the semester, I heard "you, too?" as students discovered points of connection that bridged their distinct cultural experiences. We all found common cause with Sor Juana, a 17th-century nun from what is now Mexico, who avoided marriage and motherhood by taking religious vows, thus freeing her to write and study. A student from Pakistan remarked wryly that Sor Juana had the right idea because once she became a nun, people probably stopped introducing her to eligible bachelors.
"If you don't get married," asked a student from the Philippines, "won't you have to move home and take care of your parents?" That comment elicited murmurs of recognition and a discussion about the difficulties of resisting something we're told is "natural," such as the assumption that women are always caregivers. None of these students come from a country known for progressive gender politics, which may be precisely why they see the value in a feminist perspective: It helps them think about what needs to be changed — and how. Without ignoring the specifics of their experiences, they found the commonalities in being told to "be the neck," or to find a boyfriend, or to forgo graduate school.
Occasionally during class, I would comment that it took courage to have conversations about, for instance, the role that religion played in shaping expectations for "appropriate" female behavior. The students didn't think of themselves as brave, however; they just enjoyed the conversations. Maybe they didn't think of conversations as brave because for each of them, the decision to study at New York University Abu Dhabi was itself an individually brave, even radical, break with convention.
For some, it was radical to study at a coed school; for others it was coming to live in a Muslim country, or leaving home, or even the simple act of enrolling in a class that studied novels. Each student took a risk — stuck her neck out, we might say — in an effort to become the head of her own life. And in their conversations about the risks and challenges that confront them as young women, they came to see that difference is not a threat but is instead an opportunity for engagement and a source of strength.
----
Deborah Williams is the head of the literature and creative writing program at New York University Abu Dhabi.
Source: nytimes.com/2017/01/23/opinion/discovering-feminist-students-in-the-middle-east.html
URL: http://www.newageislam.com/islam,-women-and-feminism/deborah-williams/discovering-feminist-students-in-the-middle-east/d/109827