By Christine Hauser
November14, 2017
When Barbie made her debut in the 1950s, she had blond hair, white skin and a trove of fashion adornments.
But the iconic doll has come a long way since then. Meet the newest Barbie, who has dark skin, the muscular thighs of an athlete, and a hijab.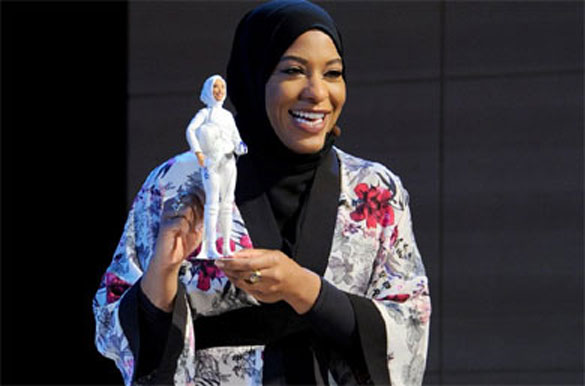 Ibtihaj Muhammad, an Olympic medalist, introduced a new Barbie doll inspired by her during the Glamour Women of the Year celebration on Monday in New York. Credit Craig Barritt/Getty Images for Glamour
---------
The doll, modeled after the Olympic fencer Ibtihaj Muhammad, was revealed Monday evening at the Glamour Women of the Year awards in New York. Ms. Muhammad, who was the first American athlete to compete in the Olympics in a hijab, won a bronze medal in the team saber event in Rio de Janeiro in 2016.
The fencing mask, the uniform and the "Olympic-medal-thick" legs were all there, Ms. Muhammad noted while introducing the doll onstage at the awards show. And for the first time in Barbie's existence, there was a white head scarf tucked tightly around the doll's face, with not a wisp of fake hair in view.
"Perfect hijab moment right here," Ms. Muhammad said, turning the toy this way and that.
In an interview on Tuesday, Ms. Muhammad, 31, recalled how important it was for her to play with dolls as a child — even as she was pursuing sports — and "envision myself in places where society told me I did not belong."
She said that having a doll modeled on a strong Muslim woman was "revolutionary," particularly at a time when some of the national discourse is fraught with bigotry.
"There is so much focus on Muslim women in hijab, and oppression and being docile," she said. "This is flipping this entire bigoted narrative on its head."
The hijab-wearing Barbie is part of the "Shero" line of dolls from Mattel that is based on inspirational women who are breaking social barriers, including Misty Copeland, who was the first African-American female principal dancer with the American Ballet Theater, and the plus-size fashion model Ashley Graham.
Introducing the toy at a women's awards show highlighted Ms. Muhammad's status as an accomplished athlete and the role that Barbies have played in the formative years of American girls.
There was a range of reactions to the new doll online, and Ms. Muhammad said she had braced for a backlash.
"As a public figure who is Muslim I am very accustomed to trolling — that is a part of my life," she said. "But it is still very shocking to me to read the very negative comments about dolls. We are still in a moment where we are unearthing this bigoted America that we all hoped and prayed did not exist."
Ibrahim Hooper, the spokesman for the Council on American-Islamic Relations, said that after the doll was announced, he heard a radio broadcast about it that included derogatory and sarcastic language, including whether the doll would be "strapped with bombs."
"The haters are out in force against this," he said. "Hijab is like a red flag to the Islamophobes."
He pointed to numerous occasions when Muslim women have been singled out by their head coverings and verbally or physically attacked.
"The fact that the cottage industry of Islam bashers has crawled out from under their rocks to attack this relatively benign manifestation of Islam in America is an indicator of where we are at," Mr. Hooper said.
Michelle Chidoni, a Mattel spokeswoman, said on Tuesday that the doll was inspired by the company's push to include a more diverse array of skin color, professions and body types in the Barbie line.
"Barbie the icon has created a lot of conversation around women and women's roles in the world, and she has really swung with the times," Ms. Chidoni said. "She is a lightning rod for conversation."
Source: nytimes.com/2017/11/14/business/barbie-hijab-ibtihaj-muhammad.html
URL: https://www.newageislam.com/islam-women-feminism/new-barbie-modelled-after-ameri/d/113227