By Riyaz Wani
08 July, 2012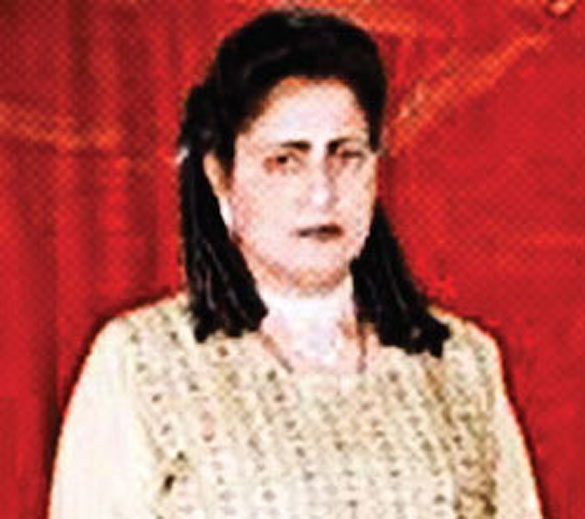 Sabina, the prime accused in the J&K sex scandal, has joined a conservative religious outfit for women, hoping for redemption
---------------
SHE FOLLOWS the purdah strictly. A burqa covers her from head to toe, except the eyes. She quotes extensively from religious scriptures and moral tales. But Sabina, 50, is not your ordinary devout Muslim. She is the former kingpin of Kashmir's high profile sex abuse scandal, involving top politicians, bureaucrats and police officers that roiled the state through 2006.
The secret behind her transformation, Sabina says, is the Valley's conservative women's outfit Dukhtaran-i- Millat, a separatist outfit, which helped her through tough times. "When everybody abandoned me, Baji (Dukhtaran chief Asiya Andrabi) came to my rescue, She helped me transform into a God-fearing woman," says Sabina, who once ran a sex-ring that catered to the state's power-elite.
But this "internal change" has made little difference to her social standing. She lives with her husband and son in a rented accommodation on the outskirts of Srinagar. "Nobody knows I am there. Three of us spend our time as if in permanent confinement," she tells TEHELKA. "No relatives visit us. There is no contact with neighbours."
What keeps her going, she says, is her "belief in God's mercy". With no hope of settling back into social life, Sabina nurtures an expectation of eventual redemption. "I read the Quran and hope that my life will turn around," she says. "Every night has its dawn, mine will also arrive".
Life for her continues to be tough, nevertheless. She would like to do some job to ease her family's financial difficulties. But her "tarnished name" comes in the way. After she was sent to jail along with two sitting legislators, Ghulam Ahmad Mir and Raman Mattoo, and a bevy of senior civil and police officers, Sabina's means of sustenance have dwindled and her health has suffered.
She still has to travel to far-away Chandigarh to attend her trial in court. "While the big guns were let off, I am still being hounded," she says, with a palpable tone of helplessness. All the accused in the case, now out of jail, are facing trial in Chandigarh where it is being handled by the CBI. But the witnesses have since turned hostile. "I've lost everything, my livelihood, my health. I have nowhere to go".
Though face covered in a veil, her eyes lend an emotion and expression to her matter-of-fact utterances. She lapses into sobs over her condition. The sudden loss of power and money as the madam of a high profile sex-ring in Kashmir, then ruled by violence and fear, is palpable. Her trade was deeply enmeshed with parts of the security apparatus that dealt with militancy. Backed by her influential patrons in the government, no lesser mortal could challenge her.
That is, until a video clip of one of her girls started doing the rounds of Barbarshah locality in downtown Srinagar, in April 2006, and the local elders brought it to the notice of the police. A case was registered, and soon the sordid details started emerging. It brought J-K teetering on the edge of political bedlam, with all major parties finding some of their politicians implicated in the scam. Later, a shame-list of more than 100 people, prepared by the J-K High Court, named all the who's who of the state.
But according to Sabina, the number of people involved in the scam was far greater, spread across "from Kashmir to Maharashtra". "Most of them were not touched because they were highly placed," she says, roused in anger. "I can only hope for divine justice now".
Though not denying her own role in the scam, Sabina says her entry into the trade was happenstance. Her story has a Bollywood-esque ring to it. Daughter of an Afghan national who swept into Kashmir during the 1965 war, Sabina's early childhood was spent in Baramulla from where she moved Srinagar. She married a man from Srinagar, a class IV employee in J-K's Health Department in the early 1990s. Her life changed when a real-estate agent swindled her money.
"I moved from pillar to post but to no avail. Then, a woman I knew sent me to a police officer, who demanded sexual favours in return for the work. I refused at the time. But that is how I stepped into this murky world," Sabina says, adding that she learnt soon that the only way to work the system was by pandering to the demands of the "powerful".
SHE WOULD go on to have direct access to some politicians, bureaucrats and security personnel. "I knew many people in high places and I knew what their personal lives were like," she says. "A politician even asked for sexual favours from a woman who was seeking the release of her militant husband. It is a dirty, dirty world out there," she added.
But six years after being exposed, spending time in jail and suffering ignominy, Sabina says she has come away from her old life. "I will never fall back into the life of sin," she says. But she smoulders within at the humiliation she had to undergo. "I brought infamy upon myself and my family. My mother and brother were taken ill and died, unable to bear the insults and I couldn't even mourn their deaths in public."
Now ageing and losing her once-vaunted charms, Sabina remains both steadfast and vulnerable. She suffers from arthritis and thyroid disorder. "I have difficulty standing because of my knees. Doctors have prescribed surgery. But I have little money for treatment," she says, adding that the dragging trial in Chandigarh is taking its toll. "I want to break free and move on but this trial holds me back".
But Sabina has definite plans for the future. She wants to write "a tell-all book". Will she expose all the people at the top who were part of her clientele? "Absolutely," she replies.
Riyaz Wani is a Special Correspondent with Tehelka.
Source: http://www.tehelka.com/story_main53.asp?filename=Ne110812From.asp
URL: https://newageislam.com/islam-women-feminism/from-sex-racket-hijab-dirty,/d/8218