New Age Islam News Bureau
17 Aug 2012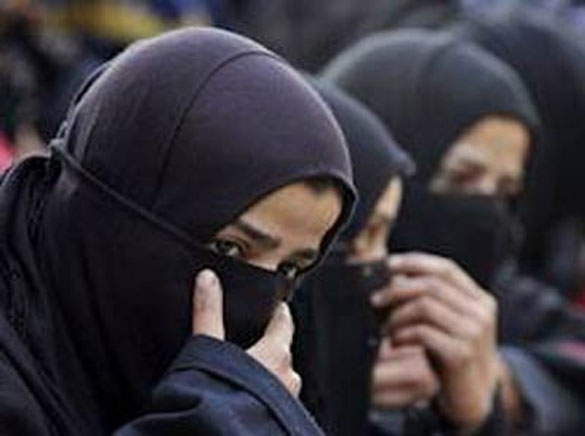 • Women's group protests in Kashmir over Assam, Myanmar
• Kohistani aims to inspire Afghan girls
• Muslim immigrants at home key to U.S. image abroad
• Acid attack: CM orders best treatment for affected nurses
• Women henna stalls popular
• Women, free speech, and the Tunisian constitution
• Ghana: NPP Women Organizer Supports Muslim Community
• Manteo grad helping Afghan women and children
• New video of Swiss hostage in Yemen
Compiled by New Age Islam News Bureau
Photo: Women's group protests in Kashmir over Assam, Myanmar
URL: https://newageislam.com/islam-women-feminism/veena-malik-'astaghfar'/d/8303
-----------
Why did Veena Malik do 'Astaghfar'?
By Saadia Qamar
August 16, 2012
KARACHI: Staying true to her title of Controversy Queen, Veena Malik has struck again by stirring up another commotion – this time with "Astaghfar", a special Ramazan show hosted by Veena for Hero TV. Through this show, Veena aims to address 'sinful' societal issues while repenting the wrongs she has committed and asking for forgiveness.
In a telephonic interview with The Express Tribune, Veena shares her thoughts and feelings about this Ramazan show. When asked about "Astaghfar", she says, "Firstly, for me, it is social norms and human behaviour in society that is the imperative subject of discussion. How should we behave with other people? What does religion say about how we should act with others? Since I hold a degree in Sociology, this interests me very much."
Further elaborating on the line of thought she follows in her show, Veena adds, "I have always been approached by channels asking me to do political shows, to share my thoughts on what political parties are up to here in the country. But I believe these issues are not of interest to the common man. He is a frustrated individual, who faces financial instability and other problems on a daily basis. It is his problems and issues that need to be addressed – this is something that is missing on TV and channels must address it."
Veena also realises that it is indeed the little things in life that matter, as she states, "From dealing with hard core issues, we should now be more involved in looking and solving the simple issues of life that are affecting the common man on the street."
On the sets of "Astaghfar", Veena often gets calls from viewers who speak to her in harsh and condescending tones, with some criticising her blatantly as well. Veena says she feels sympathy for the people who criticise her as she believes, "The way a man speaks or talks to others represents what kind of society we live in; his behaviour shows what sort of person he is and gives the impression that he is definitely living in a very frustrated society. We are often told to treat others with respect to beget respect. I definitely feel sympathy for such individuals."
With 13 episodes on air so far, Veena seems very excited about her new venture. She believes that her show is based on a beautiful concept and also touches upon some imperative family related issues "related to father-daughter and brother-sister relationships and how they should treat each other."
In conclusion, when asked why she chose to do this show, Veena says, "The answer is simple and very clear – to interact with people and to know their worries."
http://tribune.com.pk/story/422946/why-did-veena-malik-do-astaghfar/
-----------
Women's group protests in Kashmir over Assam, Myanmar
17 Aug 2012
Srinagar, Aug 17 (IANS) Activists of women's separatist group Dukhtaran-e-Milat (Daughters of Faith) in Jammu and Kashmir Friday staged a protest against alleged massacre of Muslims in Myanmar.
Asiya Andrabi, who heads the women's separatist group Dukhtaran-e-Milat, led dozens of her supporters in Srinagar carrying placards and raising slogans against the alleged killings of Muslims in Myanmar.
"The Muslim world is watching the massacre of innocent Muslims in Myanmar as mute spectators. The rulers of these countries have become stooges of the West," she said.
"We appeal the world conscience to rise in one voice against the massacre of Muslims in Myanmar," Andrabi told reporters during the protest.
She also criticised the alleged killings of Muslims in Assam and offered shelter to the Myanmarese and Assamese Muslims in Kashmir.
"Let them come to Kashmir, we will throw our homes open for them", she said.
The women's separatist group hit headlines in early 1990s when they started a campaign against obscenity and vulgarity in the Valley.
The group also campaigned against depiction of women in poor light in advertisement campaigns and against beauty parlours, and appealed to Muslim women to observe 'Purdah' (veil) in accordance with the tenets of Islam.
http://www.newstrackindia.com/newsdetails/2012/08/17/105--Women-s-group-protests-in-Kashmir-over-Assam-Myanmar-.html
-----------
Kohistani aims to inspire Afghan girls
August 15, 2012
Female runner part of the team that returned to red carpet welcome in Kabul
Kabul: The first Afghan female to compete at an Olympics Games hopes to act as inspiration to other women in her country.
Tahmina Kohistani, the 23-year-old runner, may not have won a medal — she was the slowest of all the women to compete in the 100m, despite her personal best time of 14.42 seconds in the preliminary round — but her appearance at the Olympics was about more than that.
"By attending the London Olympics I have given the message to all Afghan girls that they are talented, they can pursue sport, they can attend international competitions and above all they can earn honour to their country," she said on her return home on Tuesday.
"Although I could not win a medal, I was able to represent the Afghan women and I am proud to be the first Afghan girl to participate in the Olympic Games."
In conservative Afghanistan, it was unthinkable, 11 years ago when the Taliban regime was in power, that a woman would participate in a sports event.
The fundamentalist regime, which collapsed in late 2001 with the US military intervention, had banned schools for girls and confined women to their homes. They also imposed a series of restrictions on male athletes, including insistence on sporting a long beard and wearing long trousers while playing.
In Ghazi Stadium, the national sports arena in Kabul where athletes train daily to improve their skills and ability, Taliban militants during their six-year reign often exacted punishment, including execution and the chopping off of hands and feet of alleged criminals, each Friday.
The six-member Afghan team to the London Games comprised Rohullah Nikpa and Nisar Ahmad Bahawi in taekwondo, athletes Masoud Azizi and Kohistani, boxer Aimal Faisal and judoka Ajmal Faizi Zada representing the war-torn, rugged country.
In the men's 68kg category, the Afghan taekwondo player Nikpa earned a bronze medal — only the second of its kind earned by Afghanistan.
The team returned home on Tuesday morning and their excited countrymen extended red-carpet welcomes to Nikpa and the rest of the team as thousands of people, including government officials and lawmakers, waited in a long queue at Kabul International Airport to receive the Olympic hero and other members of the contingent.
"I would try my best to win gold medal in the next Olympic Games," Nikpa said, surrounded by hundreds of his admirers.
http://gulfnews.com/sport/athletics/kohistani-aims-to-inspire-afghan-girls-1.1062267
-----------
Muslim immigrants at home key to U.S. image abroad
By By Omar Sacirbey
August 17, 2012
After four years of living in the U.S., Mohamed Jedeh is anxious to return to his native Libya.
It irks him that his local mosque in Union City, N.J., won't broadcast the Muslim call to prayer for fear of angering neighbors, yet nobody complains about the noise from a local bar. Back home, there are no scantily clad women walking across his sight line, and fasting during the holy month of Ramadan is easier because almost everyone is doing it.
Jedeh would probably be home by now if he hadn't been asked by a mosque in Boston to help with special nightly Ramadan prayers. After graduating in May with a master's degree in clinical research from the New York University College of Dentistry, he's ready to get back to the small city of Zintan in northwest Libya, where he plans to teach dentistry and work at a local clinic.
"It's different," said Jedeh, who flies back on Aug. 20. "I miss the Islamic atmosphere."
Despite his homesickness, Jedeh said he has had a positive experience in the U.S. He initially worried about his wife's safety because she wears a niqab, or face veil, but except for one insult shouted by a passerby, he and his family have been treated respectfully.
"I believe you cannot judge any country and say, all people are good or all people are bad," said Jedeh.
The opinions of Muslim immigrants and students like Jedeh are important because they shape how Muslims abroad see America, much more so than the mosques, media, and politicians in their countries, experts say. Some Middle East researchers say American policy makers and think tanks should pay more attention to people like Jedeh here at home as they work to shape perceptions of America abroad
"We have been too quick to tell stories about Muslims who have the one-dimensional view of America," said Edward Curtis, professor of religious studies at Indiana University-Purdue University Indianapolis. "The deeper these contacts are, the more accurate their knowledge of America will be."
Research shows there's work to do. Recent polls from Pew and Gallup show that more than half of people in Muslim-majority countries have an unfavorable view of the U.S., and roughly 80 percent have a negative view in critical U.S. allies such as Egypt, Pakistan, and Turkey.
A 2011 Pew Research Center report found that 63 percent of America's estimated 2.6 million Muslims are foreign born, with about a quarter having arrived since 2000. Between 80,000 and 90,000 Muslim immigrants have arrived annually to America over the last few years, according to the report.
So why do immigrants like Jedeh matter? Because they have friends back home, and those friends may be more influenced by him than their local leaders or slanted media reports.
As a boy in Mashhad, Iran's second largest city, Hossein Fariborzi used to believe what he heard about America in the media and during Friday sermons. America was violent, depraved, and anti-Muslim. He was told that America was a place where Muslim women risked attack if they wore their headscarves in public, and where Muslim men practiced Islam behind closed doors.
"The U.S. was considered the worst place on earth for Muslims," said Fariborzi, who is now pursuing his Ph.D. in computer science at MIT.
But by the time he reached high school, he had friends who had studied or traveled in America, and described a country that was nothing like what he heard in the media or during Friday sermons. His network of friends who had studied abroad only grew when he entered Tehran's Sharif University of Technology.
"I stopped believing what I heard about the U.S. a long time ago," Fariborzi said. Many Iranians, he added, know people who have been to or live in the United States, and don't take the establishment view of America seriously.
"Most of the religious figures are saying the same things still more than 30 years after the revolution. There is not a single week that they don't literally curse the U.S."
While many researchers ignore Muslim immigrants as sources that shape Muslim views of America abroad, others overemphasize the role of religion, Curtis said. In many Muslim countries, fewer than half the population attends Friday congregational prayers, and many of those that do go don't pay attention to the sermon.
"The mosque is overplayed as a site where consciousness is shaped," he said.
The media has a far greater influence, and highlights stories about Islamophobia in America, such as the sometimes hateful protests against a proposed Islamic community center in lower Manhattan in 2010.
"They like to do stories about America as Islamophobic because it contradicts American claims as the land of the tolerant," said Curtis.
Despite stories about Islamophobia, many Muslims preparing to come to America for the first time worry less about discrimination and more about temptation.
"My mother warned me I shouldn't go, and that if I do go, I should be careful because it's not like a Muslim country," said Abdulaziz Basri, a Saudi Arabian student at the University of Massachusetts-Dartmouth. "People warn you about the vices, that they are everywhere and that if you are not careful, you will get pulled in and lose your religion."
Despite his eagerness to return to Libya, Jedeh noted that he will be reminded of America every day. Both his children — a 3-year-old boy and a baby girl, were born in the United States.
"They are American," Jedeh said.
http://www.washingtonpost.com/national/on-faith/muslim-immigrants-at-home-key-to-us-image-abroad/2012/08/16/5731cdb6-e7e1-11e1-9739-eef99c5fb285_story.html
-----------
Acid attack: CM orders best treatment for affected nurses
August 17, 2012
LAHORE: Punjab Chief Minister Shahbaz Sharif, while taking notice of acid attack incident at Mayo Hospital, has directed the health secretary to provide the best treatment facilities to the affected nurses. He also ordered the DIG (operations) to immediately probe into the incident.
The incident of throwing acid on duty nurses at Mayo Hospital on Wednesday night reflects poor security arrangements at public sector hospitals and is a big question mark on the claims of good governance by the Punjab government, the Pakistan Medical Association (PMA) said on Thursday.
In a press statement, PMA Central Joint Secretary Dr Shahid Malik, Dr Tanveer Anwar, Dr Izhar Ahmed Chaudhry, Dr Ashraf Nizami, Dr Abrar Ashraf Ali, Dr Ihsanur Rehman, Dr Yasmin Ihsan, Dr Kamran, Dr Sabahat Habib Khan, Dr Salman Kazmi said that the negligent attitude of the police and Health Department on the matter was unacceptable.
The PMA has demanded a high-level enquiry into the matter and fixing of the responsibility of the security lapse. The PMA also demanded that the Punjab chief minister get installed walkthrough gates at all emergency wards, provide metal detectors and ban the entry of unrelated people inside the hospitals.
http://www.dailytimes.com.pk/default.asp?page=2012\08\17\story_17-8-2012_pg13_2
-----------
Women henna stalls popular
August 17, 2012
ISLAMABAD: The trend of arranging henna stalls by women is gaining popularity from last few years as women set up their stalls days before Eid until Chand Raat offering traditional and contemporary styles to attract females. Besides facilitating females to get a variety of henna (mehndi) motifs, these stalls give the organisers a respectful earning opportunity a few days before Eid.
The experts bring designs and celebrations in a mood of festivity that colour mostly the last days before Eid. Females who seem conscious about their beauty, especially during festivities, throng these stalls set up at homes, markets and beauty salons. "The gathering of women at stalls of mehndi experts not only bring festive moments for us but also fulfill our requirement to prepare for Eid," said Shakeela, a housewife.
Talking to APP, a stallholder Samina said that she set up her stall two days before Eid every year and earns sufficient profit in a respectable way. The trend of mehndi stalls at homes and markets has witnessed an increase during last few years as earlier women used to earn through mehndi only at beauty salons.
Various bookshops also start selling mehndi design books days before Eid as those who want to practice henna application at home can get better opportunities to learn this art while social networking sites have made it easy for Internet users to get any kind of design. A typical design of mehndi which includes a circle in the mid of palm embellished with some floral patterns is the most popular style of mehndi among Eastern women.
http://www.dailytimes.com.pk/default.asp?page=2012\08\17\story_17-8-2012_pg11_2
-----------
Women, free speech, and the Tunisian constitution
By Isobel Coleman
August 16th, 2012
Isobel Coleman is a senior fellow for U.S. Foreign Policy and director of the Civil Society, Markets, and Democracy Initiative at the Council on Foreign Relations. This entry of Democracy in Development originally appeared here. The views expressed are her own.
The path to democracy hardly begins and ends with elections. There is necessarily a lot of heavy lifting along the way to ensure that a full set of human rights are protected. In the reconstituted Arab states of Tunisia, Egypt, and Libya, balancing conservative religious beliefs and social mores with minority rights, women's rights, and freedom of speech is already proving to be a tough challenge.
In Tunisia, arguably the most secular and progressive of the transitioning countries, worryingly violent protests have marked the deep tensions that exist between religious and secular elements in society. Unsurprisingly, these tensions are playing out not only in the streets, but also in cultural spaces such as art galleries, in the media, and in the courts. Last fall, protests erupted after a Tunisian television station showed the acclaimed movie Persepolis– a coming-of-age story set in Iran that depicts God in a human form, something that Islam forbids. The head of the station's home was ransacked by demonstrators in the ensuing demonstrations. What really alarms secularists is that the court fined the executive $1,600 for "disturbing public order" and "threatening public morals."
Full report at:
http://globalpublicsquare.blogs.cnn.com/2012/08/16/women-free-speech-and-the-tunisian-constitution/
-----------
Ghana: NPP Women Organizer Supports Muslim Community
BY ISSAH ALHASSAN
15 AUGUST 2012
Kumasi — MRS. ALBERTA Owusu Ansah, the New Patriotic Party (NPP) Ashanti Regional women's leader has donated items to the Muslim Community at the Central Mosque last week Friday.
The items, made up of kettles and mats, valued at over GH¢1,000.00 was to support the Muslim community during the Ramadan festivities.
The NPP regional Women's Organizer said Ghana was going through a sorrowful period after the demise of His Excellency President John Evans Atta Mills and would, therefore, require prayers and spiritual intervention to be able to stand on her feet.
Being the holy month in the Islamic calendar, Mad. Owusu Ansah expressed the hope that Muslims would seize the opportunity to pray for peace and divine intervention of Allah for the country and the people.
Full report at:
http://allafrica.com/stories/201208160517.html
-----------
Manteo grad helping Afghan women and children
BY NEEL KELLER
2012/08/15
U.S. Air Force Captain Jonathan Hudgins is one of a group of officers who recently returned to Seymour Johnson Air Force Base in Goldsboro from deployment to Afghanistan with a story to tell that goes far beyond the customary accounts of adapting to a foreign culture and engaging the enemy in combat.
"While we were there, a few other officers and I created a non-profit organization with the intent of helping local Afghan women and children through economic incentives," Hudgins told the Sentinel. "Specifically we're selling handmade Afghan scarfs here in America."
The organization is called Flying Scarfs.
Hudgins was born in Clearwater, Fla. and moved with his family to Kitty Hawk when he was 12. After graduating from Manteo High School in 2002, Hudgins joined the Air Force and attended the University of Colorado on an ROTC scholarship, majoring in geography.
"I grew up with a passion for aviation," Hudgins said. "I always knew I wanted to be a pilot and prepared for it from elementary school on. Then -- in my senior year at Manteo High -- 9/11 happened. It changed the course of my life. Suddenly I felt directed toward being a military pilot, and the Air Force seemed to be a perfect fit."
Full report at:
http://obsentinel.womacknewspapers.com/articles/2012/08/15/features/feats139.txt
-----------
New video of Swiss hostage in Yemen
2012/08/15
GENEVA — A Swiss woman being held hostage in eastern Yemen has made a second video appeal to the Swiss government to help her, the Sonntags Zeitung reported Sunday.
The Swiss foreign ministry confirmed the existence of the video but would give no further information to protect the woman's security.
It was the second video appeal by the woman who was reportedly snatched from her home in March in the Red Sea port city of Hodeida by armed men, who then transferred her to Shabwa province, far to the east.
In May she appealed to the Swiss authorities to help secure her release and confirmed she was being held by Al-Qaeda combatants.
Shabwa is a stronghold of loyalists of the jihadists' local affiliate Al-Qaeda in the Arabian Peninsula, or AQAP, whose militants fight under the banner of Partisans of Sharia (Islamic law).
More than 200 people have been abducted in Yemen over the past 15 years, many of them by members of the country's powerful tribes who use them as bargaining chips with the authorities.
Almost all of those kidnapped were later freed unharmed.
Copyright © 2012 AFP. All rights reserved
-----------
URL: https://newageislam.com/islam-women-feminism/veena-malik-'astaghfar'/d/8303