New Age Islam News Bureau
20 Sept 2012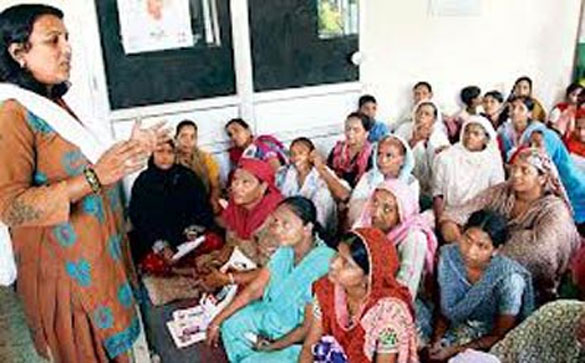 • Pak Teen rescued from prostitution ring in Dubai
• A Pakistani Father Hacks Daughter to Death for Working in a Beauty Parlour
• Man Charged With Hate Crime against Muslim Woman
• Teenager Wins a Seat in Uganda's Parliament
• Torture of Kids Case: Emirati Father, Girlfriend Found Mentally Sound
• Muslim Woman 'Beaten In Brutal Exorcism by Family
• Gujarat's Social Worker-Turned-Politician Fighting for Muslim Women
• Honour Killing Case: 10 Year Imprisonment for Three in Family
• Woman Takes Command of ISS after Crew Return
• Saudi Women Have Proven Themselves in Leadership Roles
• Weaving together love, terrorism and religion
Compiled by New Age Islam News Bureau
Photo: Gujarat's Social Worker-Turned-Politician Fighting for Muslim Women
URL: https://newageislam.com/islam-women-feminism/us-looks-empower-afri-women/d/8735
--------------
US Looks To Empower African Women to Be Agents Of Peace
Bikya Masr Staff | 20 September 2012
WASHINGTON: A meeting between U.S. Secretary of State Hillary Clinton and 18 African military and security professionals was among the highlights of a three-day international workshop discussing the role of women in African armed forces co-hosted September 12-14, 2012, by the Africa Centre for Strategic Studies (ACSS) and U.S. Africa Command (U.S. AFRICOM).
"We're incredibly proud to be sponsoring this program … and to be working with all of you on the greater integration of women into the security forces," Clinton said September 14 while meeting workshop participants who visited her State Department offices. The workshop, titled "Leaning Forward: Gender Mainstreaming in African Armed Forces," brought together more than two dozen experts and practitioners from 14 African countries, the AU, and Inter-governmental Authority on Development (IGAD), and the United States government to examine and highlight the progress made, challenges experienced, as well as the opportunities available to enhance gender mainstreaming in African security forces.
In her nearly four years as the top U.S. diplomat, Clinton has repeatedly called attention to women's rights and gender equality. "For years, many of us have tried to show the world that women are not just victims of war; they are agents of peace," Clinton said in December 2011 at Georgetown University, discussing an executive order then newly signed by President Obama to implement the first-ever U.S. National Action Plan on Women, Peace, and Security.
The crucial role of women in ending conflict and building lasting security also has been recognized in Africa. Over the past decade the African Union (AU), sub-regional organizations, and African governments have devoted significant attention to promoting gender equality and gender mainstreaming in the armed forces and security policy development. These efforts have yielded impressive results in several African states. Rwanda, for example, is the world leader in terms of women's representation in parliament. Women hold 56 percent of seats in the lower house of Rwanda's parliament and 38 percent of seats in the senate. Seychelles has emerged as a leader in promoting gender equality in the security forces. Women account for 38 percent of police in Seychelles and 20 percent of the country's defence force. Women also comprise more than a quarter of personnel in the Namibian and South African defence forces.
While women continue to make strides–for example, the presidents of Liberia and Malawi both are women–success stories often are the exception rather than the rule. In most African states, the process of integrating women into the armed forces and security policy decision-making has progressed slowly. Furthermore, although women are increasingly becoming integrated into security forces across the continent, they are still largely underrepresented in leadership positions.
Representation of women in global peacekeeping and conflict resolution is case in point. In 2010, women accounted for only 2.4 percent of signatories to peace agreements. Out of almost 100,000 UN peacekeepers, women comprise only 3 percent of military personnel and only 9 percent of police. Further, according to the UN, "no woman has ever been appointed chief or lead mediator in UN-sponsored peace talks."
Simply tallying the proportion of women in the military, however, is not a sufficient measurement of gender equality. "It is not sufficient to determine gender equality by the number of women in an institution," says Dr. Cheryl Hendricks, Senior Research Fellow at the Institute for Security Studies in South Africa, during a presentation at the recent Africa Center workshop. "Their positions, conditions of employment and experiences are as important."
"African governments, continental and regional organizations, and civil society groups have long realized that the continent could not realize its full potential without transformative and significant action to enhance gender equality and combat discrimination against women in the economic, political and social spheres," says Dr. Monde Muyangwa, Dean of Academic Affairs at the Africa Centre. "Over the years, many African countries have made progress on this front, but much more remains to be done."
Gender mainstreaming efforts often are met with resistance within military establishments. Entrenched perceptions that women do not have a role in military service and a general lack of adaptability of military structures are major impediments to promoting gender equality.
To respond to this challenge, experts at the workshop stressed that African militaries must integrate gender perspectives into recruitment, training, and personnel management strategies. Specifically, African armed forces could reevaluate policies on promotions, maternity leave, marriage, pensions, sexual discrimination, and harassment.
While some stress that advocates of women's empowerment need to lobby senior military leaders, others stress the need for champions in the political sphere to ensure that militaries have a clear mandate and sufficient resources to conduct gender mainstreaming activities.
"The structure of politics in African countries must also allow women to participate so that they can look at gender issues objectively," argued General Owoye Azazi, former National Security Advisor and Chief of Defence Staff in the Federal Republic of Nigeria, during a panel that examined the tools for promoting gender mainstreaming in the security sector.
If gender mainstreaming is to be truly effective, African leaders must be held accountable for their commitments to promote gender equality. "There is often a disconnect between lofty political commitments and the realities on the ground," said Dr. Funmi Olonisakin, Director of the African Leadership Centre at Kings College, London.
To bolster accountability, African governments, militaries, and regional institutions will need to enhance monitoring and evaluation capacity. This will require compiling and maintaining detailed and accurate statistics about gender representation in the security sector.
Sustained engagement by civil society and the press will also help to ensure that governments and militaries remain actively engaged in gender mainstreaming efforts. Participants in the workshop recommended establishing a civil society organization to be designated as a watchdog on gender mainstreaming issues.
Gender mainstreaming champions may also need to reevaluate how they discuss and define gender mainstreaming.
"Some people think it's just a feminist agenda," said Heather Bush, outreach and gender specialist at AFRICOM. "But when people understand that it's about engaging over half the population to enhance human security, that's when the light bulbs start to go on."
Since 2009, U.S. Africa Command has engaged in several initiatives aimed at promoting gender mainstreaming efforts, both across Africa and within its own command structure. AFRICOM established a working group on Women, Peace and Security, which aims to foster dialogue about the expanded engagement of women. Additionally, the command sponsors research on sexual and gender-based violence (SGBV) in the Great Lakes region as well as research on best practices in SGBV training in the armed forces.
Alongside ACSS, AFRICOM assisted the government of Senegal with a year-long project to assess and better integrate women in the armed forces. AFRICOM also funded construction, renovation, and repair of facilities that provide services to SGBV victims in the Democratic Republic of Congo.
AFRICOM's leaders say they understand that, in order for these initiatives to be truly effective, gender mainstreaming efforts must be sustained, comprehensive, and integrated throughout its operations. "Mainstreaming should not be limited to individual activities," Ambassador Helen La Lime, Director of Outreach (J-9) at AFRICOM, said during a presentation on the command's role in promoting gender equality on the continent.
"These concepts are most effective when woven through various activities and programs," La Lime said. "We need to find a way to integrate these gender themes into everything that happens at AFRICOM."
http://www.bikyamasr.com/77978/us-looks-to-empower-african-women-to-be-agents-of-peace/
--------------
Pak Teen rescued from prostitution ring in Dubai
Amira Agarib / 19 September 2012
The Dubai Police recently rescued a 15-year-old girl from the grips of a human-trafficking gang in Dubai.
Brigadier Khalil Ibrahim Al Mansouri, Director of General Department of Criminal Investigation said, the anti-organised crime department arrested members of an Asian gang that brought girls from their home country to Dubai after luring their families with money and false promises.
Elaborating, Mansouri stated that some gang members allegedly approached the girl's family in Pakistan and promised to give them good money to send the girl, identified as QSM, to the UAE.
Police said the girl was brought to the UAE by PM, an Asian woman who was allegedly the gang's mastermind, in July and was beaten up and forced into prostitution. PM used a forged passport where the girl's name and age were changed to get her a visa into the UAE.
Colonel Salem Khalifa Al Rumaithi, Deputy CID Director for Investigation and Search, said that the Anti-Human Trafficking Department started investigating the matter when the received information about the deceit and fraud drama which began at the victim's home country. He explained that the first step the police took was in the direction of rescuing the girl. By the end of August they tracked her down as she was coming back from visiting a client.
She was brought to the police headquarter and the Anti-Human Trafficking team asked her to assist them in helping arrest the gang members. An undercover police officer posed as a customer and struck a deal with the gang leader PM to take the girl home for three days. The suspect agreed after she asked him to meet her and pay the money in advance. The police caught her red handed while she was receiving police money from the undercover cop.
Following her arrest, PM led police to the gang's prostitution den where police arrested two other men as well as another woman for willingly engaging in prostitution.
The police found passport of the victim, receipts of money transfers and note containing prostitution revenue and seized cash in different currencies.
All suspects were referred to the Dubai Public prosecution.
A few days later, in the first week of September, police arrested two other men who are believed to be part of the same criminal network, who ran a prostitution racket in another emirate. The second suspect was found to be residing in the country illegally.
news@khaleejtimes.com
--------------
A Pakistani Father Hacks Daughter to Death for Working in a Beauty Parlour
Mohammad Asghar
Sep 19 2012
RAWALPINDI, Sept 18: A father brutally hacked his divorced daughter to death in the city suburbs because he could not countenance her working in a beauty parlour, her siblings reported to police on Tuesday.
Police said Allah Ditta, the accused, was arrested and confessed to the crime.
A blood-stained axe he was believed to have used to kill his 32-year-old daughter Shagufta, was also recovered.
"My father tied her to a tree in the jungle near our house and swung the axe at her neck, killing her instantly," police quoted her younger sister as saying. In his statement recorded with the police her brother, Fiaz Ali, said the family lived in Gorakhpur village in Adiala suburbs and his father used to violently oppose Shagufta's desire to accept an offer from the lady of the house where she worked as a maid, to work in the parlour that she ran.
"Last night, our father beat her up when she insisted on joining the parlour. Other family members intervened and the issue was settled for the time being," the younger sister told the police.
Shagufta had a little son and was divorced about three years ago.
As she woke up from her sleep, said the younger sister, she saw her father taking Shagufta away, holding a piece of rope and an axe in his hand.
Scared and suspicious at this scene, she said she informed her brother.
Shagufta was taken away by her father to the nearby jungle where he allegedly tied her to a tree, abused her and then allegedly smashed her neck with an axe, killing her on the spot, according to the sibling.
Meanwhile, last Sunday two women were murdered in the name of honour in the city.
In the first incident a woman identified as Hasrat Bibi was shot dead by her son-in-law in Khyban-e-Sir Syed.
Hasrat Bibi's daughter who had been married with Ali had returned to her mother's house after disputing with her husband.
As he came to his in-laws' house to convince his wife Mehwish to go with him, he got provoked as his in-laws refused to send their daughter with him, he pulled out his pistol and gunned down his mother in law.
In another incident a woman identified as Sadaf Jabeen was shot dead by her husband Tanveer Ahmed outside Ayub Park.
http://dawn.com/2012/09/19/father-hacks-daughter-to-death-2/
--------------
Man charged with hate crime against Muslim woman
September 17, 2012
WEST HARTFORD, Conn. (AP) — Police say a West Hartford man has been charged with hate crimes after allegedly threatening a woman because of her Muslim heritage.
Authorities say 68-year-old Michael Germain approached the woman as she was waiting for a prescription at a pharmacy, made racially-charged remarks and threatened to punch her. After the woman left he allegedly told a technician he was upset Americans had been killed in Libya.
He was arrested Saturday and charged with second-degree threatening and second-degree breach of peace in addition to hate crimes.
German told WVIT-TV it was a misunderstanding and said: ''I think it will all be straightened out eventually.''
The Council on American-Islamic Relations on Monday called for the FBI to consider federal charges against Germain.
http://www.boston.com/news/local/connecticut/2012/09/17/man-charged-with-hate-crime-against-muslim-woman/lPeBHgYgiJYTtkaFsQqR9M/story.html
--------------
Teenager wins a seat in Uganda's parliament
Sep 18, 2012
KAMPALA, Uganda: A teenaged young woman fresh out of high school has won a seat in Uganda's parliament, adding to the ruling party's majority but embarrassing some who say her success lowers expectations of lawmakers in the East African country.
Proscovia Oromait, who is 19 and a college hopeful, contested elections deep in eastern Uganda to fill the seat left vacant by her father's death. President Yoweri Museveni's ruling party had been desperate for a win there, having lost seven in eight parliamentary by-elections this year. The polls have come to be widely seen as a test of Museveni's popularity, and some party bosses calculated that she would win with a sympathy vote. The result was Uganda's youngest lawmaker ever and a boost for Museveni's party.
Michael Mukula, a lawmaker who is one of the ruling party's deputy chairmen, said Oromait's win had sent "a lot of ripples" through the organization, dividing it into reformers and hardliners who want to win by any means necessary.
"I am a bit concerned and taken aback because of her lack of experience and lack of exposure," Mukula said of Oromait. "This is not a constituency you want to give a child of that age to shoulder."
Full report at:
http://articles.timesofindia.indiatimes.com/2012-09-18/rest-of-
--------------
Torture of Kids Case: Emirati Father, Girlfriend Found Mentally Sound
Marie Nammour / 20 September 2012
The psychological evaluation of an Emirati father and his compatriot pregnant girlfriend found them mentally sound at the time when they allegedly tortured his two daughters which led to the death of one of them, eight-year-old Wadeema, a court heard.
The Court of First Instance will try H.S., 29, an ex-security supervisor, and his 27-year-old girlfriend, A.A., as mentally sane individuals on the charges of torture, confinement and unauthorised burial of a body.
The court earlier ordered that both H.S. and A.A. be psychologically evaluated by hospital experts to determine whether they suffered from any mental illness and whether, if any, it affected their behaviour, consciousness and perception of acts and consequences mainly at the time of the crimes they allegedly committed.
The forensic doctor, who examined Wadeema's body, told the court bench that he could not determine the exact cause of her death since her body was found in May end, about six months after the alleged torture. The body was found in an advanced state of decomposition.
The apparent marks of physical abuse on and unhygienic conditions in which Wadeema's seven-year-old sister, Mira, was found in the studio flat rented by her father in International City led the police to the discovery of the death and unauthorised burial of Wadeema.
Full report at:
http://www.khaleejtimes.com/kt-article-display-
--------------
Muslim Woman 'Beaten In Brutal Exorcism by Family
By EMILY ALLEN
18 September 2012
Asma Hussain was 'tied to a bed and covered with holy water after relations become convinced she was possessed'
Her husband 'summoned local Muslim preacher to carry out ceremony and encouraged him to hit his wife harder'
A woman was beaten with a walking stick during a brutal exorcism organised by members of her own family, a court heard.
Asma Hussain was tied to a bed and covered with holy water after relations became convinced she was possessed by a demon, it is alleged.
Her husband Ahmed, 60, summoned the local Muslim preacher to carry out the ceremony and encouraged him to hit his wife harder, Snaresbrook Crown Court was told.
Full report at:
http://www.dailymail.co.uk/news/article-2204968/Muslim-woman-beaten-walking-stick-
--------------
Gujarat's Social Worker-Turned-Politician Fighting for Muslim Women
By D. P. BHATTACHARYA
19 September 2012
At a time when fanatics are burning vehicles in Chennai because of a stupid film made in America, a gritty woman in Gujarat is silently taking her fight for empowerment of Muslim women to the political arena.
At 39, Noorjahan Diwan is the modern face of lower middle-class Muslim women in Gujarat. The social worker-turned-politician is working towards getting Muslim women involved in the polity, a realm that is almost entirely left to the men in the community.
"Muslim women have traditionally been Congress's vote bank, but a mute one. But it is important that they find their voice and stand up for what is rightfully theirs," says Noorjahan.
Appointed as the president of the Minority Women's Cell of Congress about six months ago, Noorjahan has already addressed about eighty meetings exclusively for Muslim women all over the state. "The women will have to learn to hit the street when needed and demand what is legally theirs. No one else can decide for us," she says, as she hops into a car on her way to Vadodara.
Full report at:
http://www.dailymail.co.uk/indiahome/article-2205681/GUJARAT-PLUS-Girl-power-Gujarat-
--------------
Honour Killing Case: 10 Year Imprisonment for Three in Family
Sep 19 2012
Muzaffarnagar : Three members of a family were sentenced to 10 years imprisonment for the murder of a girl in a honour killing case in 2008.
Additional district and sessions judge Ramesh Chand Diwaker found the victim's mother Ikbal Jahan, brother Mohsin and uncle Mooba guilty under section IPC 304 and awarded 10 years imprisonment to them.
The prosecution said Mohsina's family was against her relationship with Taufik.
She was strangled to death by her family at Kairana in Muzaffarnagar district in July 2008.
The court also imposed a fine of Rs 7,000 on each of the accused.
http://www.indianexpress.com/news/honour-killing-case-10-year-imprisonment-for-three-in-family/1004908/
--------------
Woman Takes Command of ISS after Crew Return
Sep 17 2012
MOSCOW: A woman took command of the International Space Station for only the second time Monday as three US and Russian colleagues made a safe return from the orbiting space lab to the Kazakh steppe.
The Soyuz TMA-04M capsule touched down with US astronaut Joe Acaba and Russian cosmonauts Gennady Padalka and Sergei Revin aboard, after deploying a huge white parachute and making a pin-point descent with helicopters tracking its progress.
NASA television footage showed the smiling men relaxing in lounge chairs and sipping warm drinks from thermoses while medical teams checked their pulses and chatted to them about their trip.
"It's good to be home," a NASA official quoted Acaba as saying the moment he was pulled out of the Russian capsule to mark the formal end of his 125-day stay in space.
The crew then set what may become a new tradition by signing their names on the Soyuz capsule in honour of their journey.
Full report at:
http://dawn.com/2012/09/17/woman-takes-command-of-iss-after-crew-return/
--------------
Saudi women have proven themselves in leadership roles
SABRIA S. JAWHAR
20 September 2012
An extraordinary thing happened this week in Riyadh. Maybe it wouldn't be so special in another country, but for Saudi Arabia it was a moment that makes one stand up and take notice.
That special event occurred at the Shoura Council meeting where Dr. Muneera Al-Osaimi and Dr. Afaf Altuwaitjri, the first women to become members of the inner circle of the Ministry of Health, rose and spoke before Shoura Council members about the ministry's projects.
They were the first women to address the council. The council chambers reverberated with thunderous applause from an appreciative audience, but the sky did not fall and the ground did not shake. Rather, peace prevailed in the Kingdom.
Yes, I may sound a little sarcastic, but the event should put to rest any criticism of women actively engaging in government business. Consider the significance of the event: Two women — not on a video monitor — addressing the all-male Shoura Council. Their presence fills me with hope and optimism that women will have an active role in Shoura Council matters and not remain as mere observers.
Full report at:
---------
Weaving together love, terrorism and religion
By Sonia Malik
September 20, 2012
LAHORE: On the canvas are five people who have their backs to the viewer, wearing the keffiyeh – the traditional Arab headdress. In the foreground is a vase. What's unusual about this bunch of flowers is that grenades hang from two of the stems.
The painting is one of the 10 artworks Ayesha Farzand, a final year MS student at the Lahore College for Women University, has put on display at an exhibition at the Shakir Ali Museum. Titled Three Dimensions the exhibition, orgnaised by the Pakistan National Council of Arts, features three artists. It opened on September 17 and will run till September 28.
Full report at:
http://tribune.com.pk/story/439718/weaving-together-love-terrorism-and-religion/
--------------
URL: https://newageislam.com/islam-women-feminism/us-looks-empower-afri-women/d/8735