New Age Islam News Bureau
3 Aug 2012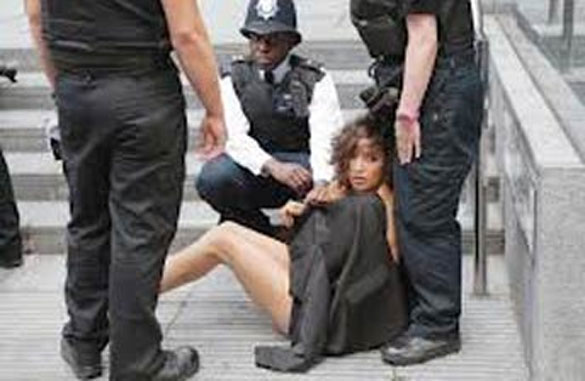 • Saudi Girls Demand Carrying Weapons For Self-Defence
• Saudi and Iranian Women Fight for Right to Compete
• Muslim Women Offer Chadar To Revive 'Comatose' Sachar Report
• Haqqani terrorists planned to disguise themselves in women's burqas in attacks
• Founder of modern Turkey Ataturk's daughter dies
• Shahrkhani first Saudi Arabian woman at Games
• Qatar female sprinter Noor Al-Malki out injured
• Bacha Zarin Jan: A melody queen forgotten
Compiled by New Age Islam News Bureau
Photo: British policemen surround a topless activist of Ukraine's prominent feminist rights group FEMEN as she was protesting near the Tower Bridge in Central London on Thursday, Aug. 2, 2012 on day 6 of the London 2012 Olympic games. FEMEN's activists organised an "islamic maraton" to demonstrate against "islamic regimes" they say being supported by the International Olympic Committee. Photograph by: WILL OLIVER , AFP/Getty Images
URL: https://www.newageislam.com/islam,-women-and-feminism/by-new-age-islam-news-bureau/topless-women-protest--bloody-islamist-regimes--at-london-olympics/d/8142
-----------
Topless women protest 'bloody Islamist regimes' at London Olympics
August 2, 2012
LONDON — Two topless women painted with the slogans "Olympic shame" and "No Sharia" protested in front of London's City Hall on Thursday to draw attention to what they called "bloody Islamist regimes" taking part in the Olympics.
They were members of Ukrainian women's rights group Femen, which has staged numerous topless protests across Europe, including at the Euro 2012 soccer tournament in Poland and Ukraine where their concern was prostitution in host cities.
"The regimes are fascists of our time, they treat women like third-class citizens," said protester Reza Moradi, without specifying any countries. "This is what we object to, this is what they are protesting against."
Smeared with fake blood and wearing floral wreaths on their heads, the two topless women ran around the entrance of City Hall in central London for around 10 minutes chased by a third protester before being covered up and led away by police officers.
A spokeswoman for the International Olympic Committee had no immediate comment.
ottawacitizen.com/sports/Topless+women+protest+bloody+Islamist+regimes+London+Olympics/7030510/story.html#ixzz22Vgbs4ES
----------
Saudi Girls Demand Carrying Weapons For Self-Defence
02 August 2012
The increasing crime rate especially with the remarkable rise in the number of illegal manpower and the consequent frequency of armed burglaries drove Saudi girls to demand the right to carry weapons and get the necessary training to use them for self-defence.
"I call upon officials to establish training centers that teach girls shooting in summer vacations and over weekends," said university student Nora al-Asmari.
For teacher Yusuf al-Baheesh, there is no problem if girls learn how to use guns in order to defend themselves.
"Women at the time of the Prophet used to take part in wars both as fighters and nurses," he said.
Retired army officer Mohammed Zafer argues that shooting training centers should not be confined to women since men too need to learn the art of self-defense.
"Men from young generations do not know anything about the art of shooting and this is a skill that is recommended in Islam," Zafer said.
Teacher Nadia al-Salem agreed with Zafer and said that many thefts take place because the victims are unable to defend themselves, especially when burglars break into their houses.
"If both men and women learn how to defend themselves, there will be a remarkable drop in the number of crimes we hear about all the time in the papers and in TV," Salem noted.
Fatima al-Qassim, an 80-year-old widow, said she had learnt to use guns 60 years ago from her father and was also able to assemble and dismantle parts of the gun.
"I worked in herding and this necessitated carrying a weapon especially that I was on my own in the deserts and mountains, Qassim said."
According to Ali al-Shamri, psychologist and member of the Social Protection Committee in Jeddah, it has become necessary to establish training centers that teach girls how to use weapons.
"This training will give the girl self-confidence and will reverse the stereotype that she is weak and unable to defend herself," he told the Saudi newspaper al-Sharq.
It is important, he added, that those centers focus on the use of weapons as an act of self-defence to be used in case of attacks only.
"Trainees have to learn that they should not infringe on other people's rights and trainers should point out the difference between violence and self-defence."
Shamri also recommended that girls learn other means of self-defence like martial arts.
"They should also acquire the mental skills needed to react to dangerous situations," he said.
Askar al-Askar, researcher in Islamic affairs and counter-terrorism, said there is no contradiction between teaching girls self-defence and Islamic teachings.
"As long as the training does not violate Islamic laws and social norms and girls-only training centers are established, there is no problem," he said.
Mohaya al-Suhaima, head of the Prisons Authority in the Medina region, said that carrying and using weapons is confined to men in Saudi Arabia.
"Even women who work in airports and prisons are only trained on basic first aid skills," she said.
He added that there isn't an established system that allows girls to learn shooting and argued that it is not as necessary in Saudi Arabia as it could be in other places.
"Our country is safe and we are not like other countries with high crime rates," she added.
http://english.alarabiya.net/articles/2012/08/02/230033.html
-----------
Saudi and Iranian Women Fight for Right to Compete
By JOANNA PARASZCZUK
08/03/2012
London Olympic Games seen as breakthrough for female athletes, but many hurdles remain.
The 2012 Summer Olympics have been unofficially dubbed the Year of the Woman since for the first time ever, every country taking part – even Saudi Arabia, Brunei and Qatar – has fielded a female athlete.
Yet human rights and women's groups said many hurdles still remain, and called on the International Olympic Committee on Thursday to work harder to end discrimination against women's sports in Saudi Arabia and Iran.
In an open letter to International Olympic Committee President Jacques Rogge, Australian- born British human rights activist Peter Tatchell slammed the Olympic movement for tolerating Saudi Arabia's and Iran's discriminatory treatment of sportswomen.
"Saudi Arabia's government blocks women from participating in sport. Many private women's gyms have been closed down and girls are banned from taking part in sport at school," Tatchell wrote, noting that neither of the two Saudi women athletes at the Olympics – Wujdan Shahrkhani in judo and Sarah Attar in track and field – live or train in Saudi Arabia.
The remarks come after Rogge hailed as a "major boost for gender equality" decisions by Saudi Arabia, Qatar and Brunei to send female athletes to the games for the first time.
This week, the committee also confirmed that it would allow Saudi judoka Shahrkhani to compete wearing a hijab, after her father told the country's Al- Watan newspaper that she would quit if she had to unveil.
US-based group Human Rights Watch has also voiced criticisms about Saudi Arabia's record on women's sports.
In a recent report, HRW criticized the Saudi Sports Ministry for banning a women's Ramadan sports tournament featuring volleyball, soccer and basketball, even though the organizers promised to comply with Sharia law, including obtaining permission from the women's male "guardians."
Saudi's religious leaders have frequently expressed opposition to women's participation in sport. Grand Mufti Abdul Aziz ibn Abdullah Aal as-Shaikh told the country's Saudi's al- Iqtisadeh TV channel recently that women had no need to play sports, and that their role was to be housewives.
The negative attitude toward Saudi women in sports spilled over onto social media this week, after Saudi Twitter user Sultan al-Halali began a campaign against Olympians Shahrkhani and Attar by using the site to encourage others to criticize the women, by posting tweets with an Arabic hashtag (keyword) that translates as "Olympic whores."
The negative campaign caused a backlash, with many using the hashtag to post supportive comments. On Thursday, London-based Saudi Twitter user Hayathem al-Hasher slammed the "whores" campaign as defamatory.
In the light of the difficulties that Saudi's women athletes must overcome to play sport, it is unsurprising that even HRW has admitted that the 2012 Summer Games is a positive first step for Saudi women.
In many ways, the London Olympics also represent a great leap forward for Iranian sportswomen.
This year, the Islamic Republic fielded eight women, the largest number of female athletes ever to represent Iran in the Olympics.
Even though Iran has competed in every Olympics since 1948 (except the 1980 and 1984 games), it was not until 1996 that an Iranian woman – rifle shooter Lara Fariman – qualified to participate.
Competing this year are shot putter Leyla Rajabi, rower Soulmaz Abbasiazad, shooters Mahlagha Jam-Bozorg and Elaheh Ahmadi (whose father was also a shooter), archer Zahra Dehghanabanavi, Taekwondo martial artist Sousan Hajipourgoli, table tennis player Neda Shahsavari and canoe sprinter Arezou Hakimi Moghaddam.
Abbasiazad reached the semi-finals of the Women's Single Sculls, but was knocked out on Thursday, placing sixth in her group.
All eight of Iran's female Olympians qualified for the games, even though the regime has stepped up its efforts to make it harder for women to participate in sport since President Mahmoud Ahmadinejad's election in 2005.
The many restrictions placed on Iranian women include a ban on male coaches and trainers, and access to only very limited training facilities.
As Maryam, a women's soccer referee from Iran, told BBC Persian in a recent interview: "One of the problems in Iran is that male coaches cannot attend women's exercises. In every other country and in all the games, there are men coaches...
but unfortunately we don't get that in Iran."
Like Saudi women, Iranian women must also play sport wearing Islamic dress, including a hijab, a dress code that resulted in the Iranian women's soccer team being banned from Olympic participation.
Iranian women even face difficulties in watching sports, as they are prohibited from entering stadiums where there are men present.
Smallmedia, a UK-based non-profit that examines culture, censorship and technology in Iran, and which has profiled the eight Iranian women athletes, noted that Olympic Taekwondo participant Hajipour – who told the group that she wants to be the first Iranian woman to win an Olympic medal – has trained in South Korea and that table tennis player Shahsavari trained with Hungarians in Tehran.
On a positive note, Shahsavari said that because of her success in the sport, Iran's Table Tennis Federation has started to give more attention to female players, Smallmedia said.
As Shahsavari's enthusiasm – and that of her fellow Olympians – indicates, despite the difficulties they face, Iranian women are determined to play and compete in a wide variety of sports, including soccer, polo and even rugby, which is a controversial sport even for women in the West.
In a 2011 documentary by Iranian-New Zealand filmmaker Faramarz Beheshti, Salam Rugby, which explores the difficulties faced by Iran's female rugby players, one woman describes the government's efforts to thwart the sport as "mental torture."
Significantly, it has been Iranian women themselves who have fought for greater sporting inclusion.
After the 1979 Islamic Revolution, women's sport was completely shut down until 1990, when Faezeh Hashemi-Rafsanjani, daughter of then-Iranian president Akbar Hashemi Rafsanjani, and the "Spiritual Mother" of Iranian female athletes, campaigned to bring it back.
It was Hashemi-Rafsanjani, in her former role as vice president of Iran's Olympic Committee, who later successfully campaigned for Iranian and other Muslim women to compete in the Games wearing Islamic dress.
Several of the Iranian women competing at the Olympics have also spoken of their determination to succeed at their sport.
In an interview with the Aftab news website, rifle shooter Jambozorg said that while she always emphasized hard work, competing in the Olympics had been a dream for her.
"Now that dream has come true," she said.
And while Jambozorg admitted that Iran has not experienced great Olympic success, and that the country wanted to do better in future, she felt that competing was the most important thing.
"For me, I'll be satisfied by giving my best performance," she said.
http://www.jpost.com/MiddleEast/Article.aspx?id=279948
-----------
Muslim women offer chadar to revive 'comatose' Sachar report
BINDU SHAJAN PERAPPADAN
3 August 2012
Munnabhai did it in style and now members of the Bhartiya Muslim Mahila Andolan are giving "Gandhigiri" a try.
Demanding that the Centre take a relook at the actual benefits Muslim women are getting from implementation of the Sachar Committee recommendations, the group has started a nationwide prayer campaign "to bring the report out of coma."
Every alternate Thursday, Muslim women in different cities including Mumbai, Ahmedabad, Kolkata, Bhopal and Jaipur lead an offering of 'chadar' at different Dargahs to pray for early recovery of the Sachar report and its full implementation for the well-being of the community.
"The first round of 'chadar' offering and prayer took place in July and we will start the campaign again this month which will also include the dargahs in the capital," Andolan founder-member Zakia Soman told The Hindu on the phone from Ahmedabad.
"We intend continuing the prayer at various Sufi shrines across the country until the Centre finally wakes up to plight of Muslim women.''
The Sachar report revealed that Muslims were one of the most economically backward and socially disadvantaged communities, Ms. Soman pointed out. The committee, which submitted its report in 2006, highlighted and presented solutions to include and mainstream Muslims. "But our work with Muslim women tells us that even within the community the worst hit are women and girls."
Another Andolan member Farhat Amin said: "Even five years after the recommendations were brought in nothing much has been done to address the development deficits of this community. As far as Muslim women are concerned, the committee recommendations have been put into a state of coma because of the inaction the Centre."
No response
She said: "We have tried staging protests, calling a strike but so far we have found no response from the government. So this is our way of telling them that our demands should be looked at… This report, if implemented and monitored well, we believe, has the capacity to alter the destinies of millions of our people who face discrimination because of their socio-religious identities. Schemes for women who are especially vulnerable should be a high priority for the government."
http://www.thehindu.com/news/national/article3718836.ece
-----------
Haqqani terrorists planned to disguise themselves in women's burqas in attacks
AUGUST 2, 2012
The Pakistani news service published a shocking article about Afghan security forces conducting a raid on a house on the outskirts of Kabul where evidence was uncovered that Haqqani militants were planning on disguising themselves as women wearing traditional burqas to launch attacks.
A burqa is an outer garment worn by Muslim "women" in accordance to Islamic traditions. It covers most of their bodies and faces of women and is seen by some Muslim fundamentalists as a strict and enforceable religious requirement.
"They planned mass attacks in different parts of Kabul disguised in burqas," the National Directorate of Security (NDS) said in a statement released to the press (see article: Intel captured in Kabul raid points to Haqqanis: Afghan spy agency
Cross- dressing is strictly forbidden or "Haram" in Islam, even if your intention is to kill and murder infidels.
In Islam "Haram" is used to refer to any act that displeases or angers Allah (God).
"Islam forbids men to imitate women and women to imitate men, and in fact it emphatically forbids that, to such an extent that the Prophet (peace and blessings of Allah be upon him) cursed those who go against the human nature with which Allah created them", said Muhammad Al- Munajjid on the Islamic website Islam QA (see: http://islamqa.info/en/ref/81994 )
Al-Munajjid cited several Hadiths, or saying attributed to the prophet Muhammad to prove the point:
Full report at:
http://www.examiner.com/article/haqqani-terrorists-planned-to-disguise-themselves-women-s-burqas-attacks
-----------
Founder of modern Turkey Ataturk's daughter dies
August 3, 2012
ISTANBUL: The adopted daughter of Mustafa Kemal Ataturk, the founder of modern Turkey, was killed in a traffic accident, her son said on Turkish television on Thursday. Ulku Adatepe was 79.
Adatepe died on Wednesday when she was thrown from a vehicle after the driver lost control of the car while driving on a motorway from Istanbul to the capital Ankara, the daily newspaper Milliyet reported.
Adatepe's husband and the driver were hurt but survived the crash, which occurred in the northwest province of Sakarya. Her son Ahmet Dogancay confirmed the news on NTV television.
Ataturk, who led Turkey to victory in 1923 in the War of Independence, served as the new republic's first president until his death in 1938.
He is still revered by many Turks as a hero of almost mythic stature for saving Turkey from obsolescence after European powers partitioned it following World War One. He is also credited with bold reforms that put Turkey on a secular path after the collapse of the Islamic Ottoman Empire.
Full report at:
http://dawn.com/2012/08/03/founder-of-modern-turkey-ataturks-daughter-dies/
-----------
Shahrkhani first Saudi Arabian woman at Games
3 August 2012
Wojdan Shahrkhani became the first Saudi Arabian woman to compete at the Olympic Games when she took part in the +78kg judo competition in London.
The 16-year-old had been in the spotlight before her event began as judo officials said she could not wear a headscarf for safety reasons.
As a compromise, Shahrkhani wore a tight-fitting black cap for her bout with Puerto Rican Melissa Mojica.
Shahrkhani's Olympics were short-lived as she was defeated inside 90 seconds.
The contest appeared to be an overwhelming experiencing for the Mecca-born teenager.
Despite only being qualified as a blue belt in judo, she wore the higher black belt to compete.
Full report at:
http://www.bbc.co.uk/sport/0/olympics/19111548
-----------
Qatar female sprinter Noor Al-Malki out injured
3 August 2012
An historic run for Qatar's first female Olympic track athlete, Noor Al-Malki, was ended by injury.
The 17-year-old failed to finish her 100m heat after appearing to pull a hamstring as she came out of the blocks at London's Olympic stadium.
Al-Malki, dressed in a maroon running suit and cap, limped off the track with the help of officials after bursting into tears.
Al-Malki is one of four females who are competing for Qatar in London.
BBC athletics commentator Steve Cram, commentating on Al-Malki's heat, said: "It's a tragic situation for her. Poor Noor after being given the opportunity to come here and represent her country in such a historic moment, and it's such a sad way to end."
Al-Malki, with a personal best time of 12.73 secs, was not expected to qualify from her preliminary heat - won by Congo's Lorene Bazolo in 11.87 - but her appearance was regarded as historically important.
It is the first time Qatar have sent female competitors to the Olympic Games.
Qatar's 12-strong Olympic team have already won a medal at the Games, shooter Nasser Al-Attiyah taking bronze in the men's skeet event.
http://www.bbc.co.uk/sport/0/olympics/19110763
-----------
Bacha Zarin Jan: A melody queen forgotten
By Sher Alam Shinwari
Published: August 2, 2012
PESHAWAR:
After the tragic death of Pashto singer Ghazala Javed in June, music lovers of the region lost another velvety voice with the death of Bacha Zarin Jan – the melody queen of Khyber- Pakhtunkhwa – who passed away last week at the age of 70 due to a prolonged illness.
Jan may have lived in a dingy two-room mud house, but she ruled over the hearts of millions of listeners for over six decades. It is unfortunate that only a handful of people showed up at her funeral procession, despite the singer having sung in six languages and having a large audience.
"Jan was a versatile singer but her later years were too miserable," popular folk singer Zarsanga tells The Express Tribune. "Us artists have no place in this hostile society. Unless an artist cries out for help like a baby, the government does not listen. Even if it does come to help, it only throws some money on an artist's face to simply shut his mouth. We are destined to suffer. So did Jan."
In her later years, Jan was most often seen around Sufi Abdul Sattar Bacha's Mehfil-e-Samaa, where she sang Sufi numbers as the late Sufi singer and noted composer Rafiq Shinwari had adopted her as his spiritual daughter.
Full report at:
http://tribune.com.pk/story/416575/bacha-zarin-jan-a-melody-queen-forgotten/
-----------
URL: https://www.newageislam.com/islam,-women-and-feminism/by-new-age-islam-news-bureau/topless-women-protest--bloody-islamist-regimes--at-london-olympics/d/8142