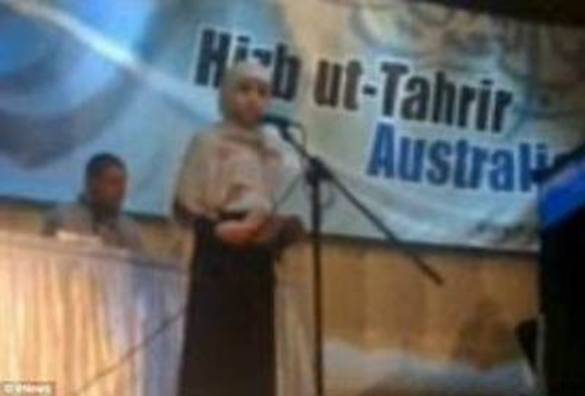 Saudi Professor of Islamic Law: Women Can Log In Online Without 'Guardian'
Rights Group Calls On Afghan Govt to Free Women Jailed For 'Running Away'
Pakistani Child Gets a Healing Touch in India
'Islamic Medicine Practitioner' Of Kuala Lumpur Nabbed Trying To Have Sex with Woman
Salafists Oppose Proposal for Allowing Women in Judiciary
Catholic School Relents, Allows Use of 'Hijab' but In 2013
Grandmother Jailed in Canada's Latest Headscarf Head-Scratcher
No Formal Request Ever Made for Dr Aafia's Repatriation: Lawyer
Lahore High Court allows woman to go with 'same-sex' husband
Somali Educator of Uprooted Women Wins United Nations Refugee Award
Nora Varsity Empowers Saudi Female Students to Be Strong Competitor
Saudi Women Can Visit GCC States without Passports
'Behead' Sign Child Deemed Safe as Mother Talks to Police
Family of Sakina Ahmed Pay Tribute to 'Beautiful and Loving' Daughter
Compiled by New Age Islam News Bureau
Photo: Eight-year-old Ruqaya, identified as the 'Jihad girl
URL: http://www.newageislam.com/islam,-women-and-feminism/by-new-age-islam-news-bureau/shocking-video-shows-girl,-aged-eight,-speaking-of-her-love-for-jihad/d/8718
-----------
Shocking Video Shows Girl, Aged EIGHT, Speaking Of Her Love for Jihad
By KERRY MCQUEENEY
17 September 2012
Little girl addressed a crowd at Muslims Rise conference in Sydney
The event was held by the Australian chapter of Hizb ut-Tahrir
The video emerged as the city deals with the fallout from violent riots
Shocking footage has emerged of a girl as young as eight speaking of her love for Jihad and the Syrian uprising during a video filmed at a Muslim conference in Sydney.
The little girl made the controversial comments as she addressed a crowd at an Islamic gathering, while the Australian city continued to deal with the fallout from violent riots at the weekend.
The girl - named only as eight-year-old Ruqaya - was filmed speaking during a 'Muslims Rise' conference held by the Australian chapter of Hizb ut-Tahrir in Bankstown, west Sydney.
Authorities are now investigating the background of the little girl, who was filmed describing her love of jihad - a holy war or spiritual struggle - as well as the violent uprising in Syria and the global community, which is known as Ummah, it was reported.
According to 9News, the video shows the little girl saying: 'These uprisings have demonstrated that this Ummah is alive and well, that her sentiments are for Islam, her love is for Jihad, she has unshackled herself from the fear which she held.
'Children as young as myself can be seen on the streets joining the uprisings, risking their lives to bring food, water and medicine to their wounded family members, some of them never returning to their mothers ... Nobody is too young.'
Sydney was the scene of violent rioting at the weekend - the latest city to be affected by demonstrations across the world against a U.S.-produced anti-Islam film.
Demonstrators clashed with police in the Australian city, with 17 injured and six arrested and charged on Saturday.
Worringly, young children were also seen holding posters with inflammatory slogans on them.
Pru Goward, the family and Community Services Minister, has been ordered by New South Wales Premier Barry O'Farrell to urgently investigate the presence of a child at the protest, who was pictured holding posters ordering the beheading of anyone opposing the prophet.
According to 9News, Ms Goward said: 'We cannot incite our children to violence for any reason, and we cannot use our children to promote messages that incite people to violence.
Detectives are now hunting the organisers of the riots, who are thought to have used text messages and social networking sites to bring demonstrators together to 'defend the honour of the Prophet.
http://www.dailymail.co.uk/news/article-2204716/Shocking-video-girl-8-speaking-love-Jihad-Muslim-conference-Sydney-Australia.html?ito=feeds-newsxml
-----------
Saudi Professor of Islamic Law: Women Can Log In Online Without 'Guardian'
Sunday 16 Sep 2012
Saudi sheikh distances himself from fatwa obliging women to be accompanied while surfing the net, saying women are capable of distinguishing right from wrong
A Saudi scholar has played down an Islamic fatwa (ruling) that forbids women from logging in online without an escort.
"The law for internet usage for men and women should be the same, even if the internet has useful and harmful websites," said Sheikh Mohamed El-Aly, professor of Islamic law at Imam Mohamed Ben Saud University to Al-Youm Online, a Saudi news website, Sunday.
According to Islamic law, women are not allowed to travel without a male escort who is either her husband or a close relative she couldn't marry, including uncles, father-in-law and adult nieces.
In 2010, Sheikh Saad El-Ghamdi issued a fatwa banning women from logging in online without a chaperon sitting at her side.
"Women are similar to other beings, yet they are weak and emotional, which drags them towards what is against God's rule ... The internet is full with tempting things that will be very hard for the weak woman to avoid ... Thus an escort who is aware of her weak psyche, which is prone to sex and emotion, is to accompany her while being online," said Sheikh Saad El-Ghamdi in 2010.
However, Sheikh El-Aly has different views on women. "God blesses the Muslim woman with righteous thinking by which she distinguishes between what is good and bad for her," he told the Saudi press Sunday.
The 2010 fatwa spread widely on social media sites. Sheikh Saad Ghamadi is a Saudi who graduated from the College of Sharia of the Islamic Imam Mohamed Ben Saud University.
http://english.ahram.org.eg/NewsContent/2/8/53070/World/Region/Saudi-sheikh-Women-can-log-in-online-without-guard.aspx
-----------
Rights Group Calls On Afghan Govt To Free Women Jailed For 'Running Away'
Sep 19 2012
Kabul: Up to 70 percent of the approximately 700 female prisoners in Afghanistan have been imprisoned for running away
New York-based Human Rights Watch (HRW) has urged the Government of Afghanistan to take immediate steps to end the unlawful imprisonment of women and girls accused of "running away."
Up to 70 percent of the approximately 700 female prisoners in Afghanistan have been imprisoned for running away, nearly always for fleeing forced marriage or domestic violence, a March 2012 Human Rights Watch report found.
"The public pledges by top Afghan government officials to end wrongful imprisonment of women and girls fleeing abuse sends an important message of equal rights for women," said Brad Adams, Asia director at Human Rights Watch. "Now the onus is on President Karzai and his government to promptly free the women and girls who have lost months or years of their lives on these bogus charges."
At a September 16, 2012 meeting, Justice Minister Habibullah Ghalib, Women's Affairs Minister Hassan Banoo Ghazanfar, and Deputy Interior Minister Baz Mohammad Yarmand each strongly condemned wrongful imprisonment of women and girls on charges of "running away."
Ghalib said that police and prosecutors should never send cases of "running away" to the courts. Yarmand pledged his commitment to ending abuses by the police, saying that all police had been instructed that running away is not a crime. Ghazanfar said that women and girls accused of running away are not criminals, but generally crime victims who flee to escape violence committed against them.
Fawzia Koofi, director of the lower house parliamentary committee on women's affairs, and her counterpart, Siddiqa Balkhi, the director of the upper house parliamentary committee on women's affairs, had joined together in calling for the government to immediately free women and girls charged with running away under Afghanistan's ambiguous and arbitrary "moral crimes" law.
Human Rights Watch research in six prisons and juvenile detention centers has found that some 50 percent of women in prison and some 95 percent of girls in juvenile detention are accused of so-called "moral crimes."
President Hamid Karzai has in recent years issued a number of presidential decrees releasing significant numbers of imprisoned women and girls, including some accused of "running away." He has not, however, taken steps to free all women and girls imprisoned on these charges or to prevent future arrests and convictions for "running away."
"Pardoning victims of unlawful imprisonment for running away does nothing to end this abuse," Adams said. "President Karzai should immediately issue a decree prohibiting all arrests and prosecutions for 'running away' and order the release of all women and girls currently imprisoned on this charge."
Imprisonment is not the only danger faced by women and girls who flee abuse at home, Human Rights Watch said. "Honor killings" are common in Afghanistan, and a woman or girl who flees home without her family's permission is often seen as having brought shame upon the family. Male family members sometimes respond by murdering their relative. Human Rights Watch's research found that many of the 58 women and girls interviewed feared murder at the hands of their families following their release from imprisonment.
An important development since 2001 has been the creation of shelters in Afghanistan for women fleeing violence. These shelters are the only refuge for women and girls leaving prison who are at risk of murder by their families. Such shelters, however, are in short supply, with only 14 nation-wide and none in the southern region of the country where women's rights are particularly controversial.
Afghanistan's shelters also suffer from a lack of support from the government. The government does not fund shelters, and a government attempt to take over control of the shelters in 2011 prompted fears that it intended to close off access to shelters. In June 2012, controversy erupted again when Ghalib, in a public meeting, described the shelters as hosting "immorality and prostitution." Ghalib later apologized for his remarks after women's rights activists called for him to be fired.
"Afghanistan's shelters save the lives of women every day," Adams said. "The Afghan government work with and international donors should work together to ensure that every Afghan woman and girl facing abuse or death has easy access to a safe shelter."
http://www.indianexpress.com/news/rights-group-calls-on-afghan-govt-to-free-women-jailed-for-running-away/1004904/
--------
Pakistani Child Gets a Healing Touch in India
V. GEETANATH
September 19, 2012
Khadija gets her hearing back after surgery
On a political level, they may fight tooth and nail, but on a personal level, people from India and Pakistan share one another's anguish. Khadija, 21 months old, is the latest example of how Indian doctors rose to the occasion to extend a healing touch. Moreover, they did it free of cost.
Little over a month ago, the girl was staring blankly at people around her, trying to figure out what they were saying. Born deaf, she had come to the Apollo Hospitals for a cochlear implant surgery, the first such case from across the border.
The operation was done free of cost by the hospital, with financial assistance from the Society to Aid the Hearing Impaired (SAHI), and help from the Confederation of Voluntary Associations (COVA). "We have switched on the machine and she is doing well. With proper rehabilitation for the next one year or more, she should be like any ordinary girl, hearing and talking in a normal manner," says Dr. Vinaya Kumar E.C., ENT consultant.
Such operations usually cost up to Rs. 12 lakh. However, SAHI intervention meant that Adnan Adeel, an electrical engineer from Karachi, and his wife Sahar Bano, had to just bear travel and boarding expenses, for the operation of their second daughter.
"I didn't realise that she was born deaf till she was 15 months old. When I took her to a hospital, I was told she needed the cochlear implant, and it would cost up to 2.5 million Pakistan rupees," he recalls.
It was while searching the Internet that he chanced upon the Apollo Hospitals-SAHI initiative, and sent them an e-mail, as these operations weren't very common in his country.
"I took out all my savings, raised a loan, and even began scouring for donations, as it is my responsibility to give her a better life. Except for SAHI, no one responded," he explains.
"We have helped in 100 cochlear implant operations, yet this was the first request from abroad. We were apprehensive at first, and then realised that we are here to help any needy child," says Dr. Sunita Reddy, Director, Vijay Group, and a SAHI member. "My daughter got a new life here. The love, affection and care extended to us are beyond my expectations. These memories will remain lifelong; I came here as a family of three, and I am returning home with a large family," he smiles, preparing for the journey home.
http://www.thehindu.com/news/cities/Hyderabad/article3912116.ece
--------
'Islamic Medicine Practitioner' Of Kuala Lumpur Nabbed Trying To Have Sex with Woman
18 September 2012
SEREMBAN- A man who claimed to be an Islamic medicine practitioner was arrested by the Negeri Sembilan Islamic Religious Affairs Department (Jheains) today while trying to perform sex on his patient he was treating at her house in Kampung LBJ, here, today.
The 48-year-old man was nabbed in a raid by Jheains at 12.30pm while trying to have sex with the 24-year-old woman, purportedly as part of the treatment.
Jheains enforcement division principal assistant director, Ahmad Husaini Mustafa said the suspect, from Kuala Lumpur, had earlier contacted the victim to treat her difficulty to conceive.
"Upon arriving at the victim's house, he recited some Quranic verses to treat her and perform 'nikah batin' (spiritual marriage) with her which was contrary to Islamic teachings.
"The man then tried to take advantage of the unsuspecting woman by performing sex on her, but his attempt was foiled by the Jheains raiding team," he told a news conference, here.
Ahmad Husaini said the raid was conducted following public information and complaints received.
Full report at:
http://www.malaysia-
-----------
Salafists oppose proposal for allowing women in judiciary
By A. Saleh, Staff Writer
Sunday 16 Sep 2012
KUWAIT: Recent news that hints at the possibility of women being allowed to apply for judicial positions in Kuwait has sparked strong reactions from Islamist activists, who demanded that the issue be given thorough consideration to avoid any possible violations of Sharia laws. "Assigning women to judicial posts needs further deliberation of the Sharia, and the opinion of religious scholars should also be taken into consideration before a decision in this regard is made," Salafist MP Ali Al-Omair stated.
Meanwhile, Ammar Al-Ajmi, a member of the Islamist Salafist Assembly has argued that appointing women as judges, "violates Sharia regulations, and will result in unprecedented misconduct that will hinder the judiciary's functioning."
According to an official source quoted in an Al-Qabas report yesterday, the Supreme Judiciary Council had ordered that applications be accepted from female candidates looking to work as prosecutors by the end of this month. If that happens, it will signal a new era where Kuwaiti women will be allowed to work in the judicial field. "The Justice Ministry has received instructions directing it to accept applications filed by both male and female applicants, and around seven female prosecutors are expected to be hired first," the source revealed, but chose to remain anonymous.
Full report at:
http://news.kuwaittimes.net/2012/09/16/salafists-oppose-proposal-for-allowing-women-in-judiciary/
-----------
Catholic School Relents, Allows Use of 'Hijab' but In 2013
Philippine Daily Inquirer
September 19th, 2012
ZAMBOANGA CITY—After reaping widespread criticism for barring the use by Muslim female students of veils, a Catholic school here finally gave in.
Officials of Pilar College, however, said Muslim students may start wearing the veil only in June next year.
Sr. Ma. Fe Gerodias, speaking on behalf of the school, said school officials would need time to explain why they were allowing the use of veils, known as "hijab," by Muslim students after banning it last July.
Anne Piccio, dean of the school's college of business administration, said allowing Muslim students to wear hijab was "not an easy or overnight decision."
According to Piccio, it took school officials at least one month to deliberate and conduct consultation meetings on the veil policy.
Full report at:
http://newsinfo.inquirer.net/273138/school-relents-allows-use-of-hijab-but-in-2013
-----------
Grandmother Jailed in Canada's Latest Headscarf Head-Scratcher
Joe O'Connor
Sep 17, 2012
Justice Ted Scanlan, of the Nova Scotia Supreme Court, has spent 20 years on the bench presiding over a grab bag of cases featuring an array of people accused of doing bad things.
Murderers, drug dealers, robbers and rapists, con artists and creeps. He had seen, as they say, it all, and then along came Katherine Feltmate, a 51-year-old grandmother with no prior criminal record, raising her three grandkids in New Glasgow, N.S., and charged with assault and criminal harassment.
"This is one of the most difficult sentencing that I have ever presided over," Judge Scanlan wrote in a decision released last week. "This case stands out."
It stands out, both the case, and the judge's poetic meditation upon it — which reads like a combination Canadian history lesson, civics text and sermon on the perils of racial intolerance and the values embodied by Canadian citizenship — because of the disturbing nature of the crime.
Full report at:
http://fullcomment.nationalpost.com/2012/09/14/joe-oconnor-n-s-grandmother-jailed-for-
-----------
No formal request ever made for Dr Aafia's repatriation: Lawyer
September 19, 2012
KARACHI: US Senator Mike Gravel and Dr Aafia Siddiqui's attorney Tina Foster have said that no formal request for Dr Aafia's repatriation has ever been made to the US authorities despite support claims by all political parties of Pakistan.
Talking to media before leaving for the US, they urged the Pakistani leadership to take action for the release of Dr Aafia. They stressed that Dr Aafia was a Pakistani citizen and that the US government's rendition of Dr Afia from Afghanistan to the US is illegal under international law.
Gravel and Tina of the International Justice Network further said that the Musharraf regime had illegally kidnapped Dr Aafia along with her three children from Karachi in March 2003, and handed her over to the US government for illegal interrogation and secret detention based on completely false information.
Full report at:
http://tribune.com.pk/story/438790/no-formal-request-ever-made-for-dr-aafias-repatriation-lawyer/
-----------
Lahore High Court allows woman to go with 'same-sex' husband
September 19, 2012
LAHORE: The Lahore High Court Tuesday quashed a kidnap and theft complaint filed by family of a free-will marriage bride whose family claimed that the groom was a woman disguised as a man.
Ayesha Butt and Shahzad Butt had filed the petition seeking cancellation of an FIR, registered the former's family accusing by Shahzad of kidnap and theft. Ayesha said that she had married Shahzad on her free will a few months ago.
She said he had neither forced nor kidnapped her. She said her family had registered a false FIR against her husband and sought its cancellation.
Full report at:
http://tribune.com.pk/story/438814/kidnap-theft-complaint-court-allows-woman-to-go-with-same-sex-husband/
-----------
Somali educator of uprooted women wins United Nations refugee award
Prize for Somali woman whose life work has focused on empowering women
Clar Ni Chonghaile
18 September 2012
Hawa Aden Mohamed wins Nansen Refugee Award for her work in educating women and girls in Somalia
Hawa Aden Mohamed watched the young women in blue and red shawls as their hands fluttered busily over clacking sewing machines in an airy workshop in Somalia's Galkayo town. "Seeing these girls earning a living, it is a good feeling," said the diminutive Somali, whose work to help displaced women improve their living standards was recognised on Tuesday when she was named winner of this year's Nansen Refugee Award.
The prize, which is named after the late Norwegian polar explorer and Nobel peace laureate Fridtjof Nansen, is awarded annually by the United Nations refugee agency, UNHCR.
Aden Mohamed, or Mama Hawa, was nominated for her work to empower Somali girls and women, especially those displaced by decades of cyclical war and hunger in the Horn of Africa.
Full report at:
http://www.guardian.co.uk/global-development/2012/sep/18/somali-woman-wins-refugee-award
-----------
Nora Varsity Empowers Saudi Female Students to Be Strong Competitor
19 September 2012
The Princess Nora University in Riyadh enables Saudi women to be a strong competitor in the labour market and provides all academic and non-academic support to develop their skills, said Dr. Huda Al-Ameel the Director of the university.
She explained during her meeting with media persons and writers in Central Library of the University that since years we work hard to develop the performance of the university and to set its goal to improve the quality of the output. "We have conducted one year study by the management institute to boost the administration in the university. We started this year to apply these recommendations in administration, restructuring, improvement of departments, electronic transactions between departments, recruitment of administrators," she added.
Mentioning the academic level at the university, she said the academics have achieved a great victory by establishing health and arts colleges, restructuring the affiliated colleges, introducing new disciplines required to the labor market.
Full report at:
http://www.arabnews.com/nora-varsity-empowers-saudi-female-students
-----------
Saudi women can visit GCC states without passports
19 September 2012
Saudi women can now travel to Gulf countries without a passport. This privilege was restricted to Saudi men until recently.
Lt. Col. Badr Al-Malik, spokesperson for the passport department said, "A woman can now carry her ID card instead of the yellow card permit used previously. The finger print identity system makes it easier for a woman to enter any Gulf country."
The passport department introduced the Abshir service to improve customer online services last year.
Al-Malik said Saudi women who have the yellow card permit could use them until they expire. People are advised to register for online services at the e-passport site www.epassport.gov.sa/
He said the online passport service simplifies foreign travel for anyone registered with the Abshir service and eliminates the need to visit a passport office.
In other news, the Administration for Women Staff Supervision at the passport department said it plans to create a work environment where women can work separate from men.
http://www.arabnews.com/saudi-women-can-visit-gcc-states-without-passports
-----------
'Behead' Sign Child Deemed Safe as Mother Talks to Police
September 18, 2012
Stephanie Gardiner
The mother of a young child who was seen holding a sign saying "behead all those who insult the prophet" during the Sydney riots has spoken to police, with authorities deeming her children to be safe.
A spokesman for Family and Community Services Minister Pru Goward told smh.com.au the woman had presented herself to police overnight.
"She did come forward and police have checked the children and they're safe," he said.
"There's been no other reports to our helpline in regards to these children."
He said there were no plans to remove the children from their family.
The photo of the young child holding the sign while standing next to a baby in a stroller in Hyde Park has become one of the most evocative and highly circulated images from the riots in Sydney's CBD on Saturday.
Full report at:
http://www.smh.com.au/nsw/behead-sign-child-deemed-safe-as-mother-talks-to-police-20120918-26368.html#ixzz26tabBr45
-----------
Family of Sakina Ahmed Pay Tribute to 'Beautiful and Loving' Daughter
19 September 2012
The family of a teenager hit by a car yards from her home today paid tribute to their "bright, beautiful and loving" daughter after she lost her fight for life.
Sakina Ahmed suffered serious head injuries when she was knocked down in Northolt at about 1pm on Friday.
The 17-year-old spent five days in hospital, but died shortly after 3pm yesterday.
The collision, which involved a blue Toyota Aygo, happened in Petts Hill, at its junction with Wood End Lane.
The driver of the car stopped at the scene of the accident, but police are appealing for witnesses to come forward with additional information.
Last night, dozens of relatives, friends and neighbours gathered at the Ahmed home to say prayers for Sakina, who was born in Kenya and moved to London when she was three.
In a statement, the family described their pride at their daughter's academic success and plans to study economics at university.
Full report at:
http://www.standard.co.uk/news/london/family-of-girl-killed-by-car-pay-tribute-to-beautiful-and-loving-daughter-8155941.html
-----------
URL: http://www.newageislam.com/islam,-women-and-feminism/by-new-age-islam-news-bureau/shocking-video-shows-girl,-aged-eight,-speaking-of-her-love-for-jihad/d/8718