New Age Islam News Bureau
23 Aug 2012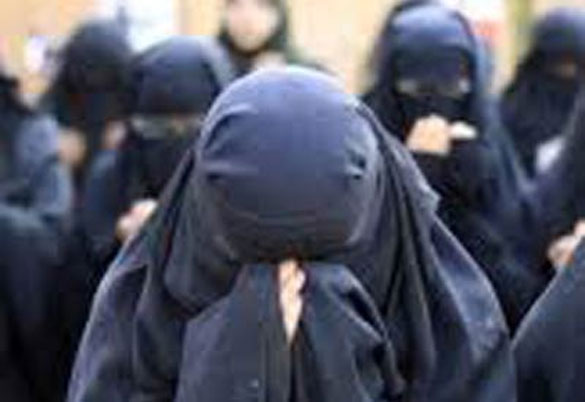 • Palestinian town gets new mayor, aged 15
• Women's shopping store blown up in Landikotal
• Amnesty International for girl's protection
• WAF slams arrest of disabled Christian girl on 'blasphemy' charge
• Did Iran Really Just Ban Women From Universities?
• Workplace battle continues for Saudi women
• Check out this girl crushing it on a skateboard in front of the Bamiyan Buddha craters
• Don't want surgical separation of my daughters, mother of conjoined twins tells SC
• Sleepy woman flies Pakistan to France... and back again
• Ruling party lawmaker Ambiga Ignores Threats in Fight for Fairer Malaysian Vote
• Jacob Zuma says it is not right for women to remain unmarried
• S'porean love affair leads to fire
Compiled by New Age Islam News Bureau
Photo: Saudi Arabian blogger's 'prostitute' gibe sparks furore in 'blogosphere'
URL: https://www.newageislam.com/islam,-women-and-feminism/by-new-age-islam-news-bureau/saudi-arabian-blogger's-'prostitute'-gibe-sparks-furore-in-'blogosphere'/d/8384
------------
Saudi Arabian blogger's 'prostitute' gibe sparks furore in 'blogosphere'
Aug 22 2012
Abu Dhabi : A Saudi Arabian columnist has come under fire after he made comments about the unemployment and the status of women in a neighbouring Middle East country.
Mohammad Al Shaikh, who posted a remark insulting Saudi women and prostitution, sparked strong criticism within the blogosphere and beyond, while several people called for stringent action, including capital punishment against him.
"Slandering a single Muslim woman without evidence warrants strict punishment. So you can imagine the punishment for slandering the chaste women of a whole country. All competent authorities should move to punish him and people who think like him," the Gulf News quoted Shaikh Nasser Al Amr, a religious figure, as saying.
Abdul Aziz Arab, a member of the Muslim Scholars League, also urged Saudi women to sue Al Shaikh.
"I wish that every chaste woman sue Mohammad Al Shaikh for slandering," he wrote on his Twitter account.
Several Saudi journalists harshly criticised Al Shaikh for his "insulting" remarks, saying that they were "highly inappropriate and totally erroneous", the report said.
http://www.indianexpress.com/news/saudi-arabian-bloggers-prostitute-gibe-sparks-furore-in-blogosphere/991584/
------------
Palestinian town gets new mayor, aged 15
Harriet Sherwood
22 August 2012
Bashaer Othman has taken over the municipal offices of Allar in the West Bank hills as part of a youth empowerment programme
She could have spent the long, hot summer holiday hanging out with friends or helping at home. But instead, 15-year-old Bashaer Othman is making speeches, signing documents, chairing meetings, attending civic functions and meeting citizens as mayor of Allar, a small Palestinian town high in the West Bank hills.
Every morning, Bashaer heads off to the municipal offices, where she has full control – except for financial matters – as part of an unusual summer experiment aimed at empowering young people.
For two months, the regular mayor, Sufian Shadid, and his team of councillors have handed the reins of power to a group of teenagers. The adults are on hand to advise and offer guidance, but all the decisions are left to be made by the youngsters.
"At the beginning, people were critical because of our age," says Bashaer. "But then they saw us working, and that we were tough and dedicated, and now they respect us."
Bashaer is the first female mayor for the town of 9,000 residents. The regular 11-strong council includes two women, who are appointed under a quota system. But this summer, the gender balance is close to equal, with five girls and six boys serving the town.
Halfway through her term, Bashaer has presided over a vote to set up a local fire department and establish Allar's first public park with a children's playground. She has also represented the town on a trip to Qatar. But she identifies the most important local issue as unemployment, especially among youth.
"If I could achieve one thing, it would be to create a project to provide as many youth jobs as possible," she says.
"Many people from Allar are crossing the Green Line [entering Israel illegally] to work," adds Bashaer. "Instead of them going to work as cheap labour in Israel, we need to create jobs here."
According to Mayor Shadid, the aim of the summer takeover is "to give the young people a chance to participate in civil society and more confidence to become part of the political system in the future". Bashaer is "doing a great job", he says. She has "charisma, a strong leadership personality – and people like her".
The teenager, who hopes her role as mayor will encourage more women to become actively involved in public life, plans to pursue a political career.
But, first, she intends to study international issues at university following her final two years at school. The youngest of seven children, Bashaer says her family are supporting her unusual role this summer and her ambitions.
http://www.guardian.co.uk/world/2012/aug/22/palestinian-mayor-aged-15-allar
------------
Women's shopping store blown up in Landikotal
23rd August 2012
LANDIKOTAL: A bomb went off in a women's shopping store in KhugaKhel area of Landikotal on Monday. However, no casualty was reported in the blast, local sources said. Some unidentified militants had already warned the owners of the general store not to sell women items like clothes, shoes, bangles and other products. They warned them to close their business. Majority of the locals were of the view that the women general store has facilitated the local women to purchase items of their choice. It would be worth mentioning that the stores for women in Landikotal are also run by women. After an explosion in a mobile shop, people said that it was an alarming situation and the area might once again become a hub of militants to sabotage the peaceful environment. sudhir ahmad afridi
http://www.dailytimes.com.pk/default.asp?page=2012\08\23\story_23-8-2012_pg7_7
------------
Amnesty International for girl's protection
23rd August 2012
ISLAMABAD: The Amnesty International has urged Pakistan to reform its blasphemy laws and protect a young Christian girl arrested for allegedly burning pages inscribed with verses from the holy Quran. The Muslim-majority nation's strict anti-blasphemy laws make defaming Islam or desecrating the holy Quran illegal and potentially punishable by death. Polly Truscott, Amnesty International's South Asia director, said the case showed the "erosion of the rule of law" in Pakistan and the dangers faced by those accused of blasphemy. "Amnesty International is extremely concerned for Rimsha's safety. In the recent past individuals accused of blasphemy have been killed by members of the public," Truscott said in a statement issued late on Tuesday. Welcoming President Zardari's response, Truscott warned that it would count for little unless there were "greater efforts to reform the blasphemy laws to ensure they cannot be used maliciously to settle disputes or enable private citizens to take matters into their own hands".
http://www.dailytimes.com.pk/default.asp?page=2012\08\23\story_23-8-2012_pg7_19
------------
WAF slams arrest of disabled Christian girl on 'blasphemy' charge
23rd August 2012
ISLAMABAD: The Khawateen Mahaz-e-Amal (Women's Action Forum) on Wednesday condemned the arrest of an 11-year-old Christian girl suffering from Down's syndrome on fabricated charges of "blasphemy" (sic) on August 17.
According to a joint statement issued by all chapters of the national platform for women's rights, subsequent death threats and harassment by Muslims have spread panic among the residents of the Christian Colony of Mehrabad (near Golra village).
The statement also read the forum was outraged at the inhumanity of the people who lodged a first information report (FIR) on Jumatul Wida, adding that they strongly condemned this act, which violated the sanctity of Ramazan.
The statement read further the WAF condemned the Islamabad police and the Interior Ministry administration for allegedly violating law of the land by arresting a minor girl not culpable under the blasphemy law; not seeking to apply the Juvenile Justice System Ordinance (JJSO); allegedly keeping her in a male police station overnight; reportedly shifting her to Adiala Jail; reportedly not permitting lawyers or civil society representatives to visit her at either place of incarceration; and for failing to protect the life and property of non-Muslim citizens of Pakistan.
Full report at:
http://www.dailytimes.com.pk/default.asp?page=2012\08\23\story_23-8-2012_pg7_17
------------
Did Iran Really Just Ban Women From Universities?
08/22/2012
Adam Pourahmadi Associate Producer, HuffPost Live
As college students in the United States head back to school, their female classmates in Iran are discovering that some women won't be able to register for classes in their desired fields or even attend certain universities.
If you are like me and believe in the power of education, the thought of women being denied the right to learn is frightening.
However, having often gone back and forth between Iran and the United States, I also know this move is not representative of Iran's higher education system. My own female cousins in Iran have studied advanced sciences and mathematics at the country's top institutions.
In a nation that stands out in the region as committed to women's education, it is understandable why this announcement that "Iran Bans Women From Universities" seems odd.
The Islamic Republic of Iran has one of the highest female to male education ratios in the world.
Full report at:
http://www.huffingtonpost.com/adam-pourahmadi/iran-ban-university-women_b_1821611.html
------------
Workplace battle continues for Saudi women
By Christoph Wilcke
August 22nd, 2012
Editor's note: Christoph Wilcke is senior researcher for Saudi Arabia at Human Rights Watch. The views expressed are his own.
Two Saudi women made Olympic history at the London Games, becoming the first female athletes from that country to participate. Back in Saudi Arabia, though, the sports ministry effectively bans girls and women from practicing sports. The government refused to approve a privately organized women's Ramadan sporting competition, although organizers said that women participants would be modestly dressed, have their male guardians' approval, and not mix with men – conditions the Saudi National Olympic Committee imposed for female participation in the Olympics.
Meanwhile, another battle over women's rights has attracted little outside attention: The push to get women into the workforce, which religious conservatives are fiercely resisting. With four new Labor Ministry decrees in July, the number of jobs open to women has slowly increased, at least in theory. However, these decrees also gave conservatives a victory by reaffirming that strict sex segregation, loosened in 2005, applies to the workplace.
Saudi Arabia's version of gender equality in Islam boils down to "different, but equal." Women and men are considered equal in the sum of their rights and duties, but according to a 2003 treatise by the Saudi religious scholar Dr. Rabee al-Madkhali, God endowed men and women with different rights and duties, men's "appropriate to their manhood and their strengths and their minds and their willingness to face the dangers," and women's according to "what befits their femininity and vulnerability and lacking compared to men in mind, strength and vulnerability in the willingness to face the dangers and hardships." Whereas men have a duty to provide for women, women in turn must obey their male guardians and care for house and children.
Full report at:
http://globalpublicsquare.blogs.cnn.com/2012/08/22/workplace-battle-continues-for-saudi-women/
------------
Check out this girl crushing it on a skateboard in front of the Bamiyan Buddha craters
By Cara Parks
August 22, 2012
In 2001, the Taliban shocked and angered the world by destroying the Buddhas of Bamiyan, 800 year-old statues that the hardline group declared declare "un-Islamic" due to their depiction of the human form.
A decade later, here's a woman identified on the group's Facebook page as Erika killing it in front of the craters that were left behind. Erika is a volunteer for the group Skateistan, an international non-profit attempting to "use skateboarding as a tool for empowerment" and developers of Afghanistan's first skateboarding school. The school welcomes both girls and boys to participate, even going so far as to open a private girls' skating rink so that older students could continue to practice without men present.
A spate of increased violence, and in particular the increase of Afghans dressed as security attacking U.S. forces, have frayed nerves throughout the country and brought renewed attention to the role of the U.S. mission. However, while it may be just one girl on a skateboard, the photo, besides being awesome, is a reminder that not all the news coming out of Afghanistan today is bad.
http://blog.foreignpolicy.com/posts/2012/08/22/skateboarding_bamiyan_buddhas
------------
Don't want surgical separation of my daughters, mother of conjoined twins tells SC
Aug 22, 2012
NEW DELHI: The mother of conjoined twins Saba and Farah has put an emotional spanner into the Supreme Court's efforts in seeking expert opinion on possible surgical separation to increase their chance of survival.
In a letter to the bench of Justices K S Radhakrishnan and Dipak Misra, the twin's mother Rabiya Khatoon said, "I humbly request you that I don't want the operation of my daughters to be done."
The letter, dated August 5 and written in Hindi, narrated that the parents were concerned about deteriorating health of the twins since their treatment at Apollo Hospital in Delhi. They also narrated the difficulty faced by them in taking care of the daughters and requested the court to arrange monthly financial support to feed and take care of Saba and Farah.
The apex court, acting on a PIL filed by Aarushi Dhasmana, had directed the Bihar government and the Centre to arrange for their shifting to the All India Institute of Medical Sciences (AIIMS) for examination by a team of experts.
As per the directive, the Bihar government had sanctioned Rs 6 lakh and deputed a civil surgeon to accompany the twins for bringing them here by an air-ambulance. But just ahead of their departure on August 7, the parents wished to continue their treatment in Patna.
Additional solicitor general Sidharth Luthra handed over a copy of the letter to the bench, which was unable to fathom the mother's change of heart in getting the twins treated at AIIMS. "This letter does not seem to be written by the lady," said the bench. But the bench did not lose sight of the fact that the parents could be wary of coming here because of their past experience.
Full report at:
http://articles.timesofindia.indiatimes.com/2012-08-22/india/33323375_1_surgical-separation-department-of-paediatric-surgery-twins
------------
Sleepy woman flies Pakistan to France... and back again
23rd August 2012
ISLAMABAD: A Frenchwoman endured an 18-hour journey from Lahore to Paris and back again after sleeping through her plane's stop in the French capital, officials said on Wednesday. Pakistan International Airlines (PIA) is investigating how ground crew failed to notice the woman during the plane's two-hour stopover at Charles de Gaulle Airport in Paris. The woman, Patrice Christine Ahmed, who is married to a Pakistani, left Lahore at noon on Tuesday to fly to Paris via Milan, but did not wake up to get off the plane, airline spokesman Sultan Hassan said. The woman did not mention her mistake to cabin crew and the matter only came to light when she was stopped by immigration officials on arrival back in Lahore on Wednesday morning after a 12,000-kilometre round trip. Hassan said PIA was investigating the incident and the French subcontractor responsible for passenger handling in Paris. "We have put questions to this French firm also about the incident but it is also the responsibility of the passenger to disembark at the destination," he said. "It is a passenger's responsibility to check about the destination and disembark when the plane arrives at the particular airport," he added. PIA later arranged to send the woman back to Paris with another airline because none of its own flights were available, but said that the party responsible for the negligence will pay for the extra ticket. "It depends who is at fault. If it is a mistake by the local firm, they will pay and if the woman herself is responsible than she will have to bear the cost," Hassan said.
http://www.dailytimes.com.pk/default.asp?page=2012\08\23\story_23-8-2012_pg7_4
------------
Ruling party lawmaker Ambiga Ignores Threats in Fight for Fairer Malaysian Vote
By Ranjeetha Pakiam and Liau Y-Sing
August 21, 2012
Ambiga Sreenevasan got anonymous death threats for her work on the rights of women whose husbands convert to Islam in Muslim-majority Malaysia four years ago. After leading a rally calling for electoral reforms in April, she was accused of treason by a ruling party lawmaker.
The 55-year-old former Malaysian Bar Council president, who received the International Women of Courage Award from U.S. Secretary of State Hillary Clinton in 2009, hasn't stopped challenging the government's human rights policies.
"They underestimate right-thinking Malaysians," she said in an interview. "We don't like bullying."
While Prime Minister Najib Razak, who must call elections by early 2013, has agreed to some of the demands of Ambiga's Coalition for Clean and Fair Elections, or Bersih, for fairer voting procedures such as the use of indelible ink, his government has declared the civil society group illegal and she has become the focus of personal attacks. Opposition leaders have championed Bersih's campaign and called the attacks racist.
"She is seen as somebody who's a professional, has the aspirations of the middle class, believes in things like human rights and good governance," said James Chin, a professor of political science at the Malaysian campus of Australia's Monash University outside Kuala Lumpur. "She symbolizes that: Somebody who holds the Malaysian authorities accountable for their actions."
Full report at:
http://www.businessweek.com/news/2012-08-21/ambiga-ignores-threats-in-fight-for-fairer-malaysian-vote
------------
Jacob Zuma says it is not right for women to remain unmarried
David Smith
22 August 2012
South African president provokes anger by saying it is important for women to have children 'to give them extra training'
Jacob Zuma, the South African president, has provoked anger by claiming that it is "not right" for women to be single and that children are important to give them "extra training".
A traditional Zulu polygamist with four wives and around 20 children, Zuma has a history of making controversial remarks about gender and sexuality. He was acquitted of a rape charge in 2006. His latest gaffe came in a TV interview at his home in which he discussed his daughter Duduzile's marriage. "I was also happy because I wouldn't want to stay with daughters who are not getting married," Zuma told interviewer Dali Tambo on SABC3. "Because that in itself is a problem in society. I know that people today think being single is nice. It's actually not right. That's a distortion. You've got to have kids. Kids are important to a woman because they actually give an extra training to a woman, to be a mother."
The comments, made during women's month in South Africa, have generated anger from equality campaigners. Kubi Rama, chief of operations at the non-government organisation Gender Links, said: "How does the president feel about women's empowerment and gender issues? He's pigeonholing women into the traditional role of motherhood, nurturing and marriage. We all know the world has moved on. Marriage is now a choice."
She added: "To make such statements is actually quite insulting in this country and does not move the women's agenda forwards. It raises serious questions about his commitment to equality."
Full report at:
http://www.guardian.co.uk/world/2012/aug/22/jacob-zuma-women-unmarried
------------
S'porean love affair leads to fire
August 22 2012
A 9-year-old girl was killed in a massive fire that razed at least 50 semi-permanent homes in Kampung Seraya subdistrict, Batam, Riau Islands, at around 7 a.m. local time on Tuesday.
The fire originated from a house which was allegedly set on fire by an angry Singaporean citizen.
Bystanders said the fire began in a house owned by Alex, alias Iril, which was located in the middle of the squatter area. The fire spread to other houses located in two neighborhood units. Most of the residents were asleep when the fire broke out.
Besides material loss, a 9-year-old girl named Stella was killed after she became trapped in her room.
Local neighborhood unit head Yance Sila said that the fire originated from Iril's house and quickly spread to other houses, as they were located very close to each other.
Based on preliminary data, more than 50 homes were razed. Many motorcycles were also burned in the fire.
Full report at:
http://www.thejakartapost.com/news/2012/08/22/s-porean-love-affair-leads-fire.html
------------
URL: https://www.newageislam.com/islam,-women-and-feminism/by-new-age-islam-news-bureau/saudi-arabian-blogger's-'prostitute'-gibe-sparks-furore-in-'blogosphere'/d/8384