New Age Islam News Bureau
28 Jul 2012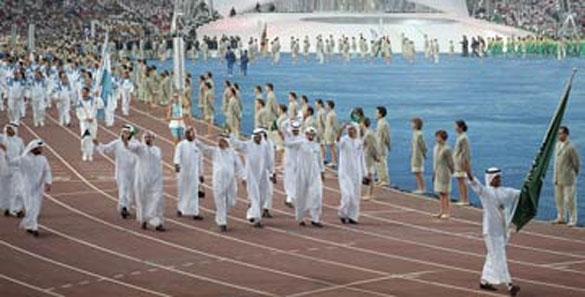 • Muslim Grandmother, 59, Kidnapped and Drugged Her Daughter for Family Honour, Jailed
• Iraqi Gynaecologist Gets 3-Year Jail for Bid to Abort Pregnancy
• Seven Teenagers Light Games' Cauldron, Games Begin
• Girls' Torture: Accused under Psychiatric Evaluation
• Women in Lebanon Feel Much Less Safe Than Men
• Fight Over Islam, Money and Power Brings Violence to Volga
• Reversal of Saudi Ban on Women Athletes is a Veil for Western Imperialism
• Saudi women join opening ceremony for first time
• Veiled Illusions in Abu Dhabi
• Appeals Court Upholds Lifting Sisters In Islam's Book Ban
• Zardari for Appointing Women as Top Judges
• Muslim Women and the London Olympics: Series of Historic Firsts
• Ramadan Reflection Day 8: The Women Who Shape Us
• Aleppo braces for 'mother of all battles'
Compiled by New Age Islam News Bureau
Photo: Saudi Arabia's Olympic Paradox: Insulting Women and Islam and
URL: https://newageislam.com/islam-women-feminism/saudi-arabia-olympic-paradox-insulting/d/8074
-----------
Saudi Arabia's Olympic Paradox: Insulting Women and Islam
Posted: 07/27/2012
Ahmed Shihab-Eldin Host
In London, two Saudi women are set to participate in the Olympics today. But back in Saudi Arabia, millions of Saudi women and girls are effectively banned from practicing sports inside the Kingdom. Also, they aren't allowed to drive, although there is no law stipulating that.
Wujdan Sharkhani, the Saudi judoka banned from wearing the hijab head scarf when she competes at the Olympic Games and Sarah Attar will not take a trophy home as they were invited to compete under a "universality" clause that allows athletes without qualifying times to participate "for reasons of equality."
Still, by sending these two women to London under the guise of progress, Saudi Arabia will indeed be taking a trophy home for once again proving that among its Arab neighbours, when it comes to blatant backwardness, hypocrisy and systemic gender discrimination, it takes home the gold, and then some.
I grew up in the Arab world with two older sisters, both of whom participated in sports beginning as little girls. My oldest sister played tennis and ran cross-country competitively. My other sister, Luma, grew up playing soccer competitively and would go on to help found the first women's soccer team at one of the Arab world's premier universities -- the American University of Beirut.
My Arab mother raised me to respect both women and men as equal. It is one thing to segment your society and prevent gender-mixing, but to prevent women from exercising and participating in team sports in 2012 and to justify it with the importance of adhering to Sharia law, obtaining a male family member's approval and dressing modestly is insulting to women, Islam and the Olympics.
What is worse, on July 5 2012, Saudi Arabia's sports ministry denied a request by private citizens to hold a women's Ramadan sports tournament that would have included basketball, volleyball and football.
Less than a week later, with just under two weeks before the start of the Olympics, Saudi Arabia reluctantly ended its status as the last Olympic nation to refuse to send women athletes to compete.
Saudi Arabia's international attempt to save face is as pathetic as it is paradoxical.
Human Rights Groups may have forced Saudi Arabia's hand, after spending many months demanding that Saudi's male athletes be banned from the games so long as the government refused to allow women to compete. Eventually, the government gave in.
But unlike Qatar, another Arab state that is sending women to the Olympics for the first time, Saudi Arabia continues to be the only country in the world to prevent girls from taking part in sports in government schools. Qatar on the other hand is also building a high performance training center aimed at involving women in sports and has boasted a Women's Sport Committee for over a decade. Saudi Arabia still segregates and oppresses women in society, which includes preventing them from playing sports, not providing any state sports infrastructure for women and marginalizing them from participating in public life.
On Twitter, the anticipation around Sharkhani and Attar's participation has prompted a hashtag to emerge in Saudi Arabia that describes the women as the "Prostitutes of the Olympics".
Ahmed Al Omran, a famous Saudi blogger and a friend, shared this tweet featuring a list of all Saudi athletes that will compete in London. In it he notes that Sarah Attar appears without a headscarf on the Olympics website.
Ahmed also points out that Saudi's most senior sports official Prince Nawaf bin Faisal said the women can only participate if they "wear suitable clothing that complies with Sharia law, are accompanied by their guardian... and they do not mix with men during the games..."
The offensive Arabic hashtag has also prompted a backlash.
@SkittlesFairy writes in Arabic: "You remind me of Europe in the Dark Ages, you insult this and slur people in the name of religion. This religion has nothing to do with you."
Saudi Arabia is America's closest Arab ally. In 1951, our close strategic relationship was marked with the signing of a mutual defence agreement and the establishment of a permanent US Military Training Mission.
On October 20, 2010, the State Department made the biggest arms sale in US history to Saudi Arabia -- an estimated 60 billion -- to help curb Iran's growing influence in the region. While relationships have seemingly strained in light of the Arab uprisings and specifically the women's right to drive in Saudi Arabia, neither side can afford to lose the other amidst the region's unfinished revolutions across North Africa.
Secretary Clinton celebrated Tawakkul Karman, the first Arab woman to win a Nobel Peace Prize as a "shining example of the difference that women can make and the progress they can help achieve when given the opportunity to make decisions about the future of their societies and countries." But what about the example Saudi Arabia sets in denying millions of Saudi women the same opportunity Clinton describes?
To be fair, after months of quiet diplomacy, Hillary Clinton eventually broke her silence and supported Saudi women like Manal al Sharif, who have protested against the ban on women driving, even at the cost of being imprisoned and ruining what is often described as the only thing that matters in Saudi society for women, "your reputation."
"What these women are doing is brave and what they are seeking is right, but the effort belongs to them," Clinton said last June. "I am moved by it and I support them, but I want to underscore the fact that this is not coming from outside of their country. This is the women themselves, seeking to be recognized."
But our government has enjoyed our close relationship with Saudi Arabia while refraining from criticizing the widespread human rights violations and inequality. Meanwhile, criticism of Iran on gender discrimination and other violations are plentiful.
We as Americans should be embarrassed that our closest ally in the region is not just the most conservative, but the most oppressive, to women, other minorities and citizens wanting to exercise their free will.
Noor, a Saudi female friend of mine from the Eastern Province, pointed out that Saudi Arabia's interpretation of Islam is incorrect.
"To me it is a contradiction to Islam itself. The prophet said teach your children 3 things, archery, swimming and riding horse," she told me. "Archery for being self-sufficient and getting food, riding horses for mobility and swimming for sport."
She said that today's modern world equivalent -- getting a job, driving cars and sports in general -- are still restricted from millions of women.
But she is right to point out that this is not simply about religion or culture. It is also about health. One in four Saudis has type 2 diabetes due to his/her lifestyle. More than 50 percent of the population is overweight and the percentage is even higher for women.
"It baffles me that given these statistics, Saudi isn't moving quickly to introduce physical activity into society, starting with women," she said.
"Especially since health care is free and the government is flipping the bill. It is not just unfair... it is plain stupid."
Aside from being right, she also described to me how she never had a single Physical Education class in school and that when she recently went on a climb of Mt. Kilimanjaro with a group, they were called "loose women," "on the path to hell," and "whores".
To ban women from participating in sports is unhealthy and backwards and we should not let it stand in 2012, especially if we are throwing billions of dollars at Saudi's authoritarian government.
This year, millions of Arabs, particularly the youth, have taken to the streets to demand reforms, the right to self-determination, and eventually equality under the law. Women were at the forefront of protests in Tunisia, Libya, Syria, Egypt, and Bahrain and across the region.
I will celebrate the fact that Qatar has sent women to compete in the Olympics for the first time. I can also celebrate Brunei, another nation that has sent its first women to compete in London, as it has previously supported women's participation in sports domestically. But I cannot celebrate Saudi's female Olympians who will compete while millions of their Saudi sisters back home watch, all the while being reminded that the women on tv are "prostitutes," and that they are exceptions to the rules that oppress the masses.
http://www.huffingtonpost.com/ahmed-shihabeldin/saudi-arabias-olympic-par_b_1709873.html
-----------
Muslim Grandmother, 59, Kidnapped and Drugged Her Daughter for Family Honour, Jailed
By GRAHAM SMITH
27 July 2012
Shamim Akhtar, 59, jailed for four years for abusing Naila Afsar out of 'some misplaced sense of warped family honour'
Her son, Shamrez Khan, and son-in-law, Zahid Mahmood, were also jailed
A devout Muslim grandmother has been jailed for four years for kidnapping and drugging her own daughter after she refused to marry the man her family wanted her to.
Mother-of-eight Shamim Akhtar, 59, was jailed with her son Shamrez Khan and her son-in-law Zahid Mahmood for abusing Naila Afsar, then 23, out of 'some misplaced sense of warped family honour'.
Khan, 34, was given a five-year sentence and Mahmood, 37, was jailed for four years at Burnley Crown Court today.
Sentencing Akhtar, Judge Simon Newell told her: 'She's your youngest daughter and your role was to care for her, support her and look after her best interests.
'Instead you chose to control, drug and abuse her in the interests of the family reputation.'
Akhtar, of Bradford, was found guilty of kidnap, false imprisonment and two counts of administering a drug after a four-week trial at Preston Crown Court earlier this year.
Khan, of Bradford, and Mahmood, of Accrington, Lancashire, both pleaded guilty to the same offences part-way through the same trial.
Mrs Afsar's family had lined up a marriage for her with her cousin but, after some time together, she decided she wanted to end that relationship, the court heard.
She came under sustained pressure from her family in Bradford to the extent that she fled to Newcastle, where she thought they would not find her.
In Newcastle, she met postgraduate student Afsar Saddiq. They started a relationship and later married.
Once settled, Mrs Afsar tried to re-establish a relationship with her family but they began to pressure her again to divorce and restart the relationship with her cousin.
Things came to a head in January 2010 when Khan, his mother and others travelled to Newcastle, broke into Mrs Afsar's flat and threatened her and her husband.
She was taken to Accrington where various attempts were made to change her mind.
At one point her mother said to Mrs Afsar that she was 'worse than a prostitute, you should be killed', the court heard.
Judge Newell said: 'She resisted these attempts and she stood up to you.'
He said Khan, who was effectively the head of the family, pushed and slapped his sister.
Khan thought his sister's actions had 'brought shame and disgrace on the family, had impugned their honour'.
Eventually, Mrs Afsar was made to drink a milky liquid which contained the drug lorazepam - described in court today as a 'date rape drug'.
She was bundled into a car in an attempt to force her to go from Accrington to Bradford, against her will.
But the police were alerted and officers pulled the vehicle over.
Judge Newell praised Mrs Afsar, saying she was an 'intelligent, educated and articulate young woman', adding that she was 'independent, determined and resourceful'.
He said: 'She epitomised a modern young Asian woman making her life as a citizen of this country.'
Judge Newell told the three defendants he accepted that while people want to do what they think is best for their children, everyone is subject to the law.
He said: 'Adult, educated, intelligent and independent children have a right to self-determination and freedom of choice.
'These rights have been hard-won over many years - particularly in the case of women - and are fiercely protected by the courts.'
Speaking after the hearing, Detective Inspector Mark Vaughton, from Lancashire Police, said: 'This has been a very difficult and traumatic experience for the victim, who was forced into hiding to escape abuse from members of her own family.
'She was treated in the most dreadful way by the people who were supposed to protect and care for her. She has shown a great deal of courage in coming forward and we will continue to offer her support for as long as she needs it.'
http://www.dailymail.co.uk/news/article-2179946/Muslim-grandmother-kidnapped-drugged-daughter-wouldnt-marry-right-man-jailed.html#ixzz21te2qnhX
-----------
Iraqi Gynaecologist Gets 3-Year Jail for Bid to Abort Pregnancy
Marie Nammour / 26 July 2012
An Iraqi woman gynaecologist was sentenced in absentia to three years in prison by the Court of First Instance on Wednesday for attempting to abort a pregnancy.
The 56-year-old defendant, who is at large, was ordered to be deported after serving her prison term. The verdict remains subject to appeal within 15 days at the Court of Appeal.
According to prosecution records, the accused administered a pill to the patient and when the latter did not have a miscarriage, she tried to conduct a caesarean operation on her. She stopped short of it as the hospital administration, where she worked, did not give her the necessary authorisation to do the operation. The case dates back to May 2010. The complainant, a 41-year-old Iraqi housewife, said during the investigation that she had many miscarriages in the past prior to the incident.
In September 2009, she visited the defendant for her pregnancy check-up. As of the third month of pregnancy she developed symptoms of fever, exhaustion, swelling and bleeding. The defendant used to give her medicine and reassure her that the foetus was healthy. After the sixth month, the complainant came to know from a specialised medical centre at the Healthcare City that the baby had many deformities.
She told the defendant and the latter put a pill inside her claiming that it was a pain-killer. But the complainant later understood that it was a pill for abortion. At another hospital, the complainant gave birth to an abnormal baby, with brain haemorrhage and swelling in all his body. He lived for about one hour and died.
A British woman doctor said that the defendant had given the complainant a pill to abort the seven-month-old pregnancy. "The defendant wanted to conduct a caesarean operation when the pill did not had any effects on the woman," she said..
mary@khaleejtimes.com
http://www.khaleejtimes.com/nation/inside.asp?xfile=/data/courtroundup/2012/July/courtroundup_July77.xml&section=courtroundup
-----------
Seven Teenagers Light Games' Cauldron, Games Begin
28 July 2012
LONDON: Solving the last remaining riddle of the opening ceremony, seven teenagers were given the honour of lighting the Olympic cauldron in the symbolic start to the 2012 London Games.
The young athletes, each nominated by a renowned British Olympian, lit a single tiny flame each within a copper petal on the ground, which triggered the ignition of more than 200 petals. The petals then rose toward each other to form one flame, described as a flame of unity.
The lighting of the cauldron holds huge symbolism within the opening ceremony as the flame burns above the stadium for the duration of the Games.
The arrival of the flickering torch into the darkened stadium carried by five-time Olympic champion Steve Redgrave was greeted by a huge roar, bringing to an end a 70-day, 8,000-mile journey around some of the most famous landmarks in Britain where it was cheered on by millions of people.
It had earlier been driven up the Thames in a speed boat by former England soccer captain David Beckham.
The seven chosen youngsters were Callum Airlie, Jordan Duckitt, Desiree Henry, Katie Kirk, Cameron MacRitchie, Aidan Reynolds and Adelle Tracey, aged between 16 and 19.
The choice of teenagers for the final stage marks a change from recent Games where some of the world's most famous athletes have carried out the lighting.
Chinese gymnast Li Ning lit the cauldron in Beijing in 2008. Raised into the air by wires, he ran around the rim of the stadium roof before lighting a wick which carried the flame to the cauldron.
Windsurfer Nikolaos Kaklamanakis lit the cauldron in Athens in 2004, 400-meter runner Cathy Freeman walked through a circular pool of water to light it in Sydney in 2000 and boxer Muhammad Ali did the honours in Atlanta in 1996.
http://www.arabnews.com/seven-teenagers-light-games%E2%80%99-cauldron-games-begin
-----------
Girls' Torture: Accused under Psychiatric Evaluation
Marie Nammour / 26 July 2012
The Court of First Instance on Wednesday adjourned the case against Emirati father H.S. and his compatriot girlfriend A.A., who are accused of torturing to death the former's eight-year-old daughter, Wadeema, to August 5 as both of them are still under psychiatric assessment at the hospital.
The court bench, presided by Judge Maher Salama Al Mahdi, earlier ordered that both of them be referred to the Psychiatric Section of Rashid Hospital to be examined by a psychiatrist panel.
The court wants to determine whether H.S. and A.A. suffered from any mental illness and whether, if any, it affects their behaviour, consciousness and perception of acts and consequences mainly at the time of the crimes they allegedly committed. A detailed psychiatrist report would be prepared about the two.
Full report at:
http://www.khaleejtimes.com/nation/inside.asp?xfile=/data/courtroundup/2012/July/courtroundup_July78.xml&section=courtroundup
-----------
Women in Lebanon feel much less safe than men
July 28, 2012
By Briggette Sayegh
BEIRUT: Women in Lebanon feel significantly less safe walking at night in their own neighborhoods than men, according to the recent findings of a Gallup Poll.
In Lebanon, 62 percent of women felt safe walking around at night in their neighborhoods as compared to 75 percent of men, according to the poll, the results of which were published earlier this month.
Across the globe, women reported feeling less safe than men, though by varying percentage points. For instance, in Jordan, the percentage difference was greater than that of Lebanon's, with 72 percent of women versus 90 percent of men reporting to feel safe.
Lebanon's numbers were relatively average when compared to the whole. Worldwide, 62 percent of women and 72 percent of men say they feel safe walking along in their communities at night. But this does not make women feel any better.
"There are many stories of women who are followed near where they live," said Nadine Moawad, a founding member of Nasawiya, a women's rights group whose mission is to provide gender justice and equality. "Women get sexually harassed in their own neighborhoods."
Moawad was surprised to hear that only 75 percent of men reported feeling safe, though she believes it is due to the rise in theft and robbery in the country, and not because of the same factors affecting women, namely sexual assault.
"Personally I feel threatened night and day," said Marie-Anne Wehbeh, 25, an interior architect living in Jounieh.
Full report at:
http://www.dailystar.com.lb/News/Local-News/2012/Jul-28/182357-women-in-lebanon-feel-much-less-safe-than-men.ashx#ixzz21tKFTBqL
-----------
Fight over Islam, money and power brings violence to Volga
27 Jul 2012
KAZAN, Russia (Reuters) - Not far from glitzy boulevards where an oil boom has sent up stadiums and high-rises overlooking the Volga River, women in headscarves wander through Islamic bookstores selling pamphlets on the institution of sharia in Russia.
Kazan, capital of Russia's mainly-Muslim Tatarstan region, has long had an image as a showcase of religious tolerance. But that reputation was shattered last week by car bomb and shooting attacks carried out only hours before the start of the holy month of Ramadan.
On the wall outside the bookshop, a flyer in the local Tatar language calls Muslims to unite against the region's top religious leader, Mufti Ildus Faizov, who was wounded in the attacks which also killed his deputy.
"Things will only get worse here and Muslims will be the ones who suffer the most," said Anisa Karabayeva, 43, her face framed by a white hijab, or traditional headscarf.
"Will there be more bombs? Probably," she says flatly, standing in front of a display case stocked with Korans and prayer rugs.
Full report at: (c) Copyright Thomson Reuters 2012. Check for restrictions
http://www.cnbc.com/id/48348867
-----------
Reversal of Saudi Ban on Women Athletes is a Veil for Western Imperialism
Finian Cunningham
28 July 2012
As the 2012 Olympics get under way tonight in London the grand ceremonial parade of nations can claim an historic first. For the first time in over a century of the modern Games, women athletes will be representing all 204 participating nations.
The historic landmark is down to a last-minute U-turn by one country – Saudi Arabia.
The kingdom has up to now never permitted its women to participate in the Olympics because of its draconian application of Islamic Sharia law, which forbids women to be present in public gatherings of both sexes. But the real issue is not the Saudi rulers' desire to cover up their women – it's the need for the Western powers and their Arab proxies to cover up ongoing imperialist aggression in the Middle East.
Only in the last few weeks – before the 9 July deadline – did the Saudi Arabian Olympic Committee rescind its decades-long moratorium on sending female athletes to the Olympics – a ban that has been in force ever since the kingdom first began participating in the Games in 1972.
As a result, some Western mainstream media are now talking up the occasion in glowing terms as a "breakthrough for women's rights".
Full report at:
http://www.globalresearch.ca/index.php?context=va&aid=32092
-----------
Saudi women join opening ceremony for first time
July 28, 2012
Saudi Arabia's first female Olympic athletes made their appearance at the opening ceremony to the London Games on Friday dressed in traditional hijabs or Islamic headscarfs.
Saudi Arabia was one of three countries alongside Brunei and Qatar which never to have sent female athletes
to the Olympics but the latter two confirmed earlier in 2011 that their delegations would include women.
Wojdan Ali Seraj Abdulrahim Shaherkani and Sarah Attar are due to compete in the +78kg category in judo and 800 metres respectively after Saudi Arabia broke with its practice of sending male-only teams to the world s biggest multi-sports event.
On Thursday, International Judo Federation president Marius Vizer said Shaherkani would have to fight without a hijab - a decision that is likely to cause controversy in Saudi Arabia where female participation in sports has long been a controversial issue.
Powerful clerics denounce women for exercising saying it goes against their natural role.
http://www.hindustantimes.com/Specials/Sports/Olympics2012/Chunk-HT-UI-Olympics-
-----------
Veiled Illusions in Abu Dhabi
July 28, 2012
I HAD hardly noticed the subtle differences in the ways my female students chose to wear their conservative dress or what those variations might imply.
Those distinctions gradually revealed themselves. I spent many mornings looking out at their faces, scrunched tight in concentration, and the sheylas and bright headscarves that covered their heads, trying to unravel the many meanings the dress conveyed to me and each of the women before me.
The students from the Gulf countries of the United Arab Emirates, Oman, Qatar, Yemen and Saudi Arabia wore the traditional black abaya and sheyla. I watched my students fidget with the cloth at their necks, making sure none of their olive skin was exposed. Underneath their abaya, they usually wore long skirts or dresses, a peek of colour or splash of print design falling below the black hem.
Some of the older students wore their abayas open like a jacket, revealing loose jeans and a T-shirt or a sparkling, low-cut top suitable for a nightclub.
The students from Jordan, the Palestinian territories, Lebanon and Syria wore colourful headscarves, called hijab, with jeans and long-sleeved tops. Their faces appeared stark and open under these coverings, without any hair to screen them.
Full report at:
http://www.theaustralian.com.au/travel/veiled-illusions-in-abu-dhabi/story-e6frg8rf-1226435911964
-----------
Appeals court upholds lifting Sisters in Islam's book ban
28 July 2012
PUTRAJAYA (July 27, 2012): The Appeals Court here today upheld a high court decision to lift a home ministry ban of a book, entitled 'Muslim Women and the Challenges of Islamic Extremism' by Sisters in Islam (SIS) Forum (Malaysia).
Justice Datuk Abdul Wahab Patail, who chaired a three-member panel, held that the book was not prejudicial to public order.
"The former home minister's satisfaction that the book was prejudicial to public order, in absence of any clear evidence of any prejudicial events occurring, was in outrageous defiance of logic, and falls squarely within the realm of unreasonableness and irrationality," said Abdul Wahab.
He said High Court judge Mohamad Ariff Md Yusof confined himself properly to his duty in the judicial review brought by SIS Forum, and the judge was correct in finding objectively that the book was not prejudicial to public order.
In dismissing the appeal brought by former home minister Tan Sri Syed Hamid Albar against the high court's decision to lift the ban on the book, Abdul Wahab said, if the book was said to be against the Islamic Advancement Department's (Jakim) guideline, that did not address the issue of whether the book was prejudicial to public order.
Full report at:
http://www.thesundaily.my/news/448532
-----------
Zardari for appointing women as top judges
July 28, 2012
ISLAMABAD – Reaffirming his resolve to eliminate discriminatory practices and abuses against women in Pakistan, President Asif Ali Zardari on Friday enumerated the government's initiatives for women empowerment in the country. He also told the audience that a proposal was under consideration to give more representation to women in the top judiciary. Zardari was addressing a ceremony arranged to mark the end of "One Million Signatures" campaign launched last year to stop violence against women. Maintaining that discrimination against women is deeply rooted in the social, political, economic and legal spheres of society, the president said the issues were not only limited to Pakistan but were also seen in other regional countries. Claiming that the government's highest priority is to address discriminatory laws against women, the president listed down the legislative measures taken to protect women, which included Adoption of Protection against Harassment of Women at Workplace Act 2010' Criminal Law (Amendment) Act' Acid Control and Acid Crime Act and Prevention of Anti Women Practices Act. The president added that the National Commission for Human Rights Act 2012 had been enacted to monitor the overall human rights situation, while the Women in Distress and Detention Fund Act 2011 was also promulgated to provide financial and legal assistance to deserving women. Moreover' 26 Shaheed Benazir Bhutto Centres for women had been established in various districts to provide immediate relief to female victims of violence, he added.
Full report at:
http://www.nation.com.pk/pakistan-news-newspaper-daily-english-online/national/28-Jul-2012/zardari-for-appointing-women-as-top-judges
-----------
Muslim women and the London Olympics: Series of historic firsts
By Nadia S. Mohammad
07/27/2012
Though it just started, the London Olympics already holds a series of historic firsts, especially for Muslims and women around the world.
To begin with, the organizers' aim to make the Games the first "green games," developed with the goal of environmentally friendly and sustainable construction. Muslim women have held pivotal roles in bringing this goal to fruition. Of note are Zaha Hadid and Saphina Sharif. Sharif, a civil engineer, was an on-site director ensuring that the clearance of the Olympic Park site pre-construction met the 'zero-waste games' goal.
Hadid, a British Muslim and the first woman architect to win the prestigious Pritzker Architecture Prize —the equivalent of the Nobel Prize in architecture—is the designer of the acclaimed London Aquatics Center for the games – a 'Pringles chip' looking building, by far the most beautiful building in the park.
The Games are also the first, since the Moscow games in 1980, to coincide with Ramadan, the Muslim holy month where the faithful abstain from food and drink daily from dawn until dusk, which in London's humid summer this year means a fast of approximately 17 hours a day for each of the Games' 17 days.
Full report at:
http://www.washingtonpost.com/blogs/altmuslimah/post/muslim-women-and-the-london-olympics-series-of-historic-firsts/2012/07/27/gJQAxbEwEX_blog.html
-----------
Ramadan Reflection Day 8: The Women Who Shape Us
07/27/2012
Imam Khalid Latif
There seems to be a lot of conversation these days on Muslim athletes at this year's Olympics and the tough choice they face in fasting during Ramadan or not. Growing up, I played football and ran track since I was around 12 and the decision to fast while I was practicing or playing never really came up. This wasn't because I was particularly devout or committed to my faith per se. Mostly it was because I saw my sister fasting while she played basketball, so I just did what she did.
Aside from being quick, agile and having an amazing jump shot (she used to have a couple of three-point records for high school basketball in N.J.), my big sister Aliya has a lot of unique qualities that makes her someone that I have always looked up to and have learned a lot from. We have home videos of us playing together in the front yard of our house from when we were younger and my father would call us into the house, speaking to us in Urdu. My sister would respond, using the feminine case since she's a girl, "Main aa rahi hoon," meaning "I am coming," and I would be waddling behind her speaking in the same feminine case saying "Main aa rahi hoon," not knowing that I was talking as a girl would, but not really caring because I just wanted to be like her.
Full report at:
http://www.huffingtonpost.com/imam-khalid-latif/ramadan-day-8-women-who-shape-us_b_1709864.html
-----------
Aleppo braces for 'mother of all battles'
28 July 2012
ALEPPO, Syria: Syrian fighters were bracing yesterday for the "mother of all battles" in Aleppo, as the former UN observer mission chief said President Bashar Assad's fall was a matter of time.
Waves of troop reinforcements have been pouring into the northern city — Syria's second largest — and a government security official told AFP the offensive feared by the rebels could come as early as Friday.
"The special forces were deployed on Wednesday and Thursday on the edges of the city, and more troops have arrived to take part in a generalized counter-offensive on Friday or Saturday," the source said.
Early Friday, helicopter gunships strafed a string of rebel neighborhoods in the southwest of the city. Clashes also broke out in the Al-Jamaliya district, adjacent to Aleppo's historic old quarter, a human rights watchdog said.
Three people were killed in shelling of the southern Fardoss district and one was shot dead in the Maysaloon neighborhood, the Britain-based Syrian Observatory for Human Rights reported.
In Salaheddin, a rebel bastion in the southwest of the city, hundreds of opposition fighters were bracing for the counter-offensive threatened by the embattled Assad regime.
An AFP photographer saw improvised barriers made up of sandbags and even a bus thrown up across the the streets, as well as makeshift clinics set up inside schools and mosques.
Full report at:
http://www.arabnews.com/aleppo-braces-%E2%80%98mother-all-battles%E2%80%99
-----------
URL: https://newageislam.com/islam-women-feminism/saudi-arabia-olympic-paradox-insulting/d/8074