New Age Islam News Bureau
3 Sept 2012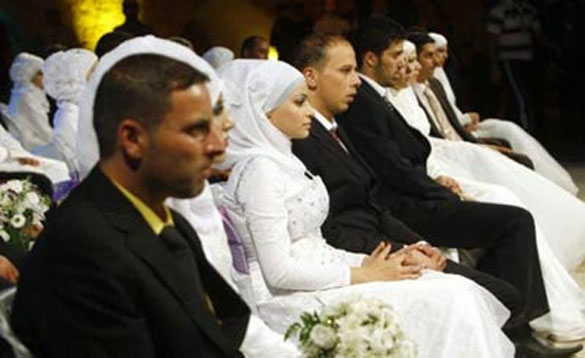 • Despite 'false charges', no bail for Pak blasphemy girl
• Modern Kazakhstan women do not rush to get married
• Hijab-wearing woman hosts World Muslimah Beauty contest
• First veiled news anchor appears on Egyptian state TV
• 'Serial bride' who conned men nabbed in Bangalore
• Iraqi fashion police up in arms against 'skimpy' clothes
• Tajik Women Struggle For Hijab
• From MTV to Mecca': True inspiring story of Kristiane Backer
• Nigeria: Breastfeeding Medically, Spiritually Good for Infants
• Telluride Film Festival: Haifaa Mansour's tough path to 'Wadjda'
• Peachtree City woman honoured with White House invite at Iftar
• Penniless mother sells off three daughters for Rs.185
Compiled by New Age Islam News Bureau
Photo: Palestinians chip away at male divorce monopoly
URL: https://www.newageislam.com/islam,-women-and-feminism/by-new-age-islam-news-bureau/palestinians-chip-away-at-male-divorce-monopoly/d/8543
------------
Palestinians chip away at male divorce monopoly
02 September 2012
For decades, Palestinian women seeking to divorce their husbands risked years of miserable, expensive litigation or lengthy domestic battles as they begged their spouses for permission to leave.
Now Palestinian religious authorities announced sweeping reforms of divorce laws that will make it easier for a woman to end her marriage. The changes make a huge step forward in a society where many still believe that a woman should have no right to separate from her husband.
If there's hatred between them, should we force them to stay together?
Sheik Yousef al-Dais, head of the Islamic courts in the Palestinian Authority
"In Islamic law, the relation between spouses should be based on tenderness, love and understanding," said Sheik Yousef al-Dais, head of the Islamic courts in the Palestinian Authority, as he announced the changes Thursday. "If there's hatred between them, should we force them to stay together?"
Marriage rules throughout the Middle East are based on Islamic law but have been heavily influenced by stricter tribal traditions that erode rights enshrined to women in Islam, such as a dignified divorce. Proponents say the reforms still conform to Islamic law.
Under Palestinian law, women cannot unilaterally demand a divorce. That is still the privilege of men, who can divorce their wives without recourse to a court.
Instead, a woman must ask her husband for permission to end the marriage or go to court and prove he has treated her poorly.
Proving ill treatment often entangled women in years of court hearings as they struggled to produce tangible evidence, like a landlord testifying a husband never paid the rent, or medical certificates proving a woman was beaten. Some mistreatment like marital rape or psychological abuse was almost impossible to prove, judges said.
If a woman asks her husband for a divorce, she must return the dowry and gifts she receives from her husband upon marriage. Some men demand more out of spite: exclusive children's custody, thousands of dollars, apartments - even ice-cream treats or bus tickets, said lawyers and judges. Or they can simply deny the divorce.
"These women are investment projects for men, open to extortion at any time," said al-Dais.
The changes mean women no longer have to prove ill treatment. The Islamic judges who decide divorce cases for Palestinian Muslims will have the power to decide, without evidence, that her marriage is harmful for them. Husbands are also barred from seeking "unreasonable" sums of money beyond the dowry, and the divorce must be completed within three months.
You are destroyed psychologically, and physically, and then the sheiks say 'patience.'
Nisreen, a 31-year old spouse
It is potentially a radical change for women.
Nisreen, a 31-year-old woman, said she spent three years in court before a judge finally agreed to her divorce request. She said her husband smashed her nose, frequently dragged her across the floor by her hair, and sold all their furniture and skipped town while she was giving birth to her son, leaving her with nowhere to sleep.
Judges initially refused to grant the divorce because her husband promised to change, said Nisreen. They also didn't accept police reports detailing her husband's violence because they were from another country, where they first moved after they married. She declined to name the country or provide her last name, fearing it would help her husband identify her.
"You are destroyed psychologically, and physically, and then the sheiks say 'patience,'" she said.
She estimated her divorce cost her family $7,000 - the sum that the average Palestinian makes in five years.
The pressure to update divorce rules appeared to have been prompted by an August incident in which a man killed his wife by slashing her throat in a marketplace in the West Bank city of Bethlehem. The wife had battled judges to grant her a divorce. Her husband is now in prison. The incident provoked widespread outrage in a culture where violence against women mostly takes place in private and is considered an internal, family issue.
If a woman can divorce, she'll dump him anytime she wants. I wanted to get married, but now I'm reconsidering, because if my wife leaves me, people will say: 'There's a guy whose wife dumped him.'
Ahmad Qawasmi, a 21-year-old cosmetics salesman
Feelings over the reform were mixed in this deeply conservative society. Many families pressure women not to divorce, worried it would ruin the family's reputation. Divorced women are seen as loose troublemakers, and men don't like to be seen as dumped. Few families can afford to hire a lawyer and begin proceedings.
"If a woman can divorce, she'll dump him anytime she wants," said Ahmad Qawasmi, a 21-year-old cosmetics salesman. "I wanted to get married, but now I'm reconsidering, because if my wife leaves me, people will say: 'There's a guy whose wife dumped him.'"
Feminists said the changes don't go far enough, because there are no clear limits on monetary compensation involved in completing a divorce. They worry that conservative judges will still be reluctant to grant divorces to women. Also, inefficient security forces rarely implement court rulings.
"The judges shouldn't be celebrating so much," said Hekmat Besesso, 43, a women's activist who lost custody of her 6-year-old-son Yazan from her first marriage when she remarried last year - another quirk of Palestinian family law. She then spent eight months in a custody battle because her ex-husband barred her from seeing her son, even though a court allowed her a once-a-week visit.
Divorce for Muslims is handled at Islamic family law courts where clerics serve as judges, since personal status issues are governed by Shariah law. Minority Palestinian Christians follow their own church laws on marriage and divorce.
At one Islamic courthouse in Ramallah this week, four judges wearing turbans and clerical robes welcomed the changes, saying they were sick of men squeezing women dry.
But it may be some time before the changes sink in. Nearby, bureaucrats kept giving contradictory instructions to a young woman in jeans and a scarlet headscarf as she tried to finalize her divorce.
Only 14 percent of marriages end in divorce in Palestinian society, said attorney Fatima al-Muaqat, an expert on Palestinian divorce law. But she said the figure was misleading because the divorce process is so lengthy, stretching up to 10 years in some cases, and because many women either fail or don't bother to seek a divorce.
Other Muslim-majority countries have grappled with the issue of how much freedom a woman should have to divorce.
In Arab countries like the United Arab Emirates, Jordan and Iraq, as well as India, a woman can divorce her husband freely but loses rights to compensation, unless she can prove harm.
Some countries are stricter. In Pakistan, clerics often remove a woman's right to ask for a divorce by crossing out the section allowing her to do so in her marriage contract. In Indonesia, a woman who seeks divorce must return their dowry or prove she has been harmed.
In Malaysia, Muslim women have to present their case to religious courts in order to obtain divorces, but evidence of harm isn't compulsory.
The new Palestinian changes won't apply in Gaza, ruled by the Islamic Hamas, the bitter rival of the Western-backed Palestinian Authority that rules over Palestinians in the West Bank.
Al-Dais said he hoped his changes could be a model for Palestinians.
"We are walking step by step. We want to take a deep breath and see how the street will accept it."
http://english.alarabiya.net/articles/2012/09/02/235625.html
------------
Despite 'false charges', no bail for Pak blasphemy girl
Sep 03 2012
Islamabad : A young Christian girl arrested on a blasphemy charge that has sparked an international outcry will remain in a high-security jail till at least Friday as the court hearing her case was adjourned Monday.
Judge Muhammad Azam Khan adjourned the case until September 7 because of a lawyers' strike Monday.
The adjournment followed a request from the lawyer of Malik Ammad, the man who filed the complaint against Rimsha Masih.
Rimsha has been held at Adiala Jail in Rawalpindi after she was arrested from the low-income Mehria Jaffar area on the outskirts of Islamabad on August 16.
She was accused of burning pages of a primer used to teach children the Quran and was booked by police under the harsh blasphemy law.
However, in a twist in the case, police on Saturday arrested Khalid Chishti, the imam of the mosque in Rimsha's neighbourhood, after his deputy told police that the cleric
had stuffed pages of a holy book into the girl's shopping bag to implicate her in the matter.
Chishti's deputy Hafiz Mohammad Zubair and two other men told a magistrate the cleric added pages to burnt pages and ashes brought to him by another man.
A report from an official medical board last week said Rimsha appeared to be around 14 years old and that her mental development did not correspond with her age.
The court was forced to re-examine the report after the lawyer of Rimsha's accuser challenged it.
Chishti had acknowledged in a television interview last week that he had, during a recent sermon, called for the eviction of all Christians from the neighbourhood if they did not stop their prayer services because "Pakistan is an Islamic country given by Allah".
Pakistan Ulema Council chief Allama Tahir Ashrafi asked the Supreme Court Chief Justice to take suo moto notice of the incident and to initiate action against those who had really desecrated the Quran and then blamed the Christian girl for the incident.
Rimsha's case has prompted concern from Western governments and the Vatican.
It has also focused attention once again on Pakistan's controversial blasphemy law, under which a person can be punished with life in prison or death.
Rights groups have warned that the law is often used to settle personal scores or persecute minorities like Christians.
http://www.indianexpress.com/news/despite-false-charges-no-bail-for-pak-blasphemy-girl/997115/
------------
Modern Kazakhstan women do not rush to get married
02.09.2012
A majority of modern Kazakhstan women say they do not need families. An average Kazakhstan woman is a successful working woman with an education aged 25 - 35. She is independent and her need for family is rather low. Family is a luxury, head of the Applied Expertize Department of the Institute of Political Solutions (IPS) Madina Nurgaliyeva told Tengrinews.kz.
"Women have become more active and are often the main bread winners of their families. They earn well, they are independent. However, the stereotypes of a man being the head of the family and the breadwinner are still in place," expert said.
"There are families where men do the housework and look after the kids. But I wouldn't say that the traditional roles of man and women have changed in the society. They are only transforming gradually."
According to the expert, "the current situation is not very good for the demography. There is an imbalance. Men get used to living without wives, preferring free relations. Modern household appliances substitute for cooks and housewives".
According to the poll held by IPS sociologists, 53.6 percent of Kazakhstan residents believe that men should keep the role of breadwinners in their families. 36.3 percent say that men are leaders, defenders and patrons of their families. Only 3.6 percent of the respondents think that men have to do the house and raise children.
43.6 percent of the respondents note that men should take important family decisions. 29.5 percent consider that the decisions have to be made jointly. 10.6 percent say that the family member who earns more should be considered the head of the family. Only 3 percent of respondents entrust women with decision-making.
Earlier Tengrinews.kz English reported that the average age of Kazakhstan married women made 24.3 in 2011. According to Kazakhstan Statistics Agency, there is no significant growth of the average age of Kazakhstan brides. The average age of women who got married for the first time in 2009 made 24.2 years.
http://en.tengrinews.kz/people/Modern-Kazakhstan-women-do-not-rush-to-get-married-12387/
------------
Hijab-wearing woman hosts World Muslimah Beauty contest
By Juke Carolina for Khabar Southeast Asia in Jakarta
September 03, 2012
An international pageant seeks to promote positive role models for Islamic women, mixing religious observances with a modern, urban lifestyle.
Beauty is more than skin deep. And the World Muslimah Beauty (WMB) competition is not just about beauty.
So says Rofi Eka Shanty, a former Indonesian TV journalist and Sharia-based Public Relations professional. Last year, she founded the world's first online Muslim beauty pageant for hijab-wearing young women.
"Islam is currently experiencing a branding crisis. Its 'spokespersons' are terrorism and poverty," Rofi told Khabar Southeast Asia. She wants to showcase a different and modern face of Islam.
"I want people to see Islam as something universal and I want to counter Islamophobia," said Rofi.
After launching the Indonesian Muslimah Beauty competition in 2011, she upgraded it this year to an international event.
"This year, there will be Egyptian, Nigerian, Australian, German, and Malaysian participants" in addition to Indonesians, Rofi said.
Spreading Islam through beauty and fashion
The event has prompted grumbling among some conservative Muslims, who say Islam forbids displays of physical beauty. But Rofi sees it as a way of promoting the religion.
Many Muslim women avoid wearing the hijab for fear of being less competitive in their fields or earning less, she told Khabar. Her pageant, she hopes, will dispel such anxieties.
"The WMB ambassador should be seen as ideal, based on the Qur'an's perspectives that say Muslim women should wear Islamic attire that covers their awrat (nakedness)," Rofi said.
Competition requirements are demanding. They include Internet and technology capabilities, Qur'an-reciting proficiencies, and accomplishments in sports, academics, and culture. And wearing the hijab is a must.
The winner will be someone who will truly live the Prophet Muhammad's lifestyle, Rofi added.
She will also receive a one-year scholarship, cutting-edge gadgets, a pilgrimage to the Holy Land, a savings account in a Sharia bank and all-expense paid holidays in Europe, Australia, Asia and around Indonesia.
The preliminary round of the competition was held online in July. From August 17th to September 15th, Internet users can vote for their favorite participant. The grand finale will be aired live on the private Indonesian TV network Trans7 on September 16th.
The panel of judges includes prominent figures from the fashion and communications industries and a Muslim scholar.
"This year we invite 1,000 orphans to become our honorary judges. Some of them will be put on the participants' care during the [contest] to test their ability to nurture and set examples," Rofi said.
Helping Muslim women realise their potential
Kholifah Nuzulia Firdausy, or Lya, the first runner-up in 2011, told Khabar the contest was a blessing.
"It was evident that Muslim women can show their potential, be pious, smart, and continue being stylish. Furthermore, the event is a form of public religious duty to inform other Muslim women about the importance of inner and outer beauties," Lya said.
Last year's winner, 23-year-old Dika Restiyani, was a post-graduate student in international political economy at Nanyang Technological University in Singapore, owner of a small-scale doll-making business and founder of a South Jakarta-based charity that assists street children, according to a video about her on YouTube.
Judges sought "a good emotional, intellectual, and most importantly, spiritual intelligence", she says on the video.
Ghitta Laskrouiff, a fashion designer based in Morocco, applauded the WMB initiative.
"I think this event is great; we don't have this kind of competition," Ghitta said, urging organisers to promote the event in Morocco via local websites.
http://khabarsoutheastasia.com/en_GB/articles/apwi/articles/features/2012/09/03/feature
------------
First veiled news anchor appears on Egyptian state TV
2 Sep 2012
Fatma Nabil becomes first veiled TV anchor in history of Egyptian state television after information minister overturns ban
A veiled woman, Fatma Nabil, anchored a news programme on Egyptian state television for the first time on Saturday.
Hosni Mubarak's former information minister Safwat El-Sherif, who is currently facing corruption charges, banned veiled anchors from appearing on state TV in 2002. Prior to that time, Egyptian news anchors were unveiled.
The rule change was made under the auspices of new Information Minister Salah Abdel-Maqsoud, a member of the Muslim Brotherhood.
Veiled women Nermine Bitar and Sarah El-Shinnawy were also given permission to appear on state television.
Fatma Nabil has been presenting a show on Masr 25, the Muslim Brotherhood's TV channel, for several months.
http://english.ahram.org.eg/NewsContent/1/64/51832/Egypt/Politics-/First-veiled-news-anchor-appears-on-Egyptian-state.aspx
------------
'Serial bride' who conned men nabbed in Bangalore
By Mail Today Bureau
Sep 03 2012
THE woman who married many men and scooted off with their valuables and cash has finally been arrested.
Shahnaz ( 33) was picked up from a Bangalore bus stand on Saturday by a special team of the Tamil Nadu Police and brought to the all- woman police station in Adyar.
While reports claimed she had duped at least 50 men, she confessed to breaking the hearts of only four.
" She has confessed to marrying only four men and not 50 or 100, as television channels have reported," said a senior police officer from the team which interrogated her. Shahnaz was produced before the Saidapet local magistrate on Sunday.
She has been remanded in judicial custody for 14 days.
The police put the number of Shahnaz's victims at 12. Originally from Kerala, she travelled to different cities and targeted single men with money. Her modus operandi was simple — lay a honey trap and wait for the victims to walk in.
Full report at: Mail Today
------------
Iraqi fashion police up in arms against 'skimpy' clothes
September 3, 2012
Bagdhad: For much of Iraq's youth, sporting blingy makeup, slicked-up hair and skintight jeans is just part of living the teenage dream. But for their elders, it's a nightmare.
A new culture rift is emerging in Iraq, as young women replace shapeless cover-ups with ankle-baring skirts and tight blouses, while men strut around in revealing slacks and spiky haircuts. The relatively skimpy styles have prompted Islamic clerics in at least two Iraqi cities to mobilize the "fashion police" in the name of protecting religious values.
"I see the way they (police) look at me — they don't like it," said Mayada Hamid, 32, wearing a pink leopard-print headscarf with jeans, a blue blouse and lots of sparkly eyeliner Sunday while shopping at the famous gold market in the northern Baghdad neighborhood of Kazimiyah.
She rolled her eyes. "It's just suppression." So far, though, there are no reports of the police actually taking action.
This is a conflict playing out across the Arab world, where conservative Islamic societies grapple with the effects of Western influence, especially the most obvious — the way their young choose to dress.
The violations of old Iraqi norms have grown especially egregious, religious officials say, since the Aug. 20 end of Ramadan, Islam's holy month. In the last two weeks, posters and banners have been hanging along the streets of Kazimiyah, sternly reminding women to wear an abaya — a long, loose black cloak that covers the body from shoulders to feet.
Full report at:
http://www.firstpost.com/world/iraqi-fashion-police-up-in-arms-against-skimpy-clothes-441207.html
------------
Tajik Women Struggle For Hijab
01 September 2012
KULOB, Tajikistan – Adding to Tajik Muslims struggle for hijab, women in the ex-Soviet Muslim-majority country are facing health problems from low-cost headscarves imported from China as the government continues its crackdown on the religious outfit.
"We never before had so many people coming at once with the same symptoms, so we decided to do [some] research to find the root cause of the problem," Alikhon Murodov, the head of Kulob's regional hospital, which specializes in treating skin diseases, told Radio Free Europe on Friday, August 31.
Looking into the issue, doctors proved that synthetic fabrics of the type often used in hijabs imported from China were the main cause behind the problems.
"Our research showed that the skin conditions were caused by synthetic textiles," Murodov says.
In many cases "the irritated and itching skin has turned into small wounds. We advised our patients to avoid synthetic fabrics," he added.
Like many other hijab-wearing Kulobi women, Kulob resident Madina Jabborova wears affordable Islamic clothing made in China.
Full report at:
http://www.onislam.net/english/news/asia-pacific/458857-tajik-women-struggle-for-hijab.html
------------
From MTV to Mecca': True inspiring story of Kristiane Backer
3 SEPTEMBER 2012
From MTV to Mecca takes reader on spiritual and cultural journey across globe – from Pakistan to Bosnia, LA to London, Hamburg to Saudi Arabia – that will inspire Muslims and non-Muslims alike.
LONDON - 'From MTV to Mecca' is the truly inspiring story of Kristiane Backer, who at the height of her career as one of Europe's leading pop culture icons, converted to Islam.
In the early 1990s, Kristiane Backer became one of the very first presenters on MTV Europe. For years she lived and breathed the international music scene, quickly gaining a cult following amongst viewers and becoming a darling of the European press. Rubbing shoulders with the likes of Mick Jagger, Bono, Bob Geldof, Jim Kerr, Take That and Cat Stevens, Kristiane was catapulted to the forefront of popular culture.
Full report at:
http://www.middle-east-online.com/english/?id=54166
------------
Nigeria: Breastfeeding Medically, Spiritually Good for Infants
BY OLAYINKA LATONA
3 SEPTEMBER 2012
Breastfeeding has always been the only culturally acceptable mode of feeding babies in Africa and specifically in Nigeria. It used to be a thing to be proud of and mothers breastfed their babies anytime and anywhere.
Within the first two years of infants, mothers were fond of nourishing their babies with their breast milk. Sadly, today, the reverse is the case.
Experts note that the experience of breastfeeding has numerous health benefits for mother and baby. However, despite various campaigns for exclusive breastfeeding in Nigeria, the nation has not achieved the desired results in view of drastic decline in the rate of breast feeding among Nigerian mothers.
Statistics show that in 2005, breast feeding rate in Nigeria was 53 per cent. Today, it has dropped to 18 per cent. Reasons adduced for this reduction range from ignorance to traditional beliefs. Yet scientific evidence shows that a child who is exclusively breastfed does not need additional water because breast milk contains 90 per cent of water.
Getting mothers to breastfeed the right way is a problem. For the few who want to practice exclusive breastfeeding, people around them make it difficult for them. It is no secret that apart from medical benefits, breastfeeding has spiritual connotation. Even the Quran and Bible agree that breastfeeding was created by God, and gloriously design for all mammals.
Full report at:
http://allafrica.com/stories/201209030121.html
------------
Telluride Film Festival: Haifaa Mansour's tough path to 'Wadjda'
By John Horn
September 2, 2012
The first woman to direct a Saudi Arabian feature had to walk a fine line with the coming-of-age tale.
TELLURIDE, Colo. — Wearing high-top tennis shoes and headphones, 11-year-old Wadjda doesn't look like much of a revolutionary. But in filmmaker Haifaa Mansour's new Saudi Arabian movie, the young girl is just that — as is Mansour herself.
Having its North American premiere at the Telluride Film Festival, "Wadjda" has become one of the event's most talked-about movies, as much as for what's on screen as for how the story was brought to the screen.
The first Saudi feature directed by a woman, "Wadjda" was made entirely inside the repressive country. Owing to strict religious edicts, Mansour occasionally had to direct her actors from inside a van some 100 feet from her set, lest she be seen mingling with men, and she received death threats for an earlier documentary that focused on young women like Wadjda who are willing to buck Islamic tradition.
Full report at:
http://www.latimes.com/entertainment/movies/moviesnow/la-et-mn-telluride-film-festival-wadjda-20120903,0,3998196.story
------------
Peachtree City woman honoured with White House invite at Iftar
September 2, 2012
John Munford
Peachtree City resident Soumaya Khalifa got the thrill of a lifetime recently when she was invited to the White House in Washington, D.C. to be a guest of President Barack Obama at a special Iftar, a dinner where Muslims break their day-long fast during the holy month of Ramadan.
In fact, Khalifa sat at the President's table during the dinner, which is an annual tradition that dates back to the days of President Abraham Lincoln and though it fell by the wayside was revived in recent years by Presidents Bill Clinton and George W. Bush.
Khalifa, the founder of the Islamic Speakers Bureau of Atlanta, noted that she was one of seven women selected to sit at the President's table, and he spoke with them about the importance of women's contributions to the Muslim American culture.
Khalifa said others at the table included a college student who wrote the president about what it was like to be an American Muslim, and an American Muslim fencer who was headed to the Olympics before she was injured.
"Several of the women he recognized by name," Khalifa said. "... I'd have loved the opportunity to do speed networking with the 120 people who were there. You had ambassadors from different countries and leaders from the Muslim American communities all over the country. It was pretty amazing."
Khalifa says she is still not sure how she got the invitation that first showed up in an email while she and her husband were driving down the road.
"I have been wanting to go to the White House forever," Khalifa said. "I have wanted to meet the President of the United States. So this was like a dream come true for me. I was so excited."
Full report at:
http://www.thecitizen.com/articles/09-02-2012/local-woman-honored-white-house-invite
------------
Penniless mother sells off three daughters for`185
By Soudhriti Bhabani
Sep 03 2012
THROWN out of home by her husband with her three minor daughters, she had no place to go, no one to turn to. Unable to provide even a square meal to her little girls, Purnima Halder sold off her daughters for a meagre sum of ` 185.
The incident took place in West Bengal's South 24- Parganas district. Police rescued all the three girls after residents of Malancha village in the district's Neora locality informed them about a woman selling off her children because of poverty.
" All the three girls have been rescued after we carried out an extensive search taking Purnima along. We have already video- recorded her statement," South 24- Parganas district police superintendent Praveen Tripathi said on Sunday.
According to sources, Purnima sold her eldest daughter for ` 60, second daughter for ` 100 and the third for ` 25.
Full report at:
Police have arrested the woman's husband and investigations are on
Mail Today
------------
URL: https://www.newageislam.com/islam,-women-and-feminism/by-new-age-islam-news-bureau/palestinians-chip-away-at-male-divorce-monopoly/d/8543