New Age Islam News Bureau
9 Aug 2012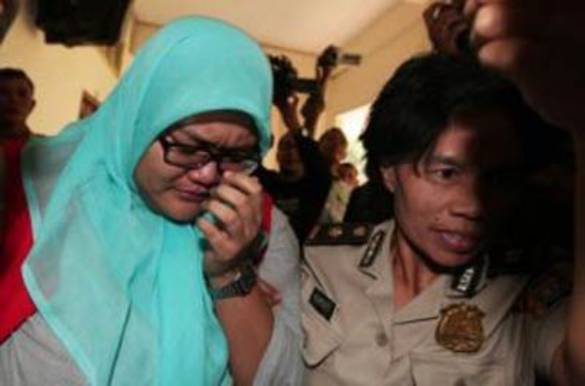 • 14-Year-Old Hindu Girl Kidnapped In Pakistan

• J&K: Sent Home By Doctors, Woman Delivers In Taxi

• Ex-Girlfriend of Gurdwara Shooter Arrested Faces Weapon Charge

• 'I'm Not a Cold-Blooded Monster,' Jakarta Woman Drunk Driver Tells Court

• Ahmadiyya Muslim Women's Group Hosts Qur'an Exhibition

• Iranian Woman Leaves US Prison after Oman Mediation

• Iraqi Woman Keeps Police on Toes All Night

• Canada's Irshad Manji Stands Unique in Push for Islam Reform

• Medal-Winning Tunisian Fuels Women's Rights Debate

• Attar Makes Olympic Track Debut for Saudi Women

• Senior Democratic Party Woman member named suspect in Buol bribery case

• Clattering Sewing Machines Hope for Young Nigerian Women

• HC Directs AMU School to Admit Girls Denied Seats for Being Over-Age

Compiled by New Age Islam News Bureau

Photo: 'I'm Not a Cold-Blooded Monster,' Jakarta Woman Drunk Driver Tells Court

URL: https://newageislam.com/islam-women-feminism/pak-woman-kills-buries-her/d/8211

----------

Pak Woman Kills and Buries Her Two Children in Courtyard

Aug 08 2012

Lahore: Upset with her husband, a woman allegedly killed her two children and buried them in the courtyard of her home in Multan district of Pakistan's Punjab province, police said today.

Asia Bibi, 28, a resident of Shujabad in Multan district, 350 km from Lahore, was reportedly upset due to her strained relations with her husband Muhammad Bilal, who was not supporting the family.

On Monday, Asia strangled her children, six-year-old Waqas and four-year-old Jalil and buried their bodies in the courtyard of her home.

A visiting relative became suspicious when Asia could not give a satisfactory reply about the absence of her children from the home.

Acting on the relative's compliant, police took Asia into custody and recovered the bodies and buried them in the local graveyard.

Police officials said Asia was living with her children as her husband was working in Karachi.

Asia told police she had killed her children in a fit of anger and that she regretted her action.

She said her husband wanted to divorce her so that he could remarry and that she said she had no money to feed her children as Bilal had not given her any money for many months.

She said she had not been able to sleep since she killed her children. "I do not want to live anymore," she said.

Muhammad Hasan, a relative of Bilal, alleged that Asia was involved in a relationship with another man and had wanted to elope with him.

http://www.indianexpress.com/news/pak-woman-kills-and-buries-her-two-children-in-courtyard/985596/

----------

14-Year-Old Hindu Girl Kidnapped In Pakistan

Aug 09 2012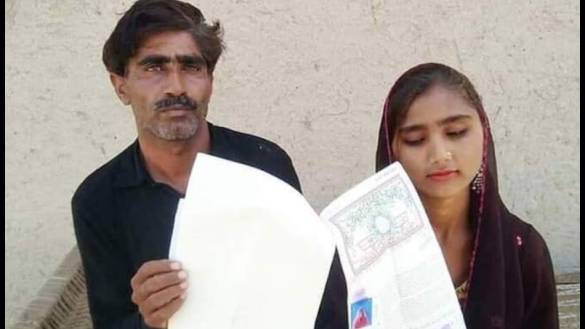 14 year old Hindu girl kidnapped in Pakistan:YouTube
---------
Islamabad: A 14-year-old Hindu girl has been kidnapped from Pakistan's Sindh province, triggering widespread concern among the minority community members and reports of their apparent exodus.
The teenage girl, Manisha Kumari, was kidnapped from Jacobabad in Sindh, which has a sizeable Hindu population, on Tuesday, Pakistan Hindu Council president Jethanand Doonger Mal Kohistani said today.
"Sindh Chief Minister Qaim Ali Shah has taken notice of the matter and asked provincial Minority Affairs Minister Mohan Lal to visit Jacobabad to look into the issue," Kohistani said.
The kidnapping of the girl from Jacobabad and the abduction of 11 Hindu traders from Balochistan and Sindh provinces over the past few months has added to the community's concerns, Kohistani said.
"There is sadness among Hindus as the law and order situation is deteriorating. Even Muslims have been affected by the deteriorating situation, it is not just the Hindus," he said.
Though TV news channels claimed several Hindu families from Jacobabad had decided to migrate to India because of forced conversions, extortion and kidnapping, Kohistani and Human Rights Commission of Pakistan activist Amarnath Motumal said there was no evidence to substantiate these reports.
Babu Mahesh Lakhani, the head of a Hindu panchayat, had claimed several Hindu families had decided to migrate to India and others were planning to follow them as they felt insecure in Pakistan.
Some Hindu leaders even claimed 60 families had left for India and more families would cross via the Wagah border this week.
However, sources in the Indian High Commission in Islamabad said there were no reports of mass movements of Hindu families via Wagah.
Kohistani acknowledged that Hindus were facing pressure due to the poor law and order situation but said there was no exodus.
"The land of the Indus river is our motherland. Some people may be going to India on a pilgrimage or a private visit," he said.
He added that police were not helping Hindus being targeted by criminal elements for extortion and kidnapping.
"Right now, three traders from Balochistan and eight more from Sindh are being held hostage. There are unconfirmed reports that one trader from Khuzdar (in Balochistan) may have
been killed by his abductors," he said.
Rights activist Motumal said he had conducted inquiries and found no proof of an exodus.
"I am not saying that the Hindu community is not being pressured in the interiors of Sindh but the reports that they are migrating to India in droves are not verifiable," he said.
He said he had personally gone looking for people who claimed there was an exodus from Sindh but could not find any proof.
"There might be a few families where one member left for India to settle there and then asked other members to join him. These families are leaving due to existing problems but the numbers are not so high," he said.
Officials said a group of Hindu families from Sindh and Balochistan is set to travel to India for a pilgrimage to Haridwar on 30 days' visas. Some sections of the media wrongly projected it as an exodus, they said.
Motumal blamed "extremist religious groups" for pressuring members of the Hindu community in Sindh to convert to Islam.
"Businessmen are being targeted for extortion and kidnapping but the situation is such that no one – Shias, Sunnis, Hindus, Sindhis – is safe," he said.
Reports over the past two years have said that dozens of Hindu families from Balochistan and Sindh had moved to India after the community was targeted by criminals and militants.
Hindus have also been shaken by several high-profile cases of the kidnapping and alleged forced conversion of women.
Indian officials have acknowledged there was a trend of Pakistani Hindus extending their stay in India after entering on a valid visa.
http://www.indianexpress.com/news/14yearold-hindu-girl-kidnapped-in-pakistan/986051/
---------
J&K: Sent Home By Doctors, Woman Delivers In Taxi
M Saleem Pandit
Aug 9, 2012
SRINAGAR: A 21-year-old pregnant woman delivered a baby in a taxi after being allegedly turned away by a doctor at a government hospital in Central Kashmir's Ganderbal district on Wednesday, in a state where around 1400 infants have died shortly after birth in the last one year.
Ameena Akhtar of Gutlibagh, 12 km from Ganderbal, gave birth to a boy while on her way to the sub district hospital after being sent back home earlier. Ganderbal is Chief Minister Omar Abdullah's assembly constituency.
"I could detect no signs of labour pain when Ameena was admitted at 3 am and advised her to go back home," said the gynaecologist on duty, Dr Mehmooda Jan.
Ameena's family members accused Jan of incorrect diagnosis. "We were advised to take her home despite her immense pain," said a family member.
Chief medical officer, Dr Dildar Ahmed refuted allegations of negligence. "The doctor examined the patient and advised her accordingly. She cannot be blamed for a lax approach," said Ahmed, adding that a probe will be conducted.
Block medical officer, Dr Mehmooda Kar said an inquiry will be initiated into the doctor's "negligence".
"Later in the morning, she must have developed genuine labour pains and delivered the baby on the way to the hospital," said the CMO adding that both the mother and child are admitted at the hospital and are stable.
http://timesofindia.indiatimes.com/india/JK-Sent-home-by-doctors-woman-delivers-in-taxi/articleshow/15412808.cms
---------
Ex-Girlfriend of Gurdwara Shooter Arrested Faces Weapon Charge
Aug 8, 2012
WASHINGTON: A former girlfriend of the slain suspect in Wisconsin Gurdwara shooting that left six Sikhs dead has been arrested and faces charges of possession of illegal weapon.
31-year-old Misty Cook, a waitress and nursing student with reported ties to white supremacist organisations, was arrested as part of a joint investigation between the FBI and South Milwaukee Police Department "on the crime of felon in possession of a firearm."
"Charges will be sought through the Milwaukee County District Attorney's Office," Milwaukee police said in a statement last night after the arrest of Cook, the former girlfriend of the slain 41-year-old gunman Wade Page.
A federal law enforcement official was quoted as saying by ABC News that Cook was taken into custody on the grounds that she is prohibited from having a gun as a convicted felon. Cook was charged in 2002 for fleeing and eluding a traffic officer.
Cook's relationship with Page fell apart in the weeks leading up to his alleged shooting spree at the gurdwara. In Oak Creek, Wisconsin, thousands of people gathered last evening in an outpour of support for victims of the shooting on Sunday. They lit candles, flew orange Sikh flags and joined in Sikh prayers. "What we learned, you know, about the shooter is he did stuff with music that was completely full of hate and energy that was brain-washing to himself," Amardeep Kaleka, whose father Satwant Singh Kaleka was president of the gurdwara and among those shot and killed, was quoted as saying.
http://timesofindia.indiatimes.com/world/us/Ex-girlfriend-of-gurdwara-shooter-arrested-faces-weapon-charge/articleshow/15403070.cms
----------
'I'm Not a Cold-Blooded Monster,' Jakarta Woman Drunk Driver Tells Court
August 08, 2012
A woman charged with murdering nine pedestrians in Jakarta while driving under the influence of drugs and alcohol in January pleaded guilty during a court hearing on Wednesday, saying she deeply regretted the incident.
"I'm not a cold-blooded monster," Afriyani Susanti, 29, told the panel of judges at the Central Jakarta District Court. "I'm a human, just like every other human in this room. I regret [the incident] and have been haunted by fear.
"I never intended, even in my dreams, to kill anyone. I know the incident has caused deep wounds. I deeply regret it. I really do apologize to families of the victims. I hope there will be no other Afriyani in the future."
Afriyani allegedly killed nine people and injured three others as she drove through a crowd of pedestrians near Tugu Tani monument in Central Jakarta on Jan. 22. Police reports said she had taken ecstasy and consumed alcohol on the night of the accident.
Prosecutors have demanded 20 years in prison for Afriyani, charging her with murder, drug possession and violating the traffic law. They have alleged that she purposefully drove a car in a condition that endangered others and caused death.
Afriyani's lawyers earlier argued that she never intended to kill, saying charges of murder were inappropriate.
Afriyani pleaded guilty in the hearing on Wednesday but asked the judges to be lenient with her.
http://www.thejakartaglobe.com/news/im-not-a-cold-blooded-monster-jakarta-drunk-driver-tells-court/536531
----------
Ahmadiyya Muslim Women's Group Hosts Qur'an Exhibition
Aug 08, 2012
The holy book of the Islamic religion will be on display at the main city library.
The Ahmadiyya Muslim Women's Association of Burlington is hosting The Holy Qur'an Exhibition on Saturday, Aug. 11, from 10 a.m. to 4 p.m., in Centennial Hall at Central Library, 2331 New St.
The day-long exhibition will highlight various facets of the Qur'an on various posters around the hall.
Translations of the Qur'an in about 50 languages from around the world also will be displayed. As well, YouTube clips about the Qur'an will be shown on a projector.
The revelation of the Qur'an to the Holy Prophet Muhammad started at age 40 in the year 610.
Full report at:
http://www.insidehalton.com/news/article/1458977--muslim-women-s-group-hosts-qur-an-exhibition
----------
Iranian woman leaves US prison after Oman mediation
08.08.2012
An Iranian woman, jailed by the United States for attempting to export military equipment to Tehran, has been freed and arrived in Oman on Tuesday,AFP reports citing the government announcement in Muscat.
A foreign ministry spokesman thanked the US government for releasing Shahrazad Mir Gholikhan "on humanitarian grounds and following efforts made by Oman", Oman's state news agency Ona said.
"This humanitarian initiative will serve the interests of both countries and stability in the region," the spokesman added.
Surrounded by members of her family, who had travelled to Oman, Gholikhan on arrival at Muscat airport late Tuesday thanked Sultan Qaboos bin Said for mediating her release.
She said she was "happy to be free again ... and to start a new life", Ona quoted her as saying.
Full report at:
http://en.tengrinews.kz/crime/Iranian-woman-leaves-US-prison-after-Oman-mediation--12061/
----------
Iraqi woman keeps police on toes all night
Ananya Bhardwaj
Aug 08 2012
New Delhi : A 35-year-old Iraqi national kept the police on tenterhooks for nearly five hours on Monday morning near a popular discotheque in Greater Kailash, South Delhi.
Policemen were called to the spot after a resident of Dwarka, Sharon Srivastava, complained that Diana Falah, who was allegedly drunk, had assaulted her inside the women's toilet of the club.
Police reached the club around 12.30 am, and took more than four hours to restrain Falah and take her to the police station.
In her complaint, Srivastava said: "While I was waiting in the queue, this foreigner girl forcefully entered the washroom and started to misbehave with me. She pushed me to the wall and scratched my neck twice. She also held my neck, I was about to faint when she held me by my hair and started to beat me up."
According to police, when their team tried to detain Falah, she resisted and threatened to kill herself. She said she was four months pregnant and would kill her child if the police tried to arrest her.
Full report at:
http://www.indianexpress.com/news/outside-gk-club-iraqi-woman-keeps-police-on-toes-all-night/985233/
----------
Canada's Irshad Manji stands unique in push for Islam reform
Alessandria Masi
8 August 2012
Her supporters and opponents attempt to categorize her as a lesbian, a Muslim, a woman, a Ugandan refugee, a heretic, an author and a teacher, but Irshad Manji, refuses to wear any labels on her lapel.
During her campaign to reform Islam, Manji has encountered book bans, notably her most recent book "Allah, Liberty and Love" banned in Malaysia, media criticism and physical attacks from non-Muslims and Muslims alike.
Born in Uganda to an Egyptian father and Indian mother, Manji was raised in British Columbia, Canada after General Idi Amin expelled "Asians" from her homeland.
Manji's teaching and writing focus on the idea of using Ijtihad, Islam's own tradition of critical thinking.
Manji now leads the Moral Courage project at New York University and Project Ijtihad, a charitable organization that "produces, translates and distributes educational materials that promote a pluralistic interpretation of Islam."
Manji talked with Bikyamasr.com about politics, religion, women and the future of Muslim and non-Mulism youth.
Full report at:
http://www.bikyamasr.com/74950/canadas-irshad-manji-stands-unique-in-push-for-islam-reform/
----------
Medal-winning Tunisian fuels women's rights debate
By Joseph BAMAT / Maha BEN ABDELADHIM
August 8, 2012
Runner Habiba Ghribi has become the first ever Tunisian woman to stand on an Olympic podium, after winning a silver medal at the London Games this week. Her victory has fueled an ongoing debate over women's rights back home.
Tunisian runner Habiba Ghribi dashed to win a silver medal in the women's 3,000-metre steeplechase at the 2012 London Games, becoming the first Tunisian woman in history to step onto an Olympic podium this week. However, her win has enflamed passions in her country, where rights groups say women's equality is under attack.
Her victory stands as a milestone in Tunisian sports history, and not only because Ghribi is a woman. The small north-African country had been medal-less in Athletics since the great Mohammed Gammoudi won silver in the 5,000-metre race at the 1972 Olympics in Munich.
Her medal is Tunisia's second in London; swimmer Oussama Mellouli won the bronze medal in the men's 1,500-metre freestyle on August 4.
Full report at:
http://www.france24.com/en/20120808-tunisia-runner-ghribi-women-rights-equality-
----------
Attar makes Olympic track debut for Saudi women
August 8, 2012
LONDON (AP) — Sarah Attar finished last and more than a half-minute slower than her nearest competitor in the women's 800 meters. Yet hundreds rose to give her a standing ovation as she crossed the finish line.
For the first woman from Saudi Arabia to compete in track and field at the Olympics, the principle was more important than the performance Wednesday.
Covered in clothing from head to toe, except for her smiling face poking out from her hood, Attar made her debut five days after a Saudi judo athlete became the ultraconservative country's first female competitor at any Olympics.
"This is such a huge honor and an amazing experience, just to be representing the women," Attar said in an interview with The Associated Press. "I know that this can make a huge difference."
The 19-year-old Attar ran 800 meters in 2 minutes, 44.95 seconds. To her, the time wasn't the point.
Full report at:
http://www.chron.com/sports/article/Attar-makes-Olympic-track-debut-for-Saudi-women-3771557.php
----------
Senior Democratic Party Woman member named suspect in Buol bribery case
Sita W. Dewi
August 08 2012
The Corruption Eradication Commission (KPK) named on Wednesday senior Democratic Party member and businesswoman, Siti Hartati Murdaya a suspect in the bribery scandal implicating Buol regent Amran Batalipu.
"Our investigation has found enough evidence to name a new suspect in the case, namely SHM, the president director of PT Hartati Inti Plantations (HIP)," KPK chief Abraham Samad told a press conference at the KPK headquarters in Kuningan, South Jakarta.
Abraham alleged that Hartati had given Rp 3 billion (US$316,589) to Amran to expedite the issuance of a business permit for her company.
The KPK charged Hartati under Articles 5 and 13 of the Corruption Law on bribery and Article 55 of the Criminal Code on participating in a crime.
Hartati's team of lawyers earlier claimed that Amran had tried to extort the Rp 3 billion from PT HIP, however, the company had only agreed to give Rp 1 billion.
Amran's lawyer, Amat Entedaim, denied the extortion claim, saying that representatives from PT HIP had made the proposal to Amran .
He also claimed that PT HIP had given Rp 2 billion as a campaign donation for Amran's re election bid.
Yani Anshori, general manager of PT HIP, and Gondo Sujono, the company's operations director, along with Amran have also been named suspects by the KPK in the case. (iwa)
http://www.thejakartapost.com/news/2012/08/08/hartati-named-suspect-buol-bribery-case.html
----------
Clattering Sewing Machines Hope for Young Nigerian Women
2012-08-08
Kaduna - The clattering sewing machines at this northern Nigeria school offer hope of a better life for a group of young women who fled abusive marriages that for some prove inescapable.
In Nigeria's deeply impoverished north, which has some of the worst gender disparities in the world; millions of girls who never learned to read or write are pushed into marriage in their early teens, a recent study said.
The Tattalli Free School in the city of Kaduna was set up as a refuge for those who, overcoming fear and the pressures of patriarchal society, left their husbands when the relationships became unbearable.
"I was married and pregnant and my husband was at home doing nothing," said 17-year-old Bilkisou, the mother of a young girl.
"At times he would beat me or shout at me. When I went to report him to my father, he sent me back," she added.
She left with her baby strapped to her back and came to Tattalli, where she can learn skills ranging from dressmaking to beadmaking in hopes of earning enough money to care for herself.
Full report at:
http://www.news24.com/Africa/News/Hope-for-young-Nigerian-women-20120807
----------
HC directs AMU school to admit girls denied seats for being over-age for
Prashant Pandey
Aug 08 2012
Lucknow : The Allahabad High Court has passed an interim order directing the principal of the Girls' High School of the Aligarh Muslim University (GHS-AMU) to give admission to two candidates, who had been denied admission to Class 1 after a medical test conducted by the school found them over-age.
The court also directed the authorities concerned to file an affidavit in this regard by August 9, the next date of hearing.
The candidates — Sanjana and Himanshi Sharma — both residents of Aligarh, had passed the entrance test held earlier this year and had also produced birth certificates issued by the Aligarh Municipal Corporation, as required. However, the school put them through a medical test and denied admission saying they were above the permissible age limit between five and seven for Class 1.
Full report at: Indian Express
----------
URL: https://newageislam.com/islam-women-feminism/pak-woman-kills-buries-her/d/8211