New Age Islam News Bureau
11 Aug 2012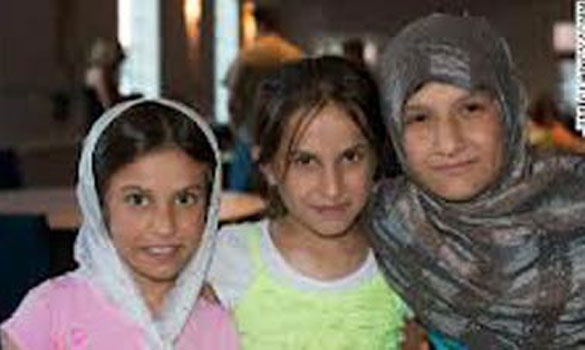 • Kidnapped Hindu Girl Embraces Islam, Gets Married
• Wounded Afghan Shia Sisters Find Hope In U.S
• Deaf-Mute Indian Woman Stranded in Pak for 12 yrs Desperate To Go Home
• Ramadan Fasting Not Linked To Preterm Births
• Police Arrest 37 Year-Old Man on Suspicion of Raping Two Teenage Girls in Maldives
• PM Sheikh Hasina and the BNP Chairperson Khaleda Zia Push Country Behind: Ershad
• Cash, Home for Women Assaulted In Khangarh, Pakistan
• Iranian Science Minister to Explain Reduced Female Enrolment
• NYC Bus Ads Are Latest Salvo in Pamela Geller's Jihad
• Assault on the Daughters of Swat Valley
Compiled by New Age Islam News Bureau
Photo: Wounded Afghan Shia Sisters Find Hope In U.S
URL: https://www.newageislam.com/islam,-women-and-feminism/new-age-islam-news-bureau/muslim-woman-in-hijab-officiate-olympic-beach-volleyball/d/8234
----------
Muslim Woman in Hijab Officiates Olympic Beach Volleyball
Aug 11, 2012
By JIMMY GOLEN
LONDON (AP) - The dancers are dressed to titillate, and the players wear even less: bikinis that reveal every movement of their muscles as they dig and dive for the ball.
Amina El Sergany does not need a referee's platform to be noticed on a beach volleyball court.
The first Muslim woman to officiate the sport at the Olympics, El Sergany worked the London Games wearing a hijab that, when covered by the standard referee's uniform, showed only her face. From her elevated position beside the net, she stood in stark contrast to the beach party wardrobe worn by the Horse Guards Parade Dance team and the athletes themselves.
"It doesn't matter for me. It is normal for me," the Egyptian said this week in an interview between assignments. "I think first they (the players) were afraid of me, but after that they got used to me and deal with me in a good way. Nobody talks to me about that. They respected me like every other referee."
It's been said that the ideal referee is the one that's unnoticed. But El Sergany said she hoped her visibility would encourage women from all cultures to take up the sport.
"The most important thing is not to win or lose but the participation in these games, to be involved in world actions, not to be isolated," she said. "I'm proud. It will help lots of women, not only Muslim women."
In an Olympics with unprecedented participation by women, including the first-ever female athletes from Saudi Arabia, beach volleyball has been fighting the perception that its athletes are more about sex appeal than sport. Patiently tolerating the questions about their bikinis - athletes insist it is the logical choice for a sport born on the beach - players say they are willing to accept the leering because it gives them a chance to win new fans for their game.
The skimpy uniforms are no doubt one reason why beach volleyball is the rare sport where the women's competition is at the forefront, with TV ratings better for the women than the men. And when the Daily Mail newspaper ran a photo spread about the event on its Web site, it included 16 pictures: 15 of them were of bathing suit-clad women, including three of the dance team, with one picture of the British men's team, way at the bottom.
But even as women approached - or surpassed - equality in the competition, FIVB President Jizhong Wei knew there was still work to be done. In January, he was asked by the United Nations sports adviser to make the sport more welcoming to Muslim women who, for cultural reasons, would not compete in the traditional bikini. The result: a new rule that allows women to wear shorts and T-shirts.
"After the changes, the reforms, women all over the world will be part of this," El Sergany said. "We do not have any women players back in Egypt. But after the regulations, I will try."
Wei knows that it will take years for women just starting the sport to compete for spots in the Olympics, so he also looked for other ways to get more women on the sand. He set a goal of 30 percent female referees at the Olympics - as it turned out, four of the 16 in London were women - and gave national federations money so they could help get them the experience they needed to officiate at the highest level.
"To encourage the women officials, we need a political decision, not a technical one," Wei said in an interview at the FIVB hospitality suite between beach volleyball sessions.
And he wasn't done.
In London and at other FIVB events, male and female referees are assigned to matches by the officiating supervisor without regard to gender.
"In other sports, women only officiate women's games. I want it different," he said. "Women referees can officiate men's sports. That makes it really equal."
A volleyball referee for 17 years, El Sergany out went on the FIVB tour to prepare for the Summer Games, working semifinals at events in Gstaad and Moscow and as the second referee in Beijing and Shanghai. She was the first referee, the one that stands on a platform beside the net and has the final say on all calls, for the women's final of an under-19 tournament in Cyprus.
In London, she worked matches in the preliminary and knockout rounds but not any in the medal rounds. Although there were several controversial referee decisions during the tournament - including a close sideline call to end the men's gold medal match on Thursday night - there was nothing unusual in El Sergany's.
"It's nice to see people here from different cultures, but she definitely doesn't get treated any differently," said American Misty May-Treanor, calling El Sergany one of the easiest officials to deal with.
"She's so nice," May-Treanor said. "How could you yell at her?"
http://www.wkrn.com/story/19246944/muslim-woman-1st-to-ref-olympic-beach-volleyball
----------
Kidnapped Hindu Girl Embraces Islam, Gets Married
Aug 11, 2012
ISLAMABAD: A 14-year-old Hindu girl who was abducted two days ago has converted to Islam and married a Muslim in Pakistan, a media report said but her distraught father says that she "can never give up on her religion, she has been coerced into doing it".
Manisha Kumari, 14, is now Mahvish and herself called up her parents from an unknown location and broke the news of her conversion. She claimed it was voluntary as was her love-marriage with a man named Ghulam Mustafa Channa, said Geo News citing reports. It, however, did not explain what type of reports it had accessed.
The girl's father, Ravet Mal, alleged that her kidnappers have forced her to convert and marry. "She can never give up on her religion, she has been coerced into doing it," he told Geo News.
Sanjay Singh, the girl's uncle, said that her voice wavered on the phone and it seemed as if she was saying all this under pressure.
"She sounded scared on the phone, it's not what it seems. There were people around her dictating to her, we could hear them giving her instructions," he said.
Sindh has a sizeable population of Hindus, who are the largest minority community in Pakistan.
http://timesofindia.indiatimes.com/world/pakistan/Kidnapped-Hindu-girl-embraces-Islam-gets-married/articleshow/15446770.cms
----------
Wounded Afghan Shia Sisters Find Hope In U.S
By Brian Walker and Jim Clancy
August 10, 2012
Charlotte, North Carolina (CNN) -- It began as a celebration but in a terrifying instant became a slaughter. And Fatima and her sisters were caught in the middle of it all.
The suicide blast killed at least 70 people and wounded close to 200 last December. The bomber detonated himself in a street full of worshipers celebrating the Shiite Muslim ceremony Ashura in Kabul.
It was a moment of devastation for Afghanistan - and for one family who had gone to the colourful festival for relief and alms. But thanks to two charities and dozens of dedicated volunteers, the three sisters have not only received medical treatment for their wounds but have been also able to recover from the trauma of the event with a six-week stay in the United States.
Tamima, 11, Fatima, 10, and their sister Gulmina, six, were flown from the desperation of life on the streets of Kabul to the comfortable security of homes in Charlotte, North Carolina.
Before their almost unimaginable journey, the three girls were understandably nervous. They quietly finished packing their small schoolbook bags with a change of clothes and a few mementos. That's all their family could afford to send them on their way. They fretted over each other's hair, trying especially hard to comb out the knots from little Gulmina's shaggy cut.
But finally it was time to say goodbye to everything they knew. Fatima, Gulmina and Tamima hugged their father while their mother, covered head to foot, wished them well with some whispered advice: "Take care of your sisters and remember your ways."
CNN is only identifying the girls by their first names to protect them and their family from possible retaliation by the Taliban.
The horrifying moment of the blast was caught on tape in video obtained by CNN. Among the victims bloodied by the attack were many children, many like Fatima and her sisters who had simply gone to the festival seeking handouts or alms to help their poverty-struck family.
Photographer Massoud Hossaini won a Pulitzer Prize this year for capturing the anguish in the moments after the bomb exploded. From the cover of Time magazine to front pages around the world, all eyes were drawn to the terrified scream of Tarana Akbari, who has come to be known as "the girl in green."
But if you look carefully, you can see Fatima with blood streaming down her face on to her yellow dress and Gulmina is piled among the victims in the background.
UNICEF estimates that there are 50,000 to 60,000 children in Kabul just like the sisters who earn a pittance selling food products and trinkets on city streets. So when thousands of people were crowding the streets to listen to music, eat, socialize and witness the faithful Shia men whip their bodies as a sign of devotion the family saw opportunity both for an exciting day out and a chance to bring in a little money.
The girls have never spoken about the blast outside their family until now. And that came only after weeks of slowly learning to trust the families and their new friends.
"It was after noon...we were in front of the mosque when the bomb exploded and then, the next thing I know, I was bleeding," says Tamima. "Fatima was there, laying on top the bodies of other people."
Gulmina remembers little. "There was a woman behind me, she was screaming. Then I fainted. They took everyone to the hospital and everyone was screaming."
Fatima was in shock from the blast and struggles to explain the minutes after the blast.
"When the bomb exploded, my brother and father were searching for us," she whispers. "There was me and Gulmina and my uncle. But Tamima was lost."
Tamima was wandering, nearly unconscious on her feet, before falling to the ground among the corpses of dozens of other victims.
"A guy came and took me, thinking I was dead," she remembers now. "He zipped me up in a plastic bag and put me down with a lot of other dead bodies."
It was only at that last moment that a U.S. serviceman realized Tamima wasn't dead -- just unconscious and pulled her out of the body bag.
All three sisters were wounded, along with another cousin that lives with them. Tamima was deafened from the blast, the others had nasty gashes and their bodies were peppered with shrapnel.
Hundreds of wounded Afghans flooded into the local hospitals and clinics, quickly overwhelming the ability of doctors and nurses to do anything beyond simply keeping the victims alive.
The girls were hastily stitched up and moved out, leaving huge jagged white scars and bits of bomb fragments scattered through their bodies.
Politically, the mass-scale sectarian attack on Shiite worshipers was unlike anything the country had seen in its decade-long war -- in contrast to Iraq, where violence between Shiites and Sunnis was a major feature of the conflict.
But personally the attack left emotional craters as well. It happened just a short walk from where the charity Skateistan had set up an indoor skateboarding facility where the sisters were among the most frequent visitors - learning English and crafts as well as how to grind a board.
Skateistan's Rhianon Bader said: "I was shocked when the first photo I saw from the blast was of Tamima with blood rushing down her head. We had to do something for them."
The group set about helping the family cope with first the girls' immediate medical needs, and later with surviving the frigid temperatures of Kabul's coldest winter in memory.
With 11 children and many more adults living in the simple mud home -- and only a few windows with glass panes -- it became clear that more needed to be done.
Skateistan was able to raise $4,000 from online donations from around the world to help. They were also able to link up with a specialized charity based in the U.S. state of North Carolina which could really get the medical help the girls needed.
That's where Patsy Wilson picked up. The Charlotte-based executive director of Solace for the Children was in Afghanistan the day of the blast and felt an immediate urge to help.
Solace has been working with Afghanistan since 1997 to bring more than 150 children in need of urgent medical help to the U.S. The charity finds host families and works with hospitals and doctors who volunteer their time and resources to help heal the children.
Wilson says that Solace has found that it's best to bring groups of children to the U.S. for help because of Taliban threats of revenge against families seeking help from western doctors and the danger medical volunteers would face if they went to Afghanistan.
Sometimes it comes up with elaborate cover stories for the families to tell their neighbors back in Afghanistan to explain the missing children. Perhaps it's a son going to study the Quran, or a daughter visiting cousins. But it's all to fool the Taliban.
"We still see the reaction "I would rather see my daughter dead than step foot in America,"" says Wilson. "But more often than not when you appeal to a parent's sense of love for their children and their deep need to see their child healthy and well, they can put aside almost anything."
About one- third of the children are like Tamima and her sisters, suffering from wounds they got from gunshots, IED blasts or, increasingly commonly, acid attacks tied to Taliban insurgents.
In many cases the biggest problem for doctors is that the children usually have far more shrapnel still in them than doctors in Afghanistan are able to find or remove.
Wilson says the medical teams frequently provide cosmetic surgery as well, to mask the disfigurement that is shameful in Afghan culture.
"They lose eyes, they lose hope. They are left with, particularly the girls, huge scars that we can diminish in some cases," Wilson explains. "That becomes so important particularly to the girls because if a girl in Afghanistan is disfigured she's lost a lot of the value to that society and family as a woman and future wife."
Of the group that came to Charlotte this summer, many had never been on an escalator, let alone a flight halfway around the world. And the sisters were apprehensive that for six weeks, each of them would be cared for in a separate home. They had never had a bed of their own or spent a night without a room full of family.
Solace has placed roughly 150 children in host homes in the past five years. They've learned much about how to get families ready to cope with the inevitable culture clashes such as making them aware about Islamic Halal food laws. And no matter how hot it gets in North Carolina the girls won't be wearing short swimsuits.
The charity also told the families not to take the children out to Independence Day celebrations. The fireworks could be far too frightening for many of the Afghan children - who associate sudden explosions in the night with death and not fun.
Lori and Lane West did all they could to prepare their spacious and neat home near Lake Norman for their new little guest Gulmina. The executive with Energizer and his wife have no children of their own, but turned a room in to what they half-jokingly call "a Disney Princess dream land."
Gulmina bonded strongly and quickly with Lori, but it was hard for her to warm up to Lane.
"Many Afghans see Americans as 'the enemy' and girls are taught not to trust strange men," says Lane. "Just look what happened to them at the hands of that bomber. Who can blame them?"
The three sisters had dozens of trips to doctors, dentists, surgeons and physical therapists during their six weeks in the Charlotte area. Gulmina and Fatima were given extensive treatment to help them deal with the pain that still plagues them, and made huge progress.
Tamima had the most care, with surgery to remove tiny shards of shrapnel. Surgeons were able to get most out, but some were too dangerous to cut out and Tamima will have to live with the fragments in her clavicle.
But in the end, the biggest change for the girls may have been the sense of safety and fun they were able to experience in their temporary homes.
Gulmina will take home some of the hot pepper sauce from the local chicken restaurant that she would greedily pour over everything at each meal.
Fatima went on her first boat trip, and loved movies and getting her fingernails painted.
Tamima can laugh about it all now, cracking up as she says: "We got fat! We got healthier!"
In six weeks, they've been able to put behind them much of the physical and psychological damage done that winter's day on the streets of Kabul.
http://edition.cnn.com/2012/08/10/us/afghan-wounded-sisters/
----------
Deaf-Mute Indian Woman Stranded in Pak for 12 yrs Desperate To Go Home
August 11, 2012
Islamabad: A deaf and mute Indian woman, who inadvertently strayed into Pakistan at least 12 years ago, is desperate to return home to her parents.
The woman -- whom leading Pakistani rights activist Bilqees Edhi has christened Geeta as no one knows her real name -- apparently entered the eastern Pakistani city of Lahore on a train from India.
She was found by police and sent to a state-run shelter. However, Geeta's inability to communicate caused a lot of frustration and she was moved from one welfare home to another as she often tried to escape and quarrelled with staff, Bilqees said on phone from Karachi today.
"Efforts made by the authorities to trace her family in India produced no results and she was finally sent to Karachi. She must be about 21 or 22 years old but she looks much younger," said Bilqees, the wife of Abdul Sattar Edhi, founder of Pakistan's largest and best-known charity Edhi Foundation.
"As she was unable to fit into the various shelters, I brought her to the home run by the Edhi Foundation about two or three months ago," Bilqees said.
Geeta, who is short, thin and dark complexioned, has been spending the past few weeks observing 'roza', the fast during the Islamic holy month of Ramzan, with the other girls and women living in the Edhi Foundation home.
She also prays frequently at a small mandir that Bilqees helped set up in a corner of the home.
"She cries a lot whenever she worships, possibly because she remembers her parents and siblings," Bilqees said.
Geeta has developed her own form of sign language and, during recent interactions with reporters in Karachi, she has indicated that she has 12 siblings in India, including seven brothers and five sisters.
Bilqees said Geeta had told her through sign language that she left home after becoming annoyed with her parents.
"She then walked a long distance, passing a river and a temple before she boarded a train and went to sleep," Bilqees said.
Geeta has had some education as she is able to read and write in Hindi. She has written in notes that her mother used to call her "Guddi," a common nickname for Indian girl children.
"She seems to be from a village, possibly in Indian Punjab. But it could be any village and that's why it's so difficult to trace her parents," Bilqees said.
Several media groups and organisations, including the Human Rights Commission of Pakistan, have now taken up Geeta's case and are making a concerted push to track down her relatives in India.
Three years ago, Bilqees repatriated another Indian girl who had strayed across the border after a quarrel with her parents.
The Edhi Foundation has also helped arrange the marriage of Muslim women from Bangladesh who were unable to trace their families after being trafficked to Pakistan.
"But Geeta has told me that she will marry only after she returns to India," said Bilqees.
http://zeenews.india.com/news/nation/deaf-mute-indian-woman-stranded-in-pak-desperate-t_792995.html
----------
Ramadan Fasting Not Linked To Preterm Births
By Andrew M. Seaman
Aug 11, 2012
(Reuters Health) - In a small new study, pregnant women who fasted during the Islamic holy month of Ramadan were no more likely to give birth prematurely than women who didn't observe the fast.
Lebanese researchers found no significant differences in the rate of births before the 37th week of pregnancy among 201 pregnant Beirut women who fasted during the daytime compared with 201 women who didn't.
The babies of women who fasted were smaller, on average, however, which the researchers called "alarming."
During Ramadan, the ninth lunar month of the Islamic calendar, Muslims abstain from eating and drinking from dawn to dusk.
While fasting is compulsory in Islam, the researchers write in BJOG: An International Journal of Obstetrics and Gynaecology that pregnancy may be "a relative exemption if reasons for maternal/fetal hardship are suspected."
Full report at:
http://in.reuters.com/article/2012/08/10/us-ramadan-fasting-not-linked-to-preterm-idINBRE87914V20120810
----------
Police Arrest 37 Year-Old Man on Suspicion of Raping Two Teenage Girls in Maldives
By Hawwa Lubna | August 9th, 2012
A 37 year-old man has been arrested for allegedly raping two teenage girls after forcing them to drink alcohol.
The girls – aged 15 and 16 – were raped in the late hours of Tuesday at a rented house on Hulhumale' island, according to the police.
Staff Sergeant Ismail Ali said the case was reported to the police around 2:30am. The man alleged to have raped the girls was arrested soon afterwards.
The identity of the suspect was not revealed by police as the investigation is ongoing.
"This case is very serious and we are currently investigating it. So no further information can be revealed about the suspect or the case at this stage," Staff Sergeant Ali noted.
This is the second reported incident of rape this year. In January, police arrested five suspects for allegedly gang-raping a 17 year-old girl in Addu City.
Among the many forms of sexual, physical and emotion violence inflicted on several hundreds of women and girls in Maldives, rape is identified as the most heinous crime, and is being reported at alarmingly high levels.
Full report at:
http://minivannews.com/politics/police-arrest-37-year-old-man-on-suspicion-of-raping-two-teenage-girls-41805
----------
PM Sheikh Hasina and the BNP Chairperson Khaleda Zia Push Country Behind: Ershad
August 11, 2012
Jatiya Party Chairman HM Ershad yesterday said the "two women" have pushed the country backwards and now the next general election has become uncertain.
While launching of a local newspaper in Rangpur, Ershad, a key leader in the Awami League-led ruling grand alliance government, criticised Prime Minister Sheikh Hasina and the BNP Chairperson Khaleda Zia for the present "sorry state" of the country.
He said he was "sure" that hartal, arson, killing and conflict would escalate after Eid.
"I see clearly that hartal, arson, killing and conflict will surely take place after Eid. I am doubtful about the next polls and therefore people are looking for a third alternative force," he said.
"I have 200 prospective candidates [to contest in the next election] to go to power as the third force and I have already started work to give nomination for all 300 seats from my party alone."
Former military ruler turned politician Ershad said he wished to go to power once again before he took his last breath.
Titled Amader Protidin, the newspaper would be published from Rangpur and Anisul Islam Mandal, a JP MP from Rangpur-2, would act as its editor and publisher.
http://www.thedailystar.net/newDesign/news-details.php?nid=245666
----------
Cash, Home for Women Assaulted In Khangarh, Pakistan
August 11, 2012
MUZAFFARGARH: Chief Minister Shahbaz Sharif on Thursday gave Rs500, 000 cheque as financial assistance to the two women allegedly assaulted and humiliated in public by 11 men in Khangarh and announced that they would be provided a home in Rakh Jaal Wala model village in Wasanday Wali.
He made the announcement during a visit to the women's home on Thursday night. Sharif directed the police to arrest all 11 suspects in two days and to figure out if they could be prosecuted under the Anti-Terrorism Act. Sharif was told by Muzaffargarh District Police Officer Zeeshan Asghar that three of the suspects had been arrested.
He identified them as Dr Abdul Ghaffar, his son Irfan Ghaffar and cousin Munir. MPA Mian Muhammad Imran Qureshi, former Tehsil nazim Sardar Muhammad Dogar and DCO Tahir Khursheed accompanied the chief minister. The women were on Wednesday allegedly beaten up and paraded in public.
http://tribune.com.pk/story/420482/assistance-cash-home-for-women-assaulted-in-khangarh/
----------
Iranian Science Minister to explain reduced female enrollment
08/10/12
The head of the Education and Research Commission of Iran's Parliament has announced that Iran's Science Minister has been summoned to Parliament to explain the recent restrictions against the acceptance of women in a number of university programs.
Mohammad Mehdi Zahedi told the Khaneh Mellat website on Thursday August 9: "The Science Minister [Kamran Daneshjoo] will be summoned to explain why female students are not being accepted in a number of university programs."
At the Iranian Education Ministry, efforts have been underway in the past year to segregate the genders in universities. The transition has resulted in the reduced acceptance of women in many college programs this year.
Ever since widespread protests were triggered by allegations of fraud in the 2009 presidential election, the Iranian establishment has seen universities as a breeding ground for subversive behaviour.
The overhaul of curricula in various programs and gender segregation have been two main concerns of the Science Ministry as it transforms higher education institutions across the country.
http://www.payvand.com/news/12/aug/1077.html
----------
NYC Bus Ads Are Latest Salvo in Pamela Geller's Jihad
Sadia Ahsanuddin
Aug 10, 2012
The American Freedom Defence Initiative (AFDI), an organization devoted to countering what it calls "Islamic supremacism," recently submitted an ad for New York City buses. The proposed poster states: "In any war between the civilized man and the savage, support the civilized man. Support Israel. Defeat Jihad." While the unnamed enemy in the ad is any critic of Israel's policies, the conflict evokes the simplistic Huntingtonian narrative pitting Islam against the West. The promotion of this narrative is emblematic of AFDI's work, and contributes to a dangerous, fear-inspiring myth about the nature and intentions of the Muslim community at home and abroad.
In this case, the Metropolitan Transportation Authority (MTA) decided to reject the AFDI's advertisement because their use of the word "savages" was not compliant with the agency's advertising standards. In September 2011, the AFDI filed suit in the federal district court in Manhattan. On July 20, the court ruled that the MTA's refusal to run the ad violated the group's freedom of speech. The court granted the agency 30 days to appeal or to amend its standards such that the AFDI's ad would not be barred from display. The MTA chose to rewrite its rules. Pamela Geller, the Executive Director of the AFDI, now intends to place these posters in subways in New York, California, Washington, D.C., and on New York Metro-North.
Full report at:
http://newamericamedia.org/2012/08/nyc-bus-ads-are-latest-salvo-in-pamela-gellers-jihad.php
----------
Assault on the Daughters of Swat Valley
08/10/2012
Rukhsana Hasib
The misfortune of being born a girl still horrifies those of us fortunate enough to have had the opportunity to reach for the light of social and economic freedom with the benefit of education. The dreams for 120,000 girls attending schools and colleges in Swat Valley were shattered when militants of Pakistan's Taliban began their assault on education for girls, in 2006. Girls were banned from attending schools and colleges. Through propaganda radio, militant messages were regularly delivered, claiming educating girls was against Islamic principles. By 2007, more than 30 percent of the girls dropped out of school. To further strengthen their philosophy of keeping girls ignorant, the militants began to enforce their ban by blowing up and setting fires to an estimated 400 schools, and terrorizing the people of the region.
Once described as the Switzerland of Asia, the lush and picturesque Swat Valley is approximately the size of the state of Delaware. About a hundred miles from Pakistan's three most important cities, Peshawar, Rawalpindi, and Islamabad, the region was governed by hereditary rulers, called the Wali, until 1969 when Pakistan took control. The unspoiled region with its towering mountains, its cascading rivers and luscious forests, then became a vacation paradise for wealthy Pakistanis, until power shifted to the militants of Pakistan's Taliban.
Full report at:
http://www.huffingtonpost.com/rukhsana-hasib/assault-on-the-daughters-_1_b_1762671.html
----------
URL: https://www.newageislam.com/islam,-women-and-feminism/new-age-islam-news-bureau/muslim-woman-in-hijab-officiate-olympic-beach-volleyball/d/8234