New Age Islam News Bureau
16 Sept 2012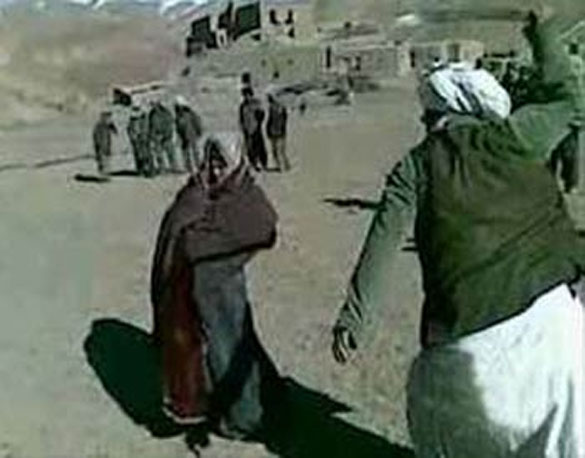 • Afghan Teen Flogged For 'Affair'
• Wife Can't Be Forcibly Returned To Husband: Ministry Of Justice, Jeddah
• Pak PM's Wife Urges Women to Wear Hijab
• Being Female In Male - The Flip Side of the Luxurious Maldives
• Mukhtar Mai Accompanied the Kidnapped and Sexually Assaulted Girl to Court
• Police Raid Stops Child Marriage in Misri Shah, Pakistan
• Over 16,000 Divorce Cases Registered In 2011
• Gaza Women Help Mediate Family Disputes
• 'Mother of Drug Addicts' In Dubai Given Support
• African Woman Performing Black Magic, Arrested
• Court Frees Khmer Rouge 'First Lady'
• Women In West Bank Uniting To Get Elected, Form Political Party
• Renowned writer Hajra Masroor passes away
Compiled by New Age Islam News Bureau
Photo: Afghan Teen Flogged For 'Affair'
URL: https://newageislam.com/islam-women-feminism/mossad-seductive-young-female-spies/d/8689
-----------
Mossad's Seductive Young Female Spies 'Flirt' To Decode Enemy Secrets
Sep 16 2012
London: The hyper-masculine figure of James Bond comes to mind when you think of international spies but Israel's secret service has developed a new breed of super-spies - seductive young women.
The world has not previously heard from the female spies of the Mossad, who have been crucial to some of the agency's greatest triumphs.
However, five of the highly trained agents have spoken out for the first time, telling Israeli magazine 'Lady Globes' about their extraordinary lifestyle which makes them feel as if they are 'living in a movie', the Daily Mail reported.
The most notable deployment of the women's unique talents came in 1986, when one agent seduced a turncoat former nuclear engineer and lured him into a trap so he could be taken back to Israel, the paper said.
A current agent calling herself Yael told the magazine that women often had an advantage over men, as they were more likely to be trusted by strangers.
"A man who wants to gain access to a forbidden area has less chance of being allowed in. A smiling woman has a bigger chance of success," she said.
"We use our femininity because any means is valid. Women agents are not used for sexual purposes. We flirt, but the line is drawn at sex," another spy, Efrat, said.
Mossad chief Tamir Pardo told the magazine that around half of the agency's spies are women, and said that the 'fairer sex' has some distinct advantages over male agents, the paper reported.
"Women have a distinct advantage in secret warfare because of their ability to multitask," he said.
"Contrary to stereotypes, you see that women's abilities are superior to men in terms of understanding the territory, reading situations, spatial awareness. When they're good, they're very good," Pardo added.
http://www.indianexpress.com/news/mossads-seductive-young-female-spies-flirt-to-decode-enemy-secrets/1003344/
--------
Afghan Teen Flogged For 'Affair'
Sep 15, 2012
GHAZNI (AFGHANISTAN): A 16-year-old Afghan girl has been flogged for allegedly having an affair and her purported boyfriend fined $1,600 in a rural district under government control, local officials said Saturday.
The girl, who has been named only as Sabera, is in poor health since the incident on September 9 in Jaghuri district of Ghazni province, said the head of the provincial women's affairs department, Shukuria Wali.
The Taliban have strongholds in Ghazni, but Jaghuri is under government control and is dominated by ethnic Hazaras, who are generally considered moderate by Afghan standards and do not have strict tribal codes observed by Pashtuns, who dominate the ranks of the Islamist militia.
"According to the information we have, Sabera was first wrapped in a white cloth and then flogged in front of village elders and family members. I have heard she is not in good health," Wali told AFP.
The man who allegedly had the affair with Sabera was fined 80,000 Afghanis ($1,600), she said.
Jaghuri governor Zafar Sharif confirmed the incident and said a government and rights delegation had been sent to investigate.
Afghanistan is an extremely conservative Muslim country, where unmarried girls are often confined to the home and forbidden from maintaining any contact with men outside the immediate family.
Public executions and flogging of alleged adulterers were common under the 1996-2001 Taliban regimes.
Although significant progress has been made on women's rights since a US-led invasion brought down the Taliban, many fear those gains are under threat as NATO troops leave and Kabul seeks peace with Islamist insurgents.
In July, a 22-year-old woman was shot dead for alleged adultery as dozens of men cheered in a village in Parwan province, north of Kabul. The incident was captured in a horrific video which drew international outrage. The Taliban denied any involvement.
President Hamid Karzai condemned the execution as un-Islamic and unforgivable.
According to the US State Department, out of the eight million students enrolled in Afghan schools today, nearly 40 percent are girls. That contrasts sharply with 2002 when there were only 900,000 children in schools, virtually none of them girls.
http://timesofindia.indiatimes.com/world/south-asia/Afghan-teen-flogged-for-affair/articleshow/16413302.cms
--------
Wife Can't Be Forcibly Returned To Husband: Ministry Of Justice, Jeddah
16 September 2012
JEDDAH: The Ministry of Justice has nullified a court order making it obligatory on wives to return to their husbands, the local Arabic daily Al-Watan reported Friday. The ministry, however, said police can use force to enter homes to implement court rulings on child custody.
The newspaper said the new rules were contained in the blueprint of a chart to implement court rules which the ministry has prepared.
"Article 75 of the chart canceled the use of force to bring back wives to the homes of their husbands while Article 74 permitted the use of force to implement rules concerning the custody of children and separation," it said.
The legal adviser to the Human Rights Commission, Omar Al-Khouli, welcomed the ministry's new directive and said using force to oblige estranged wives to go back to the conjugal home might result in brutal crimes.
"Laws in many countries of the world do not account for any article that would legalize the use of force to bring back an estranged wife to her husband," he recalled. "This is simply against human rights," he added.
Al-Khouli did not object to the use of force to implement court rulings concerning custody of children or to separate husband and wife for reasons of being close relatives whose marriage is forbidden by Shariah or being siblings on the ground of their having been breast-fed by the same woman.
Under the new changes, Article 75 will read: The verdict asking the wife to return to the married home should not be implemented by force. Article 74 will read: The force of law may be used to execute court rulings concerning custody of children or separating husband and wife.
http://www.arabnews.com/wife-can%E2%80%99t-be-forcibly-returned-husband
--------
Pak PM's Wife Urges Women to Wear Hijab
16 September 2012
LAHORE: First Lady Nusrat Pervez Ashraf urged Muslim women to wear hijab, saying it does not prevent them from making progress.
While addressing the Jamaat-e-Islami (JI) Women and Family Commission's (WFC) hijab conference on Saturday, she said that modesty was an ornament for women while hijab was the guardian of this ornament.
She said that Muslim women should not hesitate while wearing a veil. It does not hamper their performance in daily routine nor does it come into their way of progress, Nusrat added. The conference organised in connection with International Hijab Day was attended by a large number of women from all walks of life. Nusrat said that Islam ensured protection and respect for women. She said that women could show their abilities by keeping themselves within the limits of Islam. She paid tribute to the organisers of the conference and appreciated their efforts.
At the end of the conference, a declaration was read out in which developed countries of the world were demanded that they must immediately initiate steps to withdraw ban on wearing hijab. It said that Muslim women must not be denied of their right of freedom. The participants also protested against the American sacrilegious movie and vowed that everything could be sacrificed for the respect of Holy Prophet (PBUH).
During the conference, Nusrat also gave away hijab awards to Marwa al Sherbini (an Egyptian woman who was killed in Germany for wearing hijab), Marwa Qawachi (former Turkish parliamentarian), Yvonne Ridley (a British journalist), Marryam Jamila (a Muslim scholar) and Aafia Siddiqui. The awards were, however, received by young girls on the behalf of the recipients. Nusrat also distributed honorary shields amongst prominent women, including Musarrat Misbah (a beautician), Khanum Tayyaba Bukhari (scholar), Sarah Chaudhry (a former actress), Arooj Nasir (a TV presenter), Dr Kausar Firdous (former army captain) and Shehnaz Leghari (a pilot).
WFC President Samia Raheel Qazi presented honorary shields to Nusrat, Punjab governor's wife Mussarat Latif Khosa and Ghazala Saad Rafique (wife of PML-N leader Saad Rafique).
http://www.dailytimes.com.pk/default.asp?page=2012\09\16\story_16-9-2012_pg7_11
--------
Being Female In Male - The Flip Side of the Luxurious Maldives
Sep 16, 2012
By Sonia Nazareth
Sonia Nazareth visits the flip side of the luxurious Maldives – Male, the capital, where the burquini, headscarf and even lingerie are basic fashion requirements.
Male, the miniscule capital of the Maldives, serves as an antidote to the tourist islands that dot the archipelago, with their buffet of luxury resorts and personalised service. It is in fact the complete antithetical, binary contrast, other. No sooner than I disembark from the seaplane, as well as from the thrill born of the underwater adventure and barefoot luxury of the resort islands, than my bikini is replaced by a gown that covers my shoulders and knees, to make me somewhat presentable for this Islamic capital.
While the tourist islands resemble a film set waiting for James Bond to speed boat up to it, Male feels like a paragraph from a Roald Dahl short story. The unexpected always lurking close around the corner. For one thing, unlike many other places in South Asia, Male stays awake late into the night. For another, it is one of the few places in the world where I see clusters of women in burquini, (a swimming costume which comprises of all the woman's clothing and a headscarf), swimming in public pools created by the state, within the sea.
Full report at:
http://www.dnaindia.com/lifestyle/report_being-female-in-male-the-flip-side-of-the-luxurious-maldives_1741430
--------
Mukhtar Mai Accompanied the Kidnapped and Sexually Assaulted Girl to Court
By Kashif Zafar
September 16, 2012
BAHAWALPUR: A special judicial magistrate on Saturday started recording the statement of a girl, who says she was detained by a man who raped her for over a year.
She will re-appear on Monday to finish her testimony against the man and a couple who kidnapped her from Karachi and sold her in Jatoi.
Mukhtar Mai, who accompanied the girl to the court, told the media that she had also submitted an application to the office of the district police officer seeking action against the suspects, identified as Jano Mai and her husband Habib Ahmed.
Mai said she had received the girl at her shelter home on September 2, a week after the registration of a kidnapping FIR with Noshehra Jadeed police by Ahmed who has claimed the girl is his wife.
The girl denies that she was ever married to Ahmed.
Talking to the media, the girl said she had been detained at Ahmed and Jano Mai's house for eight months.
Full report at:
http://tribune.com.pk/story/437396/kidnap-sexual-assault-girl-to-continue-testimony-against-suspects-on-monday/
--------
Police Raid Stops Child Marriage in Misri Shah, Pakistan
September 16, 2012
LAHORE: A police raid in the Misri Shah area on Sunday stopped a 12-year-old girl being married.
The groom-to-be did not arrive after learning about the raid.
The girl's paternal uncle said he had tried to dissuade her mother but she was insistent that the wedding should go ahead.
He then reported the matter to police.
A police team raided the family home before the arrival of the groom's party and arrested the girl's mother.
The paternal uncle asked the police not to prosecute the groom.
Misri Shah Station House Officer Mudassirullah Khan told the media the mother had been arrested on allegations of threatening the girl.
She has been put in at the Race Course Women's police station lock up.
Police handed the girl over to a paternal aunt.
Her paternal family alleged that she was being married for money.
http://tribune.com.pk/story/437384/police-raid-stops-child-marriage-in-misri-shah/
--------
Over 16,000 Divorce Cases Registered In 2011in Jordan
Sep 15, 2012
AMMAN — There were 16,086 divorces in Jordan in 2011, according to figures released by the Chief Islamic Justice Department (CIJD).
A total of 2,281 Jordanian women married non-Jordanian Arabs in 2011, compared with 2,050 Jordanian men who married Arabs in the same period.
According to the CIJD, 64,257 marriages were registered in Sharia courts last year, including 297 cases of Jordanian women marrying foreigners (non-Arabs), compared with 368 Jordanian men marrying non-Arabs.
A total of 1,368 women married Palestinians, while 249 married Lebanese men, 223 married Egyptians, 155 married Syrians, 113 married Iraqis and 88 married Saudis.
The greatest number of Jordanian women who married foreigners (108) married US citizens.
Jordanian men married 1,337 Palestinians, 270 Syrians, 220 Lebanese, 90 Iraqis, 70 Egyptians, 19 Moroccans and 13 Saudis.
Men married to US citizens also accounted for the highest number of marriages involving foreigners, reaching 125.
http://jordantimes.com/over-16000-divorce-cases-registered-in-2011
--------
Gaza women help mediate family disputes
September 16, 2012
GAZA (Xinhua) - For centuries in Palestine, the role of Mukhtar, head of a clan in charge of various affairs in the village, had been performed by men. But recently, more and more women in Gaza are taking up the job.
Um Ahmed Al-Hanafi, 50, is one of those women. She was given this title by the Mukhtars Association in Gaza for her diligent efforts to help arguing people to reconcile with one another.
There are at least 60 female Mukhtars working in the Hamas- ruled Gaza Strip now.
Al-Hanafi, who is a mother of four, has been an Islamic preacher for nearly 13 years, an experience giving her enough expertise to deal with problems among the local people.
"Seriously, I'm very proud to be a Mukhtar. And I'm very proud because I have achieved my goal. Helping people is a unique job and I really love what I'm doing," said Um Ahmed after she finished a successful session to appease a quarreling couple.
She is now a celebrity in the southern Gaza Strip city of Khan Younis. People approach her for help and she never lets any of them down.
Full report at:
http://www.philstar.com/Article.aspx?articleId=849517&publicationSubCategoryId=200
--------
'Mother of Drug Addicts' In Dubai Given Support
Amira Agarib / 16 September 2012
Amel Alfghai, social worker at the General Department of Anti-Narcotics of the Dubai Police, said that the department has provided psychiatrist support to a family, especially the mother, who has gone through an extremely difficult patch in life.
She said that the case dates back to 2011 when a mother, who was unwell, contacted the department after her two sons died of drug overdose and another was in the Dubai prison for drug use.
Amel said they had named the case 'mother of drug addicts' as this was a rare condition in the UAE society, a single mother suffering after all her sons were destroyed by drugs. The mother told the police that she had four sons, three daughters and five grandchildren.
Full report at:
http://www.khaleejtimes.com/nation/inside.asp?xfile=/data/courtroundup/2012/September
--------
African Woman Performing Black Magic, Arrested
Afkar abdullah / 16 September 2012
An African woman, allegedly found performing black magic, was recently nabbed by the Ajman Police.
Colonel Shaikh Sultan bin Abdullah Al Nuaimi, Deputy Director of the Ajman Police, said that the police learnt that an African woman was using her house located at a residential area in Ajman as a hub to con her victims while convincing them of her ability to solve their marital and psychological problems and charging money for her services.
The woman was receiving victims who believed her claims and was willing to pay any amount of money to get their problems solved.
Full report at:
http://www.khaleejtimes.com/nation/inside.asp?xfile=/data/courtroundup/2012/September
--------
Court frees Khmer Rouge 'First Lady'
16 September 2012
PHNOM PENH: The former "First Lady" of Cambodia's murderous Khmer Rouge regime was freed on Sunday, a court official said, after the country's war crimes tribunal ruled she was unfit to stand trial.
Ieng Thirith, 80, who experts say suffers from Alzheimer's disease, was released from the purpose-built detention facility at the court where she has been held since her 2007 arrest.
"The accused Ieng Thirith has been released with some provisional conditions," court spokesman Neth Pheaktra told AFP.
The release of the ex-social affairs minister, one of only a handful of people ever brought before a court over atrocities during the Khmer Rouge era, will come as a bitter blow to many who survived the 1975-1979 regime, blamed for the deaths of up to two million people.
Cambodia's UN-backed tribunal ordered her release on Thursday but the move was delayed after prosecutors requested tighter conditions.
The court's highest appeal body has now agreed to impose extra provisional conditions, including that she registers her address and must relinquish her passport and other travel documents. It will make a final decision on conditions at a later date, Neth Pheaktra said.
http://www.arabnews.com/court-frees-khmer-rouge-%E2%80%98first-lady%E2%80%99
--------
Women in West Bank uniting to get elected, form political party
September 15, 2012
A new group running for municipal elections in Hebron is offering residents an alternative to politics as usual in the conservative West Bank city: Women at the helm, instead of men.
The all-female list, which is called "By Participating, We Can," is gearing up for next month's vote with a campaign that aims both to win at the polls and to convince voters that women can lead just as well as men.
"Men here traditionally want their women to stay at home, and when they allow them to go out to work, they send them to do traditional jobs like teaching," said Maysoun Qawasmi, the 43-year-old group leader, who entered the race this week. "But we want them to go further, to work like men in all possible jobs they can."
The group is fielding 11 previously independent candidates for the Oct. 20 vote. Should the bloc succeed in garnering significant public support, the women hope to ultimately unite and form an official political party.
But the women are well aware of the challenges they face in conservative Palestinian society, and the chances of an all-woman ticket performing well at the polls - for now at least - appear slim.
Full report at:
http://www.vindy.com/news/2012/sep/15/women-west-bank-uniting-get-elected-form-political/?nw
--------
Renowned writer Hajra Masroor passes away
September 15, 2012
KARACHI: Well-known literary personality and Urdu fiction and drama writer Hajra Masroor passed away early Saturday, DawnNews reported.
Masroor achieved a prominent position in the world of Urdu literature through her writings and continues to hold a special place in her readers' hearts.
She had migrated to Pakistan after Partition. According to her national identity card, she was born on Jan 17, 1930. However, Ahmed Hussain Siddiqui has mentioned her year of birth as being 1929 in one of his books. Other articles about her also mention 1929 as her year of birth.
Masroor was a native of Lucknow in India. Her father was a doctor in the British Army and her mother was also a courageous woman in her own right.
Anthologies of Masroor's works have been widely published and include: 'Chand ki Doosri Taraf', 'Teesri Manzil', 'Andheray Ujalay', 'Chori Chupey', 'Haye Allah' and 'Charkhay".
She also wrote the script for the 1965 Pakistani film 'Aakhri Station'.
Masroor, who had been married to Ahmed Ali Khan, who was the editor of Dawn for 28 years, became practically a recluse following her husband's death in 2007.
http://dawn.com/2012/09/15/renowned-writer-hajra-masroor-passes-away/
--------
URL: https://newageislam.com/islam-women-feminism/mossad-seductive-young-female-spies/d/8689