New Age Islam News Bureau
10 Aug 2012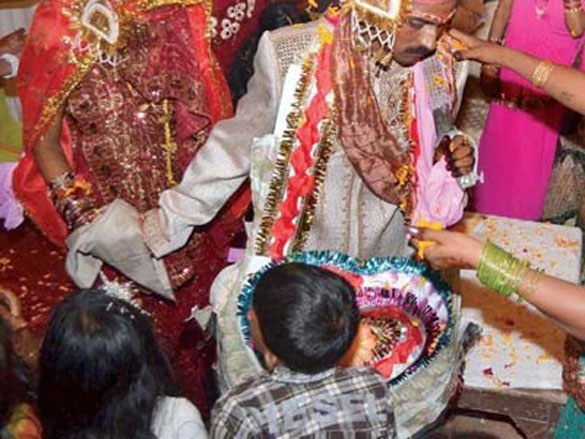 • Nepal Bans Women under 30 from Working in Gulf
• Suspected kidnapping: Teen Hindu converts, marries
• Saudi & Afghan Brave Hearts Have Set Great Examples for Others
• Grave Medical Error: A 17-Year-Old Woman in Jeddah Loses Uterus
• Demand for Law to Raise Marriage Age for Girls to 18 in Pakistan
• Girls' School Blown Up With Explosives In Mohmand
• Goodwill ambassador: First to be vaccinated, vows to eradicate polio
• Saudi women empowerment: A failed project in the absence of strategy
• Iran's Female Olympians Face Extra Hurdles
• Bangladesh: Two Housewives Killed Allegedly For Dowry
• Fifth perpetrator in failed rape attempt in Jakarta arrested
• Cash Puts Fiza Uncle under Lens
Compiled by New Age Islam News Bureau
Photo: Suspected kidnapping: Teen Hindu converts, marries
URL: https://www.newageislam.com/islam,-women-and-feminism/by-new-age-islam-news-bureau/modern-madness-saudi-arabia-building-women-only-cities/d/8220
-----------
Modern Madness: Saudi Arabia Building Women-Only Cities
09 AUGUST 2012
Audi-Modon plans to establish women-only industrial cities ... Efforts are under way to establish the Kingdom's first women-only industrial city in the Eastern Province city of Hofuf. Saudi Industrial Property Authority (Modon) has initiated works for planning and development of the city. "We are now working on a second industrial city for women," said Saleh Al-Rasheed, acting director general of Modon. "We have plans to establish a number of women-only industries in various parts of the Kingdom," he added. Al-Rasheed said Minister of Municipal and Rural Affairs Prince Mansour bin Miteb, has already allocated land for the first women-only industrial city in Hofuf.
Dominant Social Theme: Ain't Saudi Arabia grand? Its Saud sheiks are building entire same-sex cities to advance women's liberation – Middle Eastern style!
Free-Market Analysis: We read this article with growing disbelief. What kind of sick society builds separate CITIES for women?
Well ... the Saudis do.
But really, it ISN'T the Saudis. It's another group entirely. But first, more on this insane development.
The article explains – in its frighteningly chipper way – that moves to build cities just for women follows a Cabinet decision that "urged authorities to create more job opportunities for women in order for them to play an important role in the Kingdom's development."
Actually, we are sure it has to do with the Saud family's determination to continue to enforce the tenets of Wahabbism – a mutated "fundamentalist" version of Islam that deprives women of even the right to drive a car and can impose terrible mutilation on them for minor infractions. Here's some more:
The Cabinet also instructed the relevant ministry to allocate lands ... to establish industrial projects for women ... Modon seeks to allocate land for industrial development and develop industrial cities in collaboration with a number of government agencies and the private sector to meet the requirements of investors.
Al-Rasheed highlighted Saudi women's ability to engage in various industrial activities, adding that the development of women-only industrial cities would help tap their energy to boost national development.
"I am sure that women can demonstrate their efficiency in many light and clean industrial sectors that suit their interests, nature and capabilities," the Modon chief said. The industrial cities now comprise factories owned by women as well as companies with some production lines set aside for women...
Sound dynamic? Obviously Modon wants to be perceived as an enlightened agency. It's certainly a big and powerful one. From the article, we learn it was established in 2001, and that it is "responsible for the development and management of industrial cities."
Currently, Modon "supervises" 29 cities across Saudi Arabia, though apparently these are not same sex cities. During the next five years, the Saudis intend to build 40 industrial cities occupying 160 million square meters, the article informs us.
Wow. We don't know what is madder, this continued sickness of planned industrial development or the added fillip of creating such cities for individual genders. Saudi Arabia is apparently creating its city infrastructure via a series of five-year plans. This is, of course, typical authoritarian planning. And Saudi Arabia is nothing if not authoritarian.
When the Saud secret police arrest individuals – especially for security purposes – they usually try to arrest members of the individual's family and friends on the theory that the suspect has corrupted others.
Saudi Arabia has dozens of new prisons where prisoners are kept in high style, able to eat from tempting menus and watch TV programs of their choosing. But they are still in prison, and often they remain there for years without even being charged.
The larger issue that Saudi Arabia is grappling with is the growing paranoia of the ruling Saud family, a family that is in aggregate worth trillions.
The riches come from a deal that the Saud family made basically at gunpoint with the US, to trade oil only for dollars. This took place in 1971 and cemented both the abrogation of the gold standard and the creation of the dollar-reserve currency.
The deal the Saud family made was far larger than just an economic one, however. The Western power elite behind it pretty much endorsed the Saud's larger power structure, including its mad Wahhabi reign.
It is this fundamentalist Wahhabism that Saudi Arabia is busily exporting around the Middle East. Of course, one can argue legitimately that the Western powers-that-be were quite happy to introduce Wahhabism to a wider Middle East audience.
No doubt, the dynastic families that want to run the world found it quite convenient. Wahhabism is an extremely fundamentalist sect and therefore contributes to the polarization of Islamic society generally. The elites, doing everything within their power to encourage a wider (phony) "war on terror," surely have no compunction about supporting Saudi authoritarianism and the Saud family's very own crazy religion.
And thus it is that one can argue the Americans and British are behind the dissemination of extremist Wahhabism in all its intolerance and brutality. Yes, it is always thus. Money Power controls both sides of any conflict.
While making noises about liberating women in the Middle East and Africa, Western elites continue to prop up the Saud reign and its Wahhabi state religion. And now the Saud family, driven mad by money it never made and doesn't deserve, has begun building vast same-sex cities so men and women will not have to consort.
This is truly the kind of psychopathology that can emerge only after societies have been corrupted for decades, for centuries. Unfortunately for Saudi citizens, their society has indeed been under attack for that long.
It is a mad policy, a mad society and a mad world. It cannot end soon enough ... And it will end. The impossibly wealthy and corrupt Saud family will likely find the 21st century a good deal less forgiving than the 20th. When their reign does end, Western support shall likely be exposed for all to see.
http://www.rightsidenews.com/2012080916832/life-and-science/culture-wars/modern-madness-saudi-arabia-building-women-only-cities.html
-----------
Nepal Bans Women under 30 from Working in Gulf
Aug 9, 2012
KATHMANDU: Nepal has barred women under 30 years of age from travelling to the Gulf countries for work following reports that they were subjected to harassment and sexual abuse.
"Young female workers are reported to have been sexually and psychologically exploited in Gulf countries," the minister for information and communication Raj Kishore Yadav said.
"So the cabinet decided to set age bar for women migrant workers going to the Gulf," Yadav was quoted by the Himalayan Times as saying.
According to a UN report, as many as 244,000 Nepalese women - mostly aged under 25 - are working in the Gulf, who leave the impoverished Himalayan nation every year to take up jobs as maids in the oil-rich region.
Though there have been widespread reports of maltreatment of women workers from Sri Lanka, Philippines and other Asian nations in the Gulf, Nepal is the only country to ban women under 30 from working in the Gulf.
The paper said, 15 Nepalese women had committed suicide in Lebanon in 2010, while some domestic helpers had sought refuge in their embassies in Qatar, Saudi Arabia and Kuwait following instances of abuse by their employers.
Nepal had in 1998 imposed a ban on women seeking work in the Gulf. The restrictions were lifted 2010.
http://timesofindia.indiatimes.com/world/south-asia/Nepal-bans-women-under-30-from-working-in-Gulf/articleshow/15423869.cms
---------
Suspected kidnapping: Teen Hindu converts, marries
By Nawaz Solangi
August 10, 2012
JACOBABAD: A teenage Hindu girl, MK, has converted to Islam and married a man identified as Ghulam Murtaza Channo, her parents informed Jacobabad SSP Muhammad Younis Chandio late Thursday evening.
The family had thought that she had been kidnapped five days ago. SSP Chandio met her father, Riwatt Mal alias Beebo, and uncle Sanjay Singh, and Hindu Panchayat President Babo Mahesh Lakhani at Janta Hall on Thursday. He informed them that the couple appeared in the Sindh High Court in Sukkur in the morning and demanded protection.
Their daughter has taken the new name of Mehwish. The district police have been directed to provide them protection. "M phoned us today and said that she had married but we heard the voices of two men and a woman and doubt that she was being allowed to speak freely," Beebo and Singh told daily Sindh Express. "We'll migrate to India, if M is not recovered. We can't live with this situation now."
http://tribune.com.pk/story/419943/suspected-kidnapping-teen-hindu-converts-marries/
-----------
Saudi & Afghan Brave Hearts Have Set Great Examples for Others
By S. Kannan
10 August 2012
SHE completed the race nearly 45 seconds behind the winner in the 800 metre heat. For such a poor performance, she should have been booed by one and all at the Olympic Stadium. But instead, the crowd just loved Sarah Attar, the first female track athlete to compete for Saudi Arabia in the Olympics. She was cheered at every step, with some in the stands even giving her a standing ovation for her historic participation. Sporting a long-sleeved green top, full length jogging bottoms and a white hijab, she stood out at the starting line.
And as the race began, it was clear that Attar wasn't going to be able to keep pace with the rest of the field. She fell a long way behind, and ended the race with a time of two minutes 44.95 seconds, almost a full lap behind the others. Kenya's Janeth Jepkosgei Busienei, winner of the heat, finished at two minutes 01.04 seconds.
"It is such an honour to be representing Saudi Arabia. Hopefully, this can make a huge difference," Attar told the BBC. "It was such a unique opportunity, they (IOC) invited me and welcomed me. To make that first step for women is the most amazing feeling ever," she added. Attar's teammate, judoka Wojdan Ali Seraj Shahrkhani, made Olympic history on Friday when she competed against Puerto Rico's Melissa Mojica. Shahrkhani was applauded by the organisers and the fans for her courage in staying the course and making it to London, one of the two Saudi women ever to take part in the Olympics.
Wearing an improvised hijab, Shahrkhani had seemed nervous, tentative and more mindful of keeping her hijab in place during her bout against Mojica. The fight lasted only a minute, but Shahrkhani has the distinction of being the first Saudi female Olympian. To many, her loss was coincidental. Her participation in the Games was the real victory.
The London Olympics will be special for such exceptional acts of bravery and ambition. The Games mark the first occasion when women athletes from Qatar and Brunei have competed.
Tahmina Kohistani, a sprinter from Afghanistan, also participated. "This (participating in the Olympics) means a lot for me and my country," she said. "There were a lot of people who were trying to stop me from training, but I am here. I know having a medal at the Olympics is very difficult, but I am here to open a new way for the women of Afghanistan because in my society there is no sport for females." Kohistani also said that as a flag-bearer for women's sport in her country, she has support from other girls. "I think there are a lot of girls who are praying for me. When I go back home, I'm going to tell all the girls to come and follow me," she said.
Journalists from the Arab world have, however, reported the news on these women very cautiously. In countries like Brunei and Saudi Arabia, news is monitored and they do not want to sound effusive. One journalist, who did not want to be identified, told Mail Today: "In Saudi Arabia, women do not have many rights. Participation in the Olympics is fine but when they go back, they face the same kind of restrictions. To imagine that one race or one judo bout is going to change their lives is laughable."
"The Arab culture has now become a little open about women's participation in sports. At least, that's what is seen in Qatar. But while Qatar has been a little moderate, Saudi Arabia and Kuwait are a bit hesitant. There are many talented women sportspersons in the Gulf. Only a broader outlook by these nations will be a boost to women's participation," Aminul Islam, a Qatar based journalist, said.
Mail Today
-----------
Grave Medical Error: A 17-Year-Old Woman in Jeddah Loses Uterus
9 August 2012
The Health Affairs Department in Jeddah has imposed a travel ban on the medical team of a private hospital which has allegedly committed a grave medical error, which resulted in removing the uterus of a 17-year-old woman.
The health authorities have directed the hospital management not to allow the doctors to leave the Kingdom until completion of the ongoing investigation. The department has formed a medical panel to probe the incident, Al-Madinah newspaper reported.
In a complaint lodged with the department, Ahmad Al-Shalawi, husband of Nada, urged the authorities to take stringent punitive measures against those responsible for negligence. He said that the grave medical error on the part of the hospital staff had resulted in his wife Nada losing her uterus in addition to sustaining serious health complications, including cardiac and pulmonary disorders.
Al-Shalawi claimed that Nada was admitted to the hospital for a normal delivery. "Following delivery, she had profuse bleeding that continued for 24 hours. The consulting doctor was not attentive to her health condition, and that resulted in worsening her condition and eventually a hysterectomy was done," he said.
Full report at:
http://www.arabnews.com/travel-ban-doctors-woman-loses-uterus
-----------
Demand For Law To Raise Marriage Age For Girls To 18 In Pakistan
10 August 2012
KARACHI, Aug 9: "If a girl can move around a charpoy, she is old and strong enough for marriage" is an oft-heard sentence in the rural areas of Sindh, justifying early marriages, said a participant in a consultative meeting on early marriages organised by the Adolescent Girls Empowerment.
Following the sessions with the social sector and religious scholars, the third meeting was held with media persons to carry forward the message of doing away with early marriages.
Speaking at the event, Sindh women development minister Tauqeer Fatima Bhutto said Pakistan was a conservative country, where women were often kept on the margins. Despite societal attitudes, there was a need to review the existing laws and create new ones to provide justice to women.
Given the sensitive nature of the issue, the minister cautioned the audience that her words must not be taken out of context.
"We all use religion for our personal gains. Whereas it is said that four marriages are allowed, men claim it to be their right, but they don't heed the insistence on 'equality'. The same is the case with marriage where 'aaqil-o-baligh' is a criterion for an individual to get married," she said, adding that young girls were hardly in a position to make decisions when it came to a lifelong contract, Nikah.
Full report at:
http://dawn.com/2012/08/10/demand-for-law-to-raise-marriage-age-for-girls-to-18/
-----------
Girls' School Blown Up With Explosives In Mohmand
10 August 2012
KARACHI: A landmine explosion in district Safi of Mohmand Agency killed a Special Forces member on Thursday. Meanwhile, in another district of the agency, a girls' school was blown up with explosives, bringing up the total number of schools blown up in Mohmand to 100.
Official sources told Dawn News that a Special Forces unit was attacked with a remote-controlled bomb while it was patrolling the Sandukhel area of Tehsil Safi. However, the security personnel remained unhurt.
A short while later, a member of the unit named Gul Amin hit a landmine, causing it to explode on impact. Amin died on the spot.
After the explosion, security forces cordoned off the area and started a search operation.
On the other hand, in Tehsil Yakaghund, a girls' primary school was blown up with explosives. The incident brings the total number of schools blown up in Mohmand Agency to 100.
http://dawn.com/2012/08/09/landmine-explosion-in-mohmand-kills-security-personnel/
-----------
Goodwill ambassador: First to be vaccinated,vows to eradicate polio
By Sumera Khan
August 10, 2012
ISLAMABAD: She was the first child in Pakistan to be administered polio drops by her mother, and former premier, Benazir Bhutto. Today, at 18, she is Pakistan's goodwill ambassador for polio eradication.
In an exclusive interview with The Express Tribune, the first detailed one to any media, a resolute Aseefa Bhutto-Zardari vowed to carry forward the mission, and stand up against forces that have politicised the anti-polio campaign.
Some Taliban factions recently imposed a ban on the immunisation programme in the tribal areas, linking its resumption to the halt in US drone strikes.
"We would not allow them to disrupt the anti-polio campaign," Aseefa said. "By administering polio drops to her own children, my mother set a precedent for all parents in the country," she added.
"My mother left a great vision … and I will give my best to carry her legacy to make Pakistan a polio-free country," she added.
Full report at:
http://tribune.com.pk/story/420108/goodwill-ambassador-first-to-be-vaccinated-aseefa-vows-to-eradicate-polio/
-----------
Saudi women empowerment: A failed project in the absence of strategy
FATIN BUNDAGJI
10 August 2012
For those of us who write on a multitude of national issues, getting caught up in the negatives of a topic is a common and understandable practice. Dictated by the confines of a narrow column, we are constantly torn between the need to focus on a specific point, and the need to present additional angles that shed light on diverse perspectives. Unfortunately in the world of print media and limited word counts, we do not have the luxury or the freedom to do both simultaneously.
Hence, a narrow column in itself cannot reveal the depth of any given topic, and in order to deliver a sound argument, most writers, including myself, tend to skim the surface of a trending topic worthy of exposure, after which we skillfully weave in certain facts, highlight specific angles, and conclude with rational assumptions that enable us to justify our argument to ourselves — and hopefully as well to our readers.
Once we've done our share as writers, the responsibility of conclusion falls onto the reader. All opinion writing is subjective, and therefore, it is the duty of the inquisitive and analytical reader to question and challenge what we write, to research and analyze our assumptions, and to come up with independent conclusions — that sometimes are at par with ours, yet oftentimes, not. You see, our job, as writers is to responsibly and methodologically trigger thought, engage dialogue, and jumpstart action: and diverse responsible opinion is not a bad thing and we should embrace that.
Full report at:
http://www.arabnews.com/saudi-women-empowerment-failed-project-absence-strategy
-----------
Iran's Female Olympians Face Extra Hurdles
08/09/2012
Solmaz Sharif Founder Shirzanan
During the women's Olympic gymnastic competition on July 29, Lynn and Rickey Raisman were proud to watch their daughter Aly compete in the arena. Their nervousness and joy in their daughter's achievements was a familiar scene for many parents, but it is only a dream for others around the world -- particularly in the Islamic Republic of Iran.
Although the Iranian government has permitted some women's teams to participate in international competitions, it greatly restricts their participation in domestic games. For instance, no men are allowed to watch women's games in Iran. This raises a few questions about the intentions of Iranian sporting officials: If it is "Islamic enough" for women to play in front of global audiences, then why they can't play in Iran? And such international participation doesn't meet Islamic requirements, did the Iranian government merely agree with it to avoid international pressure?
As for sports that can't be played with some form of an acceptable Islamic uniform (like swimming) -- forget about it. And some other sports are mired in bizarre controversy. Muslim women's karate teams, for instance, are waiting for their sport's international confederation to approve their Islamic uniform.
Full report at:
http://www.huffingtonpost.ca/solmaz-sharif/olympics2012_b_1756992.html
-----------
Bangladesh: Two housewives killed allegedly for dowry
10 August 2012
A housewife was beaten to death allegedly by her husband for dowry at Machhiara village in Tala upazila of Satkhira district on Tuesday night.
The victim was identified as Tanjila Khatun, 22, wife of Salam Sardar of the village.
Family sources said Salman used to torture Tanjila, daughter of Nazrul Gazi of Jeyala Nalta village of the same upazila for dowry since their marriage four years back.
On the fateful night, Salman picked up a quarrel with Tanjila over the issue and at one stage beat her mercilessly, leaving her dead on the spot.
Salman went into hiding after the incident.
Tanjila's father filed a murder case with Tala PS.
In Gazipur, a garment worker was stabbed to death allegedly by her husband for dowry at Kashimpur in Sadar upazila early Wednesday.
The victim was identified as Rozina Khatun, 25, a worker of Kashimpur BD Cotton Club and wife of Hannan Mia.
Police and local people said Hannan used to torture Rozina for dowry since their marriage a few years back.
On the fateful night, Hannan picked up a quarrel with Rozina over the issue and at one stage stabbed her indiscriminately, leaving her dead on the spot.
Hannan went into hiding after the murder.
http://www.thedailystar.net/newDesign/news-details.php?nid=245584
-----------
Fifth perpetrator in failed rape attempt arrested
Iman Mahditama
August 10 2012
Jakarta Police said on Friday that they had arrested the fifth suspect of the failed robbery and attempted rape of a female passenger in a public minivan in Gambir, Central Jakarta, in the late hours on July 23.
"The suspect, identified as B, was arrested in Mayestik, South Jakarta, on Thursday morning. With his arrest, we have caught all perpetrators in the case," police spokesman Sr. Comr. Rikwanto said.
The other four suspects who have been arrested previously were identified as AA, F, NS, and D.
Office worker IS, 31, reported the incident to police on July 24 after all five suspects reportedly tried to mug and rape her in a C-01 public minivan near Lapangan Banteng in Central Jakarta.
The attempt failed when a Military Special Forces (Kopassus) soldier, Nicholas Sandi Harewan, gave chase until the suspects through IS out of the minivan in front of the Supreme Court building on Jl. Medan Merdeka Utara.
All suspects are detained at the Central Jakarta Police office. The police have charged them with felony theft and indecency, which can carry up to nine years in prison if proven guilty.
http://www.thejakartapost.com/news/2012/08/10/fifth-perpetrator-failed-rape-attempt-arrested.html
-----------
Cash puts Fiza uncle under lens
By Vikas Kahol
10 August 2012
ABOUT ` 1 crore in cash and 1 kg gold jewellery have been recovered from Anuradha Bali aka Fiza Mohammad's Mohali residence, where she was found dead on August 6.
The recovery has further deepened the mystery behind the death of the ex- wife of former deputy chief minister of Haryana, Chander Mohan. The police are now trying to locate the source of the cash and jewellery and have rounded up Fiza's uncle Satpal in this connection.
Some bank documents and a few CDs have also been seized during the search in Fiza's flat on Thursday. The seized nabknotes are in the denomination of ` 500 and ` 1,000. The police are preparing an inventory of the articles found at her residence.
The cash and jewellery have surprised the police as they had information that Fiza had died in penury after her separation from Chander Mohan.
They have rounded up Fiza's uncle on the suspicion that he kept her death a secret for about four days as he wanted to take away the cash and valuables lying in her flat. However, they are not clear why Satpal could not remove the jewellery in four days.
Fiza's body was found in a highly decomposed state at her home on Monday. Satpal was the first person to see her body and inform the police.
Full report at: Mail Today
-----------
URL: https://www.newageislam.com/islam,-women-and-feminism/new-age-islam-news-bureau/modern-madness-saudi-arabia-building-women-only-cities/d/8220