New Age Islam News Bureau
17 Sept 2012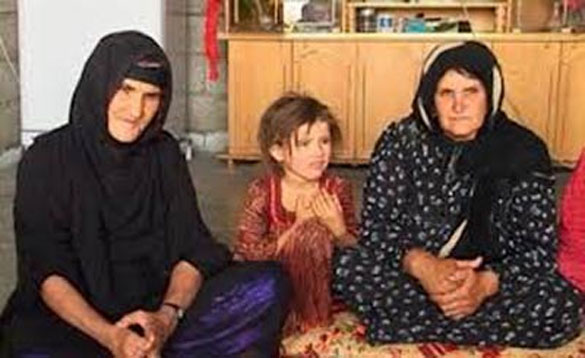 • Iraqi Kurdistan Tries to Stamp out Female Circumcision
• Women Take Questions from Saudi Shura Members
• Saudi Caught With Sex Videos of Himself Sentenced To Nine Months in Jail and 100 Lashes
• Christian Girl Tortured and Denied Meeting Parents by Muslim Employer in Pak
• Woman in Lahore Arrested For Forcing Minor Daughter to Marry
• In Niger, Fathers Marry Off Girls for Food, Child Marriage on the Rise
• 40 Babies and Foetuses Dumped Monthly In Namibia Capital
• Lawyer Buys Former Miss Malaysia World for $200
• Jakarta: Woman in Nurse Uniform Steals Baby
• Sloatsburg Woman Wins Miss Pakistan World Title
• Angelina Jolie Pushes Plight of Refugees in Iraq
• Kuwait: Women in Justice, Public Prosecution
• Women's Group in Kuwait Seeks to Reshape Society
• African Musician Gives Voice to Kurdish Poet's Performance
• Girl's Death 24 Years Ago Haunts Quest for Justice in Reformist Myanmar
Compiled by New Age Islam News Bureau
Photo: Iraqi Kurdistan Tries to Stamp out Female Circumcision
URL: https://newageislam.com/islam-women-feminism/maldives-rejects-dancing-ban,-vows/d/8694
----------
Maldives rejects dancing ban, vows 'tolerant society'
September 16, 2012
COLOMBO: The Maldives government rejected on Sunday a ban on dancing in public between men and women called by its own Islamic Affairs ministry and pledged that the honeymoon hotspot would remain a beacon of tolerance.
Presidential spokesman Abbas Riza said a circular issued by the ministry prohibiting dancing between men and women was not enforceable as it had no basis in Maldivian law.
"There has not been and never will be a ban on dancing," Abbas told AFP in an e-mailed statement. "Under the constitution, no one could enforce or prohibit any freedom unless under a law."
"The Maldives will always be a very tolerant society (which is an) example to the world." It was the first formal government reaction to the ministry circular to all state institutions and the media banning the holding of any mixed-gender dance events.
The ministry is headed by a member of the main Islamic Adhaalath Party, a coalition partner in President Mohamed Waheed's government which came to power after the controversial resignation of Mohamed Nasheed in February.
The ministry also ordered a ban on events where adolescent girls were required to dance, local media reports said, adding that the directives were intended for both state bodies and individual citizens.
"It is very clear that this is just an issuance of their view. Not legally binding on any sector of society," Abbas said.
The Maldives with a population of 330,000 Sunni Muslims is an Islamic republic known for its liberal lifestyle and upmarket tourism.
However authorities have been concerned about rising extremism in recent years and have resisted calls from extremists to shut down luxury tourist resorts, which serve alcohol and pork.
On Friday, hundreds of men and women demonstrated outside the United Nations building in the Maldivian capital Male over a film mocking Islam that has led to protests around the world, police said.
"About 100 to 400 people gathered outside the UN building during a two-hour period... and dispersed peacefully," police spokesman Hassan Haneef told AFP.
The Maldivian government condemned the burning of a US flag outside the UN compound and said the demonstration had been backed by opposition groups.
"The government urge all opposition groups to adhere to the teachings of Prophet Mohammed (PBUH) which is all about tolerance and co-existence," Abbas said.
http://gulftoday.ae/portal/ae09644a-44fa-47ec-94f9-da3d81f40c05.aspx
----------
Iraqi Kurdistan tries to stamp out female circumcision
16 September 2012
Tutakal is a remote village nestled in Kurdistan's parched mountains, accessible only through its dusty mountain tracks.
Here in this village, women circumcision was a common norm practiced by many families. All but two of the women and girls from about 17 families in the village have been circumcised, most of them at a very early age.
Her chin marked by a faded blue traditional tattoo, and her hair pulled back inside a black headscarf, Amena's face is one many Iraqi Kurdish girls probably wish they had never seen.
A rural village midwife, Amena practiced female circumcision across Iraqi Kurdistan for so many years even she struggles to recall how many girls passed through her hands.
"I couldn't count them. I just can't count how many. I circumcised many children here and in Surjnar area, in Takya area, in Kirkuk and in Ranya where I had lived for four years before fleeing to Iran. In Iran too I circumcised many children of the Kurdish families who fled from Iraq. They asked me to do it and I did, but I did not do it to Iranian females, only for daughters of fleeing Kurdish families. When I was in Iran all the families that fled from this area and from Kirkuk and came to live next to me asked me to do the operation for their daughters and I did it. I just can't count how many. Ten children, a hundred children, a thousand children, I just can't count how many", she said.
More than a year after lawmakers in Iraq's self-governed Kurdistan region passed a law banning the practice of female circumcision; activists say the tradition goes on in many villages even as the government tries to stamp it out.
End of an inheritance
For Amena, the midwife who is now partly jobless, it means the end of an inherited job she learned from her relatives and that brought her meager income from her village, from nearby towns and even Kurdish communities in neighboring Iran.
"Everyone knows that I do not have sons. I have four daughters, they are all married and only one of them is living next to me with my little grandson. I do not have a son. I don't have a husband, a father or a brother or son to look after me. And I call on the organization that asked me to stop doing the operation to find me some alternative," she said.
Autonomous from Baghdad since 1991, Kurdistan has its own government and enjoys an oil boom that has helped make it one of Iraq's safest areas, with the kind of glitzy hotels, shopping malls and services unavailable in the rest of the country.
Tradition vs. development
In remote villages, though, tradition often rules and female circumcision and honor killings -- where women are murdered to protect family honor -- still occur.
But in Tutakal, Amena's small hamlet in northern Kurdistan, residents this year agreed to stop the practice, in part in exchange for assistance with the basic services and a small classroom they said they badly needed.
It is a promising model, activists involved in the campaign say. One they hope will spread to other Kurdish villages to convince them the practice has no basis in Islam, as some claim, and inform them it is now a crime under Iraqi Kurdistan law.
"Now the people can understand very well that this is a crime and they can't practice it any more. But sometimes it happens still in this area in Ranya Najim, which is, we call it is very bad region for the women, because not only the FGM (female genital mutilation) happens, but also the honor killing, early marriage and exchanging of wives. Many things are happening here, but still we need to implement the law all in Kurdistan and more awareness about the law," said Suaad Sharif, a member of WADI organization campaigning to end female circumcision.
According to the World Health Organization, female circumcision or female genital mutilation -- the partial or total removal of external female genitalia -- is practiced in countries across Africa and in Asia and the Middle East for cultural, religious and social reasons.
For some practitioners those reasons often range from the belief it will help women resist improper sexual activity, to religious beliefs. But activists say it is a brutal form of oppression and potentially life-threatening.
Kurdistan parliament passed the law last year, criminalizing the practice, winning praise from human rights activists as showing the Kurdistan Regional Government's resolve to end the practice and protect women's rights.
As many as 40 percent of women and girls in Kurdistan have been subject to circumcision, according to Human Rights Watch citing government reports and activists.
But in a statement last month, the New York-based rights group criticized the Kurdistan government for not taking sufficient steps to enforce the law, including informing police and government officials to increase awareness.
Pakhshan Zangana, secretary general for the Kurdistan's High Council on Women's Affairs, said circumcision had been widespread in urban and rural areas, but was decreasing thanks to the new law and campaigns.
For many of the families, it was simply a practice passed down from grandmother to mother to daughter, believing girls would be considered "unclean" if they were not circumcised.
Social pressure
For women like fifty-year-old Golchen Aubed, social pressure played its part.
Like many of the mothers in Tutakal, she said she allowed her four daughters to be circumcised by the community midwife because she did not want to break a cultural norm.
"In our culture when you don't do this, everyone else asks why," she said sitting on a carpet in her home with her youngest daughter, Sharaban.
"Why should I stand out? I knew it was bad, I knew it hurt the child, but even so I went ahead. I know how to do the operation myself, but I never did it because I know it hurts the child. But what can I do, I was obliged to do it because everyone else is doing it," she added.
But her son refused to allow his own daughter to suffer the same way -- she is one of the two small girls in the village to escape circumcision.
"My son Lukman, whose daughter is sitting beside, says now that if he finds out about anyone doing this he will go and report them to the police. He did not do it for his daughter and my second son has two daughters and both of them are not circumcised," Aubed said.
For village elders in Tutakal, the decision to stop the practice was a pragmatic one.
Activists discussed the small community projects the village needed and decided on a new classroom in exchange for an accord to stop circumcision.
Port-a-cabin classrooms have replaced the ramshackle mud-brick and wooden room that served as a school before. Older children are provided with transport to a nearby town where a middle school is available.
"We now feel the pain of the woman. The woman feels incomplete because when they do this, they cut a piece of flesh from a woman," said village headman Sarhad Ajeb, sitting on the floor of Tutakal's simple mosque explaining the reasons why they stopped. "There is no mention of this practice in the holy Quran."
http://english.alarabiya.net/articles/2012/09/16/238406.html
----------
Women take questions from Saudi Shura members
By Habib Toumi
September 17, 2012
Manama: History was made in the men-only Saudi Shura when two women answered questions from the members in a face-to-face debate.
The breakthrough occurred on Sunday when Dr Muneera Bint Hamdan Al Aseemi, the health ministry assistant undersecretary for supporting medical services, and Dr Afaf Al Tuwaijeri, the head of training and scholarships at the ministry, used the podium to answer queries from the Shura members.
The two women were sitting at the parliament gallery following the three-hour debate on the floor between Dr Abdullah Al Rabeeah, the health minister, and the members. However, when the minister was asked a question related to Al Aseemi's work, he referred it to her and she came down to take up the podium to answer the query. Al Tuwaijeri followed some time later when the minister again referred a question to her, local Arabic news site Sabq reported on Monday.
Responses from both women triggered warm appreciation from some Shura members, Sabq said.
"Their participation in the debate has made Shura members talk about a rehearsal for the involvement of women in face-to-face Shura debates in the near future," a member was quoted as saying.
Al Aseemi, a 1984 nursing graduate who has authored books and given lectures in several countries, became in April the first Saudi woman to be appointed assistant undersecretary in the health ministry.
Al Tuwaijri was appointed head of training and scholarships in November 2010.
Although the Shura Council's bylaws do not oppose the membership of women and do not specify the gender of the appointed members, it has had since it was founded in 1993 only male members.
The first council (1993–1997) had a speaker and 60 members and the second (1997–2001) had a speaker and 90 members. The third council (2001–2005) had a speaker and 120 members and the fourth (2005–2009) had a speaker plus 150 members.
Last year, King Abdullah Bin Abdul Aziz whose stances on reforms, particularly on women's rights, have been obvious since he became ruler in August 2005, said that women would become members of the Consultative Council in the next term.
"We made this decision because we refuse to marginalise women in the Saudi society in their roles that comply with the Islamic Sharia and following consultations with many of our scholars who supported it," King Abdullah said. "Muslim women in our history have had stances that cannot be sidelined, be it through views or advice, since the time of Prophet Mohammad [PBUH]."
According to the Saudi monarch, "balanced modernisation compatible with Islamic vales was a significant necessity."
"It is our right to receive your opinion and advice according to the fundamentals of our religion. Whoever trespasses them is arrogant and must take responsibility for those actions," he said.
King Abdullah in the same speech also announced that women would have the right to run and vote in the 2015 municipal elections.
Earlier this month, Al Sharq daily reported that 30 women are expected to be appointed to the Shura in 2013 in a historic breakthrough.
"The expectations are that up to 30 women will be appointed to the council in its next term," sources close to the consultative assembly told local Arabic daily.
The sources said that talks have already started with several institutions to provide the names of women they saw as "properly qualified" to become Shura members.
A special commission, headed by the king, will look into the nominees and select the final list.
Criteria include Saudi citizenship, a minimum of 30 years of age, impeccable personal record, high level of competency and practical experience.
The Shura has 12 women advisers whose work is related mainly to issues of women, families and children.
http://gulfnews.com/news/gulf/saudi-arabia/women-take-questions-from-saudi-shura-members-1.1077350
----------
Saudi Caught With Sex Videos of Himself Sentenced To Nine Months in Jail and 100 Lashes
By Habib Toumi
September 16, 2012
Manama: A Saudi man has been deprived of a second honeymoon after a court sentenced him to nine months in jail and 100 lashes after his jealous wife reported his pre-marriage illicit relations to the police.
According to local Arabic daily Al Madinah, the man told his wife that he was traveling to an Arab country to take a second wife.
However, the disgruntled wife who had several CDs of her husband in intimate positions with women from various countries reported him to the police. He was arrested for immoral behaviour.
The husband explained that the videos were taken when he was a student abroad and had intimate relations with some women.
However, he told the investigators that he had put an end to all his relations and changed his behaviour after he got married.
During the investigation, the seemingly remorseful wife told the authorities that she was sorry she had reported her husband over the sexual videos and insisted that he had treated her well.
She attributed her decision to go to the police to her excessive jealousy when she heard that he planned to take a second wife.
The judge ruled that in addition to the nine-month jail sentence and the lashes, the husband will have to pay a 9,000 Saudi riyals (Dh8,800) fine and to sign a pledge not to repeat his sexual adventures.
The CDs must be confiscated and destroyed, the judge said.
Online comments blamed both the husband and the wife for what happened to them.
The wife could have just shredded the CDs and kept her husband while the man was blamed for keeping memories of his wayward ways that "had no place in his life as a married man."
http://gulfnews.com/news/gulf/saudi-arabia/saudi-man-caught-with-sex-videos-of-himself-sentenced-1.1077065
----------
Christian Girl Tortured and Denied Meeting Parents by Muslim Employer in Pak
September 17 2012
Lahore: September 16, 2012. (PCP) A Christian girl named Sumbal Masih daughter of Sardar Masih aged 15 or 16 had been working as a maid in house at, Model Town, Lahore for two years along with her younger sister Sadaf Masih and a cousin named Rabiya.
On 14th September 2012, Sumbal was watching T.V in the owner's room. Suddenly the owner came and started beating the poor girl for watching movie. They beat her so harshly using pipes or iron rods.
Afterwards they took her to the washroom and tortured her over there terribly. She was yelling badly and crying for help. This entire incident was reported by Sumbal's cousin Rabiya. When Rabiya and other servants heard Sumbal crying for help, they ran upstairs to help her but the owner took Sumbal to the washroom and sent Rabiya and other servants downstairs therefore they could not find that what they did with Sumbal.
Full report at:
http://www.pakistanchristianpost.com/headlinenewsd.php?hnewsid=3766
----------
Woman in Lahore Arrested For Forcing Minor Daughter to Marry
Sep 16 2012
Lahore: A woman in the eastern Pakistani city has been arrested for forcing her 11-year-old daughter to marry a man in his 40s.
Muhammad Niaz, resident of the thickly populated Ghorey Shah neighbourhood here called police yesterday and complained that his wife Tasleem Kausar was trying to forcibly marry their daughter Farzana with a neighbour.
"The girl is reluctant to marry but her mother is insisting on the marriage. She has threatened to expel Farzana from the house," Niaz said.
He said he had been without work for several weeks following which his wife decided to "sell" their daughter.
Police arrested Tasleem while the prospective groom managed to escape.
A case was registered against the woman under provisions of the Pakistan Penal Code.
http://www.indianexpress.com/news/woman-arrested-for-forcing-minor-daughter-to-marry/1003365/
----------
In Niger, fathers marry off girls for food, child marriage on the rise
By RUKMINI CALLIMACHI
Sep 16, 2012
HAWKANTAKI, Niger (AP) — Each day before the reaping, the 11-year-old girl walked between the stunted stalks of millet with a sense of mounting dread.
In a normal year, the green shoots vaulted out of the ground and rose as high as 13 feet (4 meters), a wall tall enough to conceal an adult man. This time, they only reached her waist. Even the tallest plant in her family's plot barely grazed her shoulder.
Zali could feel the tug of the invisible thread tying her fate to that of the land. As the world closed in around her, she knew that this time the bad harvest would mean more than just hunger.
In Hawkantaki, it is the rhythm of the land that shapes the cycle of life, including the time of marriage. The size of the harvest determines not only if a father can feed his family, but also if he can afford to keep his daughter under his roof.
Even at the best of times, one out of every three girls in Niger marries before her 15th birthday, a rate of child marriage among the highest in the world, according to a UNICEF survey.
Now this custom is being layered on top of a crisis. At times of severe drought, parents pushed to the wall by poverty and hunger are marrying their daughters at even younger ages.
A girl married off is one less mouth to feed, and the dowry money she brings in goes to feed others.
"Families are using child marriage, as an alternative, as a survival strategy to the food insecurity," says Djanabou Mahonde, UNICEF's chief child protection officer in Niger.
This drought-prone country of 16 million is so short on food that it is ranked dead last by international aid organization Save the Children in the percentage of children receiving a "minimum acceptable diet."
The consequences are dire. A total of 51 percent of children in Niger are stunted, according to a report published in July by Save the Children. The average height of a 2 1/2-year-old girl born here is around 3 inches (8 centimetres) shorter than what it should be for a child that age.
Full report at: Copyright © 2012 The Associated Press
----------
40 Babies and Foetuses Dumped Monthly In Namibia Capital
16 September 2012
WINDHOEK, Namibia — The Namibia Press Agency reports that some 40 babies and foetuses are dumped and flushed down toilets every month in Windhoek, Namibia's capital of just 350,000 people.
It quotes Women in Action Development chief Veronica De Klerk as blaming violence against women and parents' failures.
The agency reported Sunday that De Klerk at the weekend said barely a day goes by without a report of a woman being killed or a newborn infant dumped. She said most offenders are young.
The southwest African country of 1.2 million has a low population growth of 0.8 percent. It is better known for its spectacular desert landscapes with terracotta-coluored sand dunes and as the place celebrities Angelina Jolie and Brad Pitt chose for the birth of their first baby.
http://www.washingtonpost.com/world/africa/report-40-babies-and-fetuses-dumped-monthly-in-namibia-capital-violence-against-women-blamed/2012/09/16/15665426-0003-11e2-bbf0-e33b4ee2f0e8_story.html
----------
Lawyer buys Former Miss Malaysia World for $200
Sep 16 2012
Kuala Lumpur: Former Miss Malaysia World Nadia Heng has been bought by a lawyer for 600 Malaysian ringgits in Bangsar in an "auction" for a good cause.
Heng was among the five local personalities - "sold" to the highest bidder to raise funds for the upgrading of UndiMsia!'s resource centre.
The "buyers" went out on a date with the personalities, Star Online reported.
UndiMsia! is an initiative targeted at youngsters to build communities and to empower citizens.
Heng said that she was game for anything, from a candlelight dinner to a meal at a mamak's stall.
Full report at:
http://www.indianexpress.com/story-print/1003359/
----------
Jakarta: Woman in Nurse Uniform Steals Baby
September 17 2012
Syfa Maisyatul, 20, reported to the police on Saturday that her newborn baby was missing from the maternity care ward where she had been treated.
She said that she handed her four-day old baby boy to a visiting relative as she was about to go to the rest room.
When she returned to her room five minutes later, the relative, identified as Icut, said that a nurse had asked for the baby to be checked by the doctor.
Upon her arrival at the hospital in the afternoon, another visiting relative, Mariam, said she saw a nurse walk out of the hospital with the unnamed baby. When she asked the nurse where she was taking the baby, the nurse said she wanted to hand the baby to his mother.
Hospital management said that they did not recognize the nurse.
http://www.thejakartapost.com/news/2012/09/17/woman-nurse-uniform-steals-baby.html
----------
Sloatsburg Woman Wins Miss Pakistan World Title
Culture
Sep 16, 2012
SLOATSBURG — Zanib Naveed entered what is perhaps the only international beauty pageant designed specifically for young Pakistani women, hoping the experience would help her make contacts in the entertainment industry.
She never expected to win.
The 25-year-old Naveed, who was born in Lahore, Pakistan, and grew up in Sloatsburg, beat out 11 other Pakistani women for the title of Miss Pakistan World 2012 this summer.
"I was there to have fun," she said during an interview at her family's home Friday. "I was surprised when I won."
During the four-day contest held in Mississauga, Canada, Naveed joined contestants from the United Kingdom, New Zealand and elsewhere in learning and performing traditional dances. They faced questions about Pakistani culture, history, social issues and international relations from a panel of judges.
Full report at:
http://www.google.co.in/url?sa=t&rct=j&q=&esrc=s&source=newssearch&cd=7&cad=rja&ved
----------
Angelina Jolie pushes plight of refugees in Iraq
September 15, 2012
BAGHDAD: Hollywood star Angelina Jolie is in Iraq meeting with leaders about the plight of an estimated 50,000 refugees who fled to escape violence in Syria.
A government statement said Jolie on Saturday urged Foreign Minister Hoshyar Zebari to ensure the refugees have enough supplies.
Zebari said an estimated 21,000 Syrian refugees are living in Iraq's western Anbar and Dohuk provinces. Another 31,000 Iraqis who years ago fled to Syria to escape sectarian fighting in their homeland have returned, he said.
Jolie is a goodwill ambassador for the U.N.'s refugee agency. She is expected to visit the Kurdish self-rule capital of Irbil in northern Iraq on Sunday.
It was a rare visit to Iraq by an American movie star. She posed for pictures with Zebari but was not available for interviews.
http://www.dailystar.com.lb/News/Middle-East/2012/Sep-15/188043-angelina-jolie-pushes-plight-of-refugees-in-iraq.ashx#ixzz26iYpqJv1
----------
Kuwait: Women in Justice, Public Prosecution
17/09/2012
KUWAIT CITY, Sept 16: Former and incumbent lawmakers have criticized the decision of the Supreme Judicial Council to accept female applicants to various posts in the Public Prosecution and the judiciary, because it allegedly violates the Sharia Law and it might create imbalance in the judicial system.
This came after the Supreme Judicial Council announced its decision on allowing Kuwaiti women to take up jobs in the judicial authority recently. Sources revealed the decision will take effect by the end of this month.
Sources said the Council has instructed the Ministry of Justice to accept applications from qualified Kuwaiti women for the first time in its history. Sources pointed out the Council does not find any justification for prohibiting women from working in the judiciary, since they had been granted their political rights several years ago. Sources added a total of seven female prosecutors might be appointed during the initial phase of the execution of the decision.
Full report at:
http://www.arabtimesonline.com/NewsDetails/tabid/96/smid/414/ArticleID/187975/reftab/36/t/Women-in-Justice-Public-Prosecution/Default.aspx
----------
Women's Group in Kuwait Seeks to Reshape Society
17/09/2012
WOMEN'S issues have often taken the backseat in recent times due to various developments on the political front in Kuwait, and what has resulted can perhaps be characterized as a lag in the pursuit of women's rights in the country. However, this has been met with the establishment of various different civil society groups, NGOs and offices that deal with women's issues, and try to address the gaps that have been created in the struggle for equal rights.
Farida Mussayeb, a founding member of the very recently established Defending Committee for Women's Issues in Kuwait (DCWIK) tries to situate the struggle for women's rights in Kuwait within a larger struggle for human rights and equality in society as a whole. As such, she believes that the best way of battling these is to spread awareness amongst society, and in particular to make the women themselves aware of the importance of achieving equal standing in society.
Full report at:
http://www.arabtimesonline.com/NewsDetails/tabid/96/smid/414/ArticleID/187973/reftab/36/Default.aspx
----------
African musician gives voice to Kurdish poet's performance
16 September 2012
Gambian musician Sunton Susso put his inspirational fingers on his African wooden musical instrument, the kora, to give a musical illustration to the poetry of Kurdish poet Sara Omar during the two artists' performance in Nottingham, the city hosting the ten-day World Event Young Artists festival showcasing 1,000 artists from 100 nations from 7-16 September.
Twenty-six-year old Sara Omar, who spent her childhood in both Denmark and the Middle East (Iraqi-Kurdistan & Syria), says her poems reflect her personal life and puts the spotlight on societies' social and political ills such as corruption, war, abuse, rape, women oppression, forced marriage, and violence.
"I have been through a lot in my life. I have been in war, I have been living in different places, felt homeless…and it's about my life actually. So if you read my poetry you will have a clear image about how I have been living."
Full report at:
http://english.alarabiya.net/articles/2012/09/16/238377.html
----------
Girl's death 24 years ago haunts quest for justice in reformist Myanmar
By Andrew R.C. Marshall
Sep 16, 2012
(Reuters) - The first two bullets struck her legs. The third one ploughed through her chest, shredding a lung and drenching her uniform with blood.
The death of schoolgirl Win Maw Oo, 16, shot by soldiers during Myanmar's military crackdown on pro-democracy protests in 1988, so torments her family that they have yet to perform the Buddhist rites to release her soul into the afterlife.
"We still can't forget her," says Khine Nyein Ei, 30, as she prepares to mark the anniversary of her sister's death on Wednesday. "The tears never dry."
The authorities haven't forgotten either. Political reform in Myanmar is fostering greater openness about past atrocities but little accountability, especially when the country's still-powerful military is involved. Today, Win Maw Oo's impoverished and long-suffering family remains under police surveillance.
Full report at:
http://www.reuters.com/article/2012/09/17/us-myanmar-schoolgirl-idUSBRE88G02J20120917
----------
URL: https://newageislam.com/islam-women-feminism/maldives-rejects-dancing-ban,-vows/d/8694