New Age Islam News Bureau
14 Aug 2012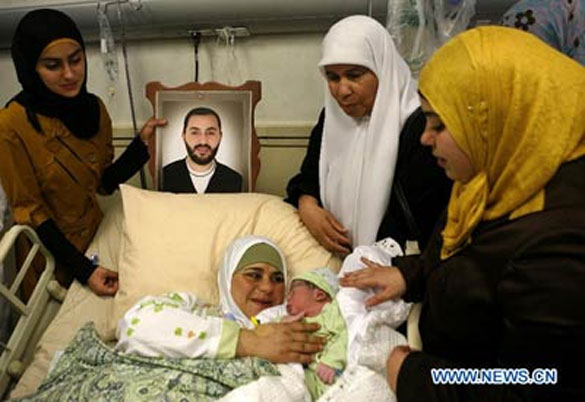 • HRW Tells Nepal to Protect, Not Ban Young Women Migrating To Gulf
• Smuggled Semen Makes Palestinian Prisoner Dad
• Islam Courses for Fasting Kashmiri Women by Nadwatul Ulema Graduate
• Yemeni-Scot Filmmaker: "It's Silly for the Government to Restrict the Cinema Movement"
• Saudi Women Writers: Islamic Solidarity Summit Inevitable To Solve Crises
• Trio Of Older Japanese Women Aiding Kids, Women In Afghanistan
• Nearly Sisters: Arab and Israeli Women's Common Challenges
• Pakistan's Polio Ambassador Miss Zardari for Engaging Private Schools, Hospitals
• Disabled Man Claims to Be Runaway Afghan Woman's First Husband
• August 14 Fever In Pakistan: Mahin Hussain Presents 'Zinda Qaum'
• 5 Pakistani Women We Envy
• An Olympic First for Muslim Women, Not Really
• A Local Honour for A Global Champion Of Women
• It's just a hijab, get over it
• 'Efforts On In Pak To Send Deaf And Mute Indian Girl Back'
Compiled by New Age Islam News Bureau
Photo: Smuggled Semen Makes Palestinian Prisoner Dad
URL: https://www.newageislam.com/islam,-women-and-feminism/by-new-age-islam-news-bureau/kashmiri-women-threatened-with-acid-attack-by-al-qaeda-group-for-not-wearing-veils/d/8266
-------------
Kashmiri Women Threatened With Acid Attack by Al Qaeda Group for Not Wearing Veils
August 13, 2012
The women of Kashmir, renowned for their grace and beauty, have been warned by groups affiliated with al Qaeda to cover their faces or risk disfigurement and even death from acid attacks.
The warning also extended to women using mobile phones in public.
A notice stamped on mosques in the Shopian district of Kashmir allegedly from groups calling themselves al Qaeda Mujahideen and Lashkar e al Qaeda declared: "We appeal to the public that they ensure that their women observe purdah [covering heads and faces] in public places. If we spot any woman without purdah, we will sprinkle acid on her face. If we spot any girl using [a] mobile phone, she will be shot dead."
The posters added: "This land belongs to Allah and we will make sure that nothing against His will happens here."
While Jammu and Kashmir (long disputed by India and Pakistan) is overwhelmingly Muslim, women in the region have generally enjoyed more freedoms than other Islamic states. However, there have been periodic outbreaks of violence against Kashmiri (particularly a spate of acid assaults and shootings of women in 2001 by a militant group called Lashkar e Jabbar).
"In the last 23 years of the [armed insurgency in Kashmir], women have been targeted by fringe elements," Professor Noor Ahmad Baba, a Kashmiri scholar, told the Daily Telegraph newspaper of Britain. "Generally, women in Kashmir are more empowered than women from other conflict zones. There have been campaigns to force women to wear veils, but it didn't sustain for long."
Women in Pakistan, India and Bangladesh have long been subject to having acid thrown on their faces for such acts as refusing sexual advances from a man or rejecting an arranged marriage.
The 2001 campaign of terror in Kahsmir by Lashkar e Jabbar was designed to dissuade girls and young women from wearing "immodest" Western-type clothes.
Kashmir's Inspector General of Police S. M. Sahai told the newspaper that it has commenced an investigation into the warnings.
"The militants are trying to recruit locals as the infiltration has been brought to a minimum. We have cases of militants trying to engaging boys of 12," he said.
However, since the notes were handwritten and featured many spelling errors, some police are skeptical of their origin, seriousness and veracity.
Indeed, the Indian Express newspaper reported that the threatening posters were put up by two school dropouts from well-to-do families who have no legitimate links to militant groups.
Nonetheless, the threat of acid attacks on women is not taken lightly. During the 2001 episode, the Indian government took it seriously enough to upgrade police patrols in Kashmir to protect women.
Acid attacks have also been reported in Cambodia, Afghanistan and even as far away as Colombia.
Acid Survivors Trust International estimates that at least 1,500 people around the world are attacked by acid, with at least half of the victims under the age of 18.
Bangladeshi perpetrators of such attacks may be subject to the death penalty.
http://www.ibtimes.com/articles/373147/20120813/kashmir-acid-attacks-islam-qaeda-militants-india.htm
-------------
HRW tells Nepal to protect, not ban young women migrating to Gulf
14 Aug 2012ANI
New York, Aug.14 (ANI): The Nepali government should revoke its new ban on women under the age of 30 from working in Arab Gulf countries, and instead, should improve protections, so that domestic workers can migrate safely - such as by ensuring full monitoring and accountability of recruitment agencies in Nepal, Human Rights Watch said today.
At the same time, it said that governments in the Gulf should adopt long overdue labor protections and immigration reforms, including ending the discriminatory treatment of domestic workers, to combat the abuse of Nepali and other migrant workers.
On August 9, Nepal's cabinet approved a ban on women under the age of 30 from traveling to the Gulf for work.
The ban is a response to several publicized cases of abuse of Nepali domestic workers, including long work hours, unpaid wages, and in some cases physical or sexual abuse.
This recent move comes two years after Nepal lifted a 12-year ban on any women working in Middle Eastern countries.
"Nepal is right to be concerned about its migrant domestic workers, but imposing a ban on women under 30 from traveling to the Gulf does not solve the problem and discriminates against young women", said Nisha Varia, senior women's rights researcher at Human Rights Watch.
"A better strategy would be to crack down on abusive recruitment practices, ensure that women migrate with an enforceable contract in hand, and equip embassies to respond quickly to complaints of abuse."
Official Nepali emigration figures state that as many as 1,000 migrants pass daily through Tribhuvan International Airport in Kathmandu; many others leave by land through the porous Indian border.
Many domestic workers have positive experiences and together send home billions of dollars in remittances each year to Asia. Others face abuse.
Human Rights Watch has documented discrimination and abuse against Asian domestic workers in the Middle East for several years.
Labor laws in the Gulf exclude domestic workers from basic protections guaranteed other workers such as a weekly rest day, limits to hours of work, and compensation in case of work-related injury.
Restrictive immigration rules make it difficult for domestic workers to escape from abusive employers.
A ban on the work in the Gulf may drive women desperate for work to migrate through irregular channels, putting them at greater risk of exploitation and trafficking, Human Rights Watch said.
Human Rights Watch interviewed Nepali domestic workers in Saudi Arabia during the previous ban and found that they were especially likely to encounter abuse.
They had no information about their rights, no employment contracts, and were more likely to migrate with illegal recruiters who left them heavily indebted.
If they faced abuse from their employers, their precarious legal status made it more difficult for them to approach or receive assistance from authorities.
Instead of a blanket ban on young women that denies them important employment opportunities, Nepal's government should work with other labor-sending governments to demand stronger protections for migrant workers in the Gulf, Human Rights Watch said.
It urged the Nepali Government to improve training of migrant workers, to monitor recruitment agencies rigorously, and to ensure migrant women know where to get help if they need it.
"Governments in the Gulf should heed the concern about abuse against domestic workers in their countries," said Varia.
She added, "They should move quickly to include domestic workers in labor laws, prosecute abusive employers, and improve cooperation with labor-sending countries."
Nepal has obligations under its interim constitution and international law to protect women from discrimination, including in employment.
The Convention on the Elimination of All Forms of Discrimination against Women, which Nepal ratified in 1991, requires states to eliminate discrimination against women in the field of employment.
Human Rights Watch called on the Nepali government to ratify the International Labor Organization Convention on Decent Work for Domestic Workers.(ANI)
http://www.newstrackindia.com/newsdetails/2012/08/14/128-HRW-tells-Nepal-to-protect-not-ban-young-women-migrating-to-Gulf.html
-------------
Smuggled Semen Makes Palestinian Prisoner Dad
Aug 14, 2012, 05.49AM IST
RAMALLAH: A Palestinian prisoner's wife on Monday delivered a baby conceived through artificial insemination after the father's semen was smuggled out from his Israeli prison. The baby was born in a hospital in the West Bank city of Nablus and doctors said the process was unprecedented, Xinhua reported.
"The operation and the birth succeeded and the mother and the baby are in good health," said Salem Abu Khaizaran, a doctor at the birth centre.
The prisoner, Ammar Al-Zabn, tried three times to have children via artificial fertilisation over the past four weeks. But his attempts failed for several reasons, he said. The couple had a daughter before the man was arrested. "I'm very happy at having a son who would take care of me and his sister in the future," said the mother.
Ziad Abu Ein, deputy minister of prisoners' affairs of the Palestinian national authority, said Israel must allow Palestinian prisoners to have sex with their wives.
http://timesofindia.indiatimes.com/world/middle-east/Smuggled-semen-makes-prisoner-dad/articleshow/15486055.cms
---------
Islam Courses For Fasting Kashmiri Women By Nadwatul Ulema Graduate
13 August 2012
SRINAGAR – Seizing on the holy fasting month of Ramadan to promote Islamic values, courses are being organized for Kashmiri Muslim women to know more about their faith and religious duties.
"Currently we don't have such institutions which would cater to females so we planned to create the facility for short term course and things picked up," Muslim scholar Adnan Nadwi told Greater Kashmir website.
Nadwi's wife has championed the idea of organizing courses for Muslim women during the holy fasting month of Ramadan.
Organizers say the courses, which have been witnessing an unusual surge in the number of attendees, aim to educate "such daughters, sisters and other female folk who aspire to know more about Islamic values."
Nadwi is a commerce graduate who did his specialization in Islamic studies from the prestigious Nadwatul Ulema Lucknow.
His wife, who is offering the courses, is also alumni of the women wing of the Nudwatul Ulema.
Kashmir Muslims celebrated the beginning of Ramadan, the holiest month in Islamic calendar, on Saturday, July 21.
In Ramadan, adult Muslims abstain from food, drink, smoking and sex between dawn and sunset.
The sick and those traveling are exempt from fasting especially if it poses health risks.
Kashmir is divided into two parts and ruled by India and Pakistan, which have fought two of their three wars since the 1947 independence over the region.
Pakistan and the UN back the right of the Kashmir people for self-determination, an option opposed by New Delhi.
Spirituality
The courses were prompted by the belief among Kashmiri women that they are wasting their time in Ramadan for preparing iftars, instead of dedicating it for prayers.
But at the classes, scholars tell attendees that the time dedicated for family are not wasted as they help in preparing iftar for fasting people, which is of great reward in Islam.
"My outlook has changed a lot after attending the informative classes… I never knew all this," a woman medico from south City, who has been attending the classes, said.
"For women there's even spiritual reward for mopping and cleaning utensils provided we know the Islamic way of doing it."
Fasting is meant to teach Muslims patience, self-control and spirituality, and time during the holy month is dedicated for getting closer to Allah though prayers, reading the Noble Qur'an and good deeds.
During Ramadan, Muslims dedicate their time during the holy month to become closer to Allah through prayer, self-restraint and good deeds.
The majority of Muslims prefer to pay Zakah for the poor and needy during the month.
http://www.onislam.net/english/news/asia-pacific/458549-kashmir-women-get-ramadan-classes.html
-------------
Yemeni-Scot Filmmaker: "It's Silly for the Government to Restrict the Cinema Movement"
9 August 2012
Sadeq Al-Wesabi
Armed with dogged determination, high skills and great confidence, Yemeni-Scot filmmaker Sara Ishaq persists in fulfilling her dream of enhancing the reputation of cinema in Yemen.
Unlike Yemeni filmmakers who choose to live outside Yemen, Sara plans to stay in Yemen to improve the country's cinema industry and to substantially contribute to creating new concepts and styles.
Ishaq said the restrictions she could face from the government or from religious groups would not stop her from working to improve the Yemeni cinema movement.
Recently, she finished her MFA in film directing with distinction from Edinburgh College of Art, University of Edinburgh. In 2008, she received a diploma in Documentary Filmmaking from the London Academy of Radio, Film and TV.
In the past month, her reputable documentary about Yemen's revolution, "Karama Has No Walls," aired on BBC and garnered the admiration of Yemenis and non-Yemenis alike. The film was nominated for the BAFTA New Talent Award.
The documentary focused on shedding light on those responsible for the massacre that killed more than 50 people on March 18, 2011. The film also focuses on Yemeni youth persistence and determination.
Full report at:
http://www.yementimes.com/en/1597/intreview/1258/Yemeni-Scot-filmmaker-Sara-Ishaq-
-------------
Saudi Women Writers: Islamic Solidarity Summit Inevitable To Solve Crises
Aug 14 2012
Several prominent Saudi women figures, including journalists, writers, professionals and community leaders lauded Custodian of the Two Holy Mosques King Abdullah for convening emergency Islamic summit in Makkah at a time when the Islamic nation is facing serious crises. They hoped that the summit would help the Islamic nation to come out of its crises, narrow down differences of opinion and strengthen its solidarity. In comments to a local Arabic daily, they urged Muslim leaders to forge a unified position toward addressing major problems in political, economic, social, and security.
Noted Saudi journalist and Managing Editor of the OIC Journal, Maha Aqeel, said the summit is being held at a time when the Islamic nation is passing through difficult times.
"Muslims are facing persecution and subjected to killing like what is happening to the Rohingya Muslims in Myanmar, and Palestinians in the occupied territories who are reeling under the Israeli brutal regime, in addition to the tragic situation of Muslims in Syria," she said while hoping that the summit would come out with positive results that would serve the interests of all Muslims. Aqeel called for enhanced cooperation between the Arab and Islamic societies with a specific future action plan.
Full report at:
http://www.zawya.com/story/Women_writers_Islamic_Solidarity_Summit_inevitable_to_solve_crises-ZAWYA20120814035039/
-------------
Trio of older Japanese women aiding kids, women in Afghanistan
By MIKA FUNAKOSHI
Aug. 14, 2012
Traveling between Japan and Afghanistan where fighting between NATO-led forces and Taliban rebels continues, three Japanese women in their 60s and 70s have been supporting Afghan women and children in need for a decade or more.
Making the best out of the local custom that pays special respect to elders, their activities are steadily bearing fruit despite the severe conditions in the war-torn country.
Keiko Nishigaki, a 76-year-old housewife from Takarazuka, Hyogo Prefecture, recalled arriving in Jalalabad in eastern Afghanistan alone in 1994.
She took the trip after learning of the miserable circumstances faced by women and others there through a photo exhibition held in Tokyo by the Afghan Embassy, she said.
During the Taliban regime, which prohibited girls and women from going to school, Nishigaki helped finance salaries for female teachers providing classes secretly. After the regime's collapse in December 2001, she helped build facilities for a women's college and a soccer field with donations collected in Japan as well as out of her own pocket.
Meanwhile, 65-year-old Teiko Nakamichi, a retired science teacher living in Uji, Kyoto Prefecture, first visited Kabul in 2002 on a teacher exchange program.
Having given a lesson at a girls' high school, Nakamichi was touched when a student who was looking through a microscope said, "Cells are so beautiful."
Full report at:
http://www.japantimes.co.jp/text/nn20120814a8.html
-------------
Nearly Sisters: Arab and Israeli Women's Common Challenges
By Khaled Diab | Aug.09, 2012
The fog of war obscures the fact that the battles of the sexes in Israel and Palestine are remarkably similar. Had it not been for the conflict, women on both sides might have found common cause in their struggle for equality.
A photo of a presumed Israeli soldier exercising her right to bare arms – and legs and midriff – with a machine gun slung casually over her shoulder has gone viral.
While supporters of Israel have seized on this image to talk up the virtues of the IDF, pro-Palestinians are bound to view this as an attempt to sex up the ugly reality of the harsh occupation – after all, regardless of how "sexy" an assault rifle-bikini combo on a Tel Aviv beach seems to distant voyeurs, relocate it to a West Bank checkpoint, and it rapidly loses its questionable charm.
Full report at:
http://www.haaretz.com/opinion/nearly-sisters-arab-and-israeli-women-s-common-challenges.premium-1.457065
-------------
Pakistan's Polio Ambassador Miss Zardari for Engaging Private Schools, Hospitals
August 14, 2012
ISLAMABAD – Pakistan's Polio Ambassador Aseefa Bhutto Zardari chaired the polio review meeting with ICT and CDA officials here requesting the officials to engage private schools and hospitals to achieve better coverage targets.
In a meeting with ICT and CDA officials, Pakistan's Polio Ambassador Aseefa Bhutto Zardari was informed that most of the refusal cases were from the educated and elite class. "Most people with big houses don't open their gates," said the official. He informed that mostly people get their children immunised by private hospitals or don't get the drops at all. The officials also informed that private schools do not campaign for polio although they have pre-schools, which government schools don't. Both officials from CDA and ICT agreed that refusals from private schools need to be addressed by engaging Private Educational Institution Regulatory Authority (PEIRA).
Full report at:
http://www.nation.com.pk/pakistan-news-newspaper-daily-english-online/islamabad/14-
-------------
Disabled Man Claims To Be Runaway Afghan Woman's First Husband
Pakistan Court Separates Afghan Elopers
PESHAWAR, Pakistan, July 31, (AFP): A Pakistani judge on Tuesday separated a runaway Afghan couple who married for love after a disabled man appeared in court purporting to be the woman's first husband.
It was an about turn for the judge, who last week appeared to accept that Mariyam and Hewad married legitimately by ordering that they be protected and given accommodation together in Pakistan's northwestern city of Peshawar.
Mariyam and Hewad, both 22, said they fled Kabul last month to wed in the leafy town of Abbottabad in northwest Pakistan, where US troops found and killed Osama bin Laden in May 2011.
The woman said her parents wanted her to marry her dead sister's husband and that if she is sent back to Afghanistan she would probably be murdered for marrying someone of her own choice.
Full report at:
http://www.arabtimesonline.com/NewsDetails/tabid/96/smid/414/ArticleID/186298/reftab/73/Default.aspx
-------------
August 14 Fever In Pakistan: Mahin Hussain Presents 'Zinda Qaum'
By Saadia Qamar
August 14, 2012
KARACHI: Through her distinctive handbag collections, accessory designer Mahin Hussain has appealed to the patriot that lives in every Pakistani woman's heart. With a Lux Style Award in the Best Emerging Talent 2011 to her credit, Hussain has launched her third Independence Day collection to join in the festivities of Pakistan's 65th birthday.
Her latest collection "Zinda Qaum" features two great personalities who she feels must be commended for their contributions to Pakistan — Liaquat Ali Khan and Noor Jehan. "It's been 65 years after independence and we need to boost a more positive and uplifting image of Pakistan," said Hussain, enthusiastically. The collection has been inspired by the patriotic track "Hum Zinda Qaum Hain Painda Qaum Hain" and, according to Hussain, revolves around the concept of "identity and ownership — that we belong to this country and this country belongs to us." She believes that this is the spirit of tolerance we need to spread today.
Commenting on her recent collection, which consists of canvas bags, totes, clutches, make-up pouches and toiletry bags, Hussain said: "I have brought in the Noor Jehan bags yet again. I introduced them two years ago and since then, they have become the most wanted items." Her Noor Jehan collection has images of the legendary singer pasted on the bags, along with the lyrics of a classic war song "Ae Watan Ke Sajeele Jawano". When this collection was first introduced, it was part of her "Made in Pakistan" range that was exhibited in the same Independence Day spirit, and received great appreciation.
Full report at:
http://tribune.com.pk/story/421574/august-14-fever-mahin-hussain-presents-zinda-qaum/
-------------
5 Pakistani Women We Envy
By Saba Khalid
August 14, 2012
Almost every straight girl harbours a girl crush every now and then. Before you launch into your "Haye Allah, how un-Islamic!" diatribe, let me explain that we're not talking about a crush per se.
The girl crush describes how the image of a particular female incites a toxic combination of insane jealousy for their talents, terrible envy for their looks and an infinite amount of admiration for their life.
And of course, we crush from a distance and if we were ever face-to-face with her — we'd never be able to tell her how cool we really think she is —because that would totally uncool, right?
Here are five women who inspire us to try harder, better and never give up on our dreams.
1- Mahira Khan — Actor
No one really needs an introduction to Mahira Khan — she brought Khirad to life in "Humsafar", dropped jaws on the runway in that gorgeous Feeha Jamshed red coat and made us all believe in the power of Nestle Nesvita.
Full report at:
http://tribune.com.pk/story/419740/5-pakistani-women-we-envy/
-------------
An Olympic First for Muslim Women, Not Really
August 13, 2012
VANCOUVER — In the wake of the 2012 Olympics, there are a lot of firsts to reflect on. It is the first time since 1904 that Canada won a medal in soccer (thanks to our women's team), the first time women boxed at the Games and the first time that Saudi Arabia, along with neighbouring Qatar and Brunei, sent female athletes.
The appearance of Sarah Attar in the 800-metre race and Wojdan Shaherkani in judo has been hailed by some as a triumph for Muslim women — in part because Shaherkani was granted permission to compete with her head covered, despite earlier concerns that a covering around her head and neck would pose a safety risk in the ring.
But the significance of Shaherkani's performance seems limited, because Saudi authorities only entered female athletes after intense pressure from the International Olympic Committee. Not much is changed in the ultra-misogynist Kingdom of the Sauds, where women are not even permitted to drive, let alone to engage in sports or physical training at school. Many of these restrictions are relatively recent introductions to Saudi society — despite attempts to justify them as Islamic requirements.
Full report at:
http://www.montrealgazette.com/sports/2012-summer-
-------------
A local honour for a global champion of women
Debra Rubin
August 13, 2012
When the Jewish Federation of Greater Middlesex County chose Meryl Frank as the honouree and speaker at its Aug. 15 Vanguard event, few could have been surprised. The former mayor of Highland Park was a long-time federation board member and a Lion of Judah, a designation for women who make substantial contributions to their local federations.
But few were as surprised as Frank herself when she received another honour earlier this year: In May, the Jerusalem Post named her one of the 50 most influential Jews in the world.
"At first I thought it was a joke," Frank acknowledged during a phone interview with NJJN. "But I went to the paper's website, and there it was."
The Post cited Frank's work as the head of the UN's Commission on the Status of Women, to which she was appointed by President Obama in 2009.
Today, the former stay-at-home mother of four can be found working as a consultant helping women in Kenya or wartorn Afghanistan marshal the skills to become financially independent and take on key political leadership roles. Her consulting firm works with Women's Campaign International, the National Democratic Institute, and other international organizations to promote women in leadership.
Full report at:
http://www.njjewishnews.com/article/14087/a-local-honor-for-a-global-champion-of-women#.UCop_qEgccZ
-------------
It's just a hijab, get over it
AUGUST 14, 2012
By Juana Jaafar
THE London 2012 Olympic games was a memorable one to say the least.
Among the many things I will remember about this year's Olympics (Pandelela, you go girl!) is the world's fascination with a piece of cloth over a Muslim woman's head.
It all started with the controversy involving Wojdan Shaherkani, a 16-year-old female Muslim judoka from Saudi Arabia.
She was one of two female athletes from Saudi Arabia—a country that enforces the hijab on women—whose participation in the games had everything to do with an ultimatum posed by the International Olympic Committee: send women athletes to London or face total disqualification. The Saudi government conceded.
(Brunei and Qatar joined Saudi Arabia as the last countries to send women to the Olympics).
The London audience gave Wojdan and 19-year-old runner Sarah Attar (pic) a standing ovation at the opening ceremony, acknowledging their courage to compete despite circumstances at home.
Full report at:
http://www.mmail.com.my/story/it%E2%80%99s-just-hijab-get-over-it-26555
-------------
'Efforts On In Pak To Send Deaf And Mute Indian Girl Back'
August 14, 2012
Pakistan's Sindh province government has established contact with a well-known welfare foundation to obtain details of a deaf and mute Indian girl, who had inadvertently strayed into the country some 13 years ago, as efforts were being made to send her back to India. An official of the
Edhi trust foundation, which has taken care of Geeta for the last few years and has housed her in Karachi for the last six months, said there had been inquiries from authorities about the Indian girl.
"They have taken her details and are apparently some efforts are on to help her safely reach her home in India," the official said.
Geeta who is just 21, strayed into Pakistan when she mistakenly boarded a train from Amritsar which came into Lahore where she was taken into custody.
"She is deaf and mute and clearly disoriented but in last six months she has improved her communication skills a lot and we are hopeful in next few weeks she will be able to tell us about her family and home in India," said Bilqees Edhi, the wife of the noted social worker Sattar Edhi who takes care of Geeta.
Full report at:
http://www.hindustantimes.com/world-news/Pakistan/Efforts-on-in-Pak-to-send-deaf-and-
--------
URL: https://www.newageislam.com/islam,-women-and-feminism/by-new-age-islam-news-bureau/kashmiri-women-threatened-with-acid-attack-by-al-qaeda-group-for-not-wearing-veils/d/8266