New Age Islam News Bureau
31 Aug 2012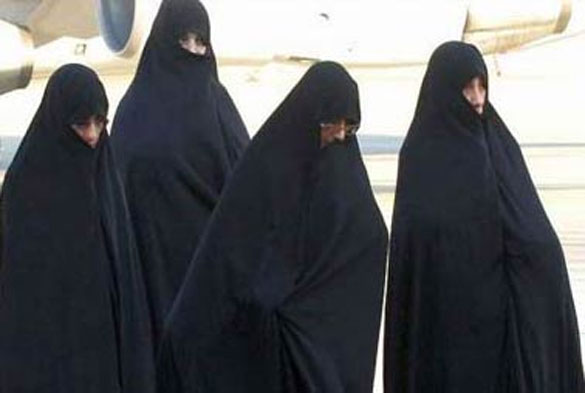 • Islamist organization demands Tunisia legalize polygamy
• Malaysian transsexuals challenge cross-dressing law
• Palestinian government chips away at male divorce monopoly, easing women's ability to separate
• Iran's War on Women Students May Backfire
• Women-only industrial cities welcomed
• Blasphemy case: Rimsha's remand extended by 14 days
• Activists demand release of Pakistani girl accused of burning religious texts in blasphemy case
• Finland: Islamic lessons lousy
• Al-Amoudi chosen member of UICC board in Geneva
• Urban Chat: Not yet the 'hijaber' fashion mecca, but by 2020, maybe?
• Insight: Brutality, anger fuel jihad in Russia's Caucasus
• At 62, I'm still a great stepper
• Iraqi girl with rare condition in hospital
Compiled by New Age Islam News Bureau
Photo: Islamist organization demands Tunisia legalize polygamy
URL: https://newageislam.com/islam-women-feminism/islamist-organization-demands-tunisia-legalize/d/8497
-----------
Islamist organization demands Tunisia legalize polygamy
30 August 2012
The head of a Tunisian Islamist organization called this week for his country to legalize polygamy as part of a post-revolution initiative to cancel all laws that contradict Islamic principles.
Adel Elmi, head of the Tunisian Moderate Association for Awareness and Reform, formerly known as the Commission for the Promotion of Virtue and Prevention of Vice, said in a Wednesday radio statement that marriage laws ought to be modified.
"Sanctioning polygamy is a popular demand now in Tunisia," Elmi said.
The practice was permitted in Islam and should be legalized if it deemed in the best interest of society, Elmi said, proposing Tunisia's marriage laws be referred to courts for modification, under certain conditions.
"For example, the first wife has to approve before her husband is allowed to remarry," he said.
Tunisia has some of the strongest women's rights laws in the Middle East. The Personal Status Code passed in 1956 by late Tunisian President Habib Bourguiba prohibited polygamy, raised the age of marriage for girls to 17 years old, facilitated women's ability to obtain divorce in court, and banned forced marriages for minor girls.
But since the Islamic al-Nahda Party came to power in October elections last year, Tunisian women's rights organizations have been apprehensive about the possibility losing some of their rights.
The new Islamist government has pledged to preserve women's rights, but talk of Tunisian Islamist figures violating the polygamy ban has stirred controversy in the country.
Lawyer and rights activist Radia al-Nasrawi alleged that a prominent member of the Islamic al-Nahda Party, whose name she refused to disclose, was already married to two women.
"He had a wife in Tunisia then married another in exile and brought her with him when he got back," Nasrawi said.
Nasrawi added that the first wife filed a lawsuit against him with the court of Nabeul in northeastern Tunisia, but no measures have been taken against him so far.
http://english.alarabiya.net/articles/2012/08/30/235171.html
-----------
Malaysian transsexuals challenge cross-dressing law
31st August 2012
KUALA LUMPUR: Four transsexuals are challenging a law that bars men from dressing or behaving as women in Muslim-majority Malaysia, saying it is unconstitutional.
The landmark case was heard Thursday at the Seremban high court, just south of Kuala Lumpur, where the four claimed the law of the state of Negeri Sembilan infringed on their rights enshrined in the federal constitution.
Homosexuality and transsexual lifestyles remain taboo and are considered a social and moral ill by many in Malaysia, where sodomy is punishable by up to 20 years in prison.
Aston Paiva, lawyer for the four, told AFP Friday the constitution protects "the right to live in dignity and not be punished for what you are born as, including race and gender."
"They have a medical condition known as Gender Identity Disorder. They are anatomically male but psychologically female and they cannot change this," he said.
Juzaili Khamis, 24, Shukor Jani, 25, Wan Fairol Wan Ismail, 27, and Adam Shazrul Yusoff, 25, work as bridal make-up artists and identify themselves, and dress, as women.
According to Paiva, all have previously been arrested under Section 66 of the Syariah Criminal (Negeri Sembilan) Enactment, which bars Muslim men from dressing or posing as women, with Juzaili and Shukor currently facing charges in court.
If convicted, the duo face a maximum fine of RM1,000 ($320) and up to six months in jail.
The constitution states that "no person shall be deprived of his life or personal liberty", bars discrimination on the grounds "of religion, race, descent, place of birth or gender" and protects freedom of expression.
Muslims, who make up over 60 per cent of Malaysia's 28 million people, are subject to both criminal laws and Islamic laws.
Malaysia made headlines last year when police said they would stop an annual gay rights festival. The organisers decided to call off the event for the safety of the participants.
Two states then said they were considering laws to jail gay Muslims and gay rights supporters while de facto law minister Nazri Aziz was reported to have said same-sex marriages "will not happen in our country. Full stop!"
http://dawn.com/2012/08/31/malaysian-transsexuals-challenge-cross-dressing-law/
----------
Palestinian government chips away at male divorce monopoly, easing women's ability to separate
August 31, 2012
RAMALLAH, West Bank — For decades, Palestinian women seeking to divorce their husbands risked years of miserable, expensive litigation or lengthy domestic battles as they begged their spouses for permission to leave.
Now Palestinian religious authorities announced sweeping reforms of divorce laws that will make it easier for a woman to end her marriage. The changes make a huge step forward in a society where many still believe that a woman should have no right to separate from her husband.
"In Islamic law, the relation between spouses should be based on tenderness, love and understanding," said Sheik Yousef al-Dais, head of the Islamic courts in the Palestinian Authority, as he announced the changes Thursday. "If there's hatred between them, should we force them to stay together?"
Marriage rules throughout the Middle East are based on Islamic law but have been heavily influenced by stricter tribal traditions that erode rights enshrined to women in Islam, such as a dignified divorce. Proponents say the reforms still conform to Islamic law.
Under Palestinian law, women cannot unilaterally demand a divorce. That is still the privilege of men, who can divorce their wives without recourse to a court.
Instead, a woman must ask her husband for permission to end the marriage or go to court and prove he has treated her poorly.
Proving ill treatment often entangled women in years of court hearings as they struggled to produce tangible evidence, like a landlord testifying a husband never paid the rent, or medical certificates proving a woman was beaten. Some mistreatment like marital rape or psychological abuse was almost impossible to prove, judges said.
If a woman asks her husband for a divorce, she must return the dowry and gifts she receives from her husband upon marriage. Some men demand more out of spite: exclusive children's custody, thousands of dollars, apartments — even ice-cream treats or bus tickets, said lawyers and judges. Or they can simply deny the divorce.
"These women are investment projects for men, open to extortion at any time," said al-Dais.
The changes mean women no longer have to prove ill treatment. The Islamic judges who decide divorce cases for Palestinian Muslims will have the power to decide, without evidence, that her marriage is harmful for them. Husbands are also barred from seeking "unreasonable" sums of money beyond the dowry, and the divorce must be completed within three months.
It is potentially a radical change for women.
Nisreen, a 31-year-old woman, said she spent three years in court before a judge finally agreed to her divorce request. She said her husband smashed her nose, frequently dragged her across the floor by her hair, and sold all their furniture and skipped town while she was giving birth to her son, leaving her with nowhere to sleep.
Judges initially refused to grant the divorce because her husband promised to change, said Nisreen. They also didn't accept police reports detailing her husband's violence because they were from another country, where they first moved after they married. She declined to name the country or provide her last name, fearing it would help her husband identify her.
"You are destroyed psychologically, and physically, and then the sheiks say 'patience,'" she said.
She estimated her divorce cost her family $7,000 — the sum that the average Palestinian makes in five years.
The pressure to update divorce rules appeared to have been prompted by an August incident in which a man killed his wife by slashing her throat in a marketplace in the West Bank city of Bethlehem. The wife had battled judges to grant her a divorce. Her husband is now in prison. The incident provoked widespread outrage in a culture where violence against women mostly takes place in private and is considered an internal, family issue.
Feelings over the reform were mixed in this deeply conservative society. Many families pressure women not to divorce, worried it would ruin the family's reputation. Divorced women are seen as loose troublemakers, and men don't like to be seen as dumped. Few families can afford to hire a lawyer and begin proceedings.
"If a woman can divorce, she'll dump him anytime she wants," said Ahmad Qawasmi, a 21-year-old cosmetics salesman. "I wanted to get married, but now I'm reconsidering, because if my wife leaves me, people will say: 'There's a guy whose wife dumped him.'"
Feminists said the changes don't go far enough, because there are no clear limits on monetary compensation involved in completing a divorce. They worry that conservative judges will still be reluctant to grant divorces to women. Also, inefficient security forces rarely implement court rulings.
"The judges shouldn't be celebrating so much," said Hekmat Besesso, 43, a women's activist who lost custody of her 6-year-old-son Yazan from her first marriage when she remarried last year — another quirk of Palestinian family law. She then spent eight months in a custody battle because her ex-husband barred her from seeing her son, even though a court allowed her a once-a-week visit.
Divorce for Muslims is handled at Islamic family law courts where clerics serve as judges, since personal status issues are governed by Shariah law. Minority Palestinian Christians follow their own church laws on marriage and divorce.
At one Islamic courthouse in Ramallah this week, four judges wearing turbans and clerical robes welcomed the changes, saying they were sick of men squeezing women dry.
But it may be some time before the changes sink in. Nearby, bureaucrats kept giving contradictory instructions to a young woman in jeans and a scarlet headscarf as she tried to finalize her divorce.
Only 14 percent of marriages end in divorce in Palestinian society, said attorney Fatima al-Muaqat, an expert on Palestinian divorce law. But she said the figure was misleading because the divorce process is so lengthy, stretching up to 10 years in some cases, and because many women either fail or don't bother to seek a divorce.
Other Muslim-majority countries have grappled with the issue of how much freedom a woman should have to divorce.
In Arab countries like the United Arab Emirates, Jordan and Iraq, as well as India, a woman can divorce her husband freely but loses rights to compensation, unless she can prove harm.
Some countries are stricter. In Pakistan, clerics often remove a woman's right to ask for a divorce by crossing out the section allowing her to do so in her marriage contract. In Indonesia, a woman who seeks divorce must return their dowry or prove she has been harmed.
In Malaysia, Muslim women have to present their case to religious courts in order to obtain divorces, but evidence of harm isn't compulsory.
The new Palestinian changes won't apply in Gaza, ruled by the Islamic Hamas, the bitter rival of the Western-backed Palestinian Authority that rules over Palestinians in the West Bank.
Al-Dais said he hoped his changes could be a model for Palestinians.
"We are walking step by step. We want to take a deep breath and see how the street will accept it."
___
With contributions by Mohammed Daraghmeh and Dalia Nammari in Ramallah, Ibrahim Barzak in Gaza City, West Bank, Mohammed Ballas in Jenin, West Bank, Lara Jakes and Bushra Juha in Baghdad, Sean Yoong in Kuala Lumpur, Muneeza Naqvi in New Delhi, Brian Murphy in Dubai, Sebastian Abbot in Islamabad, and Jamal Halaby in Amman, Jordan.
http://www.washingtonpost.com/world/middle_east/palestinian-government-chips-away-at-
-----------
Iran's War on Women Students May Backfire
08/30/2012
Iran's woeful deception and hypocrisy on women's human rights is particularly prominent this week while Tehran hosts the 16th Non-Aligned Movement summit to "eliminate international problems" and assumes the NAM's presidency for the next three years.
The summit follows the recent announcement of a ban on female students in Iranian universities.
In the coming academic year, 36 universities will implement exclusion of women from 77 fields of study, including chemistry, computer science, nuclear physics, engineering, business management, education and English. Gholamrez Rashed, the head of the University of Petroleum Technology, declared: "We do not need female students at all."
Science Minister Kamran Daneshjoo claimed that sexual segregation was of the utmost priority in order to uphold moral standards and effect greater balance in gender enrolment. About 70 percent of science graduates are female.
Full report at:
http://www.huffingtonpost.com/ida-lichter-md/iran-war-on-women-students-may-backfire_b_1833513.html
-----------
Women-only industrial cities welcomed
SARAH ABDULLAH
31 August 2012
Saudi businesswomen are voicing their approval of the latest plan by the Saudi Industrial Property Authority (MODON) to begin building the first of many women-only industrial cities throughout the Kingdom.
"The plan to create women-only industrial cities is a positive step that will mutually benefit Saudi women and the Kingdom," Basmah Omair, executive director of the Khadijah bint Khwailid Businesswomen's Center at the Jeddah Chamber of Commerce and Industry (JCCI) told Arab News.
She said there are many talented women with no opportunity to show the world their potential, but with the creation of women-only cities, will have a chance to establish businesses in the greenfield industrial sector.
The creation of the first industrial city in Hofuf is expected to create between 3,000 and 5,000 jobs for women in the Eastern Province alone, with similar estimates for each of the cities that follow.
Full report at:
http://www.arabnews.com/saudi-arabia/women-only-industrial-cities-welcomed
-----------
Blasphemy case: Rimsha's remand extended by 14 days
August 31, 2012
ISLAMABAD: Police on Friday won permission to hold a young Christian girl accused of blasphemy in custody for a further 14 days while her case is investigated, officials said.
Rimsha was arrested in a poor suburb of Islamabad on August 16 after a neighbour accused her of burning papers containing verses from the Quran, in breach of Pakistan's strict blasphemy laws.
Her case has prompted concern from Western governments and anger from rights campaigners, who say the legislation is often abused to settle personal vendettas.
She arrived at court for the unannounced remand hearing in an armoured police van amid tight security, guarded by heavily-armed commandos and covered with a white sheet to conceal her face.
Full report at:
http://tribune.com.pk/story/429064/blasphemy-case-rimsha-sent-to-jail-on-14-day-judicial-remand/
-----------
Activists demand release of Pakistani girl accused of burning religious texts in blasphemy case
30 August 2012
Rimsha Masih reportedly suffers from Downs Syndrome
Hospital report said she was 'about 14' but other media have reported she is 11
She was accused by Muslim neighbours of burning Islamic religious texts
Human rights activists in Pakistan are demanding the release of a Christian girl accused of burning pages of the Koran, after a bail hearing was adjourned.
Religious and secular groups worldwide have protested over the arrest this month of Rimsha Masih who reportedly suffers from Downs Syndrome after she was accused of blasphemy by Muslim neighbours.
A hospital said in a report Rimsha was about 14 but had the mental capacities of someone below that age and was uneducated. Other media have reported she is 11.
Under the blasphemy law, anyone who speaks ill of Islam and the Prophet Mohammad commits a crime and faces the death penalty, but activists say vague terminology has led to its misuse.
Convictions are common, although the death sentence has never been carried out. Most convictions are thrown out on appeal, but mobs have killed many people accused of blasphemy.
Full report at:
http://www.dailymail.co.uk/news/article-2195827/Activists-demand-release-Pakistan-girl-
-----------
Finland: Islamic lessons lousy
31.8.2012
"I ran into problems when I danced in school," says 18-year-old Fairuz from Turku.
In Islamic class she says she was taught that Muslims don't dance in public, that a woman's place is in the home and that girls should cover their heads and most of their body.
"The teacher's vocabulary is not as good as ours, which can cause difficulties in understanding," says 17-year-old Helsinki student Kalsoom, who says her classmate Kosar was given points off on a test for answering questions according to the Shia tradition.
The shortage of competent Islamic studies teachers is worsening as the number of Muslim kids in Finnish schools grows.
Arto Kallioniemi, professor of religion and education at the University of Helsinki, says he fears that Muslim students are receiving a much poorer standard of religious education than their Lutheran counterparts.
Full report at:
http://yle.fi/uutiset/students_islamic_lessons_lousy/6276878
-----------
Al-Amoudi chosen member of UICC board in Geneva
31 August 2012
JEDDAH: Dr. Samia Al-Amoudi, the Associate Professor at King Abdulaziz University ( KAU), was chosen as a member of 14-strong Board of Directors of Geneva-based International Union Against Cancer (UICC).
She was selected from a pool of more than 80 candidates during a meeting held by UICC on August 26th, 2012 in the city of Montreal.
Dr. Al-Amoudi told the Saudi Press Agency (SPA) that this achievement is a strong evidence on the women's development in the Kingdom of Saudi Arabia and reflects the ongoing support of Saudi women by the government of the Custodian of the Two Holy Mosques King Abdullah bin Abdulaziz Al Saud.
http://www.arabnews.com/al-amoudi-chosen-member-uicc-board-geneva
-----------
Urban Chat: Not yet the 'hijaber' fashion mecca, but by 2020, maybe?
Lynda Ibrahim
August 31 2012
So, did everyone have a good Idul Fitri break? For most of us, the gatherings and reunions have been attended, the cookie jars have been emptied and the festive garb has been sent to the dry-cleaners.
New clothes to celebrate Idul Fitri is nothing new, and many embrace the spirit further by observing religious dress codes, at least partly, during the festival period. Though more for comfort than religion, I favor a tunic and loose pants, Pakistani shalwar-kameez style, that I usually mixed and matched from off-rack selections. Then two years ago, I entered a Muslim fashion shop by chance.
Indonesian Muslim fashion has come a long way, baby. Gone are the shapeless muumuus and dowdy veils. Most of the clothes sport sufficient structure to hold their form while loose or flowing enough to avoid emphasizing the wearer's silhouette, in accordance with scripture. Materials are sourced from silk to cotton, in every color under the sun. The styles have started to adapt from global trends that, if worn without veils, may pass as regular clothes. No wonder more and younger Indonesian women have taken up the hijab lately because with the choices here, they don't have to end up looking like frumpy grannies.
I'm no hijaber, the term the newly fledged fashion-conscious, Muslim-attired, women's groups in Indonesia have coined for themselves, yet I respect any grown woman's private decision to dress herself according to her beliefs. More than that, the fashionista in me always adores pretty frocks just as my business mind always acknowledges any promising potential.
Full report at:
http://www.thejakartapost.com/news/2012/08/31/urban-chat-not-yet-hijaber-fashion-mecca-2020-maybe.html
-----------
Insight: Brutality, anger fuel jihad in Russia's Caucasus
By Alissa de Carbonnel
Aug 31, 2012
(Reuters) - Little girls in hijabs peek out of tin-roof houses and boys play at "cops and insurgents" in the narrow dirt streets.
At one end of the village of Gimry men are building a new, red-brick madrassa, one of many religious schools springing up across Dagestan, a region in the high Caucasus mountains on Russia's southern fringe, in the throes of an Islamic revival.
More than a dozen young men from the village have "gone to the forest" - the local euphemism for joining insurgents in their hideouts, says village administrator Aliaskhab Magomedov.
"It's a full-fledged jihad," he said. "They don't recognize my authority. Islam does not separate the state from religion."
Full report at:
http://in.reuters.com/article/2012/08/31/us-russia-dagestan-idINBRE87U09R20120831
-----------
At 62, I'm still a great stepper
Rotimi Ige
31 August 2012
Mrs Iyabode Adenrele Alabi is a dietician and retired as a Deputy Director, from the Department of Dietetics, at the University College Hospital (UCH), Ibadan. In her interaction with Rotimi Ige, she talks about her career and love for dancing, Among other things.
Background
I was born in Lagos on July 12, 1950 to the Aderonmu family. We hail from Ibadan and I attended Children's Home School, before I proceeded to Yejide Girls' Grammar School, where I finished my secondary school education. Then I stayed briefly at the Adeola Odutola College for my A' level. I, however, didn't finish there before I travelled abroad. I went to Western Germany, Hamburg to be precise and I was there for almost two years to study the language.
I later travelled to New York, where I did my first degree at Pat Institute and I bagged a B.Sc degree in nutrition and dietetics. Then I was at the New York University for a Masters in Full Service Management in 1979. I worked briefly in the New York as a dietician before I came back to Nigeria in 1982. I served at the University College of Education, before I went back to the United States. I returned to Nigeria in 1987. I got a job as a dietitian in UCH in 1988 and to God be the glory, I rose to the rank of the deputy director. In fact, I am the first dietician in UCH to become a deputy director. I also coupled as a lecturer at the University of Ibadan, while I was a head of department in UCH, as it was affiliated to my job, I lectured at the department of Human Nutrition for four years. I retired in July 12, 2010 at the age of 60.
Your experience in the course of your career?
Full report at:
http://tribune.com.ng/index.php/features/46809-at-62-im-still-a-great-stepper
-----------
Iraqi girl with rare condition in hospital
31 August 2012
An Iraqi girl suffering from a rare disease of bleeding eyes, nose, legs and teeth, is receiving specialized treatment at King Abdullah Medical City in Makkah on the instruction of Health Minister Dr. Abdullah Al-Rabeeah.
The medical city has allocated a special room for the girl named Fatma and conducted a number of medical tests on her to know the reason for the bleeding, press reports said.
According to Okaz Arabic daily, a team of specialists is taking care of the girl. "I am very happy for being admitted to this hospital and I am hopeful doctors would be able to find a cure for this disease," she said.
Dr. Hassan Bakhamis, director of King Abdullah Medical City, said the girl has been admitted to the hospital's clinic for blood diseases.
Fatma's father thanked Al-Rabeeah for providing treatment to his daughter at King Abdullah Medical City. "Our daughter came to Makkah two months ago and has been staying in the vicinity of Haram. We gave her Zamzam water as well as spiritual healing with the support of clerics at the Haram in the hope of cure," the father said.
http://www.arabnews.com/iraqi-girl-rare-condition-hospital
-----------
URL: https://newageislam.com/islam-women-feminism/islamist-organization-demands-tunisia-legalize/d/8497