New Age Islam News Bureau
30 Aug 2012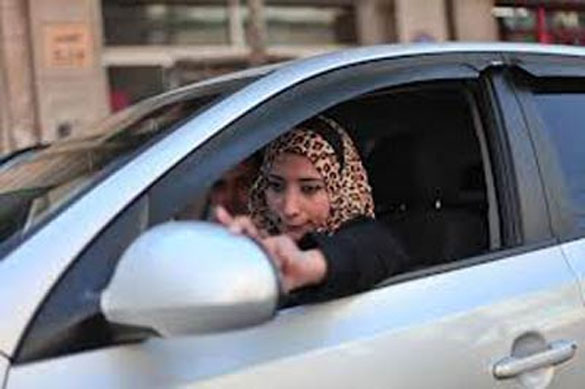 • Riyadh appoints women to educational leadership posts
• Aligarh Muslim University plans separate union for girl students
• More women apply for driving licenses in Gaza
• 'Woh insaan nahin the... jalladon ko bhi thodi sharam aa gayi hoti' : Gujrat Riot Victim broke his silence
• Rimsha being favoured: Accuser's lawyer
• Case over girl accused of blasphemy adjourned to Sept 1
• Jakarta Court Jails Drunk Driver for 15 Years for Death of 9
• 'Negligent' mother in trouble
• Humiliated by forced marriage, schoolgirl takes her life: Bangladesh
• World press on women's rights in Turkey
• Limon's mother files no-confidence plea: Bangladesh
Compiled by New Age Islam News Bureau
Photo: More women apply for driving licenses in Gaza
URL: https://newageislam.com/islam-women-feminism/iranian-lawmakers-seek-lower-age/d/8479
-----------
Iranian Lawmakers Seek to Lower Age of Marriage for Girls From 13 to 9
8-29-2012
By Frank Crimi
As Iranian lawmakers now seek to lower the legal age of marriage for girls to nine-years-old, the number of Iranian brides already under 10 years of age is sharply rising.
The Iranian decision to allow nine-year-old girls the legal opportunity to be married to fully grown men was announced by Mohammad Ali Isfenani, chairman of the Iranian Parliament's Legal Affairs Committee.
Isfenani called Iran's current civil legislation, which sets the minimum legal age of marriage for girls at 13-years-old, "un-Islamic and illegal," saying, "We must regard nine as being the appropriate age for a girl to have reached puberty and qualified to get married. To do otherwise would be to contradict and challenge Islamic Sharia law."
Isenfani's clarion call for prepubescent marriage comes at the same moment a new report from the Union for the Protection of Children's Rights (UPCR) found 75 Iranian girls less than 10-years-old were forced to marry in the past two months, part of a sharp rise in the overall number of Iranian child brides under the age of 10.
According to UPCR, of the 342,000 Iranian marriages among girls under 18-years-old registered in 2010, at least 713 marriages involved girls under 10-years-old, more than twice as many as were registered in the prior three years. Moreover, of these underage marriages, 42,000 involved girls between the ages of 10 to 14.
The Iranian appetite for child brides led Farshid Yezdani, an activist with UPCR, to note, "It is a worrying trend to see and something that we are all working hard to end. The best way to end this kind of practice is to give information on how to better one's life without infringing on a child's ability to have a childhood."
Tragically, a lost childhood is not just the providence of Iranian girls but rather for a distressingly large and ever-expanding number of little girls worldwide. To that end, there are now more than 50 million child brides, a number that is growing by 10 million each year and which is expected to reach 100 million young victims over the next decade.
These unfortunate children are married off for a bevy of cultural and religious reasons, ranging from ensuring familial alliances to economic necessities, such as settling debts or overcoming natural disasters to ensure a family's survival.
In that latter example, drought-stricken Africa has witnessed the emergence of so-called "drought brides" who are being sold for as little as $170. As one NGO worker explained, "Some households have 10 children and feeding those children is really hard," so marrying off one young girl ensures "that the rest of the family does not die from lack of food."
While the reasons behind these human transactions may vary, the one commonality is that the younger the girl, the better the deal. Specifically, it is important that these girls be sold off at a young enough age to better ensure their virginity, thus increasing their economic value and protecting the honor of their families.
Not surprisingly, once handed-off, these child brides are then consigned to a terrifyingly nasty, brutish and short-lived existence at the hands of men who ostensibly should be looking out for their well-being and not using them as sexual toys for their own perverse enjoyment.
For starters, these young brides rarely continue their education, denying them any hope of independence, the ability to earn a livelihood or of making an economic contribution to their households, thus condemning them to a grim life of ignorance and poverty.
Moreover, the life expectancy of their frightful existence is likely to be cut exceedingly short given the multitude of health risks inherent in being a child bride, not the least of which is the high mortality rate from childbirth injuries, where an estimated 70,000 girls under 15 die each year from complications during pregnancy or childbirth.
Yet, while the phenomenon of child marriage may have a global span, most of these child marriages take place in predominantly Islamic countries spread throughout the Middle East, South Asia and Africa.
The deeply rooted Islamic attachment to prepubescent marriage finds religious justification in the Prophet Muhammad's marriage to a six-year-old child bride, a marriage consummated when she was nine-years-old, following her first menstruation.
In fact, determining when a girl reaches her first menstruation is the threshold by which Islamic religious leaders and scholars determine the basis for what age is proper for a girl to be married off; some believe this begins by or before age 10, while others think by the age of 15.
As such, the need to adhere to these Sharia-based marital guidelines has made governments in completely or even predominately Muslim countries reluctant to ban underage marriages.
In predominantly Muslim Malaysia, for example, the Minister of Legal Affairs has said girls below the age of 16 are allowed to marry as long as they obtain the permission of the religious courts, arguing, "If the religion allows it, then we can't legislate against it. Islam allows it as long as the girl is considered to have reached her pubescent stage, once she has her menstruation."
Yet, even in Muslim countries where child marriage is illegal, Islamists often simply ignore the law, allowing for religious leaders to approve "informal marriages" for underage girls, marriages which allow spouses to live in the same home and have children, but which is only legally registered once she turns 18.
While most would find it hard to believe that a 15-year-old-girl, let alone a nine-year-old girl, is physically or emotionally ready to start engaging in sexual activity and carrying a child, others think that girls barely removed from the womb are more than fully capable of handling those activities.
That enlightened attitude was on display in January when one of Saudi Arabia's most influential clerics, Sheik Saleh al-Fawzan, issued a fatwa allowing fathers to arrange marriages for their daughters "even if they are in the cradle."
However, lest anyone think a man would actually engage in sex with such a young infant, al-Fawzan was quick to add that it wasn't "permissible for their husbands to have sex with them unless they are capable of being placed beneath and bearing the weight of the men."
Given that, it's not surprising that many believe that underage marriage is little more than legally permissible and religiously sanctioned pedophilia. Yet, some defenders of the horrid practice argue that critics have no moral or ethical qualms about child marriage but are instead driven by less than pure concerns.
One such person is Yemeni Sheik Mohammed Hamzi, an imam and official of the Islamist Yemeni opposition party, Islaah. Hamzi had been asked his opinion in reaction to international complaints to the death of a 13-year-old Yemeni child bride who bled to death after being tied down and forced to have sex with her 23-year-old husband.
Hamzi simply ascribed their dissatisfaction due to the fact that "No one wants to marry these women's-rights activists anyway. They're just depressed and jealous that they are not married."
Tragically, there's no such shortage of marital suitors for the ten million little girls set in the coming year to join the ranks of the world's burgeoning child bride community, a sisterhood that grows increasingly younger with each passing year.
http://www.aina.org/news/2012082993159.htm
-----------
Riyadh appoints women to educational leadership posts
By Habib Toumi
August 30, 2012
Appointments in leading positions part of a drive to elevate the status of women in the kingdom
Manama: Saudi Arabia is to appoint 11 women to leading positions within the education ministry as part of a drive to boost women's presence in key managerial spots.
In the breakthrough for women, the appointees will be given the title of general directors in administrations that oversee private and foreign education, gifted students, tests and admissions, adult education, kindergartens and student activities.
The women who will be appointed soon will also be in charge of guidance, Islamic awareness, special education, educational training and education supervision, local Arabic daily Al Eqtisadiya reported on Thursday.
The criteria for the appointments included a university degree and experience in a managerial position for at least one year.
"The education ministry is on a robust drive to appoint women in all directorates and sections related to the education of girls in Saudi Arabia," sources told the daily.
In 2009, King Abdullah Bin Abdul Aziz Al Saud, credited with initiating a series of reforms that gave women more rights and limited the influence of ultraconservatives, appointed Nora Bint Abdullah Al Fayez, an expert on girls' education, deputy education minister in charge of a new department for female students.
"This is an honour not only for me but for all Saudi women," the first woman minister in Saudi Arabia said. "In the presence of a comprehensive operational team, I believe that I will be able to face challenges and create positive change," Nora told Arab News.
According to reports, women comprise 58 per cent of Saudi Arabia's college students.
Princess Nora Bint Abdul Rahman University, the largest women-only university in the world, is made up of several colleges across the Riyadh region and has 52,308 students.
Around 95 per cent of employed Saudi women work in the public sector, mainly in the education sector (85 per cent) and in public health (six per cent).
http://gulfnews.com/news/gulf/saudi-arabia/riyadh-appoints-women-to-educational-leadership-posts-1.1067838
-----------
Aligarh Muslim University plans separate union for girl students
Faisal Fareed
Aug 29 2012
Lucknow : New V-C, Lt Gen (retd) Zameer Uddin Shah wants to revert to the old practice of two unions formed on gender lines
The Aligarh Muslim University (AMU) is planning to create a separate electorate of girl students who will elect their own union. The move, termed retrograde by many, will segregate the Women's College students from the AMU Students' Union (AMUSU) in the main campus.
Former vice-chancellor P K Abdul Azis had allowed the Women's College to be part of AMUSU with girl students having participated in the elections and also winning handsomely for the past two years.
The new V-C, Lt Gen (retd) Zameer Uddin Shah, however, has plans to revert to the old practice of two unions that were formed on gender lines.
AMU's Public Relations Officer (PRO) Rahat Abrar said the proposal was under active consideration. "It has been proposed to have a separate students' union for girls. It is still under consideration and a final decision is awaited," said Abrar.
Justifying the move, the PRO said the issue of girl students were different from those of boys. "Their problems are different and they cannot be clubbed with the problems of boys. Previously, we had a separate union for them, now the same is being considered again," he said.
Abrar also cited the distance between the main campus and Women's College. "The college is situated at quite a distance and thus it is better if they have separate unions."
Most students, including girls, are opposed to the proposal. "In the last presidential elections of AMUSU, a substantial section of the student community rose above the narrow regional lines and voted for me for the president's post. This step will have adverse effect, as girls will be confined to the four walls of their college. There will be no mingling with the mainstream," said Iram Khan, who lost the election but polled 2,752 votes, the highest by any girl candidate in AMU. Another girl, Wajiha Fatima Mehdi, was elected Executive Committee member of AMUSU.
"The move to exclude Women's College from AMUSU is an attempt to stop an enlightened female leadership from gaining hold on the campus," said Anam Rais Khan, another student.
Nahid Mustafa, who contested for the post of secretary in AMUSU in 2011 and polled 370 votes, plans to meet the V-C and request him to drop the idea. "It is discrimination against the girls. We do not want to be segregated just because we are girls."
Some students said the move was meant to appease a particular lobby and reactionary groups in lieu of their cooperation in peaceful functioning of the university.
The Women's College has graduation classes of all streams. The girl students of PG and other professional courses go to the main campus for their classes and are already part of AMUSU but their number is small. A majority of the girl students are in graduation courses. In the past, Syeda Anwar Taimur, a student of AMU, went on to become Chief Minister of Assam.
http://www.indianexpress.com/news/aligarh-muslim-university-plans-separate-union-for-girl-students/994637/
-----------
More women apply for driving licenses in Gaza
2012-08-29
GAZA, Aug. 29 (Xinhua) -- Women driving cars are no longer a rare sight in the Hamas-ruled Gaza Strip, nowadays they are seen in every corner of the Israeli-besieged enclave.
Until a few years ago, the number of female drivers could be counted the fingers of one hand. But now the number of women applying for driving licenses is in its thousands.
University student Heba Sleem, 22, is one of those who used the college holiday to get a driving license.
The young lady is already a driver as she was taught by her parents. She says she enjoys driving on the streets of Gaza, but she is attempting to get her driving license fearing she may be stopped by policemen any day.
"It is a normal thing to drive a car in Gaza now," said Heba as she was getting ready to start a private driving lesson. "Many girls are getting driving licenses, my friends have also got licenses," she added.
Driving was always welcomed by many women in the city, though the society in general has not always been supporting this behavior. However more women are now taking the wheel and drive around on the streets of Gaza.
In 2007, the Islamic Hamas movement wrested control of the Gaza Strip by force. Since the first day of its rule, Hamas has attempted to enforce Sharia law in Gaza. Women were briefly barred from smoking in restaurants and public places while female lawyers were banned of entering the court without headscarves, but these decisions did not sustain.
But when it came to driving, Hamas was tolerant and allowed girls to attend driving lessons. Moreover, the government has even taken some decisions to enable women from getting driving licenses easily.
For example, the ministry of transportation asked private driving schools to offer automatic transmission training for women since manual transmission cars are too difficult to get used to.
The ministry has also allowed women to work as driving instructors as some women prefer to be taught by females for social and religious backgrounds.
"After these decisions, we have witnessed an increase in the number of women applying for driving licenses. The number of women who had driving licenses was 12,000. There was a notable increase in 2012 as the number raised to be 15,000," said Khalil Zayan, spokesman for Transportation Ministry.
Hamas is attempting to make Gaza a more moderate place to avoid criticism that it's planning to create an Islamic regime in the seaside territory.
Zayan said the society is now more open-minded and the government is meant to improve the role of women in the social order. "Women and men are partners in making a better Palestinian society," he stressed.
http://news.xinhuanet.com/english/indepth/2012-08/29/c_131815808.htm
-----------
'Woh insaan nahin the... jalladon ko bhi thodi sharam aa gayi hoti': Gujrat Riot Victim broke his silence
Ujjwala Nayudu
Aug 30 2012
Ahmedabad : One of the goriest reports that emerged from Naroda Patiya after the riots was of a young nine-month pregnant woman's stomach being slit open, the foetus pulled out, and the woman set on fire. Kausar Bano was found lying half-burnt and naked outside her house.
As 32 were convicted for the Naroda Patiya killings today, her husband Firoz broke his silence of 10 years. "My wife who was nine months pregnant was raped, cut and burnt. It was my biggest failure that I couldn't save her. I have never spoken to anyone about her after her death," he said.
"Jisne uska balaatkar kiya woh insaan nahin the. Jalladon ko bhi thodi sharam aa gayi hoti, lekin inko nahin aayi (Those who raped her were not human. Even executioners would have felt ashamed, they didn't)."
Firoz, an autorickshaw driver, cut off ties with old friends and relatives at Naroda Patiya after the incident and now lives a quiet life at Vatva. Remarried, he has three children with his new wife.
It was just a year before the riots that Firoz and 22-year-old Hina Kausar alias Kausar Bano had got married at their native place in Karnataka. Firoz used to work as a labourer in a factory in Patiya's neighbourhood.
On the afternoon of February 28, 2002, he was on his way home for lunch, but couldn't enter the narrow bylane of Naroda Patiya as it was blocked by over 600-700 rioters near the Noorani Masjid.
"Some men were running out screaming 'riots'. I saw the Noorani Masjid burning. I froze that moment... did not know what to do. I just wanted to save Hina as I knew she couldn't run from there. Three-four times I tried to enter, but failed... Hina did not know anything about this place, people and never picked up the local language. She was raped outside our house by men who pulled her out, pulling out her clothes in the verandah. She was totally helpless because of her pregnancy."
Five other members of Firoz's family died in the riots that day, including his sister, one of his uncles and Kausar's brother Zahid's wife and two children. Zahid and Kausar's father Khalid Noor Mohammad, who were visiting Kausar for a godh bharai (baby shower) ceremony, managed to escape.
Also an autorickshaw driver, Zahid lives in Citizen Nagar — the second rehabilitation colony for the 2002 riot victims in Ahmedabad after Vatva. He hasn't spoken to Firoz since that day, blaming him for not saving his sister.
"Zahid has no relations with me at all. He has also become short-tempered and starts beating up people when someone asks him about the Naroda Patiya riots," Firoz said.
A witness in the case, Noor Mohammad shifted base to Karnataka two years ago due to pressure from political groups. For Firoz, it was a second blow.
"Abba was the only support I had after Hina's death," he said. "I lost my faith but he was not deterred. He used to live in a separate house in the relief committee homes in Vatva. He got constant threats to retract his statements, take back the rape complaint and many from the jamaat (community) also bullied him... I advised him to go back to our native place."
He is also angry about the fact that the rape charge was dismissed by doctors who did Kausar's post-mortem. "There are witnesses to Hina's rape. Her womb was cut. Her father saw her getting raped. When her body was taken from the spot to hospital, her womb was missing," he claimed.
The riots didn't just take away his wife and unborn child, but his whole life, said Firoz. The job at the factory paid him enough to support his family, but he now struggles to make ends meet. "I don't like to work like this. Sometimes there is money, sometimes I borrow," he said.
Firoz's second wife Shahida Begum said he still bears the scars and doesn't like to talk about the riots. "He told me only once after marriage that the riots should not be discussed ever," she said.
"We want to leave it behind," added Firoz.
http://www.indianexpress.com/news/woh-insaan-nahin-the...-jalladon-ko-bhi-thodi-sharam-aa-gayi-hoti/995128
-----------
Rimsha being favoured: Accuser's lawyer
August 30, 2012
ISLAMABAD: A court adjourned on Thursday a bail hearing for a Christian girl accused of blasphemy, prompting human rights activists to make fresh calls for her release in a case that has drawn renewed criticism of the country's anti-blasphemy laws.
The girl, named Rimsha, has been held since August 16 on suspicion of desecrating the Muslim holy book, an offence that can carry a life prison sentence under Pakistan's strict blasphemy laws.
Doctors and officials are "favouring" a young Pakistani Christian girl charged with blasphemy after allegedly burning papers containing Qurani verses, the lawyer for her accuser claimed today.
A medical report earlier this week said Rimsha was around 14 years old – her age had been in dispute – and appeared to be "uneducated" with a mental age below her true age.
But after a brief hearing in the case on Thursday, which Rimsha did not attend, Rao Abdur Raheem, the lawyer representing her accuser, rejected the doctors' assessment.
"The victim has admitted that she burned a chapter of the Holy Quran," he told reporters outside court in Islamabad.
"The doctors are favouring the victim and the state is also supporting her."
Raheem also objected to the medical examination because it was carried out a day before the court formally requested it. Judge Raja Jawad Abbas Hassan adjourned the case to Saturday to seek clarification on the report.
Full report at:
http://tribune.com.pk/story/428443/rimsha-masih-being-favoured-accusers-lawyer/
-----------
Case over girl accused of blasphemy adjourned to Sept 1
Mubashir Zaidi
August 30, 2012
ISLAMABAD: A local court in Islamabad heard the case pertaining to a girl who had been accused of blasphemy adjourned the hearing to Sept 1, DawnNews reported.
The case was heard in the court of district and sessions judge Islamabad Justice Jawad Abbas.
The court issued notices to the state and the complainant over the bail application.
The complainant's lawyer said that the legal procedure was not being followed in the girl's case who he said was being tried under the Juvenile Justice System Ordinance (2000).
The complainant's lawyer objected to the girl's medical test saying that it was carried out before the court could have ordered one.
The lawyer for the girl disagreed and said that the test was conducted by a panel of eminent doctors.
Full report at:
http://dawn.com/2012/08/30/blasphemy-accused-case-adjourned-to-sept-1/
-----------
Jakarta Court Jails Drunk Driver for 15 Years for Death of 9
August 29, 2012
The Central Jakarta District Court on Wednesday sentenced Afriani Susanti to 15 years in jail for causing an accident that led to the death of nine pedestrians.
Afriani, 29, was speeding through Central Jakarta after a night of clubbing when she swerved off the road at Tugu Tani and struck and killed nine pedestrians on Jan. 22.
According to prior police reports, Afriani admitted to taking ecstasy at Stadium, in North Jakarta, and drinking at a disco in Kemang the night of the accident. Police said she was driving her Daihatsu Xenia at speeds in excess of 90 kilometers per hour.
"The defendant has been proven guilty of ... causing an accident leading to death," presiding judge Antonius Widyanto said as he read the verdict. "She is sentenced to 15 years in prison less time already served."
The sentence is lower than the prosecution demand of 20 years, the maximum allowed for the primary charge of premeditated murder under Article 338 of the Criminal Code, which was not proven.
Full report at:
http://www.thejakartaglobe.com/news/jakarta-court-jails-drunk-driver-for-15-years-for-death-of-9/540983
-----------
'Negligent' mother in trouble
30 August 2012
Dubai Attorney-General Issam Issa Al Humaidan has ordered that a criminal case be opened against an Emirati woman who allegedly left her five children with her two maids in her house for several months.
Al Humaidan has assigned the Family and Juvenile Prosecution to handle the probe procedures and take action when the probe is concluded.
The Emirati housewife is believed to have neglected her five children for about ten months. She left them alone at the house where they were taken care of by two maids. In the case, she will be charged with and held accountable for putting at risk the lives of her next of kin, who are juveniles under 15, according to Article 349/2.1 of the Federal Penal Code No. 3 of 1987 and its modifications.
The mother who won the custody of the children, aged between two and 10 years, from her ex-husband allegedly stayed away from the house because she had to repay loans amounting to Dh800,000. From time to time, she visited the house secretly but would order the maids to lock up the children so that they would not see her.
And she had not seen her youngest daughter, who is now two years, since she was nine months.
Full report at:
http://www.khaleejtimes.com/kt-article-display-
-----------
Humiliated by forced marriage, schoolgirl takes her life: Bangladesh
August 30, 2012
Humiliated by forced marriage, a schoolgirl took her life by hanging from the ceiling of her house at Kalmegha village in Pathorghata upazila of Barguna district on Monday.
The victim, Nishat Jahan Sharmin, 13, was a class VI student of Kalmegha Muslim High School, and daughter of Abdul Jalil, a rickshaw puller.
Sharmin's mother Khadiza Begum said her daughter became sick under the influence of jiner achhor (effect of evil sprit) and a local ojha (witchdoctor) suggested marrying her off for recovery.
Then the poor parents arranged Sharmin's marriage with Ismail, 31, an illiterate tea stall owner, of the same village.
Sharmin protested the early marriage with a much older illiterate person, said her elder brother Shahin Alam.
Full report at:
http://www.thedailystar.net/newDesign/news-details.php?nid=247595
-----------
World press on women's rights in Turkey
August 29, 2012
Hurriyet published an article by Mustafa Akyol headlined "Violence against women as Jahiliyyah".
"Last week, the Turkish Family and Social Policies Minister Fatma Şahin made an interesting remark on domestic violence, a huge problem in the overwhelmingly patriarchal Turkish society. "Violence against women," she said, "is a habit of the age of Jahiliyyah, and we will fight against it with values as well," the article reads.
"The J-word Şahin mentioned literally means "ignorance" in Arabic, but it also has a specific meaning in the Islamic context: It refers to the pagan culture of the pre-Islamic Arabia, which is regarded by Muslims as a dark age that was replaced by the enlightenment of Islam. By referring to that historical memory, Ms. Şahin defined misogyny as an un-Islamic attitude that has lived within the Muslim societies - not because of Islam, but rather in spite of it," the author says.
Full report at:
http://vestnikkavkaza.net/world-press-review/society/30780.html
-----------
Limon's mother files no-confidence plea: Bangladesh
August 30, 2012
Henoara Begum, mother of Limon Hossain who was maimed by Rab last year, submitted a no-confidence petition before a Jhalakathi court on Thursday challenging the police final report that found no evidence against the elite force.
On August 14, police quietly submitted a report to a Jhalakathi court, saying they had found no evidence and witnesses in favour of the attempt-to-murder case filed by Limon's mother.
Limon's mother filed the case against six Rab men with Rajapur Police Station on April 10 last year saying that the accused persons, without caring to verify Limon's identity, shot him in the leg on March 23 while he was bringing cattle back home at Chhaturia village under Rajapur upazila of Jhalakathi. The Rab team later arrested him.
The six accused are Deputy Assistant Director of Crime Prevention Company-1 Lutfor Rahman, Corporal Majaharul Islam, Nayek Moktadir Hossain, Nayek Prahalad Chandra, soldier Kartik Kumar Biswas and Constable Abdul Aziz of Barisal Rab-8.
Jhalakathi Senior Judicial Magistrate Nusrat Jahan accepted the no-confidence petition in a crowded courtroom attended by eminent citizens.
The judge asked Nazmul Alam, general registrar officer of Rajapur Police Station, to submit all the documents and papers related to the case by October 17.
The judge fixed October 17 to hear the petition.
http://www.thedailystar.net/newDesign/latest_news.php?nid=40399
-----------
URL: https://newageislam.com/islam-women-feminism/iranian-lawmakers-seek-lower-age/d/8479