New Age Islam News Bureau
28 Aug 2012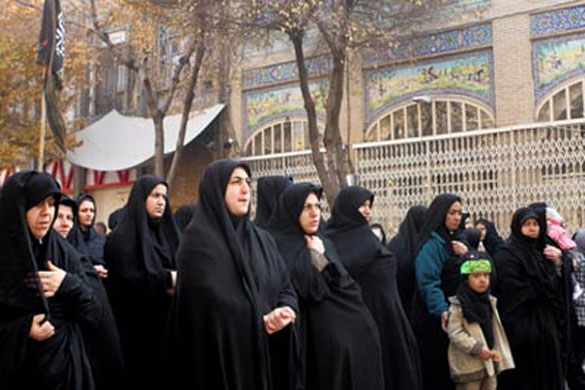 • Men shave off woman's hair and parade her in streets in Pakistan
• Pakistan: A Christian Minor Girl Murdered after allegedly being Gang Raped by Muslims
• Christian in Pakistan blasphemy case ruled minor
• Difa-e-Pakistan Council, Khatm-e-Nabuwwat, Pakistan condemn arrest of blasphemy accused girl: Report
• In the Name of Islam, Release the Christian Girl
• Iran wages war on campus women
• Yemen: Houthi, tribesmen confrontations leave two women dead; locals fear escalation to war
• Indonesia: School destroyed after cleric molested female student
• Minors named suspects in burning of school owned by arrested cleric: Indonesia
• Bangladesh: Woman kills daughters, herself
• Bangladesh: charges against BNP Chairperson acceptance order now Oct 1
• Punjab offers free education to terror victims: Marvi Memon
Compiled by New Age Islam News Bureau
Photo: Iran wages war on campus women
URL: https://newageislam.com/islam-women-feminism/first-reported-case-honour-killing/d/8448
------------
First reported case of 'honour killing' in Kashmir
Aug 28 2012
Srinagar : In the first reported case of 'honour killing' in Kashmir, police has arrested a man and his two sisters on the charges of murdering their youngest sibling over her conduct.
Mushtaq Ahmad Dar and his two sisters - Nasreen and Misra - were arrested after the trio admitted to strangulating their 20-year-old sister Zubaida to death in the fields at Shoolipora in Budgam district on August 24, a police spokesman said.
"During investigations, Dar, the brother of the deceased, disclosed that he and his two sisters were not satisfied with the behaviour of Zubaida and were facing a lot of humiliation in the society by her deeds," the spokesman said.
Dar and his sisters hatched a conspiracy to kill her and took Zubaida to the fields. They later strangulated her to death with her scarf, he said.
The spokesman said police is also probing other aspects which include grabbing of money belonging to the deceased.
http://www.indianexpress.com/news/20yearold-girl-killed-for-honour-in-kashmir/994348/
------------
Men shave off woman's hair and parade her in streets in Pakistan
Aug 28 2012
Lahore : Five men allegedly shaved off the hair and eyebrows of a young woman and paraded her in the streets of a village in Pakistan's Punjab province, police officials said today.
The incident occurred yesterday in Layyah district, 350 km from Lahore, after the married woman was accused of having "illicit" relations with a man.
According to an FIR registered by police, Parveen Bibi, 25, the wife of Sabir Husain, had a quarrel with her sisters-in-law.
Yesterday, her brothers-in-law Muhammad Pervaiz and Muhammad Zafar and three other men shaved off her hair and eyebrows. They then blackened her face and paraded her through the streets of their village.
Police arrested Parveen's sisters-in-law and a man named Muhammad. The woman's brothers-in-law are still at large.
Shafiq told police that Parveen had developed "illicit" relations with a man in her neighbourhood.
"We stopped her from meeting him but she continued seeing him," Shafiq, who is related to Parveen, told the police.
http://www.indianexpress.com/news/men-shave-off-womans-hair-and-parade-her-in-streets-in-pak/994301/
------------
Pakistan: A Christian Minor Girl Murdered after allegedly being Gang Raped by Muslims
By Dan Wooding
August 26, 2012
A Christian minor girl from Sahiwal, a city in Punjab, Pakistan, was recently murdered after being "gang raped" by a group of five Muslim men.
The young girl's name, Muqadas Kainat, was revealed to the ASSIST News Service (www.assistnews.net) by the Legal Evangelical Association Development (LEAD Family Pakistan), an organization that provides free legal aid, settlement and spiritual support to Christian persecuted and destitute,
The group said that they had discovered news of this terrible crime after being visited in their office by two rights campaigners who told them that the father of child, Mr. Rafique Masih, had been working as a brick maker and had lived in the area for the past 15 years. Also that he, and his wife, had seven children.
They were told that on August 14, 2012, he was visiting a local hospital where his wife was having her appendix removed and during that time, the group were told that the minor girl had gone into a local field to relieve herself and was then viciously set upon by a gang of men and gang raped and murdered.
"The father's elder brother, Arshad Masih, came to hospital and told Rafique Masih that his daughter had not come home since the morning," said a spokesperson for LEAD Family Pakistan.
"Rafique Masih rushed to home and searched for her in area of the brick kiln company [where he worked] and also in the homes his neighbors, but did not find his daughter.
"Then, on August 15, 2012, the Muslim clerk of the brick kiln company told Rafique Masih that he had received a phone call on his cell phone from an unknown caller that Muqadas Kainat was in fields. On hearing this, Rafique Masih, along with other people, started searching the nearby fields and eventually found dead body of his daughter."
The spokesperson went on to say that her body was taken to the police station for a postmortem which, he said, proved that she had been "gang raped and later strangled to death by five men."
The Farid Town Police Station has since registered a First Information Report (FIR) against unknown rapists and killers and started an investigation, but at this time none of culprits have been found and arrested.
Now Missionary Pastor, Mushtaq Gill, President/National Director of LEAD, is pledging for legal help and support for this case.
http://www.assistnews.net/Stories/2012/s12080178.htm
------------
Christian in Pakistan blasphemy case ruled minor
August 28 2012
The lawyer for a Pakistani Christian girl accused of blasphemy says a medical review has determined that the girl is a minor.
Tahir Naveed Chaudhry says a report by a medical board investigating the age and mental state of the girl determined she was between 13 and 14.
Chaudhry says that means her case will be heard under Pakistan's juvenile court system, which is generally more lenient toward defendants.
The lawyer also said Tuesday the board determined her mental state did not correspond to her age. It was not clear whether that meant she was mentally impaired.
Blasphemy is a serious issue in Pakistan and can be punished with life in prison or even death.
The girl was accused by a neighbor of burning pages of a Quran, Islam's holy book.
http://www.thejakartapost.com/news/2012/08/28/christian-pakistan-blasphemy-case-ruled-minor.html
------------
Difa-e-Pakistan Council, Khatm-e-Nabuwwat, Pakistan condemn arrest of blasphemy accused girl: Report
August 28, 2012
ISLAMBAD: As the country remains torn over minority persecution in the name of blasphemy, Islamic groups including Difa-e-Pakistan Council (DPC) and Khatm-e-Nabuwwat, in an unprecedented and surprising move, came out on Monday and publicly denunciated the arrest of a young girl for allegedly burning a Noorani Quaida, reports guardian.co.uk.
The All Pakistan Ulema Council (APUC) and Pakistan Interfaith League, which comprises minority religions in the country, were also among those who came out in support of Rimsha, demanding punishment for those who had made these false accusations.
Tahir Ashrafi, chairman of the the APUC and part of the DPC leadership, condemned the demands of mobs who pressurise police regularly for registering blasphemy charges, adding that this was pushing law and order in Pakistan towards the "law of the jungle".
"We see Rimsha as a test case for Pakistan's Muslims, Pakistan's minorities and for the government," Ashrafi said. "We don't want to see injustice done with anyone. We will work to end this climate of fear."
Full report at:
http://tribune.com.pk/story/427277/dpc-khatm-e-nabuwwat-condemn-arrest-of-blasphemy-accused-girl-report/
------------
In the Name of Islam, Release the Christian Girl
08/27/2012
There has been much heated debate concerning the circumstances surrounding the arrest of a young Christian girl in Pakistan this week. These arguments, often concerned with her age, mental capacity and minute details of her actions, to name a few, have all very successfully distracted the public from the central issue: a young girl is being held captive against her will in the name of Islam.
As a Muslim, I am forced to wrestle with these occurrences on a basis all too regular. Having seen these injustices carried out in the name of my tradition for years during my work at the American Society for Muslim Advancement, the question arises again and again: Is it really true we share a faith with the individuals who commit such heinous acts?
What is so often forgotten is that it is not faith, but in fact ignorance, which drove the leader of a small, poor community in Islamabad to accuse a young, possibly handicapped girl of blasphemy and lock her away. It is ignorance that drives her captors to hold her without due trial and without lawyer visitation. It is ignorance that leads a community to believe the words of Allah are written on the pages of a book and not in the hearts of the faithful. It is ignorance, not Islam, that holds a thoroughly unjust law far above the suffering of the most helpless among us.
Full report at:
http://www.huffingtonpost.com/daisy-khan/in-the-name-of-islam-release-the-christian-girl_b_1833428.html
------------
Iran wages war on campus women
BY: IDA LICHTER
August 28, 2012
IRAN'S woeful deception and hypocrisy on women's human rights is particularly prominent this week while Tehran hosts the 16th Non-Aligned Movement summit to "eliminate international problems", and assumes the NAM's presidency for the next three years.
The summit follows the recent announcement of a ban on female students in Iranian universities.
In the coming academic year, 36 universities will implement exclusion of women from 77 fields of study, including chemistry, computer science, nuclear physics, engineering, business management, education and English. Gholamrez Rashed, the head of the University of Petroleum Technology, declared: "We do not need female students at all."
Science Minister Kamran Daneshjoo claimed that sexual segregation was of the utmost priority in order to uphold moral standards and effect greater balance in gender enrolment. About 70 per cent of science graduates are female.
Full report at:
http://www.theaustralian.com.au/news/world/iran-wages-war-on-campus-women/story-e6frg6ux-1226459277514
------------
Yemen: Houthi, tribesmen confrontations leave two women dead; locals fear escalation to war
27 August 2012
Muuad Al-Maqtari
SANA'A – Houthis expanded their attacks on villages in Al-Shahil district, an area close to Sa'ada, as ferocious confrontations between Houthis and tribesmen affiliated with the Islah party in Hajja, located in north Yemen, augmented the past two days.
Zaid Arjash, the deputy governor of Hajja governorate, said the Houthis mobilized a group of militants from Al-Jawf, Amran, Sa'ada and Hajja during the past two weeks in order to double their assault on Al-Shahil district. In return, Al-Shahil locals cooperated so as to repel the Houthi attacks, resulting in casualties.
Arjash said that among the fatalities were two women and two Houthi militants, as well as two from the Al-Shahil district.
He accused the Houthis of killing the two women in Al-Shahil district. Those women's bodies were found riddled with bullets.
Arjash commented on the role of media, saying media depicts the rifts as doctrinal war between the Houthis and Islah party, indicating that the whole of society repels the Houthis, though Islah attempts to appear in the front.
The movement by the Houthi militants came on the heels of their failure to hold Kushr district months ago because of the strong resistance by tribesmen. That conflict ended in dozens of deaths on both sides, according to Arjash.
Full report at:
http://www.yementimes.com/en/1602/news/1298/Houthi-tribesmen-confrontations-leave-two-women-dead;-locals-fear-escalation-to-war.htm
------------
Indonesia: School destroyed after cleric molested female student
Yuli Tri Suwarni
August 28 2012
The police stood on guard on Monday at pesantren (Islamic boarding school) Masyhadul As Musthatobah Curug in Depok, West Java, after a mob attacked the school on Sunday night over a cleric who allegedly molested a female student.
Depok Police said that the angry mob destroyed and burned the school upon rumors that Fauzan, 40, who had been detained since Saturday, had been released on Sunday.
The mob knocked down the school's wall, tore down steel gates and burned down two pavilions. The 7,000-square-meter school compound was empty when the incident took place because the students were still on Idul Fitri vacation. The estimate of total loss is around Rp 150 million (US$15,789).
Residents learned over the weekend that Fauzan, the principal cleric, had sexually harassed student M, now 19, since 2009 and forced her to engage in an unofficial Islamic marriage, locally known as nikah siri.
Full report at:
http://www.thejakartapost.com/news/2012/08/28/school-destroyed-after-cleric-molested-female-student.html
------------
Minors named suspects in burning of school owned by arrested cleric: Indonesia
August 28 2012
The Depok Police revealed on Tuesday that it had named 10 persons, several of whom are minors, as suspects in the recent burning of an Islamic boarding school in the area, which is owned by a cleric who is alleged to have sexually abused a female student.
"We are very concerned because many of the suspects are still below 17 years old," Depok Police chief Sr. Comr. Mulyadi Kaharni said.
The ten suspects were identified only as EL, 17; MR, 16; DS, 17; AS, 15; MJ, 15; MN, 14; IG, 17; FR, 18; MF,16 and K, 21.
The police chief said that the suspects were provoked into burning the Islamic boarding school.
"They did not know the core of the problem. They only followed a mob, which asked them to join in destroying the school," Mulyadi said, as reported bytribunnews.com.
Islamic boarding school Masyhadul As Musthatobah Curug in Depok, West Java was burned down by an angry mob after they heard a rumor that the school's principal, Fauzan, 40, had been released from detention.
Fauzan was detained on Saturday by the Depok Police after one of his student's parents reported that he had sexually harassed their 19 year old daughter, identified only as M. Since 2009 the young woman had allegedly been forced to engage in an unofficial Islamic marriage, locally known as nikah siri.(riz)
http://www.thejakartapost.com/news/2012/08/28/minors-named-suspects-burning-school-owned-arrested-cleric.html
------------
Bangladesh: Woman kills daughters, herself
August 28, 2012
A mother allegedly committed suicide after poisoning her two daughters to death in the city's Kafrul area on Monday.
Police identified the deceased as Jahanara Begum, 35, wife of Nur Islam, and their daughters Haowa, 12, and Sharmin, 8.
Jahanara killed her daughters and took her own life by taking poison following a feud over the extramarital affair of her husband, Hafizur Rahman, assistant sub-inspector of Kafrul Police Station, said quoting locals.
The incident took place at the tin-shed house of Jahanara in North Ibrahimpur area at noon.
Locals broke open the door of the house and found Haowa dead, the ASI said.
They rushed Jahanara and Sharmin to Dhaka Medical College Hospital (DMCH) where doctors declared them dead, he added.
Nur Islam, a laundry owner, went into hiding soon after the incident.
http://www.thedailystar.net/newDesign/latest_news.php?nid=40316
------------
Bangladesh: charges against BNP Chairperson acceptance order now Oct 1
August 28, 2012
The delivery of order on whether to accept charges against BNP Chairperson Khaleda Zia and three others in Zia Charitable Trust graft case was differed for sixth times on Tuesday.
The deferment came following the defence counsels' time petition as the BNP chairperson did not appear before the court due to her illness.
In the petition, the defence said that they want the hearing to be held before Khaleda, so they need time.
In this circumstance, Md Zahirul Haque of the Senior Special Judge's Court gave them time till October 1.
On Tuesday, Advocate Masud Ahmed Talukder, one of defence counsels, confirmed The Daily Star that Khaleda will appear before the court in connection with the case.
On the other hand, on August 5, the same judge expressed his discontent when the defence of the Zia Charitable Trust graft case prayed for the fifth time to defer the delivery of the order on whether to accept charges against the accused.
Full report at:
http://www.thedailystar.net/newDesign/latest_news.php?nid=40335
------------
Punjab offers free education to terror victims: Marvi Memon
By Qamar Zaman
August 28, 2012
ISLAMABAD: In a bid to express solidarity with the families of victims of target and sectarian killings, the Pakistan Muslim League-Nawaz has invited affected families from across the country to apply for an education package introduced by the Punjab chief minister.
The invitation was extended by PML-N leader Marvi Memon at a news conference on Monday. Memon condemned the killing of innocent people and held the federal and provincial governments, save the Punjab government, responsible for such incidents.
"We hold the federal and provincial governments of Sindh, Khyber-Pakhtunkhwa, Balochistan and Gilgit-Baltistan equally responsible for the failure of law and order," said Memon, who recently returned from a countrywide tour to offer condolences to victims' families on the instructions of Nawaz Sharif.
Full report at:
http://tribune.com.pk/story/427174/sectarian-target-killings-punjab-offers-free-education-to-terror-victims/
------------
URL: https://newageislam.com/islam-women-feminism/first-reported-case-honour-killing/d/8448